November, 13, 2013
Nov 13
4:00
PM ET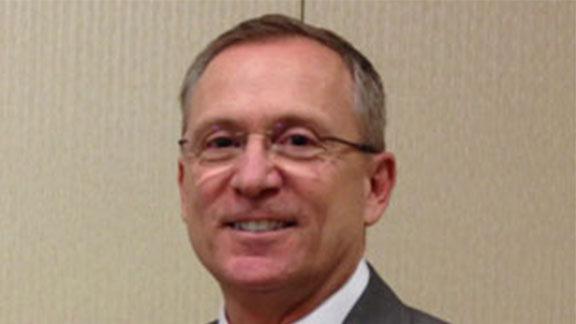 The 13-member College Football Playoff selection committee met in Washington, D.C., this week, and it was announced that it will reveal four interim rankings before the inaugural selection weekend in 2014.
Of course, a little light bulb immediately fizzled to life -- bizzz-fizzzz! -- over the heads of many in the ESPN offices in lovely Bristol, Conn. Interim rankings? Why wait until 2014? Let's do it now. As in right now.
That's what everyone wants, right? The playoff to start this year, not next. Or so you think.
The committee will be made up of 13 human beings, ready-made with their own ideas about evaluating and ranking college football teams. Many of them will be old-school, laboriously reviewing hours of game tape and giving teams their fearsome "sight test." Some will embrace the sabermetric revolution that has unceremoniously stomped on cherished sporting ideas such as clutch play, momentum and locker room chemistry.
For our purposes, the ESPN.com 2013 College Football Playoff Selection Committee will be made up of the guys who made A's in calculus in 10th grade and then moved on to the Jacobian conjecture: ESPN Stats & Information geniuses.
Those folks have devised an all-encompassing metric -- Championship Drive Ratings -- that measures the résumés of college football teams, putting a heavy emphasis on strength of schedule, as the CFP committee is expected to do. It measures how difficult it is for an average FBS team to achieve the team in question's results.
So, the season ends today, and based on Championship Drive Ratings -- drumroll, please -- the four-team playoff would go: 1. Alabama; 2. Stanford; 3. Florida State; 4. Ohio State.
That's right, unbeaten Baylor, you are eclipsed by Stanford, which lost to now-4-5 Utah on Oct. 12.
Got a feeling ESPN's Stats & Info's Q-rating just dropped precipitously in Waco.
The good news, of course, is the season doesn't end today.
To continue reading,
click here
.
October, 30, 2013
Oct 30
5:00
PM ET
Jimbo Fisher hates the computers.
The Florida State coach doesn't claim to have much understanding of the formulas the BCS computers use, but he knows enough not to trust them. They're faceless, emotionless automatons programmed to chew up data and spit out rankings without much logic mixed into the recipe along the way.
Football, he believes, requires instincts and passion and perspective.
Sure, Fisher backtracked a tad when the first BCS standings of 2013 had his team at No. 2, but that was short-lived. Florida State dipped to third this week, and Fisher was back on the human-voter bandwagon.
"You have to come back to the eye test," Fisher said. "People are so important in this poll. People watch teams."
Fisher has watched his BCS competition, and the eye test tells him Florida State is not No. 1 -- at least not yet. He has a vote in the USA Today coaches' poll, and while he declined to reveal the entirety of his ballot, he strongly hinted that Alabama owned the top spot.
The Crimson Tide, Fisher said, pass the eye test.
"Alabama's playing great defense, they've got playmakers that can run the football, they're very physical," Fisher said.
He's right on all counts, but Fisher's take on Alabama -- his eye test -- is as much about the perception of the program as it is about the reality of how the Tide have played this season.
To continue reading,
click here
.
October, 29, 2013
Oct 29
5:00
AM ET
1. UCLA started eight true freshmen against Oregon, including three on the offensive line, and played 18 overall against the Ducks. If you are looking for a reason that Oregon scored three touchdowns in the fourth quarter, it might be physical (how long can 19-year-olds play guys two or three years older?) and it might be mental (close game, big stakes, who's been there before?). Either way, the Bruins will get a dividend on this investment in, oh, 2015.

2. If you congratulate No. 3 Florida State head coach Jimbo Fisher for voting his conscience on his USA Today ballot -- he sounded as if he voted Alabama No. 1 -- and if you applaud him for sitting his starters in the second half against North Carolina State after leading 42-0 at halftime, you may as well congratulate him for getting his team on the field for the opening kickoff. That's how a coach should act. As the saying goes, Fisher is acting as if he has been there before. Which he has, as an assistant under Nick Saban.

3. Kentucky is 1-6, 0-4 in the SEC, and Wildcats first-year head coach Mark Stoops is trying to remain patient. Only the 48-7 loss to No. 1 Alabama could be considered a blowout. "I think we all see us resembling a good football team from time to time," Stoops said at his press conference Monday, "but that's not going to cut it and win you a lot of games in the SEC. You've got to be good top to bottom, and you've got to be good in critical situations, and most importantly when you're under pressure situations, our habits, bad habits, come right to the surface."

October, 12, 2012
10/12/12
10:00
AM ET
By
ESPN.com staff
| ESPN.com
Join our ESPN.com college football experts as they preview Week 7.
Contribute your thoughts and questions beginning at noon ET.
Don't forget to send us your best tailgate pictures of your food, friends and family all week long
@ESPNCFB
and get your photos in our GameDay Live chat Saturday morning.
Here are our previous tailgates
.
October, 11, 2012
10/11/12
11:00
AM ET
By
ESPN.com staff
| ESPN.com
Join our ESPN.com college football experts as they preview Week 7.
Contribute your thoughts and questions beginning at 1 p.m. ET.
Don't forget to send us your best tailgate pictures of your food, friends and family all week long
@ESPNCFB
and get your photos in our GameDay Live chat Saturday morning.
Here are our previous tailgates
.
August, 30, 2012
8/30/12
11:00
AM ET
By
ESPN.com staff
| ESPN.com
Take a look back at what our ESPN.com college football experts had to say as they examined the top 25, the Heisman darkhorses, conference power rankings and what to watch this opening weekend of college football.




June, 28, 2012
6/28/12
1:30
PM ET
By
ESPN.com staff
| ESPN.com
Excited for a playoff? You're probably not going to enjoy the purgatory of the next two seasons, writes Ted Miller:
My grandmama just made you some of her world famous chocolate chip cookies. Why? Because you're her favorite. She'll let you eat one in two years.

Just bought a cool new iPhone. It will be awesome to use for the first time in 2014.

Got married this week? Congrats. Bet you can't wait to consummate things in 24 months!

They say good things come to those who wait. Casting aside our reasonable desire to feed "They" a knuckle sandwich, let's certainly hope so. In the space between now and the 2014 college football season, however, things are going to be pretty darn weird. And annoying.

This season and next, college football will be operating in two worlds. The benighted world that is -- the BCS system -- and the new four-team playoff model adopted this week in Washington, D.C., (cue angelic chorus) that won't be implemented until 2014.

We won't have this sparkly, four-team playoff for two seasons, but it will hang over the sport's collective head. Sparkling. And just out of reach. For two entire seasons.

Oh, we won't really think too much about it in September and October. But when the calendar flips into November, and the space between teams in the BCS standings starts to tighten, count on there being plenty of speculative "what if?" grumbling.

Further, you can expect the media to relentlessly and redundantly point out how things would be different if the four-team playoff were in place at present, rather than just gaily dancing on the horizon. A No. 4 regular-season finish in 2014 will inspire a celebration for a fan base. A No. 4 finish in 2012 and 2013 will be cause to grouse about the arbitrary unfairness of the system.
Read the rest of Ted's story
here
.
June, 27, 2012
6/27/12
9:00
AM ET
A college football playoff is at hand! Yippee!
Well, it will be at hand in 2014. And, well, it's a Final Four, not
really
a full-on playoff. Think of it as a BCS times two, only with a selection committee that will choose the ... wait for it ... wait for it ... "FOUR BEST TEAMS."
You know: Just like the SEC wanted.
Er, yippee?
So what does it mean for the Pac-12? The correct answer is we have no idea. Little is certain in college football these days. At least, other than the SEC winning BCS "national titles." We don't yet know all the details of our shiny new playoff and we also have two more seasons to play before it takes effect, during which new variables are certain to be introduced.
[+] Enlarge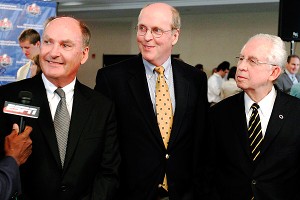 AP Photo/Alex BrandonBig Ten commissioner Jim Delany, left, SEC counterpart Mike Slive, right, and BCS exec Bill Hancock discuss Tuesday's developments.
The suggested takeaway we have for you is cautious optimism. More teams will be invited to the big postseason party -- that's a good thing. There will be more opportunities for Pac-12 teams to win national titles. There also will be more -- and more transparent -- interpretation of who gets there and why. With this new system, Washington and Oregon wouldn't have been left out as they were in 2000 and 2001, respectively. USC wouldn't have been passed over by an indefensible process as it was in 2003. And it's likely that, if we had a selection committee in 2008, someone would have piped in, "Hey, does it matter that we all know USC is the best team? I mean, we can't really leave USC out of a Final Four, can we?"
The Pac-12 and Big Ten still will maintain their relationship with the Rose Bowl. That's a good thing. The selection committee will consider win-loss record, strength of schedule, head-to-head results and whether a team is a conference champion. Strength of schedule and winning a conference championship are two criteria the Pac-12 valued.
So while everyone is acting like the SEC got everything it wanted, the Pac-12 got everything it needed. Our feeling is that much of what you heard out of Pac-12 commissioner Larry Scott over the past few weeks -- the plus-one! the demand for only conference champions! -- was gamesmanship. I'm not sure he's unhappy with any of the compromises he had to make.
So, again, cautious optimism.
But questions lie ahead, without a doubt.
A first issue: The nine-game vs. eight-game conference schedule. The major conferences need to adopt a standard here, whether it's eight or nine. If the Pac-12 and Big 12 are playing nine conference games and the SEC and Big Ten are playing eight, then those conferences aren't playing the same game. It's not just about playing another tough opponent, either. It's about the mathematical fact that playing an extra conference game creates more losses in your conference and chips away at strength of schedule as much -- or more -- as it might add to it.
Further, strength of schedule in general needs to be explained. If the selection committee is going to truly emphasize it, then that means you might see a 10-2 team that played a brutal schedule get an advantage over even an unbeaten team that didn't. For example, let's say there is an 11-2 team that wins its conference, beats five top-25 teams and loses close games early in the season to a pair of teams that finished unbeaten and are already in the Final Four. Would it get enough of a bounce with the committee to slip past a 12-0 team that had just one or two top-25 victories? And, oh, by the way, would that be fair?
If that is the case -- that strength of schedule receives major consideration -- that would encourage better scheduling and fewer patsy, buy-a-victory games. That would be a huge win for fans. Who can get enough of Oregon-LSU or USC-Ohio State?
How revenue distribution works out also will be interesting to see. How much will a conference get for putting two teams in a final four? And what does a conference get when it places no teams in the final four? A few consecutive seasons with one conference reaping monetary rewards from the former and another suffering through the latter could end up creating a sizable revenue disparity.
And, perhaps, a new breed of have and have-nots.
Speaking of that: Are we certain that conference alignments will be as they are today in 2014? Probably not, right? Every time we feel like stability has arrived after an expansion frenzy, we only find out about more reckless eyeballing.
At the very least, we are living through interesting times in college football. Just five or so years ago, these sort of cataclysmic changes didn't seem possible.
So, for a third time: Cautious optimism.
What's the cheer for that?
June, 26, 2012
6/26/12
6:21
PM ET
WASHINGTON, D.C. -- A four-team playoff for college football has been formally approved by a presidential oversight committee, a dramatic change for the sport that will begin in 2014. The four teams will be chosen by a selection committee, and the semifinals will be held at current bowl sites and the national championship game will be awarded to the highest bidder.
Click here to read more about the new college playoff system
.
June, 25, 2012
6/25/12
10:30
AM ET
By
ESPN.com staff
| ESPN.com
Join ESPN.com's experts on Monday as they discuss the latest on the future of the BCS. Ask questions, debate proposals and let us know what you'd like to see when the current BCS structure expires in 2014.


June, 20, 2012
6/20/12
8:23
PM ET
CHICAGO -- The BCS commissioners and Notre Dame athletic director Jack Swarbrick on Wednesday endorsed a seeded four-team playoff model for college football that would begin for the 2014 season.
The commissioners' consensus must be approved by the BCS presidential oversight committee, which meets June 26 in Washington, D.C. If approved, the four-team playoff would replace the BCS system, which has been in place since 1998.
"We're very unified," Big Ten commissioner Jim Delany said. "There are issues that have yet to be finalized. There's always devil in the detail, from the model to the selection process, but clearly we've made a lot of progress."
For the rest of the story,
click here
.