January, 13, 2015
Jan 13
5:00
PM ET
By
ESPN.com staff
| ESPN.com
So last night didn't really go down the way that Oregon and the rest of the Pac-12 would've hoped. It would've been the Ducks' first national title and that would've brought a lot -- whether folks want to admit that or not -- to the conference heading into next season.
It is your humble Pac-12 Blog's job to bring you the news when it comes to this conference, but at the same time -- since we are so humble -- we're willing to admit that crowd sourcing intellectual, thoughtful and creative mediums like Twitter are also valuable ways to bring you the Pac-12 news. So, last night's game will be no different.
We bring you the good, the bad and the ugly from last night's game via the twitter sphere.
THE GOOD
It started off well enough. First, Ohio
forgot how to spell it's four-letter long name
, Puddles made a grand entrance (sans motorcycle, though) and there were some other good pregame omens.
#puddles "@PaulMyerberg: Due to a malfunction, the men's bathroom is covered in water. I take that as a positive omen for the Ducks."

— Holly Anderson (@HollyAnderson) January 13, 2015
Once the game finally started, the Ducks got off to a fast start.
First six plays for Oregon, I never counted more than 23 Mississippi's in between.

— Ralph D. Russo (@ralphDrussoAP) January 13, 2015
And want to know who had the best reaction to Oregon's opening drive? You guessed it Oregon State head ... errr, wait ... Nebraska head coach Mike Riley. If this video doesn't scream "Thank the Heavens I don't have to play that team every single year" anymore, then I don't know what does. Side note, Mike, you now have to play the team that won. Good luck with that.
Mike Riley reacts to Oregon's touchdown. #Huskers https://t.co/cIj5cUtbQp

— Erin Sorensen (@erinsorensen) January 13, 2015
And past that, there was plenty of good in the way of Oregon fumble recoveries (not necessarily
doing
anything with those fumble recoveries, but, you know, getting them was good). Specifically, the one that stands out would be the
Cardale Jones
fumble/turnover/
Jameis Winston
impression. Twitter had its fun with that...
maybe the football is too heavy

— Caitlin Kelly (@atotalmonet) January 13, 2015
do the jameis pic.twitter.com/ygP6zg7Cvs

— martin rickman (@martinrickman) January 13, 2015
Dear Cardale: I feel your pain. Sincerely, Jameis.

— Bonnie Bernstein (@BonnieBernstein) January 13, 2015
I'm kinda afraid if Buckeyes win, they'll drop the trophy during the presentation.

— Bob Valvano (@espnVshow) January 13, 2015
.@NCAA HOW IS IT FAIR THAT OREGON HAS INVISIBLE PASS RUSHERS

— Fake Bo Pelini (@FauxPelini) January 13, 2015
THE BAD
OK, so this is the bad based off mostly just one play. And yes, we're looking at you
Byron Marshall
. Don't you remember the South Dakota State game? How you went 52 yards and then dropped the ball right before you entered the end zone? Don't you remember how silly that was and you said you'd learn from it?
And then there was the Utah game, Byron, remember that one? When the Utes were up 7-0 and
Kaelin Clay
managed to get behind your secondary, find grass and then ... drop the ball at the one-yard line.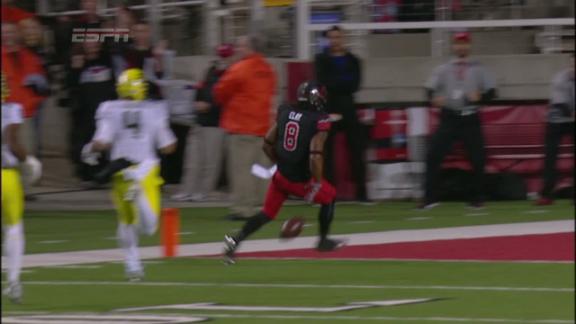 Look familiar?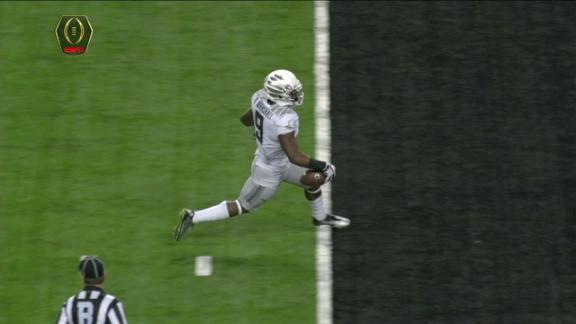 Even Clay was watching last night as you made that silly, silly mistake.
NO BYRON NO!!!!

— Kaelin Clay (@CALiboy4) January 13, 2015
This is bad, Byron. You need to learn from your mistakes.
Also, it really doesn't look all that cool to drop the ball like that while running in a touchdown. You're a creative kid. I'm sure there are a million different ways to enter the end zone WITH the ball while still looking cool. I'd recommend picking one of those from here on out.
THE UGLY
Marshall's touchdown brought the Ducks within four but soon enough the Buckeyes would begin to roll and it'd get ugly. Very ugly. The following tweets are presented without comment.
January 13, 2015
LeBron brings his 1st title to Ohio.

— Bobby Rosinski (@BobbyRosinski) January 13, 2015
January, 12, 2015
Jan 12
1:30
PM ET
By
Chantel Jennings, Kevin Gemmell
and
Ted Miller
| ESPN.com
When you wake up tomorrow morning, the talk of the town will be about the national champion -- either No. 2 Oregon or No. 4 Ohio State. It'll be Ducks or Bucks, the Big Ten or the Pac-12.
And on Wednesday? We'll already have moved on to predicting the 2015 national champion.
But for now, let's throw our hat in the ring for a few last-minute predictions and thoughts, straight to you from your (one last time for the 2014 season) humble Pac-12 blog team.
Kevin Gemmell | Oregon 45, Ohio State 31
I picked the Ducks to win it all in the beginning of the season, so I'm pot-committed, as they say. No backing out now. I've hammered this point for the past month or so, and we saw it come to fruition in the semifinal: The Ducks are really, really good at making opponents pay for their mistakes. Oregon has the nation's best turnover margin at plus-20. Ohio State is much better at taking care of the ball than Florida State was, boasting a turnover margin of plus-10. If the Buckeyes turn the ball over, there is a very good chance Oregon will tax them on the scoreboard. More than 20 percent of Oregon's points this season came following a turnover. And thus, the Ducks will win. However, if Ohio State plays a clean, turnover-free game (or Oregon fails to capitalize on the extra possessions), this becomes a coin flip and there's an equally good chance we're all bowing to the Big Ten Tuesday morning. I'm banking on the first scenario.
Chantel Jennings | Oregon 35, Ohio State 24
Is it worrisome that the Ducks lost
Devon Allen
and
Darren Carrington
? Yes. It is worrisome that
Ifo Ekpre-Olomu
hasn't miraculously gotten better and plans to return with a robot leg made of magic and rainbows? Yes. It is worrisome that the offensive line (fill in whatever you want here)? Yes. Is it worrisome that Ohio State's
Ezekiel Elliott
was the first running back to rush for 200 yards against Alabama since the 2003 season? Yes. Is it worrisome that Ohio State seems to have more really talented quarterbacks than most teams have really talented offensive linemen? Yes.
But guess what: Oregon has
Marcus Mariota
and Ohio State doesn't. That has been my reasoning for why the Ducks won games, and it's the same today. I've watched Mariota all season, and I don't know if I've ever seen a more impressive college football player.
Ted Miller | Oregon 45, Ohio State 42
It concerns me Oregon has lost two starting receivers since the opening kickoff against Florida State (Allen and Carrington), and that it will try to slow Buckeyes big-play receiver
Devin Smith
without Ekpre-Olomu and that Elliott ran over what was supposed to be an A-list Alabama defense. So a lot concerns me because Ohio State appears to be peaking and I don't think the Ducks' defense will be able to slow the Buckeyes. Yet it comes down to Mariota and how he distributes the ball to the playmakers. I think he can make enough plays to win a shootout. And, in advance, I apologize, Ducks fans, if my going against my notorious reverse-prediction-karma ends up costing your team a national title.
January, 8, 2015
Jan 8
4:00
PM ET
No matter how many statistics, trends, storylines or betting lines we look at, no one truly knows which way the College Football Playoff National Championship Presented By AT&T will actually go.
So some of us resort to other options -- clairvoyance, the way the clouds are shaped, and so on and so forth.
But Jimmy Fallon decided he would turn to a sure-fire predictor that he believes to be more accurate than any of the above, and it's his show's secret weapon: golden retriever puppies.
On Wednesday night, "The Tonight Show Starring Jimmy Fallon" featured seven pups who had the opportunity to choose between an Oregon bowl of dog food and an Ohio State bowl of dog food.
A few spoilers:
The Oregon bowl gets more puppies, so according to Fallon, the Ducks will win*.
You might pass out from an overload of cuteness. Please make sure you're seated before watching the video.
Gary Frick Jr. will not be tricked into such tomfoolery. He will not stoop to this level.
* Fallon says "there's a 5 percent chance that this will be correct," so Buckeyes fans, don't hate on the puppies.
December, 29, 2014
12/29/14
5:10
PM ET
LAKE BUENA VISTA, Fla. -- Several players made incredible plays on Day 1 of the Under Armour All-America game practices.
Byron Cowart
had several sacks, quarterbacks
Kyler Murray
,
Deondre Francois
and
Brandon Wimbush
all made impressive throws, and Notre Dame commit
Shaun Crawford
had a big pass breakup. Here's a closer look at some of the top plays caught on camera.
Notre Dame pledge Shaun Crawford with nearly perfect technique on a pass breakup of a pass intended for
George Campbell
.
Shaun Crawford with a heck of a pass break up on George Campbell. #UAAllAmerica https://t.co/dtuFqm0XEM

— Derek Tyson (@DerekTysonESPN) December 29, 2014
Quarterback Kyler Murray with a beautiful touchdown pass.
#Gigem QB commit @TheKylerMurray with the TD pass in team. Making great reads -- as expected. #UAALLAMERICA... https://t.co/RgJWcybvdT

— Gerry Hamilton (@HamiltonESPN) December 29, 2014
George Campbell coming down with the catch.
George Campbell has to sky for this tall grab. #UAAllAmerica pic.twitter.com/ogQNJaJoUI

— Miller Safrit (@MillerSafrit) December 29, 2014
Defensive tackle
Christian Wilkins
against Alabama recruit
Richie Petitbon
.
DT Christian Wilkins against Alabama OL commit Richie Petitbon #UAAllAmerica https://t.co/gqnAqvQI06

— Tom VanHaaren (@TomVH) December 29, 2014
Georgia recruit
Terry Godwin
makes a catch against
Iman Marshall
.
Good rep for both sides of ball. #UGA commit Terry Godwin makes catch on hitch and #ESPN300 CB Iman Marshal... https://t.co/V8v1xktz7c

— Jeremy Crabtree (@jeremycrabtree) December 29, 2014
Quarterback Deondre Francois with a nice touchdown pass over the middle.
Deondre Francois with a beautiful TD pass. #Noles https://t.co/LDbVm5edDW

— Derek Tyson (@DerekTysonESPN) December 29, 2014
UNC OL pledge
Tommy Hatton
winning a battle against the No. 1-ranked player in the country,
Terry Beckner Jr
.
Nice job by C & #UNC commit Tommy Hatton working against Terry Beckner #UAAllAmerica https://t.co/GU1m21fTrk

— Craig Haubert (@CraigHaubert) December 29, 2014
Oregon recruit
Canton Kaumatule
with a great spin move to win his one-on-one battle.
Oregon commit Canton Kaumatule is a monster, has used his athleticism well in one on ones #UAAllAmerica https://t.co/35LuC6wuyO

— Tom VanHaaren (@TomVH) December 29, 2014
Byron Cowart with a nice move on
Drew Richmond
for the sack of
Blake Barnett
.
5-star DE @ByronHawkStar99 with a nasty move and sack on Drew Richmond. #UAAllAmerica https://t.co/dg4K8VvUrz

— Derek Tyson (@DerekTysonESPN) December 29, 2014
South Carolina commit
Arden Key
with the tackle.
#SouthCarolina DE commit Arden Key with a great tackle. #UAAllAmerica https://t.co/daouyCXXsZ

— Derek Tyson (@DerekTysonESPN) December 29, 2014
Brandon Wimbush with a nice touch pass.
#NotreDame QB commit Brandon Wimbush with the nice throw. #UAAllAmerica https://t.co/RsWbqeBCqn

— Derek Tyson (@DerekTysonESPN) December 29, 2014
September, 5, 2014
9/05/14
1:00
PM ET
By
Chantel Jennings, Brian Bennett
| ESPN.com
This weekend, Autzen Stadium in Eugene, Oregon, is going to be rocking with one of the biggest nonconference matchups of the year -- No. 3 Oregon vs. No. 7 Michigan State. It's the first-ever top-10 out of conference matchup that will be played in the stadium and there are playoff implications on the line.
Here are a few different things to watch for as the Ducks and Spartans take the field at 6:30 p.m. ET.
Michigan State offensive player to watch:
RB
Jeremy Langford
. The Spartans hope to use their running game to eat some clock and keep Oregon's offense on the sidelines, and Langford is key to that. But Langford is dealing with an ankle issue, and Michigan State's rushing attack was a little off in the opener against Jacksonville State.
Oregon offensive player to watch:
QB
Marcus Mariota
. The Heisman candidate has been a model of efficiency for the Ducks over the past few seasons and against the Spartan defense, he's going to need to be at his best. He's going to have some tougher matchups with his younger wide receivers. Look for him to get the ground game going -- along with
Byron Marshall
,
Thomas Tyner
and
Royce Freeman
-- for Oregon.
Michigan State defensive player to watch:
LB
Taiwan Jones
. The senior gets his first big test as the team's starting middle linebacker. The responsibility for getting the defense organized and aligned against the Ducks' hurry-up attack falls on him. He also needs to provide plenty of help against the Oregon zone-read. The outside linebackers have to control the edge, where Oregon is so dangerous, but they'll look to Jones for leadership.
Oregon defensive player to watch:
CB
Ifo Ekpre-Olomu
. He's going to be crucial for the Duck defense. If
Connor Cook
chooses to throw at him, he needs to make him pay -- or at least make sure Cook doesn't make a big play. The Ducks like to blitz Ekpre-Olomu from the corner, so look for him to contribute all over the field.
Michigan State wins if:
It can win first down, on both sides. A big key to slowing down Oregon's offense is to get it in third-and-long situations that force the Ducks to pass the ball. The Spartans' defense, which has been so good against the run in the past few years, needs to be at its best on early downs. On the flip side, if Michigan State's offense can put itself in manageable down-and-distance scenarios, it can stick with the running game and control the tempo.
Oregon wins if:
Mariota can connect with his young wide receivers and the Duck defense can get off the field in crucial situations. They weren't happy with their defensive performance against South Dakota last weekend and they struggled with tackling. That can't be the case if the Ducks are going to pick up a win over MSU.
Outlook with a Spartans win:
Michigan State immediately becomes a top College Football Playoff contender. With its most difficult remaining games at home -- Nebraska and Ohio State -- the Spartans would have a real chance to run the table.
Outlook with a Ducks win:
Mark Helfrich gets that signature win as a head coach, Mariota is provided some Heisman fuel and Oregon is an early favorite to play in the College Football Playoff.
Outlook with a Spartans loss:
As long as they don't get blown out, the Spartans aren't necessarily toast if they go down in Autzen. Remember last year, they lost in September at Notre Dame but would still have been in position to make the playoff at the end, had one been in place. But they would need a lot of help and would have to hope Oregon goes on to have a great season.
Outlook with a Ducks loss:
They'll need to run the table convincingly in the Pac-12 conference if they want to be considered for a spot in the playoffs. Even an early loss could lessen the chances for Oregon depending on how other conferences shake out. The Ducks best bet is to leave nothing to chance and not even have to consider that alternative.
May, 18, 2012
5/18/12
1:15
PM ET
SEC and Big 12 folks have been tweaking the Big Ten and Pac-12's love of the Rose Bowl of late. That made me grin because the primary motivation for those tweaks was jealousy.
Don't buy that assessment? Well, then what do you
make of this
: The SEC and Big 12 champions, starting in 2014 after the current BCS contract expires and we presumably adopt a four-team playoff, will meet annually in a prime time New Year's Day "bowl" game.
[+] Enlarge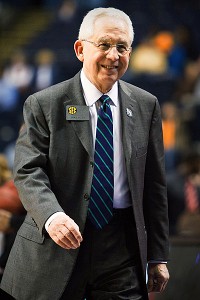 Darrell Walker/Icon SMICommissioner Mike Slive and the SEC have a bowl agreement with the Big 12 that is nearly identical to the Rose Bowl model used by the Big Ten and Pac-12.
Unless, of course, the SEC and/or Big 12 champions are selected for the four-team playoff, which one is almost certain to be and both are likely to be.
But, if one or both is selected for the playoff, then, just like the Rose Bowl, a No. 2 team from both or either conference will be selected.
So the SEC and Big 12 have adopted the Rose Bowl model in its entirety. Other than the fact that they can't play in the Rose Bowl stadium as the sun goes down over the San Gabriel Mountains.
The location has not been set. The Sugar Bowl (SEC) and Fiesta Bowl (Big 12) already have a dog in this fight, but expect bids to come from Jerry Jones and his deluxe Cowboys Stadium in Arlington, Texas, as well as a play from Atlanta.
By the way, the Rose Bowl jealousy stuff is mostly good-natured ribbing while I'm gaping at another sudden shift in college football's tectonic plates.
Folks, this stuff is amazing, and there's a stunning plot twist seemingly on a weekly basis -- Florida State to the Big 12? Notre Dame back in play?
The main take-away: This is a step closer to four power conferences, with the ACC and Big East finding their footing suddenly precarious.
And, if you want to worry, Pac-12 fans, it looks like the SEC and Big 12 are being far more aggressive -- read: expansionist -- as college football remakes itself. Keep in mind that the Pac-12 could have ended the Big 12 last September and become the first 16-team super-conference if Texas, Oklahoma, Oklahoma State and Texas Tech had made a jump.
Pac-12 presidents might end up regretting their decision not to expand -- and giving Oklahoma, in particular, the shaft. Newly enriched by a mega-TV deal, they might have lost track of the big picture while they were counting their money.
Commissioner Larry Scott has long held that further consolidation at the top of college football was inevitable. This is another example of him proving right, though this time without a blockbuster deal for Pac-12 folks to celebrate.
This latest news is a reason to get nervous. Or to just marvel at how quickly the game has changed.