Pac-12:

Big 12 Conference
November, 25, 2014
Nov 25
8:30
AM ET
Let's just get this out of the way: Last week in college football was kind of dull.
Unless, that is, you're into watching the single-game FBS
rushing record fall
for the second straight Saturday. (So who breaks it this week?) Yes, last week was dull, unless, of course, you're into Florida State's
weekly high-wire act
, re-awakenings at
Arkansas
and
Minnesota
or UCLA's
continued stranglehold on Los Angeles
.
My point is, the latest set of games didn't significantly impact the College Football Playoff picture -- at least in comparison to the past few weeks. Barring some craziness at the selection-committee table, the top four on Tuesday night is going to look no different than last week's edition.
But Week 13 was simply the calm before the storm. Not so sure? Check out first nine paragraphs Gene Wojciechowski's
BMOC column
. The rocky road to Dec. 9 is enough to make a fan of any playoff contender choke on his or her turkey dinner.
And it starts in two days.
April, 28, 2014
Apr 28
1:48
PM ET
The
SEC's long-awaited future schedule model
came out Sunday, and it looks a lot like its predecessor. The league maintained an eight-game league schedule with longstanding division crossover games, rather than going to nine league games. Beginning in 2016, the conference will require each member to play one nonconference game against a team from a power conference on an annual basis. Teams will continue to be allowed to schedule FCS opponents.
Reporters Ted Miller and Adam Rittenberg weigh in on the SEC's schedule structure.
Ted Miller:
Well, Adam, you knew it was coming. We live in an age when if you want to do something sneaky and con the public, you claim you are doing the opposite of your true intent. And then repeat it over and over again until some believe it really is opposite day.
Even we fall for it. Our
ESPN.com headline
says, "Schedule strength is SEC priority," when the opposite is actually the truth.
[+] Enlarge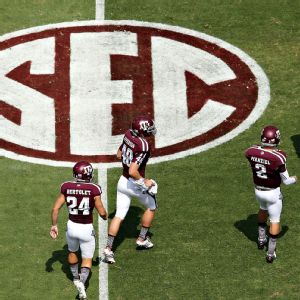 Ronald Martinez/Getty ImagesThe SEC is sticking with an eight-game league schedule.
It's irrelevant outside of the SEC whether the conference retained its "longstanding non-divisional rivalries." It's also irrelevant that the SEC insists it will continue to upgrade its nonconference schedule.
The only thing that matters is the SEC's massive con that games the system as we move toward the College Football Playoff: The SEC will maintain its eight-game conference schedule when other major conferences are -- or are planning to -- play nine conference games.
That is the only thing that matters, and this is nothing more than the SEC giving itself an annual advantage by deciding that it will eliminate seven losses from its standings.
This is not regional bias, folks. This is not SEC jealousy. This is something called "math."
With an eight-game SEC schedule, 5-7 teams become 6-6 teams. And 8-4 teams become 9-3 teams. And that 11-1 team that beat the 9-3 team that should really be 8-4 will look better than the 11-1 team in the Big 12, Pac-12 or Big Ten that beat an 8-4 team who would be 9-3 in the SEC.
Those sentences might glaze over many eyes and evoke a "Huh?" But they are the very thing that won the day among SEC leaders when it was decided to duck the mathematical realities of a nine-game conference schedule.
I'll now take a breath. Adam, what do you think?
Adam Rittenberg:
It makes me less excited about the playoff, for starters. Maybe I'm na´ve, but I saw the playoff, with its purported emphasis on schedule strength, as the great equalizer in scheduling. Maybe it still will be, but I have my doubts.
You cover a league (Pac-12) that for years has employed the most challenging schedule model in the country: nine league games plus marquee nonconference contests. I cover a league (Big Ten) that has traditionally resided in cupcake city. But three factors -- the playoff, an expanded conference and an upcoming TV contract -- triggered the Big Ten to adopt a nine-game league schedule, no more FCS opponents in the near future and stronger nonleague opponents. This is good for the fans. Expansion might remain a sore subject for some, but the idea of playing each other more, not less, is a good one.
If every league had the same model -- nine league games, at least one marquee nonleague game, a championship game -- it would create a degree of equity, produce more appealing games for fans and allow the selection committee to evaluate teams with similar profiles.
This SEC chest-puffing about the requirement to schedule one nonleague game against an opponent from a power conference is the most laughable part of Sunday's announcement. SEC teams already do this, just like those from the Big Ten, Pac-12 and so on. What really changes here? Can I still see SEC teams playing FCS teams in November? OK, cool, just checking. Rejoice, SEC fans.
Now fast-forward to December 2016, and the selection committee is choosing between a two-loss Pac-12 or Big Ten champion, which has played nine league games plus a championship game, and a one-loss, second-place SEC team with eight league games and no championship game. If the SEC team is chosen, it invalidates the whole system. Here's hoping the committee makes the right call.
[+] Enlarge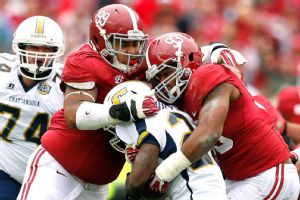 Kevin C. Cox/Getty ImagesAlabama crushed FCS foe Chattanooga in 2013; FCS Western Carolina is on tap in 2014.
Perhaps then, we'll see the SEC align at nine.
But maybe this has the opposite effect: leagues backing away from playing more conference games. The ACC has a similar decision ahead.
What do you think comes next?
Miller:
Know what would be great? If SEC fans would realize they are being cheated, just as much as the rest of college football. Why would Alabama fans rather watch a game against a Sun Belt team more often than, say, Georgia?
It would be great if they demanded a better schedule, one that went further toward determining the best teams in the SEC. In a 14-team league, how can anyone insist playing eight conference games rather than nine is better and more equitable?
Of course, that won't happen. As you and I have seen through the years, it's mostly "my conference, wrong or right" in the SEC. The typical SEC fan response when their conference is criticized ranges from "Well, your conference stinks!" to "We owned the BCS!" Folks down South tend to defensively circle the wagons instead of aspire to some objective self-analysis, though you could reasonably argue that is a powerful syndrome operating throughout college football.
Part of that defensiveness is there is no real rebuttal. This isn't an argument. It's an empirical truth that the SEC is gaming the system by playing eight conference games.
So as to what actually might come next, my thought is the CFP selection committee needs to make a stand: An eight-game conference schedule should automatically operate as a demerit as it falsely elevates the apparent strength of a conference.
What do you think?
Rittenberg:
We're all wondering about the committee's collective guts, especially when it squares off against the SEC monolith. That certainly would be a way to show the group means business. Because it's not about whether the Big Ten stinks, as hundreds of SEC fans told me Sunday night on Twitter. Yes, the Big Ten stinks, but it's not a Big Ten-SEC debate. It's about the SEC living in the playoff realm alongside the Big Ten, Pac-12, Big 12 and ACC.
While I'm not surprised by the SEC fan sensitivity to anyone who dares to critique their beloved league, how many other fan bases would actually want this? Don't fans want more appealing matchups? I know Big Ten fans want to play other league teams more, not less. They want more rivalry games. They want to see marquee nonleague contests. I'm guessing Pac-12 fans feel the same way.
The ACC's decision will be fascinating. Most of the coaches, like their colleagues in every other league, want to stay at eight. The ADs seem to be leaning toward nine. We could have four leagues playing nine league games and one playing eight.
The SEC would be on its own. Perhaps that's exactly what it wants.
November, 13, 2013
11/13/13
7:00
AM ET
For the past six seasons, I've covered the Pac-12 for ESPN.com. The decade before that, I was in Seattle, as a college football writer and columnist. And before that, I covered the SEC.
I know football on both coasts. But I don't really know the land-locked states. The states in the middle. States that some snotty folks in the Pac-12 might refer to as "the flyover states."
[+] Enlarge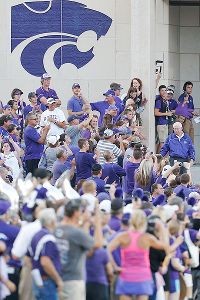 AP Photo/Orlin WagnePac-12 reporter Ted Miller will be taking in the atmosphere in Manhattan, Kan., this weekend.
But it's "Flip" week at ESPN.com. The idea is our regional college football writers are going to be leaving their regions -- their comfort zones -- for another, to search out the thrills and chills of college football in a different place. What makes that place different and special?
So I felt like it was right in my big-city wheelhouse when my bosses said I was going to Manhattan. Then they explained it was Manhattan, Kan., home of Kansas State, not the one on Hudson River. The Little Apple, not the big one.
That sent me to Google. And the more I read about Manhattan, the more I was intrigued. While the Pac-12 has a few neat college towns -- Eugene, Corvallis, Pullman, Boulder -- it's mostly big city football out here: Los Angeles, San Francisco, Seattle, Phoenix, Salt Lake and Tucson. Manhattan sounds like a quintessential college town.
After chatting with Kenny Lannou in the Kansas State sports information office, I found myself getting excited. This is going to be cool.
But I need to hear from you guys about what I should see and seek out. What is most important about Kansas State football? What is uniquely K-State?
My inquiry is about the Friday before and game day -- the tailgate and game itself. No stone should be left unturned.
I turned to our resident Kansas State alum, senior recruiting reporter Jeremy Crabtree. What should I see? And what should I expect?
Jeremy Crabtree
: Ted, the sightseeing on your trip to Kansas State should start even before you even arrive in Manhattan.
As you make your way West along I-70 from Kansas City, you'll notice a change in the scenery as you near exit 313 for Manhattan. You will be driving through a section of the Flint Hills, one of the few remaining sections of tallgrass prairie in America. You'll have to use your imagination some because it's winter and the grass is brown instead of green, but envision oceans of vibrant green grass untouched by man as far as the eye can see. As a native Kansan, I truly believe the Flint Hills rival some of the natural beauty you're used to seeing in Pac-12 territory.
[+] Enlarge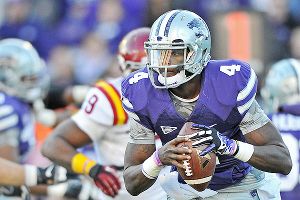 Peter G. Aiken/Getty ImagesQuarterback Daniel Sams and Kansas State take on TCU on Saturday at 3:30 p.m. ET.
Make sure you bring your clubs, because Colbert Hills Golf Course should be your first stop in Manhattan. From there you can experience some of the Flint Hills vistas yourself on a course designed by professional golfer Jim Colbert. You can see as far as 12 miles from some of the holes, and Colbert is a proud Kansas State alumnus, so the place is near and dear to Wildcat fans.
After you're done there, I would make a beeline to Aggieville, a six-square block section in town that's full of restaurants, bars and shops that serve as the social hub of Manhattan. You honestly couldn't go wrong with any of the places in Aggieville for lunch, but I'm a big fan of Coco Bolos, a Mexican wood-fired grill and cantina. The evil desert chicken is to die for, and if you're adventurous you can order it "truly evil" like I do. From there it's just a short walk to Varney's Book Store, Aggieville's anchor store and the only place to get everything purple you'll need for Saturday's game.
Your afternoon would also not be complete without a visit to the Call Hall Dairy Bar on campus. From there you can sample some of the 30-different student-made ice cream flavors. I've always been a big fan of purple pride, candy crunch and apple dapple.
On game day, make sure you get there early as the real pre-game show takes place in the parking lots.
Arrowhead Stadium in Kansas City has the best tailgating in the country, but you have to rank Bill Snyder Family Stadium right up there, too. With large blacktop parking lots on the east and west side of the stadium, there's plenty of room for cars, trucks and RVs to cram in and that creates kind of a tailgating utopia. With everyone packed in so tightly, a sweet-smelling combination of smoke from ribs, brats, steaks, burgers, brisket or whatever hangs in the air.
Also don't be shy if you see something you want to sample. Fans from opposing schools have always commented on how friendly the tailgating is in Manhattan, and K-Staters don't like seeing people go hungry, even if you come empty-handed.
Ted Miller:
Consider me intrigued. So Kansas State fans, if you have any suggestions for me to guide me on this trip, feel free to
drop them in my mailbag
or shoot me a note on Twitter
@ESPN_Pac12blog
. If you see me walking around Manhattan, don't be shy, say hello.
November, 7, 2013
11/07/13
4:30
PM ET
By
ESPN.com staff
| ESPN.com
Oregon-Stanford. Oklahoma-Baylor. Four top-10 teams. Conference and BCS implications galore.
It's almost certainly the biggest non-Thanksgiving Thursday in college football regular-season history and we know many of you will be working the remote and following social media during this titanic night. Keep Thursday Title Talk Live open throughout the evening – starting at 7:30 p.m. ET -- and we'll bring you real-time reaction and analysis from ESPN's stable of reporters, analysts and experts.
PAC-12 SCOREBOARD
Saturday, 12/20
Monday, 12/22
Tuesday, 12/23
Wednesday, 12/24
Friday, 12/26
Saturday, 12/27
Monday, 12/29
Tuesday, 12/30
Wednesday, 12/31
Thursday, 1/1
Friday, 1/2
Saturday, 1/3
Sunday, 1/4
Monday, 1/12
Tweets from https://twitter.com/ESPNCFB/lists/pac12