August, 11, 2014
Aug 11
6:00
PM ET
A college football rivalry never exactly cools off, at least among the emotionally involved. But rivalries do go through upticks and downticks of relevance, both regionally and nationally.
So which Pac-12 rivalries are heating up, stagnating or cooling as we head into the 2014 season?
USC Trojans-UCLA Bruins
The facts
: USC leads the series 46-30-7 and has won 12 of the last 15 games, but the Bruins have won two in a row under Jim Mora, including a 35-14 domination last year.
The meter
: Sizzling and rising.
The animosity between the fan bases is always strong, but what makes a rivalry truly heat up is relevance. And substantial stakes. This rivalry is gaining in both areas. USC is one of the preeminent football programs in the nation, even though UCLA fans hate to read that. UCLA is the rising western power under Mora, even though USC fans mock the idea. USC has a new coach in Steve Sarkisian and is moving past NCAA sanctions. UCLA is a top-10 team eyeballing the College Football Playoff. Know what I say? Release the hounds!
Arizona Wildcats-Arizona State Sun Devils
The facts:
Arizona leads the series 47-39-1, but Todd Graham has won the last two against Rich Rodriguez, including a 58-21 blowout last year in Tempe. Before that, the visiting team has won eight of the last 13 matchups, including the last four -- games that were decided by a total of 15 points.
The meter
: Blistering and heating up.
While Oregon-Washington fans provide the most blowback to the Pac-12 blog --
Yakety Yak! Oh, yeah!
Yakety Yak
--
Arizona and Arizona State fans are a strong No. 2. It used to be the fans hated each other and whined a lot -- "You cover them more... waaaaaa!" -- because both teams were fairly mediocre. But the Sun Devils won the South Division last year and are now 2-0 under Todd Graham against the Wildcats and Rich Rodriguez. With both programs trending up in an overall sense, the rivalry is gaining relevance. It also helps that Graham and Rodriguez don't particularly care for each other.
Oregon Ducks-Washington Huskies
The facts:
Washington leads the series 58-43-5, but the Ducks have won 10 straight in the series by at least 17 points, including a 45-24 win in Seattle last year.
The meter
: Hot but stagnating.
This has long been the most bitter Pac-10/12 rivalry but it has experienced a dramatic power shift to the Ducks. Sorry Huskies, you know it's true. It seems like Oregon fans these days are more worried about winning that darn absent national title than fretting about that team from up North. Now, if Washington and new coach Chris Petersen go into Autzen Stadium and steal one this year... well, that can't happen. Can it? Maybe that possibility needs to be debated.
USC-Notre Dame Fighting Irish
The facts:
USC has won nine of the last 12 meetings, but the Fighting Irish has won three of the last four, including a 14-10 win last year. Since 1967, USC has gone 24-20-3 in the series.
The meter
: Simmering with many hoping for a boil (particularly TV executives)
As far as national rivalries go, this one is without peer. It's an annual classic that matches two of college football's top powers. Lately, both teams have been nationally relevant, albeit not on an annual basis, and that's the issue. This rivalry is more about national relevance than bitterness. What it needs to heat up is for both teams to be national contenders with the winner in line for the College Football Playoff.
Washington-Washington State Cougars
The facts:
Washington leads the series 68-32-6, including a 27-17 victory last year. The Cougars have lost 11 of the last 16 Apple Cups, but are 1-1 under
Mike Leach
.
The meter
: Simmering with lots of potential spice
Have you stopped and pondered just how fun this one might get if Petersen and Mike Leach get their programs' performances to match their respective coaching reputations? For one, in terms of the media, it could be a Don James-Jim Walden deal where Petersen is a "2,000-word underdog" to the loquacious Leach. As it is at present, the Cougars really, really hate the entitled Huskies but the Huskies reserve their most bitter distain for Oregon.
Oregon-Oregon State
The facts:
Oregon leads the series 61-46-10 and has won the last six meetings, including a 36-35 thriller in Autzen Stadium last year.
The meter
: Warm but in need of another log on the fire
Know what bothers Oregon State fans? When some Ducks fans say they root for the Beavers when the two aren't playing. It probably isn't a statement of emotional fact, but Oregon fans recognize it as the ultimate patronizing gesture. See above with Washington: The Beavers really, really hate the entitled Ducks but the Ducks reserve their most bitter distain for Washington. Now, if the Ducks start to slide a bit and the Beavers push past them in the North Division -- or at least become Oregon's equal again -- this one will immediately boil over, potentially returning to the back-and-forth turf battle it was from 1998-2008, when it was one of the conference's most interesting and meaningful rivalries.
USC-Stanford Cardinal
The facts:
In a series that dates back to 1905, USC holds a 59-29-3 lead, but Stanford has won four of the last five meetings. Still, a year after Stanford upset the then-No. 2 Trojans, USC returned the favor by knocking off No. 4 Stanford 20-17 last fall.
The meter
: Most rivalries are more about the fans than the players. This one might be more about the players than the fans. These two teams go at each other -- hard. Things really picked up steam with former Stanford coach Jim Harbaugh mouthing off about Pete Carroll, then backing it up with two wins, including the classic "What's your deal?" game in 2009. Stanford started USC's and Lane Kiffin's downward spiral in 2012, while the Trojans ended the Cardinal's national title hopes in 2013. And I personally enjoy watching the Stanford band drive the Coliseum crowd crazy -- "And now a tribute to a great USC graduate...
Joe Francis
!"
California Golden Bears-Stanford
The facts:
Stanford leads the Big Game rivalry 54-44-10 and has won four in a row, including a 63-13 blowout last year.
The meter
: Luke warm until Cal rights itself
The Big Game is a great rivalry with a great history. The problem is getting the two teams to be good at the same time. Cal dominated the rivalry under Jeff Tedford until 2009. Now the Cardinal is fully in control. Second-years Bears coach Sonny Dykes probably could win over the Old Blues by pulling the upset this fall, but that will mean winning as a double-digit underdog.
BYU Cougars-Utah Utes
The facts:
Utah leads the series 57-34-4. Utah has won four straight and nine of the last 12 games with the Cougars, including a 20-13 victory last year in Provo.
The meter
: Always hot but chilling for two years
Utah has dominated this bitter series of late, most notably since joining the Pac-12, but there will be a two-year hiatus until the Holy War is renewed in 2016. That is unfortunate, as the series hasn't been interrupted since BYU didn't field teams during World War II (1943-45). Further, BYU is presently outside looking in, as it is not a Power Five conference member. It will be interesting to see how things go in the future.
Utah-Colorado Buffaloes
The facts:
Colorado leads the series 31-26-3, and this is both teams' longest series against any Pac-12 team. They played annually from 1903-62 with four exceptions, but then the rivalry went dormant for 49 years before it resumed in 2011 as Pac-12 members. As Pac-12 members, Utah leads 2-1 having won two in a row.
The meter
: Tepid while awaiting some seasoning
Sure, this is a bit of an artificial rivalry. They are paired as rivals because they joined the conference together. But as both start to develop their Pac-12 legs, you can count on this rivalry heating up. They will be compared for a long time. Neither wants to be the one not measuring up. And don't forget the "
Red Bike Incident
."
May, 16, 2014
May 16
6:45
PM ET
You've got questions and Ted Miller usually has your answers. But he's on vacation, so I'm in to pinch hit before the weekend.
Follow the
Pac-12 blog
(
and me
) on Twitter.
From Ted's mailbag, forwarded to me:
Bob from North of Oregon writes:
So, I find the decision to play the Pac-12 championship game at Levi's Stadium irritating. I really preferred the winner-hosts scenario. The concept that the team that has the best overall record hosts the game is a pretty common theme in sports (yeah, the Super Bowl is neutral). I guess San Francisco-area merchants will enjoy the additional income, as opposed to a place like say Eugene, for example. I look forward to the day that Oregon State and Arizona play at Levi's for the championship; that one would pack the house. I guess I can vote with dollars when I don't spend them to go.
Bonagura:
I've been wavering on this issue since it was first broached a couple years ago. There are a lot of moving parts here, and the reality is that there are clear winners and losers going away from the on-campus model.
Realistically, everything can really be explained with one question: Would the Pac-12 have made this move if it felt it would be making less money as a result? You know the answer.
[+] Enlarge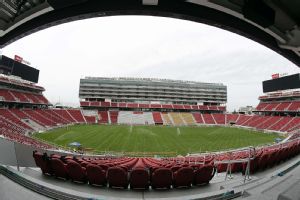 AP Photo/Eric RisbergLevi's Stadium will host the Pac-12 championship game for the next three years, at least. Will the Pac-12 make money on the neutral-site deal?
The most common gripes that seem to have come up on Twitter are: 1) There are potential attendance problems; 2) It amounts to a home game for Stanford and Cal; 3) Friday games?
Let's take a closer look at those three issues:
1) On Thursday at the announcement, 49ers president Paraag Marathe said, based on research the team has done with its season-ticket holders, he fully expects the game to sell out. If USC or UCLA is playing Stanford, Oregon or Washington, I could see that happening. Especially this being the Field of Jeans' first year. People are going to want to check out the new shiny object regardless who is playing. But like you said, Bob, Oregon State vs. Arizona? I'd be shocked if that filled up.
Once the novelty of the game wears off -- probably after this season -- I don't see casual Bay Area sports fans going to check out a college football game without a rooting interest. To think otherwise is contradictory to the market's past behavior.
You also have to factor in the likelihood of travel for fans of teams with the highest of expectations, meaning playoff games. Say Oregon goes undefeated in the regular season. At that point fans are clearly expecting to play for a national title. Do they spring for the travel to what essentially amounts to a quarterfinal game? Some will, but others will wait and spend their money to get to a playoff game.
2) There is no doubt Stanford and California will have some inherent advantages having the game played locally. How big an issue is that? After doing some research, I'm not convinced it's
significant enough
to factor heavily into the decision. I went back and looked at every season since 1978 (when the conference became 10 teams) to see how often Cal and Stanford would have played in a hypothetical Pac-12 title game. Including the last three years, that number is five. In three of those cases (Cal in 2004 and 2006; Stanford in 2013), either Cal or Stanford would have been on the road in the home-site model. Those are the only three times the new model would have given what can be described as an unearned advantage. (In real-life 2013, Stanford didn't have that advantage and won at ASU.)
That's not to say that cycle will continue to play out 1-in-every-12-years the way it has for the last 36; just providing a perspective. There's a good chance Stanford will be the beneficiary of the new site at some point in the next few years. Let's also not forget Stanford is often the butt of attendance jokes among Pac-12 fans. Seems illogical to argue that Stanford has terrible fans, then turn around and argue Stanford will have a huge advantage playing at Levi's.
3) The contract for the game to be played at Levi's is for three years. This year and 2016 will be on a Friday and 2015 will be on a Saturday.
---
Adam from Los Angeles writes:
So it seems like the Pac-12 Network will never reach a deal with DirecTV. What about a deal with Apple TV, which has an HBO and ESPN app (or channel, not sure what they are called). What are the chances of the Pac-12 Network reaching a deal with Apple TV, and what would prevent it?
Bonagura:
Adam, I reached out to the Pac-12 on your behalf. The response I got from a conference spokesman was that they are "considering support for Pac-12 Now on additional devices such as Apple TV, Xbox, PlayStation, Roku, etc." They just don't have a specific time frame to release publicly.
As for DirecTV and the Pac-12 Networks getting a deal done, there is actually some reason to believe that it could eventually happen.
As noted here in greater detail
by the San Jose Mercury News' Jon Wilner, AT&T's recent discussions into buying DirecTV could be a good thing for the Pac-12 Networks' prospects of being offered by the satellite TV company. AT&T currently offers the Pac-12 Networks to its subscribers.
---

Jeff from Carlsbad, California, writes:
With BYU already in series contracts with half the Pac-12, what is your stance on them being included as a [power-five] opponent?
Bonagura:
Obviously, BYU will never technically be considered a power-five opponent unless it joins one of those five conferences (ACC, Big 12, Big Ten, Pac-12, SEC), but if it wants to be considered on that plane as an independent school, like Notre Dame, its scheduling isn't helping. In the last three years, BYU has scheduled an average of five power-five teams a season. This season it will play three (Texas, Virginia and Cal), and there are two tentatively lined up in 2015 (Nebraska, Michigan) out of 11 games. BYU can have a really good team, one capable of competing well in conferences such as the Pac-12, but until it plays a comparable schedule, there will also be questions about relative legitimacy.
---
Matt from Portland, Oregon, writes:
Any post-draft items that jump out at you? Like
Bishop Sankey
going in the second round (as the first RB taken), while
[Ka'Deem] Carey
goes late in the fourth? Barr going so high?
Shayne Skov
not getting drafted?
Bonagura:
Based on their college careers, Skov going undrafted was the biggest surprise of the draft -- although that possibility had been reported in the days leading up to it. Skov's fall is 100 percent injury-related. After missing most of the 2011 season with a torn ACL, he really never was back to his pre-injury form in 2012. That hurt his tape. He was back to being a dominant linebacker again in 2013, but then missed the combine with a calf injury. Then he had to reschedule his pro day because of a hamstring injury and when
he finally worked out for NFL scouts
-- still not fully recovered -- he ran a 5.11 40. In hindsight, he was probably better off not running.
---
Ben from Wildcat Universe writes:
Why did Ka'Deem [Carey] drop? Don't they watch film? No hate for Bishop Sankey; he is a stud ... but the Joke Walker award winner ahead of Ka'Deem is silly! Can he do at RB what [Nick] Foles is doing at QB?
Bonagura:
That baffled me, too. I won't even attempt to justify
Andre Williams
ahead of Carey. It makes no sense.
December, 28, 2013
12/28/13
1:23
AM ET
A couple of up-tempo teams squared off in the Fight Hunger Bowl. But it was a big special teams play that propelled the
Washington Huskies
(9-4) to a 31-16 win over BYU (8-5). Here's how it all went down Friday in San Francisco:


It was over when
: Holding a 31-16 lead late in the fourth, Washington's
John Timu
picked off BYU quarterback
Taysom Hill
with 2:28 left to play. It was BYU's only turnover of the game and squashed the possibility of any late-game heroics. The Huskies ran down the clock, making BYU's final offensive drive moot.
Game ball goes to
: Though he missed the fourth quarter, Washington running back
Bishop Sankey
turned in his usual workmanlike performance, rushing for 95 yards on 21 carries with two touchdowns on the ground.
Unsung hero
: Washington's special teams -- particularly kick return -- were a huge difference early in the game.
John Ross
returned a kickoff 100 yards for a touchdown to give Washington a 14-7 lead in the first quarter. Then
Jesse Callier
had a 47-yard return that set up Sankey's second score of the game. In his only field goal attempt of the game,
Travis Coons
hit a 45-yarder in the fourth quarter.
Stat of the game:
The Cougars outgained the Huskies in total offense, 473 yards to 316, but struggled in the red zone, settling for field goals in lieu of touchdowns. They also held a time of possession advantage of more than four minutes, but Washington's special teams touchdown and long return contributed to shorter drives for the Huskies.
What it means for Washington
: The Huskies pick up their ninth win for the first time since 2000 and head into the Chris Petersen era with a little bit of momentum. There are a lot of questions lingering -- such as the makeup the Petersen's new staff (pretty good audition for Marques Tuiasosopo), which players are staying or going, etc. But for a team that came into the year with fairly high hopes, the Huskies proved they deserve a spot in the final top 25 rankings.
What it means for BYU
: The loss snaps BYU's streak of four straight bowl wins and brings an end to a very difficult schedule. Eight wins is nothing to scoff at, and their 2013 resume includes victories over Texas, Georgia Tech and Boise State. Hill is a player, and with him at the helm the Cougars offense will be dangerous again next year against an easier schedule.
To watch the trophy presentation of the Fight Hunger bowl,
click here
.
December, 27, 2013
12/27/13
11:00
AM ET
Washington (8-4) and BYU (8-4) square off Friday night in the
Fight Hunger Bowl
at 9:30 p.m. ET on ESPN.


Here's a quick preview:
Who to watch:
For Washington, it starts with running back
Bishop Sankey
, a Doak Walker finalist and one of the most consistent and powerful backs in the country. He ranks second in the country in rushing yards (1,775), fourth in rushing touchdowns (18) and averages 147.8 yards on the ground per game. BYU quarterback
Taysom Hill
is the first player in school history to throw for 2,000 yards and rush for 1,000 in the same season. His completion percentage isn't great -- just 54.1 percent, and he has thrown 13 interceptions to go with 19 touchdowns. But what he lacks in accuracy, he makes up for in scary athleticism.
What to watch:
Both teams run an up-tempo style of offense that will put a lot of strain on the opposing team's defense. Well-known nationally is hybrid defensive end/OLB
Kyle Van Noy
, who pretty much single-handedly won the Poinsettia Bowl last year for the Cougars. Washington's offensive line has been steady and consistent, but keeping Van Noy out of the backfield poses as big a challenge as any pass rusher the Huskies have seen this season. How the Huskies protect quarterback
Keith Price
and open up holes for Sankey will be the matchup to watch.
Why to watch:
Much like USC and Boise State, who already have played their bowl games, Washington is a team going through a coaching transition. That always adds intrigue and drama to the postseason, because motivation comes into question. But with Chris Petersen's hire at Washington, the Huskies don't seem to be as unstable as Boise State was in its loss to Oregon State in the Sheraton Hawaii Bowl. BYU has a knack for playing well in the postseason, winning six of its past seven bowl games and four in a row. Their stability provides a stark contrast to the in-transition Huskies, making for some interesting sidebar discussions in this one.
Predictions:
Kevin Gemmell picked Washington to win, 38-27. Ted Miller picked BYU to win, 30-24.
December, 26, 2013
12/26/13
10:00
AM ET
Three of the Pac-12's nine bowl games are in the books and the league is 2-1 against a trio of Mountain West teams. Up next is Washington against BYU in the Fight Hunger Bowl on Friday night (9:30 p.m. ET, ESPN). What can we expect from yet another game that has a team going through a coaching transition? Good question.
[+] Enlarge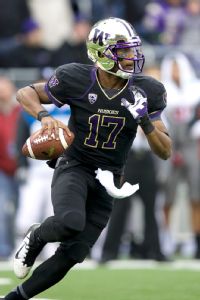 Stephen Brashear/Getty ImagesKeith Price will lead an experienced group of Washington seniors into the Fight Hunger Bowl on Friday night.
Ted Miller
: We saw USC play well with an interim coach. We saw Boise State fall flat with an interim coach. Now it's Washington's turn.
Do the Huskies, after coach Steve Sarkisian bolted for USC, taking much of his staff with him, show up for the Fight Hunger Bowl focused and motivated? Do they play inspired football for former Husky great Marques Tuiasosopo, who was named interim coach?
Or do they flop against a good BYU team that is perfectly capable of embarrassing an AQ conference team. Just ask Texas.
The Huskies are dealing with further intrigue. What about defensive coordinator Justin Wilcox? Is he shortly off for USC? Or will he surprise many and remain in Seattle? Then there's defensive line coach Tosh Lupoi, who is being investigated by the NCAA following allegations that he paid for private tutoring for Husky football recruit Andrew Basham.
Lupoi was almost certainly headed to USC after the bowl game, but now his future is in jeopardy.
It's fair to ask how much Wilcox and Lupoi themselves are focused and motivated for this game.
The Huskies have a good group of seniors, led by quarterback
Keith Price
, who are probably going to need to play an even bigger leadership role than usual in this one for Washington to win. Further, the guys who will be back next year are playing to impress new coach Chris Petersen, who likely will take a dim view of an indifferent effort.
There's been a lot of chaos surrounding the Huskies since the end of the regular season. Sometimes teams can transform chaos into an efficient, focused performance.
And sometimes they can't.
Kevin Gemmell:
I think Ted hit on the key word late in his take -- leadership. When you compare the situations with USC and Boise State, you saw a Trojan team that was focused, united and rallying around common causes. For some, it was a not-so-subtle tribute to former interim coach Ed Orgeron. For others, it was a showcase before jumping to the NFL. And for still others, it was finding some closure to what has been an otherwise roller-coaster year. Whatever the reason, it all worked. It was chemistry by way of chaos.
Washington is in a similar situation to Boise in the sense that its coach left freely and wasn't forced out the door, as was the case with Lane Kiffin and Orgeron at USC. There's a psychological sting that goes with a coach essentially saying, "I prefer to be there, not here." The Broncos couldn't bounce back from that -- or
the stream of controversy
that followed them in Hawaii.
As far as we know, there has been no such piddling player controversies for the Huskies. And the fact that Petersen "preferred" Washington to Boise State takes a lot of the sting out of Sarkisian "preferring" USC to Seattle. There weren't many coaches in America who could inject that much immediate confidence into a program. Petersen was one of them.
Plus the Huskies are heavy when it comes to leadership. Price,
Bishop Sankey
,
Sean Parker
and solid lines on both sides of the ball give this team a solid core. This is a group that should be poised and motivated against a BYU team that, as Ted notes, has the potential to hang with an AQ team.
Bowl season is all about motivation. BYU, which plays with a perennial chip on its shoulder, has won six of its last seven bowl appearances -- including four straight. This is a team that knows how to win in the postseason and always plays with plenty of motivation.
But I think Washington has equal motivation. When Washington is at its best, it is a top 25, top 20 or even top 15 team. And for a group of seniors who have seen this program reinvent itself over the last four to five years, going out with a win cements their legacy. That should be motivation enough.
December, 8, 2013
12/08/13
9:35
PM ET
[+] Enlarge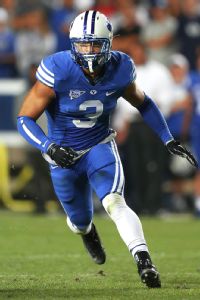 George Frey/Getty ImagesKyle Van Noy leads the BYU defense.
Dec. 27, 9:30 p.m. ET, San Francisco (ESPN)
BYU COUGARS BREAKDOWN
After a year of playing all over the country, from Virginia to Houston to Wisconsin to Notre Dame, why not make one more trip? The Cougars finished their third season as an FBS independent with a win over Nevada last week and immediately accepted a bid to the Kraft Fight Hunger Bowl in San Francisco.
The Cougars won eight games, six against teams going to bowl games, thanks to a top-25-scoring defense and a potent run game led by quarterback
Taysom Hill
and running back
Jamaal Williams
, who each surpassed 1,200 rushing yards and combined for 16 touchdowns.
BYU has won its past four bowl games and is bowling in California for a second consecutive season after knocking off San Diego State 23-6 in the San Diego County Credit Union Poinsettia Bowl last year.
-- Max Olson

vs.

WASHINGTON HUSKIES BREAKDOWN
The news that coach Steve Sarkisian was headed to USC was quickly trumped by the hiring of Boise State's Chris Petersen -- though it will be quarterbacks coach and former UW QB Marques Tuiasosopo who leads the Huskies into the bowl season.
[+] Enlarge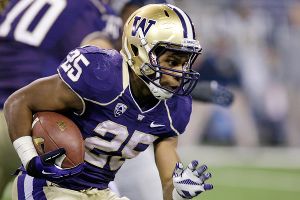 AP Photo/Elaine ThompsonBishop Sankey had 134 carries in Washington's final five games and topped 100 yards in four of them.
Led by Doak Walker Award finalist
Bishop Sankey
, the Huskies finally got over the seven-win hump that had been plaguing them of late. Sankey became a national name for his performance in last year's Las Vegas Bowl loss to Boise State. He has exceeded the hype this year and has been a workhorse back. Sankey has proven to be one of the most complete skill players in the country with 1,775 yards (5.8 per carry) and 18 touchdowns on 306 carries. He also has snagged 25 balls for 298 yards and a score.
Quarterback
Keith Price
has looked more like his 2011 self -- mostly because of stability along the offensive line, which has helped the Huskies average 38.5 points per game.
After a midseason skid that saw three straight losses (at Stanford, vs. Oregon and at Arizona State), the Huskies closed the year by winning four of their last five.
Washington's defense, particularly the secondary, has continued to flourish. At question, however, is who will be calling the defense for the bowl game. Defensive coordinator Justin Wilcox is rumored to be a candidate for the Boise State job, though he also could end up at USC with Sarkisian. Petersen is bringing Pete Kwiatkowski with him from Boise State, so Wilcox and the Washington defense remains in limbo.
-- Kevin Gemmell