October, 31, 2014
Oct 31
11:00
AM ET
Happy Halloween, Pac-12.
This holiday seems perfect for a conference that has had so many tricks and treats already this year.
So, to celebrate, we've looked around the conference and picked out some possible costumes for teams, coaches and players.
For example, this year Arizona is going as Stanford (Oregon's apparent Kyrptonite). Stanford is going as Utah circa 2013 (three losses by Week 7). Utah is going as Oregon (injury bug strikes). And Oregon is going as a flamingo. Because really, a duck going as a bird is just some irony I'd love to see.
Oh, and also, Washington State is going as a pirate. Just because. Here are some other options for teams:
[+] Enlarge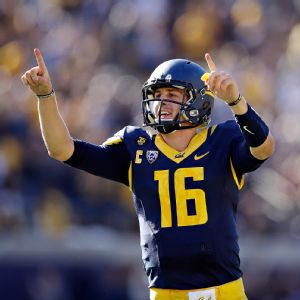 Ezra Shaw/Getty ImagesJared Goff and the Golden Bears have been surprisingly improved this season.
Freddy Krueger (team not to sleep on):
Cal. We all knew they'd be better than last season, but who could have predicted that they would be a possible bowl team with four games to go? At Week 5 in the season they were just a Hail Mary away from being undefeated.
Jared Goff
is one of the most improved players in the nation and he's leading a team that has Sonny Dykes in some coach of the year discussions. Cal has lost three games in a row, but they managed to put up 41 points against Oregon and almost beat UCLA at home. Oregon State? USC? Stanford? You've been warned. This team is not one you can sleep on. The 2013 team? Maybe. But this 2014 version is so different.
Boo (boo):
Oregon's offensive line. Remember when this was going to be Oregon's best position group this season? Since then, the Ducks lost starting left tackle
Tyler Johnstone
, who had come into the season with 26 starts under his belt. Then the coaching staff moved right tackle
Jake Fisher
to fill Johnstone's spot and back up
Andre Yruretagoyena
into the right tackle spot. Then Yruretagoyena got hurt. Then they moved true freshman
Tyrell Crosby
into right tackle. Then Fisher got hurt and Crosby moved over to left tackle and former walk on
Matt Pierson
moved to right tackle. Follow? Don't blame you if you don't. Oregon's one loss came with huge inexperience on both sides of the line. If the Ducks were 100 percent healthy that game, do the Wildcats still win? Who knows. But the game itself probably would've looked quite a bit different.
Graveyard:
Colorado. Sorry Buffs, but you're winless in the conference. You've been snake bitten, we'll give you that. Double overtime losses to UCLA and Cal? That's just rough. But the good thing about a graveyard on Halloween is that corpses come back to life and with four more games, there's always a chance.
Trick:
Washington State. The Cougars were supposed to be one of the most improved teams in the league this season. With third year coach Mike Leach at the helm and
Connor Halliday
finally coming into his own, they were supposed to be a darkhorse in the north. Well, the trick is on us. Wazzu sits at 2-6 overall after most of us anticipated the inverse at this point in the season.
Treat:
The Arizona schools. ASU and Arizona were picked to finish third and fourth in the Pac-12 South, respectively. Instead, they're leading their division with huge wins over the teams that were supposed to be dominating everyone. And you know what makes these teams even more treat-like? In the conference of quarterbacks these two programs have given us some of the most interesting quarterback storylines of the season. No one was talking about
Anu Solomon
last July. Now? Now, he has 2,430 yards and 20 passing touchdowns. And Arizona State has provided plenty of spice too. When
Taylor Kelly
went down
Mike Bercovici
kept that team relevant and led the Sun Devils to a huge upset over USC. What a treat for those teams and anyone who watched.
Pac-12 costume ideas:
For the Pac-12 refs, we have a few different options considering the amount of hate you've gotten from some fans this season. It was hard to find other people and things that are as notorious as you, but here's a possible list:
1. LeBron James circa 2010, and the entire West Coast can be the city of Cleveland.
2. Justin Bieber, and the entire West Coast can be the entire West Coast.
3. Brussel sprouts.
4. The song "Call Me Maybe."
5. The Internet guy who shows up two hours late.
Or, just go as a zebra. You already have the outfit.
Washington State QB Connor Halliday: Mighty Mouse. His extreme strength is displayed by the fact that his arms are still attached to his body after three years in Leach's offense.

UCLA coach Jim Mora and defensive coordinator Jeff Ulbrich: Those people who fight at a nice restaurant.

USC RB Buck Allen: A wrecking ball.

UCLA QB Jerry Neuheisel, ASU QB Mike Bercovici: Ronnie Bass from "Remember the Titans." Like Bass, Neuheisel and Bercovici came in for their injured starting quarterback and led their teams to victory.

Utah's special teams: The exceptional middle child. The oldest child is always the most mature and doted upon -- that's your defense typically. The youngest kid is always so cute and everyone pays the most attention to it -- that's your offense. Then there's the middle kid who is usually forgotten. That's the special teams. But every so often there's a middle kid that's a piano prodigy or knows how to code at 7 years old or wins every spelling bee. Yep, Utah's special teams win every spelling bee. … For those who are curious, some notable and accomplished middle children: Abraham Lincoln, Warren Buffet, Bill Gates.

Washington's Danny Shelton, Hau'oli Kikaha and Shaq Thompson: The Three Musketeers. "Never fear quarrels, but seek hazardous adventures," Alexander Dumas wrote. I'd say that sums it up. Though none of these players are very quarrelsome, they certainly seek (and excel in) hazardous adventures.

Oregon State WR Victor Bolden: Jay Leno. You gotta feel for a guy who's expected to come into Brandin Cooks' spot. Kinda like Jay Leno coming in to Johnny Carson's role at "The Tonight Show."