Pac-12:

Kansas State Wildcats
November, 13, 2013
Nov 13
7:00
AM ET
For the past six seasons, I've covered the Pac-12 for ESPN.com. The decade before that, I was in Seattle, as a college football writer and columnist. And before that, I covered the SEC.
I know football on both coasts. But I don't really know the land-locked states. The states in the middle. States that some snotty folks in the Pac-12 might refer to as "the flyover states."
[+] Enlarge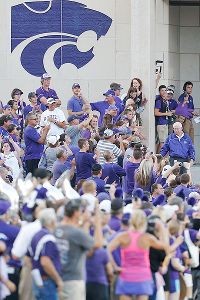 AP Photo/Orlin WagnePac-12 reporter Ted Miller will be taking in the atmosphere in Manhattan, Kan., this weekend.
But it's "Flip" week at ESPN.com. The idea is our regional college football writers are going to be leaving their regions -- their comfort zones -- for another, to search out the thrills and chills of college football in a different place. What makes that place different and special?
So I felt like it was right in my big-city wheelhouse when my bosses said I was going to Manhattan. Then they explained it was Manhattan, Kan., home of Kansas State, not the one on Hudson River. The Little Apple, not the big one.
That sent me to Google. And the more I read about Manhattan, the more I was intrigued. While the Pac-12 has a few neat college towns -- Eugene, Corvallis, Pullman, Boulder -- it's mostly big city football out here: Los Angeles, San Francisco, Seattle, Phoenix, Salt Lake and Tucson. Manhattan sounds like a quintessential college town.
After chatting with Kenny Lannou in the Kansas State sports information office, I found myself getting excited. This is going to be cool.
But I need to hear from you guys about what I should see and seek out. What is most important about Kansas State football? What is uniquely K-State?
My inquiry is about the Friday before and game day -- the tailgate and game itself. No stone should be left unturned.
I turned to our resident Kansas State alum, senior recruiting reporter Jeremy Crabtree. What should I see? And what should I expect?
Jeremy Crabtree
: Ted, the sightseeing on your trip to Kansas State should start even before you even arrive in Manhattan.
As you make your way West along I-70 from Kansas City, you'll notice a change in the scenery as you near exit 313 for Manhattan. You will be driving through a section of the Flint Hills, one of the few remaining sections of tallgrass prairie in America. You'll have to use your imagination some because it's winter and the grass is brown instead of green, but envision oceans of vibrant green grass untouched by man as far as the eye can see. As a native Kansan, I truly believe the Flint Hills rival some of the natural beauty you're used to seeing in Pac-12 territory.
[+] Enlarge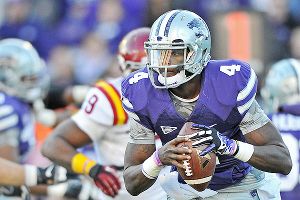 Peter G. Aiken/Getty ImagesQuarterback Daniel Sams and Kansas State take on TCU on Saturday at 3:30 p.m. ET.
Make sure you bring your clubs, because Colbert Hills Golf Course should be your first stop in Manhattan. From there you can experience some of the Flint Hills vistas yourself on a course designed by professional golfer Jim Colbert. You can see as far as 12 miles from some of the holes, and Colbert is a proud Kansas State alumnus, so the place is near and dear to Wildcat fans.
After you're done there, I would make a beeline to Aggieville, a six-square block section in town that's full of restaurants, bars and shops that serve as the social hub of Manhattan. You honestly couldn't go wrong with any of the places in Aggieville for lunch, but I'm a big fan of Coco Bolos, a Mexican wood-fired grill and cantina. The evil desert chicken is to die for, and if you're adventurous you can order it "truly evil" like I do. From there it's just a short walk to Varney's Book Store, Aggieville's anchor store and the only place to get everything purple you'll need for Saturday's game.
Your afternoon would also not be complete without a visit to the Call Hall Dairy Bar on campus. From there you can sample some of the 30-different student-made ice cream flavors. I've always been a big fan of purple pride, candy crunch and apple dapple.
On game day, make sure you get there early as the real pre-game show takes place in the parking lots.
Arrowhead Stadium in Kansas City has the best tailgating in the country, but you have to rank Bill Snyder Family Stadium right up there, too. With large blacktop parking lots on the east and west side of the stadium, there's plenty of room for cars, trucks and RVs to cram in and that creates kind of a tailgating utopia. With everyone packed in so tightly, a sweet-smelling combination of smoke from ribs, brats, steaks, burgers, brisket or whatever hangs in the air.
Also don't be shy if you see something you want to sample. Fans from opposing schools have always commented on how friendly the tailgating is in Manhattan, and K-Staters don't like seeing people go hungry, even if you come empty-handed.
Ted Miller:
Consider me intrigued. So Kansas State fans, if you have any suggestions for me to guide me on this trip, feel free to
drop them in my mailbag
or shoot me a note on Twitter
@ESPN_Pac12blog
. If you see me walking around Manhattan, don't be shy, say hello.
September, 10, 2013
Sep 10
5:30
AM ET
The Early Offer is RecruitingNation's latest feature, giving you a daily dose of recruiting in the mornings. Today's offerings: Despite a cryptic tweet that worried TCU fans, four-star linebacker
Jimmie Swain IV
has good news for Horned Frog faithful; Pittsburgh scores a nice recruiting victory over Penn State; and Oregon State and Washington State commits and an ESPN Junior 300 prospect will be on display Friday on ESPNU.



To continue reading this article you must be an Insider
January, 4, 2013
Jan 4
2:36
AM ET
GLENDALE, Ariz. -- The
Oregon Ducks
donned new T-shirts after their
35-17 victory
over Kansas State in the Totitos Fiesta Bowl. "Won the Day" those shirts said, obviously playing off the program's mantra under Chip Kelly: Win the day.
Oregon certainly did that against the Wildcats.
Both teams ran 70 plays. Oregon gained 385 yards. Kansas State 283. Kansas State led the nation in turnover margin this year, but it lost that battle to the Ducks 2-0. The Wildcats had the second-fewest penalty yards per game in the nation this season, but they had seven flags for 57 yards versus five for 33 for the Ducks. The Wildcats were widely viewed as the nation's best on special teams this season, but they yielded a 94-yard return on the opening kickoff to
De'Anthony Thomas
and missed a field goal while the Ducks were 2-for-2.
Senior quarterback and Heisman Trophy finalist
Collin Klein
was outplayed by Ducks redshirt freshman
Marcus Mariota
.
So Oregon won the day -- night, actually -- but the use of the past tense hints at something else, of a mission accomplished and completed. That has an ominous suggestion for Oregon fans. That feeling, of course, arises from the fact that Kelly is about to interview with at least three NFL teams, according to various reports, and many believe this was his last game at Oregon.
He and Oregon won the day and now he will move on.
Kelly fought off questions about his NFL aspirations during the weeks leading up to the game, saying his entire focus was on the Fiesta Bowl. He opened up a bit after the victory, noting that he will talk to his agent David Dunn on Thursday night or Friday morning to get an update on where things stand.
"I was getting my hair cut on Wednesday and saw my name on the bottom of ESPN, which I thought was funny because I haven't talked to anyone," he said. "I'll sit down and talk with Dave. I've said I'll always listen. That's what I'll do. ... I'll listen and we'll see."
Kelly is expected to interview with the Cleveland Browns, Philadelphia Eagles and Buffalo Bills. It's possible we'll know Kelly's plans by the end of the weekend.
Ducks fans chanted "Four more years!" at the end of the game. Kelly's four years atop the program -- two Rose Bowls, a national title game and a Fiesta Bowl -- have been the most successful in program history by a wide margin. The Ducks are headed for their third consecutive top-five ranking and figure to be top-five in the 2013 preseason, whoever their coach is.
The postgame interviews focused less on the Ducks' dominant performance in all phases and more on Kelly and offensive coordinator Mark Helfrich, who is expected to replace Kelly should he leave.
Oregon players paid tribute to both.
"[Kelly] means everything," said running back
Kenjon Barner
, who gained 120 of his 143 yards in the second half. "Without him, I wouldn't be the running back that I am. Sitting with him in meeting rooms is a lot different than sitting in any other meeting room that I've ever been in because it's not just about football, it's about life. He teaches you life lessons as a man, so he means a lot to me."
But Barner also added that Helfrich is ready to take over.
"If that does happen, expect the same," he said. "Nothing will change."
Said offensive lineman
Kyle Long
: "Seamless transition. They're cut from the same tree. I'll tell Duck Nation right now, Coach Helfrich is a brilliant coach. Great relationships with his players and other staff members. We all love Helf."
Said Helfrich about potentially becoming the Ducks coach: "We'll cross that bridge. ... Whatever happens, happens."
Helfrich coaches the Ducks quarterbacks, and his star pupil had another great game. Mariota, who won game MVP honors, completed 12 of 24 passes for 166 yards and two touchdowns with no interceptions. He also rushed eight times for 62 yards and a score.
"He's a great young player," said Kansas State linebacker
Arthur Brown
, an All-America. "He has a bright future."
Both these teams suffered their only regular-season loss on Nov. 17. The Ducks lost in overtime to Stanford, which won the Rose Bowl. Alabama also has one loss, but it's playing unbeaten No. 1 Notre Dame for the national title. Kelly was asked where he thought his team ranked.
"I don't know," he said. "I don't have a vote. I don't want a vote. This is my favorite team, so I vote us No. 1."
As for whether he's about to leave his favorite team, Kelly left few clues. He called his oncoming interviews a "fact-finding mission."
"I want to get it wrapped up quickly and figure out where I'm going to be," he said.
He's not the only one.
A program and an enraptured fan base is holding its collective breath. They are hoping Kelly will be winning more days for years to come.
January, 3, 2013
Jan 3
10:15
PM ET
GLENDALE, Ariz. -- The first half of the Tostitos Fiesta Bowl featured plenty of momentum swings, but Oregon's proved the most potent, even though the Ducks' running game struggled.


The Ducks are up
22-10
at the half, despite only rushing for 52 yards.
Oregon couldn't have started faster, with
De'Anthony Thomas
going 94 yards for a touchdown on the opening kickoff, with a 2-point conversion making it 8-0. Thomas then scored on a brilliant 23-yard run after a screen pass, making it 15-0.
The Kansas State offense and quarterback
Collin Klein
then got on track, scoring the next 10 points.
But the final swing was huge: Kansas State missed a 40-yard field goal, and Oregon drove 77 yards in five plays, needing just 46 seconds to make it 22-10.
Kansas State gets the ball to start the third quarter.
The Wildcats outgained Oregon 170 to 158. They were 6-of-10 on third down, and had the ball for 21 minutes in the first half, compared to nine for the Ducks.
The big question in the second half is whether the Ducks can get the running game going or if they will need to pass. Kansas State has been a second-half team all season, so this one is hardly over.
January, 3, 2013
Jan 3
10:00
AM ET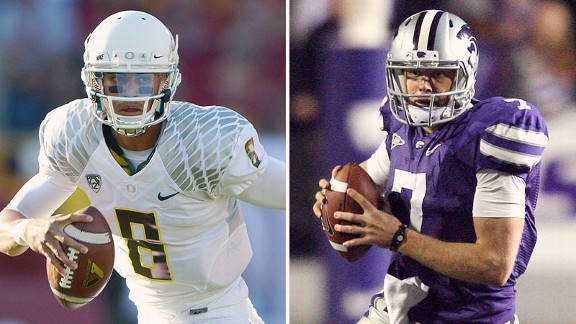 USA TODAY SportsWith quarterbacks Marcus Mariota and Collin Klein, the Fiesta Bowl won't be lacking in star power.
SCOTTSDALE, Ariz. -- The Tostitos Fiesta Bowl on Thursday night? Forget the corn chips; this matchup is about something else.
It's the Regret Bowl. The What Might Have Been Bowl. It's the Can the Mayans Make the Apocalypse Take Out Only Nov. 17 Bowl.
If Nov. 17, when No. 4 Oregon and No. 5 Kansas State both lost their only game of the season, were wiped away, this Ducks-Wildcats showdown likely would have been for the national title.
So, yes, when the Ducks and Wildcats turned on ESPN during the past month or so and watched reports on Alabama and Notre Dame, they often were nicked by a pang of regret, no matter how philosophical a pose their respective coaches tried to establish in the locker room.
Regrets? Yeah, both teams have a few.
"Yeah, a little bit, I'm going to be honest with you," Oregon quarterback
Marcus Mariota
said. "It's one of those things you have to learn from. We lost at the wrong time."
Of course, denial can come in handy. Alabama-Notre Dame? Who are they?
"I think this is the best two teams in the nation in this game right here," said Kansas State receiver
Chris Harper
, who transferred from Oregon. "I know Notre Dame and Alabama have their game, but I think this is the best matchup."
It's certainly a good matchup. No other bowls -- other than that aforementioned matchup in South Florida -- matches top-five teams. You have plenty of star power, with Kansas State QB
Collin Klein
, a Heisman Trophy finalist, and Oregon running back
Kenjon Barner
and Kansas State linebacker
Arthur Brown
, both All-Americans. Then there's celebrated Ducks redshirt freshman quarterback Mariota, who was first-team All-Pac-12 and will be near the top of many 2013 preseason Heisman lists.
And then there are the coaches. Kansas State coach Bill Snyder, the septuagenarian program builder, and Oregon's Chip Kelly, the wise-cracking mad scientist of offense, both would make just about everyone's top-10 list of college football coaches. An added dimension of intrigue is the possibility that Kelly may be coaching his last game as a Duck, as he's being eyeballed by a number of NFL teams.
Said Kelly, "I do not know what the future holds. I do know we have a football game [Thursday] night, and I'm going to be there."
Kelly's crew is playing in its fourth consecutive BCS bowl game. It lost its first two, including here to Auburn in the national title game after the 2010 season, but beat Wisconsin in the Rose Bowl last year. Kansas State is playing in its first BCS bowl game since 2003, and it has lost its past two bowl games.
So there doesn't seem to be much question about how hungry the Wildcats are to end their season with a victory.
"It would be huge," said Klein, who is 21-4 over the past two seasons. "We talk about finishing all the time. We haven't been able to finish the last two years. To be able to do that is very important to us."
Part of Kelly's coaching philosophy is that every game is the same -- a Super Bowl! -- because your preparation should always be your best. Yet the Ducks want to maintain their perch among college football's elite. A Fiesta Bowl victory likely would cement a 2013 preseason top-five ranking because the Ducks have a lot of talent coming back next fall.
"We have to make a statement to the rest of the country," Ducks offensive lineman
Kyle Long
said.
As for keys, you hear the usual from both coaches: turnovers, tackling, special teams, etc. But turnovers seem to be even more notable than usual in this one, at least based on the teams' performances this season.
Kansas State has the third-fewest turnovers (10) in the FBS this season and has forced the eighth-most (31). Oregon is tied for first in turnovers forced with 38, including 24 interceptions. The Ducks turned the ball over 19 times, second-fewest in the Pac-12.
Klein had three interceptions in the Wildcats' 52-24 loss to Baylor.
"When we've turned it over, we've struggled," Snyder said. "When we haven't, we've played reasonably well."
Sure, both teams wish they were playing for a national title. But the winner of this game will finish ranked in the top four. So that's better than 116 other FBS teams. Not too shabby, even if it includes a dose of what might have been.
Kelly was asked what he'd learned after playing in four consecutive bowl games.
"I think you learn really how hard it is to get there," he said. "That's the one thing I think as a team, as a staff, as a group of players, to not take it for granted. It's a truly special thing to be able to play in a BCS game."
Of course, it's more special to win one.