September, 30, 2014
Sep 30
11:20
AM ET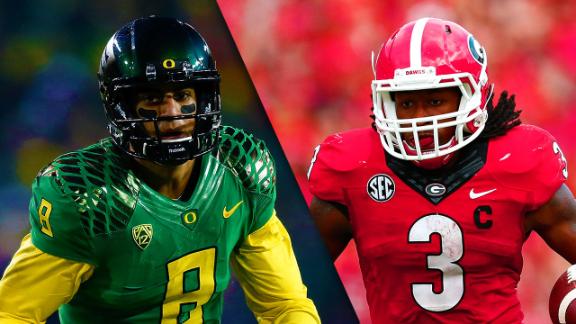 Entering Week 6 of the college football season, Oregon quarterback
Marcus Mariota
and Georgia running back
Todd Gurley
have separated themselves as the front-runners for the Heisman. This week, Pac-12 reporter Chantel Jennings and SEC reporter Edward Aschoff engage in a friendly (-ish) debate regarding the two players:
[+] Enlarge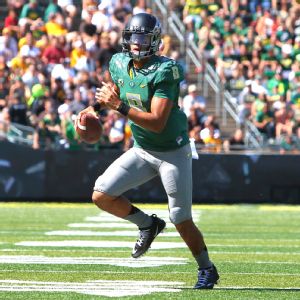 Cal Sport Media/AP ImagesOregon QB Marcus Mariota is dangerous with his feet or his arm.
Jennings:
Mariota is the best player in college football right now. The only thing that could derail that fact would be if his offensive line can't keep it together and continues to put up performances like it did against Washington State, in which it allowed seven sacks. But when we come to the Mariota-Gurley Heisman talk, I'm really interested to see what your argument is, Edward. Mariota is a machine. As a quarterback, he has the highest passer efficiency rating in the nation. There are only 10 quarterbacks in the country who haven't thrown a pick yet, and none of those signal-callers has thrown more than 10 touchdowns. Mariota has thrown 13. Then, look at his feet. He doesn't even play running back but he still has about a third of Gurley's rushing yardage and half the number of rushing touchdowns (Mariota: 214 yards, three touchdowns; Gurley: 610 yards, six touchdowns). Please, Ed, let's hear your side ...
Aschoff:
Listen, Mariota is a heck of a player. I think he's hands down the best quarterback in the country and should be the first quarterback taken in next year's NFL draft. With that said, he's no Gurley. He's a machine, yes, but he's more of a Prius compared to the Cadillac Escalade with a V-8 that Gurley is. The scary thing about Georgia's junior running back is that he's slimmed down yet he looks bigger. He's faster and more agile yet he's stronger. Gurley can bowl his opponents over, sprint to the outside and take a run to the house, or he can leave defenders dizzy with his elusiveness. Gurley has 610 rushing yards, but he should have even more. His coaches limited him to just six carries against Troy (73 yards), and the argument could be made that his 28 carries (career-high 208 yards) against Tennessee on Saturday weren't enough. Oh, and did I mention that this tank of a human being is averaging a gaudy 8.8 yards per carry and that out of his 69 carries this season he has just 11 lost yards? Take Gurley off Georgia's team and the Bulldogs aren't 1-1 in SEC play. You really think Mariota is better than that? He's flashier than that? Come on.
[+] Enlarge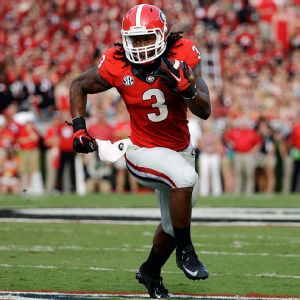 David Goldman/AP ImagesGeorgia RB Todd Gurley has a rare blend of speed and power.
Jennings:
First off, most people in the Pacific Northwest would rather be a Prius than an Escalade. Sure, an Escalade might look fancier and be in more music videos, but at the end of the day, don't you want the vehicle that doesn't require maintenance every other month? The vehicle that doesn't need to stop every 40 miles to fill up the tank? A vehicle that so many other vehicles of the future are going to be based on?
Anyway, back to the nitty-gritty, which is yes, when it comes to the facts, Mariota is better than that. His pass attempt-to-touchdown ratio is the best in the country: every 7.4 times the ball leaves his hands, it's ending up in the end zone. OK, fine. Gurley doesn't pass the ball. Let's talk about running again. Every 11.5 carries, Gurley ends up in the end zone. Guess what? Every 11 carries, Mariota finds his way there. He has the highest completion percentage of any quarterback in the country.
And
he has already led his team to a victory over a top-10 team this season. Everyone can agree a Prius is more efficient than an Escalade, and in football, it's good to be efficient. That's exactly what Mariota is.
Aschoff:
I see what you did there with the Prius and the Escalade. But if I need someone to bust through a brick wall and grind out that extra yard -- or three -- I'm handing it off to that environment-destroying driving machine. While we're talking about rushing, which is Gurley's specialty, he's already had 19 runs of 10 or more yards in just four games. If you're keeping score at home, that's 4.8 of those runs per game. Two of those runs went for 51 yards. What has Mariota done? He has 11 of those runs and hasn't even touched a 50-yard scamper yet. And it should be noted that Gurley is excellent when he takes contact. It seems to make him better. He drags defenders with him like Linus drags his blanket. Heading into last week, he was the only player in the country to average more than 100 yards after contact in multiple games (102 vs. Clemson and South Carolina). In a what-have-you-done-for-me-lately society, Gurley was incredible against an improved Tennessee team. He ran for a career-high 208 yards (and now he has 16 career 100-yard rushing games), had two touchdowns, registered 30 receiving yards and averaged 7.4 yards per carry. How good was he? Well, Tennessee had so little confidence in its defense stopping him late in the game that it attempted an onside kick with two minutes left and three timeouts remaining in order to try to keep the ball away from him. All Gurley did after that was run the clock out with 26 rushing yards on six carries.
But hey, that Mariota performance over
Washington State
was cool and all ...
Jennings:
You're right. I'll give you that. Washington State might not be better than a 2-2 Tennessee team that has already given up 4.4 yards per rush this season (cough, cough, No. 81 in the nation in that category). But it's not fair to look at the most
recent
performance since the slates are so different. Let's look at both players' best wins so far. Gurley's was against Clemson in the season opener, no? He carried the ball 15 times, scored thrice and accounted for 198 rushing yards and minus-5 receiving yards. That's cool. Mariota's best win was Week 2 against Michigan State, a game in which he threw for 318 yards and three touchdowns and added nine rushes for 42 yards. Michigan State is one of the best defenses in the country. Clemson isn't even one of the top three in the ACC. Now, I know I was an English major and all, but 360 yards of total offense plus three touchdowns is still bigger than 193 yards of total offense and three touchdowns, right?
Aschoff:
That Michigan State (still the Big Ten, though) win was huge, and Mariota was great. I'll give that to you. And Clemson, well, #Clemsoning took over a couple of weeks ago. But don't sleep on what Gurley did against Tennessee and South Carolina. The numbers aren't exactly helping the Gamecocks, but that was a great game, and Gurley did everything he could have ... when his coach wasn't throwing the ball on first-and-goal from the 4-yard line late in the fourth quarter. Gurley averaged 6.6 yards per carry in that game, on the road. Before Gurley faced Tennessee, the Vols were allowing 3.9 yards per carry. Then Gurley went all Gurley on the Vols.
Both of these players are great, and you have a chance to win any game with either. I want the bulldozer in the backfield who can grind out yards or take it to the house. The good thing is that this debate should rage on because they'll have plenty of opportunities to make us both look good going forward.