October, 23, 2014
Oct 23
2:00
PM ET
Stanford has lost three games in a regular season for the first time since 2009.
[+] Enlarge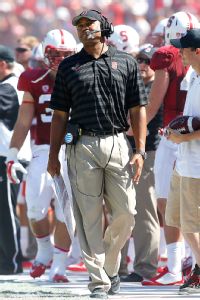 AP Photo/Tony AvelarDavid Shaw and Stanford have their backs against the wall -- again.
On the way, its offense has dropped to the very bottom of the Pac-12's statistical rankings. Its vaunted defense has suffered a pair of critical injuries at the position where they hurt most -- the defensive line.
And for the first time in 72 weeks (that dates back to early 2010), the two-time defending Pac-12 champion is not ranked in the Top 25.
Are we witnessing the end of this program's magical four year run, a stretch during which Stanford was the only team in the nation to qualify for a BCS bowl in each season?
"The sky is falling every single year," coach David Shaw contends. "Coaches and players don't [buy into that]. Fans can do that. Talking heads can do that. We go back to work and we try to solve our problems."
There are plenty of those on The Farm right now.
Perhaps Stanford can take comfort in its recent history during these trying times: The Cardinal did also hit rocky points on their way to those consecutive Pac-12 titles the past two seasons, after all. The 2012 campaign featured the anemic offensive performances of losses at Washington and Notre Dame, while the 2013 journey saw maddening red-zone struggles deliver gut punches at Utah and USC.
The Cardinal regained their footing both of those times. In 2012, renewed balance came thanks to a quarterback change that introduced Kevin Hogan to the starter's role. In 2013, outside help -- coming in the form of Arizona's upset over Oregon -- was Stanford's saving grace.
In both instances, though, Shaw's team maintained its championship trajectory thanks to a core of fiery veteran players, the experienced bodies who had been staples around The Farm throughout the program's entire resurgence. Shayne Skov's raspy 2012 locker room speeches came when the team's back was against the wall, and they became the stuff of Stanford legend. Ben Gardner became a rallying point for the 2013 squad after a torn pectoral muscle ended his career. Trent Murphy may not have been as outwardly vocal as Skov, but he too had a penchant for inspiring stability and constant work in the locker room.
"Just keep chopping wood," Murphy repeated after the Cardinal's 2013 loss to USC, a setback that looked like it had knocked the team out of Pac-12 title contention. "Good things will happen."
Sure enough, he was right: Good things did happen. Stanford found themselves back in (and dominating) the Pac-12 championship game just three weeks after their moment of greatest despair.
'A fascinating team'
Well, Stanford's annual pilgrimage to the land of adversity is back, 2014 style this time. And the hole to escape certainly seems deeper than the previous two. Three losses saddle the Cardinal this time. A struggling offense is again the culprit, but unlike 2012, there is no shocking salvation-via-quarterback change on the horizon. The fiery veteran leadership of players like Skov, Gardner, Murphy, and Tyler Gaffney has graduated.
For pundits, those losses were a source of major preseason concern, with potentially trying situations like the current one being the primary source of worry. Shaw, meanwhile, agrees that his team's leadership make-up is different, but he thinks it can still be effective.
"This is a fascinating team," Shaw said. "We don't really have [fiery players like Skov]. But our guys work like crazy. We may not have the guy who goes up there and does all the speeches and gets everybody all fired up and motivated, but we came out here Monday, Tuesday, and now Wednesday on our goal line day, and guys were hitting hard and hustling. It was as physical as it was in training camp."
Shaw exuded unbridled optimism at practice Wednesday, the day after he
took blame
for his team's offensive ineptitude by suggesting he needs to do a better job scheming to put Stanford's dangerous playmakers in a position to succeed.
"I don't worry about that speech-making and that obvious leadership stuff," he said. "But I love the way that
Jordan Richards
,
A.J. Tarpley
and
Kevin Hogan
get back to work. The players are always more resilient. ... All the fans have seven days to lament. These guys have to work."
The public can begin to judge the fruits of that labor this Saturday, when Stanford has its chance to rebound at home against Oregon State. The Holy Grail -- err, the Oregon game -- awaits at Autzen Stadium the week after that. While the Cardinal's three losses have eliminated the team from College Football Playoff contention, Stanford still controls its own destiny in the Pac-12 title chase. So Shaw's team has the rather odd opportunity of playing spoiler (at least two of its remaining opponents, Oregon and Utah, are very much alive in the Playoff chase) while simultaneously chasing a conference championship.
Given the team's offensive struggles, such success certainly seems like a long shot today. But Stanford's squad is making it no secret that they're still shooting for that Pac-12 three-peat. Fittingly, Usua Amanam, their retired 2012 Rose Bowl champion, swung by Wednesday's practice, preaching the same sense of urgency that his own Stanford team had embraced to rise from the dead two years ago.
"No matter what happens," Amanam told the team. "Don't waste one day, because at one point, you can't play anymore."