Tuesday, May 29, 2012
David Sills, 16, is growing up quickly

---
By Pedro Moura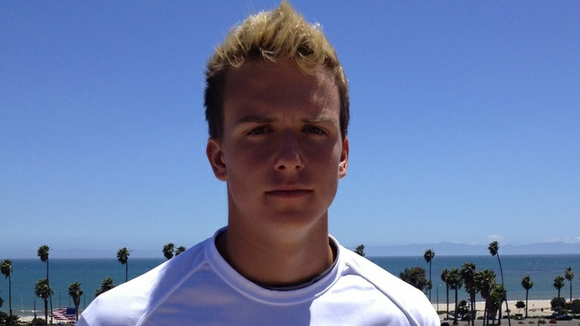 Pedro Moura/ESPNLA.com16-year-old quarterback David Sills committed to USC in February 2010 and plans on honoring that commitment when he gets to college in the fall of 2015. He's finishing his freshman year of high school.


SANTA BARBARA, Calif. — David Sills turns 16 today. He acts a lot older.

Sills is the prep quarterback who verbally committed to USC as a 13-year-old in February 2010, making news headlines nationwide as the youngest athlete to ever accept a college scholarship offer. Back then, he was known to college football fans as the baby-faced seventh-grade prodigy with floppy blonde hair and a puka shell necklace.

Now, the Delaware native is finishing up the ninth grade at Eastern Christian Academy in Elkton, Md. In person, he hardly resembles the kid he was pictured as not too long ago. Sills is tall – nearing 6-4 already – and remarkably filled out in his upper body. He's well-spoken and very measured in tone.

Sills was in Santa Barbara over Memorial Day Weekend for a massive football camp put on by his private coach, famed QB guru Steve Clarkson. The camp and corresponding all-star games are held at the city college's smallish football stadium, which looks out over the Pacific Ocean.

Both Clarkson and Sills admit that the pupil doesn't need to be here – he's the most hyped of any of the participants, by far -- but he's gotten so used to coming to Clarkson's camps over the last six years that his attendance wasn't even a question. His parents and siblings drop him off at the field in the morning each day and then go shopping on State Street until the afternoon.

Southern California is a second home to Sills by now. He's been to L.A. and its surrounding areas too many times to count since he started working with Clarkson in the summer of 2006. He acts like a native.

"He will do well in Los Angeles, let's put it that way," says Clarkson. "He'll have no problem getting along there.

"His personality lends itself to it."

Sills has a little Hollywood in him. To call him the football version of pop star Justin Bieber wouldn't be too much of a stretch.

"I really don't feel like I'm that different," Sills said. "I'm the same kid. I do the same things. I get treated the same way.

"There's nothing different, besides the publicity and stuff."


Still, he says he's been asked for autographs dozens of times, most of the time after camps or games. And he gets approached at other times, too, depending on where he is.

"If I'm at a football thing, I always get recognized," Sills said. "If I'm at the mall, I sometimes get recognized."

It's unusual. Never before has a football player this young been this hyped. Quarterbacks like Matt Barkley and Tim Tebow were big deals before they got to college, but both of those signal-callers rose to national prominence during their junior years of high school.

Sills beat them to the punch by four years.

"I don't know how a kid could ever be mentally prepared for all this," Clarkson said. "Every place he goes, people know who he is."

"This kid really is special. He's got such a star quality about him, and I've never seen anything like it."

Clarkson, who has coached Barkley and a host of other top QB's, is the man most responsible for Sills' fame, outside of the teen's father, David Sills IV. In the spring of 2006, Sills IV read Clarkson's name in an article, looked up his information and phoned him over and over until he got a callback.

Clarkson was busy then training former USC quarterback Matt Leinart for the NFL draft, so he didn't pick up once or respond to the many voicemails detailing the 9-year-old Sills' skills. But when the draft was over, he finally called back and arranged a weekend evaluation in L.A.

By the second day seeing Sills, Clarkson was sold on his rocket arm and natural ability to pick up coaching and put it into motion. The kid has been flying out to work with Clarkson for one weekend a month ever since.

Each summer, they pick one specific area of his game to attempt to improve. Last summer it was not locking his front leg during his throwing motion; this summer it's keeping his elbow in place during his release.

Sometimes the Sills make the trips to L.A. a family vacation, like they did on Memorial Day. When Sills comes by himself, he typically stays at Clarkson's San Gabriel home with the coach's wife and kids.

Three-plus years after he began working with Sills, Clarkson was talking with USC coach Lane Kiffin about another one of his pupils, Orange County prep Max Wittek – then being recruited by the Trojans and now in his second season with the team.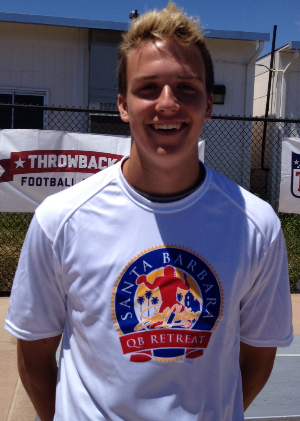 Pedro Moura/ESPNLA.comQuarterback David Sills was in Santa Barbara over Memorial Day Weekend to work out at a camp led by his longtime quarterbacks coach, Steve Clarkson.

Clarkson says he casually brought up Sills in conversation that day, directing Kiffin toward a highlight video of Sills' exploits he had recently posted on YouTube. By the end of the week, Sills was officially a USC commit, even though he had never met Kiffin or any USC coaches in person.

It'd be a whirlwind for anybody, let alone a 13-year-old kid from the East Coast who was eight when USC won the 2004 BCS Championship. But his family members insist it hasn't negatively affected him as a person.

"He doesn't change," says Sills' adopted brother, Jahmere Irvin-Sills, who was taken in by the Sills family two-plus years ago when Jahmere's mother died. "He's the same kid as he was before he got the college scholarship."

Irvin-Sills is a Class of 2013 cornerback at Eastern Christian. He has a dozen scholarship offers from schools like Auburn, Ole Miss and West Virginia but says he'd commit on the spot if offered by USC.

He says the only time his younger brother acts cocky or overconfident is when they talk trash to each other on the field.

"I'll tell him, 'You suck,'" Irvin-Sills said. "'I picked you off too many times.'

"Then he'll get mad and try to fire at me. It's fun."

At the Santa Barbara camp, Sills is the hot topic of conversation, as usual. He pays little mind to the attention and stays with Irvin-Sills whenever he's not throwing on the field. He's been an attention-grabber since middle school, but it's only going to get more intense, as he gets older and the competition gets stiffer.

Everywhere he goes, people are watching.

"Because of what's been written about him, he is that guy," Clarkson said. "But he's also way ahead, in that standpoint, of understanding what it's like to be a company man, almost."

Sills sounds like a company man. Ask him about Kiffin, and he tells you his future coach is a "great offensive mind and a great guy, too." Ask him about being the No. 1-ranked quarterback in his high-school class, and he says he's more worried about "competing against himself to be better" than competing against any other players.

But he's not exactly humble, either.

It's his "job," he says, to get his high-school teammates college scholarships by making them look good in games. Barkley "had a few bad reads" in the few spring practices Sills saw on USC's campus last month. He switched high schools from Red Lion Academy to Eastern Christian this offseason because Red Lion wanted to focus less on football and he and his family "didn't like that very much."

But for all that, Sills is still so very young. He talks about coming to USC like it's a definite thing but doesn't rule out making more college visits over the next few years. For what it's worth, his iPhone background is a picture of Barkley and USC safety T.J. McDonald walking out of the Coliseum tunnel.

His prospective major in college? He knows most athletes pick communication or sociology, but he's thinking something math- or science-based – probably civil engineering.

"I think it'd be a challenge for me," he says. "I like challenges."


---