Thursday, November 7, 2013
Why Stanford can stop Oregon again

---
By Jungkyu Lee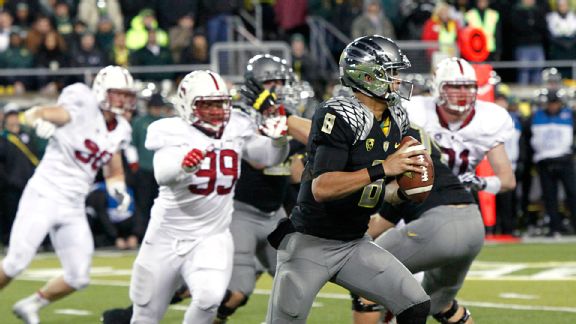 AP Photo/Don RyanStanford caused all sorts of trouble for Marcus Mariota the last time they faced him.

Since the start of last season, Oregon is 20-1 and has averaged an FBS-high 51.9 points per game. The Ducks' only loss during that stretch was a 3-point loss to Stanford. They scored 14 points in that game, their lowest since scoring eight against Boise State in the 2009 season opener in Chip Kelly's first game as head coach.

The Cardinal held Oregon to 198 rushing yards last season. Since Chip Kelly's first year as the head coach, the Ducks are 5-5 when they were held to fewer than 200 rushing yards, including 0-3 when rushing for fewer than 100 yards.

This season, Oregon is 8-0 and is outscoring opponents by an average of 38.8 points per game, the second-highest margin in FBS. The Ducks are the fourth team in the last 100 seasons to start the season by scoring at least 42 points in every game. The running game has been key, with the Ducks leading the nation in yards per rush (6.9) and ranking second in rushing yards per game (331.5)

Can the Cardinal slow down Oregon's offense for the second straight season? Let's take last season's game as the blueprint.

Slow Oregon's designed runs
Oregon is averaging 6.9 yards per designed run this season, second most by a team from an automatic-qualifying conference (behind Wisconsin). The Ducks have gained at least 150 yards on designed runs in every game during the last two seasons except one, the loss to Stanford.

In that game, Stanford held Oregon to 122 yards, one touchdown and four first downs on designed runs, all were season lows.

The key was that Stanford did not let Oregon get outside. The Ducks had 13 designed runs outside of the tackles for a total 24 yards. It was their fewest yards and yards per carry on such runs in any game during the last two seasons. Their longest run outside the tackles gained 9 yards and they lost yards on four of the 13 runs.

Stanford is allowing a Pac-12-low 113.8 yards per game on designed runs this season.

Win third downs
Oregon has converted 46 percent of its third downs since the start of last season. On third and 3 or less, the Ducks have converted 72 percent of their third-down plays, which ranks sixth in the FBS. When they have longer than three yards to go for a first down, Oregon's third-down conversion rank falls to 33rd in the FBS.

Against Stanford, the Ducks converted on 4-of-17 (24 percent) third downs, their lowest-conversion percentage since the start of last season. Oregon's average third-down distance against the Cardinal last season was 7.6 yards.

Stanford averaged only 5.7 defenders in the box on third down and sent four or fewer pass rushers on 9-of-12 third-down dropbacks.

The Cardinal are allowing opponents to convert on 34 percent of their third downs this season, 23rd best in the FBS, and have held each under 45 percent.

Get to Mariota
Marcus Mariota has thrown all 20 of this touchdowns and is averaging over 10.5 yards per attempt on plays in which he was not pressured (hit or knockdown) this season. When he is pressured, Mariota completes less than half of his passes and averages 6.8 yards per attempt.

Against Stanford, Mariota was pressured on a season-high 10 dropbacks, including nine when the Cardinal sent four or fewer pass rushers. Oregon gained a total of 19 yards on those plays. Mariota was forced to throw a career-high four passes away and he tied a career-high by being sacked three times.

Since the start of last season, Stanford has an FBS-high 84 sacks, including 62 when it sends four or fewer pass rushers, which is 15 more such sacks than any other AQ program.

Limit the space
Oregon has been one of the most productive teams in space in the last two seasons. The Ducks are averaging 7.2 yards after the catch per reception since the start of last season, fifth among AQ conference teams, and have 31 receptions in which they gained at least 20 yards after the catch.

Against Stanford, Oregon averaged 4.8 yards after the catch per reception, and did not gain more than 20 yards after the catch on any of its 21 receptions.

On designed runs, Oregon is also averaging an AQ-high 6.4 yards per rush since the start of last season, including 4.2 yards before first contact per rush.

Against Stanford, the Ducks averaged 2.3 yards before first contact and were contacted in the backfield on 10 of their 33 rushes. The Cardinal held Oregon to season lows in yards (122), touchdowns (1) and first downs (4) on designed running plays.

If Stanford can again slow Oregon's designed runs, win on third down, pressure Mariota and limit the Ducks in the open field, it will have a chance to win two straight games against Oregon and shake up the BCS Title race.


---