Pac-12:

2010 Holiday Bowl
December, 31, 2010
12/31/10
10:56
AM ET
By
ESPN.com staff
| ESPN.com
Washington running back
Chris Polk
said it best about
the Huskies' 19-7 upset win
over Nebraska in the Bridgepoint Education Holiday Bowl: "We whupped a team that didn't respect us."
And by taking vengeance for a humiliating 56-21 defeat on Sept.18 in Husky Stadium, Washington shocked just about everyone and finished with its first winning record -- 7-6 -- since 2002 and first bowl win since 2000.
Washington pushed around a team that manhandled it just three months ago, outgaining Nebraska 340 yards to 189, including 268 to 91 rushing.
"They came out with a good game plan to run the ball down our throat," Nebraska cornerback Alfonzo Dennard told the
Omaha World-Herald
. "They executed on a lot of plays, and they played awesome."
Suffice it to say, the Huskies earned a tip of the cap. The Cornhuskers? Not so much.
December, 31, 2010
12/31/10
1:48
AM ET
Utterly shocking. And that is a tribute to Washington and coach Steve Sarkisian: No one saw a
19-7
victory over Nebraska in the Bridgepoint Education Holiday coming.


How the game was won
: The Huskies won because they physically manhandled Nebraska in every facet. You know: The exact reverse of what happened on Sept. 18 during a 56-21 Cornhusker beatdown in Seattle that caused most folks to write this game off as the worst matchup of the bowl season. You just never know, even when you think you do.
Turning point
: It looked like things were going to go as expected when Nebraska drove into Washington territory on its first possession. But then
Rex Burkhead
fumbled and Alameda Ta'amu recovered for Washington. The Huskies quickly scored a TD to go up 7-0, and the Cornhuskers never really made much of a challenge thereafter.
Stat of the game
: 189. That's Nebraska's total yards. It had 533 in the first game. The Huskies outrushed the Cornhuskers 268 to 91. In the first game, the Cornhuskers outrushed the Huskies 383 to 175. Go figure.
Co-Players of the game
: Washington running back
Chris Polk
had 177 yards on 34 carries with a TD, while, on defense, linebacker Mason Foster had 12 tackles and two sacks.
Unsung heroes of the game
: There are two: Defensive coordinator Nick Holt and the Huskies offensive line. Both were maligned after the first game. And fairly so. And both came up big in the second game.
What it means
: It means that Huskies QB
Jake Locker
goes out with a winning season -- 7-6 -- after a bowl victory, the Huskies first bowl win since 2000. It means the Huskies, who went 0-12 in 2008, are relevant again. It means the Huskies head into the offseason -- the post-Jake Locker Era -- riding a four-game winning streak.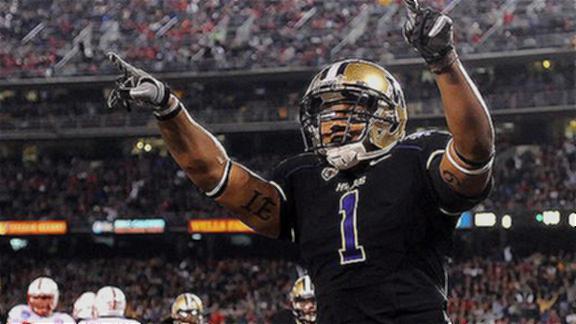 December, 30, 2010
12/30/10
11:57
PM ET
By
ESPN.com staff
| ESPN.com
Washington is making the most of its do-over. So far.
Washington leads Nebraska 10-7 at halftime, a Cornhuskers team that rolled the Huskies 56-21 on Sept. 18.
The Cornhuskers had 28 points at halftime in the first game and finished with 533 total yards. They had just 105 yards in the first half against a Huskies defense that is missing three injured defensive linemen.
Credit to defensive coordinator Nick Holt and an inspired effort from his charges. Now can they maintain in the second half?
The Huskies didn't get much offense -- QB
Jake Locker
is 0-7 passing -- but who would have predicted the Huskies would outrush Nebraska 102 to 48 in the first half?
The take-away from the first half: A nice effort by the Huskies. A flat effort by Nebraska.
Now who makes a move in the second half? You'd expect Nebraska to counter. Do the Huskies have a second wind?
Washington running back
Chris Polk
has 86 yards at halftime. Prediction: If he matches that in the second half, Huskies win.
December, 29, 2010
12/29/10
4:27
PM ET
By
ESPN.com staff
| ESPN.com
ESPN Stats & Information has some interesting notes on the Bridgepoint Education Holiday Bowl on Thursday.
Nebraska leads the all-time series with Washington 4-3-1, including a 56-21 victory on Sept. 18.
This is the Huskies first bowl game since 2002, when they lost to Purdue 34-24 in the Sun Bowl.
Entering Nebraska's game against Missouri on Oct. 30, Cornhuskers quarterback Taylor Martinez led the country with 14 rushes of 20 yards or more. However, during the first half of the Missouri game, Martinez suffered a leg injury. He has not produced a run of over 20 yards since then. In the first seven games, he averaged 112 yards rushing. In the last four, he's averaged 32.8 yards per game.
When Martinez is throwing the ball well, Nebraska is very tough to beat. The Cornhuskers are undefeated when he completes better than 50 percent of his throws that travel 10-plus yards downfield (5-0). He was 4 for 6 on such throws in the first meeting with the Huskies.
Nebraska's Roy Helu Jr. has seven runs of 50 yards or more this season, all resulting in a touchdown, making him one of the most explosive rushers in the college game. Since 2004, only Ryan Mathews has posted at least seven 50-plus yard touchdown rushes in a single season.
Nebraska's pass defense has been outstanding on third down this season, and Huskies quarterback Jake Locker will need to be better on third down against Nebraska than he was in September (1-7, 6 yards). Overall, opponents are completing just 42.5 percent of their passes on third down, which ranks No. 1 in the nation. The Cornhuskers rank No. 2 in the nation in passing efficiency defense on third down.
Washington running back Chris Polk has been outstanding in the Huskies' last three games, averaging 169.3 rushing yards per game and leading the team to three straight wins. In the Huskies six wins this year, he's rushed for an average of 137 yards and averaged 6.3 yards per carry. In the Huskies six defeats, he averaged 69.3 yards and 4.4 yards per carry.
Locker had a terrible game passing from the pocket in the first game with Nebraska, but he's actually thrown well in the pocket this year, completing 61.1 percent of his passes with 11 TDs and five interceptions.
Locker's ability to handle the blitz has played a major role in Washington's success this season. Against Nebraska's added pressure in September, Locker completed just 1-of-5 passes. In Huskies wins, however, he completing 63 percent of his passes with four TDs and one interception when facing an opposing blitz.
December, 29, 2010
12/29/10
12:00
PM ET

What do the
Washington Huskies
need to do to beat the
Nebraska Cornhuskers
in the Bridgepoint Education Holiday Bowl? Here are three keys.
1.
Get physical
: Nebraska pushed Washington around in a 56-21 whipping in Seattle on Sept. 18, dominating both lines of scrimmage. Even the Huskies touted receiving corps got beat up by an aggressive press-man coverage from the 'Huskers. The Huskies need to get mad and man-up this go-around. There is no question that Nebraska is vastly superior on both lines. But the Huskies don't have to wilt like they did in the first game when they were outgained 533 yards to 246. Nebraska expects to take immediate physical control. The Huskies need to make a stand.
2.
Big plays on defense
: It's hard to imagine the Cornhuskers won't again move the ball well against a depleted Washington defense. But there also is a chance they will not be as focused and motivated in a rematch, and that could lead to mental errors: turnovers, penalties, miscues, a missed field goal, etc. A couple of big plays from the Huskies -- a sack, a tackle for a loss -- could disrupt a drive's rhythm. The Huskies can afford to bend. But they can't break and allow Nebraska to consistently finish drives in the end zone. The Cornhuskers had just one turnover in the first game. What might be different if they end up with three -- or more -- in Game 2?
3.
Locker comes through
: The Huskies still might not win if quarterback
Jake Locker
plays well, but they have no shot if he even approximates his 4-for-20, two interception performance from the first game. For one, if Locker is making plays with his arm and his legs, then Nebraska doesn't have the ball, which is a good thing for UW. And if Locker leads a playmaking, error-free attack, then maybe the Huskies have a chance.
December, 29, 2010
12/29/10
10:30
AM ET
The second bowl game for the Pac-10 features Washington's rematch with Nebraska in the Bridgepoint Education Holiday Bowl on Thursday.
Here's a look.


WHO TO WATCH
: While QB
Jake Locker
is the big name on Washington's offense -- and he needs to redeem himself for his dreadful numbers in the first meeting with the Cornhuskers -- he really is just the first name in a threesome of stars on offense along with running back
Chris Polk
and receiver
Jermaine Kearse
. All three need to come up big in this rematch. In Game 1, Polk rushed for just 55 yards with a long run of 9 yards. Kearse caught a 45-yard touchdown pass, but that was about it. All three need to put up big numbers for the Huskies to have a chance: Polk needs 100 yards rushing, Kearse 100 yards receiving and Locker 250 yards passing.
WHAT TO WATCH
: Can the depleted Huskies defensive line hold off Nebraska's physical attack? The Huskies are down three key defensive linemen -- Cameron Elisara, Talia Crichton and Semisi Tokolahi -- due to injury. The line began the season as a question mark with dubious depth and it's fair to say that's even more of an issue in the postseason. In the first game, the Huskers rushed for 383 yards and dominated the Washington D-line. It's going to take an inspired effort from some young players -- four of the top-eight linemen are freshmen or redshirt freshmen -- for the story to be different in take two.
WHY WATCH
: For one, there's a bit of curiosity as to whether the rematch will be any different than the original. So often teams talk about getting a second shot at a foe that embarrassed it, so, well, here you go Huskies. And that potential redemption starts with Locker. He's still solidly on the NFL radar, so if he produces a distinguished performance in his final game in a Huskies uniform, he could start to reclaim his reputation among NFL scouts. And he could walk away from the Huskies feeling pretty good about helping the program regain firm footing.
PREDICTION
: While it's not unreasonable to suspect that the Huskies will be fired up and will play more competitively, it's hard to imagine them winning. The Cornhuskers are just so clearly superior on both lines. That's too much to overcome. Nebraska 41, Washington 24.
December, 28, 2010
12/28/10
4:29
PM ET
Few give the
Washington Huskies
much of a chance in the Bridgepoint Education Holiday Bowl -- in large part because they have already played the
Nebraska Cornhuskers
this year and the result didn't leave much intrigue: a 56-21 beatdown in Husky Stadium.

While the Huskies used a three-game winning streak at season's end to earn bowl eligibility, it's hardly certain they are a better team today than they were on Sept. 18, particularly with a decimated defensive line that will be missing three key players: Cameron Elisara, Talia Crichton and Semisi Tokolahi.
Obviously, the Huskies defense will have to play much better after giving up 533 yards in the first meeting. But can it? Or will the Huskies just have to outscore the Cornhuskers, which brings along the nation's No. 8 scoring defense?
So let's ask this question: Who might dramatically change this game if he stepped up with a marquee performance?
Quarterback Jake Locker
: Too obvious? Well, it's the only answer. For the Huskies to have any chance, Locker needs to turn in his best work this season -- both with his arm and with his feet. And he should be plenty motivated to do so. Recall that the first meeting was widely seen -- here and other places -- as a showdown between Locker, the touted NFL prospect, and perhaps the best secondary in the nation. Well, if that was the case, the Cornhuskers won by knockout. Locker completed just 4 of 20 passes for 71 yards with two interceptions and a touchdown. He also rushed for 59 yards and a touchdown, but the performance was a public failure in a disappointing season for Locker. His NFL draft status started to apparently slide precipitously from sure-No. 1 overall to potentially the second-round. Locker, however, could redeem himself with a big evening, and that could send him into the NFL draft evaluation process with game film that might reignite flagging interest. The horrible result in the first game was hardly only Locker's fault. The Huskies played poorly in all phases. This Seattle Times
article does a good job of explaining
one area where Locker got little help: his receivers. But the only way the Huskies are going to produce a different result -- even if we're just talking about a competitive game -- is if Locker comes up big.
December, 21, 2010
12/21/10
11:03
AM ET
Bowl games are rewards for successful seasons. At least that's the theory.
But what if you lose your bowl game? What does that say about that so-called successful season?
If you've watched college football for many years, you know bowl games often operate as a season unto themselves. And the team that wins is likely the one that is more motivated, not necessarily the more talented team or the one that posted the best regular season.
Some teams tank in a bowl game because they are just happy to be there. Others treat it like a vacation and lack focus. And others wish they were somewhere else -- think of California's flat and uninspired performances in the 2004 Holiday Bowl against Texas Tech after the Bears got Mack Brown-ed out of the Rose Bowl.
It's hard to call a bowl game a "must-win" because it's really not -- rarely does a bowl, for example, determine a coach's fate. But it seems reasonable to measure the four Pac-10 bowl games in terms of "need to win."
So that's what we'll do, starting at the bottom and working our way up.


Bridgepoint Education Holiday Bowl, Dec. 30, 10 p.m. ET (ESPN)

Nebraska Cornhuskers
(10-3) vs.
Washington Huskies
(6-6)
The set up
: The Huskies are trying to prove they are ready to rejoin the national discussion. The feeling in the preseason -- with quarterback
Jake Locker
leading 20 starters back from a 5-7 team -- was they were on the cusp of breaking through in Year 2 under coach Steve Sarkisian. Some even saw them as dark-horse conference contenders. And a certain Sept. 18 showdown was circled in red on the schedule as an afternoon to walk the walk. Oh, but that red circle became a red tide of woe! Nebraska swaggered into Husky Stadium and just kicked the pooh out of Washington,
56-21
, rushing for 383 yards in a show of physical dominance that deflated the Huskies and their fans. Moreover, at that moment on a big stage, Locker, who turned in his worst game of the season, became a candidate for the "Nation's Most Disappointing Player." Washington would scramble for bowl eligibility and finish a tepid 6-6, while the Cornhuskers wander into a bowl matchup that likely has them yawning, perhaps looking back at what might have been.
Why Washington needs to win
: The Huskies must redeem themselves for a pitiful, soft performance in the regular-season game. Locker must redeem himself for a 4-for-20, two interception performance that began the steep slide of his NFL draft prospects. It's hard to imagine Nebraska will bring its A-game. No matter the protestations of coach Bo Pelini, the Cornhuskers won't be at an emotional peak. The Huskies can take advantage of that. But it also is part of the pregame story that gives Nebraska an excuse for posting a lackluster performance. The Huskies don't have that excuse. If they get pounded again, the college football nation will -- justifiably -- see a wide, physical chasm between the Huskies and the Huskers, and that will carry over into 2011. Washington and the Pac-12 can't afford that perception.
Why Washington just getting there is enough
: This game has been widely panned by pundits because the perception is the Huskies have no chance. They are 14-point underdogs, and that spread includes the belief that Nebraska won't been terribly focused. Because no one expects the Huskies to win, just playing a more competitive game than the Sept.18 meeting is really all that matters. Locker, obviously, will want to post better numbers, but the reason Washington has little chance is the Huskers are significantly better on both lines. Everyone with eyes knows that.
Conclusion
: The Huskies haven't been to a bowl game since 2002. They went 0-12 in 2008. Just getting a bowl berth is enough for the program to take a step forward under Sarkisian. An upset here would do wonders for the program's emotions heading into the offseason, but it would be pure gravy and won't change the fact that the Huskies need to upgrade their talent to compete at a Top-25 level.
Needs to win meter (scale of 1 to 10, "10" being a must-win):
3.