Pac-12:

2011 Pac-12 Media Days
July, 27, 2011
7/27/11
7:00
PM ET
When Lane Kiffin arrived at USC 18 months ago, he learned he had been bequeathed a barely stocked cupboard by his mentor, Pete Carroll. The Trojans paid a price last season for having no more than 58 scholarship players in any one week, depending on injuries. USC played a Pac-10 schedule with a FCS-sized roster.

That may explain the late-game losses to Washington and Stanford, among others. This season, Kiffin said Wednesday in Bristol, his roster will be up around 80 scholarship players. A lot of them still will be freshmen and sophomores, of course, but the Trojans will benefit nonetheless.
"One of our problems last year [was] we could barely practice," Kiffin said. "We went to Stanford with 51 scholarship players. Those weeks in practice, we were just trying to find people in school to come out and practice with us. That doesn't help you very much when you're trying to prepare for these great teams in our conference, on our schedule, and we're playing with some kids from English class who haven't played since ninth grade."
Kiffin resisted the temptation to take the redshirt off most of his freshman class a year ago, aware of the NCAA penalties ahead (15 signees, 75 total scholarships).
"We'll do the same this year because we've got a long-term plan," Kiffin said. "The last thing we want to do is sign a bunch of junior-college players or play guys when we can save a year for them. ... We've got to have a very good plan to get through this."
Coaches don't have the luxury of thinking only about this season. They have to think long-term, especially with the bumpy road ahead for USC.
July, 27, 2011
7/27/11
6:00
PM ET
UCLA coach Rick Neuheisel, in Bristol Wednesday morning, has two interesting father-son situations in his locker room. Senior wide receiver Taylor Embree is the son of new Colorado coach Jon Embree, who coached with Neuheisel for Bill McCartney and then remained on Neuheisel's staff when he took over as head coach in 1995.

But the other one is more interesting and fraught with emotion. Neuheisel signed his son Jerry, a quarterback, to a grant-in-aid last February.
"First recruit I had to sleep with his mom to get him," Neuheisel said. "Don't ask her (his wife Susan) how that went."
Thank you, and don't forget to tip your waitress. But Neuheisel quickly turned to the decision itself.
"I struggled with that because there's an upside and there's a downside. (Arizona State coach) Dennis Erickson came to me and said, 'If you don't want him, I do, and talked to me about having his son on his team.
"So I went to Jerry and said, 'Jerry, I can wrestle with this all I want. It's up to you. What do you want? Because there are going to be problems. You throw a ball that gets tipped and picked by somebody else, they're going to say he shouldn't be in the game, and boo. There's Dan and Cody Hawkins (late of Colorado) as an example of how ugly things can turn.'
"He said, 'Dad, I want to go to UCLA whether you're there or not.'
Jerry Neuheisel grew up a UCLA fan because his parents went to school there. His dad quarterbacked the Bruins to a Rose Bowl victory. He is 6-foot-1, 185 pounds, which means he needs time to grow. He's got it -- there are probably a half-dozen guys ahead of him on the depth chart.
"This is something he really wants to do," Rick said. "I admire him for not worrying about it. It's easier to say you don't worry about it when it hasn't happened. When you're a coach's son, you grow up knowing how people say things about you because of your last name. I think he's got big enough shoulders to handle it, and I think he's a good enough player. Time will tell."
July, 27, 2011
7/27/11
5:00
PM ET
By
ESN.com staff
| ESPN.com
Ivan Maisel speaks
with coaches from the Pac-12 South

including Arizona's Mike Stoops, Colorado's Jon Embree, USC's Lane Kiffin, UCLA's Rick Neuheisel and Utah's Kyle Wittingham.
Kiffin
talks about coaching Nnamdi Asomugha in Oakland

and says Asomugha is a team leader. He also comments on Matt Leinart's struggles in the NFL and USC's suspension of Marc Tyler.
Arizona State coach Dennis Erickson
Stanford QB Andrew Luck

is one of the best QBs he's ever seen. He says USC quarterback Matt Barkley is good, but needs experience.
Also, Kiffin discusses
with the NCAA's sanctions,

Matt Barkley, Robert Woods, Marc Tyler, Carson Palmer's future, Oregon's recent success and more.
July, 27, 2011
7/27/11
3:00
PM ET
By
ESPN.com staff
| ESPN.com
Ted talks with Arizona coach Mike Stoops about the Pac-12's divisions,
Juron Criner
's situation, the Wildcats' offense and more.
July, 26, 2011
7/26/11
11:51
PM ET
By
ESPN.com staff
| ESPN.com
For more from Ted Miller and Bruce Feldman from Pac-12 media day in Los Angeles,
click here
.
July, 26, 2011
7/26/11
10:53
PM ET
LOS ANGELES -- Oregon and Stanford. Stanford and Oregon. They were the two Pac-10 powers in 2010, and they are expected to be so again in 2011 in the new Pac-12. Both finished in the top-10 last winter and are nearly certain to start there this fall. But they had a decidedly different feel at the inaugural Pac-12 media day.
[+] Enlarge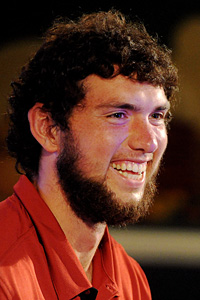 Kirby Lee/US PRESSWIREAndrew Luck and his new beard made their way to Pac-12 media day. "We'll see if it lasts. When I get annoyed with it, I'll shave it," he said.
After a tumultuous offseason, the big news for Oregon was no news, which inspired some grumpiness among scribes gathered to hear at least some updates on various off-field issues, including the NCAA inquiry into scout/street agent Willie Lyles.
Stanford was a different story. The Cardinal, picked to finish behind the Ducks in the North Division, showed up with a pair of national celebrities: quarterback
Andrew Luck
and his new beard.
"I'm hesitant to call it a beard," Luck said mysteriously. "I don't think it's quite there yet. I'd never done it before, so why not try. We'll see if it lasts. When I get annoyed with it, I'll shave it."
A minor surprise: Ducks coach Chip Kelly didn't appear annoyed at any point during his first session with reporters since spring practices, though he was repeatedly -- and once pointedly -- quizzed about the the Lyles-NCAA imbroglio. Kelly, who is known to be just a bit standoffish at times, was beyond pleasant while he refused to comment.
"As head coach of this football program, we're held accountable for everything we do," Kelly said. "So we look forward to when we can [comment]. I'd love to talk about it. There are a lot of answers I'd love to make sure we can get out there."
Kelly, who never showed up for his one-on-one sessions with print reporters afterward, did offer one minor insight: "There are a lot of misconceptions," he said.
Toward the end of his session, Oregonian columnist John Canzano asked a pointed question -- "You paid $25,000, presumably, for garbage information that we've all seen. I've seen the phone records …" and event moderated Dave Hirsch tried to cut him off.
But Kelly calmly answered, "I can't speak to what any other school has done with [Lyles]. I know he deals with 80-some odd schools and what other services he's been involved with. But I know how we dealt with them. But again, I've got to defer to … I'd love to talk about it."
Oh, you could see for a moment that Kelly did have something he wanted to say. Only he was bound by a statement the school released before the press conference that it "continues to fully cooperate with the NCAA's ongoing review" and the requisite cone of silence that includes.
[+] Enlarge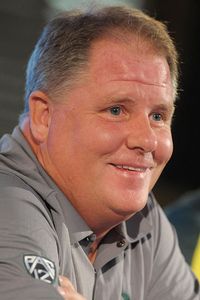 Kirby Lee/Image of Sport/US PresswireChip Kelly was vague but polite in addressing the NCAA investigation.
Kelly also was completely affable -- and opaque -- when he refused to provide an update on the status of All-American cornerback Cliff Harris, who was suspended for at least the marquee opener with LSU due to being cited for driving 118 mph on a suspended license in a rental car in June. Kelly was also chipper while opting to not enlightened reports on the status of likely starting middle linebacker Kiko Alonso, who is on indefinite suspension for a criminal mischief arrest in May.
"They have academic and behavioral things that they have to get accomplished and we'll deal with as it comes," Kelly said. "I really can't tell you at this point in time what their status is except they're working out with our team and doing things right now. We'll figure out where that fits as we move forward during the season."
Stanford is not without issues, of course. They just didn't invite an inquisition. The biggest is new coach David Shaw replacing the fiery Jim Harbaugh, who is off to the San Francisco 49ers. Shaw is not unaware that some wonder if his easy-going manner won't match the motivational intensity of Harbaugh, who seemed to connect with his players with his often eccentric ways.
"We have different personalities, but at the same time you can ask the guys when somebody crosses the line, I'll be nose to nose with them," Shaw said. "I might not be yelling, but I'll be dead serious."
Dead serious news? How about this from Luck, the 2010 Heisman Trophy runner-up who opted to return for his redshirt junior season instead of entering the NFL draft, when he likely would have been the top overall selection: "I'm doing this as my last college football season and approaching it like such."
So no fifth year of Luck. Sorry.
And so were the Pac-12's two top dogs as the calender begins its charge toward the regular season. One with high expectations and lots of questions. One with high expectations and Grizzly Adams at QB.
PAC-12 SCOREBOARD
Saturday, 12/27
Saturday, 12/20
Monday, 12/22
Tuesday, 12/23
Wednesday, 12/24
Friday, 12/26
Monday, 12/29
Tuesday, 12/30
Wednesday, 12/31
Thursday, 1/1
Friday, 1/2
Saturday, 1/3
Sunday, 1/4
Monday, 1/12
Tweets from https://twitter.com/ESPNCFB/lists/pac12