January, 12, 2012
1/12/12
9:00
AM ET
Taking a look back at some of the best and worst moments from the Pac-12's bowl season.
Best overall performance (team):
We're a field goal away from flipping a coin between Stanford and Oregon. But the Ducks won, and to the victor go the spoils. Say what you want about Wisconsin being overrated; Oregon beat a very good team with one of the most productive college running backs in history, and the Ducks did it on a major stage.
Best offensive performance (individual):
Keith Price
outdueled Heisman Trophy winner
Robert Griffin III
, passing for 438 yards and four touchdowns and rushing for three more scores. And the Huskies lost! Someone on the Washington defense better be carrying his books around campus until the start of next season.
[+] Enlarge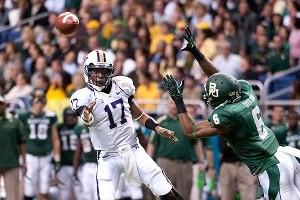 Brendan Maloney/US PresswireWashington's Keith Price passed for 438 yards and four touchdowns and also ran for another three touchdowns in a losing effort against Baylor.
Best offensive performance (team):
As good as Washington's offensive show was against Baylor, Oregon did it against a tougher opponent and under a brighter spotlight.
LaMichael James
and
De'Anthony Thomas
both went for more than 100 yards,
Lavasier Tuinei
turned in season highs in catches (eight) and yards (158) to go with two touchdowns and the offensive line had its way with Wisconsin.
Best defensive performance (individual):
In the conference's five losses, teams gave up an average of 41 points. Still, Cal first-team all-conference linebacker Mychal Kendricks did all he could to limit Texas to 21, notching nine solo tackles (10 total) and 1.5 tackles for a loss.
Best defensive performance (team)
: Pass.
Best offensive performance in a losing effort
:
Andrew Luck
's one interception was the lone stain on an otherwise fantastic performance, in which he completed 27 of 31 passes for 347 yards and two touchdowns. He was 15-of-15 on all of Stanford's scoring drives and 4-for-4 on the final drive that set up the almost-game-winning field goal.
Worst offensive performance
: Both Cal and UCLA faced fairly tough defenses in Texas and Illinois, respectively, and their 24 points combined reflected that. (For the record, Washington had 35 by halftime and Oregon had 28 at the half.) But the nod goes to Cal for 7 rushing yards on 36 attempts. That's 0.2 yards per carry. ASU was actually worse with minus-11 rushing yards, but at least it put up 24 points (well, 17 if you take away Rashad Ross' 98-yard kick return).
Worst defensive performance
: As a conference, Pac-12 teams gave up an average of 455 yards in their bowl games. Washington was the worst offender with 777 yards yielded.
Best bang for buck
: Oregon's De'Anthony Thomas. Two carries, two touchdowns, 155 yards and a 77.5 yards-per-carry average.
Best supporting cast
: While Price was fantastic, lest we forget that
Chris Polk
ran for 147 yards,
Jermaine Kearse
caught five balls for 198 yards and a score and
Devin Aguilar
added two receiving touchdowns.
Best holiday spirit
: Cal certainly got into the season, giving the ball away five times to Texas.
Best "Oh jeez" moment
: Stanford running back
Jeremy Stewart
taking out teammate
Ty Montgomery
after he tried to run a kickoff out of the end zone. Stewart, a fifth-year senior, stopped the true freshman right at the line and dropped him, much to the chagrin of 69,927 at University of Phoenix Stadium.
Worst "Oh jeez" moment
: Watching Dennis Erickson try to call a timeout when ASU had fourth-and-goal at the Boise 1-yard line. Then watching his face as Jamar Taylor picked off
Brock Osweiler
and returned it 100 yards for a touchdown.
December, 31, 2011
12/31/11
6:26
PM ET
This year's Hyundai Sun Bowl was a thriller, with Utah battling back from a 14-point deficit to force overtime and win the game. Here's a quick look back at the highlights of the game:
How the game was won:
On third-and-goal in overtime, Utah running back
John White IV
got a good block from his fullback and rushed 8 yards for the game-winning touchdown. The Utes had trailed 24-10 in the third quarter, but quarterback
Jon Hays
threw two touchdown passes in the fourth quarter to send the game into overtime. Georgia Tech put together an impressive final drive when it mattered most in regulation, but David Scully's 48-yard field goal attempt went wide right.


Turning point:
On third-and-9 on Utah's final attempt at making a comeback in regulation, Georgia Tech cornerback Jemea Thomas got away with pass interference in the end zone. On the next play -- a fourth-and-14 -- Utah ran the exact same play, once again a pass to receiver
DeVonte Christopher
, and this time Hays made an easy throw for the 28-yard game-tying touchdown. Georgia Tech's decision to play man coverage didn't pay off.
Stat of the game:
Utah is 8-0 when White rushes for 100 or more yards. It was the sixth time Georgia Tech had allowed a 100-yard rusher this season.
Player of the game:
White. He scored the game-winning touchdown and finished with 115 yards on 26 carries.
Unsung hero of the game:
Utah quarterback Jon Hays. He threw for 193 yards, three touchdowns and one interception. His two fourth-quarter passing touchdowns tied the game and bailed the Utes out of a 14-point hole.
What it means:
Utah can finally move on from its 17-14 loss to Colorado and now has some momentum heading into the offseason. For Georgia Tech, it was the Jackets' seventh straight bowl loss and they remain winless in the postseason under coach Paul Johnson.
December, 30, 2011
12/30/11
5:00
PM ET
What are three keys for Utah against Georgia Tech in the Hyundai Sun Bowl on New Year's Eve. Glad you asked.

1. John White
. It's as simple as the Utah running back's name. The Utes are 7-0 when White eclipses 100 yards rushing and 0-5 when he doesn't. If he doesn't get his pound of flesh, Georgia Tech likely will pound the Utes.
2. Protect the ball.
Utah was highly competitive in an early-season loss at USC, and it completely imploded at Colorado when White got hurt. But the theme of its other three losses was simple: turnovers. Washington, Arizona State and California won the turnover battle with the Utes by a combined 14-1 count. Turnovers are always important, but keeping that ratio even will be critical for the Utes because of their offensive limitations. They can't make things hard on their defense and easy for the Yellow Jackets.
3. Sound defense.
Georgia Tech -- not unlike Utah's former Mountain West Conference foe, Air Force -- had success during the regular season because its offense is so unusual, one that uses triple- and spread-option concepts but is also creative in general in the running game. It's not easy to prepare for that with just a week of practice. But the Utes have had five weeks to teach their eyes all the feints and fakes that distract defenders and cause them to leave their assignments. The Yellow Jackets are going to get some first downs. But the Utes need to play patient, sound defense and consistently take the Jackets out of their third-and-short comfort zone.
December, 30, 2011
12/30/11
3:30
PM ET
Utah tries to get the Pac-12 its first win of the bowl season against Georgia Tech and it's option attack in the Hyundai Sun Bowl.


WHO TO WATCH
: Utah RB
John White
. When White runs well, the Utes win. When he doesn't, they don't. He sprained his ankle and was knocked out of the Utes' shocking season-ending loss to Colorado that cost them the Pac-12 South title, but he should be 100 percent after five weeks of rest. The Utes must run the ball well to take the pressure off QB
Jon Hays
and a poor-to-middling passing game. The Yellow Jackets aren't good against the run — 162.92 yards per game — but they will load the box with defenders and dare Hays to throw.
WHAT TO WATCH
: Utah has a good defense and is particularly stout against the run, surrendering 97 yards per game, which ranks seventh nationally. Georgia Tech's option offense ranks third nationally with 316.8 yards per game. Something, as they say, needs to give. To the Utes' advantage, extra time to prepare for an option attack helps. But the Yellow Jackets are aware of that and likely will have some tricks up their jersey sleeves, with QB
Tevin Washington
probably trying to go over the top a few times as the Utes lean forward to stop the run. Of course, Washington hasn't thrown a TD pass since Oct. 1.
WHY TO WATCH:
Georgia Tech has lost six bowl games in a row, and many say it's due to that extra time opponents get to prepare their defense for the option. Utah, meanwhile, is 6-1 in bowl games under Kyle Whittingham, including a win over the Yellow Jackets in the 2005 Emerald Bowl. So a trend will continue, and one will end.
PREDICTION:
Utah 20, Georgia Tech 17
: The Utes should be able to slow the Yellow Jackets' run enough to force Washington to throw, and those results haven't been good this year for the Jackets when he has. As long as White is productive, Hays will be able to throw just enough to keep the Tech defense honest.