Pac-12:

2012 holiday bowl
December, 27, 2012
12/27/12
12:00
PM ET
UCLA faces Baylor in the Bridgepoint Education Holiday Bowl on Thursday (9:45 ET, ESPN). Kevin and Ted both were wrong about the Las Vegas Bowl after picking Washington to win over Boise State, so they both fall to 67-26 on season.
Kevin Gemmell
: The Holiday Bowl has a tradition of being a high-scoring affair, though the last couple of years it's been down offensively. This year's edition should right that. Both offenses are great. But I think the fact that UCLA -- specifically
Anthony Barr
,
Datone Jones
and Co. -- can get to
Nick Florence
will be the difference. It's time to stop calling UCLA young on offense, because 13 games and a division title later, they are a veteran group. They'll go blow for blow with Baylor and make the stops when they have to on defense.
UCLA 48, Baylor 41
.
Ted Miller
: Kevin's take is about mine. I see a game with plenty of momentum swings that will extend into the fourth quarter. I feel strongly that turnovers will be key because wasted possessions in what should be a high-scoring game could prove critical. I like the Bruins chances to pressure Florence more than he's accustomed to, but the first order of business is slowing down resurgent Baylor running back
Lache Seastrunk
. If he can gash the Bruins, it could be a long night. Still, I think UCLA running back
Johnathan Franklin
hoists the game MVP trophy in a Bruins win.
UCLA 42, Baylor 40
.
December, 11, 2012
12/11/12
4:00
PM ET
This week we'll be taking a snapshot look at all of the bowl games including Pac-12 teams.
BRIDGEPOINT EDUCATION HOLIDAY BOWL
Baylor (7-5, 4-5 Big 12) vs. UCLA (9-4, 6-3)
Where
: San Diego


When
: Thursday, Dec. 27, 9:45 p.m. ET/6:45 PT
TV
: ESPN
About
UCLA
: The Bruins had a very successful season under new head coach Jim Mora, reaching the conference championship game and scoring marquee wins over Nebraska, Arizona and USC. Despite a fairly young offensive line, the Bruins ranked 37th nationally in rushing. The Bruins enter the Holiday Bowl on a two-game losing skid ... though both losses were in consecutive weeks to Stanford, which ranks No. 8 in the BCS standings. The Bruins, Pac-12 South Division champs, are playing in their eighth bowl game in the last 10 years.
About
Baylor
: The Bears might be playing some of the best football in the country down the stretch. After sitting at 3-4 at the end of October and teetering on the edge of bowl ineligibility, they went on to win four of their last five -- including a throttling of No. 1 Kansas State (52-24), an overtime win over Texas Tech and a season-finale win over No. 23 Oklahoma State. This is the first time in school history Baylor is going to a third consecutive bowl game.
Key
players
,
UCLA
: While redshirt freshman quarterback
Brett Hundley
has grown leaps and bounds since we first saw him earn the job in fall camp, it's been running back
Johnathan Franklin
that has really been the rock for the Bruins offense. The Walter Camp second-team All-American netted 1,700 yards with 13 touchdowns and averages 130.8 yards per game on the ground. That takes a ton of pressure off of Hundley, who has been stellar in his first season with 26 passing touchdowns and a 68.2 completion percentage. On the other side of the ball,
Anthony Barr
has transformed from offensive after-thought to linebacker extraordinaire.
Key
players
,
Baylor
: The Bruins will need Barr to bring the pressure, because quarterback
Nick Florence
leads the nation with 387.7 yards of total offense per game. His favorite target is senior All-American
Terrance Williams
, a Biletnikoff Award finalist, who averages a national-best 147 receiving yards per game. Linebacker
Eddie Lackey
has three interceptions in the last two games and four on the season.
Did
you
know
: This is the first ever meeting between the two schools ... Baylor ranks No. 1 in the country in total offense (578.7 yards per game) ... During the Bears' late-season run, the defense has intercepted 11 passes over the final five games, and they are 15-2 when forcing two or more turnovers under defensive coordinator Phil Bennett ... Williams needs 236 receiving yards to become the second 2,000-yard receiver in NCAA history ... Barr leads the nation with 13.5 sacks ... This is UCLA's 32nd bowl appearance and the Bruins are 14-16-1 in postseason play.
December, 11, 2012
12/11/12
9:00
AM ET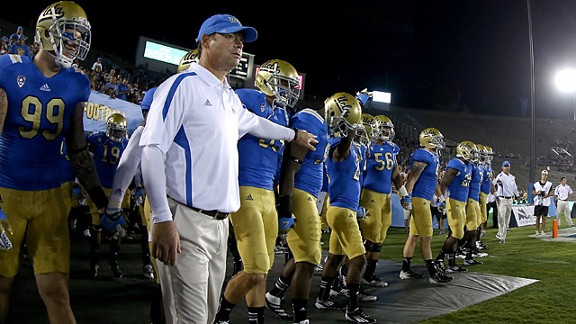 Stephen Dunn/Getty Images"It's so much more paternal," Jim Mora said of his first year coaching college kids. "The sense I get is that they need you more. They look to you more in all ways for all things."
Jim Mora wasn't sure how his first year as a college coach was going to go. After spending 25 years in the NFL, he knew he might have to make a couple of tweaks here and there to the way he goes about doing things. But his principles? His beliefs? He wasn't going to change those despite going from paid personnel to amateur student-athletes.
"I've always coached with a lot of passion," Mora said. "I've always coached hard. I've always been brutally honest and I've always been compassionate. But I've found myself being more compassionate this year. I've always cared deeply about my players. That's always been one of my strengths, and one of my weaknesses as well. This year I feel like it is less of a weakness and more of a strength."
Mora is one of three head coaches in the Pac-12 who have also been head coaches in the NFL. Along with Lane Kiffin (USC/Oakland Raiders) and Mike Riley (Oregon State/San Diego Chargers), Mora has had to make the transition from coaching professional athletes to mentoring teens two months removed from the senior prom.
With that transition comes different techniques for motivating players. Or in the case of the college players, finding the proper channels for that motivation.
"I think it's night and day," Mora said. "My entire coaching experience, until this year, has really been at the NFL level. You expect, to a certain extent, that NFL players, professionals, are going to be able to self-motivate. And yet you still have to provide an avenue for motivating them. You have to provide a blueprint. You have to provide each week a plan for them.
"But these college kids are so much more pure and raw. There is so much more emotion and they are so much more emotional. It's trickier. You have to be able manage the highs and lows, but it's so much more exciting because you throw something out there and they take it and run with it. So much fun. Gosh, it's so much fun."
Riley's career -- which started in 1975 and has run the gamut from small college ball and the Canadian Football League to the NFL and Pac-10/12 -- has been marked by one major consistency: he himself. A certain Pac-12 blogger can testify that Riley is the exact same coach now as he was when he was with the Chargers.
"I really don't think I've changed," he said. "One of the things my dad taught me a long time ago, he was a coach, he said 'Mike, you have to be yourself. You can't try to be somebody else because players see through phonies right away.' Even though we didn't do well in San Diego -- well enough to stay there -- I had some great leaders on that team. Despite our record, those guys I think played hard all of the time and tried to win."
Now Mora and Riley have their teams going to the league's upper-tier bowl games aside from the BCS games. The Beavers take on Texas in the Valero Alamo Bowl in San Antonio, Texas, and the Bruins head south to San Diego for the Bridgepoint Education Holiday Bowl against Baylor.
And as Mora reflects on year No. 1 as a college coach, he couldn't be happier with the results on the field and in the locker room.
"It's so much more paternal," he said. "The sense I get is that they need you more. They look to you more in all ways for all things. For motivation, for direction, for guidance, for advice, for security, for comfort, for discipline. All of those things, they are counting on you. They are young, developing men and you become, in essence, a pseudo-parent. And it's extremely fun. It's extremely rewarding."
December, 23, 2011
12/23/11
11:30
AM ET
By
ESPN.com staff
| ESPN.com
Oregon and California's bowl opponents are among the bowl teams with the
most to prove this bowl season
, according to ESPN.com's Brock Huard.
While Cal probably feels like it's got a score to settle with Texas, the Longhorns have their own issues. As in they need to rediscover their mojo as a national power.
Writes Huard:
The pressure is squarely on Texas on Dec. 28, as [Mack] Brown doesn't want to enter 2012 spring ball having lost four out of five to end the previous season, with the lone win coming in a game that had more to do with the Texas A&M Aggies' losing than the Longhorns' winning.

Will UT be able to turn it around next season? The Horns' performance against Cal could go a long way toward providing the answer.
Theories abound in Austin as to what has turned a program that was riding such an incredible wave of consistent success into a .500 team in the past 24 months. Is it a lack of toughness, a false sense of entitlement, improved talent and coaching in the Big 12?
One thing it's clearly not is recruiting, as the Longhorns perennially have the pick of the litter in talent-rich Texas (they currently sit No. 1 on ESPN's 2012 class rankings) and have the recent NFL draft picks to show for it.
As for Oregon, Huard writes:
The recurring theme, save USC, is that Kelly and the Ducks can be vulnerable if an opponent has time to prepare. To be fair, the six opponents skewed the theory of excess time by also being some of the best teams in all of college football when the Ducks faced them, but as said above in the Notre Dame section, perception can often become reality in this sport.

You can be sure that if the Badgers run over the Ducks and slow their prolific offense (ranked third at 45 points per game) in the way that the Broncos, Buckeyes and Tigers did before them, the articles will be written and the theory strengthened. And if the Ducks are to make the leap from Rose Bowl champion to BCS title champion, they'll need to prove they can win big games after long layoffs.
I suspect most Ducks fans agree.
December, 19, 2011
12/19/11
4:00
PM ET
By
ESPN.com staff
| ESPN.com
Larry Scott has worked magic in many areas since taking over as Pac-12 commissioner, but one of the next key areas for him to wave his magic commissioner's wand doesn't offer any obvious solutions: Conference bowl contracts.
It's one of the most popular complaints among Pac-12 fans: Why are the conference bowl tie-ins so mediocre? Why can't the Pac-12 play the SEC in a bowl game?

Before we, again, look at that, let's consider what Ryan McGee
thinks about their Pac-12 bowl tie-ins
. One word: Lame. He ranks them fifth among BCS conferences.
Here's his breakdown.
5. Pac-12

Tie-ins: 7

January games: 1

Bowls: BCS (Rose), Alamo, Holiday, Sun, Maaco, Kraft Fight Hunger, New Mexico

2011 bowl teams: 7

All-time BCS at-large berths: 4

If the bowl fall-off for the Big 12 is a cliff, then for the Pac-12 it's a canyon. Win the conference, and you're headed to the Rose Bowl or better. Finish second and if you haven't secured a BCS at-large berth, which has happened only four times, then you're playing in San Antonio on Dec. 29.

Don't get me wrong, the Alamo Bowl is a solid game, but is the Big 12's third option really where the Pac-12's conference runner-up should be?
The good news is the Rose Bowl. It's the best bowl game, and it's so much better than all the others that I'd rank the Fiesta No. 3, leaving No. 2 blank so everyone understands that that the Grandaddy is the Big Daddy.
Second, nothing major can happen here for a while. The Pac-12 bowl contracts run through the 2013 season. And who knows what college football will look like heading into 2014? You might have noticed how things have been a-changing lately.
But as far as the present frustration, considered for the sake of considering it: What's the solution for the Pac-12? Get better bowl contracts, right? Which ones? Are there bowl games in this region?
That's the first problem: Geography. If the Pac-12 wants better West Coast bowls, it's either going to have to get someone to create one or elevate one of its current games to a higher level. That's complicated.
The reason the ACC rates ahead of the Pac-12 twofold: 1. Geography; 2. It's been a 12-team league for longer than the Pac-12.
Geography: The best bowls are on the East Coast, many of them close to ACC schools. And the Pac-12 negotiated its bowl contracts when it was a 10-team league (other than the New Mexico Bowl last summer).
Of course — 10 or 12 teams — the Pac-12 didn't fill all its seven bowl contracts, which is why you forgot all about the New Mexico Bowl.
The reasons the Big 12 has better bowl games is simple: The Cotton Bowl. It's a nature Texas tie-in, and bowl games love signing up the SEC. The Cotton Bowl is widely viewed as the most likely candidate to become a fifth BCS bowl destination, in large part because you can't beat the venue: Cowboys Stadium.
The Pac-12 playing in the Cotton Bowl just doesn't seem like a possibility. And the Cotton Bowl gives the Big 12 a leg up on the Pac-12 in the postseason.
Here's the reality folks: The Pac-12 as it is presently configured won't get better bowl games than the SEC and Big 10. Those conferences combined to fill 17 of the top-25 spots in the attendance rankings in 2010. Those numbers translate to bowl games in terms of travel, selling tickets and filling up hotel rooms, which is the primary task of bowls.
Of course, what I am giving you is the conventional wisdom — the why not. Scott isn't much of a conventional wisdom guy. He's a "what if" thinker.
Which means it's not unreasonable to hold out hope that the Pac-12 will have better bowl agreements in the future.
December, 4, 2011
12/04/11
11:15
PM ET
California Golden Bears (7-5) vs. Texas Longhorns (7-5)
Dec. 28, 8 p.m. ET (ESPN)

Cal take from Pac-12 blogger Ted Miller:
California overcame a horrible midseason lull and finished strong, which is why it's heading to the Bridgepoint Education Holiday Bowl to settle on old score.
The Bears will square off with Texas, which some might recall squeezed Cal out of the Rose Bowl in 2004 after coach Mack Brown openly politicked against the Bears.
As for the present state of Cal, it's much different than it was on Oct. 29, when an embarrassing 31-14 loss to UCLA had the Bears reeling, losers of four of five. They certainly didn't look like a bowl team, and quarterback
Zach Maynard
didn't look like a Pac-12 quarterback.
Then Cal, leaning on its running game and stout defense, pounded Washington State and Oregon State, allowing just 13 points in the two wins. That allowed Maynard to get his confidence -- and mechanics -- back into form. Though the Bears lost at rival Stanford, 31-28, it could be said that Maynard was every bit the match -- at least statistically -- of
Andrew Luck
.
Cal concluded its season with a strong 47-38 win at Arizona State, which was particularly satisfying based on how poorly the Bears have played on the road the past few seasons.
A 7-5 finish has taken some of the heat off coach Jeff Tedford. Beating Texas would make the Old Blues extremely happy.
---

Texas take from Big 12 blogger David Ubben:
For the Longhorns, it's good to be back. After winning 10 games for nine consecutive seasons, the Longhorns spent the holidays at home last year after going 5-7, their fate sealed by a home loss to rival Texas A&M. Not this year. Texas' 7-5 season is still not up to Longhorns' standards. Their defense was hampered by an offense that found its rhythm in midseason but then promptly suffered debilitating injuries.
Malcolm Brown
and
Joe Bergeron
were rarely healthy over the season's home stretch, when Texas lost three of its final four games.
Linebackers Emmanuel Acho and Keenan Robinson were the solid anchors of the defense as expected. A solid secondary that refused to give up big plays flanked the pair. It kept opposing offenses from throwing a touchdown pass of longer than 20 yards until
Robert Griffin III
threw two in the season finale. Nobody in college football went longer, and with the caliber of quarterbacks across the Big 12, that's an amazing feat.
Case McCoy
and
David Ash
are still trading places at quarterback consistently, and McCoy threw the first three interceptions of his career against Baylor. Bowl practices before Texas takes the field again could be interesting, and play a big role in the future of the Longhorns.