Pac-12:

2012 Pac-12 spring preview
February, 23, 2012
2/23/12
11:00
AM ET
Oregon coach Chip Kelly was baffled in a phone interview before the Rose Bowl. How the heck could little-old-him be important to a reporter?
"The big story," he said conspiratorially,"is all these new coaches."
Well, it's the big story now as the Pac-12 turns its attention away from the 2011 season and toward 2012 spring practices. And, of course, Kelly is part of a reason there are four new coaches in the conference. Mike Stoops, Dennis Erickson, Rick Neuheisel and Paul Wulff -- fired at Arizona, Arizona State, UCLA and Washington State, respectively -- never beat Kelly and, in fact, came within double digits of his Ducks only once (Arizona, with a 44-41 loss in 2009).
But the story isn't just four new coaches. It's four new coaches whom folks have heard of, each of whom is getting a big-boy salary that would fit in among the SEC or Big Ten. Big salaries are the new normal in the Pac-12 after the conference signed a $3 billion TV deal with ESPN and Fox.
[+] Enlarge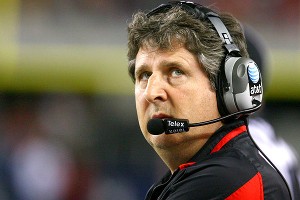 Karl Anderson/Icon SMIWashington State went from paying Paul Wulff a $600,000 salary to paying new coach Mike Leach $2,250,000.
So out goes Stoops and his $1,456,000 salary, and in comes Rich Rodriguez and his $1,910,000 paycheck. Out goes Erickson and his $1,503,000 salary, and in comes Todd Graham and his $2 million tab. Out goes Neuheisel and his $1,285,000 salary, and in comes Jim Mora and his $2.4 million annual take. Out goes Wulff and his $600,000 salary, and in comes Mike Leach and his $2,250,000 price tag.
The chief idea is obvious: Pac-12 schools are paying for an upgrade in coaching talent, and there are high expectations for getting their money's worth. And, by the way, there's an added bonus for each hire: Each new coach has a chip on his shoulder and something to prove.
In 2010, Rodriguez was ingloriously dispatched at Michigan after three tumultuous and unsuccessful years. Athletic director Greg Byrne is betting that Rodriguez is far closer to the highly successful coach he was at West Virginia than the one who got run out of Ann Arbor, and Rodriguez surely wants that impression to be his legacy. It helps that he got his man, Jeff Casteel, to run the Wildcats' defense, which he failed to do at Michigan.

Graham took a lot of heat from a pandering, sanctimonious media and a whiny Pittsburgh fan base for how he left the Panthers. "He didn't even say goodbye," they collectively sobbed. "Waaah." Of course, Graham does have an unfortunate habit of describing every job as his "dream job." All that stuff is mostly hogwash, though. What matters is winning, and if Graham does that, the media will all come down en masse to Tempe pretending they didn't trash Graham's character for taking a better job, in a better conference, in a better place to live while making his family happy in the process.

Mora was fired in 2009 after only one season with the Seattle Seahawks, and he's bided his time looking for another head-coaching job. Seeing that he was two or three names down UCLA athletic director Dan Guerrero's coaching list -- Chris Petersen! Kevin Sumlin! -- some Bruins fans reacted with disappointed smirks to Mora's hiring. Then Mora hired an outstanding staff. Then he reeled in an outstanding recruiting class. Some of those frowns are turning upside down.

Leach was fired at Texas Tech in 2009. He's one of the best offensive minds in the nation, and the almost universal reaction is athletic director Bill Moos hit a home run with this big-name hire. The Pirate Captain looks like the perfect match for Pullman and the Cougs, and he'll be plenty motivated to prove his critics wrong and erase the bad ending in Lubbock.
It's fair to say these four hirings have generated positive momentum for these programs, though, of course, to varying degrees. There's a hope among the fan bases that these four can create quick turnarounds.
And that also leads into another major coaching story entering the spring: The Pac-12's most senior coaches, California's Jeff Tedford and Oregon State's Mike Riley, sit on the hottest seats.
Tedford enters his 11th season in Berkeley having followed up his first losing campaign -- 5-7 in 2010 -- with a middling 7-6 finish in 2011. Riley, the man deserving the most credit for making one of the worst programs in college football respectable, enters his 12th year in Corvallis -- two tenures wrapped around an ill-fated stint with the San Diego Chargers -- burdened by consecutive losing seasons, including a 3-9 finish that felt so 1987.
Spring practices for Tedford and Riley will be about setting up turnaround season that give their frustrated fan bases hope -- and keep their athletic directors from issuing dreaded votes of confidence while checking their coaching Rolodexes.
Meanwhile, Kelly and USC's Lane Kiffin, still relative coaching newbies in the conference, enter spring likely trying to tone down the positive hype. Both will begin the 2012 season ranked in the top 10. USC could be preseason No. 1. Both are overwhelming favorites in the North and South Divisions. And their meeting on Nov. 3 in L.A. could have national title implications.
But that's looking ahead.
The big story this spring in the Pac-12 is newness and rebirth. One-third of the conference's teams hope that newness at the top of their programs will create a rebirth in the Pac-12 standings.
February, 23, 2012
2/23/12
10:00
AM ET
Pac-12 spring preview: South Division
Spring practice is almost here. Here's a snapshot at what to expect from the Pac-12 South in the coming weeks.

ARIZONA
Spring practice starts
: March 4
Spring game
: April 14
What to watch
:
Hello, my name is ... Like the other two teams in the South Division with new head coaches (Arizona State and UCLA) much of Arizona's first few weeks will be Rich Rodriguez evaluating his personnel and getting to know what he has to work with. Likewise, the players are going to have to figure out what this new coaching staff is about. Everything from how they do pre-practice stretches to how they call the cadence is going to change.
New scheme and a new scheme: A spread option on offense and a 3-3-5 on defense. That's a lot of new material to digest on both sides of the ball. Until Rodriguez can recruit the players he likes into his scheme, he's going to have to make it work with the players he has. Fortunately on the defensive side of the ball, Arizona has good depth in the secondary with Cortez Johnson, Marquis Flowers, Shaquille Richardson, Jourdon Grandon and Tra'Mayne Bondurant. The Wildcats should also get a boost with the return of injured players Jake Fischer (LB), Jonathan McKnight (CB) and Adam Hall (S).
Perfect fit? Former starter Matt Scott, who was beaten out by Nick Folesin 2009, is expected to reprise his starting role under Rodriguez. He redshirted the 2011 season and -- magically -- Foles never got hurt last year despite taking 23 sacks and countless hits. Scott is considered the more versatile quarterback and should fit nicely into the new run-based spread attack.

ARIZONA STATE
Spring practice starts
: March 13
Spring game
: April 21
What to watch
:
QB competition: We know what kind of offense new coach Todd Graham is going to run; now it's a matter of figuring out who is going to run it. Graham has his choice of three players -- Mike Bercovici, Taylor Kelly or Michael Eubank -- to replace NFL-bound Brock Osweiler. Graham said earlier this month that there are no favorites heading into the competition and each one brings his own skill set to the table. Eubank has the size (6-foot-5, 235 pounds), Bercovici (6-1, 205) is a mechanic and Kelly (6-1, 202) is a little bit of everything.
Get the locker room: By the end of the 2011 season, ASU's locker room wasn't just divided, it was completely splintered. Graham's task -- and that of his new coaching staff -- is to pick up the pieces, mend internal fences and find some chemistry on both sides of the ball. Linebacker Brandon Magee, long considered a great locker room leader, should help get the Sun Devils back on track as he returns from a season-ending Achilles injury.
Hands competition: The Sun Devils lose three of their top four wide receivers from last season -- Gerell Robinson, Aaron Pflugrad and Mike Willie. Jamal Miles returns after finishing second on the team last season with 60 catches and six touchdowns. Rashad Ross figures to be the No. 2 guy, but establishing depth in that corps -- especially if Graham wants to be up-tempo -- is key.

COLORADO
Spring practice starts
: March 10
Spring game
: April 14
What to watch:
Momentum, maybe? For as rough as 2011 was for the Buffs, they ended the year on a high note, winning two-of-three down the stretch -- including a 17-14 win over Utah in the season finale. But there is also the possibility that things might get worse before they get better. With just four returning starters on offense, spring in Boulder will likely be more about teaching and less about refining.
Where to start (offense)? Well, quarterback might be a good place. In the court of public opinion, Connor Wood, a transfer from Texas, seems to be the favorite. Nick Hirschman appeared in five games last season, mostly in mop-up time when the game was already out of hand. It's also possible a starter could be named by the end of spring ball. Finding offensive weapons to surround the new quarterback will also be a challenge. Wide receiver Paul Richardson caught 39 balls last season, and running back Tony Jones showed a flare for catching the ball out of the backfield. He'll likely step in as the new workhorse back for the departed Rodney Stewart.
Where to start (defense)? Last in this. Last in that. Last in almost every team statistic the Pac-12 has to offer. But there are some intriguing youngsters on the roster. Cornerback Greg Henderson was all-conference honorable mention as a freshman with a team-high nine passes broken up. Jered Bell also returns from injury after blowing out a knee last preseason. If healthy, he's expected to be a big contributor in the secondary. Linebacker Jon Majorreturns as the team's leading tackler, and if Doug Rippy is fully recovered from his knee injury, he'll look to build on what was a pretty good season last year before getting hurt.

UCLA
Spring practice starts
: April 3
Spring game
: May 5
What to watch
:
QB up for grabs: Like the majority of the conference, UCLA enters spring with a quarterback competition. New offensive coordinator Noel Mazzone said he doesn't care how much experience (or lack thereof) a player has -- if he can play, he wins the job. So don't be surprised if Brett Hundley passes Kevin Prince and Richard Brehautas the new man leading the Bruins. Fans have been clamoring for a change. Hundley might be it.
Attitude adjustment: One of the first things new head coach Jim Mora did was slam the team for its tradition of going "over the wall," a time-honored senior ditch day, saying if they want to jump the wall, they should just keep on going. How's that for sending a message? UCLA has earned a reputation for being soft and underachieving despite good talent. Attitude and toughness is needed -- and so far, Mora appears to be hammering that point home.
Speaking of toughness ... The defense has to get tougher. No two ways about it. It was weak against the run last season, allowing more than 190 yards per game on the ground; couldn't get to the quarterback; and couldn't get off the field almost 50 percent of the time on third down. It's time for potential all-conference players such as defensive end Datone Jones to start living up to the hype and the defense as a whole to stop getting pushed up and down the field. At 6-5, 275 pounds, Jones has the physical makeup to be a major force in the conference and catapult himself into the elite class of collegiate defensive players.

USC
Spring practice starts
: March 6
Spring game
: April 14
What to watch
:
Ignore the hype: Few teams ended last season hotter than USC and returning quarterback Matt Barkley. The Heisman talk has already started, the way-too-early rankings already have the Trojans as national championship contenders, and the public perception is that the offense is unstoppable. Nice to hear, but hype is a double-edged sword. Head coach Lane Kiffin has a knack for deflecting hype. This season will be his toughest test to date.
Insurance? The Trojans are loaded on both sides of the ball with returning players. But after the starting 22, things start to get dicey. Developing depth and keeping the starters healthy is a top priority -- particularly on the offensive and defensive lines and at running back, where experience is thin outside of the starters. The entire back seven returns on defense -- headlined by hard-hitting safety T.J. McDonald. Stopping the pass has been a major priority for Kiffin, and if this group stays healthy it should see the pass-efficiency numbers improve even more.
Other options: Along those same lines, wide receivers Robert Woods and Marqise Lee make up the most feared receiving duo in the conference -- maybe the country. But who are the Nos. 3 and 4 receivers behind them? George Farmer? Victor Blackwell? De'Von Flournoy? Don't overlook the tight end duo of Xavier Grimble and Randall Telfer, which should rival Stanford's Zach Ertz and Levine Toilolo as the best tight end tandem in the conference.

UTAH
Spring practice starts
: March 20
Spring game
: April 21
What to watch
:
Youthful approach: Head coach Kyle Whittingham turned some heads by naming former Utah quarterback Brian Johnson as his offensive coordinator. Johnson, who recently turned 25, said he's not looking to make wholesale changes to the offense, though he wants to put his stamp on it and continue to build around running back John White IV, who had a breakout season in his first year of major college football. Having quarterback Jordan Wynn back healthy should also help as the team transitions to Johnson running the offense.
Fixing the line: Who is going to protect Wynn (if he does indeed win back the starting job) and make holes for White? That's a major concern heading into spring as the Utes have to replace a pair of all-conference linemen in Tony Bergstrom and John Cullen. The Utes should be set at the interior but have to adjust to a new position coach, with Tim Davis leaving for Florida after just one season and Dan Finn -- a former Utah graduate assistant who was brought on to help Davis -- taking over the whole line following a one-year stint at San Diego State.
Work the experience: The defensive line should be one of the best in the conference, especially with the return of Star Lotulelei, who won the Morris Trophy last season as the conference's best defensive lineman. With the Kruger brothers returning to the line -- Joe at defensive end and Dave at tackle -- Derrick Shelby is the lone starter who has to be replaced. There's also some pretty good depth in the secondary that was tops in the conference last season in pass-efficiency defense.
February, 23, 2012
2/23/12
9:00
AM ET
It's been difficult for you, hasn't it? First, the college football season has the audacity to end, then national signing day slips by, leaving you with ... what? A whole lot of nothing.
Almost makes you thankful for Davonte' Neal's
ludicrous recruiting saga
.
But the Pac-12 blog has decided to help. Colleague Kevin Gemmell and I have invented something we're going to call "spring football"! (I wanted to call it "super awesome offseason football" but he insisted on "spring.")
Wait ... it already exists. Well, that's OK, too.
Stanford will be first out of the gate, with spring practices beginning Monday. Things will be cracking until late April.
Here's a look at the major storylines, starting with the North Division.

CALIFORNIA
Starts
: March 13
Ends
: April 21 (no spring game)
What to watch
:
Maynard the man? quarterback Zach Maynard started fast in 2011, hit a midseason lull of mediocre-to-poor play then surged late before playing badly in the Holiday Bowl against Texas. He finished the season ranked 10th in the Pac-12 in passing efficiency with 12 interceptions to go with 17 touchdowns. He needs to show this spring that he's ready to be a consistent and reliable passer and the leader of an offense that looks like it will be extremely young at receiver. If he doesn't assert himself, he may find himself challenged for the starting job.
Youth steps up on D: The defense loses both starting ends, both inside linebackers in its 3-4 scheme and both starting safeties. The Bears' recruiting on defense has been outstanding of late, but now it's time to live up to recruiting hype. So will Avery Walls and Michael Coley step up at safety, and will Mustafa Jalil and Brennan Scarlett step up at the ends? The biggest challenge, however, figures to be replacing Mychal Kendricks and D.J. Holt at linebacker. Some players might move around this spring as the Bears find their best four linebackers.
Good to receive: While the return of Keenan Allen at receiver is a good start, after him experience at the position is virtually nonexistent. Cal's next three leading receivers last season are all gone. Redshirt freshman Maurice Harris is promising, but after that it appears at least a couple of the four incoming freshmen receivers could be called to immediate action. And what about tight end? Will the Bears get more production from that position in 2012?

OREGON
Starts
: April 3
Spring game
: April 28
What to watch
:
Replacing Darron: It took most off guard when quarterback Darron Thomas opted to enter the NFL draft. Instead of a three-year starter, the Ducks have a quarterback competition. Sophomore Bryan Bennett is the favorite to win the job, but there's plenty of positive scuttlebutt about redshirt freshman Marcus Mariota. Bennett came off the bench for an injured Thomas and played well in a win over Arizona State last season and, in his first and only start, completed 11 of 20 attempts for a 156 yards and a pair of touchdowns in win at Colorado.
Ready to receive? The Ducks must replace two of their three leading receivers in Lavasier Tuinei and tight end David Paulson. Sophomore Colt Lyerla flashed promise backing up Paulson last season, and Josh Huff and Rahsaan Vaughn have potential at receiver. But the big question is whether a trio of touted redshirt freshmen -- Devon Blackmon, B.J. Kelley and Tacoi Sumler -- break through and live up to their recruiting hype. How dangerous might Oregon be with the potential to throw five-receiver sets at defenses?
End opposite Jordan: While All-Pac-12 defensive end Dion Jordan is back, the Ducks lose Terrell Turner on the opposite side as well as Jordan's solid backup, Brandon Hanna. It's unclear how the pecking order might fill out here. Sophomore Tony Washington and redshirt freshmen Koa Ka'ai and Sam Kamp will be in the mix. Or it's possible, because of the depth inside, that a tackle, such as Taylor Hart, could move outside.

OREGON STATE
Starts
: April 3
Spring game
: April 28
What to watch
:
O-line needs to step up: Three 2011 starters -- right tackle Colin Kelly and guards Grant Enger and Josh Andrews (who were part-time starters) -- are back, and 2010 starter Michael Philipp also is back after injuries did him in last fall. The bad news is that line has been mostly awful for two years running. And oh, by the way, the likely starting center, Geoff Garner, opted to transfer. Roman Sapolu probably will replace Garner at center, and Darryl Jackson and Justin Addie also will be in the mix. Elite recruit Isaac Seumalo arrives in the fall and could immediately contend for playing time. If he doesn't end up on defense, where he might be needed more (just saying).
Interior D-line? The Beavers are in decent shape at defensive end, but things are iffy inside. Andrew Seumalo returns, as does Castro Masaniai, who is coming back from a broken left fibula. The depth behind them is questionable. Will Brandon Bennett, John Braun or Mana Tuivailala -- or someone else -- step up?
Got to run (and hold onto the football): If running back Malcolm Agnew can overcome fumbling issues that forced him to the bench last season after a promising start, he'll likely get the most touches. If not, the job likely falls to Jovan Stevenson or perhaps Terron Ward. But the Beavers can't afford to be one the worst rushing team in the Pac-12 -- and one of the worst in the nation -- again in 2012.

STANFORD
Spring practice starts
: Feb. 27
Spring game
: April 14
What to watch
:
Next man up: Perhaps the most watched quarterback competition in the country will happen in Palo Alto, where head coach David Shaw has to find a replacement for the departed Andrew Luck. Whoever it is -- Brett Nottingham, Robbie Picazo, Josh Nunes, Kevin Hogan, Evan Crower et al -- will be a first-time starter. There are no quick fixes, no Scotch tape for replacing a once-in-a-generation quarterback like Luck. So expectations are best tempered as the new guy learns the ins and outs of a pro-style scheme.
Plugging holes: Whoever gets that starting spot is going to have two new offensive linemen, replacements for David DeCastro and Jonathan Martin, protecting him. David Yankey, Cameron Fleming and Sam Schwartzstein all return, which gives the line some continuity. And the nation's best offensive line class coming in could yield a new starter. But Martin and DeCastro were two of the best in the country at what they do. Finding their replacements is just as paramount as finding Luck's.
Settling the secondary: While the front seven should be outstanding with the return of linebackers Chase Thomas, Trent Murphy, A.J. Tarpley, Shayne Skov and Jarek Lancaster -- plus the return of defensive linemen Ben Gardner and Terrence Stephens -- the defensive backfield has some question marks. The Cardinal need to find replacements for safeties Delano Howell and Michael Thomas (presumably Devon Carrington and Jordan Richards) and there are questions at cornerback as well. The return of Wayne Lyons from a foot injury should be a good start.

WASHINGTON
Starts
: April 2
Spring game
: April 28
What to watch
:
Getting defensive: The Huskies were awful on defense last season. There are four new defensive coaches, led by new coordinator Justin Wilcox. Therefore, there are three priorities. Everyone getting to know one another, everyone getting to know the new schemes and everyone getting to know a tough-guy attitude that has been lacking for a while on D. Like since the early 1990s.
Offensive weapons: The Huskies must replace their leading rusher and top-two leading receivers. Jesse Callier, Chris Polk's backup last season, looks to be in the lead at running back, but what about Deontae Cooper, who is coming back from (another) knee injury? Kasen Williams and James Johnson look like the top-two receiving targets, but what about depth?
Backup for Price: Backup quarterbacks aren't important until they become your most important player (I think Jon Wilner writes this every year, so it isn't an original thought). Keith Price was outstanding in his first year as a starter, but backup Nick Montana transferred, and no other quarterback on the roster has experience. In fact, the backup job likely won't be settled this spring. Redshirt freshman Derrick Brown, the only other scholarship quarterback on the roster, will be the spring backup, and he's an impressive-looking guy at 6-foot-3, 236 pounds. Touted signees Jeff Lindquist and Cyler Miles arrive in the fall.

WASHINGTON STATE
Starts
: March 22
Spring game
: April 24
What to watch
:
Hello, my name is Mike Leach: The first priority with a new head coach, particularly one who hires an entirely new staff, is getting to know each other. Coaches want to know their players' personalities and skills. Players want to learn how coaches do things and what coaches like and don't like. A new culture and set of standards is established. And coaches often trim dead weight. What the Cougs need most is a clear understanding of how things are going to be going forward. Oh, and they need to learn new schemes and stuff like that, too.
Tuel time: The Pac-12 blog is of the mind that Leach is going to love Jeff Tuel, and that Tuel will win the starting job at quarterback after an injury-plagued 2011 season had some folks forgetting how good he is. But there are no guarantees. For one, Leach will want Tuel to improve his completion percentage, which is around 60 percent for his career. If Tuel falters, sophomore Connor Halliday could push into the starting picture.
O-line needs to shine: The single biggest thing that could hold the Cougars back is their offensive line, which welcomes back three starters from a unit that yielded 40 sacks -- worst in the Pac-12 by six -- and led a rushing attack that ranked just 10th in the conference. Leach's quick-hit passing attack makes it harder to get to the quarterback, but the Cougars still must be at least adequate up front for this team to prove bowl worthy.