Pac-12:

2013 team previews
August, 21, 2013
8/21/13
10:30
AM ET
We conclude our day-by-day snapshots of each Pac-12 team heading into the 2013 season in reverse alphabetical order with the
Arizona Wildcats
.
Arizona
Coach
: Rich Rodriguez (83-53, 8-5 at Arizona)
[+] Enlarge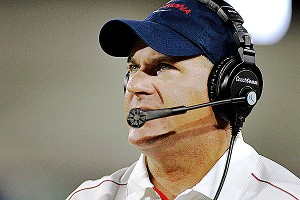 AP Photo/John MillerLast season Rich Rodriguez's offense scored 38 points per game, but his defense gave up 35.
2012 record
: 8-5 (4-5 Pac-12 South)
Key losses
: QB Matt Scott, WR Dan Buckner, C Kyle Quinn, DL Dominique Austin, OL Trace Biskin.
Key returnees
: RB
Ka'Deem Carey
, RB
Daniel Jenkins
, LB
Jake Fischer
, LB
Marquis Flowers
, WR
Terrence Miller
, OL
Fabbians Ebbele
, OL
Mickey Baucus
, OL
Chris Putton
.
Newcomer to watch
: The Wildcats have put an emphasis on building defensive depth, so look for linebacker Scooby Wright to contribute immediately. The all-state performer out of Cardinal Newman (Windsor, Calif.) has impressed so far in camp.
Biggest games in 2013
: With UCLA, USC and ASU getting the bulk of the hype in the Pac-12 South, the Wildcats will have to pull off some upsets if they want to be in contention. That makes all three (at USC Oct. 10, vs. UCLA Nov. 9, at ASU Nov. 30) critical. Of course, the ASU game is the biggest of all.
Biggest question mark
: Next week is game week, and the Wildcats are still in quarterback limbo. It was thought that
B.J. Denker
and
Jesse Scroggins
would be the front-runners, but neither has pulled away and
Javelle Allen
, Anu Solomon and
Nick Isham
have all kept pace. They've all shared close to equal reps in camp, so at least there is continuity with the receivers seeing all of the QBs (Denker is the only lefty). The fact that the Wildcats have a fairly easy nonconference schedule bodes well. Rodriguez has already said it's possible he could start three different quarterbacks the first three weeks before Arizona opens league play on the road at Washington on Sept. 28. There are a few more practices coming up before the Wildcats get into "game week" mode, so every rep will count.
Forecast
: It hasn't been the greatest offseason for the Wildcats. The opening of
the new facility
and a couple of awesome! videos (
Part I
and
Part II
) were overshadowed by Carey's
off-field indiscretions
, the loss of wide receiver
Austin Hill
to
injury
and the
departure
of receiver Tyler Slavin. Once thought to be their strongest position group, the Wildcats now find themselves struggling with some wide receiver depth.
Terrence Miller
,
Garic Wharton
and
Johnny Jackson
make up a solid starting three, and
David Richards
, though hampered by injuries, is a solid 3B. And Jenkins can be a do-it-all guy, but it's still an area of concern.
Matt Scott was obviously a huge part of the offense. And he and Carey complemented each other nicely. It will be interesting to see if Carey continues his outstanding pace with a new quarterback. The belief is that there will be just as much passing as last season, and given Arizona's scheme, it's unlikely Carey will be seeing many eight- and nine-man boxes.
The offensive line should also be solid. Quinn was an underappreciated center and he'll be missed, but Ebbele, Baucus and Putton (who will be plugged in as needed) make up a strong troika.
Defensively, the question is if this group, which returns virtually every starter from last year, got better. Fischer and Flowers are legit playmakers, and you'd think a second year in the 3-3-5 will help. As explosive as the Wildcats were offensively, the defense gave up more than 35 points a game -- ranking 102nd nationally. Fortunately, the offense averaged better than 38 points per game.
Arizona is an extremely intriguing team. If Rodriguez can make the quarterback spot plug-and-play, and Scott's production can be mostly replicated, that will take a lot of pressure off Carey, who could be in for another big season. And, if the defense is improved, the offense won't have to feel like it has to win every game.
But those are two big ifs.
August, 20, 2013
8/20/13
10:30
AM ET
We continue our day-by-day snapshots of each Pac-12 team heading into the 2013 season in reverse alphabetical order with Arizona State.
Arizona State
Coach
: Todd Graham (57-34, 8-5 at Arizona State)
2012 record
: 8-5, 5-4 Pac-12 South
Key losses
: RB Cameron Marshall, LB
Brandon Magee
, WR
Rashad Ross
, P
Josh Hubner
, OL
Andrew Sampson
, OL Brice Schwab
[+] Enlarge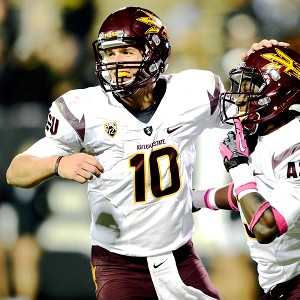 Ron Chenoy/US PresswireThe Sun Devils will lean on veteran quarterback Taylor Kelly's experience in 2013.
Key returnees
: QB
Taylor Kelly
, DT
Will Sutton
, LB
Carl Bradford
, RB
Marion Grice
, RB
D.J. Foster
, LT
Evan Finkenberg
, TE/H
Chris Coyle
, S
Alden Darby
Newcomer to watch
: The Sun Devils need receiver
Jaelen Strong
to live up to his recruiting hype. So far, so good in preseason camp. Despite getting a late start while he was waiting to be academically cleared, he's been running with the first-team offense and has flashed playmaking potential. Receiver is the biggest question for the Sun Devils, and Strong is the most obvious -- and promising -- answer.
Biggest games in 2013
: The South Division looks -- in the preseason -- like a three-team race between the Sun Devils, USC and UCLA. The Sun Devils play host to USC on Sept. 28 and visit the Bruins on Nov. 23. Meanwhile, there are big nonconference games with Wisconsin (Sept. 14) and Notre Dame (Oct. 5, in Cowboys Stadium).
Biggest question mark heading into 2013
: Top 2012 receiver Rashad Ross is gone, and the Sun Devils got little production from the position in 2012 in any event. While Grice and Foster are good receivers out of the backfield, and Coyle is a productive tight end, the missing ingredient for this offense is a wideout who can stretch the field. If there's one on the roster at present -- Strong? -- it's almost certain he will be a first-year player.
Forecast
: Arizona State welcomes back 17 starters, including quarterback Taylor Kelly, from a team that exceeded expectations in 2012. If the Sun Devils take a step forward with that experience, they should be in the thick of the Pac-12 South Division race.
It starts with Kelly on offense and DT Will Sutton on defense. Kelly was probably the biggest surprise of the 2012 season, coming from nowhere to finish third in the conference in passing efficiency. Sutton only won conference Defensive Player of the Year and consensus All-American honors. But they are hardly alone.
Grice and Foster might be the best one-two running punch in the conference, and the depth behind them is good. Coyle is a legit weapon in the passing game, and the offensive line looks to be the school's best unit in years. On defense, productive linebacker Carl Bradford is a strong No. 2 to Sutton, and safety Alden Darby is the undisputed team leader.
In other words, the pieces are here. And missing Oregon is probably a good thing, particularly with UCLA playing both Oregon and Stanford.
But the schedule overall is rugged, particularly a nonconference slate that includes Wisconsin and Notre Dame. Finding eight wins this year will be more difficult than last year.
Still, there are plenty of reasons for high hopes in Tempe in Year 2 under Graham.
August, 19, 2013
8/19/13
10:30
AM ET
We continue our day-by-day snapshots of each Pac-12 team heading into the 2013 season in reverse alphabetical order with the
California Golden Bears
.
California
Coach
: Sonny Dykes 22-15 (First season at Cal)
2012 record
: 3-9 (2-5 Pac-12 North)
Key losses
: WR
Keenan Allen
, C
Brian Schwenke
, CB
Steve Williams
, DE Kendrick Payne, RB
C.J. Anderson
, RB Isi Sofele
[+] Enlarge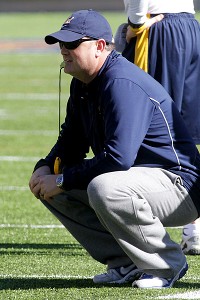 Norbert von der Groeben/GoldenBearSports.comSonny Dykes will look to true freshman Jared Goff to lead a revamped Bears offense.
Key returnees
: DE
Deandre Coleman
, RB
Brendan Bigelow
, LB
Nick Forbes
, K
Vince D'Amato
, WR
Chris Harper
Newcomer to watch
: We've been
hearing some buzz
around this true freshman quarterback named
Jared Goff
.
Biggest games in 2013
: Take your pick. The Big Game (Nov. 23) is always the biggest, but there are plenty more with Northwestern coming for the opener (Aug. 31), No. 2 Ohio State a couple of weeks later (Sept. 14) and then Oregon two weeks after that (Sept. 28).
Biggest question mark
: Regardless of who was going to take over at quarterback, he was going to be a rookie. But Dykes went with the youngest of the young in tapping Goff to be his guy. Considered the jewel of the 2012 recruiting class, Goff now becomes the face of the new-look Bears and their "Bear Raid" offense. And with youth and inexperience come questions. How will he handle Cal's brutal schedule? How does he handle the highs and lows of the position? Can a true freshman be a leader? Perhaps the biggest question of them all: Did Dykes make the right call? Wins and/or competitive performances against some top-notch teams will go a long way to answering that. This decision will likely define Dykes' first season as Cal's head coach.
Forecast
: A look at the schedule shows a potentially gloomy forecast. Northwestern and Ohio State paired with a Pac-12 North docket and USC and UCLA from the South seems daunting even if they had a veteran-heavy team, which they don't.
But bear in mind it took Dykes some time to get things moving at Louisiana Tech. In his first season, the Bulldogs were 5-7 and ranked 59th nationally with 29.1 points per game. In 2011, they improved to 8-5 and jumped to 42nd in scoring offense (30 points per game). Last season, they were 9-3 and led the country with 51.5 points per game, and they were two points shy of knocking off Texas A&M.
And this is a team loaded with potential -- especially at the wide receiver spot, at which Goff will have a host of talented young playmakers at his disposal. From Harper and
Kenny Lawler
to
Darius Powe
and big-bodied
Richard Rodgers
(and about four or five others), there is no shortage of talented pass-catchers for Goff to target. And many are excited to see what Bigelow can do at running back with more opportunities and touches.
Defensively, the Bears are going against the trend in the conference and switching to an even-front defense under Andy Buh. Coleman is an A-list defensive linemen, though his contributions often get lost in the shuffle in a league with other A-list defensive linemen. The return of
Stefan McClure
-- a highly touted cornerback who missed last season with an injury -- quietly boosts what could be a sneaky good defense.
A new coaching staff brings hope and excitement, and that's a good thing for a program that could use a little of both. But expectations are best tempered as the Bears undergo a complete overhaul on both sides of the ball and grow with their true freshman quarterback.
August, 16, 2013
8/16/13
10:30
AM ET
We continue our day-by-day snapshots of each Pac-12 team heading into the 2013 season in reverse alphabetical order with the
Colorado Buffaloes
.
Colorado
Coach
: Mike MacIntyre (16-21, 0-0 at Colorado)
2012 record
: 1-11, 1-8 Pac-12 South
Key losses
: OT
David Bakhtiari
, TE
Nick Kasa
, OLB Jon Major, DT
Will Pericak
, FS
Ray Polk
.
[+] Enlarge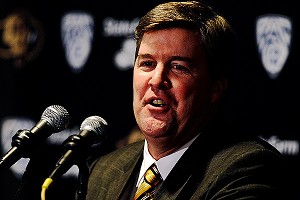 AP Photo/Brennan LinsleyMike MacIntyre is charged with turning around Colorado after making a winner out of San Jose State.
Key returnees
: C
Gus Handler
, TB
Christian Powell
, WR
Tyler McCulloch
, S
Marques Mosley
, DE
Chidera Uzo-Diribe
, P
Darragh O'Neill
, WR
Paul Richardson
,
Derrick Webb
.
Newcomer to watch
: It's too early to tell which one, but three freshmen wide receivers --
Elijah Dunston
,
Devin Ross
and
Bryce Bobo
(ironically numbered 1, 2 and 3) -- are all making a case to be in the rotation and two-deep.
Biggest games in 2013
: The season opener against Colorado State (Sept. 1) is always a big one, and the rivalry with Utah (Nov. 30) is starting to take shape.
Biggest question mark
: While no official word has come down on who will start at quarterback, it's looking more and more like
Connor Wood
will at least begin the season as the starter. So we can at least put a partial check mark there. The biggest question is really what sort of progress -- if any -- we'll see in Mike MacIntyre's first season as the new head coach. He comes in with solid credentials and was Mr. Fix-It at San Jose State. But with the new job comes a new set of challenges. Chief among them, the proverbial challenge of "changing the culture." MacIntyre made it clear that he wants to win and compete immediately, and he believes that his players have bought in. We'll see how much on Sept. 1.
Forecast
: The media
doesn't have much faith
in the Buffs, picking the team that went 1-11 last season to finish last again in the Pac-12 South. This might be one of those situations in which the team shows improvement -- just not in the win department. Remember, San Jose State appeared to take a step back in MacIntyre's first season, going 1-12, but it was during that time that he was establishing his schemes and philosophies, and in Year 2 they went 5-7. By the third season, the Spartans were 11-2 (10-2 under MacIntyre) and ranked in the top 25. No one is saying the Buffs will be ranked in three seasons, and most people probably aren't expecting it. The Pac-12 is a different animal than the now football-less WAC, but it's not wrong to hope for a postseason berth in the next 3-5 seasons.
And this season, the Buffs are loaded with young players who gained a ton of experience last season. They return 17 starters (eight offense, nine defense) including a young secondary that took its licks last season. Mosley,
Kenneth Crawley
and
Yuri Wright
all started last season, and
Greg Henderson
and
Parker Orms
are the veterans of the group. Up front defensively, Uzo-Diribe is a talented pass-rusher, and linebackers
Derrick Webb
and
Paul Vigo
should be the anchors on defense.
Offensively, they lose Bakhtiari to the NFL and Alex Lewis announced a transfer, which was followed by
some bizarre and unfortunate circumstances
. But they get Richardson back after he missed all of 2012 with a knee injury. When he's healthy, he's one of the most explosive wide receivers in the country and should give the Buffs a stretch-the-field threat they were lacking.
Powell also quietly put together a strong second half last season, posting a pair of 100-yard games and four touchdowns over the final five. If they can plug the left side of the line (it's looking like veteran
Jack Harris
at left tackle and
Kaiwi Crabb
at left guard), he could inch closer to 1,000 yards on the ground after posting 691 and a 4.4 yards per carry average last season.
There is talent on Colorado's roster, but, as what's becoming a trend with Colorado, fans are going to have to be patient until the new staff figures out how best to use it.
August, 15, 2013
8/15/13
10:30
AM ET
We continue our day-by-day snapshots of each Pac-12 team heading into the 2013 season in reverse alphabetical order with the Oregon Ducks.
Oregon
Coach
: Mark Helfrich (first year)
2012 record
: 12-1 (8-1 Pac-12 North)
[+] Enlarge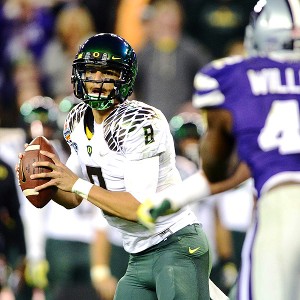 Mark J. Rebilas/USA TODAY SportsWith a year of experience, the Ducks' offense could see more passing from Marcus Mariota.
Key losses
: RB Kenjon Barner, OLB Dion Jordan; LB Kiko Alonso, LB Michael Clay
Key returnees
: QB
Marcus Mariota
, RB/WR
De'Anthony Thomas
, WR
Josh Huff
, C
Hroniss Grasu
, TE
Colt Lyerla
, CB
Ifo Ekpre-Olomu
, DE
Taylor Hart
Newcomer to watch
: It's a good bet that freshman Matt Wogan will be Oregon's kicker this year. Wonder what might have happened if the Ducks had made field goals against USC in 2011 and Stanford in 2012?
Biggest games in 2013
: The game of the year, as it has been of late in the Pac-12, is the Oregon-Stanford showdown. This year it's a Thursday night affair at Stanford on Nov. 7. The visit to remodeled Husky Stadium on Oct. 12 also is noteworthy as the Ducks don't want to stop dominating Washington. And, of course, with Oregon State back in the national picture, the season-ending Civil War with the Beavers should be meaningful. As far as nonconference games, the Ducks need to be impressive against Tennessee in Week 3 to keep SEC critics at bay.
Biggest question mark heading into 2013
: There aren't many, but linebacker is a big one. It's not that there aren't potentially good players ready to step in, but replacing a troika like Dion Jordan, Kiko Alonso and Michael Clay isn't easy. The inside spots, in particular, seem to be up in the air thus far during preseason camp. Oh, by the way, it's also worth noting that Mr. Win the Day, Chip Kelly, is now coaching the Philadelphia Eagles, so first-time head coach Mark Helfrich is a question until he proves otherwise.
Forecast
: Oregon is again loaded with talent on both sides of the ball and poised for a Pac-12 and national title run.
That starts on offense with quarterback Marcus Mariota, who was brilliant as a redshirt freshman starter in 2012, ranking seventh in the nation in passing efficiency. He's a top Heisman Trophy candidate, as is his best weapon, running back/receiver De'Anthony Thomas.
All of the Ducks' top pass-catchers are back, so you might see the ball in the air more this season. Mariota has a live and accurate arm, and he's got a good pair of tackles protecting his flanks. Expect tight end Colt Lyerla to have a bigger role this fall. Both guard spots will feature new starters. Center Hroniss Grasu was first-team All-Pac-12 a year ago and is an All-American candidate.
While linebacker is a question, the defensive line and secondary are not. It's not just about the starters either. It's about outstanding depth. The Ducks' twos would start a lot of places. The line welcomes back just about the entire 2012 two-deep, a group that played well in 2012, despite numerous injuries. Expect true sophomores DeForest Buckner and Arik Armstead to make significant jumps in production. The secondary? That crew, led by All-American cornerback Ifo Ekpre-Olomu, might be the best unit in the nation.
The schedule is favorable. A visit to Virginia and home match with Tennessee give the Ducks a chance to make statements against what should be overmatched foes from other AQ conferences. There are seven home games and well-positioned bye weekends on Sept. 21 and Nov. 2, which is the weekend before the visit to Stanford.
The Ducks have finished ranked in the top five for three consecutive seasons. Their reasonable goal this fall is the spot at the very top.
August, 7, 2013
8/07/13
10:30
AM ET
We continue our day-by-day snapshots of each Pac-12 team heading into the 2013 season in reverse alphabetical order with the
Washington Huskies
.
Washington
Coach
: Steve Sarkisian (26-25 overall, 19-17 Pac-12)
2012 record
: 7-6, 5-4 (Fourth in North Division)
Key losses
: CB Desmond Trufant, DB
Justin Glenn
, DE Talia Crichton, C
Drew Schaefer
,
[+] Enlarge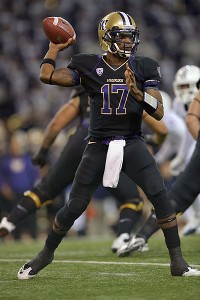 Steven Bisig/US PresswireTrigger-man Keith Price is the key to the Husky offense.
Key returnees
: QB
Keith Price
, RB
Bishop Sankey
, WR
Kasen Williams
, TE
Austin Seferian-Jenkins
, DB
Sean Parker
, LB
John Timu
, DE
Josh Shirley
, LB
Shaq Thompson
.
Newcomer to watch
: WR
Damore'ea Stringfellow
is the highest-rated player in a strong incoming freshman class at receiver, a position where there should be opportunities for young players to see action.
Biggest games in 2013
: After three consecutive 7-6 seasons playing in the rugged Pac-12 North, the Huskies are trying to take a step forward this fall as they open renovated Husky Stadium. So the season opener against Boise State takes on huge significance. A win provides momentum and hope. A loss casts doubt on the season.
Biggest question mark heading into 2013
: The parts are here for the Huskies to move into the top 25. But that chiefly hinges on quarterback Keith Price getting back to his 2011 form after a poor-to-middling 2012 season.
Forecast
: Sarkisian rebuilt a program that went winless in 2008, but now Huskies fans want more. They want to move up in the Pac-12 pecking order and become nationally relevant again.
As noted, Price is the key. He needs to protect the football in terms of interceptions and fumbles. If he does that, and he becomes the calm and efficient leader who ranked seventh in the nation in passing efficiency in 2011, the Huskies should thrive because they have talent on both sides of the ball.
The offense will be led by Sankey, Williams and Seferian-Jenkins. That's as good a troika of weapons as any team in the conference. The offensive line, beaten up last year, should be far more stout, particularly if a couple of players who were injured come back at 100 percent.
As for the defense, it starts with Shaq Thompson leading a speedy crew of linebackers who are a match for any team in the conference not playing in Palo Alto. The defensive line needs to be more stout against the run, and the ends need to get more pressure on the quarterback, but the biggest question is replacing Trufant, an NFL first-round draft pick.
If things go according to plan, the Huskies could be 4-0 and ranked when they hit a rugged midseason stretch: at Stanford, Oregon and at Arizona State. If they can manage to win two of those three -- Huskies fans really, really want to beat the Ducks -- it could become a special season.
But lose the opener and falter against the Pac-12's best at midseason, and folks in Seattle might be grumbling about Sarkisian by season's end.
August, 6, 2013
8/06/13
10:30
AM ET
Today we begin rolling out our day-by-day snapshots of each Pac-12 team heading into the 2013 season. We start in reverse alphabetical order with the
Washington State Cougars
.
Washington State
Coach
: Mike Leach (87-52, 3-9 at Washington State)
2012 record
: 3-9 (1-8, Pac-12 North)
Key losses
: DE Travis Long, WR Marquess Wilson, QB Jeff Tuel, RB Carl Winston
[+] Enlarge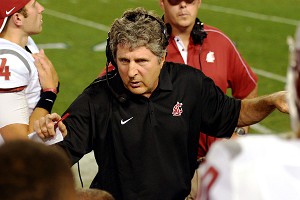 Jake Roth/US PresswireMike Leach is hoping to see more improvement in his second season at Washington State.
Key returnees
: WR
Gabe Marks
, WR
Brett Bartolone
, QB
Connor Halliday
, S
Deone Bucannon
, DT
Ioane Gauta
.
Newcomer to watch
: WR Vince Mayle (JC transfer, Sierra College) is a big, physical receiver at 6-foot-3, 240 pounds. Despite an already-deep receiving corps, Mayle's presence ups the competition in an offense that favors receivers.
Biggest games in 2013
: Aug. 31 at Auburn: We'll see what kind of progress the team made in the offseason and who will be the quarterback -- at least for one week. Nov. 29 at Washington: Last year's Apple Cup, a thrilling come-from-behind win for the Cougars, re-ignited the rivalry after the Huskies had won three straight.
Biggest question mark heading into 2013
: The obvious question is who is going to be the quarterback --
Connor Halliday
,
Austin Apodaca
or both? But it's the guys up front protecting the quarterback who are also cause for concern. Elliot Bosch is a steady anchor at center, and there is some depth across the line, if not uncertainty on who plays where. Last year the Cougars gave up more sacks per game than any team in the nation and were second to last nationally in interceptions thrown. A lot of that falls on the quarterbacks. But a lot also falls on the line. Improved line play should also boost the running game, which averaged just 29 yards per game (a bit misleading considering the total number of sacks allowed) and produced just six touchdowns on the ground.
Forecast
: Expectations are a little more tempered heading into Year 2 of the Mike Leach era. This time last year, folks were talking postseason. And why not? Leach had never had a losing season as a head coach and had been to 10 straight bowl games. But it didn't work out that way, and people are starting to understand that it's going to take more than Leach being on the sidelines for this team to reach the postseason for the first time since 2003.
With that said, there is talent -- especially at wide receiver with Marks, Bartolone,
Isiah Myers
and a host of others. If the offensive line, coupled with more consistent quarterback play (presumably, for now, from Halliday), can reduce the sacks and buy more time, we could see the offense be even more explosive than last season when it averaged more than 330 yards per game in the air. The addition of former Missouri offensive coordinator Dave Yost to the coaching staff shouldn't go unrecognized, either.
While the defense yielded more than 33 points per game in 2012, the Cougars saw a major uptick in the pressure department in their first season running Mike Breske's 3-4 front. They jumped from 94th in sacks per game and 78th in tackles for a loss per game in 2011 to 11th and eighth, respectively, in 2012. They need to find a replacement for Long -- and it looks like
Logan Mayes
, once thought to be the "buck" linebacker in waiting, will focus his time specifically on defensive end. There is some experience in the secondary and Bucannon is a bona fide playmaker and one of the top safeties in a league heavy on safety talent.
It might take another season for the Cougars to really make a big push toward the postseason. But there should be significant signs of improvement as Leach's players come to understand what he demands of them and they continue to grow into the schemes. Last year 17 freshmen started regularly compared to just four seniors. That trial-by-fire experience should start to pay dividends.