April, 30, 2014
4/30/14
7:00
PM ET
Stanford safety
Jordan Richards
took a few minutes to chat with the Pac-12 blog about how spring ball went for the two-time defending Pac-12 champs and adjusting to life with some new defensive coaches.
Every year it seems like people say "this is the year Stanford takes a step back," and every year you prove people wrong. How will you prove them wrong this year?
[+] Enlarge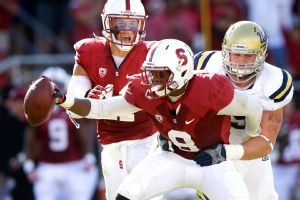 Ezra Shaw/Getty ImagesJordan Richards had three interceptions last season, including two against UCLA.
Jordan Richards:
What happens in the season is a product of what we do in the offseason. Whether that's on the field in spring ball or on the field by ourselves or the stuff we do with Coach [Shannon] Turley in strength and conditioning. It's a mentality that's throughout our program. We have a standard. The bar is raised every year, and we're constantly trying to beat that standard. The last couple of years has been a product of the work the previous classes have gotten everyone to buy into.
How much of a hangover was there following the Rose Bowl?
JR
: I would not say there was much. There's not much to be happy about after you lose a Rose Bowl. So we got our two weeks off. Got rejuvenated. Got to reboot. Got to go home. And then it was right back to the grind.
The secondary faces a lot of pressure because traditionally it has been so tough to run on Stanford. As a result, the secondary stats are a little skewed. How do you guys handle that knowing teams are going to be coming after you through the air a lot of the time because the front seven has been so tough?
JR
: It's nice playing behind those front seven guys and how they get after the passer because it makes our job easier. We can cover while they get after the quarterback. We definitely appreciate all of that. In terms of the numbers, it doesn't really matter. It's cool to have bragging rights. But in the end, all that really matters is Pac-12 trophies and bowl trophies. The one we want is a national championship trophy and that's what we're working for. We play in a pass-happy conference anyway. Wazzu is going to put it up 80-90 times. You just have to live with it and hope each and every Saturday you come out with a "W" when it's all said and done.
There have been some changes on the defensive coaching staff. What has that adjustment been like this spring?
JR
: We were sad to see coach [Derek] Mason leave. But we're happy to see him as a head coach. Coach [Duane] Akina came in for the second half of spring ball. For an older guy like me, you've heard one voice for the last three years. So it's different with a new voice out there. That's something we're all getting used to. Coach Akina has this group moving in the right direction. Some guys who probably didn't have as big a role in the past couple of years have gotten a clean slate with a new coach and that's good for us. Everyone has something to prove, including myself, to Coach Akina. We're trying to put our best football forward. The spring was good. We just need to translate that into the spring and hopefully when we get into camp we'll be ready to go.
What has it been like without Ed Reynolds? You two were such a good tandem the last couple of years. Is it strange not having him out there next to you?
JR
: I guess it's weird to know I'm one of the older guys now. Between myself and
Kyle Olugbode
and
[John] Flacco
. I guess that's the biggest change. You see guys you played with for two or three years and they start disappearing. You start with
Michael Thomas
and
Delano Howell
and those guys graduated. Then
Terrence Brown
and Harold Bernard and those guys graduate. I guess it's a realization that this is the last one I have eligibility-wise. Whoever is playing among the DB group, I feel like we really improved. Who plays? I don't know. I'm fighting for time just like everybody else. It's been good. We're all grinding and fighting in the same direction.
Speaking of guys leaving, you're losing a lot of guys who were the "faces" of the defense in Shayne Skov, Trent Murphy and Ben Gardner. Do you feel like this is starting to become your defense?
JR
: Maybe not in the traditional "face" of the defense. But in terms of leadership, confidence, poise on the field, I feel like that's a responsibility of mine more than it's been the last couple of years. There are plenty of guys besides me who have played a lot of football here who are poised, calm and respected players on this defense. The faces change. We don't have the Screaming Mohawk with Shayne or Big Murph out there. But we've got guys that can still demand what those guys demanded of this defense.
After the NFL, what do you want to do with your public policy degree?
JR
: I'm still not sure. Taking classes to figure that out. I want to try my hand at education. Whether that's policy, I don't know. I feel like I need some experience in the classroom before I focus on policy. Hopefully I'll find out more this summer.
Finish this sentence: In 2014, Stanford football will be …
JR
: Exciting. I'm excited to play next year and I'm excited what this team has in store for our school and the Pac-12. I'm excited. That's the word I would use.
March, 31, 2014
3/31/14
5:30
PM ET
UCLA opens spring football on Tuesday with high hopes and a good chance to be ranked in the preseason top 10. This is the third spring for UCLA coach Jim Mora, who has led the Bruins to a 19-8 mark in two seasons. He took a couple of minutes to chat with the Pac-12 blog before spring kicks off.
This is your third spring. What have you learned during those first two, and are you going to be doing anything different this time around?
[+] Enlarge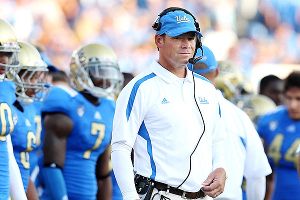 Stephen Dunn/Getty ImagesJim Mora believes spring is a great time to go hard and be physical.
Jim Mora:
Nope. Pretty much the same thing. It's a great time to develop your younger players and start to get a feel for what your team is going to look like in the fall and start to develop that bond you need to have success. We won't change anything. We go hard in the spring. It's physical. It's demanding. I think it's a great time to get physical work in.
After the 2012 season, you closed with the back-to-back losses to Stanford and the bowl loss. Last year you closed with a win over USC and a bowl win. Do you buy into the idea of offseason momentum?
JM
: No. To me, that first year, everyone says, "Oh, you lost three games in a row." But those were three pretty different games. It wasn't like we lost our last three regular season games. We lost our last regular season game, we lost in the Pac-12 championship game and we lost our bowl. It's not like we had this huge slump or something. Every season is a new season. You have to develop the identity of your team. You have to commit to a certain work ethic, and our guys have done that. To me, spring ball signifies the start of a new season.
As a coach, what position battle are you most interested in?
JM
: Outside linebacker, the guy who is going to replace
Anthony Barr
. I think that will be a good battle with
Kenny Orjioke
and
Aaron Wallace
and
Deon Hollins
. I'm excited to see how our defense adapts. We've got a new defensive coordinator. And as a staff we've learned a little bit more about our players and how to play in this conference and how to play college football with what teams are doing. We're going to have to adapt a little bit, but it's going to be fun to see.
With defensive coordinator Lou Spanos heading back to the NFL and Jeff Ulbrich being promoted from within, what kind of impact, if any, will that have on the defense?
JM
: Not a lot. Just like every year, you tweak some things. It's not going to impact it a lot. We've certainly made some changes. But we're going to make changes next year, too. You continue to adapt. You try to grow. You try to add things that will make you better. You try to improve upon things you didn't do well and you try to cut the fat so you're not teaching things you're not going to use throughout the year.
Was that a tough adjustment coming to the college game from the NFL? Every year in college there is going to be a lot of turnover and each season is a different team and a different personality.
JM
: It's interesting because it's very different than the NFL. You're right, there is more turnover. But at the same time, there is a little more certainty as well because unlike the NFL, where there is free agency so you're adding guys, and there's a draft where you're adding guys who should be ready to play right away, in college you know there is going to be a natural attrition and you have a pretty good idea of who you can count on and who still needs to develop going into a season. Hopefully some of the freshmen develop, but you can't always count on that. In some ways, as strange as it seems, it might be a little bit easier because you know what your team makeup is going to be a year in advance.
[+] Enlarge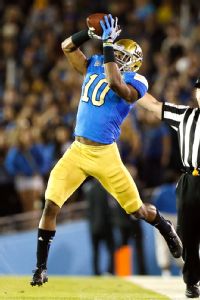 Ric Tapia/Icon SMIRising junior corner Fabian Moreau has earned positive reviews from Jim Mora.
Heading into spring, who is a player we haven't heard of yet, but you think we're going to hear his name a lot in 2014?
JM
: I don't know if you've heard his name a lot. Hopefully you don't hear it a lot because he's a cornerback and when you hear a cornerback's name a lot, that means he's making a lot of tackles because the ball is getting caught on him or he's giving up touchdowns. But I think we have a really fine player in
Fabian Moreau
. Defensive backs are where I've worked most of my career and I think this guy has some real special traits. I think he has a chance to be a great player.
You're big on leadership, as all coaches are. And you like to see players naturally develop into team leaders. Who are you eyeballing this year?
JM
: That's a great question. That's the point of most uncertainty for me is -- who is going to assert themselves on the team. Four of our six team captains return, which is a real positive because they were voted captains by their teammates. You've got
Brett Hundley
. You've got
Eric Kendricks
,
Jake Brendel
our starting center and Ryan Hoffmeister, a linebacker and special teams guy.
Xavier [Su'a-Filo]
and Anthony [Barr] leaving, those are huge voids. It will be fun to see who steps up. Guys like Fabian, even though
Myles Jack
is only a sophomore, I think he's got some leadership qualities to him. I don't want to point too many guys out because there are a whole lot of guys on our team who are capable of stepping into that role.
January, 16, 2014
1/16/14
5:30
PM ET
Utah head coach Kyle Whittingham made a splash last year by hiring Dennis Erickson to be his co-offensive coordinator with Brian Johnson. After one season, he's made another change, bringing in former Wyoming head coach Dave Christensen to run the show on offense and moving Erickson to running backs coach. Christensen took a few minutes this week to chat with the Pac-12 blog about his plans for fixing the Utes offense, the hierarchy of the coaching staff and his transition back to being a coordinator.
When you look at game film and the offense, what's step 1?
Dave Christensen
: What we're trying to do first and foremost is identify where some of our strengths and weaknesses are, personnel-wise, and then when we implement the offense we do things that play to our strengths. We're in that process. We have a base system that we're putting together and we'll have a chance to evaluate kids in the offseason process. Spring is going to be huge for us because that's going to give us a chance to throw everything out there and get a feel for what best fits with the personnel we have, and we can start narrowing the scope after that. We're in a position where we're not sure on our starter at quarterback. We have different guys that have different skill sets. We have to have enough in the offense that all of them have an opportunity to show their skill set and we can fine tune from that point.
[+] Enlarge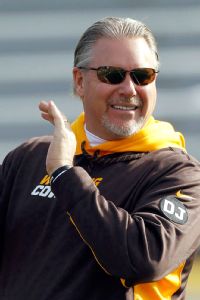 Troy Babbitt/USA TODAY SportsNew Utah offensive coordinator Dave Christensen, the former head coach at Wyoming, will call the plays for the Utes this season.
For some of these guys, this is their third offensive approach or philosophy or coordinator in three years. How difficult is it for them to keep everything together, and how different are things going to be from what they were doing last year under Coach Erickson?
DC
: I think the exciting thing is there is a lot of carryover in some of the schemes that we're using and the things we want to do, albeit a bit of a change in the terminology. Some for the kids, some for the coaches. I don't think it's as drastic of a change as people might think. I think there are a lot of similarities after watching the videos. I think there will be some adjustments made. Some additions, some subtractions. But overall I think the kids will be comfortable once they learn the terminology and once we get on the same page and package things how we want to use them. We're certainly not starting over.
How do you go about evaluating quarterbacks?
DC
: What we have to do is put them into game-like situations and see who handles the offense best. Who is going to make the best decisions with the football? Who is going to protect it? Who is going to execute the offense the way it's designed? There is going to be a daily evaluation. In this offense, you have to play catch. You have to throw and catch, and at the end of the day, the guy who can throw and extend plays is probably going to be the guy that gives us the best chance to win.
The Pac-12 has always been known for its offense and its offensive skill players. But there are some pretty good defenses, too. What are your impressions of the league's defenses as you watch game film?
DC
: They are outstanding. It's going to be a challenge. The good news is we get to face a great one every day in practice. Our defense has always been very good. It's been very good since Kyle has been here, and I think that's a plus for us to be able to face an attacking-style defense that will get in your face and play man coverage each and every day in practice.
What's the transition been like for you so far going from head coach back to coordinator?
DC
: It's an easy transition. I spent more time as a coordinator than I did as a head coach. To come to a program that's committed to winning with the high-level players that we have and a league that I think is one of the premier in the country, it's exciting. It's been an easy transition to go from that office where you have your phone ringing constantly and trying to put fires out to where I get to sit in there and do the things I love doing, which is watching football and scheming.
Between you, Coach Erickson and Coach Whittingham, you have three guys who have head coaching experience. At some point, are there too many cooks in the kitchen? What's the hierarchy like?
DC
: It's very clear. This is Kyle's program and I'm here to do whatever he wants, however he wants it. He gives me a lot of latitude with the offense. Dennis has done everything in football you can do. Having him in there is a great plus. We have a great working relationship and great respect for each other. I could not ask for a better situation. I am blessed to be in the situation I'm in to work with all of these guys here. I feel very comfortable. No egos. It's been fantastic in the short time I've been here.
Last year Brian Johnson and Coach Erickson were co-offensive coordinators. Dennis called the plays. Have you guys figured out how that dynamic will work on offense?
DC
: I'll call the plays on offense and we'll all work together as a unit to come up with the best plan that we can to put our players in position to be successful.