March, 15, 2011
3/15/11
2:30
PM ET
By
ESPN.com staff
| ESPN.com
Under the new made clouds and happy
as the heart was long,
In the sun born over and over,
I ran my heedless ways.
December, 14, 2010
12/14/10
12:04
PM ET
By
ESPN.com staff
| ESPN.com
Not every player earns All-American or All-Conference honors. Not everyone plays in the NFL. But lots of guys turn in outstanding college careers, even if they don't get a lot of publicity.
Here are some outstanding senior Pac-10 players, none of whom made first- or second-team All-Conference teams.
Arizona: NT Lolomana Mikaele

The fifth-year senior was a co-captain this season who matured significantly during his time in Tucson. He missed the 2008 season because of a suspension for violating team rules, but he returned in 2009 and 2010 as one of the Wildcats quiet leaders and became well-respected by his teammates. He started all 12 games and finished with 32 tackles, including 7.5 for a loss.
Arizona State: S Max Tabach

The Scottsdale native grew up a Sun Devils fan: He's quoted in his bio as saying that "the day he received a scholarship from ASU was 'one of the best days' of his life." Despite only starting six games -- out of the final seven -- he tied for third on the team with 64 tackles. He also chipped in a sack and two interceptions. He was ASU's most consistent safety in 2010.
California: C Chris Guarnero

It's not easy to replace the best center in program history: Alex Mack. And Guarnero is not terribly big -- 6-foot-2, 270; Mack is 6-5, 316 -- but he started 27 career games and earned honorable mention All-Pac-10 honors the past two seasons.
Oregon: WR D.J. Davis

Davis, the Ducks second-leading receiver, has started 20 games, but his 36 receptions for 410 yards don't tell his whole story. For one, he's a tenacious blocker, a key part of the Ducks rushing success the past two seasons. Second, he's a class guy. Davis, who in high school won the Watkins Memorial Award as the nation's top African American male scholar athlete, was so moved by the death of Notre Dame student videographer Declan Sullivan, he decided to make
a touching tribute this season
.
Oregon State: WR Aaron Nichols

Nichols is a former walk-on who ended up tied for third on the Beavers with 29 receptions for 330 yards. When the Beavers needed a clutch play this year -- particularly after
James Rodgers
went down -- Nichols was often the go-to guy. And he's been accepted into Oregon State's highly competitive Doctor of Pharmacy Program.
Stanford: OG Andrew Phillips
Phillips is the unsung leader of one of the nation's best offensive lines, and he played well this season despite a heavy heart: In August, his father, Bill Phillips Sr.,
died in a plane crash
.
UCLA: DT David Carter

Carter never started until he was a fifth-year senior, yet he led all Bruins defensive linemen with 42 tackles and 3.5 sacks. Further, he's a history major and honor roll student.
USC: FB Stanley Havili

Havili is a four-year starter who's made so many big plays he's hardly "unsung." But he's still underappreciated. He was named USC's Most Inspirational Player Award and was named Co-Lifter of the Year. He played the entire season with a shoulder injury. His 116 career receptions are the most of any fullback in program history.
Washington: OLB Victor Aiyewa

He's a two-time first-team Pac-10 All-Academic selection (2nd team this year) and made All-Pac-10 honorable mention. A former safety who moved to "Sam" outside linebacker this season, he ended up leading the Pac-10 in tackles for a loss with 18, 11th-most in school history.
Washington State: OT Micah Hannam
The four-year starter and three-time Pac-10 All-Academic first team member
started more losses
than any player in the 107-year history of Cougars football. That's perseverance.
October, 13, 2010
10/13/10
1:42
PM ET
Mike Riley was forced to address two realities this week that pulled his Oregon State team in different directions.
First reality: Receiver and return man
James Rodgers
, an All-America candidate, was done for the season with a knee injury. That's a huge blow for a team that appeared to be finding itself over the past two weekends, particularly on offense.
"You can't spin the disappointment; I'm not going to try," Riley said.
[+] Enlarge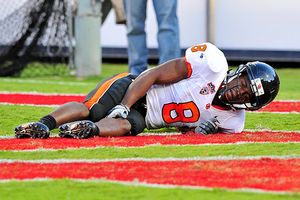 Chris Morrison/US PresswireLosing a player of James Rodgers' caliber would be tough for any team, but the Beavers have shown they can win without him.
Second reality: Injuries are part of the game and seven games remain for a team that believes it can be a factor in the Pac-10 race. The Beavers must not only move on, they've got to move on with even more focus and intensity.
"Nobody is going to blink," Riley said. "Everybody is just going to go forward and get ready to play the Huskies."
Oregon State's visit to Washington is critical for both teams. The Beavers (3-2, 2-0) can't afford a loss to a middling team if they hope to be in the conference race at season's end. Meanwhile, the Huskies (2-3, 1-1) can't afford to lose two in a row at home if they expect to earn bowl eligibility for the first time since 2002.
"We really recognized the fact that the margin for error right now for our football team in the Pac-10 is minimal," Washington coach Steve Sarkisian said.
The Huskies have their own problems: Quarterback
Jake Locker
has missed much of this week due to illness, which nagged him during a poor performance against Arizona State.
The gap between these two teams would seem to close with Rodgers out. How valuable is Rodgers? With quarterback
Ryan Katz
seemingly finding his rhythm, Rodgers was already over 100 yards receiving in the first half at Arizona. You could feel a passing game maturing. Then he blows out his knee on an apparent 56-yard TD pass that was killed by a penalty in the second quarter.
"James is just a huge threat," Katz said.
And now that threat is gone, so some combination of the Beavers' receivers --
Markus Wheaton
,
Jordan Bishop
,
Aaron Nichols
, Geno Muņoz and
Darrell Catchings
-- needs to fill the void.
Nichols will step in for Rodgers at flanker, but count on rapidly improving sophomore Markus Wheaton becoming Katz's first option at split end.
It also would help if the Beavers' running game got going. While
Jacquizz Rodgers
-- James' brother -- has put up solid numbers (96 yards rushing per game with seven touchdowns), the Beavers are only averaging 115.4 yards rushing per game, which ranks ninth in the Pac-10.
"The running game is horrible right now," said Jacquizz Rodgers, opting to not sugarcoat things. "We've got to do better."
The task on all fronts, however, will be challenging. James Rodgers ranked sixth in the nation with 176.8 all-purpose yards per game. That's not easy to replace on offense and special teams.
"It's hard to imagine," Riley admitted. "We've had three years of him all over the place, so the finality of not having him for this season probably is just hitting home to a lot of guys."
That's the first reality. The second is this: The Beavers beat Arizona State without Rodgers (he was out with a concussion) and still won at Arizona with him on the sidelines for the whole second half.
Losing Rodgers was a big blow, but the Beavers have shown they can win without him.
Which reality, ultimately, will prevail?
March, 10, 2010
3/10/10
1:19
PM ET
By
ESPN.com staff
| ESPN.com
Oregon State senior receiver
Casey Kjos
is ending his career due to injuries, the school announced Wednesday.
Kjos, who missed the 2007 season with a back injury, started three games in his career and caught 10 passes for 103 yards with one touchdown.
"It's always disappointing when a player has to leave the sport due to injury," coach Mike Riley said in a statement. "Casey has fought back injuries for a couple of seasons and I know it was a difficult decision for him to make. He has been a very committed and hard working player for Oregon State and we certainly wish him all the best."
Said Kjos, "It was an extremely difficult decision not only due to the fact that I love this game, but that I love this team, love my teammates and love the coaches. I have been blessed and am very thankful for the opportunities Coach Riley and the other coaches have given me. There are no other coaches like them."
Kjos is a two-time Pac-10 Conference All-Academic First Team selection and is on track to earn bachelor's degrees in psychology and sociology in June, the school reported.
Kjos' departure and the graduation of
Damola Adeniji
means the Beavers lose two receivers from their 2009 depth chart. Seven receivers return, including
James Rodgers
,
Geno Munoz
,
Jordan Bishop
,
Markus Wheaton
,
Darrell Catchings
,
Kevan Walker
and
Aaron Nichols
.
Catchings, listed as a senior, is seeking a medical hardship redshirt after playing in just two games last year due to wrist and ankle injuries.