December, 28, 2012
12/28/12
6:30
PM ET
Greetings. Welcome to the mailbag.
Follow the
Pac-12 blog on Twitter here
. It's where the Pac-12 blog tweets, which is a sight to behold.
Brian Mahuna from Portland writes
: Do you think Oregon is on the cusp of having an elite group of receivers?
Josh Huff
will be a senior, the guys behind him are young but talented with the two true freshman Addison and Stanford. Plus the twins who will arrive in Eugene next year. Everyone is quick to talk about how good their running backs are (mainly because they are REALLY good) but I think in the next few years, we could be talking about a complete offense. Great QB in Mariota and a good group of young wide outs would certainly do that.
Ted Miller
: You're forgetting
Diante Jackson
,
Tacoi Sumler
and
Devon Blackmon
. How many passes did those once super-awesome recruits catch this season?
And, Brian, if it seems I'm being snarky -- seeing that none of the above are still with the team -- it's because you are asking me to entertain a hypothetical. Chip Kelly has soured me on those. Unless they serve my selfish purposes.
Oregon does have plenty of potential at receiver next year. Quarterback
Marcus Mariota
will get all of his top six receivers back, including
De'Anthony Thomas
and Huff, who posted a breakthrough year. And, if all goes according to plan, there are some incoming recruits who are promising.
Yet we now enter one of my pet peeve areas. It's called "Incoming Dude Is Obviously Transcendent."
Or IDIOT.
"IDIOT," of course, is what fans often call me when I question a team's depth at one position or another entering a new season when it's OBVIOUS! I don't know what I'm talking about because I don't read recruiting messageboard X, and therefore don't know about incoming recruit 007 Batman Wolverine who is a mix of Dick Butkus, Jim Brown and Peyton Manning. Only better.
Oregon State fans right now are going, "Don't. Please. Don't mention him. This is a Duck question! Just leave us alone!"
Simi Kuli! (Sorry about that).
Kuli, for those who don't recall, was a five-star JC defensive end recruit for Oregon State in 2008, one of the highest rated guys the Beavers ever landed. He was reputed to be beastly, and proved to be just that. Beastly like a Sasquatch. I once told Mike Riley I doubted Kuli's existence. Oregonian writer Paul Buker's humorous tracking of Kuli's abortive progress to Corvallis was one of the more entertaining things I remember from that year.
Last I heard of Kuli is he ended up at West Texas A&M and
got into a bit of trouble
, but was still receiving wide-eyed speculation on
NFL draft boards last year
.
Or recall when a receiver by the name of "
Marqise Lee
" was a recruiting afterthought because of USC signing
George Farmer
. I recall watching
Robert Woods
getting asked if he was prepared to be the Trojans No. 2 receiver in 2011 with Farmer shortly to arrive.
Farmer, in fact, was an example of the Pac-12 blog falling for the hype. Having watched tape of Farmer, we wrote him in as a sure-thing for the Trojans. A hard lesson about IDIOT was learned again.
While there's no reason not to be optimistic about a touted guy's prospects, it's also premature to write him into a key role before he's even practiced with his college team. It's always best to subscribe to GTSITBI when considering incoming players.
Got To See It To Believe It.
---
Jim from Los Angles writes
: What is the New Years wishlist for the CAL BEARS football program in the new era of Sonny Dykes?
Ted Miller
: That's easy.
1. A great recruiting class that is strong on linemen.
2. A strong spring performance from a quarterback that creates a clear pecking order heading into the summer.
3. A team that is competitive in every game in 2013 while posting a winning record.
4. A Rose Bowl berth before the Old Blues become Dead Blues.
---
Austin from Tempe, Ariz., writes
: What do you think will happen to Arizona State running back
Cameron Marshall
? He seems to have the size and tools to at least be a backup but will this season hurt him bad enough since he wasn't ever given the ball?
Ted Miller
: It's always difficult to project NFL careers, but I think Marshall, who shared the ball this year but was still the Sun Devils leading rusher, is going to have a nice NFL career.
He's a physical guy with good-enough speed who can catch the ball. He's also got a nose for the endzone.
---
Brian Vancouver, Wash., writes
: The second best conference, whatever it shall be, is henceforth to be referred to as the Second Eminent Conference. See what I did there? Signed, A Realistic Duck Fan.
Ted Miller
: I do see what you did there.
What I realized this week before and after UCLA's Holiday Bowl debacle with Baylor was Big 12 fans share two things with Pac-12 fans.
1. They resent being automatically called a candidate for second-best conference and are not willing to automatically yield No. 1 to the SEC.
2. Big 12 fans think as little of the Pac-12 as Pac-12 fans think of the Big 12.
---
Lenlen from Wilkesboro, N.C., writes
:
I recommend you read the letter
Abe Markowitz
's Dad sent to NCAA president Mark Emmert and the thread that follows. Now we can see first hand how NCAA shenanigans affect student athletes economically.
Ted Miller
: It would be great if the NCAA would appoint someone to the position of Smart & Reasonable. This person would be put in charge of reviewing appeals, such as Markowitz's. Their charge would be simple: Err on the side of the student-athlete.
This is where a bureaucrat shows up and talks about the importance of rules and the slippery slope for allowing flexibility.
I don't buy it. That position is merely a prop for folks who aren't skilled at being fair & reasonable.
December, 6, 2012
12/06/12
2:30
PM ET
All you have to do is follow three simple rules. One, never underestimate your opponent. Expect the unexpected. Two, take it outside. Never start anything inside the bar unless it's absolutely necessary. And three, be nice.
October, 4, 2012
10/04/12
12:00
PM ET
USC and quarterback
Matt Barkley
started the season as the toasts of college football. Or the hated front-runners, depending on how you respond to the Rorschach test that the Trojans are across the nation.
But a loss at Stanford and middling numbers from Barkley have doused much of the hype and knocked them off the college football radar. National championships and Heisman Trophies are no longer associated with the program in 2012, and more than a few seem eager to stick the dreaded "overrated" label on the team and player.
[+] Enlarge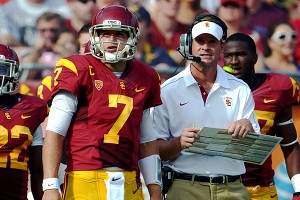 Kirby Lee/Image of Sport/US PresswireQB Matt Barkley and coach Lane Kiffin know that much is still at stake for USC.
"I'm good at blocking all that stuff out," Barkley said. "I know what's significant to us. I know what people who know football are seeing, not just the media and what they are writing. It doesn't get to me or our offense. We've just got to keep our heads down and work for every yard we get."
USC off the radar? Trojans coach Lane Kiffin isn't buying it.
"I don't think at SC you're ever off the radar," he said. "I think that shows in the ratings of games. Even when you're not No. 1, No. 2 or No. 3, all the conversations are about SC and you're always everybody's biggest game. I don't think you ever really come off the radar here."
Backing him up is Utah coach Kyle Whittingham. To him, as well as the Utes fan base, it's a big deal that No. 13 USC is coming to Salt Lake City to play inside Rice-Eccles Stadium on Thursday night (9 p.m. ET on ESPN).
"Without a doubt," Whittingham said. "It's been many, many years since USC was here."
Many years is right. The Trojans' previous visit was in 1917 -- a 51-0 victory.
Still, in the preseason this looked like a game with far more national juice. Most so-called pundits projected this as a likely battle of ranked, unbeaten teams, a game with significance for the Pac-12 South Division as well as the national picture. It was seen as one of just a few potential stumbling blocks for USC as it fired up its engines for a run at the national title game.
Instead, we have USC getting beaten at the line of scrimmage in 21-14 loss to the Cardinal, and Utah getting whipped every which way in a 37-7 humbling at Arizona State.
Both teams are coming off a bye week. The Trojans already had a bounce-back game in their solid 29-7 win over California. The Utes spent the extra week trying to correct the myriad issues exposed by the Sun Devils -- blocking, in particular.
"The offensive line play has been an ongoing project for us. Obviously a priority," Whittingham said. "We had plenty to work on."
The Utes must get the running game going against USC. They need running back
John White
to be fully healthy after an ankle injury -- he didn't look at that way at Arizona State -- because the Trojans have produced a potent pass rush this season (four sacks a game), which could make for a long night for quarterback
Jon Hays
if his play-action fakes aren't working.
The Trojans also have issues on the offensive line, most particularly the health of center
Khaled Holmes
. He's likely out of the game, which means fifth-year senior
Abe Markowitz
will be eyeballing Utah's 325-pound nose tackle
Star Lotulelei
. In last year's meeting, Holmes, probably the best center in the Pac-12, if not the nation, mostly fought Lotulelei to a stalemate. It's difficult to imagine Markowitz won't need a lot of help from his guards.
Utah's hope rests on being able to slow the Trojans' running game and get pressure on Barkley without resorting to a lot of blitzes. While the Utes pride themselves on their man-to-man coverage in the secondary, it's likely they will use a lot of the Cover 2 to help keep Trojans receivers
Robert Woods
and
Marqise Lee
in check. That's what Stanford did, and such schemes have kept Barkley's numbers down because opposing defenses are willing to take chances with alignments that invite Barkley to check into running plays.
"If teams are going to play Cover 2 and just send safeties over the top and double-team both outside receivers, you're going to be forced to run the ball where they can't support the run," Barkley said.
Sure, Barkley would like to go deep every other play, but, he added, "I'm not really worried about being flashy and all that if we're moving the ball."
The problem is the Trojans have been hot and cold moving the ball, through the air or on the ground. They are fifth in the Pac-12 in scoring and pass efficiency, and sixth in total offense, rushing and passing yards. They are 11th in third-down percentage.
Those numbers suggest mediocrity, not the offensive greatness most projected for Barkley and company in the preseason.
Yet, it's still early. A lot can -- and likely will -- happen over the second half of the season. Neither of these teams have permanently set a trajectory for how things will go in 2012.
An upset victory for Utah would be monumental for the program in its second year of Pac-12 play. And an impressive performance by USC could land it back on the national radar.
September, 26, 2012
9/26/12
2:30
PM ET
And Crispin Crispian shall ne'er go by,
From this day to the ending of the world,
But we in it shall be remembered-
We few, we happy few, we band of brothers.
February, 24, 2012
2/24/12
4:32
PM ET
By
WeAreSC staff
| ESPN.com
Erik McKinney writes
: USC's freshmen linebackers were a strength last season. The sky is the limit for sophomores Dion Bailey, Hayes Pullard and Lamar Dawson.
Greg Katz writes

: The 2012 Trojans will be saddled with the highest of expectations. They'd better be careful though, as many USC teams in their shoes have fallen victim to the upset bug.
Garry Paskwietz writes

: Oft-injured USC senior offensive lineman Abe Markowitz is close to getting healthy and wants to make up for lost time.
Garry Paskwietz writes
: How moving up kickoffs from the 30-yard line to the 35 will impact the Trojans.
March, 25, 2011
3/25/11
11:30
AM ET
By
ESPN.com staff
| ESPN.com
Gary Klein of the Los Angeles Times takes
a closer look
at two of USC's early enrollees:
Jeremy Galten
and
David Garness
.
Both are JC transfers. Both are offensive linemen, a critical need area for the Trojans. Both were lightly recruited out of high school.
And neither was a touted JC prospect either. Garness was also recruited by New Mexico, UTEP and Washington. Galten by Arizona, which also has critical O-line needs, and San Jose State.
The ultimate question is can one or both actually contribute or are they just warm bodies? We'll probably have a good idea by the end of spring practices after both have traded blows in full contact work a few times. Keep in mind: It won't be about how they look in the first week. It will be about the last week. Do they get better?
But the angle of Klein's story is how unusual it is for USC to offer players like Galten and Garness and how for both "it's a dream come true." A year ago, neither thought he'd play for an elite program, particularly one that regularly ranks at the top of the annual recruiting rankings.
Said coach Lane Kiffin to the Times: "They definitely are in a unique time. You're coming to one of the greatest places in all of college football to play, [a place] that normally isn't necessarily looking in your direction."
Kiffin told the
Orange County Register
this about the pair:
"I think the two offensive linemen have stepped in and that's obviously a tough transition to come in right away and that's why they are here for the spring," Kiffin said. "That's why it was such a big deal to find guys that could be mid-year so they could count back but also to have a whole spring.

"They're in there and doing well. We're going to need them at some point."
How important are these guys? Well, with three departed starters and three potential 2011 starters -- guard Khaled Holmes, tackle Kevin Graf and center Abe Markowitz -- presently injured, Galten and Garness are going to get extensive work with the
first-team line
. After all, they are two of the six available bodies.
Warm or not.
March, 21, 2011
3/21/11
5:49
PM ET
By
ESPN.com staff
| ESPN.com
Spring is supposed to be a time of renewal and hope, but USC coach Lane Kiffin seemed to be suffering a prolonged case of the winter blahs Monday. And for good reason. He said 20 players -- many of them projected starters or key contributors -- won't be available for full-contact work when the Trojans begin spring practices Tuesday.
[+] Enlarge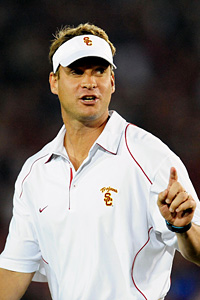 Gary A. Vasquez/US PresswireLane Kiffin is concerned about his team's spring injuries, particularly on the offensive line.
Rebirth and renewal of the Trojan empire after a middling 8-5 finish in 2010? Humbug.
"There's too many questions," Kiffin said. "I think it would be a little tough to say this team is better than last year."
Most of these injuries are not expected to be issues when preseason practices begin in August. But you never know. And there were some
troubling additions
to the already
long injury list we noted last week
, including linebacker Chris Galippo, whose back is giving him trouble again. Toss in injuries to Devon Kennard (hip) and Shane Horton (hip), and none of the projected starting linebackers are ready to practice. In fact, when you toss in an injury to backup Ross Cumming, the only available linebacker from last year's depth chart is redshirt freshman Will Andrew.
Few position groups have been spared the injury bug. Defensive linemen are out: end Armond Armstead, tackle Christian Tupou and end Wes Horton. Offensive linemen are out: Khaled Holmes, tackle Kevin Graf and center Abe Markowitz. Defensive backs are out: safety Drew McAllister and cornerbacks T.J. Bryant and Torin Harris. And a receiver is out:
Kyle Prater
.
So while, officially, 13 starters are back -- 6 on offense; 7 on defense; no specialists -- there will be plenty of opportunities for young players to shine. Of the 86 players on the spring roster (that includes walk-ons), just 38 saw action in 2010 and 47 have never taken a college snap, so there will be a bit of "Hello, my name is..." this spring. Just 14 returning Trojans have started at least 10 games.
Further, because of the lack of bodies -- particularly on the lines -- Kiffin said that much of the work this spring will be 7 on 7 -- "You're not going to be able to have normal practices," he said.
What's Kiffin's chief concern? The offensive line, which he calls "a gigantic issue."
There is some good news in terms of continuity on Kiffin's coaching staff. The only change is the departure of receivers coach John Morton, who joined Jim Harbaugh's staff with the San Francisco 49ers. He was replaced by
Ted Gilmore
, who was at Nebraska last year.
The spring game is April 23 in the Coliseum.
Some other notes:
Spread?
Kiffin talked last year about adopting some spread elements to his offense going forward, but that was more about one-back, four receiver sets, not a spread-option similar to what Oregon runs. The reasoning is largely about personnel. The Trojans lose the versatile
Stanley Havili
-- perhaps the best fullback in the nation -- and have little experience ready to step in at the position. And there's lots of intriguing young talent at receiver.
Position changes
: Redshirt freshman Dion Bailey moved to linebacker from safety.
Robert Woods
takes over at "Z" receiver -- flanker -- the position
Ronald Johnson
played last season.
Positions to watch
: Obviously, injuries all over the depth chart mean youngsters will get plenty of reps this spring, which means plenty of opportunities to impress. Here are some spots Kiffin made specific note of, other than the injury-riddled lines:
Tight end: Rhett Ellison is back, but what will be the pecking order between Xavier Grimble, Randall Telfer and Christian Thomas? The Trojans would like to run more two tight end sets.

Running back: Marc Tyler is the returning veteran, but he struggles to stay healthy. What will the pecking order end up between Dillon Baxter, Curtis McNeal and D.J. Morgan?

Backup QB: Matt Barkley is the starter (duh), but with the departure of Mitch Mustain, who's his backup? Redshirt freshman Jesse Scroggins would seem to have an inside track, but touted true freshmen Cody Kessler and Max Wittek will both participate in spring practices.

Linebacker: Great opportunity for guys to catch their coaches eyes: Bailey, Andrew, Dallas Kelly, Marquis Simmons, Simione Vehikite, Hayes Pullard, etc.
What about Barkley
? Barkley, a true junior, took a step forward last season as a second-year starter, but he still missed too many throws, 12 of which ended up as interceptions. Kiffin said he expects Barkley's next step to be playing at a consistently elite level. "He's competing against the best in the country," Kiffin said. "He's competing against the Andrew Lucks. He's got to take that mindset in every practice."
What about that NCAA appeal
? On Saturday, it will be nine weeks since USC president Max Nikias, athletic director Pat Haden and four other university representatives spent more than four hours talking with the NCAA infractions appeals committee in Indianapolis. Most appeals take four to eight weeks. Ah, but nothing in the USC case has moved quickly. Kiffin said he had no idea when USC would learn if the appeals committee will reduce the penalties that appear more draconian by the day, as other schools end up in headlines about alleged rules violations that appear far worse than the findings against USC.
March, 15, 2011
3/15/11
11:19
AM ET
By
ESPN.com staff
| ESPN.com

On Monday, we noted that USC will be missing
12 starters and/or key contributors this spring
, including three from the critically thin offensive line.
ESPN.com's Ryan McGee went searching for this year's "Cam Newton" -- minus the, er, baggage, I suspect -- and he included two new Trojans.
Trojan offensive linemen!
Here's what he wrote:
Aundrey Walker and Cyrus Hobbi, OL, USC Trojans
... Perhaps the biggest issue for his Trojans this year will be finding help to protect quarterback Matt Barkley. That help is likely going to have to come from Walker and Hobbi, true freshmen who ditched hometown schools Ohio State and Arizona State Sun Devils (Hobbi chose USC in part because he wants to be an actor when he grows up ... seriously). Both are listed as guards, but here's betting that Hobbi will come out of two-a-days as the Trojans' starting center.
Perhaps. An immediate problem, though, is both Walker and Hobbi don't arrive until August, and it's difficult -- and rare -- for true freshmen to start on the offensive line. Most coaches will tell you it's not ideal, even if a player is physically ready.
Of course, the first question for the Trojans is center, and the guy who must be replaced -- Kristofer O'Dowd -- was good enough to start as a true freshman, so there's certainly no hard and fast rule. That said: O'Dowd was the Trojans first true freshman to start at center as well as only the third Trojan true freshman to start a post-World War II opener on the offensive line. So said rule is fairly hard and fast.
It also appears that Hobbi will start off as a guard, and redshirt freshman Giovanni Di Poalo
will get a look at center this spring
. Michael Lev of the Orange County Register previous speculated that Khaled Holmes would move inside to center after starting at guard last season -- reasonably because Lane Kiffin told him as much -- but Holmes is still listed as a guard in the spring prospectus and figures to be limited this spring because of a shoulder injury. Junior Abe Markowitz, another candidate at center, will miss spring with a foot injury.
So, based on injuries and August arrivals, the first-team USC offensive line when spring practices begin March 22 might look like this: left tackle Matt Kalil, guard Jeremy Galten, center Di Poalo, guard John Martinez, and right tackle David Garness.
That's four players with little to no experience -- Galten and Garness are both junior college transfers -- so you can see why this is an area of concern for Kiffin this spring.
If you are trying to attach a silver lining to this, the coaches figure to get a good look at their depth before the veterans return and the newcomers arrive in August.
March, 14, 2011
3/14/11
6:58
PM ET
By
ESPN.com staff
| ESPN.com
Michael Lev of the Orange County Register provides an
injury update
for USC, and it ain't pretty: 12 players who are either projected starters or likely contributors are expected to be out or limited when spring practices start on March 22.

Obviously, as Lev points out, it's premature to panic because sitting out spring is often about being healthy in the fall.
Still, it's quite a list (see link for details): WR
Kyle Prater
, OL Khaled Holmes, OT Kevin Graf, C Abe Markowitz, DE Wes Horton, DL Armond Armstead, DT Christian Tupou, MLB Devon Kennard, OLB Shane Horton, S Drew McAllister and CBs T.J. Bryant and Torin Harris.
Of particularly concern: Three offensive linemen and eight defenders are out.
The Trojans lack depth on their offensive line, which must replace three starters as well as part-time starter Butch Lewis. Now it appears that left tackle Matt Kalil will be the only full-go returning starter available this spring.
Meanwhile, the defense is looking to bounce back from a sub-par year under coordinator Monte Kiffin. While injuries to veterans will allow younger players to see more action, there's something to be said for the veterans being available to more fully digest the elder Kiffin's schemes during spring when there's more time to teach.