April, 21, 2014
Apr 21
9:00
AM ET
Here's a quick look at some of the highlights of the four spring games this past weekend.
Arizona State

Sophomore linebacker
Viliami Moeakiola
stopped running back
Jarek Hilgers
on fourth-and-short on the final play as the Maroon team held off the Gold squad 29-23 in front of 8,456 fans at Sun Devil Stadium.
Quarterback
Taylor Kelly
completed 7 of 22 passes with a touchdown for the Maroon team. Gold quarterback
Mike Bercovici
went 11-of-24 with three touchdowns and an interception.
"I like the format that we did because it created more competition," said ASU coach Todd Graham. "The gold team was really down, but came back and fought back, got a chance to win. Maroon held on with a fourth down, goal-line stand.
D.J.
[
Foster
] was frustrated with me—he really wanted to play more. I thought he did some good things when he was in there. Loved the big shot to
Jaelen
[
Strong
] from Taylor Kelly. I thought Kelly really looked good today. He really managed the offense and was very much in command of things. Both offensive lines divided up evenly on each team — all those guys did some good things."
The complete stats are available
here
.
USC
In front of 17,500 fans at the L.A. Coliseum, kicker
Andre Heidari
made four field goals. But the offense failed to get into the end zone and the defense came out on top 16-15.
Newly re-anointed starting quarterback
Cody Kessler
completed 5 of 10 passes for 86 yards with no touchdowns or interceptions.
Max Browne
went 6-of-17 for 76 yards with no scores or picks and
Jalen Greene
was 4-of-11 for 61 yards – also without a touchdown nor an interception. Notes Gary Klein of the
Los Angeles Times
:
Before getting too alarmed, it is worth noting that dating to the Pete Carroll era, USC's spring finale has not served as a reliable indicator of fall performance.

Rather, it's annually an exercise in avoiding major injury while looking ahead to summer.

So a true evaluation of [Steve] Sarkisian's new fast-paced, no-huddle scheme cannot begin until USC plays its Aug. 30 opener against Fresno State at the Coliseum.
Walk-on tailback
James Toland
IV was the top rusher with 36 yards on eight carries and tight end
Jalen Cope-Fitzpatrick
caught three passes for 56 yards.
Scott Starr
had a game-high six tackles, with three for a loss.
"We had a couple big pass plays, but the defense played really well and tackled well," Sarkisian said. "And we got out of the game with no serious injuries."
Utah

Despite 103 rushing yards and two touchdowns from transfer
Devontae Booker
, the Red team took down the White squad 28-27 in front of 12,056 fans at Rice-Eccles Stadium. Quarterback
Travis Wilson
, still shackled by noncontact restrictions, completed 7 of 12 passes for 116 yards and a touchdown in five drives.
Dominique Hatfield
(four catches, 93 yards) and
Westlee Tonga
hauled in touchdown receptions for the White team.
Troy McCormick
rushed eight times for 34 yards with a touchdown to lead the Red squad.
"We've been high on Devontae Booker ever since he got here," head coach Kyle Whittingham said. "He didn't get here more than a week or two before the start of spring ball, so he was fighting his lack of conditioning all spring. But as soon as he gets himself in great shape, I think he'll be a very good running back in this conference. All of the running backs ran hard today. A strong running game is where everything begins, even if you are a spread team."
Sal Velasquez
and
Filipo Mokofisi
each picked off
Brandon Cox
, who threw the only interceptions of the game.
Adam Schulz
was 9-of-13 for 110 yards with a touchdown and
Conner Manning
was 9-of-12 for 86 yards and a score.
The complete stats are available
here
.
Washington

Though Washington didn't keep official stats for its drizzly spring game, quarterback
Jeff Lindquist
threw four touchdowns in red zone and situational drills and,
per Adam Jude of the Seattle Times
, was unofficially 11-of-15 for 134 yards.
Troy Williams
, who has been splitting reps all spring with Lindquist while the team awaits the status of
Cyler Miles
, was 11-of-18 for 38 yards with no touchdowns or interceptions.
Deontae Cooper
,
Lavon Coleman
and
Ralph Kinne
were the only backs who participated. Cooper carried nine times for 68 yards, Colmean rushed 18 times for 99 yards and a touchdown and Kinne had seven carries for 38 yards.
Head coach Chris Petersen
told Gohuskies.com
that picking a quarterback to replace
Keith Price
could go all the way up until the season opener – if not longer.
"Absolutely, that's possible. Yeah, we could go to Game 9, if it hasn't been decided," Petersen said. "We'll take this one day at a time. One day, one game. I know it sounds cliché, but it really will be. … I mean, it's all nice to have a starting quarterback, but that guy graduated in December. And so, we are at square one. Until one guy establishes himself, we don't have a guy."
March, 20, 2014
Mar 20
12:00
PM ET
Several times last season, Utah quarterback
Travis Wilson
toed the line between excellent and erratic. He was outstanding in wins over BYU and Stanford, yet inconsistent in losses to Oregon State and UCLA. But the constant that never wavered was his confidence. He played fearless.
Even now, after staring down a head injury that forced him to miss the final three games of 2013 -- and potentially threaten his career -- Wilson is back at practice with that same mentality.
"I'm going to keep on playing how I've been playing," Wilson said. "If I need to tuck and run, I'm going to tuck and run. And if I need to take a hit to get a couple of extra yards, then I'm going to do that. There's not going to be any hesitation to run or fight for extra yards. I'm going to do whatever I can and keep on playing how I've been playing."
[+] Enlarge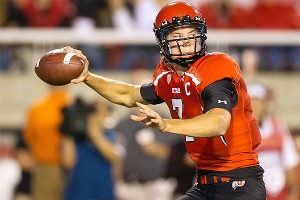 Russ Isabella/USA TODAY SportsTravis Wilson's fearless nature is something that can help Utah if he can stay healthy.
Wilson's return to full-contact football isn't guaranteed. For now, he's taking reps in non-contact situations. He's due for another scan in July to monitor the intracranial artery trauma that shortened his 2013.
He's not shy talking about the injury, nor does he duck the fact that the idea of never playing football again crept into his earholes.
"There was a lot of doubt," he said. "Hearing after our first appointment, the doctor recommended I not play. That was going through my mind the last few months. But he said if we do another scan and it looks stable, there's a chance you could come back and play. Both scenarios were going through my mind ... I was definitely scared. I definitely felt sick to my stomach and didn't know what to do at one point. It was hard to hear my career might be over. It was a tough time to go through."
Right now, it seems like the optimal scenario -- a healthy Wilson -- is winning out.
Head coach Kyle Whittingham described Wilson's first day at practice on Tuesday as "rusty", which is fair. Wilson hasn't done much football activity the last few months. He said he's been working out on his own keeping his cardio up, but hasn't done much lifting, so he's looking forward to getting back in the weight room and adding some pounds to his 6-foot-7 frame.
"It's been a struggle for him this offseason, not being a part of a lot of the things we were doing," Whittingham told reporters after Tuesday's practice. "But he's back now. He's not cleared 100 percent. But hopefully that's the next step."
Potentially complicating Wilson's return is a slew of quarterbacks behind him.
Adam Schulz
, who started in place of Wilson when he was injured last season, is listed on the initial depth chart as the No. 2 quarterback behind Wilson. But it's all fluid, with Oklahoma transfer
Kendal Thompson
set to arrive in the fall and redshirt freshman
Conner Manning
making a push.
For all intents and purposes, Wilson has to be considered the frontrunner if his health holds up simply based on his experience. He'll be working with his third offensive coordinator in three seasons though, with former Wyoming coach Dave Christensen coming in to run the offense.
Still, it's hard not to be encouraged by Wilson's can-do attitude and the potential he showed last season when he was at his best. A hand injury suffered against Stanford was actually the beginning of Wilson's 2013 downfall. Though he played through the pain and helped Utah gut out one of the biggest conference wins in school history, he wasn't the same after shocking the Cardinal 27-21 at Rice-Eccles.
Through the first six games, Wilson was completing almost 62 percent of his throws with 13 touchdowns to 10 interceptions -- six of which came in one game. He also rushed for 293 yards and five touchdowns.
Post-Stanford, however, those numbers free fell to a 31 percent completion percentage with just three touchdowns to six interceptions over the next three games. He was shut down following a 20-19 loss to ASU.
But now Wilson is back with his trademark confidence. He's pretty sure he'll be cleared for full contact. Why else would he be out there if they didn't think he could play? Though never one to take football for granted, he holds his newest opportunity in even higher regard than he did previously.
"I was definitely blessed with another opportunity to play football," Wilson said. "I don't ever want to take this for granted. I just want to finish out my career at Utah strong and hopefully that will lead to better things in the future."
March, 11, 2014
Mar 11
5:30
PM ET
By
ESPN.com staff
| ESPN.com
Pac-12 reporter Kevin Gemmell answers a reader question about Utah's quarterback situation and
Travis Wilson
.
February, 24, 2014
Feb 24
7:00
PM ET
Spring has sprung in the Pac-12
, with Stanford starting spring practices this week and several schools following suit next week.
Ergo, we break down where teams stand with each position group, starting with quarterbacks.

Arizona
: The Wildcats probably have the most wide-open QB competition, with four guys having a legitimate chance to replace the departed
B.J. Denker
. Three are transfers from big-time programs: senior
Jesse Scroggins
(USC), sophomore
Connor Brewer
(Texas) and junior
Jerrard Randall
(LSU). The fourth, redshirt freshman
Anu Solomon
, was one of the biggest stars in the 2013 recruiting class. Don't expect much to be settled by the end of spring, though coach Rich Rodriguez might at least allude to some sort of pecking order. Or a top three.

Arizona State
: The Sun Devils are strong at QB with senior
Taylor Kelly
, a third-year starter who has put up big numbers the past two seasons, and junior
Mike Bercovici
, a big-armed backup -- perhaps, in fact, the best backup in the Pac-12. That's why
Michael Eubank
opted to transfer to Samford in Birmingham, Ala. It will be interesting to see which of the youngsters on the roster emerge as a No.3, a guy who might challenge Bercovici in 2015.

California
: It seems unlikely that sophomore
Jared Goff
will be unseated, particularly after
Zach Kline
opted to transfer. Goff was uneven last season -- his entire team was -- but flashed plenty of potential. He and a talented crew of receivers should get better this spring. The big question might be whether anyone challenges senior
Austin Hinder
for the backup job.

Colorado
: Sophomore
Sefo Liufau
is solid as the returning starter. He took some lumps last season but also flashed plenty of promise -- as both a player and leader. After him, there's junior college transfer
Jordan Gehrke
, a redshirt sophomore, the likely backup. Depth is a problem, at least this spring. As the
Boulder Daily Camera noted
, "Five quarterbacks have left the CU program either to transfer to other schools or give up the sport entirely since the start of spring football last year. A sixth completed his eligibility last season." That's why the Buffs added walk-on Trent Sessions to the roster. He worked with the equipment staff last year.

Oregon
: The Ducks probably feel pretty good about their third-year starter, junior
Marcus Mariota
, a leading 2014 Heisman Trophy candidate who would have been a first-round pick if he'd entered the 2014 NFL draft. The competition for the backup spot, however, will be interesting because Mariota is almost certain to enter the NFL draft after the season. Sophomores
Jeff Lockie
and
Jake Rodrigues
are 2A and 2B, with Lockie first off the bench as the backup in 2013, but Rodrigues the more physically talented player as a runner and passer.

Oregon State
: Like their friends to the south, Oregon State is fortunate its 2013 starter,
Sean Mannion
, decided to return instead of entering the NFL draft. Mannion's chief focus will be finding some receivers to replace the production of the departed
Brandin Cooks
. The battle for the backup job also will be interesting between sophomore
Brent VanderVeen
and redshirt freshman
Kyle Kempt
. Of course, their battle might not resolve things much for 2015, with incoming Alabama transfer
Luke Del Rio
joining the fray after sitting out a season.

Stanford
: It seems unlikely that two-year starter
Kevin Hogan
will be challenged for the starting job this spring, even though he had some ups and downs in 2013, but there is no lack of talent battling for the backup job. Junior
Evan Crower
was the backup in 2013, but redshirt freshman
Ryan Burns
is a big-time talent. As is incoming freshman
Keller Chryst
, who officially will arrive in the fall but, as a Palo Alto resident, figures to hang around spring practices.

UCLA
: Heading into his third season running the offense,
Brett Hundley
gives the Bruins one of the best starting quarterbacks in the nation. He's a proven dual threat and leader who will be refining his game this spring and building chemistry with his receivers. After him, however, things are a bit iffy, in large part because of the 2013 preseason transfer of
T.J. Millweard
to Kansas. The chief competitors for the backup job are
Jerry Neuheisel
, the 2013 backup, and redshirt freshman
Asiantii Woulard
, with Woulard being the guy with the most future upside. Of course,
there is another QB out there
some UCLA fans might be thinking about.

USC
: The returning starter facing the most formidable challenge to his starting job this spring is probably
Cody Kessler
, even though Kessler played well in the second half of the 2013 season. With the transfer of
Max Wittek
, touted redshirt freshman
Max Browne
, at the very least, sets up to be a high-quality backup next season. But plenty of folks think Browne has a legitimate shot to unseat Kessler, particularly with new coach Steve Sarkisian taking over.

Utah
: There's still no final word on the long-term health issue that might end QB
Travis Wilson
's career, and anything decisive might not come for weeks. If Wilson gets cleared, the good bet is on him returning to the starting job. If not, a spring competition will begin between
Adam Schulz
, who stepped in when Wilson went down, and redshirt freshmen
Conner Manning
and
Brandon Cox
. In the fall, dual-threat QB
Donovan Isom
arrives.

Washington
:
Keith Price
, a three-year starter, is gone, but the Huskies seemed fairly set at QB with sophomore backup
Cyler Miles
appearing plenty capable of stepping into the cockpit this spring. In limited action last season, Miles completed 61 percent of his throws for 418 yards with four TDs and two picks, and he also showed good mobility, rushing for 200 yards. The pecking order at least seemed set, that is, until Miles got into some
off-field trouble that threatens his status for spring practice
and perhaps beyond. If Miles is still suspended, that means opportunity comes knocking for sophomore
Jeff Lindquist
or redshirt freshman
Troy Williams
to make an impression.

Washington State
:
Connor Halliday
will be a senior, three-year starter and the Cougars' top leader in the third season running Mike Leach's "Air Raid" offense. He figures to put up huge numbers this fall with a strong crew of receivers. His 2013 backup, sophomore
Austin Apodaca
, opted to transfer, perhaps believing that redshirt freshman
Tyler Bruggman
had the inside track to the starting job in 2015. Depth is a bit of a question, with the No. 3 this fall likely being true freshman
Peyton Bender
.
February, 18, 2014
Feb 18
5:30
PM ET
By
ESPN.com staff
| ESPN.com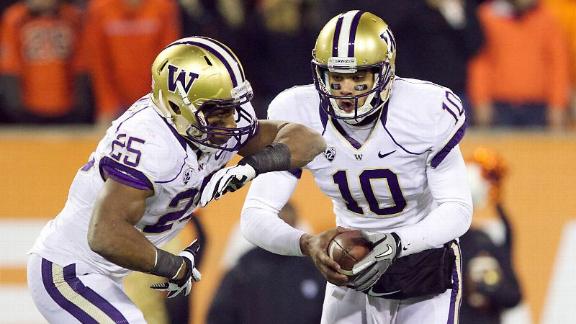 Will any of the Pac-12 quarterback competitions produce surprising results? Pac-12 reporter Ted Miller examines several quarterback battles heading into spring practices.
November, 21, 2013
11/21/13
2:30
PM ET
Allow myself to introduce ... myself. My name is Richie Cunningham, and this is my wife, Oprah.
November, 21, 2013
11/21/13
10:15
AM ET
A few storylines to keep an eye on this week in the Pac-12:
North race: Oregon's road is clear. If they win out, they will be the North Division champs. If they lose either of their final two games, both against conference opponents, Stanford will win the North by virtue of its tiebreaker. That is assuming, of course, Stanford gets by Cal in the Big Game. Stanford's final game is a nonconference matchup against Notre Dame.

[+] Enlarge

AP Photo/Rick BowmerTaylor Kelly and Arizona State can win the Pac-12 South with a win at UCLA on Saturday.

South race: A lot will be decided this weekend when Arizona State travels to UCLA. If ASU wins this game, it will win the South. If UCLA wins and beats USC next week, it will be the South champs for the third straight year. USC is still in the mix, but the Trojans need some help. They need to beat Colorado and UCLA and hope that ASU drops its next two games.

Bowl picture: Eight teams are bowl eligible with three more still in the mix. Washington State can become bowl eligible this weekend with a win over visiting Utah. Utah could still become bowl eligible with a win over Washington State and a win over Colorado in the season finale. Colorado could still become bowl eligible with a win over USC and a win over Utah. Recall that Colorado received a waiver from the NCAA that allows their two FCS victories to count toward bowl eligibility.

Questionable quarterbacks: We're still waiting to see the status of Washington quarterback Keith Price. The Huskies have kept him on ice this week, though he said he's confident he'll play. If he can't, the Huskies will go with Cyler Miles. Oregon quarterback Marcus Mariota says his knee is near 100 percent. One quarterback we know for sure isn't playing is Utah's Travis Wilson, who learned that his playing career might be over after concussion tests revealed a preexisting condition. The Pac-12 blog wishes him the best as the Utes move forward with Adam Schulz -- a strong-armed former walk-on.

Clutch quarterbacks: The ASU-UCLA game obviously has massive Pac-12 South implications. But it also features two of the most dynamic quarterbacks in the league in ASU's Taylor Kelly and UCLA's Brett Hundley. Remember last year's game in Tempe? UCLA won in the closing seconds and both quarterbacks led their team on late scoring drives. The Bruins have had to find creative ways to score points. Last week it was LB/RB Myles Jack, who scored four rushing touchdowns, and DE-turned-tight end Cassius Marsh, who snagged a touchdown reception. ASU has had no problems getting production from Marion Grice, who has 20 touchdowns on the season and is closing in on 1,000 yards. Line play will be critical as ASU's veteran front seven will push a young UCLA offensive line.

Sense of urgency bowl: Both Washington and Oregon State are bowl eligible. But the Huskies are still lacking a quality road win and the Oregon State offense hasn't been what it was the first half of the season. Washington has dropped all three road conference games this year and four straight dating back to last year's Apple Cup. Quarterback Sean Mannion has an unfavorable 3-to-7 touchdown to interception ratio in his last two games, though he's 199 yards shy of the school's single-season passing mark. Brandin Cooks is now one of five Pac-12 receivers to ever reach 100 receptions in a season. Speaking of school records, Washington running back Bishop Sankey is to break Washington's single-season rushing mark. He has 1,396 yards, and if he keeps up his average of 139.6 yards per game, he'll top Corey Dillon's 1,695 yards in 1996. Both teams need this one to have the semblance of a salvaged season.

Trying to get to a bowl: Aside from the bowl implications, the Cougars will be honoring 19 seniors. The Cougars are yet to win a conference home game this year while Utah is yet to win a conference game on the road. Combine that with Connor Halliday throwing at least one interception in every game and Utah's inability to intercept the ball (only two on the year) and you have quite the conundrum. Washington State has had 10 or more receivers catch a pass in nine games this year.

In control: The Ducks travel to Arizona this week, where they'll face a Wildcats team looking to better its bowl situation. Ka'Deem Carey has now gone for at least 100 yards in 13 consecutive games and is second in the country with an average of 150.3. On the other side, Byron Marshall is nine yards shy of reaching 1,000. Assuming he does, that would be seven straight years the Ducks have had a 1,000-yard rusher. And there is the other streak -- Mariota's Pac-12 record of 353 passes without an interception.

A Song of Ice and Fire: Yes, that's a tip of the hat to my Game of Thrones friends. The Trojans are on fire right now, having won four straight and five of their last six. They are 5-1 since Ed Orgeron was named interim head coach, including a win last week over No. 4 Stanford. But weather conditions are expected to be in the 30s and there is the possibility of snow in Boulder. USC isn't traditionally a cold-weather team. Colorado is coming off a big home win against Cal and the Buffs still have something to play for in late November. Been a while since we typed that.

Big Game: This is the season finale for Cal, which has a chance to make something of an otherwise depressing season. Of course, to do it, they'll have to knock off a Cardinal team that probably smells blood after its loss to USC last week. The Bears are more than a 30-point underdog and the Cardinal have to win in the event Oregon drops one of its final two Pac-12 games. The Bears are trying to avoid their first winless conference season since 2001. The Cardinal have forced a turnover in 35 consecutive games.
November, 20, 2013
11/20/13
2:30
PM ET
You all know exactly who I am. Say my name.
November, 20, 2013
11/20/13
9:00
AM ET
One team hasn't been able to win a conference game on the road. The other hasn't been able to win a conference game at home. It's the proverbial "something's gotta give" when Utah travels to Washington State Saturday in a game that both teams desperately need to win to keep their hopes of a bowl berth alive.
A victory puts the Cougars at six wins and potentially in their first bowl game since 2003. A Utah win gives the Utes a fifth victory and keeps them in contention of advancing to the postseason.
Utah coach Kyle Whittingham, whose team has dropped four straight and hasn't won a game outside of the state this year, knows the stakes.
"We do have our back against the wall and we've had bowl eligibility as a goal for quite a few weeks now," said Whittingham, whose team missed the postseason last year. "We've struggled and we haven't been able to get off that fourth win. We've been on that fourth win for a while. We have two more opportunities and that really is the entire focus of our team is to get our senior class to a bowl game and in order to that we have to win the last two ... absolutely our back is to the wall and there is no margin for error."
The Cougars, meanwhile, haven't won at home since back-to-back victories against Southern Utah and Idaho back in September. They've dropped home contests to Stanford, Oregon State and Arizona State, losing those three games by an average of 54-21.
[+] Enlarge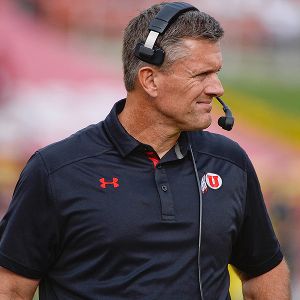 Robert Hanashiro/USA TODAY SportsThings have gone south for Kyle Whittingham and Utah since beating Stanford in October, as the Utes have dropped four straight.
"We've done a really good job being focused on the road," Washington State coach Mike Leach said. "We really have been focused on the road and played well and played some quality teams here. I think they're all excited to play at home and do a good job. We just need to focus on playing and do a good job at home or on the road."
This is the final home game for the Cougars, who close out the regular season in the Apple Cup next week in Seattle. Utah wraps up its regular season at home against Colorado.
The Utes will turn to former walk-on
Adam Schulz
to lead the team following the news that
Travis Wilson
's career
may be in jeopardy
because of a pre-existing condition that was discovered during a concussion test.
Whittingham said that Schulz has a complete working knowledge of the playbook and as the No. 2 quarterback has been taking about 40 percent of the snaps in practice all season long. He started last week for the Utes against Oregon, a 44-21 road loss, when Wilson didn't make the trip with the team.
Whittingham added that Schulz has the strongest arm of all the Utah quarterbacks, so it'll have to adjust the offense accordingly.
"He's a pocket passer," Whittingham said. "He's not a great runner. He's an adequate runner. But his main strength is throwing the ball with that big arm that he has ... He's been exposed to everything. We'll tweak [the offense] to play to Adam's strength. Not quite as adept runner as Travis is so we modify. But the volume of the game plan similar to what Travis would have."
The Cougars are seeking their first bowl appearance since topping Texas, 28-20, in the Holiday Bowl in 2003. When asked what a bowl game would mean for his program, Leach didn't go with the big-picture impact, rather a more compartmentalized tack.
"It would mean that we did a very good job on the very next play and then on the play after that, and the play after that, and the play after that until pretty soon it adds up to a game's worth of plays and we were successful, that's what it would mean," Leach said. "And then based on how we improved we would have the opportunity to be a little bit better team the very next play after that."
Washington State quarterback
Connor Halliday
has thrown an interception in every game this year. But interceptions have been hard to come by for the Utah secondary, which has only hauled in two picks this season.
"This year is ridiculous," Whittingham said. "Two balls the entire season, which is not good. It's one of the problems we've had, turnover margin. That's the biggest disappointment. It hasn't been coverage or being out of position. We've just missed on so many opportunities to intercept the football. We have to convert on some of those. Time is running out."
And that issue is magnified on the road. In their three conference road games, Utah is minus-5 in turnover margin and is being outscored by an average of 33-16.
The Cougars, who will be honoring 19 seniors before kickoff, are coming off a 24-17 road win over Arizona. But with bigger goals on the horizon, Leach said this isn't the week to stop and reflect.
"(The seniors were) instrumental for building the foundation of what we have going, which is going to improve as we go throughout the future," Leach said. "But they were very key in helping lift this off and we're very excited to have the opportunity to play a couple more games with them. So this isn't really milestone time it's time for them to focus on the next play and practice ... All this good old days stuff, they can do it in the good old days. Not now."
November, 19, 2013
11/19/13
1:00
PM ET
There is little space for "what might have been" in big-time college football. That's why coaches say that injuries are part of the game and no excuse for losing.
Which, of course, is malarky. Injuries
are
an excuse for losing. They are, in fact, often the biggest reason a team loses, and a lack of them is a big reason a team wins. Coaches just aren't allowed to say that on the record, though most of them in casual, off-the-record moments can do a wistful blow-by-blow on, yes, what might have been.
[+] Enlarge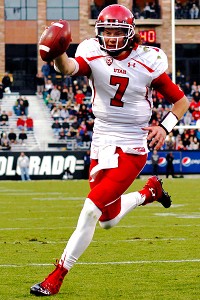 AP Photo/David ZalubowskiTravis Wilson is the latest Utah quarterback to see his season cut short by injury.
And so we have Utah and quarterbacks.
It was revealed Monday
that sophomore QB
Travis Wilson
is done for the year due to a concussion, and a pre-existing condition found during post-concussion exams might end his career. It's distressing news for Wilson, a promising player who'd given Utes fans hope that they'd finally found a solution at the critical position that had riddled the program since
Brian Johnson
led the team to a 13-0 record in 2008.
Instead, Wilson makes it four consecutive seasons that Utah lost its starting quarterback to injury, with Johnson being the last to make it through a season unscathed.
If you are looking for the biggest reason that Utah has struggled in Pac-12 play, that is it. Oh, if you wanted to be rational, you could also note the Utes have been without their second-best defensive player, LB
Brian Blechen
, all season, and that they lost WR
Kenneth Scott
in the season opener, and that they weren't able to pair their A-list tight ends,
Jake Murphy
and
Westlee Tonga
, in Pac-12 play, with Murphy only returning against Oregon from a wrist injury that was supposed to end his season.
Still, the QB is the thing. You can't win without a good one, particularly in the Pac-12, where QB play is at a premium.
Yet there seems to be considerable impatience out there among some Utah fans, who point the finger at coach Kyle Whittingham, as if his coaching caused Jordan Wynn's shoulders to falter and Wilson's hand and then head to be injured. These critics are the folks who expected the transition to Pac-12 play to be quick and relatively painless, that the Utes would immediately start competing for the South Division title and win nine or 10 games every year.
Kevin and I both think
the criticism of Whittingham is pretty cracked. Sure, it would have been great if he and his staff had an outstanding backup QB waiting in the wings during the Utes three seasons in the Pac-12, but that's not an easy thing to do. How did USC look last year when Matt Barkley went down?
As TCU and West Virginia are learning, stepping up to a big league conference isn't easy. Heck, how are things for Pittsburgh and Syracuse in the ACC, which is hardly the arduous trek the Pac-12 is?
Conference realignment has taught us that the curmudgeons were correct a few years back when they were downgrading those spunky non-AQ teams, which Utah used to be: The top conferences -- the SEC, Big 12 and Pac-12 -- are much better than the best of the non-AQ (Mountain West) and the worst of the AQ (the former Big East), no matter the counter-argument of a scattering of random results during the season and bowl games.
By the way, with a healthy Wilson, Utah was taking a step forward this year, even with a schedule that was substantially more challenging than the previous two seasons, which didn't include dates with Stanford and Oregon.
[+] Enlarge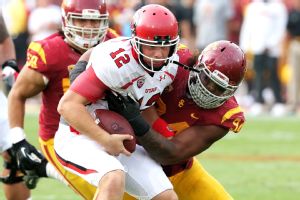 Stephen Dunn/Getty ImagesBackup QB Adam Schulz is tasked with managing the game, and possibly more important, staying healthy.
On Oct. 12, Utah was 4-2 and coming off a win over Stanford. While it was 1-2 in conference play, the season held plenty of promise. While Wilson threw six interceptions against UCLA and three against Oregon State, both ending up as nail-biting losses, he'd thrown only one pick in the other four games. He ranked eighth in the Pac-12 and 43rd in the nation in passing efficiency and was throwing for 273.3 yards per game for a team that only got 191 yards out of its passing attack in 2012.
Then he hurt his throwing hand against Arizona and the season spiraled from there. Over the past three games, trying to play through his injury, which included even wearing a glove on his throwing hand, Wilson completed just 14 of 44 passes with six interceptions.
And so the Utes turn to sophomore
Adam Schulz
, who originally came to Utah as a walk-on, as they are trying to redshirt freshman
Conner Manning
. His task is pretty straightforward over the next two games, both of which the Utes need to win to become bowl eligible: Take what the defense gives you and don't force things. Manage the game and play to a good Utes defense.
In the preseason, 6-6 seemed like a reasonable expectation for Utah's season. It remains that way, even with a backup QB now the starter. If Utah plays well, it can win at Washington State and then beat Colorado in the season finale, thereby improving on last year's 5-7 mark.
My chief thought at midseason with the Utes was they might begin to make a move in 2014, with Wilson back as a third-year starter and improving talent throughout the depth chart. Obviously, the critical peg upon which that projection hung is now questionable.
So a rueful "what might have been" becomes a worrisome "what might be?"
The only flimsy consolation we can offer at this moment is this: At some point, you'd think Utah's starting QB will remain healthy all season, and that should produce more satisfying results.
October, 20, 2013
10/20/13
3:46
AM ET
It was "statement Saturday" in the Pac-12.
Some teams, Stanford and Arizona State to name a couple, made huge statements. Other statements were significant, if not understated. Still, others failed to make statements with the weight of increased scrutiny bearing down on them.
[+] Enlarge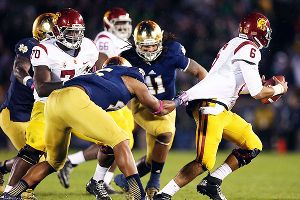 Jonathan Daniel/Getty ImagesCody Kessler and the USC offense couldn't get much going in the loss to Notre Dame.
USC stumbled on a national stage
at Notre Dame.
UCLA failed to beat the Cardinal
for the third time in 10 months.
Arizona State absolutely stuffed Washington
. Utah
failed to follow up its big win
last week with a win on the road. Perhaps the most shocking of all ...
Andy Phillips
missed! Twice! Gasp! Strange things were certainly afoot in Week 8.
And yet, isn't this exactly what we've come to expect from the Pac-12? Just when we think we've got a handle on things, Arizona rises, Arizona State romps,
Kodi Whitfield
makes a one-handed grab and Washington stumbles. Parity reminded us all that each week brings unpredictability.
Speaking of the Huskies, that national goodwill they've garnered the last few weeks is officially all used up in the wake of a 53-24 loss to Arizona State. National opinion-makers appreciated their 4-0 start -- which included a win over then-ranked Boise State. And despite back-to-back losses to Stanford and Oregon, the once-15th-ranked Huskies only slipped to 20th. Come Sunday morning, they might not even be getting votes following a third straight loss.
"That was embarrassing," Washington coach Steve Sarkisian said. "We weren't good enough. We weren't well-enough coached, we didn't perform well enough and we didn't play physical enough ... give Arizona State credit. They outcoached us and they outplayed us."
We will give them credit. The Sun Devils' run defense was vicious, holding
Bishop Sankey
to just 22 yards on 13 carries.
Marion Grice
continued his touchdown tirade with two on the ground and one in the air. Don't be shocked if the Sun Devils re-enter the Top 25 rankings for the third time this year.
"What an impressive performance," said Arizona State coach Todd Graham. "It might be the most impressive performance as a team that we've had since I've been here."
[+] Enlarge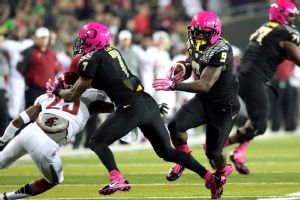 Scott Olmos/USA TODAY SportsOregon tailback Byron Marshall ran for 192 yards and three touchdown vs. Washington State.
And then there were the Trojans. Oh, those Trojans. After scoring on two of their first three drives (with a missed field goal in between), USC went scoreless the rest of the game. Its next 10 drives consisted of six punts, a missed field goal, an interception and twice turning it over on downs. Much like last season's showdown with Notre Dame, it seems the takeaway from this season's 14-10 defeat is that USC lost the game rather than Notre Dame won it (and let's not get started on the penalties).
Stanford reminded everyone that power running and defense can still win football games -- even in a league in which 80 pass attempts from one quarterback doesn't seem all that shocking.
UCLA and Arizona State still look like the front-runners in the South, but the rest of the division is a mess following Arizona's 35-24 win over Utah -- which still has to be on the road for three of its final five games. Give Utah credit. With starting quarterback
Travis Wilson
sidelined for the second half, the Utes battled back behind
Adam Schulz
and took the lead in the third quarter. But
Ka'Deem Carey
and his 236 yards on the ground proved to be too much.
Colorado took care of business
against an overmatched FCS team.
Oregon State did what it does best against Cal
, as
Sean Mannion
threw for 493 yards and four touchdowns.
But even
Oregon's 62-38 win over Washington State
had a touch of drama.
Marcus Mariota
set a conference record with 265 pass attempts without an interception. But he did fumble. Cue the dramatic music.
Week 8 will go down in the books as the week that set the stage for some outstanding showdowns the rest of the way. As teams scratch and claw for bowl eligibility and postseason prestige, teams like Utah, Washington, UCLA and USC will look to Week 8 and wonder where it went wrong. Of course, there is no right answer. It's just another week in the Pac-12.
May, 8, 2013
5/08/13
7:00
AM ET
Utah Utes
2012 record:
5-7

2012 conference record:
3-6 (Fifth in South Division)
Returning starters
: Offense: 6; Defense 6; kicker/punter: 0
Top returners:
WR
Dres Anderson
, TE
Jake Murphy
, QB
Travis Wilson
, RB
Kelvin York
, LB
Brian Blechen
, LB
Trevor Reilly
.
Key losses:
RB
John White
, LT Sam Brenner, DT Star Lotulelei, DE Joe Kruger, DT Dave Kruger, KR Reggie Dunn, P Sean Sellwood, K
Coleman Petersen
.
2012 statistical leaders (*returners)
Rushing
: John White (1,085)
Passing
: Travis Wilson* (1,311)
Receiving
: Dres Anderson* (365)
Tackles
: Trevor Reilly* (69)
Sacks
: Joe Kruger (6)
Interceptions
: Ryan Lacy (2)
Spring answers
Identity found: Sort of. The addition of co-offensive coordinator Dennis Erickson has given the Utes the identity on offense that they were sorely missing last season. The Utes will join the ranks of several other spread teams in the conference with the hopes of improving the passing game. Head coach Kyle Whittingham said the team had previously been transitioning to the spread, but the addition of Erickson to the staff has hastened the process. Last year Utah ranked last in the Pac-12 in passing, averaging 190.7 yards per game.
Shoring up the line: For now, it looks like Utah has found its starting five on the offensive line. And it's a big, big bunch with an average weight of 320 pounds. Jeremiah Poutasi (345) is in at left tackle, Jeremiah Tofaeono (320) is in at left guard, Vyncent Jones (305) is in at center with Junior Salt (guard, 325) and Siaosi Aiono (305) on the right side. A lot of folks are excited to finally see Salt in action and the coaching staff has been singing his praises for more than a year.
Backing up the back: It's no secret that the Utes lost a talented runner in John White -- a two-time 1,000-yard rusher. Kelvin York, who sits atop the depth chart, showed promise in limited work last year. And this spring the coaching staff was able to develop some depth behind him with James Poole, Lucky Radley and Karl Williams all in contention to be the first back off the bench.
Fall questions
No. 2 QB? Travis Wilson, who started the second half of last season, did a good job entrenching himself as the starter and creating some separation from the pack. But any Utah fan worth their salt knows how important quarterback depth can be -- especially after the past few years. And the race will be on this fall to see if Adam Schulz or Brandon Cox will be Wilson's primary understudy.
Looking for something special: The Utes have to replace a kicker and a punter in 2013. As of now, it looks like kicking duties fall to Andy Phillips while Tom Hackett takes over at punter. Speaking of special teams, there's also the departure of All-American kick returner Reggie Dunn to consider. The top candidates to return kicks are Quinton Pedroza and Charles Henderson.
D-line in transition: Utah lost 75 percent of a very talented defensive line crew -- including first-round draft pick Star Lotulelei and the Kruger brothers. And it looks like a lot remains unsettled. Nate Orchard and Jason Whittingham are separated by an "or" at left end, one of the two tackle spots is up for grabs between LT Tuipulotu and Sese Ianu and Whittingham and converted linebacker Trevor Reilly are both up for that right end spot. Kyle Whittingham has said he's still not sure how he'll play Reilly -- who could spend more time with his hand down, working in a hybrid DL/LB role.
April, 22, 2013
4/22/13
9:00
AM ET
We'll be hitting the two other spring games and weekend practice reports throughout the day.
Last week Ted talked about how important it would be for Utah quarterback
Travis Wilson
, the presumptive starter,
to put some separation
between himself and the pack. He may have done that Saturday with more than 8,500 fans watching.
Wilson was a crisp 13 of 17 for 210 yards with three touchdowns and zero interceptions. He played for one half and directed five scoring drives during that stretch.
"I was comfortable out there," Wilson
told the Salt Lake Tribune
. "I feel like I made the right plays and guys made plays for me."
Adam Schulz
was 9 of 20 for 245 yards with a pair of touchdowns, and the game's lone interception. He was also sacked four times. Logan Bateman (working with both teams at times), was a combined 3 of 5 for 77 yards.
"I thought he put some separation between himself and Adam today," head coach Kyle Whittingham said in the same report from the Tribune's
Tony Jones
. "The competition to be the starter is by no means over. But it's obvious that Travis has improved significantly from the end of the season to now."
A lot of Wilson's success can also be attributed to Utah's improved offensive line play -- which allowed the two teams to combine for 797 yards of offense in a 35-28 game.
"The offensive line has been night and day compared to last year," Whittingham said. "The main reason is Dan Finn has done a great job coaching them, they've worked their tails off in the offseason, and we've been able to have some continuity in the spring without any injuries. We had 17 guys in spring camp without any days missed, and I can't ever remember that being the case."
Kenneth Scott
caught five of Wilson's tosses for 97 yards and a touchdown. The influence of new co-offensive coordinator Dennis Erickson is evident, Whittingham said.
"He's adjusted the tempo of the offense, he's simplified what we're doing, and he's added some elements that have been good additions -- mainly utilizing the running backs in the throw game a bit more and simplifying the run game. There's not a whole lot of variation from one team to another team that runs the spread, but just those subtle changes can make a big difference."
Karl Williams
led all players in rushing, gaining 108 yards and scoring three times on 19 carries.
Kelvin York
had 79 yards on 13 carries. Wilson's "White" team topped the "Red" squad because of some good defensive pressure as well.
Tame Fangupo
, Greg Reese,
Moses Folauhola
and Moana Ofahengaue all posted sacks in the victory.
Reginald Porter
also had the lone pick of the day. Uaea Masina of the Red team led all players with seven tackles.