September, 12, 2014
9/12/14
6:00
PM ET
Happy Friday.
Follow me on Twitter here
.
To the notes!
Trojan1981 from Office writes:
Hey Ted, If USC keeps playing as well as they have ( I know there have only been two games) Where do you see them at the end of the season?
Ted Miller
: Trojan1981! Where the heck have you been! Didn't someone tell you the good times are back?
Compared to most top-10 teams, it's more difficult to project USC forward. With fewer than 60 healthy players on scholarship, a fairly typical slate of injuries to starters over the next few weeks could derail the Trojans. It's not just about losing quality players, it's also a winnowing of rotations. When the Trojans line up against all the up-tempo teams in the Pac-12, you might start to see some struggles in the second half of games as fatigue becomes a factor. USC's own up-tempo offense won't help that, by the way.
I know USC won last year with a slim depth chart -- just 13 players seeing action on defense, for example -- but if you're talking about Pac-12 championships, that's the primary concern.
Call that my caveat in advance of calling USC now a co-favorite in the Pac-12's South Division, which means the Trojans have a legitimate shot at playing themselves into the College Football Playoff as the Pac-12 champions, though I'm still picking that honor for Oregon.
USC, after winning at Stanford, has one of the most forgiving schedules in the Pac-12, as it doesn't play Oregon or Washington. The Trojans will be favored in their next eight games before they visit UCLA, which still has to play Stanford and Oregon and visit Washington. They get Notre Dame at home to conclude the season.
If USC stays healthy and continues to progress, they've got as good a shot as anyone at going undefeated over the remainder of the regular season. I'm not predicting that. There figures to be at least one bump along the way. But I am typing that there is a chance.
---
Quackhead from Norfolk, Va., writes:
Hypothetically someone other than Mariota puts up monster numbers, will Marcus' 3 years of consistent stats, living up the hype and good character give the nod to him winning the Heisman? Will that factor into the judges' minds or winning it is based purely on stats?
Miller
: Stats are a big part of it, but Marcus Mariota's overall résumé will be a factor in many Heisman Trophy voters minds, even though the award is supposed to be purely about this season. It could operate, for example, as a tiebreaker.
Winning, however, is the key. Mariota fronting a 13-0 or 12-1 Oregon team with similar stats to last season will beat out another QB who has slightly better numbers but has lost two or three games. Most voters also will compare schedule difficulty and how Mariota compared to other candidates in big games. Already, Mariota has a shiny line on his résumé: Outstanding performance in win over good Michigan State team.
After dealing with controversial winners three of the past four years, many voters also probably will look kindly upon Mariota's squeaky-clean image.
My gist: Mariota is in great position to win the Heisman, but we've got lots of football ahead.
---
Peter from Denver writes:
The best season in Oregon State football history (2000) started with a close home win against a FCS team then an 8 point win on the road against a bad team from the Mountain west. Then they had a bye week and played San Diego State at home, after that the Beavers played a highly ranked USC team. Let me know if this sounds familiar. Is this a crazy coincidence or could this be a good year for the Beavers?
Miller
: Boy, that 2000 Oregon State team was something. Perhaps the most underrated and unknown great team in recent memory, despite a final top-five ranking in both polls.
I've long contended that crew the most talented team in the Pac-10 in 2000, in large part because of the NFL success of its former players -- WRs Chad Johnson and T.J. Houshmandzadeh, LB Nick Barnett, DE DeLawrence Grant, etc. A couple of Pac-12 assistant coaches -- QB Jonathan Smith at Washington and DB Keith Heyward at USC -- probably agree.
Are the 2014 Beavers as talented? Probably not. Certainly not at receiver or on either line (at least until stud O-lineman Isaac Seumalo returns to health).
At this point, Peter, you are dabbling in wishful thinking and coincidence.
But if the Beavers win at USC on Sept. 27, well, then maybe you will be carried through the streets of Corvallis and hailed as a genius.
June, 9, 2014
6/09/14
9:00
AM ET
The Pac-12 recruiter rankings feature a mix of established vets from Oregon and Oregon State who have won numerous recruiting battles but haven't grabbed the national headlines they've deserved and fast-rising assistants at USC and UCLA who can recruit well both in the West and on the national stage.(


April, 23, 2014
4/23/14
2:00
PM ET
UCLA is coming off a 10-3 record in 2013, and it beat rival USC for the second straight season. But the Bruins didn't capitalize as many thought they might on the recruiting trail, finishing with the
No. 26 class
and missing out on some key recruits on signing day. UCLA coach Jim Mora knows the 2015 recruiting efforts will be vital for the Bruins to continue their success, and an
early start
that includes pledges from
Josh Rosen
, the No. 1 quarterback in the country, and two other ESPN 300 prospects is just what the doctor ordered. Mora visited with
RecruitingNation
on some key topics facing the Bruins with the 2015 class and other national recruiting issues.
You're not able to talk specifically about prospects you're recruiting, but how does it help a program on the recruiting trail when they land an elite quarterback early in the process?
Jim Mora:
Prospects follow recruiting very, very closely and they know where others are going or where they're leaning. I think any time you are able to early in the recruiting process land a high-profile recruit at whatever position, it's going to help you. Good players want to play with other good players. They want a chance to go win a championship. So when you can get a verbal commitment from somebody that's high-profile at an important position like quarterback, then it is certainly going to help your recruiting prospects.
[+] Enlarge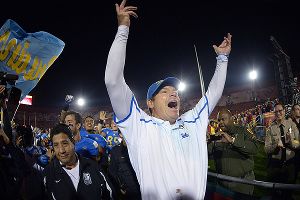 Kirby Lee/USA TODAY SportsJim Mora's energy and success have led to bigger recruiting victories for UCLA.
Looking at the numbers of players returning after this season and your smaller senior class, most observers say you'll sign between 15-20 players in the 2015 class. What challenges does that present you guys as a staff?
JM:
You have to be very selective. As we have more and more success and more and more kids become interested in playing at UCLA, it just naturally forces you to be a little bit more selective. This year, we have to be very diligent and make the right decisions as to who we let in the door. We're moving methodically through the process, gathering as much information as we can on these kids, recruiting them along the way and hopefully make the right decisions.
How does it help having a coach like Adrian Klemm, who is originally from Inglewood, Calif., on the staff?

JM:
He has a ton of connections in the city. He's very well respected in Southern California, as well as the rest of the country. Any time a guy walks into a living room or into a school out here in Los Angeles with a pedigree that Adrian has, it's significant. The guy has three Super Bowl rings, and he's from L.A. I don't know if you're going to be able to find another college coach in America that's got three Super Bowl rings. Heck, I bet you can't find one with two. He's done it and had success at the highest level, and that carries weight with these kids and with these families in Los Angeles.
Should there be an early signing period in college football?
JM:
I have no opinion on it. That's just the truth. I worry about what I can control and that's out of my control, so I'm not going to worry about it (laughs). There's my dogmatic, on the record answer for you.
Have you reviewed Randy Edsall's recruiting proposal that suggested prospects couldn't be offered scholarships until until Sept. 1 of an athlete's senior year and those offers would only come from a school's admissions department?
JM:
That ain't going to happen. There are folks offering seventh- and eighth-graders. That one is not going to happen, but I respect the fact that he's looking at it that way. I respect all these guys that are looking at it and trying to find a solution. Right now, I have more important and pressing things that I have to worry about. I choose to spend my time and energy on other issues. But there a lot of smart people out there that I'm going to depend on to examine this issue, because something needs to be done about it. I'm certainly not smart enough to figure out all those issues. I only have so many brain cells, and I need to use them on UCLA stuff.
How important is it in today's world of social media to be honest with the prospects you're recruiting? We hear so much about negative recruiting, but not so much about how you have to be honest with prospects.

JM:
Recruits see through the fluff in a heartbeat. If you're not honest with them, you're not going to get away with it. They know what is real and what isn't real. It doesn't matter if it's the NFL level, this level or the high school level. That demands that sometimes you have tough discussions or uncomfortable conversations with people, but you have to do it. You have to do it and have a level of empathy that can earn respect with people. You have to be brutally honest with recruits, high school coaches and parents about where things stand without being attacking or condescending.
April, 22, 2014
4/22/14
11:00
AM ET
UCLA's biggest recruiting victory in 2013-14 didn't involve a high school player.
ESPN.com's recruiting guru Jeremy Crabtree
has a nice story on how
USC unsuccessfully tried to hire UCLA's ace recruiter and offensive line coach Adrian Klemm away from Westwood. It begins like this:
UCLA offensive line coach Adrian Klemm was returning from a recruiting trip this past December, when he received a call from new USC coach Steve Sarkisian with an offer that all but included the opportunity to use the Trojans' famed white horse, Traveler, any time he wanted to avoid traffic on the 405. But UCLA coach Jim Mora wasn't about to lose one of his top assistants to the school across town, so he did what any good coach would do. He made an in-home visit and left with a commitment.
Sark's a smart guy. He knows that Klemm is an elite coach and recruiter, and luring him away from a crosstown archrival would make the hiring a double-whammy.
And Mora is a smart guy, too.
"I was out of town recruiting, and I landed and drove right to his house at about 10 at night," Mora said. "I think I stayed until till or 1 or 2, until I was sure USC wasn't going to come by. ... Until he signed that contract, I wasn't leaving. I wasn't going to lose him."
It's an interesting story because it touches a lot of bases -- the recruiting process, a battle between rival coaches -- it's also notable that Sarkisian and Mora are (were?) friends -- and a rising coaching talent and how he became so coveted.
Definitely worth a read, even you're not a Bruin or Trojan.
June, 13, 2013
6/13/13
2:30
PM ET
February, 8, 2013
2/08/13
2:30
PM ET
February, 10, 2012
2/10/12
3:45
PM ET
It wasn't random that Jim Mora, a NFL coaching lifer, ended up in college football. It was his specific plan. When his ill-fated, one-year tenure as the Seattle Seahawks head coach ended, he almost immediately started eyeballing the college game.
There was, however, no rush to jump at the first new coaching opportunity. He almost immediately was hired for broadcast gigs with the NFL Network and Fox. And the Seahawks were on the hook for the final three years of his contract -- a cool $12 million. So he studied the college game from afar and waited for an appealing opportunity.
"I felt like [college football] would be a good fit for my personality and what I was trying to get out of my career," he said. "I feel like I've got a lot to give kids this age... What's happened in the NFL, to a certain extent, because of the money involved, because of free agency, is there is a little less trust at times between players and coaches. That was bothersome to me. These guys are anxious to use you as a source of wisdom. And that is appealing to me."
[+] Enlarge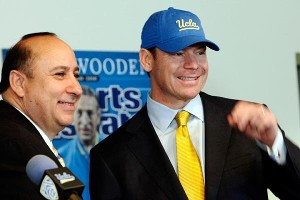 Nick Ut/AP PhotoJim Mora says the college game is different than the NFL because "these guys are anxious to use you as a source of wisdom. And that is appealing to me."
Mora went full-throttle after the UCLA job. He wasn't the first choice. Or even the second. And his hiring was initially greeted with skepticism. But the momentum is on a decided uptick.
First, he hired an
impressive staff
, tapping coaches with significant NFL and Pac-12 experience, as well as coaches known for being outstanding recruiters.
NFL experience? How about 90 years and five Super Bowl rings? Pac-12 experience? Five of the nine have either played or coached in the conference. Ace recruiters? Adrian Klemm and Demetrice Martin, hired away from SMU and Washington, respectively, are widely considered two of the best in the business.
And then Mora and his staff transformed what might have been the worst recruiting class in the conference when he was hired into one of the best. ESPN Recruiting ranked Mora's first-ever class ranked 19th in the nation.
"Everybody seems happy now and we haven't even won a game," said Mora, perhaps a bit surprised by how quickly recruiting can enliven a fanbase.
The NFL experience was a boon in recruiting. It gave Mora and his staff credibility. When asked how he overcame questions about UCLA's recent run of mediocrity, Mora just waved away the issue.
"I didn't worry about the past," he said. "It's irrelevant to me what any team has been in the past. It's what they are going to be in the future. We talked about future. We're not going to wait to win. You have a chance to get in on the ground floor of something that we believe can be special. If you're a competitor and you like challenges, this is for you."
Now the focus turns to spring practices and the football part of football. Mora said he'll watch film over the next few weeks to get an idea of his personnel. Heading his to-do list: He has to figure out who his quarterback is going to be, with incumbent starter
Kevin Prince
trying to fight off what figures to be a strong challenge from redshirt freshman
Brett Hundley
.
Richard Brehaut
might not be a factor because he plans to play baseball.
As far as new schemes, offensive coordinator Noel Mazzone is a spread guy and defensive coordinator Lou Spanos is a 3-4 guy, but Mora resists any attempt to pin him down on schemes. A defensive specialist, he's been successful with both 4-3 and 3-4 looks, and he said he expects the offense to be "multiple."
"We're going to do what our players do best," he said. "There is no name for what we do. We're not pistol. We're not West Coast. We're not spread. We're not wishbone. We're not this, we're not that. We're just going to be a good, fundamentally sound football that takes advantage of the skill sets our players present to us."
The college game is very different than the NFL. There's recruiting. There are limits on practice time. There are boosters to deal with and academic demands for players.
Still, Mora is well aware that the ultimate measure in Pac-12 football is just like the NFL: You've got to win.
February, 3, 2012
2/03/12
9:00
AM ET
By
ESPN.com staff
| ESPN.com
Interesting story here
from Mitch Sherman about coaches hiring assistants known as much for their recruiting as their coaching acumen -- and the tension that sometimes creates.
And, obviously, this includes analysis of the California-Washington-Tosh Lupoi situation:
The changes paid off for the Huskies, who signed the No. 23 class nationally, headlined by safety Shaq Thompson of Sacramento, Calif., a former Cal commit ranked 16th in the ESPNU 150. Washington also got a late pledge from cornerback Brandon Beaver of Compton, Calif., considered a Cal lean before Lupoi's departure.

[Washington coach Steve] Sarkisian said Wednesday at his press conference to unveil the signees that he prioritized the hiring of excellent recruiters.

"We want to pound our chest on how much football we know," Sarkisian said, "but if the players can't execute it, then that part is a bit irrelevant. You have to have the players in place to do it. So we went out and tried to identify some guys that, I think, were not just good football coaches, but were good recruiters. I think in the end, it did have a direct impact on what we were doing."
So was Lupoi the top recruiter in the Pac-12 this year? Well, he was one of them. But the prize for
Pac-12 recruiter of the year
went to Stanford's Mike Bloomgren.
It's a tough call in the Pac-12 because there are so many deserving coaches, but Bloomgren and Stanford closed big. Literally. Stanford landed ESPNU 150 offensive tackles Kyle Murphy (San Clemente, Calif./San Clemente) and Andrus Peat (Scottsdale, Ariz./Corona Del Sol) on signing day to give the Cardinal the nation's top O-line class. A nod also goes to former Stanford coach Brian Polian (now with Texas A&M), who started the recruiting, but it was Bloomgren who closed the deal. He fought off USC and Nebraska for Peat, and the Trojans again for Murphy.
Conference coaches getting honorable mention include: Adrian Klemm, UCLA; Tosh Lopoi, Washington; Demetrice Martin, UCLA; Ed Orgeron, USC.
December, 27, 2011
12/27/11
9:10
AM ET
By
ESPN.com staff
| ESPN.com
Know how a new coach wins over a skeptical fan base? He does this —
flip an A-list recruit his way
.

That's what new UCLA coach Jim Mora did with
Ishmael Adams
(Westlake Village, Calif./Oaks Christian). The four-star, 5-foot-10, 180-pound cornerback picked the Bruins over longtime leader California, as well as Arizona State and Notre Dame.
Adams told ESPN Recruiting's Greg Biggins, "After the coaching change, I didn't think much about UCLA, but I really like Coach Mora a lot and I like Demetrice Martin a lot as well. He's a good coach, and I know he'll make me better."
Before Christmas, the Bruins also signed JC offensive lineman
Alexandru Ceachir
(Santa Monica JC, Calif.). He had been committed to Utah. Ceachir
seemed taken by new Bruins line coach
Adrian Klemm.
In fact, if you read through Biggins'
West Coast recruiting blog
, it seems Mora's hires are making progress with a number of recruits, including ones committed elsewhere.
If Mora's first class includes a number of recruiting coups, that should alleviate some of the concerns Bruins fans had about hiring a coach with an almost exclusively NFL background.
The Bruins have
22 commitments
, and Adams is the second with a four-star rating.
December, 16, 2011
12/16/11
4:05
PM ET
By
ESPN.com staff
| ESPN.com
Some links of interest from LA.
First, USC defensive end Nick Perry has
opted to enter the NFL draft
, joining offensive tackle Matt Kalil as Trojans who are bypassing their senior seasons.
Neither was a surprise. And odds are that quarterback Matt Barkley and safety T.J. McDonald will join them. But who knows? Every year someone opts to stay who was expected to go.
The deadline to declare is Jan. 15; the deadline to pull out of the draft once declared is Jan. 18.
On the other side of town, the news is good at UCLA: ESPN.com West Coast recruiting expert Greg Biggins reports that Jim Mora's new staff hires are
striking a positive note in recruiting
.

Mora hired three coaches -- Adrian Klemm (from SMU), Steve Broussard (Arizona State) and Demetrice Martin (Washington) -- who rank among the nation's best recruiters. That is something the Bruins have lacked in recent years.
Former coach Rick Neuheisel was actually the Bruins' best recruiter the last four years, but the head coach can only do so much of the leg work and there was a sizeable drop after him and the rest of the staff. Former coach Karl Dorrell had Jon Embree and Eric Bieniemy, both of whom were excellent recruiters, but there has always been the feeling that UCLA went after players it thought it could get the easiest, rather than working to land the top, blue chip athletes. It's always important to know who you can and can not get, but it's also good to have some grinders on the staff who will outwork everyone else and won't take no for an answer.
Biggins doesn't just write this as an opinion, by the way. He talked to a number of recruits, including some committed to other Pac-12 schools, who are now looking at the Bruins.
December, 16, 2011
12/16/11
10:45
AM ET
New UCLA coach Jim Mora is putting his staff together quickly with names most Pac-12 fans will recognize.

His hires of Demetrice Martin (secondary), Adrian Klemm (offensive line), Inoke Breckterfield (defensive line), Marques Tuiasosopo (tight ends) and Steve Broussard (running backs)
have been announced
. The Arizona Republic also reported that the expected move of Arizona State offensive coordinator Noel Mazzone to the
same position with the Bruins is now done
.
That's six of nine spots filled. The biggest remaining one is defensive coordinator.
December, 14, 2011
12/14/11
6:04
PM ET
By
ESPN.com staff
| ESPN.com
Jim Mora is quickly filling out his staff, and doing so impressively.
Three hires have been confirmed: Adrian Klemm (offensive line, formerly at SMU), Demetrice Martin (defensive backs, formerly at Washington) and Steve Broussard (running backs, formerly at Arizona State).
The LA Daily news has reported
two others: Noel Mazzone (offensive coordinator, formerly at Arizona State) and Marques Tuiasosopo (tight ends, formerly an intern at UCLA who is presently serving as QBs coach).
Simply put: These are five extremely strong hires, both in terms of recruiting and coaching. And they each are college guys, though Klemm, Broussard and Tuiasosopo had solid NFL careers in the not-too-distant past. Mazzone also has coached in the NFL. Mora, an NFL lifer, will benefit from having staff members who know college football and the Pac-12.
Four of five, notably, are on offense. How Mora handles the defense will be interesting. He's a defensive guy, so he'll know a lot of NFL defensive coaches. But, as has been frequently noted, there are lot more funky offenses in college than in the NFL. Veteran NFL defensive coaches won't know as much about the no-huddle, up-tempo, spread and spread-option attacks that area all over college football and the Pac-12.
You'd think Mora would want a good mix of NFL and college guys on defense. That said, good defensive coaches can adapt -- see Clancy Pendergast at California and Vic Fangio at Stanford before he followed Jim Harbaugh back to the NFL. In fact, it seemed that USC's Monte Kiffin had a far better grasp of things in year two than year one.
December, 14, 2011
12/14/11
10:38
AM ET
By
ESPN.com staff
| ESPN.com
While the hiring of Jim Mora by UCLA has received a lukewarm greeting from some Bruins fans, his first two assistant coach hires shouldn't.
Mora has hired SMU offensive line coach and recruiting coordinator Adrian Klemm as its new
offensive line coach and run game coordinator
and Arizona State wide receivers coach Steve Broussard as the Bruins
running backs coach
, Jon Gold of the LA Daily News reported. And, also from Gold,
here's why these are good hires
.
These are two top recruiters with considerable experience in Southern California. Further, Klemm, one would think, might provide some access to Texas, if the Bruins opt to cast a wider recruiting net.
And please allow your humble Pac-12 blogger interject here.
Because of UCLA's high academic standards, Mora might be wise to look at UCLA as being closer to Stanford than to USC in terms of recruiting strategy, and therefore become a more active national recruiter. Say like into the Southeast and Texas, as Stanford has done --a certain QB you may have heard of.
Gold notes this from Klemm's bio: "Klemm was drafted in the second round of the 2000 draft by the New England Patriots, and played in the NFL for five seasons. He began coaching in 2008 and quickly moved up the ranks, ultimately being named Rivals.com's top non-BCS recruiter in 2010."
As for Broussard, he was widely regarded as a
key player for the recent uptick in ASU recruiting
. A former Washington State and eight-year NFL running back, he knows the lay of the West Coast recruiting landscape and can also talk to young athletes specifically about playing on Sundays.
Further, it appears that Sun Devils offensive coordinator Noel Mazzone is in play for UCLA,
as well as a couple of other schools
.
One knock against Mora was his lack of college coaching experience. It appears with his early hires, he's surrounding himself with assistants who can compensate for that.