Pac-12:

Air Force Falcons
July, 6, 2012
7/06/12
9:00
AM ET
Phil Steele released his latest poll projections yesterday and there are some interesting postseason destinations for Pac-12 teams.
First, here's
a look at his projections
:
Washington (Pac-12 No. 7) vs. Air Force (MWC No. 4) in the New Mexico Bowl
Utah (Pac-12 No. 5) vs. Boise State (MWC No. 1) in the Maaco Bowl
UCLA (Pac-12 No. 3) vs. Kansas State (Big 12 No. 5) in the Holiday Bowl
Cal (Pac-12 No. 6) vs. Navy in the Kraft Fight Hunger Bowl
Stanford (Pac-12 No. 2) vs. West Virginia (Big 12 No. 3) in the Alamo Bowl
Oregon State (Pac-12 No. 4) vs. NC State (ACC No. 4) in the Sun Bowl
USC (BCS Pac-12 No. 1) vs. Wisconsin (BCS Big 10 No. 1) in the Rose Bowl
Oregon (BCS at-large) vs. USF (BCS ACC No. 1) in the Orange Bowl
Some quick thoughts:
I agree that Oregon and USC will both be in BCS games -- though I think one of them is going to end up in the national championship game. I don't know which one, but I'm pretty confident one of them will be there.
Some pretty lofty projections for Oregon State and UCLA. I don't have any issue with projecting either them to the postseason, but I think their predicted finishes are too high. The Beavers still have significant holes on the offensive line. And though there is promise of an improved running game, I'm going to have to see it before even considering them in the same class as Utah, Cal and Washington. Likewise for the Bruins -- who need to figure out who is going to be their quarterback before we anoint them to a mid-level bowl game.
Washington, Stanford, Cal and Utah are tough to predict because they could all land anywhere between the two and five hole. Washington to the New Mexico Bowl though is a head-scratcher. I'd likely reserve that spot for Oregon State, UCLA or even Washington State -- who I would say is probably more bowl ready than either the Bruins or the Beavers.
Guessing USF (a Big East team) ends up in the Orange Bowl since Florida State (an ACC team) is tabbed for the national championship? However that math worked out, if it actually comes to fruition that Oregon plays USF, the Ducks will make last year's Orange Bowl (West Virginia 70, Clemson 33) look like a nail biter.
March, 15, 2012
3/15/12
4:30
PM ET
Too early for bowl projections? Maybe? Probably? Nah.
Jerry Palm of CBSSports.com doesn't think so and he's released
his bowl projections for all 35 games next season
.
Of the 12 teams in the conference, he has eight of them heading to the postseason -- most notably -- USC playing in the national championship game against LSU. And according to Palm, Oregon also makes another appearance in the Rose Bowl.
The four teams on the outside looking in are Colorado, UCLA, Washington State and Oregon State.
Here's a look at the bowl games he's projecting that include Pac-12 teams:
BCS National Championship game (Jan. 7 in Miami): USC vs. LSU
Rose Bowl (Jan. 2 in Pasadena, Calif.): Oregon vs. Michigan
Kraft Fight Hunger Bowl: Arizona State vs. Navy
Sun Bowl: Washington vs. North Carolina State
Alamo Bowl: Utah vs. Kansas State
Holiday Bowl: Stanford vs. Baylor (would have loved to see that matchup in 2011)
Maaco Bowl: Cal vs. Boise State
New Mexico Bowl: Arizona vs. Air Force
May, 5, 2011
5/05/11
9:37
AM ET
By
ESPN.com staff
| ESPN.com
Oregon State picked up its second commitment for 2012 after receiving word from
Dustin Stanton
, a 6-foot-6, 210-pound tight end from Lakewood High School (Marysville, Wash.)
Stanton caught 19 passes for 291 yards and four touchdowns in 2010. He also was offered by Air Force.
November, 2, 2010
11/02/10
11:53
AM ET
California won't build a statue of
Kevin Riley
outside of Memorial Stadium. It's unlikely that many Old Blues will demand their children and grandchildren be named "Kevin" or "Riley" in tribute to the
now-former Cal quarterback
. The Bears have produced many good quarterbacks through the years. Riley will be well down the list when they count off the best ones.
But would it be too much to pause and tip our caps to Riley? To give him -- if not praise -- at least respect?
For whatever reason that Riley never became a "special" quarterback, it wasn't for a lack of trying. You wanted the Bears to win every game and Riley to go all Aaron Rodgers? Trust me: Riley wanted it more. My guess is he had plenty of nights tossing and turning wondering why things couldn't come together.
[+] Enlarge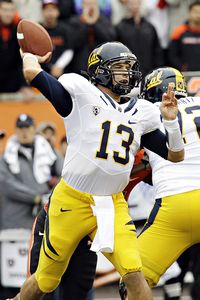 AP Photo/Rick BowmerCal's Kevin Riley threw for 1,409 yards this season before injuring his left knee.
"It's upsetting to see Kevin end his collegiate career like that," Cal head coach Jeff Tedford said in a statement reporting Riley's career-ending knee injury suffered at Oregon State last Saturday.
"He has been a very strong competitor during his time at Cal and has dedicated himself to our program. He's a great team player and has a lot of passion for Cal football. He's provided a lot of great moments."
What a complicated relationship Tedford and Riley have had. Recall their first made-for-TV moment, when Riley's ill-advised scramble in the last seconds against Oregon State in 2007 -- he was filling in for an injured Nate Longshore when Nate Longshore was still Nate Longshore -- probably cost the Bears the No. 1 ranking. The cameras caught Tedford, far from the demonstrative sort on the sideline, jumping into the air and slamming his play sheet to the ground.
Tedford's moving compassion for Riley on Saturday when it was clear the injury was severe is probably being noted by recruits and their parents: This guy cares about his players.
Tedford has benched Riley. He's defended Riley. He tried to get others to beat him out. He spent this past offseason telling anyone who would listen that Riley's numbers ranked him among all the celebrated quarterbacks in the Pac-10.
Those numbers? Riley is among Cal's all-time leaders in touchdown passes (50, No. 5), total offense (6,136, No. 6), passer efficiency (131.55, No. 7), passing yardage (6,182, No. 8) and 250-yard passing games (7, No. 10). He has completed 55.5 percent of his throws with 50 TDs and 21 interceptions. He has scored another five touchdowns on the ground.
Riley is 19-12 in 31 career starts. He's won more games than any other active Pac-10 quarterback. Riley had a string of 11 straight games with a touchdown pass, spanning the final eight outings of his junior campaign and the first three of this season. In 2010, he completed 60 percent of his passes for 1,409 yards with 13 touchdown and six interceptions. He probably had his strongest performance of the season in his last full game before the injury, completing 19 of 28 passes for 240 yards, with two touchdown tosses and no interceptions in a 50-17 win over Arizona State.
As of today, he's ranked 32nd in the nation in passing efficiency.
There was a time when going 19-12 as Cal's QB would have been pretty darn good. These are not those times. Bears fans engorged themselves on the success of Tedford's early years and are frustrated that the program isn't taking the proverbial next step. Longshore and now Riley are the first two players who fans finger over the recent middling results.
And that frustration is not invalid. In the program's big picture, there are notable trends and patterns that are hard to ignore.
Therein lies something I always liked about Riley: He wasn't a whiner. And he never hid. He admitted his own frustration and shortcomings. Reporters would ask the tough questions, he'd provide the tough answers. Sometimes it was clear he wished his inquisitors knew enough about football to realize a lot of things go into a failed play, but he generally sucked it up.
He tried to get better. He worked on his mechanics. He fought to retain his confidence in a new-media world that makes it impossible to block out criticism.
Riley burst onto the scene as a redshirt freshman in 2007, when he entered the Armed Forced Bowl early in the second quarter, trailing 21-0, and directed the Bears to a 42-36 victory over Air Force. He completed 16-of-19 for 269 yards, with three touchdowns and no interceptions.
At that point, it was hard to believe his future script wouldn't include championships and postseason honors.
But not everyone gets a storybook ending. At least in sports. Riley's got his whole life ahead in which to write a lasting, more substantive script than the ones recounting the events on fall Saturdays.
But as to that football part of Riley's life, today we tip our cap. Respect.
December, 12, 2009
12/12/09
11:12
AM ET
By
ESPN.com staff
| ESPN.com
A Stoops has done well in Florida in the past.
[+] Enlarge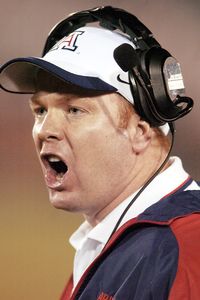 Kirby Lee/WireImage.comMark Stoops will join FSU's staff following the Holiday Bowl.
Bob Stoops paired with Steve Spurrier to win a 1996 national title. Then he got the head job at Oklahoma and won one for himself.
Mark Stoops was
hired Friday
to be Florida State's defensive coordinator under transitioning head coach Jimbo Fisher, thereby ending the successful tandem he had with head coach -- and brother -- Mike at Arizona.
Stoops was a
top candidate
for the head-coaching job at Youngstown State, but he likely sees this as the best step for him toward one day getting a chance to lead his own BCS conference program. This allows him to step out of his brother's shadow and to move into a football hotbed where there are more future job opportunities.
Mark Stoops will remain with Arizona until after the Wildcats play Nebraska in the Holiday Bowl on Dec. 30.
It will be interesting to see what Mike Stoops does next. With his brother, the Wildcats' defense was "in the family." The issue with the next coordinator will be whether he's asked to retain the Stoops system, which has been very effective through the years, or will he have the autonomy to bring in his own system. Keep in mind Mike Stoops is an old defensive coordinator himself, so it could be a challenge for him to keep his fingers out of the batter.
Not to mention it's his program.
Another element to consider is the Wildcats will be rebuilding on defense. They lose seven starters, including all three linebackers. Ends Ricky Elmore and Brooks Reed -- probably the best tandem in the conference in 2010 -- will be a good starting foundation, and Stoops has recruited well, but there will be unformed clay for a new guy to work with.
In other words, it won't be a bad year to tweak the system because a lot of guys won't have much experience in the old system.
Stoops may promote from within -- linebackers coach and assistant head coach Tim Kish might be a possibility.
Other names to think about include Boise State's Justin Wilcox, Utah's Kalani Sitake, Air Force's Tim DeRuyter, Texas Tech's Ruffin McNeill or perhaps former Arizona linebacker Ricky Hunley.
The guess here is that Stoops, considering his family connections, has plenty of names in his rolodex.
May, 22, 2009
5/22/09
7:37
PM ET
By
ESPN.com staff
| ESPN.com
Posted by ESPN.com's Ted Miller
UCLA coach Rick Neuheisel will participate in the 2009 Armed Forces Entertainment college football "Coaches Tour" beginning late next week, an effort to help rally U.S. servicemen and women in the Middle East and Europe and show appreciation for their efforts.
"I am honored to be participating in this tour," Neuheisel said in a statement. "Our men and women overseas put their lives on the line every day, and I'm thrilled to be able to personally thank them for all they do. They are a long way from home, and if we can bring a little bit of home to them, then we have accomplished the goal of the tour."
Other coaches on the tour include former Auburn coach Tommy Tuberville, Mack Brown (Texas), Troy Calhoun (Air Force), Jim Tressel (Ohio State), Jim Grobe (Wake Forest), and Houston Nutt (Mississippi).
The tour will depart from McConnell Air Force Base, near Wichita, Kan., on May 27. The coaches will visit troops stationed at U.S. military installations in Germany, Turkey, Spain, Iraq and Djbouti (Africa) and will return to the U.S. on June 4.
On the tour, the coaches will personally interact with the troops, hold formal college football symposiums where troops will have an open microphone to ask questions, and at some locations, will host flag football games for the military members and serve as honorary coaches.