September, 7, 2010
9/07/10
5:50
PM ET
"Philosophical" is not a term that often appears next to USC coach Lane Kiffin's name, but it accurately describes how he's responding to his Trojans "good news, bad news" performance at Hawaii last Thursday.
The good news was his offense rolling up 524 yards and 49 points, with quarterback
Matt Barkley
turning in a nearly flawless performance with five touchdown passes and no picks.
[+] Enlarge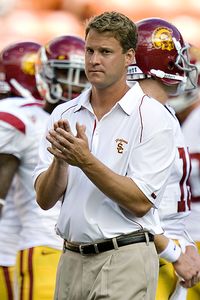 AP Photo/Eugene TannerLane Kiffin's defense has something to prove against Virginia on Saturday.
The bad news was the Trojans yielding an eye-popping 588 yards and 36 points and not tackling worth a spit.
"One game will not define us," Kiffin said. "Just like it will not define Matt on offense. Let's take a couple of games before we evaluate, before we make big statements about sides of the ball."
That said, Kiffin understands the concerns over his defense, which looked to be a strength entering the season, no matter a completely rebuilt secondary. The hand wringing over one bad game that, nonetheless, still ended up being a win is understandable, he said.
"That's who we are right now because it happened," he said.
See: Philosophical! The Trojans defense fell on a island and everyone saw it.
Therefore, that defense will be looking for redemption against Virginia on Saturday in the Coliseum, USC's only home game until Oct. 2. The Cavaliers beat Richmond 34-13 last weekend, the debut for new coach Mike London, but the Cavaliers only welcome back 12 starters from a 3-9 team that got Al Groh fired.
Moreover, Barkley might be working against a secondary minus its two best players: All-ACC cornerback Ras-I Dowling and junior strong safety Rodney McLeod didn't play against the Spiders. Dowling missed much of fall camp with a hamstring injury, while McLeod has a knee injury.
Another boost for the USC offense: The return of freshman running back
Dillon Baxter
from a one-game suspension. Kiffin has called Baxter USC's "most talented player."
The last time these two teams met in 2008, Mark Sanchez and the Trojans bludgeoned the Cavaliers 52-7 in Charlottesville. But the circumstances are much different this time. For one, there are two new head coaches. For another, USC is no longer riding a run of Pac-10 dominance to a certain BCS bowl berth. The rest of the Pac-10 took care of the former last fall, and the NCAA took care of the latter this summer.
Still, London said he doesn't see a neutered team.
"When you look at the game [film], you see athleticism -- from everybody," he said. "Even the water boy is athletic and fast."
So what went wrong at Hawaii on defense? Kiffin cited a number of things. For one, yes, it did hurt that the Trojans didn't do much full-contact work during fall camp in order to avoid injuries. That's an explanation for the poor tackling. Further, the Warriors surprised USC when they tweaked their spread scheme with a "pistol" formation.
Kiffin also gave credit to Hawaii: "That is a really good offense, and I think we'll see that throughout the year... They are going to put up lot of yards and points on people if they stay healthy."
Kiffin seemed excited that Virginia's style of offense will be more in the Trojans' comfort zone. He called the Hawaii game "a wake-up call" and expects his defense to be highly motivated after turning in an embarrassing performance.
And, no, the Trojans defense, which started hemorrhaging last year (though USC still led the Pac-10 in scoring defense at 19.8 ppg), hasn't lost its confidence. At least not yet.
"I look for us to play a lot better this week," Kiffin said. "If we play like that three weeks into the season, yeah, we're going to have a confidence issue. We're going to have a lot of issues. But I don't think that's going to be the case. I think our guys are going to really respond well this week."
Oh, and by the way, overconfidence shouldn't be a problem, either
"How we can be overconfident; we haven't done anything yet," Kiffin said.
August, 30, 2008
8/30/08
10:05
PM ET
By
ESPN.com staff
| ESPN.com
Posted by ESPN.com's Heather Dinich
Virginia quarterback Peter Lalich sat slouched in his chair and avoided eye contact with just about everyone. He spoke slowly and cautiously, being careful to say the right thing.
When asked what might have been his easiest question -- When did you find out you were starting today" -- Lalich looked at the floor.
"Um, that's ... I'm not allowed to talk about that," he said.
Whether it was five minutes before the start of the game or five weeks ago, it's irrelevant now.
"Our quarterback turned the ball over too many times today," coach Al Groh said.
For a guy who was so secretive about Lalich for almost six months, it sure didn't take long to call him out.
Lalich completed 18-of-35 passes for 155 yards and was sacked twice, but the rookie line in front of him couldn't hold off the pressure barreling down from USC. Even standout left tackle Eugene Monroe made a few mistakes. Lalich said the time his line gave him was "adequate."
"A lot of times it seems like it might be the linemen's fault, sometimes it's the quarterback's fault," he said. "We have different types of protection. Sometimes it's five men blocking, sometimes it's six men blocking."
Lalich's 155-yard performance is the most by a UVA quarterback in his first start since David Rivers threw for 228 yards against Georgia Tech in 1999.
Still, Groh said, "It wouldn't be right for me or anybody to say that anybody played well today."
Groh knew what he was getting the Cavaliers into when he scheduled the No. 3 team in the nation.
He expected more, though, from his own team, despite the fact there were 11 Cavaliers who made their first start today against a team contending for the national title.
Virginia was held to 32 rushing yards. It was 2-of-12 on third-down conversions. The Cavaliers fumbled four times, and lost it three. USC punted twice. The numbers go on and on ...
"We knew it was going to take a lot on our part to be able to pull this off," Groh said. "To play as poorly as we played and to have lost is not acceptable. ... Our attitude about our team is it's not OK to play like that."
He can change the attitude. But Groh is going to be hard-pressed to find a better quarterback right now. And after Saturday, it's no secret.
August, 26, 2008
8/26/08
6:07
PM ET
By
ESPN.com staff
| ESPN.com
Posted by ESPN.com's Ted Miller
A few quotes from Virginia coach Al Groh on USC, which visits the Cavaliers on Saturday. Transcript provided by UVA:
In talking about Southern California, they are one of the most sophisticated teams you've played in terms of schemes. How sophisticated are they and what separates them maybe from some of those other great teams?
Al Groh: It starts with the talent level. When you have a higher talent level, the more comfortable you feel with expanding your schemes. There certainly is a very, very high talent level with the players. It is usually pretty easy for those players to get things in a little bit quicker fashion and maybe sometimes if it is more challenging for them physically to do things.

The background of their staff is pretty extensive, where they've been and things they've done. Obviously it starts with Pete (Carroll) who had an extensive time frame in the (NFL) as both a coordinator and head coach and you see a lot of those schemes. A number of guys on the offensive staff have background in that league, so we see a lot of things from there. They cover a lot of territory for a team that we do not have a background with. This would have been an even more impossible task if it was in midseason where we had three days to sort it out.
Will you wait to see how the two-year USC series plays out or will you schedule some other outlandish games?
AG: Isn't there supposed to be an age limit on the term 'middle age crazy?' (chuckles) ... We like to have some ... challenging games on an on-going basis. It's good for our team. It brings out the best in your team. Competition is not about always scheduling to win. Competition is about stepping out there and putting yourself out there a little bit and seeing what you can do with it. I think our team has benefited from the preparation that it's taken to get ready for a game like this. I think the type of players that we're going to play against will be worthwhile for us. I think as a coach I have benefited from the challenges of getting ready for a team like this. I've learned some new things in having to deal with this team and some schemes that we haven't had to deal with before.

Is this kind of an ideal scenario that this is your first game so you have lots of time to prepare for it?
AG: It has worked out that way but one of our wishes was to play it as a first game, but not necessarily for that reason. As challenging as the game is, it really doesn't have the long-range implications on our team as conference play does. Just think what it would be like playing this game in between two major conference games; it would really be very distracting to our first objective, which is to win our division and to try to get into the ACC championship game. So for that reason we wanted the game early and it was my understanding that USC wanted the same thing.