April, 6, 2012
4/06/12
12:00
PM ET
Points, points, points. This is the Pac-12 after all, where offense rules. Last season, five Pac-12 teams ranked in the top 30 in scoring average. Others, however, weren't as explosive. Colorado (12th in the conference/109th nationally), Oregon State (11/100), UCLA (10/88) and Utah (9/tied for 74th) all had trouble consistently finding pay dirt. So this week we're looking at which of these four teams has the best chance to show significant offensive improvement.
Ted Miller
: Oregon State's offense was bad last year. That's the obvious bad news. More obvious bad news: It was bad for a fundamental reason: It couldn't run the ball, ranking 118th in the nation with just 86.9 yards per game. The end result was an offense that ranked 11th in the Pac-12 in scoring (21.8 points per game) and 10th in total offense (373.7 yards per game). And while we're being party poopers, why not note there are only eight healthy offensive linemen this spring, which makes it impossible to field a full second team?
Ah, but we come not to bury the Beavers, but to praise them! This half of the Pac-12 blog is providing Oregon State fans an iron-clad guarantee: The Beavers' offense will be better in 2012. Perhaps much better. And that's why we believe they will win enough to earn a bowl berth after consecutive seasons at home during the postseason.
[+] Enlarge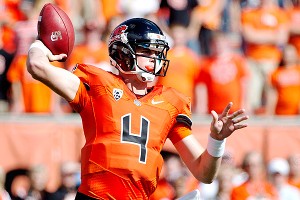 Jim Z. Rider/US PRESSWIREOregon State quarterback Sean Mannion should see some improvement in his supporting cast as he enters his sophomore season.
Why? Let's start in the cockpit with quarterback
Sean Mannion
, who won the starting job as a freshman over returning starter Ryan Katz, only to discover THE NEW CAR! he'd been given the keys to was a Pinto. With little support from a running game to keep defenses honest, Mannion threw a lot but not always successfully, ranking ninth in the conference in passing efficiency with 16 touchdowns and 18 interceptions. But two numbers are notable: First, he completed 64.5 percent of his passes and was sacked just 27 times in 473 attempts. That suggests two things. Mannion is both accurate and has good pocket presence. Accurate? That completion percentage ranked fifth in the conference, ahead of Oregon's
Darron Thomas
and Arizona State's
Brock Osweiler
. As for pocket presence, the Beavers ranked fifth in the conference in sacks surrendered despite ranking third in pass attempts. And that was with no running game.
Mannion's supporting cast at receiver is strong. Three of the top four receivers are back, including
Markus Wheaton
and speedy flanker
Brandin Cooks
. And essentially the entire cast at running back is back.
So, really, it comes down to the offensive line, where three starters are back, not including tackle
Michael Philipp
, a 2010 starter who is trying to get a once-promising career back on track. Don't expect to hear glowing reports this spring. Tackle
Colin Kelly
and guard
Grant Enger
, both returning starters, are out with injuries, so there's a lack of bodies. But in the fall they should be healthy just as a pair of intriguing reinforcements arrive: touted freshman
Isaac Seumalo
, rated the No. 19 overall player in the nation in 2012 by ESPN Recruiting, and junior-college transfer Stan Hasiak, who saw plenty of action during his tumultuous time at UCLA. Both are potential – even likely -- starters.
Mannion flashed plenty of potential in 2011. He will be far more seasoned in 2012. The offensive line will be better, too, which means at least a mediocre running game to keep defenses from pinning their ears back and going after the quarterback.
In other words, the Beavers offense will be much improved overall in 2012. Now ... about that defense ...
Kevin Gemmell
: I'm glad you brought up Osweiler, because he's somewhat pertinent to the team I'm picking to improve offensively -- UCLA.
All together now: "Ding, dong, the pistol is dead." And not a half-snap too soon. Time to make way for the shotgun.
To see where the Bruins are headed on offense, you need only to look back at what Osweiler did the past two seasons with the Sun Devils -- specifically what he was able to do with Noel Mazzone running the show.
Now Mazzone is new coach Jim Mora's offensive coordinator at UCLA. I know there is a multi-quarterback competition in the works. That certainly will have some bearing. But even so, it's almost impossible for the Bruins not improve on last year's 23.1-ppg scoring average with this time-tested offense.
Consider the Sun Devils of 2009, pre-Mazzone: 90th in total offense (334.4 yards per game) and 91st in scoring average (22.3 points per game). Now, look at Mazzone's first season in 2010: 29th in total offense (425.6) and 28th in scoring average (32.2). Last year: 25th in total offense (445.8) and 28th in scoring offense (33.2).
Translation: The guy knows how to move the ball and create points.
I talked earlier this week
with
Brett Hundley
, one of those quarterbacks in the hunt for the starting gig, he says this offense is much simpler and allows the quarterback to play more quickly and think less. Makes sense. And whoever wins the gig will have an experienced running back in
Johnathan Franklin
beside him. The fifth-year senior was 24 yards short of a 1,000-yard season despite an impressive 5.9 yards per carry average.
[+] Enlarge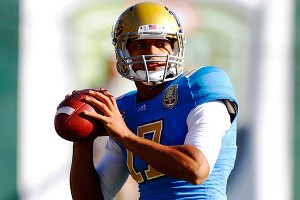 Jason O. Watson/US PresswireSophomore Brett Hundley could prove to be UCLA's most athletic option at quarterback.
But this offense is about moving the ball in the air. And finding three or four receivers to consistently perform is going to be just as important as finding the right guy standing five to seven yards behind the center. Mazzone has said
he's not married to four- or five-receiver sets
. So bona-fide talent
Joseph Fauria
should get plenty of chances to catch the ball from the tight end position.
Devin Lucien
,
Shaq Evans
and
Ricky Marvray
are the likely wide receiver trio. But unlike the previous offense, the receivers won't be square pegs in round holes. This offense should accentuate the speed and athleticism that UCLA always seems to have, but never knows quite what to do with it.
The Bruins were in the bottom half of the nation in sacks allowed last year, but the return of tackle Xavier Su'a-Filo, who is back after an LDS mission, should help bolster the line. All indications out of spring are that he looks solid.
Jeff Baca
and
Greg Capella
both saw significant playing time last season (Capella started 14 games and Baca 13), so that experience should help cut back on the sacks.
Now, to the quarterback spot.
Kevin Prince
has the most experience, followed by
Richard Brehaut
. Both are seniors. But there is a call from fans to completely cleanse themselves of the previous regime and start fresh with Hundley, a 6-foot-4, 225-pound dual-threat quarterback who might be the most athletic of the bunch.
Whoever wins the job is destined for a pretty good season. Because given Mazzone's history of turning slugs into sluggers, UCLA looks like the team to drag itself up from the Pac-12's offensive cellar.
December, 21, 2011
12/21/11
5:46
PM ET
Two things happened at UCLA today.

One thing was about the
dreary present
: Backup quarterback
Richard Brehaut
has been suspended for the Kraft Fight Hunger Bowl, and three Bruins have been ruled academically ineligible.
The other is about a potentially better future: The Bruins acting Tuesday on their "tradition" of "
going over the wall
" made new coach Jim Mora want to claw his eyes out, just like it did many Bruins fans.
Said Mora
: "It's completely unacceptable and it will not be part of the program going forward."
Good. End of "tradition." Mora immediately sends a message that should resonate in a locker room that needs some resonance.
Now on to the bad stuff. Joining Brehaut in time out are, are safety Tony Dye, starting offensive lineman Albert Cid and backup linebacker Isaiah Bowens, who are the academically ineligible for the Dec. 31 bowl game.
Without Brehaut, starter Kevin Price will be backed up by either
Nick Crissman
or
Darius Bell
. There is zero chance that talented true freshman
Brett Hundley
will play after redshirting this season.
"All four of these student-athletes are disappointed that they will miss the Kraft Fight Hunger Bowl, but they all understand that they have let their teammates and the program down and that there are consequences for their actions," interim coach Mike Johnson said in a statement.
Question: Do you think Johnson, who was only with UCLA during this one miserable season, is eager to get this bowl game over and get on with his life?
Brehaut played in seven games, starting four, and completed 67 of 121 passes for 948 yards and six touchdowns. Dye played in five games, starting all of them during an injury-plagued season, tallying 23 tackles. Cid participated in nine games, starting five of them. Bowens played in 12 games coming off the bench, making nine tackles and recovering two fumbles.
October, 26, 2011
10/26/11
9:00
AM ET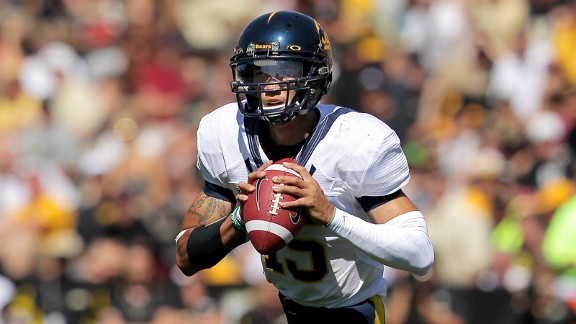 Doug Pensinger/Getty ImagesZach Maynard, like the rest of the Cal team, has been inconsistent this season.
A coach walks into his pregame locker room. He looks at his team. And he really has no idea how it will play.
That's a reality that more than few coaches have owned up to, if reluctantly. A good week of practice more often than not leads to at least a solid performance. But sometimes it doesn't. And sometimes a poor-to-middling week of practice yields a team on fire.
California turned in its most complete performance of the year while dominating Utah 34-10 last weekend. The Bears, coach Jeff Tedford said, had a good week of practice. They seemed to hold onto their confidence, despite losing 30-9 to USC in their previous game -- a second-consecutive Thursday night blowout on ESPN.
Still, he didn't know that the Bears would come together in all three phases as they did against the Utes.
"I have no idea before the game if they are ready or not," Tedford said. "I've given up on that because sometimes you think they are really ready and they're not. And other times they're quiet and you think, 'These guys got to get ready!' And they play great."
The next step, of course, is doing it again, starting against UCLA in the Rose Bowl on Saturday. Or perhaps doing it even better.
Yet, as Cal fans are more than aware, consistency has been a big bugaboo for the Bears during recent seasons.
In 2009, a 3-0 start was followed by consecutive defeats to Oregon and USC by a combined count of 72-6. Then the Bears won three in a row again. Then they got drubbed 31-14 in Berkeley by Oregon State. They upset Arizona and Stanford. Then they lost to underdogs, Washington and then Utah in a bowl game.
Last season, it was the same. Whip UCLA 35-7, lose to USC 48-14. Blow out Arizona State 50-17. Fold at Oregon State 35-7. Nearly upset Oregon, then lose the last two games to finish 5-7, Tedford's first losing team.
Up and down. Hope and despair. Corners turned. Corners turned into oncoming traffic.
At 4-3, which isn't so bad, and 1-3 in Pac-12 play, which sorta is, Cal's season still could go either way. But there are reasons for hope, if you are in the mood for positive spin.
The Bears likely will be favored in their next three games. A potential four-game winning streak would get theme to seven wins -- and bowl eligibility -- before rugged road trips to Stanford and Arizona State to conclude the season.
Perhaps a confident team riding a winning streak might steal one of those, and suddenly it's a nice season with a bowl game ahead and great promise for 2012.
Ah, yes, but that scenario requires consistency, as in the Bears showing up like they did against the Utes in all three phases every weekend.
The foundation for hope that can happen was a strong, bounce-back effort from quarterback
Zach Maynard
against the Utes. After putting together progressively worse performances during the 0-3 start to conference play, Maynard showed mental toughness by shaking that off and playing well against the Utes. He completed 19 of 35 passes for 255 yards with a touchdown and no interceptions and he rushed for 36 yards and a score.
Long touted as a dual-threat, Maynard did much of his damage out of the pocket on roll-outs -- finally -- and forced a good Utes defense to account for him as a runner. It might be premature to play the "something clicked" card, but it's not far-fetched to entertain the notion.
"I think the game slowed down for him a little bit," Tedford said. "I think the week before he was trying a little too hard and forced a couple of things."
Tedford said that Maynard, who transferred from Buffalo last year, played with more composure, perhaps feeling more comfortable with the routines of preparation as well as the speed of the game in the Pac-12.
On the other sideline, UCLA looks like a team in disarray. Not only is coach Rick Neuheisel on the hottest seat in the conference, not only are the Bruins coming off an embarrassing 48-12 blowout loss at Arizona, but they also will have six players suspended from the game due to a brawl with the Wildcats: defensive tackle Cassius Marsh, offensive guard Albert Cid (first-half suspension) and wide receivers
Taylor Embree
,
Randall Carroll
,
Ricky Marvray
and
Shaquelle Evans
.
But Cal is not in position to take anything for granted. Tedford noted it will take a mature team to "not get complacent with one win."
Many Bears fans are taking the measure of their program this year. And that means taking the measure of Tedford.
Cal should win its next three games. If it does, things will cool down. If not, the grumbling around the program will only increase.
October, 22, 2011
10/22/11
10:01
AM ET
More often than not, a bar-room brawl is entertaining to watch -- in a bar room as well as just before halftime in a college football game -- but it almost always has bad repercussions for the participants.


And that's the case for the 10 Arizona and UCLA players who opted to
go nuts with 0:04 remaining before halftime
Thursday, immediately after a streaker interrupted play.
The Pac-12 announced suspensions for all 10 Friday night, and neither team has the depth to make the personnel hits not matter.
In the immediate aftermath of the fight, UCLA senior receiver
Taylor Embree
and Arizona sophomore cornerback Shaquille Richardson were penalized by on-field officials for unsportsmanlike conduct and ejected for fighting. The penalty, by NCAA rule, required the individuals to sit out the second half of the game.
In addition to the on-field penalties assessed to Embree and Richardson, and based on further review of available game footage, the Pac-12 extended an additional one-game suspension for both players.
The suspensions will occur during the next scheduled contest. Both teams play on Oct. 29: UCLA plays host to California, and Arizona is at Washington.
The Pac-12 also suspended eight other players who engaged in the on-field incident. Those penalties are as follows:
UCLA
Sophomore guard Alberto Cid - Half-game suspension
Sophomore wide receiver
Randall Carroll
- One-game suspension
Sophomore wide receiver Shaq Evans - One-game suspension
Sophomore wide receiver
Ricky Marvray
- One-game suspension
Sophomore defensive tackle Cassius Marsh - Two-game suspension (consecutive games)
Arizona
Senior cornerback Lyle Brown - Half-game suspension
Junior strong safety Mark Watley - Half-game suspension
Freshman nickelback Jourdon Grandon - One-game suspension
"The Conference is extremely disappointed in the actions of the student-athletes involved in this incident. It is unacceptable behavior and violated Conference rules, as well as NCAA fighting rules. I have taken these actions today because it is imperative that we hold our student-athletes and coaches to the highest standards of sportsmanship," Pac-12 commissioner Larry Scott
For UCLA, the suspensions will hit an already struggling passing game hard -- three receivers will be out next weekend. Arizona's secondary already has seen multiple starters lost to injury, so losing three defensive backs in advance of a visit to Washington, where it will face quarterback
Keith Price
and a deep crew of receivers, is especially troublesome.
In other words, these suspension hurt two teams that can't afford to be hurt.
LA Times
on the suspension
. The
Orange County Register
. And the
Tucson Citizen
.