Pac-12:

Alejandro Maldonado
March, 11, 2014
3/11/14
12:00
PM ET
Our look at position groups in the Pac-12 concludes with punters.

Arizona
:
Drew Riggleman
is back after handling all of the punting responsibilities last season. He averaged 40.1 yards per kick, pinned 18 inside the 20 and had 12 kicks of 50-plus yards. He ranked eighth in the conference -- though the difference between first (Utah's
Tom Hackett
) and Riggleman was an average of 3.4 yards.

Arizona State
: Punting was one of ASU's biggest issues last season.
Matt Haack
started to come on strong at the end of the season and will likely challenge
Alex Garoutte
, who averaged 38.8 yards per kick last season. Should Haack win the job, Garoutte is always an option with his rollout style. Quarterback
Taylor Kelly
has also been known to offer the occasional boot. He punted six times last season, once for 50-plus, and had three downed inside the 20.

California
:
Cole Leininger
is back after a very solid season for the Golden Bears, where he was tied for second in the conference with an average of 42.9 yards per kick. Cal has four punters on the roster in addition to Leininger. And while he's mostly unchallenged, there are plenty of backup options.

Colorado
: Third-team all-conference punter
Darragh O'Neill
returns and was a midseason Ray Guy candidate last season. He averaged 40.5 yards per punt last year and pinned 22 inside the 20.

Oregon
:
Alejandro Maldonado
handled the punting duties last season and made a couple of appearances as a kicker before the job went to
Matt Wogan
. Expect Wogan to handle all kicking responsibilities, though some walk-ons will also get looks.

Oregon State
:
Keith Kostol
is back as a third-year starter. He finished last season tied for fifth in the conference with an average of 40.5 yards per punt. He also put 23 kicks inside the 20.

Stanford
:
Ben Rhyne
returns to handle the punting duties for the Cardinal. He was one of the best in the conference last season with an average of 42.9 yards per kick -- just half a yard behind Hackett. He had 12 kicks of 50-plus yards and put 15 inside the 20.

UCLA
:
Sean Covington
is back after having a very solid season, where he posted an average of 42.6 yards per punt. Do-it-all quarterback
Brett Hundley
punted once last season, but it's safe to assume that Convington's job is secure.

USC
:
Kris Albarado
didn't post an impressive yards-per-punt average (37.1), but he was very good at pinning opponents, with 27 kicks inside the 20. And of his 64 kicks, almost half were fair-caught.

Utah
: Hackett was last season's first-team all-conference punter, so expect some preseason All-American hype for him. As noted earlier, he led the conference with an average of 43.4 yards per punt and buried 27 kicks inside the 20.

Washington
:
Travis Coons
pulled double-duty last season. In addition to nailing 15 of 16 field goal attempts, he also averaged 40.4 yards per punt and had eight kicks of 50-plus yards to go with 23 inside the 20.
Korey Durkee
did some punting in 2012 before Coons won the job, so he'll get the first look in 2014. Newcomer
Tristan Vizcaino
could also get looks at kicker and/or punter.

Washington State
:
Wes Concepcion
was the starter in the final two games as punter last season. With
Mike Bowlin
gone, he should be the favorite to handle punting duties full time. Concepcion punted 12 times last season for an average of 36.2 yards. Eight of those 12 were fair catches and three were inside the 20.
Previous positions
Kicker
Safety
Cornerback
Linebacker
Defensive end
Tight end
Quarterback
Running back
Receiver
Offensive line

Defensive tackle
March, 10, 2014
3/10/14
5:30
PM ET
Our look at position groups in the Pac-12 continues with place-kickers.

Arizona
:
Casey Skowron
,
Bret Miller
and
Michael Unzicker
are all in the mix this spring to replace
Jake Smith
, who converted 12 of 19 kicks (63.2 percent) last season, including a long of 53. The 12 converted field goals were the lowest in the conference, as was the conversion percentage.

Arizona State
: No team in the Pac-12 attempted more field goals in 2013 than the Sun Devils -- and
Zane Gonzalez
was one of the few bright spots for an otherwise dismal ASU special teams unit. The freshman All-American converted 25 of 30 attempts (83.3) and had a streak of 18 straight.

California
: With
Vincenzo D'Amato
gone (he was 17 of 20 last season), it's looking like
James Langford
,
Noah Beito
and
Matt Anderson
will all get looks. Langford might have the edge as the kickoff guy with Beito a potential early frontrunner for field goals.

Colorado
: Senior
Will Oliver
is back after converting 17 of 24 kicks last year (70.8 percent). He was perfect inside the 30 (7 of 7) and missed just once inside of 40 yards. Three of his misses came from 50-plus (2 of 5). He's a potential All-American candidate. Strong-legged
Diego Gonzalez
from Guadalupe, Mexico, is waiting in the wings.

Oregon
: Oregon's kicking adventures weren't as interesting in 2013 as they've been in the past. While the Ducks attempted the fewest field goals in the conference,
Matt Wogan
was a solid 7 of 9, and
Alejandro Maldonado
was 3 of 5 for a combined 71.4 percent -- seventh in the conference. Wogan returns and should be considered the frontrunner to handle all kicking duties, including punting.

Oregon State
:
Trevor Romaine
returns as a fourth-year starter after converting 14 of 20 attempts last season. He was mostly money inside of 40 yards, converting 11 of 13 attempts. But struggled on the longer kicks, converting just 2 of 5 between 40-49 yards and 1 of 2 beyond 50.

Stanford
:
Jordan Williamson
is back after connecting on 18 of 22 kicks in 2013, including a long of 48. Of his four misses, two of them came from 50 yards or longer, where he was 0 for 2. He was automatic inside the 30 and 15 of 16 inside of 40 yards. Time to finally put the 2011 Fiesta Bowl to rest. He's one of the league's most consistent kickers.

UCLA
:
Ka'imi Fairbairn
returns after a hit-and-miss year where he connected on 14 of 21 kicks with a long of 48. He had a stretch where he converted on eight in a row. But also had some inconsistent games (2 of 4 against Nebraska, 2 of 4 against ASU).

USC
:
Andre Heidari
had an up-and-down season. He struggled greatly in the 40-49 yard range, converting on just 3 of 8 kicks. Overall, he was 15 of 22, and his 2013 will most likely be remembered for his 47-yard game-winner against Stanford. Heidari also handled almost every kickoff, though punter
Kris Albarado
is available if needed.

Utah
: "Automatic"
Andy Phillips
returns after making quite the splash in his first season of football. The former skier became a household name -- well, at least a name in Pac-12 households -- after converting on the first 11 field goals of his career. He's got a big leg, converting on 9 of 11 from 40 yards or longer.

Washington
: No easy task replacing
Travis Coons
, who handled kicking and punting for the Huskies. He was the Pac-12's most accurate kicker in 2013, converting on 15 of 16 attempts.
Cameron Van Winkle
handled some kickoffs before an injury set him back, and
Tristan Vizcaino
comes in this fall and should be in the mix.

Washington State
: Strong-legged
Andrew Furney
is gone.
Wes Concepcion
and
Erik Powell
are the kickers on the roster. Powell was a walk-on, but the coaching staff is high on him. Concepcion likely will handle punting but could kick if needed.
Previous positions
Safety
Cornerback
Linebacker
Defensive end
Tight end
Quarterback
Running back
Receiver
Offensive line

Defensive tackle
January, 9, 2014
1/09/14
5:30
PM ET
We continue our
team-by-team review
of the Pac-12 with Oregon.
[+] Enlarge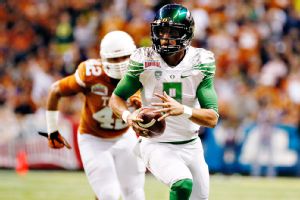 Soobum Im/USA TODAY SportsA healthy Marcus Mariota made a huge difference for the Oregon offense.
Offense
: Things were going pretty well there, for a while. The Ducks stormed out of the gates and scored at least 50 points in their first five games and in six of their first seven. Then
Marcus Mariota
quietly, partially, tore his MCL and Oregon's offensive decline was evident. They went from scoring an average of 57.5 points per game in the first seven to 31.3 over the final six. Still, they averaged more than 45 points per game, which was fourth nationally, and they were a top-10 rushing team and a top-25 passing team. All in all, the Ducks were again one of the most dominant offensive teams in the country. Obviously, as Mariota goes, so go the Ducks. In the first seven games, pre-injury, he was completing 62 percent of his throws with 19 touchdowns, zero interceptions and an adjusted QBR of 95.3. He also had nine rushing touchdowns. Post-injury, his completion percentage actually went up to 64 percent because he wasn't running, but that also means he had zero rushing touchdowns, 12 passing touchdowns, four interceptions and an adjusted QBR of 79.9 percent. Still, he finished as the national leader in adjusted QBR,
Byron Marshall
was a 1,000-yard rusher and
Josh Huff
and
Bralon Addison
were a vicious receiving duo. Aside from a couple of games, the Ducks offense was explosive and potent.
Grade: A
Defense
: Stanford and Arizona used similar tactics in their wins over the Ducks. Run, rinse, repeat.
Tyler Gaffney
carried the ball 45 times and
Terrance Mitchell
and
Ifo Ekpre-Olomu
were as advertised, combining for eight interceptions and
Derrick Malone
posted a team-high 105 tackles with two interceptions.
Avery Patterson
also pitched in three picks as the Ducks were plus-seven in turnover margin. But the lingering problem all year was third-down defense, where the Ducks allowed teams to convert better than 40 percent of the time -- which was 10th in the conference. In the games when things got tight, the defense wasn't able to get off the field.
Grade: B
Special teams
: The kicking game is always an, ahem, adventure, when it comes to the Ducks. But this year things were a little more consistent.
Matt Wogan
was a solid 7 of 9 and
Alejandro Maldonado
was 3 of 5. Though neither converted a kick beyond 40 yards (Wogan attempted only one and missed, Maldonado didn't attempt any). Plus, there were three missed PATs on the year (Wogan missed two, Maldonado one). Maldonado was solid at punting and the kick return and coverage teams were steady. Addison returned two punts for touchdowns and De'Anthony Thomas returned one kick for a score.
Grade: B+
Overall
: Again, we base a lot of these grades on what the expectation was versus where the team finished. And despite an 11-win season, the Ducks, once thought to be a national championship contender, failed to meet those expectations. In fact, they failed to make it to a BCS bowl game. The loss to Stanford was viewed as disappointing -- but certainly not shocking. The loss to Arizona was head-scratching. And from a public relations standpoint, the Ducks didn't have a great year. Still, they did win their bowl game and finished ranked in the top 10. There's something to be said for that. And we're in no way calling Mark Helfrich's first year as coach a bust. He won a bowl game in his first year – which Chip Kelly never did -- and probably learned a few lessons along the way. When you have a title-game-or-bust mentality, every loss is heart-wrenching. But we also understand that injuries can impact a team -- especially injuries to a Heisman-contending quarterback.
Grade: B.
November, 4, 2013
11/04/13
2:30
PM ET
I don't patronize bunny rabbits.
August, 21, 2013
8/21/13
7:00
PM ET
This is the 11th in a series looking at potential dream and nightmare scenarios for all Pac-12 teams.
Understand:
These are not predictions.
They are extreme scenarios and pieces of fiction. You can read
last year's versions here
.
We're going in reverse order of my
post-spring power rankings
(which might not be identical to my preseason power rankings).
Up next
: Oregon
Oregon coach Mark Helfrich
walks out of his fourth-floor office
inside the brand spanking new 145,000 square foot
Hatfield-Dowlin Complex
and takes his private staircase to his parking space in the garage below. As he reaches the garage, however, a door slides open behind him. He raises an eyebrow.

He turns and walks down the dimly lit corridor. He arrives at an elevator. It opens. He walks in. It descends, picking up what feels like incredible speed.
The elevator opens. His entire team stands before him. Helfrich raises an eyebrow.
"Guys," Helfrich says. "Is someone going to tell me what is going on or do I have to wait and read it on the Pac-12 blog?"
Replies quarterback
Marcus Mariota
, "Coach, it's time you learn the truth. Welcome to the Phil Knight Defense of the World facility, brought to you by Nike. The time of tribulation is here. Great danger rises in the Southeast."
The players part. Helfrich sees running back
De'Anthony Thomas
standing with his back toward him in front of a wall with a cantilevered display of
64 individual video screens
, each 55 inches on the diagonal, that can be combined into one display or 64 individual displays. He turns toward Helfrich, but Thomas' typically carefree, mellow expression has been replaced by one of great vexation.
Mariota says, "Coach, you know him as De'Anthony or DAT or Black Mamba. But his true name is Kal-El. He is the son of Jor-El."
Mariota takes in Helfrich's blank expression. "Not much of a comic book guy, huh, coach?" Mariota says. "What I'm saying is De'Anthony is Superman."
Replies Helfrich, "Well that explains a lot."
Thomas walks toward Helfrich,"The signs are all here," Thomas begins. "My keeper, Snoop Dogg, has changed his name to Snoop Lion, announcing his warrior spirit's arrival. The Evil Aliens known as SEC will be going for their eighth national title this fall. That's the sacred number. If they succeed, we're all doomed."
"Evil Aliens... you mean the SEC is a bunch of aliens?" Helfrich asks. "That explains a lot. And what's with the sacred number?"
"
Have you seen the movie Aliens
?" Thomas replies. "The SEC is entirely populated by aliens who are just like that, only uglier. And think about the number eight. You turn it on its side, it becomes the symbol for infinity. If the aliens, er, SEC wins the national title this year, college football as we know it will end. The aliens, er, SEC will dominate.... for infinity!"
Orchestral music booms from above: Daaaaaaa Taaaaaa Dummmmmm! Ducks center
Hroniss Grasu
elbows Helfrich and whispers, "That music was my idea."
Oregon blows out Nicholls State 77-0 and travels across the country to rip Virginia 44-10. Tennessee comes to Autzen Stadium.
Defensive coordinator Nick Aliotti notices that Helfrich seems agitated during a coaches meeting.
"Mark, you look agitated," Aliotti says. "You're worried about that bunch of Volunteer aliens being right in our back yard, right? Don't worry. DAT won't let anything happen. And Uncle Phil built us this Death Starr looking building to protect the sacred scrolls."
Replies Helfrich, "You knew about this?"
"Heck, yeah!" Aliotti says. "Know that florescent sign in our new dining hall -- '
Eat your enemies and the other food groups
.' That was mine. My thinking was the aliens in the SEC want to eat us. What if we eat them first? Ha!"
Helfrich raises an eyebrow.
Oregon buries Tennessee 45-10. Afterwards, Thomas leads Helfrich back into the Phil Knight Defense of the World facility.
Says Thomas at the entryway, "Ifo Ekrpe-Olomu...
Boseko Lokombo
." The doors open. Explains Thomas, "Passwords. And just fun to say."
Thomas hits a button to rewind surveillance tape. Video cameras pick up a man in a black trenchcoat with receding gray hair slipping into the Ducks football building. When a locked door prevents his advance, he leaps into the air, turns upside down and adheres to the ceiling. He then scampers like a cockroach toward an air vent.
Thomas smiles. "Hello, Mike Slive," he says. "Watch this." The ceiling begins to glow red. Slive lets out a cry and falls to the ground.
"Wow, heated ceiling, that's cool," Helfrich says. "So is the SEC commissioner like Dark Lord Sauron, Emperor Palpatine and Lord Voldemort all rolled into one ruler of the evilest of evil empires of aliens!"
"Er, no," Thomas says. "
That's so August of 2012
. Someone else leads the aliens. The Saban."
Oregon whips California and Colorado, with Mariota's five touchdown passes giving him 14 for the season. Up next: A trip to Washington.
"All the Pac-12 teams are united with us against the aliens... except Washington," Mariota tells Helfrich. "You know what '
Washington Huskies
' means in the alien language? Of course you don't. It means, 'Evil, horrible, no-good, ugly, purple team.'"
"That explains a lot," Helfrich says.
The Ducks batter Washington 38-17, winning their 10th consecutive game in the series by at least 17 points. Oregon rolls over Washington State and slips UCLA 28-21 to improve to 8-0.
Kevin Gemmell
: No. 2 Oregon versus No. 3 Stanford, both unbeaten, the winner puts itself in position to play for the national title. Clearly the biggest Thursday night game on ESPN in history.
Ted Miller
: Hab SoSlI'Quch! NuqDaq 'oH puchpa''e'.
Gemmell
: That's Klingon, not alien.
It's a dynamic, physical contest of contrasting styles that is 20-20 at the end of regulation. The teams match touchdowns in the first overtime, with Thomas going 17 yards on a third and five for the Ducks TD. A diving interception from
Ifo Ekpre-Olomu
ends Stanford's possession in the second overtime, but
Trent Murphy
tackles Mariota for a 5-yard loss, forcing the Ducks to try a 47-yard field goal for the win.
Announcer
: Ducks backup kicker
Alejandro Maldonado
doesn't have a good history when it comes to clutch kicks, but injury to the starter has him facing a huge one here. He missed big ones against USC in 2011 and Stanford in 2012.
Helfrich grabs Maldonado: "I got two things for you," he says. "First, keep your celebration reasonable. Don't do anything loopy and get hurt. And, second, whatever you do, do not think about Daffy Duck."
Maldonado walks out of the huddle and lines up his kick. "What did he mean by Daffy Duck?" he thinks. "Daffy Duck... funny voice. I wonder if I can do that voice. Daffy Duck, Daffy Duck."
The kick is good. Oregon wins, though the postgame handshake with the Cardinal players seems unusually warm and solemn. The same can be said of the final three games and Pac-12 title game, with the Ducks rolling through Utah, Arizona and Oregon State, then beating Arizona State for the Pac-12 title.
That sets up the national title game: No. 1 Alabama vs. No. 2 Oregon. Both 13-0.
Thomas sits alone in the Phil Knight Defense of the World facility. He watches a blinking light. It says "telephone intercept." The computer screen reads, "Call from Birmingham to Tuscaloosa." Thomas presses the button. He listens. A voice hisses, "Bring back national title. Priority One. All other priorities rescinded."
Then, after a pause, the voice starts again, "I can't lie to you about your chances, De'Anthony -- or should I say, Jor-El -- but ... you have my sympathies." The line cuts off.
Gemmell
: Oregon has the size, speed and talent to beat Alabama. Helfrich has proven himself as a leader. I think the Ducks are plenty confident. They certainly won't be intimidated.
SEC pundit
: You still don't understand what you're dealing with when you play an SEC champion, do you? Perfect organisms. Their structural perfection is matched only by their hostility.
Alabama ties the game 19-19 with a touchdown and 2-point conversion. Oregon takes over with 2:33 remaining. On first and 10 from the Ducks 40, Thomas is tackled after a 6-yard gain.
Announcer
: Thomas gets back up ... he gets back up ... was he not on the ground? The Crimson Tide is saying wait a minute, he was down.
Thomas' 37-yard gain gives Oregon a first and 10 on the Alabama 23. Four plays later, Oregon and Maldonado line up for a 19-yard field goal.
Maldonado
: Daffy Duck, Daffy Daffy Duck, Daffy Freaking Duck.
Good.
Oregon wins the 2013 national championship. The universe is saved.
As punishment for allying with evil aliens, it is decreed that all Washington fans must say, "The
Oregon Ducks
rule!" before they speak for five years.
Worst case
Oregon has little trouble with Nicholls State and a road trip to Virginia as the Ducks coast to a 2-0 start.
Gemmell
: It looks like business as usual for Oregon under Mark Helfrich.
Ted Miller
: Maybe. But losing at home to an SEC bottom-feeder would be really embarrassing for the Ducks and for the Pac-12.
Tennessee rushes for 225 yards against the Ducks, and the Volunteers big, fast SEC defense thwarts QB Marcus Mariota and company in a 20-17 upset victory.
SEC fans
: We're not surprised. That was big-boy football. The SEC is just too big and too fast and too good and too tough and too too too awesome for the lil' old Pac-12.
Pac-12 fans
: [Irritated silence... with chirping crickets].
The Ducks bounce back with blowout wins over California and Colorado. They are crawling back up the rankings as they head to unbeaten Washington to play their first game in newly remodeled Husky Stadium.
Washington wins 41-7. Heisman Trophy candidate
Bishop Sankey
rushes for 225 yards, while Heisman Trophy candidate
Keith Price
passes for four touchdowns. Lombardi Award candidate
Shaq Thompson
has three sacks.
"Well, they'd beaten us nine times in a row by at least 17 points," coach Steve Sarkisian says after the game. "But by winning by 34, do we get two of those back?"
The Ducks bounce back with wins over Washington State and UCLA. They are a respectable 6-2, but they aren't the finely tuned -- and optimally confident -- team they were under Chip Kelly. That's made clear when they surrender a 10-point lead in the fourth quarter at Stanford and lose 27-24.
Oregon bounces Utah, but, perhaps looking ahead to No. 5 Oregon State, they lose five turnovers in a 33-30 loss at Arizona.
"It hasn't been the season we expected," Helfrich says. "But a lot of those growing pains will feel better if we can beat Oregon State in the Civil War. That's clearly the biggest game on our schedule every year, our season's Super Bowl. Hypothetically, a win there should satisfy fans. OK, now let me give you guys the injury report."
Beavers quarterback
Sean Mannion
throws four touchdown passes in a 35-20 win, ending a five-game losing streak in the series.
The Ducks lose to Baylor in the Holiday Bowl to finish 7-6. Mariota leads a list of eight players who opt to enter the NFL draft early, including De'Anthony Thomas, Ifo Ekpre-Olomu and Terrence Mitchell.
Oregon State beats Texas in the Fiesta Bowl to finish 12-1 and ranked third.
Arrion Springs
and
Royce Freeman
switch their commitments to Washington.
Washington, after going 1-2 in the Heisman Trophy vote, beats Alabama to win the national championship, with Heisman winner Keith Price throwing for three scores and running for another in a 35-10 win.
The universe is saved.
It is decreed that all Oregon fans must say, "Washington is back on top!" before they speak for five years.
Previous "Best case-worst case" posts
California
Washington State
Colorado
Utah
Arizona
USC
Oregon State
Washington
UCLA
Arizona State
November, 20, 2011
11/20/11
1:55
AM ET
EUGENE, Ore. -- This is most strange. The ball didn't go where it was supposed to go. The kick went to the left of the yellow pole, the clock ran out and the Autzen Stadium scoreboard said, "
USC 38, Oregon 35
."
We now know what disbelief sounds like.
This wasn't the storybook ending summoned by 59,933 with their collective knowledge that Oregon and Chip Kelly don't waste amazing comebacks. It had been 38-14 in the third quarter, and all was lost. Then it felt certain Oregon was going to win after an unanswered 21-point barrage that was vintage Ducks.
Ah, but this weekend certainly taught us -- again -- that there are no sure things in college football.
"The game comes, the game goes," Kelly said. "It's about making plays."
Both USC and Oregon made a lot of them -- good and bad -- but the Trojans ended up celebrating when the Ducks' final 16-play, 66-yard drive ended with a missed 37-yard field goal from Alejandro Maldonado.
For the first time in 21 games, the Ducks lost in their home stadium. For the first time in 19 conference games, the Ducks lost, period. And for the first time in two years, the Ducks are out of the national title race.
Oregon can't spend too much time shaking its collective fist at the heavens. It now needs to beat Oregon State at home on Saturday to sew up the Pac-12 North championship. While missing out on a second consecutive national title game is a bummer, as consolation prizes go, the Rose Bowl is pretty darn good.
As for USC, it doesn't get a postseason, but it gets a red-letter victory for coach Lane Kiffin and quarterback
Matt Barkley
, who tossed four touchdown passes as the Trojans jumped all over the Ducks for two and a half quarters. They improved to 9-2 and 6-2 in conference play. If they beat rival UCLA next weekend, they would end up atop the South Division, even if NCAA sanctions ban them from enjoying the fruits of that. Further, they could knock UCLA out of the title game while finishing with 10 victories.
"To break the longest home winning streak in the country says a lot about this team and how far they have come," Kiffin said.
USC went three-and-out twice and fumbled on its first three possessions, but a 59-yard bomb from Barkley to freshman
Marqise Lee
ignited the offense. Barkley completed 26 of 34 passes for 323 yards. With
Robert Woods
hurting -- ankle and shoulder injuries -- Lee became the go-to guy, hauling in eight passes for 187 yards.
[+] Enlarge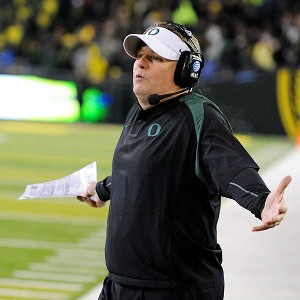 Steve Dykes/Getty ImagesChip Kelly and Oregon lost at home for the first time in 21 games, to a Pac-12 foe for the first time in 19.
USC stormed ahead 38-14 with 3:28 left in the third quarter. Only then did the Ducks wake up. Or, more accurately, freshman
De'Anthony Thomas
woke up the Ducks and Autzen Stadium with a 96-yard return of the ensuing kickoff for a touchdown.
The Ducks got a defensive stop and drove 75 yards for a touchdown in 2:16. With its lead cut to 11, USC seemed to tighten up. Barkley threw his only interception to John Boyett, and Oregon drove 60 yards for another TD. After a two-point conversion, the Trojans' lead was just three.
"It wasn't fun seeing the score go in the wrong direction," Kiffin said.
The Trojans drove to the Oregon 11-yard line as the clock dipped inside of three minutes. But Barkley and running back
Marc Tyler
fumbled a handoff exchange, and that set up Oregon's final -- and ultimately unsuccessful -- drive.
"You're going to lose," Kelly said. "None of us have delusions we're not going to lose in Autzen Stadium."
The Ducks earned a first down on the Trojans' 32-yard line with 38 seconds left with three timeouts. In fact, the Trojans called timeout to regroup. After 9- and 5-yard runs from
Kenjon Barner
, who led the Ducks with 123 yards on 15 carries, the Ducks had a first down on the 18 with 20 seconds left. That, typically, is an eternity to Oregon. But not this time. The well-oiled machine seemed to get some sand in its gears. An incompletion and a pass that lost 2 yards eliminated a game-winning touchdown as an option.
"What you don't want to do in that situation is force it," Kelly said.
Or miss the tying field goal that would keep your national title hopes alive.
"I don't know how to explain how we feel right now -- this hurts," Oregon receiver
Josh Huff
said. "We just thought we were going to come in and run over them, but they came out hard and we lost."
It was USC's first victory in the state of Oregon since 2005. It was the first time Kelly lost to a team that had just one week to prepare.
All of it felt a bit weird, but that's college football. Its capacity to astound is part of its appeal.
Unless, of course, your team just saw the ball go wide left.
August, 17, 2010
8/17/10
6:33
PM ET
By
ESPN.com staff
| ESPN.com
The ink dries on the national letters of intent and the recruiting class rankings are handed out, then the real business begins: Which true freshmen are ready to play right now?
Here's an early list for every Pac-10 team.
A caveat: This is hardly a scientific survey, evaluations are still in their early stages and I've only personally seen a handful of these guys play. These names are here because of news reports and comments from coaches and other observers (sports information directors also chipped in).
Further, some schools will start or play a lot of freshmen -- USC and UCLA for example -- while that doesn't appear likely for other schools (Oregon State may only use freshmen on special teams).
So here we go.
Arizona

CB
Shaquille Richardson
, S
Marquis Flowers
Note:
Frosh will bolster the Wildcats secondary. Richardson was kicked off UCLA's team for being one of three freshmen who allegedly tried to steal a purse. Coach Mike Stoops told the Arizona Daily Star that Richardson is "as good a corner as I've coached at this young stage."
Arizona State

RB
Deantre Lewis
, WR
Kyle Middlebrooks
Note
: Lewis turned in a good scrimmage over the weekend for an offense that needs playmakers. Middlebrooks should at least get into the rotation and may return punts.
California
WR
Keenan Allen
, WR
Kaelin Clay
, WR
Tevin Carter
, LB
David Wilkerson
Note
: Receiver is a need position for the Bears -- not all of the passing game struggles can be hung on QB
Kevin Riley
. All three likely will be in the rotation, with Allen a candidate to start. Wilkerson is pushing for time at OLB.
Oregon
DT
Ricky Heimuli
, K
Alejandro Maldonado
Note
: The 320-pound Heimuli offers a big body in the middle of the D-line. Maldonado is in the thick of the race to start at kicker. (The two touted frosh RBs could get into the mix, but No. 3 is deeper than we want to go).
Oregon State

WR
Kevin Cummings
, LB
Michael Doctor
Notes
: No true freshman has cracked the Beavers two-deep and both of these guys are grayshirts. Cummings could get into the rotation at flanker behind
James Rodgers
. Both are expected to play special teams.
Stanford
CB
Barry Browning
, S
Devon Carrington
Note
: Browning is the highest true freshman on the depth chart at present, though he's not with the first-team, according to Jim Harbaugh. He and Carrington could provide help in a questionable secondary.
UCLA

SS
Dietrich Riley
, F
Anthony Barr
, OG
Chris Ward
, DT
Cassius Marsh
, DE
Owa Odighizuwa
Notes
: This list, by the way, could have been much longer. The Bruins signed a strong recruiting class last February and a lot of those guys will play this fall. Riley, Barr and Ward are in the mix to start.
USC

WR
Robert Woods
, RB
Dillon Baxter
, WR
Markeith Ambles
, CB
Nickell Robey
Notes
: Woods may end up starting, and Baxter has been a spectacular playmaker since he showed up during spring drills, though he's suspended for the opener. Robey is the leading candidate to be the nickelback.
Washington
RB
Jesse Callier
, S
Sean Parker
, DE
Hau'oli Jamora
, TE
Michael Hartvigson
Note
: It doesn't appear at this point that any of these four will start, but they each are expected to play. Callier steps to the fore with
Deontae Cooper
out with a knee injury. Jamora and Hartvigson provide depth at need positions.
Washington State

WR Marquiss Wilson, WR
Kristoff Williams
, OT
John Fullington
, LB
C.J. Mizell
, DT
Kalafitoni Pole
Notes
: All five of these guys will play. Fullington has seen some action with the first-team. Mizell might be the Cougars fastest LB.
August, 9, 2010
8/09/10
8:30
AM ET
By
ESPN.com staff
| ESPN.com
Oregon opens preseason camp today. Here's a quick look.
Who's back
: Nine starters on offense, eight on defense, P Jackson Rice
Big names
: RB
LaMichael James
, LT Bo Thran, WR
Jeff Maehl
, DE Kenny Rowe, LB Casey Matthews, DT Brandon Bair
What's new
: The Ducks staff returns intact for Chip Kelly's second year as head coach. They will be breaking in a new QB after Jeremiah Masoli was given the boot.
Key competition
: The QB battle between senior
Nate Costa
and sophomore
Darron Thomas
will be the conference's most-watched competition. Things also are uncertain at left cornerback, where freshmen Terrance Mitchell and Avery Patterson eclipsed the more experienced Cliff Harris during the spring. There's an "Or" between
Dion Jordan
and
Terrell Turner
on the depth chart at defensive end. And things are unresolved at kicker, where Rob Beard will try to hold off freshman Alejandro Maldonado, who has Lady Gaga in his corner.
Breaking out
: The 6-foot-7 Jordan is an intriguing talent. James' backup
Kenjon Barner
, a dynamic athlete, will get plenty of touches. Maehl surged late last season and could turn in an All-Conference season. While listed as a backup, LB Michael Clay has consistently drawn raves. FS John Boyett, LB Spencer Paysinger and DT Brandon Bair also appear poised to be in the All-Conference picture.
Quote
: Kelly on the QB competition: "It's always a question mark when you lose your quarterback. We have two competent players in Nate Costa and Darron Thomas who will battle it out in preseason camp. Both are prepared and worked really hard for it. All of our offensive line, receivers and running backs are back. They will have a supporting cast around them."
Notes
: James and Beard will be suspended for the season-opener against New Mexico because of off-field issues... Talented backup LB linebacker Kiko Alonso was suspended for the season after he received a DUI... Receivers
Tyrece Gaines
and
Diante Jackson
were both declared academically ineligible and are not expected to return to the team... Receivers receiver
Jamere Holland
and
Garrett Embry
also were dismissed from the team.
July, 30, 2010
7/30/10
10:36
AM ET
By
ESPN.com staff
| ESPN.com
A good kicker solves a lot of problems. An inconsistent one makes everyone anxious, particularly late in tight games.
The Pac-10 will feature two of the best kickers in the nation -- two Lou Groza Award winners, no less -- in 2010, but for a handful of schools, the position is questionable.
So, who stands where?
Great shape
UCLA: Kai Forbath is the best kicker in the country. The first-team All-American and 2009 Groza Award winner is practically automatic, even outside 50 yards.
Arizona State: Thomas Weber suffered through a lost 2009 season because of injuries, but when healthy the 2007 Groza Award winner is a potential All-American.
Oregon State: Justin Kahut earned second-team All-Pac-10 honors in 2009 after converting 22 of 27 field goals with a long of 50 yards.
Washington: Erik Folk bounced back from two injury-plagued years to connect on 18 of 21 field goals in 2009.
Good shape
Stanford: Nate Whitaker made 16 of 22 field goals last year, which is solid, but his 54-yarder against Wake Forest was the longest in the conference last season.
Arizona: As a sophomore, Alex Zendejas was true on 17 of 22 field goals with a long of 47 yards.
We'll see
California: Cal used two kickers last season -- Giorgio Tavecchio and Vincenzo D'Amato -- but neither was consistent.
Washington State: Nico Grasu was solid in 2008 -- booting the game-winner in the "Crapple" Cup against Washington -- but he faded in 2009, missing the final four games with a thigh injury.
Oregon: The Ducks are replacing the reliable Morgan Flint. Rob Beard and incoming freshman Alejandro Maldonado are the top candidates for the spot.
USC: Unproven seniors Joe Houston and Jacob Harfman are competing to replace Jordan Congdon, the seventh-best kicker in the conference in 2009.
May, 7, 2010
5/07/10
9:00
AM ET
By
ESPN.com staff
| ESPN.com
Oregon

2009 overall record
: 10-3
2009 conference record
: 8-1 (conference champion)
Returning starters
Offense: 9, Defense: 9, punter/kicker: 1
Top returners
: RB
LaMichael James
, WR
Jeff Maehl
, OT Bo Thran, DT Brandon Bair, DE Kenny Rowe, LB Casey Matthews, LB Spencer Paysinger
Key losses
: QB
Jeremiah Masoli
, TE Ed Dickson, DE Will Tukuafu, FS T.J. Ward
2009 statistical leaders (*returning starter)
Rushing
: LaMichael James* (1,608)
Passing
: Jeremiah Masoli (2,147)
Receiving
: Jeff Maehl* (696)
Tackles
: John Boyett* (90)
Sacks
: Kenny Rowe* (11.5)
Interceptions
: Talmadge Jackson* (4)
Spring Answers
1.
The secondary is deep
: Injuries forced the Ducks to use a lot of young players in the secondary in 2009. The payoff this fall should be what amounts to four returning starters and some experienced backups. But, hold your horses. A number of youngsters, including hotshot freshmen such Terrance Mitchell, were impressive this spring and could eclipse those with starting experience.
2.
Position changes worked
: Eddie Pleasant moved from linebacker to safety and he's in line to start after showing a good learning curve for playing in space.
Dion Jordan
switched from tight end to defensive end and he looks like a potential breakout player -- particularly as a pass rusher -- in 2010.
3.
Tight end looks good
: One of the questions entering spring was replacing All-Pac-10 tight end Ed Dickson. It appears that
David Paulson
, Dickson's backup last year, and JC transfer
Brandon Williams
are ready for their close-ups. In the fall, touted freshman Curtis White arrives and could play his way into the mix.
Fall questions
1. Who's the starting QB
? Think this is a big one? It seems as though senior
Nate Costa
and sophomore
Darron Thomas
are about even at the end of spring, which means this will be one of the more closely watched competitions in the nation. Sure would have been easier if Jeremiah Masoli had... oh, never mind.
2.
How good is the defense
? While many see Oregon as an offensive power, the Ducks were underrated on defense last year and expect to be better this fall. How much better could determine whether they win the Pac-10 title and finish in the nation's top-10.
3.
Who's the kicker
? While it's not a spotlight position like quarterback, the competition at kicker is just as undecided. Will it be between Rob Beard, the 2009 kickoff specialist, and incoming freshman Alejandro Maldonado?
February, 4, 2010
2/04/10
3:55
PM ET
By
ESPN.com staff
| ESPN.com
Washington's
class of 30
ranked 20th in the country and featured one ESPNU 150 player.
It was another big step forward for the program and second-year coach Steve Sarkisian.
"It's a very complete class from front to back when you talk about 16 players on offense and 14 on defense," Sarkisian said. "It's one that can help us immediately and have an impact this fall for us in 2010 but also when we look at 2011, 12, 13 down the road.''
Top prospects
: Safety
Sean Parker
is likely to immediately work his way into the starting lineup.
Nick Montana
is the quarterback of the future. "The apple doesn't fall far from the tree," Sarkisian said of Montana in relation to his father, some guy named "Joe." Receiver
Jamaal Kearse
and running back
Deontae Cooper
may earn playing time, though likely as reserves.
Sione Potoa'e
should work his way into the rotation on the defensive line. At least a couple of the class' six linebackers will play next year.
Under the radar
: Sarkisian is very high on offensive tackle
James Atoe
. How high? He said Atoe "is a potential top-five NFL draft pick." Sarkisian called cornerback
Greg Ducre
a "tremendous man-to-man cover corner and that's what we want to get more to playing is man coverage.''
Issues?
When a team that went 0-12 a season ago signs a top-20 class, there really aren't many issues, particularly with a class this big that hits just about every position. The biggest disappointment might be losing kicker
Alejandro Maldonado
to Oregon.
Notes
: Cooper has already enrolled ... Montana, running back
Jesse Callier
and linebacker
Victor Burnett
are planning to enroll early and participate in spring practices. ... Two members of the class have older brothers on the current Husky team: Zach Fogerson's brother Johri is a running back and Jamaal Kearse's brother Jermaine is a wide receiver. ... Cooper Pelluer's father, Scott, is a former UW assistant coach and his uncle, Steve, was a standout quarterback for the Huskies in the 1980s.