May, 17, 2011
5/17/11
10:00
AM ET
Every team has hope heading into the offseason. And every team has concerns.
Ergo, we're going to run through the conference and look at the chief matters -- on the up and downside -- for each Pac-12 team.
Next up:
California
Biggest reason for hope
: The band is back together on the coaching staff.

When California surged out of the Pac-10 cellar and challenged USC for conference supremacy, Jeff Tedford was calling plays, Jim Michalczik was coaching the offensive line and Eric Kiesau oversaw the receivers. In those days, the Bears offense was potently balanced between the run and pass and, most important, it was feared. That hasn't been the case of late, and perhaps part of that drop-off was due to the departures of Kiesau in 2005 and Michalczik in 2008. Well, the reunion tour starts in 2011. Tedford not only will call plays but he will take a strong role with the quarterback coaching, such as attending all meetings. Michalczik is back coaching the line but also is the coordinator, while Kiesau oversees the passing game and running backs coach Ron Gould is the running game coordinator. These guys have worked well together in the past, so it's perfectly reasonable to believe they will do so again.
Biggest reason for concern
: Two letters: QB
Of course, even the best coaches can't do much without talent, and it's even more challenging for a team to play at a high level without a talented quarterback. Quarterback has transformed from a Cal position of strength -- Kyle Boller, Aaron Rodgers, early Nate Longshore -- to a position of inconsistency and even weakness. Tedford cut his quarterback competition down to three guys fairly early in spring practices: Zach Maynard,
Brock Mansion
and Allen Bridgford and then it became clear that Maynard was ahead because he was seeing the most action with the No. 1 offense. Maynard, a transfer from Buffalo who is also the half-brother of receiver
Keenan Allen
, is a run-pass threat whose potential has obviously intrigued Tedford, who's typically been more of a QB-in-the-pocket sort of coach. If the Bears get solid play at QB, they will be contenders in the Pac-12 North Division. If they don't, they could finish near the bottom.
May, 9, 2011
5/09/11
12:30
PM ET
It's been a year of big stories in the Pac-12, starting with expansion and continuing with Oregon falling just short of the program's first national title.
The biggest story this spring? Again, it didn't happen on the field. It happened in the boardroom: It was announced on Wednesday that the conference had signed the richest TV contract in college sports history, one that will pay the conference an average of $250 million annually over the next 12 years.
That monumental announcement came after all the spring games had been played. But what happened on the field?
" Three schools entered spring practices with intrigue at quarterback, and only one emerged with few answers: UCLA, where a battle remains among
Kevin Prince
, who missed spring practice with a knee injury,
Richard Brehaut
and true freshman Brett Hundley.
[+] Enlarge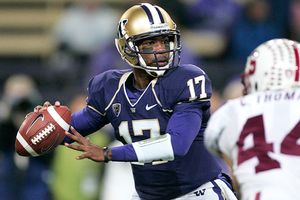 Joe Nicholson/US PresswireWashington's Keith Price beat out Nick Montana for the starting quarterback job this spring.
There's no such indecision at Washington, which went so far as to announce
Keith Price
as its No. 1 quarterback over
Nick Montana
. California provided no such announcement, but Zach Maynard emerged as a clear leader over
Brock Mansion
and
Allan Bridgford
.
Oregon and Stanford have no such quarterback issues, and they began spring practices as the clear leaders in the conference based on what they did last season and what they have coming back. Both figure to be ranked in the national preseason top 10, perhaps in the top five. Both will play next fall in the conference's North Division, which means at least one can't play for the Pac-12 championship.
"Everybody on the West Coast knows that you have to beat Oregon if you want to do anything out here," Stanford quarterback
Andrew Luck
said.
" Big questions for Oregon and Stanford: The Ducks have issues on their offensive line, the Cardinal on their defensive line.
" Luck is playing for the only new coach in the old Pac-10. David Shaw replaces Jim Harbaugh, who bolted for the San Francisco 49ers. One session of spring practices won't be enough to reveal the big-picture meaning of that transition, particularly with Shaw continuing to hold closed practices.
"There will be subtle differences," Shaw said. "But the biggest thing is the mentality is not going to change. We played with an attitude, a mentality, a certain amount of toughness and physicality. That's not going to change. Coach Harbaugh and I are different personalities. But when it comes down to it, we are ball coaches who believe in tough, hard-nosed, physical football. We believe that's what's going to win and what Stanford football should be known for."
" As for the two new teams, Colorado and Utah, the Buffaloes fired Dan Hawkins and hired Jon Embree, who led a physically demanding spring session intended to show his players that a new sheriff was in town. But the transition from the Big 12 to the Pac-12 doesn't figure to be too dramatic, other than giving fans much better road trips. Over in Salt Lake City, Utes coach Kyle Whittingham considered the transition from the non-automatic-qualifying Mountain West Conference to the Pac-12, which will be an interesting measuring stick in the fall.
"The week-in and week-out level of competition is ratcheted up," Whittingham said. "There are some excellent football teams in the Mountain West Conference -- TCU last year. Not to downplay or disrespect anything that's going on in the Mountain West, but we're convinced the weekly challenges will be much more difficult than they have been in years past for us."
" A big change at Utah? The arrival of offensive coordinator Norm Chow after he fell out of favor at UCLA. But that didn't yield much fruit for the Utes this spring, in large part because quarterback
Jordan Wynn
was sidelined with a shoulder injury.
" Injuries were an issue on many campuses. USC, for one, was missing 12 players from its two-deep depth chart for all or some of the spring. Still, the Trojans might have lucked out. Arizona, Arizona State, Oregon State and UCLA saw injuries to their potential starting players that will jeopardize all or at least a portion of their 2011 seasons. The Beavers, for example, don't know whether receiver
James Rodgers
will be able to play after a serious knee injury last fall.
" On the noninjury, off-the-field side: Oregon's potential starting middle linebacker, Kiko Alonso, who was projected to replace Casey Matthews, was suspended indefinitely after he was arrested the day after the spring game. It's his second suspension in as many seasons.
Ultimately, every team heads into the offseason with the same hopeful mindset.
Said Luck, "The mindset is still very, very hungry. The price never decreases in football."
April, 11, 2011
4/11/11
8:02
PM ET
BERKELEY, Calif. -- California has something sort of old and something sort of new this spring on both sides of the ball.
On defense, Clancy Pendergast is back for his second season coordinating the Bears defense. On offense, Jim Michalczik is back in town after spending a couple of years with the Oakland Raiders. Pendergast turned in a successful first campaign, with his more aggressive version of a 3-4 scheme ending up ranked third in the Pac-10 in scoring and first in total defense. And from 2002-2008, Michalczik might have been the best offensive line coach in the conference.
Here are some notes from chats with both coordinators as well as head coach Jeff Tedford.
Other than a blowout loss to Stanford, the Bears defense turned in its best work in November, most notably holding Oregon to just one offensive touchdown in a 15-13 Ducks win. Pendergast didn't think that was a coincidence: "I think our guys trusted the system, trusted each other. Had better eyes. All those things." As for year two, the longtime NFL coach, probably has a better grasp on some of the quirky offenses he'll face in the conference. "Anytime you go into a second year, you're going to be more comfortable," he said.

Pendergast on former defensive end Cameron Jordan, who is expected to be a first-round NFL draft pick on April 28: "He'll be solid, consistent player at next level who can do a lot of different things."

[+] Enlarge

Chris Morrison/US PRESSWIRECal's Clancy Pendergast expects to be more comfortable coaching against Pac-12 offenses in his second season.

Pendergast is clearly high on the incoming freshmen. He repeatedly mentions them -- first and last names -- when talking about his potential depth chart. When asked if he expects a handful to play, he said, "No question." Names he -- and later Tedford -- mention: defensive tackle Todd Barr, defensive tackle Viliami Moala, defensive end Brennan Scarlett, and cornerbacks Stefan McClure, Joel Willis and Kameron Jackson.

The top three defensive ends are Trevor Guyton, Deandre Coleman and Ernest Owusu. At nose tackle, both Aaron Tipoti and Kendrick Payne are out with shoulder injuries. Guyton has had a good spring, while Tedford said, Coleman "should be much better this year."

The inside 'backers are Mychal Kendricks, who put up huge numbers last fall playing outside, and D.J. Holt, also a returning starter. As for Kendricks move inside, Pendergast said, "He's probably a better fit as a stack inside linebacker than an outside linebacker."

There will be two new starters at outside linebacker. At present, Ryan Davis and David Wilkerson (strongside) are with the ones, with Chris McCain, Cecil Whiteside and Lucas King providing depth.

In the secondary, Marc Anthony and Steve Williams are the corners. The depth appears unsettled -- see Pendergast and Tedford both listing three freshmen who are not on campus yet as being in the mix. Pendergast seemed most pleased with Anthony, whom he said was playing physically and with a lot of confidence. At safety, there's Sean Cattouse and D.J. Campbell, with Adrian Lee, C.J. Moncrease, Alex Logan and Michael Coley earning note. It's hard to say if true freshman Avery Walls, who's participating in spring practices, will get into the mix.

On offense, Michalczik is mostly focused on the offensive line. Tedford will call plays this fall and is working with the quarterbacks as well, while receivers coach Eric Kiesau is the passing game coordinator and running backs coach Ron Gould is the running game coordinator. So there will be plenty of input on offense.

Michalczik wouldn't commit too much on the offensive line: "We've got some young guys and we've got some time," he said. Left tackle Mitchell Schwartz and center Dominic Galas are likely starters, but both are sitting out with injuries. Matt Summers-Gavin has bounced from guard to right tackle. Brian Schwenke and Justin Cheadle are the No. 1 guards at present. Youngsters to watch include Chris Adcock and Mark Brazinski at center, as well as Alejandro Crosthwaite, Bill Tyndall and Tyler Rigsbee.

Marvin Jones and Keenan Allen are set at receiver, but the No. 3, 4 and 5 options are not. Michael Calvin -- yes, him again -- Coleman Edmond and Kaelin Clay earned note from Tedford, who said of Clay, "He's been very good, very fast, brings big-play potential."

Tedford isn't very happy at running back behind Isi Sofele. His highest praise goes to walk-on Mike Manuel, who was impressive in the scrimmage Saturday. Injuries are a big issue at the position, but it seems as though Tedford isn't happy with the group, which includes a number of touted recruits. "As of right now, it looks like to me we are going to have to rely on younger guys who are coming in," he said.

Quarterbacks? It's still wide open, but it shows how serious Zach Maynard's candidacy is that Tedford said he doesn't expect to announce a starter until well into fall camp, specifically because he wants to give Maynard, who transferred from Buffalo last year, as much time as possible to digest the offense. Said Tedford, "He does have some athleticism. He can make plays with his legs. He throws the ball accurately. He can throw all the balls on the field. He's a lefty. He can throw the deep ball. He's got zip on the ball. His main thing is just going to be the mental part of understanding our offense and understanding what we're looking for."

As for Brock Mansion, who started the final four games after Kevin Riley went down, Tedford said, "You can tell that Brock is better because of the experience he had last year. He's more comfortable. And he's even learned some things physically. You can see the maturity there a little bit. Still not where we need to be."

As for Allan Bridgford, the question might be athleticism. Said Tedford, "Smart guy. Can throw the ball. He can throw all the balls on the field. Escape dimension? Haven't seen that yet. That's a concern, but he's not a led-foot by any means."

One problem for the Bears this spring is injuries. There are a lot of them, which makes it more difficult to give the QBs full-tilt, looks. "That's a challenge, to get QB's enought reps without beating up the whole team," Tedford said.
March, 1, 2011
3/01/11
1:00
PM ET
Every Pac-12 team has issues, even the ones that played in BCS bowl games last January.
We touched on a number of these in our
spring preview
as well as our team-by-team breakdowns of the
North
and
South
divisions.
But what are the five biggest issues in the conference this spring?
[+] Enlarge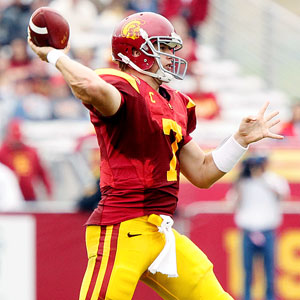 Ric Tapia/Icon SMIUSC boasts one of the top returning quarterback in the nation in Matt Barkley.
Hey, thanks for asking!
1.
Quarterback competitions
: No other conference even compares to the Pac-12 in terms of top-to-bottom quality of quarterbacks. Seven teams welcome back their 2010 starter and four are All-American candidates: Stanford's
Andrew Luck
, Oregon's
Darron Thomas
, USC's
Matt Barkley
and Arizona's
Nick Foles
. Arizona State and Colorado, with
Brock Osweiler
and
Tyler Hansen
, respectively, have QBs with starting experience who are favorites to win the starting job. But three teams are wide open at the most important position: California, UCLA and Washington. For the Huskies, it's fairly simple:
Keith Price
or
Nick Montana
will replace
Jake Locker
. For Cal, it's wildly complicated, with five in the mix: senior
Brock Mansion
, sophomore
Allan Bridgford
, redshirt freshman
Austin Hinder
, junior Zach Maynard and junior
Beau Sweeney
. For UCLA, it's critical and uncertain, with coach Rick Neuheisel's job security likely hanging on getting at least adequate play at the position from
Kevin Prince
,
Richard Brehaut
or true freshman Brett Hundley.
2.
Where's the beef
? No team in the conference appears set on both lines. Arizona State's offensive line welcomes back all five starters, but it's got two voids at DT. The Washington D-line in 2011 figures to look a lot like the unit that played in 2010 due to injuries, but the O-line must replace two starters. Oregon State and Colorado are only replacing one offensive lineman, and the Buffaloes' depth chart on defense returns mostly intact. But how well did those lines play in 2010? Arizona has the most questions: All five spots are open on the O-line and three on the D-line. Oregon must replace three starters on both lines. Stanford, UCLA and USC must replace three starters on offense, while Cal, Oregon State, Stanford, Utah and Washington State have at least two vacancies on defense. If, as coaches say," it all starts up front," then there will be a lot of fronting this spring.
3.
Secondary issues at Utah, Colorado
: The Utes and Buffaloes will be facing all those new, NFL-ready QBs with big questions in their secondaries. Utah must replace all four starters, while the Buffaloes lose a pair of cornerbacks, Jimmy Smith and Jalil Brown, who are top NFL prospects, from a secondary that wasn't very good in 2010. Injuries were an issue in Boulder last year, particularly at safety, but with a new coaching staff in town this will be an area of hot competition.
4.
Getting coordinated
: There will be a fair amount of "getting to know you" -- and your schemes -- this spring in the conference. Colorado and Stanford have new head coaches, though Stanford promoted David Shaw from within, so change won't be terribly dramatic in terms of scheme from Jim Harbaugh. UCLA has two new coordinators. California shook up its offensive staff. Utah brought in Norm Chow after he was pushed out at UCLA. Arizona had significant staff changes, though one-half of 2010's co-coordinators stayed in Tucson. New coaches bring in new ideas and new terms. And they may promote different players past incumbent starters.
5.
Details, details in Eugene and Palo Alto
: Oregon and Stanford are both sure preseason top-10 teams, in large part because they welcome back elite skill position players, such as Luck, Thomas and Ducks running back
LaMichael James
. But both teams have issues. Both have vacancies on both lines. Both are replacing their top receivers. Both have voids at linebacker. Both have an open spot at cornerback. Stanford needs a kicker. While a quick look at the depth chart suggests the reinforcements will be solid, spring ball is about walking the walk.
February, 15, 2011
2/15/11
11:04
AM ET
Though there are notable exceptions -- Oregon last year, for one -- it's typically better to have a returning starter at quarterback than to have questions at the position heading into spring practices.
The Pac-12 will boast the best collection of quarterbacks in the country next fall. In fact, no other conference is even remotely close. Seven teams welcome back quality starters, and four of them -- Stanford's
Andrew Luck
, Oregon's
Darron Thomas
, USC's
Matt Barkley
and Arizona's
Nick Foles
-- are legitimate All-American candidates.
On the flip side, five teams have questions at the position, though just three competitions appear wide open: California, UCLA and Washington.
Here's a quick look at where each team stands.
Who's set?
Arizona
: While Nick Foles had some downs in 2010, he's still one of the premier quarterbacks in the country. The more interesting story is the Wildcats would like to redshirt capable backup
Matt Scott
so he can take over in 2012.
Oregon
: Darron Thomas greatly exceeded expectations as a sophomore starter in 2010. What will he do for an encore?
Oregon State
:
Ryan Katz
had his ups and downs last fall but his ups suggested tremendous upside. He might have the best arm in the conference. And history shows Beavers quarterbacks get better with age.
Stanford
: Andrew Luck likely would have been the top pick in this spring's NFL draft. Suffice it to say, the Cardinal are set at the position.
USC
: Junior Matt Barkley has been a starter since his true freshman season and he made a significant jump forward in 2010. He's expected to do so again this fall and then jump into the NFL draft.
Utah
:
Jordan Wynn
will sit out spring practices after shoulder surgery, but there is no question he's the Utes starter.
Washington State
:
Jeff Tuel
started as a true freshman in 2009 and took some knocks. He made a huge leap forward with a better supporting cast in 2010. And if he duplicates that improvement as a junior, the Cougars will start to win a few games.
Who's not set (working down to most uncertain)
Arizona State
: The biggest uncertainty here is
Steven Threet
's status after suffering three concussions in 2010. He has not been cleared to participate in spring practices. But the expectation around the program is that
Brock Osweiler
will be the starter this fall.
Colorado
: Experienced senior
Tyler Hansen
is the decided frontrunner, but there's a new scheme and coaching staff and he's coming back from a ruptured spleen. JC transfer Brent Burnette and redshirt freshman
Nick Hirschman
are the competition.
Washington
: The Huskies competition to replace
Jake Locker
is fairly straight-forward: sophomore
Keith Price
vs. redshirt freshman
Nick Montana
. Though Price, the 2010 backup, has a slight edge, in large part due to a solid start at Oregon last year, expect the battle to last into preseason camp.
UCLA
:
Kevin Prince
would be the slight favorite due to experience, but he's coming back from a knee injury and it is questionable how much he'll be able to do this spring. Where does
Richard Brehaut
stand, seeing he's playing baseball? And might Rick Neuheisel and new offensive coordinator Mike Johnson decide to go with touted true freshman Brett Hundley?
California
: This one is completely up in the air, though
Brock Mansion
likely takes the first snaps since he started the final four games of 2010 after
Kevin Riley
went down. The candidates after him include: sophomore Allen Bridgford, redshirt freshman
Austin Hinder
, junior Zach Maynard and junior
Beau Sweeney
. Spring figures to winnow the field to two, maybe three, candidates.
PAC-12 SCOREBOARD
Saturday, 12/21
Monday, 12/23
Tuesday, 12/24
Thursday, 12/26
Friday, 12/27
Saturday, 12/28
Monday, 12/30
Tuesday, 12/31
Wednesday, 1/1
Thursday, 1/2
Friday, 1/3
Saturday, 1/4
Sunday, 1/5
Monday, 1/6
Tweets from @ESPNCFB/pac-12