December, 17, 2010
12/17/10
9:29
AM ET
This is a great read
on the tragic death of Bill Phillips, father to three FBS football players, including Stanford guard Andrew Phillips.
Sports Illustrated's Austin Murphy does a fine job of providing details of the plane crash that took Bill Phillips and the brave behavior of his fourth son, 13-year-old Willy, who survived but was severely injured.
It also shows you why Stanford's players will run through brick walls for coach Jim Harbaugh, who is no passive observer to this family tragedy.
A must read, particularly at this time of the year.
November, 4, 2010
11/04/10
6:57
PM ET
Nine Pac-10 players are among the 25 selected as Academic All-District 8 members. They are now eligible to become ESPN Academic All-Americans.
You
can view all the lists here
. (It's worth looking at because it gives you the list of GPAs and majors, which is impressive).
2010 Academic All-District Football Team District
8
Jared Karstetter
, WR, Washington State
Chase Beeler
, C, Stanford
Micah Hannam
, OL, Washington State
Andrew Phillips
, OG, Stanford
Carson York
, OL, Oregon
Chima Nwachukwu
, S, Washington State
Owen Marecic
, LB-FB, Stanford
Ernest Owusu
, DE, California
Jeff Locke
, P, UCLA
August, 31, 2010
8/31/10
2:30
PM ET
Despair thy charm,
And let the angel whom thou still hast served,
Tell thee, Macduff was from his mother's womb,
Untimely ripp'd.
August, 11, 2010
8/11/10
2:40
PM ET
I object, your honor! This trial is a travesty. It's a travesty of a mockery of a sham of a mockery of a travesty of two mockeries of a sham.
August, 11, 2010
8/11/10
11:18
AM ET
Bill Phillips Sr., father of three FBS football players, including Stanford guard Andrew Phillips, was one of five people who died in an Alaskan plane crash that also claimed the life of former former Alaska Senator Ted Stevens.
Phillips also was the father of Indiana freshman tight end Paul Phillips and Virginia sophomore tight end
Colter Phillips
Here's a statement from Stanford coach Jim Harbaugh:
"We are struck with deep sadness by the tragic and sudden loss of Bill Phillips. The hearts and prayers of our entire team and staff extend to the Phillips family and the families of those lost in the crash. A man could hardly live a more full life than Bill, whose kindness and friendship touched us all deeply. His legacy lives on through his four sons, four incredible young men he raised."
According to the
San Francisco Chronicle
, "Andrew's 13-year-old brother, William "Willy" Phillips, survived the crash, as did former NASA chief Sean O'Keefe and his teenage son, Kevin. Three others died in the crash. The elder Phillips had worked for Stevens in Washington."
You can read more
on the crash here
.
And here
.
Our thoughts go out Phillips and everyone else touched by this tragedy.
April, 22, 2010
4/22/10
2:50
PM ET
High expectations, meet Stanford quarterback
Andrew Luck
.
[+] Enlarge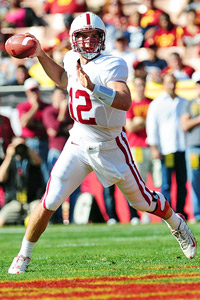 Gary A. Vasquez/US PresswireAndrew Luck tries to block out speculation over his future in the NFL.
Luck, by the end of the 2010 season, could become an All-America candidate. The sophomore, in fact, is already generating NFL draft hype --
and questions
.
There are a couple of reasons for this: 1. He's a major talent; 2. He led the Pac-10 in passing efficiency as a redshirt freshman. In other words, potential and production.
He's 6-foot-4, 234 pounds and he moves well. He's got an outstanding arm. He's smart. He's grounded. His father, Oliver, is a former NFL quarterback.
Red flags? None, other than the Stanford banners being waved by folks who are starting to imagine that Luck can lead the Cardinal back to the Rose Bowl.
The obvious challenge for him going forward into 2010 -- other than managing his growing stardom -- will be leading an offense that is only replacing college football's best running back:
Toby Gerhart
, who produced 28 touchdowns last fall.
That's a lot of production walking out the door into the NFL.
Stanford finished spring practices last weekend, so it seemed like a good time to check in with Luck as he heads into his offseason.
Last year you were a green-around-the-gills redshirt freshman: Do you feel like a veteran quarterback now?
Andrew Luck
: A little bit. One year does make a whole lot of difference.
How tough was it to sit out the Sun Bowl last year due to a broken finger?
AL
: It was tough. If you asked any athlete who goes through the entire regular season and doesn't get to partake in the postseason or the bowl game, it's not going to be fun. It was tough. But that being said, I was happy for Tavita [Pritchard] to get a chance to play because he had done so many great things for me during the season and helped me out so much. I was excited for him.
Tell me how you feel spring practice went: What went well and what do you guys still need to work on?
AL
: Overall, I thought spring was extremely competitive. There were a lot of physical practices. A lot of guys flying around, getting better. Personally, I felt like I improved on my grasp of the offense and sort of evolving into being a leader on the team. As far as the fall, we've just got to keep working on getting ourselves in good position to run a good play and take care of our assignments.
Toby Gerhart was a workhorse. He scored 28 touchdowns. How does the offense evolve without him? How will you look different?
AL
: Toby was special. He did a lot of great things. I think we'll probably have to throw the ball more. The running backs will be a little bit more by committee as opposed to one workhorse shouldering the load. People are going to have to step up at different positions. It will be exciting though.
When you have a Heisman Trophy candidate in your backfield, it takes the attention off you, the pressure off you. Do you feel like now your role has changed and you are now the center of attention, the guy with the pressure on him to carry the load, not to mention all the chatter about your being a future No. 1 NFL draft pick?
AL
: It's definitely different. Toby was definitely the man for the whole team last year. I try not to pay much attention to all that [draft talk]. I can easily get myself in trouble if I start getting into all that. I tried to put more pressure on myself this spring to step up and shoulder the load of the team more.
Everybody has a different style of leading: How do you plan to become more of a leader that fits in with your personality?
AL
: I think I need to work on being more vocal. I tend to be quiet sometimes, even when I do have something to say. I've been working on that a little more. Honestly, we have a bunch of great leaders on the offense, like [receiver]
Ryan Whalen
and the older guys on the offensive line, Andy Phillips and Chase Beeler. It's not like one guy has to motivate everyone else to come out and do extra work. People want to do it any way. In that regard, it's almost easy being a quarterback on this team. But I do need to work on being a little more vocal.
Are you able to block out the NFL speculation, or are you at least curious about the draft gurus already talking about you?
AL
: I honestly try to block it out as much as possible. I don't think about it. It's a long way off for me. If I do start thinking about it, I know I'll get myself in trouble.
You know people mention that you, as a third-year player, could conceivably leave for the draft after this season?
AL
: I honestly haven't thought about it. My only priority right now is next season and hopefully winning the national championship.
Speaking of the offense: Who else stepped up this spring, other than the guys like Whalen and receiver Chris Owusu, who everybody knows about?
AL
: A couple of young receivers did a heck of a job this spring.
Jamal-Rashad Patterson
and
Drew Terrell
really stepped their game up a lot. And the running backs,
Jeremy Stewart
, who played two years ago but hurt his foot last year, did a heck of a job this offseason, as well as
Stepfan Taylor
and
Tyler Gaffney
.
You get to play against them every day in practice: It sounds like the defense showed some spark this spring with new coordinator Vic Fangio.
AL
: Definitely. They are a little saltier than they were last year. [Sophomore inside linebacker] Shayne Skov is doing a heck of a job. It's really fun to see him grow after going up against him last year. You could tell during training camp last year that he was a great athlete and a great football player but maybe he didn't have his whole head wrapped around the scheme they were trying to run. You could tell he was running around not knowing what he was doing. Now he's flying around making plays all over the field. The secondary is doing a heck of a job, making a lot of plays and really putting pressure on our receivers to step their game up and putting pressure on me to step my game up. It's been very competitive.
December, 2, 2009
12/02/09
8:56
PM ET
Let us remember as the season winds down that the teams we follow with such passion are made up of college students.
So, we present this year's Pac-10 All-Academic team, which is topped by three-time first-team selection Mike Nixon, the fine linebacker -- and former professional baseball player -- from Arizona State.
Last week, Nixon also was named a first-team
ESPN The Magazine Academic All-American
. In addition to Nixon, nine other players were named to the Pac-10 academic team for the second time.
You also will notice that Stanford's
Toby Gerhart
, a top Heisman Trophy candidate, is a first-team member. Gerhart boasts a 3.25 GPA in management science & engineering, which sounds hard to me.
For those keeping score -- you always do -- Stanford has the most first-team members with eight. Washington State has five and Oregon State four. California has three, Oregon has two and Arizona State, UCLA and Washington have one apiece.
Neither Arizona nor USC had a first-team member.
To be eligible for selection, a student-athlete must have a minimum 3.0 overall grade-point average and be either a starter or significant substitute.
To see the second-team and honorable mentions,
click here
.
FIRST TEAM
Pos. Name, School Yr. GPA Major
QB Andrew Luck, Stanford RFr. 3.55 Undeclared
RB Josh Catron, Stanford Sr. 3.48 Economics
RB Toby Gerhart, Stanford Sr. 3.25 Management Science & Engineering
WR Casey Kjos, Oregon State (2) Jr. 3.63 Psychology & Sociology
WR Alex Lagemann, California Jr. 3.68 Media Studies
TE David Paulson, Oregon So. 3.68 Business Administration
OL Mark Boskovich, California (2) Jr. 3.73 Political Science
OL Micah Hannam, Washington State (2)Jr. 3.59 Civil Engineering
OL Andrew Phillips, Stanford Jr. 3.53 Classics
OL Chris Prummer, Washington State Jr. 3.88 Zoology
OL Carson York, Oregon RFr. 3.70 Journalism
DL Kevin Frahm, Oregon State So. 3.24 Political Science
DL Kevin Kooyman, Washington State Sr. 3.16 Management & Operations
DL Erik Lorig, Stanford Sr. 3.12 Public Policy
DL Tom McAndrew, Stanford (2) Sr. 3.58 Science, Technology & Society
LB Mike Mohamed, California (2) Jr. 3.43 Business Administration
LB Mike Nixon, Arizona State (3) Sr. 4.07 Political Science
LB Will Powers, Stanford (2) Sr. 3.48 Classics
DB Victor Aiyewa, Washington (2) Jr. 3.36 Sociology
DB Cameron Collins, Oregon State (2) So. 3.37 Business
DB Jay Matthews, Washington State RFr. 3.68 Undeclared
DB Chima Nwachukwu, Washington State (2)Jr. 3.79 Political Science
PK Nate Whitaker, Stanford Jr. 3.38 Engineering
P Jeff Locke, UCLA RFr. 3.69 Undeclared
RS Taylor Kavanaugh, Oregon State Sr. 3.28 Construction Engineering
(2) Two-time first-team All-Academic selection
(3) Three-time first-team All-Academic selection
July, 20, 2009
7/20/09
8:01
PM ET
Posted by ESPN.com's Ted Miller
The 2006 recruiting class members are either seniors or redshirt juniors this fall, so they should be the backbones of most Pac-10 team's starting lineups.
Therefore, it seems like a reasonable moment to look back and review some recruiting hits and misses.
In the big picture, USC ranked No. 2 in the nation, according to ESPN.com's Scouts Inc., behind No. 1 Florida (sorta makes sense, eh?). UCLA, at No. 19, was the only other Pac-10 team in the Scouts Inc., top-25.
Scout.com ranked USC No. 1 in the nation, Arizona 19th, UCLA 20th and California 23rd. The rest of the Pac-10 went, in order, Arizona State (32nd in nation), Washington (35th), Stanford (38), Oregon State (41), Washington State (45) and Oregon (52).
Oregon last? Hmm.
Anyway... here's an overview
Arizona
Class: 24
How many are expected to start in 2009: Nine (CB Devin Ross, DT Earl Mitchell, FS Cam Nelson, WR Terrell Turner, DE Brooks Reed, DE Ricky Elmore, WR Delashaun Dean, OG Conan Amituanai, C Colin Baxter)
Misses: QB Tyler Lyon, RB Derke Robinson
Verdict: This is an underrated class -- even guys who aren't listed as starters are projected to contribute in 2009. It's also notable that the few who didn't pan out -- or were problems, such as DE Louis Holmes -- were the big names.
Arizona State
Class: 24
How many are expected to start in 2009: Seven (SS Ryan McFoy, RB Dimitri Nance, OG Jon Hargis, WR Kyle Williams, DT Saia Falahola, QB Danny Sullivan, LB Travis Goethel OR LB Gerald Munns)
Misses: DE Jermaine Williams, RB Rodney Glass
Verdict: A solid class when you consider that nine of the 24 signees were JC players who have already moved on -- a group that included RB Ryan Torain and S Troy Nolan, who were the class's most elite performers.
California
Class: 20
How many are expected to start in 2009: Six (CB Darian Hagan, DT Derrick Hill, QB Kevin Riley, C Chris Guarnero, DE Tyson Alualu, LB Mike Mohamed)
Misses: RB James Montgomery, RB Tracy Slocum, DT Justin Prueitt
Verdict: Ratings, smatings. Montgomery, Slocum and Prueitt were highly rated, Alualu and Mohamed barely registered. Overall, a solid class.
Oregon
Class: 20
How many are expected to start in 2009: Five (C Jordan Holmes, LT Bo Thran, RT C.E. Kaiser, DT Brandon Bair, LB Spenser Paysinger)
Misses: The class included three quarterbacks: Cody Kempt, Justin Roper and Nate Costa. Kempt and Roper have transferred, Costa has been riddled by injuries.
Verdict: Decidedly mixed. One thing is for sure: This class bolstered the Ducks offensive line. Also interesting, Bair and Paysinger transitioned to their current positions from tight end and receiver, respectively.
August, 12, 2008
8/12/08
8:24
PM ET
Posted by ESPN.com's Ted Miller
STANFORD, Calif. -- Jim Harbaugh's first season at Stanford started with a controversy. He told CBSSports.com in March of 2007 that Pete Carroll wasn't long for USC.
"He's only got one more year, though," Harbaugh told Dennis Dodd. "He'll be there one more year. That's what I've heard. I heard it inside the staff."
A minor storm followed.
Then Harbaugh proclaimed USC "the best team in the history of college football."
A minor storm followed.
Then, when football instead of words took centerstage, Harbaugh and his 41-point underdogs beat USC and Carroll, 24-23.
Major storm.
Harbaugh clearly is tired of talking about his Carroll comments.
"I'm not a controversial guy. Check my track record," he said. "Look at it as a rational human being, what controversial stuff? Define that. I don't see the controversy in that stuff."
That hullabaloo is about over, though. What might last is Harbaugh, who added a Big Game victory over California to a Cardinal season that greatly exceeded horribly low expectations.
With 16 starters back this fall, Stanford might sneak up on some people this fall. Toss in a fast start to recruiting, and the Cardinal might be ready to move out the nether regions of the Pac-10 it has occupied since Tyrone Willingham left in 2001.
Harbaugh much prefers talking about the recruiting effort -- "We're recruiting against national powers" -- and why he thinks hot shot high school players are giving Stanford a look.
"The word is spreading," he said. "They feel like the football program here is a powder keg ready to go off."
Another storm coming?
As for his present roster:
Asked to name players who have stepped up thus far during preseason camp, he ticked off a list of offensive linemen: tackle Ben Muth, guard Andrew Phillips and tackle Chris Marinelli.
On defense, he called Pannel Egboh and Erik Lorig "two of the top defensive ends in the conference," and then celebrated the depth inside with Brian Bulcke, Ekom Udofia and Sione Fua.
Noted that LB Chike Amajoyi, 205 pounds last year, is now 238. "He hasn't lost a step," he added.
There are still position battles at one cornerback opposite Wopamo Osaisai and free safety next to Bo McNally
As noted earlier, he said that Tavita Pritchard continues to lead the quarterback competition, though he wouldn't commit to him as the starter on Aug. 28 vs. Oregon State.