May, 8, 2013
May 8
11:00
AM ET
Arizona State Sun Devils
2012 record
: 8-5

2012 conference record
: 5-4 (Second in South Division)
Returning starters
: Offense 6; defense 8; Kick/punt: 2
Top returners
: QB
Taylor Kelly
, DT
Will Sutton
, LB
Carl Bradford
, RB
Marion Grice
, RB
D.J. Foster
, LT
Evan Finkenberg
, TE/H
Chris Coyle
, S
Alden Darby
, DE
Junior Onyeali
Key losses
: RB Cameron Marshall, LB
Brandon Magee
, WR
Rashad Ross
, P
Josh Hubner
, OL
Andrew Sampson
, OL Brice Schwab.
2012 statistical leaders (*returners)
Rushing
: Marion Grice* (679)
Passing
: Taylor Kelly* (3,039)
Receiving
: Chris Coyle* (696)
Tackles
: Brandon Magee (113)
Sacks
: Will Sutton* (13)
Interceptions
: Keelan Johnson (5)
Spring answers
Dynamic duo (1): Running backs Marion Grice and D.J. Foster should make up one of the most prolific 1-2 punches in college football. This was the first time for both to go through full springs at a major college (Grice was a JC transfer, Foster is a sophomore) and the reports are both have added speed and muscle to their frames. With the way ASU uses its backs in the passing game, expect big total yardage numbers from both in 2013.
Dynamic duo (2): On the opposite side of the ball, DT Will Sutton and linebacker Carl Bradford make up an equally dangerous tandem. There are only 10 players in FBS football returning with 10-plus sacks from 2012. And ASU has two of them. Sutton, the league's defensive player of the year, had 13 and Bradford notched 11.5. Combined with several other returning starters, the Sun Devils boast one of the top front sevens in the league.
QB depth: Per head coach Todd Graham, Mike Bercovici had a fantastic spring. We know Kelly is entrenched as the starter. But with Bercovici surging and Michael Eubank bringing the dimension he brings, the Sun Devils have fantastic depth at the position -- something very important for a team hoping to make a championship run.
Fall questions
WR questions: Help should be on the way. Graham called wide receiver his biggest need and the 2013 class includes Jaelen Strong, Ronald Lewis, Joe Morris, Cameron Smith and Ellis Jefferson. When they get put into the fold, it should make an immediate impact on depth and athleticism at the position. All five are at least 6-foot, giving Kelly plenty of options and wiggle room in the red zone.
Line depth: It's always a concern. And while the Sun Devils look stacked on the defensive line, they are working to replace departed Andrew Sampson and Brice Schwab. The staff spent the spring working Sil Ajawara (LG) and Vi Teofilo (RG) into the starting five. Behind them is some versatility in Tyler Sulka, Devin Goodman and Mo Latu.
Special improvements: Graham called ASU's special teams middle of the road last year -- stressing they need to improve in the kicking game if they want to be a better team. Departed punter Josh Hubner was one of the best in the league. Dom Vizzare looks to step in but will be pushed by incoming freshman Matt Haack. Zane Gonzalez was brought in to push returning kickers Alex Garoutte and Jon Mora.
October, 11, 2012
10/11/12
2:30
PM ET
You just better start sniffin' your own rank subjugation jack 'cause it's just you against your tattered libido, the bank and the mortician, forever man and it wouldn't be luck if you could get out of life alive.
May, 14, 2012
5/14/12
11:00
AM ET
2011 overall record
: 6-7
2011 conference record
: 4-5 (T 3rd, South)
Returning starters
Offense: 4; defense: 7; kicker/punter: 2

Top returners
RB
Cameron Marshall
, OT
Evan Finkenberg
, WR
Jamal Miles
, LB
Brandon Magee
, DT
Will Sutton
Key Losses
QB Brock Osweiler, WR Gerell Robinson, WR Aaron Pflugrad, C Garth Gerhart, LB Vontaze Burfict, LB Colin Parker, S
Clint Floyd
2011 statistical leaders (*returner)
Rushing
: Cameron Marshall* (1,050 yards)
Passing
: Brock Osweiler (4,036 yards)
Receiving
: Gerell Robinson (1,397 yards)
Tackles
: Colin Parker (75)
Sacks
: Vontaze Burfict (5)
Interceptions
: Clint Floyd (4)
Spring answers
1. He's selling, you buying?
New head coach Todd Graham describes himself as an "old school" guy, meaning no swearing, no jewelry, yes sir, no sir ... that kind of stuff. His practices are intense, as is the fast-paced offense he's installing. Players talked about being a little shell-shocked by how he does things and the discipline he demands. But so far, they seem to have taken to it.
2. Oh, line
: Once thought to be a concern for the Sun Devils after losing three offensive linemen from last year's squad, Graham has gone out of his way to note how good the unit looks. They are set at left tackle with Evan Finkenberg, a two-year starter, but he's versatile enough to play anywhere on the line.
Andrew Sampson
has 20 consecutive starts.
Jamil Douglas
,
Kody Koebensky
and
Brice Schwab
should fill out the line.
3. Back attack
: The Sun Devils have something special in running back Cameron Marshall, who should flourish with Graham's downhill running offense. Behind him is a deep, talented group, but little is known about the pecking order.
Kyle Middlebrooks
,
James Morrison
,
Deantre Lewis
, Marion Grice and incoming freshman
D.J. Foster
all figure to play some sort of role. Worth keeping an eye on Marshall's surgically repaired foot as well. He's expected to be 100 percent by fall. While this might be ASU's deepest group, there is still some uncertainty to how it will all look in Week 1.
Fall questions
1. QB question mark
: Graham hinted that the coaching staff is closer to a decision on their quarterback than they are probably letting on publicly. Still, the public at large is no closer to knowing whether it will be
Mike Bercovici
,
Michael Eubank
or
Taylor Kelly
running the show. Each has their own unique skill sets, but fans are calling for Eubank, who many have dubbed a Cam Newton replica.
2. Magee back?
The return of linebacker Brandon Magee, who was limited in spring as he continues to recover from a torn Achilles that kept him out of 2011, would be a monumentally huge step in the right direction for the Sun Devils. And for Graham. Magee is not only a talented linebacker, he's a locker room guy who commands the respect of his teammates. They'll usually step in line with him. And if he's good to go, it would be a big step for the Sun Devils on and off the field.
3. New offense, new(er) receivers
: Jamal Miles returns as the second-leading receiver (60 catches) and is a dynamic player, but there isn't a ton of experience at the position as the Sun Devils said goodbye to five scholarship receivers. Projected starters
Rashad Ross
and
Kevin Ozier
combined for just 29 catches between them last season.
J.J. Holliday
,
A.J. Pickens
and
Kevin Anderson
all figure to be in the mix as well. Plus there are more coming with the recruiting class and their impact remains to be seen.
April, 9, 2012
4/09/12
7:00
PM ET
Todd Graham can throw all kinds of diagrams and playbooks and chalk talks at his players until their heads spin. But if they don't believe in what the Sun Devils are trying to do, then it doesn't really matter how much of the playbook they do or don't retain.
So more important than the Xs and Os, Graham is stressing the dos and don'ts of being in his program and the challenges that come from making a culture change. And after a few months on the job, he's pleased to report that, in his mind, Arizona State is headed in the right direction.
"The thing I'm most proud of is how they responded to such a drastic change," said Graham. "In terms of accountability -- we expect them to go to class every day, we check every class, we drug test every kid in the program. We're trying to install this structure and discipline and I'm proud of the way this team has responded to that and embraced that. The guys have bought in."
[+] Enlarge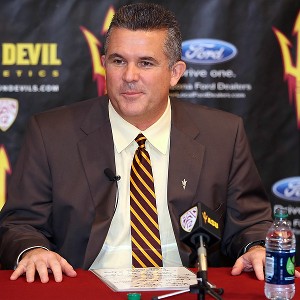 Christian Petersen/Getty ImagesNew ASU coach Todd Graham said his team has responded well to his direction this spring.
Before the start of the spring session, Arizona State's players were little more than images on film to Graham. He could read bios, track workouts and see what they did last season. But that didn't really give him a sense of what he had to work with as he and his staff are trying to install new systems on both sides of the ball. Now that he's seen them do some live work, he's starting to get a sense of the team's identity.
"Those first six practices, you know how it is when you are trying to change things up, you just want to beat your head against a wall," Graham said. "But on the seventh practice, I got the impression that they were finally getting it."
Graham said he's been impressed with the offensive line play -- which he thought was going to be a question mark heading into the spring. He was complimentary of returning starters
Evan Finkenberg
and
Andrew Sampson
, but also noted that
Brice Schwab
and
Jamil Douglas
"have really been impressive."
"I think the strength of our defense is the defensive line so those guys [on the offensive line] are playing against some pretty good competition," Graham said. "Every day those guys get a little better. That has been a real bright spot."
Graham didn't add much to what offensive coordinator
Mike Norvell said last week about the quarterback competition
, but he did single out the springs of running back
Cameron Marshall
, safety
Alden Darby
, cornerback
Osahon Irabor
, defensive tackle
Corey Adams
and wide receivers
Jamal Miles
and
Rashad Ross
.
"Miles has really started to master his craft," Graham said. "He's been very disciplined in his route running. Marshall is at the front of a stable that I think is going to be very good.
"The reality is that we still have a long way to go. But I've got confidence because I think this team is coming together because of each one of them buying in and working as a team. We are making great progress in developing that trust that it takes to be a family and a team and a team that wins. I remind them every day that we're going to be a team that wins championships and you can't do that without winning every day in everything that you do."
May, 17, 2010
5/17/10
5:16
PM ET
Arizona State's Toa Tuitea, a sophomore defensive tackle, has been named the Sun Devils' "Hard Hat Program Champion," which recognizes his work in the football program's strength and conditioning program.
He topped a list of 48 Sun Devils who were honored.
A news release from the school said the "Hard Hat Program was created to reward those individuals who do what's right in the weight room even when no one is looking ... a Hard Hat Player is someone who is self-motivated, a competitor, committed to personal and team excellence, dependable, accountable, disciplined and most importantly, puts the team first."
To become a Hard Hat Player, a player has to achieve a certain point total during winter workouts. He earns points based on his effort for strength training, speed development and conditioning sessions. They are also awarded points for competitive events and performing extra workouts in the "Blitz Package Program." Each athlete is evaluated after every workout by the sports performance staff with input from an athlete's position coach when applicable.
The list of the honored includes:
Corey Adams
, Derrall Anderson, George Bell, Omar Bolden,
Jarrid Bryant
, Mike Callaghan, Jonathan Clark, Chris Coyle, Dean DeLeone, Eddie Elder,
Steven Figueroa
, Evan Finkenberg, Clint Floyd, Garth Gerhart, Lawrence Guy, Jon Hargis,
J.J. Holliday
, Matt Hustad, Osahon Irabor, Patrick Jamison, Keelan Johnson,
Brandon Johnson
, Anthony Jones, Kyle Johnson,
Cameron Kastl
, Ronald Kennedy,
Dan Knapp
,
Trevor Kohl
,
LeQuan Lewis
, Shelly Lyons,
Cameron Marshall
, Shane McCullen,
Jamal Miles
, Bo Moos,
James Morrison
, Gerald Munns,
Brock Osweiler
,
Aaron Pflugrad
,
Cole Rarrick
,
Jamarr Robinson
, Andrew Sampson, Zach Schlink,
Max Smith
, Adam Tello,
Steven Threet
,
Matthew Tucker
and Thomas Weber.
Starters or key contributors who didn't make the list (for whatever reason, including injury or excused absence) include: linebacker Vontaze Burfict, receiver
Gerell Robinson
, receiver
Kerry Taylor
, defensive end James Brooks, defensive tackle Williams Sutton, defensive tackle Saia Falahola, defensive end Greg Smith and linebacker Brandon Magee.
December, 21, 2009
12/21/09
5:39
PM ET
In his first 19 years as a head coach, Dennis Erickson posted just three losing seasons and never two in a row.
So you can understand if Erickson, having just suffered through his second consecutive losing season at Arizona State, isn't thrilled about watching seven other Pac-10 teams play in bowl games over the coming days.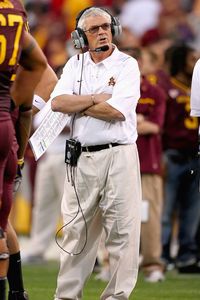 Christian Petersen/Getty ImagesArizona State coach Dennis Erickson's Sun Devils have posted back to back losing seasons for the first time in his career.
Without those extra practices, he's free to think about his 4-8 team losing four games by five or fewer points, including three on late field goals.
Not that he isn't busy.
Erickson has been recruiting hard to address the Sun Devils shortcomings -- many of which are on offense, particularly the line -- and he's also trying to hire and offensive coordinator.
Erickson knows that the glow of his 10-win season in 2007 has faded. He knows that Arizona State fans aren't happy about the program posting consecutive losing seasons for the first time since 1946-47.
Neither party is accustomed to losing. It's fair to say there's pressure on Erickson to reverse that trend for both next fall.
It won't be easy. The Pac-10 looks to be even deeper in 2010 and the Sun Devils and Oregon State are the only two teams looking for new starting quarterbacks.
So, before the bowl season takes off in earnest, it seemed like a good time to check in.
You had a great start but the past two seasons haven't produced bowl games, give me your state of the program.
Dennis Erickson
: I believe the program is in good shape. We had a plan coming in here where we were going to build it from the ground floor up and that's what we've done. Obviously, we've played a lot of freshmen over the last couple of years and we've had some injuries. But we're getting better and better all the time. Defensively, we're about where we want to be. That's the No. 1 thing. We've played well defensively. The biggest problem the last two years is we haven't been real productive offensively. We've got to get that taken care of. If we can do that, we'll win a lot of football games.
Was there one critical moment this fall where if things had gone your way the season might have turned out differently?
DE
: Without question. There were a couple of times. If we win down at Georgia, even though they didn't turn out like everybody thought they were going to be -- we got beat by a field goal there [20-17] -- things might have gone differently. But probably more than anything was the Cal game [a 23-21 loss], where we had a chance to win it and they came down and beat us at the end. We had a bunch of them like that -- Georgia, that one, USC [a 14-9 loss] and, of course, Arizona [a 20-17 loss]. That one [Cal] could have really got us going, though. Had we won that game, I really believe we would have probably won a couple more.
When do you expect to name your new offensive coordinator? And what are you looking for?
DE
: That's a good question as far as when it's going to happen. I'm going to take my time. I'm going to talk to five or six different coaches, maybe even more than that. I don't know when I'm going to get it done because there may be some guys in the NFL who I want to talk to and I wouldn't do that until their season is over with. Hopefully by the middle of January I'd have that done, possibly earlier than that. What I'm looking for is a guy with experience being a coordinator, who's coached the quarterbacks, who does a good job of coaching and teaching the quarterbacks, who's been a play-caller. Those are the biggest things I'm looking at. I think, for philosophy, everybody is kind of the same, somewhat the same. We're looking for some new ideas like everybody else is. That's something I want to talk about. I'd like to be multiple, formation-wise. I don't want to be in the gun all the time and I don't want to be under center all the time. I want to mix it up. I think you've got to run the football, so we've got to find a way to do that.
How do you see things going in the quarterback competition this spring? Is there already a pecking order in your mind?
DE
: Not really with a pecking order because it's really kind of a toss up. Brock [Osweiler] really improved from where he started a spring ago. Obviously he was put in a tough situation at Oregon. I think Samson [Szakacsy], once his elbow is completely healed, he gives you a chance because he's so athletic and accurate. He did some good things, though his inexperience hurt us at times.
Steven Threet
has more experience than all of them because he played at Michigan. It will be really interesting. I don't know if I've ever been blessed with three guys like that. We'll let the competition roll and see what happens. If possible, I'd like to make a decision by the time we go into camp in the fall, but I don't know if I can do that. It's really kind of open. Pecking order? That's a good question. I think you'd start with the guys who played a lot last year and then work your way down, but all three will get opportunities with the first group, particularly during the first weeks of spring football.
How about the offensive line, do you expect a step forward in 2010? And what about some of those injured guys: Are they going to be able to come back next fall?
DE
: That's kind of been an Achilles heel for us. Two or three young offensive linemen we think would be great players haven't played much, Zach Schlink being one of them. He starts against Washington last year and plays real well but hurt his knee again and didn't play this fall. We had to redshirt him. He''ll be ready to go in the spring. Matt Hustad, when he was healthy and played, he played really well, then he got hurt against Oregon. We look for him to be back in the spring. We've got some young guys who worked their way into it who played quite a bit. Garth Gerhart will be our starting center. Andrew Sampson played quite a bit last year at guard and center. Guard Jon Hargis is back. Kyle Johnson at left tackle -- he has been a backup but is getting bigger and stronger. He'll be a redshirt sophomore next year. Patrick Jamison, he'll be a redshirt sophomore. So these guys who we recruited three years ago are starting to grow into what they are doing. So we've got guys who have experience in our front and have practiced and know what we're doing. That makes a big difference when we go into spring. And then we've got a couple off junior college guys that will be in here that we really think can help us. We've got a kid, a true freshman we redshirted this year, Evan Finkenberg, who has a lot of promise. Again, we're a little young but we've got guys who have been around here two or three years, too, which makes a heck of a difference. They're a lot bigger and stronger than anybody we've had here over the last couple of years.
Do you expect to get back to a bowl game in 2010?
DE
: Without a question. That's one of our goals. If we can continue to improve offensively and stay like we are on defense, that's what we should do. Defensively, we've got a lot of guys coming back. It will be interesting to see. The problem that you have is in our league. I don't see anybody getting worse. I see guys getting better. This league is hard.