September, 4, 2014
Sep 4
10:00
AM ET
Back in 2007 new
Stanford
coach Jim Harbaugh seemed pretty foolish when, like a bombastic Don Quixote, he trash-talked
USC
and coach Pete Carroll. For no particular reason, he volunteered to a reporter that Carroll would soon bolt for the NFL. Then, at Pac-10 media day, a smirk flickered across his face when he archly announced that USC "may be the best team in the history of college football."
When challenged about his motives, he unveiled what became a program catchphrase: "We bow to no one at Stanford" -- pretty much saying he didn't give a rat's tookus if he bothered USC, Carroll or anyone else.
[+] Enlarge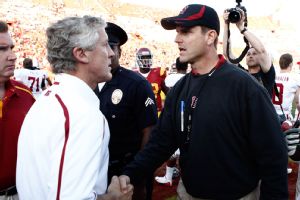 AP Photo/Matt SaylesThings started getting testy between Stanford and USC when Jim Harbaugh and Pete Carroll were at the helm.
Great fun ensued, of course. That first season, Harbaugh and Stanford shocked USC
24-23
as a 41-point underdog behind a backup QB, ending the Trojans' 35-game home winning streak. Any chance that would be viewed historically as college football's version of Halley's Comet was squelched in 2009 when Stanford drubbed USC
55-21
, aggressively running up the score in the fourth quarter, including a gratuitous attempt at a 2-point conversion.
"What's your deal?" an irritated Carroll famously asked a smug Harbaugh during a wonderfully ungenial handshake.
Nonetheless, we had no idea what the actual deal would become between USC and Stanford. Early on, Stanford's success appeared to be a curious and anomalous run, a surprising reversal of fortune that briefly thickened the Pac-10 plot but seemed certain to be only temporary. Carroll and Harbaugh would both bolt to the NFL, where their personal rivalry has remained just as spicy. USC's short-term future was burdened with NCAA sanctions. Stanford's future seemed burdened by, well, being Stanford, the most elite academic institution playing FBS football.
When David Shaw, a polished Stanford graduate, ascended from offensive coordinator to replace Harbaugh, few imagined he'd maintain a top-10 program. There was a suspicion that Harbaugh built what he did because he was crazy enough to make it happen. Shaw was way too normal.
Yet here we are, two days away from a renewal of what has become the Pac-12's most meaningful cross-division rivalry. While Stanford-Oregon mostly has decided the Pac-12 champion the past four years, there's been little drama in their actual games, with only the 2012 contest being an actual nail-biter.
Three of the past four USC-Stanford games have been decided essentially on the game's last play, twice by field goals, once in triple-overtime. Average margin of victory in those four games? Five points. National importance? Stanford may have played Florida State in the BCS National Championship last year if not for
being upset 20-17
at USC. In 2012, USC was ranked No. 2 in the nation before Stanford
exposed the Trojans 21-14
, starting a spiral from which former USC coach Lane Kiffin never recovered. QB
Andrew Luck
became Andrew Luck during thrilling Stanford wins in 2010 and 2011.
Both teams are star-laden NFL pipelines. Stanford, the two-time defending Pac-12 champ, enters this game ranked 13th, just a little annoyed at how Oregon and UCLA have grabbed the biggest preseason headlines in the conference. USC is 14th, a team with fewer than 60 available scholarship players but as gifted with its starting 22 as just about any team in the nation.
Both crushed overmatched foes last weekend and looked impressive in doing so. The Trojans added a wrinkle for this go-round by switching from their long-standing pro-style scheme to an up-tempo offense under new coach Steve Sarkisian, who notes "up-tempo" isn't a transition from a power to a finesse attack, only a means to create more touches for his talented skill players.
If the football part of football wasn't enough, if we needed to introduce some new drama and personalities at loggerheads to liven things up, it's worth noting that Shaw and Sarkisian engaged in a public war of words after last year's Stanford-Washington game. Sarkisian, then the Huskies' coach, accused Stanford of faking injuries in order to slow down his up-tempo offense, going so far as to specifically point a finger at Cardinal defensive line coach Randy Hart. Shaw wasn't happy with the accusation, and he opened that week's Pac-12 coaches teleconference with a lengthy and strongly worded statement.
"I believe it's unprofessional to call out an assistant coach on another team," Shaw said. "It's unprofessional and it's disrespectful. The only D-line coach that I know of that's ever instructed players to fake injury works at the University of Washington."
That would be controversial coach Tosh Lupoi, now working at Alabama, who was suspended in 2010 while at California for instructing players to fake injuries against Oregon. Sark, however, never backed away from his assertions.
[+] Enlarge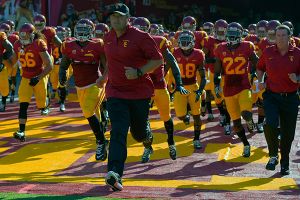 AP Photo/Mark J. TerrillSteve Sarkisian has his hands full with off-the-field drama at USC, but Saturday's game at Stanford is at the forefront of his worries this week.
While it might be fun if Sarkisian and Shaw continued to eyeball each other's throats, that doesn't seem to be the reality. It appears, rather, that they have agreed to disagree and let the issue die. Though they both admit they haven't revisited the conflict in order to make a formal peace, they also pointed out they've spoken amiably multiple times since then -- a couple of times, in fact, within range of reporters -- and they claim to respect and like each other.
"We had a disagreement in the heat of the moment; both of us have moved on," Sarkisian said.
Offered Shaw, "There is no animosity whatsoever."
Still, one suspects there are
at least some residual fumes from this squabble
, since a few Stanford players also took issue with Sarkisian's accusation.
There is another Shaw on the sidelines of this game, though figuratively: USC CB
Josh Shaw
, who last week went from heroic to notorious. Coupled with
Anthony Brown
calling Sarkisian a racist after the running back quit the team -- a charge that has been supported by absolutely no one -- USC was dealing with substantial tumult and unfavorable national headlines last week. It may have been a bit surprising that the Trojans overcame those distractions to efficiently dismantle Fresno State
52-13
, setting a Pac-12 record by running 105 plays.
An easy way for Sarkisian to change the narrative around his program and to win over Trojans fans who remain skeptical about his hiring is to beat the Cardinal on Saturday. Winning cures just about everything in college football.
In any event, even without Harbaugh and Carroll sniping at each other, we know the deal between USC and Stanford. It has endured as an annual battle imbued with drama and meaning, with the winner Saturday likely pushing into the top 10 and announcing itself as a Pac-12 and national contender.
And who knows? Maybe the postgame handshake will offer up another memorable exchange.
August, 30, 2014
Aug 30
11:02
PM ET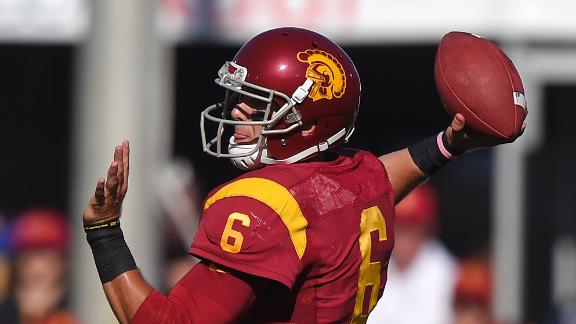 LOS ANGELES -- While most
USC
players tried to change the subject when the names of
Josh Shaw
and
Anthony Brown
were brought up after Saturday's 52-13 victory over Fresno State, starting safety
Su'a Cravens
admitted he was thinking of both seniors and how their final seasons could have been different if they had handled their situations another way.
"I know [Brown] probably regrets saying what he said," Cravens said of the running back who
quit the team
Aug. 21 and later called coach Steve Sarkisian "racist" in social-media posts since deleted. "It's unfortunate. I know Sark personally, and Sark is a great coach, and there's no way shape or form it's true what [Brown] said. I think he was just upset with the situation. If he could rethink that whole thing, he wouldn't have said it. It's the frustration of being in your senior year and really not playing. A.B. is my friend, and it's unfortunate what he said."
"[Shaw] apologized publicly to the coaching staff and to the entire football team and administration," Cravens added. "We all know what kind of guy Josh is, and he doesn't need to apologize to us for us to know that he's sorry for what he did."
What exactly happened with Shaw continues to be a mystery to most outside of the team -- the cornerback
has been suspended
after he admitted to lying about how he suffered a pair of ankle sprains -- and as much as Cravens would like to see the one-time defensive captain return, he understands that's out of his hands.
"We got to see what happens legally, and if Coach Sark lets him back onto the team," Cravens said. "We don't know what happened. I'm sure if some guys did know what happened, they wouldn't say because they might have to be witnesses in a courtroom. I don't know. As far as I see it, he fabricated his story, and that's all I know."
April, 16, 2013
4/16/13
12:00
PM ET
Lane Kiffin and Co. have released their official post-spring two-deep depth chart. And not surprisingly, there aren't a lot of surprises.
One of the most watched quarterback competitions in the country lists
Max Wittek
OR
Cody Kessler
OR Max Browne. Leaving us with what we knew a month ago. It's going to be Wittek OR Kessler OR Browne.

Steve Bisheff of WeAreSC
makes his case
-- and a compelling one at that -- for Kessler, who clearly had the strongest spring of all three quarterbacks.
Despite Kessler's clear advantage coming into the (spring) game, Kiffin had Max Wittek starting with the first unit at the Coliseum on Saturday. And even after Kessler outplayed his main competitor, throwing for 242 yards and three touchdowns with no interceptions compared to Wittek's 145 yards, two touchdowns and two interceptions, Kiffin insisted that no quarterback had emerged as a front-runner for the position and that he won't name a starter until the fall.
Sticking with the offense, there was already an assumed pecking order at wide receiver, but it's more solidified now. Darreus Rogers and
Victor Blackwell
are behind Biletnikoff winner
Marqise Lee
.
Nelson Agholor
will start opposite Lee with
De'Von Flournoy
and
George Katrib
backing him up.
Some intrigue at running back with
Silas Redd
at the top, but the starting gig is listed as Redd or Justin Davis or
Tre Madden
. Same for the fullback, which lists
Soma Vainuku
or
Jahleel Pinner
as the starter.
So while the entire offensive backfield is a grab bag of "ors," there is at least some solidarity on the offensive line, where four of the five starters appear to be in place.
Aundrey Walker
and
Max Tuerk
make up the left side with
Marcus Martin
at center and
John Martinez
at right guard. The only spot still in doubt is at right tackle between
Kevin Graf
or
Chad Wheeler
.
The new-look 52 defensive front has
Devon Kennard
and
Morgan Breslin
at the outside linebacker spots (that's going to be a scary combination, by the way) with
Leonard Williams
and
George Uko
(also a darn good tandem) at the ends. Nose tackle is still up for grabs between
Antwaun Woods
or
Cody Temple
.
In the secondary, where there are almost as many holes as there are questions -- little has been determined. Three of the four starting spots have an "or" attached to them. Only
Anthony Brown
looks like the inked-in starter.
Torin Harris
and
Kevon Seymour
are battling for the other corner spot and
Demetrius Wright
or Leon McQuay III are battling for free safety.
Josh Shaw
and touted freshman Su'a Cravens -- who missed a significant portion of spring drills -- will head into fall battling for strong safety.
August, 25, 2012
8/25/12
3:21
PM ET
By
WeAreSC staff
| ESPN.com
Garry Paskwietz writes

: With Isiah Wiley being ruled academically ineligible, sophomore cornerback Anthony Brown suddenly becomes USC's second starting cornerback.
Garry Paskwietz writes
: Updates from the last full practice of fall camp, centering mostly around eligibility concerns for a handful of players.
Blair Angulo writes

:A look at the top performances by USC recruits in this past weekend's high school football slate.
Blair Angulo writes

: USC running back commit Ty Isaac will miss some time after suffering a shoulder injury Friday night, but the Joliet, Ill., prospect will be back this season.
April, 16, 2012
4/16/12
11:00
AM ET
Catching up on the scrimmages and spring games in the south division.
ARIZONA

The Wildcats quarterbacks combined for six passing touchdowns -- including four from
Matt Scott
, who completed 22 of 35 passes for 315 yards. Arizona threw 55 times and ran 43 times in addition to working through several different scenarios.
"I shouldn't expect too much with the first year in the system, but with Matt Scott I'm going to expect a lot," head coach Rich Rodriguez
told the Tucson Citizen
. "And I think Matt can deliver."
Tyler Slavin
caught three touchdowns and
Richard Morrison
caught a pair. Dan Buckner hauled in the sixth.
Safety
Marquis Flowers
brought in the lone interception of the day and linebacker
Jake Fischer
matched a team high with six tackles after missing all of 2011 with a knee injury.
The day was marred, however, by another knee injury. Safety
Adam Hall
tweeted Saturday night that
he tore his ACL
-- a similar tear to the one he had last spring that kept him out of all but one game in 2011.
ARIZONA STATE

The three-way quarterback competition isn't settled, but head coach Todd Graham said he'd like to see someone take the lead before the end of the spring session,
writes Doug Haller of the Arizona Republic
.
Michael Eubank
threw three touchdowns -- a pair to
Gary Chambers
and a third to
Rashad Ross
. But he also threw a pair of interceptions.
Haller reports that
Taylor Kelly
looked effecient, throwing an 11-yard touchdown to tight end
Max Smith
and
Mike Bercovici
tossed three touchdowns -- all in the overtime session of the scrimmage.
Defensively, the Sun Devils forced a trio of turnovers and three times stopped the offense on fourth-and-1.
COLORADO

The Buffs ran a 42-play scrimmage with the emphasis on the offense. Head coach Jon Embree said he was happy with the performance of
Connor Wood
, who completed 7 of 10 passes for 137 yards and touchdowns to
Jarrod Darden
and
Dustin Ebner
.
"I thought No. 5 was sharp,"
Embree said
. "He missed a couple of deep balls ... but I thought he played well."
Embree also said that running back
Tony Jones
separated himself from the rest of the pack and looked solid during the spring session. Jones carried four times for 23 yards on Saturday.
Josh Ford
, however, stood out with 141 yards and two touchdowns on eight carries -- though Colorado's defensive line has been patchwork.
Embree said that if Colorado wants to reach a bowl game in 2012, they are going to have to rely on some of the players coming in this fall.
"I still think it's achievable, but how far we go towards that goal and how we accomplish it, we're going to lean on some guys coming in," Embree said. "So how quickly -- and I told this to the seniors and the rest of the team -- how quickly you're able to help them assimilate, help them know how to practice, know how to work, will help us get to that goal.
"If you want to look at it as they're the bad guy because they coming here to compete for a job, then we'll all have the same fate -- we'll all be home for Christmas."
USC

The Trojans secondary picked up a pair of interceptions -- one from safety
Drew McAllister
off of
Cody Kessler
and the other from cornerback
Brian Baucham
off of
Matt Barkley
-- as the defense outshined the offense at the Los Angeles Memorial Coliseum.
Barkley completed 23 of 39 passes for 212 yards with a touchdown -- a 1-yard pass to
Marqise Lee
. Kessler (3-of-6, 68 yards) picked up the majority of his passing yards on a 44-yard touchdown to fullback
Soma Vainuku
.
"It was definitely a learning experience," Kessler
told USC's blog
.
Linebacker
Hayes Pullard
and cornerback
Anthony Brown
each had six tackles, while linebacker
Dion Bailey
added five stops. Cornerback
Isiah Wiley
had five deflections to go with his four tackles. There were three sacks (by defensive ends
Devon Kennard
, Greg Townsend Jr. and Morgan Breslin).
"I think the young linebackers are playing really well," Lane Kiffin told
Erik McKinney of WeAreSC
. "Like I mentioned, the defensive backs have improved a lot. That was really critical, especially with a new coach back there."
UTAH

Quarterback
Jordan Wynn
completed 7 of 12 passes for 149 yards with a touchdown and zero interceptions as the Utes' offense continues to find its rhythm under new offensive coordinator Brian Johnson.
"Brian wants to take more shots downfield than we have recently and we can do that now because we have the speed in the wideouts to create separation and we have quarterbacks who can throw with accuracy," head coach Kyle Whittingham said. "Our quarterback situation is the best it has been in years."
Dave Kruger
, LT Filiaga and
Trevor Reilly
all recorded sacks for the defense and
Terrell Reese
returned an interception for 43 yards to go with a pair of tackles for a loss.
Luke Matthews
and
Kenneth Scott
both had touchdown catches.
DeVonte Christopher
had two catches, but led the receivers with 70 yards.
October, 14, 2011
10/14/11
8:47
AM ET
By
ESPN.com staff
| ESPN.com
The news wasn't all good for USC on Thursday night after it
whipped listless California 30-9
. Nor is it all bad for the Bears.
For USC,
injuries were an issue
.
Cornerback Anthony Brown broke his ankle and is likely done for the season. Running back
Marc Tyler
dislocated his left shoulder and he could be out two to three weeks. Receiver
Marqise Lee
sprained his shoulder but he may be able to play at Notre Dame next Saturday.
As for Cal, how could a sixth consecutive conference loss and an 0-3 start in the Pac-12 -- coach Jeff Tedford's worst start to conference play in 10 seasons -- have any upside?
Thanks for asking. Jon Wilner, not always known as Mr. Positive, points out that the
early conference schedule has been tough for the Bears
-- at Washington, at Oregon, USC -- but things are far more manageable ahead: Utah, at UCLA, Washington State and Oregon State. Writes Wilner:
And if the Bears take three of four, they'd be 6-4 – assured of a bowl bid before they step foot in Stanford Stadium and head down to Tempe for the finale.

So here's my advice to angry, frustrated, anxious Cal fans: The season isn't lost. It will get better.
Wilner the Reassuring! Cal fans probably don't know what to make of that.
By the way, Cal fans have a right to expect six wins this year. A second-consecutive bowl-less season would put Tedford decidedly on the hot seat, most likely making 2012 one of those "win or else" seasons. And if things crash and burn this fall, well, we know things can go south quickly for coaches in this business -- just glance south down at Tucson.
Cal's defense is playing fairly well. The problem, again, is the Bears' offense, Tedford's bailiwick. The Bears trailed 20-0 at halftime and never really made a run as they lost their eighth in a row in the series.
Quarterback
Zach Maynard
committed four of Cal's five turnovers -- three interceptions -- turning in a second-consecutive subpar game after an encouraging start. He didn't get much help. Cal rushed for just 35 yards.
Wilner has an idea that he feels pretty strongly about.
ZACH MAYNARD IS NOT A POCKET PASSER! WHY DOES HE SPEND SO MUCH TIME IN THE POCKET?!?

Why not let him throw on the run, especially moving to his left? That's when he's most comfortable, when he seems to find his rhythm.

Why not let him make plays with his legs? Why not run more spread option?
The Bears slow start provides our factoid of the game, courtesy of ESPN Stats & Information: In the last four meetings between the teams since 2008, USC has owned Cal in the opening half, outscoring the Golden Bears 92-3.
That's not a good way to beat a rival.