October, 7, 2011
10/07/11
5:41
PM ET
By
ESPN.com staff
| ESPN.com
Happy Friday.
Lead me on Twitter
!
To the notes!
John from Los Angeles writes
: What, in your opinion, do you think, has made the SEC the preeminent conference in the country? I remember the good old days when Washington, Colorado, UCLA, and USC were in the top 5 and top 10, with some National Championships along the way (Personally, I thought it had a lot to do with recruiting the Los Angeles area). But with the rise of the SEC do you think it has more to do with the changing of the game? More specifically, the move to more spread offenses and the need for speedier athletes, which the SEC currently has? Or do you think it has a lot to do with the defensive lineman in the SEC, who seem to be so much better than West Coast d-lineman? A lot of people say conference strength is cyclical, but is the current change in the game really cyclical or has it just evolved? Maybe it is demographics, as more and more people move to the Sunbelt and the talent pool has gotten bigger? Sorry, a lot to digest here from a concerned West Coast football fan.
Ted Miller
: This could be a 15,000-word essay. Or a 400-page book. But here's a CliffsNotes version.
Money: The SEC's rise parallels the rise of the BCS and the game growing from a pretty big business to a multi-billion dollar business. The SEC always had huge stadiums packed to overflow, but over the past 15 or so years, the conference has been able to monetize its popularity. What does money do? It hires elite coaches like Nick Saban, Urban Meyer and Steve Spurrier and it pays top assistant coaches what head coaches make in other conferences.
Recruiting: Demographics have concentrated more talent in the Southeast than anywhere else. You've got big guys and fast guys and fast big guys. (I mean Anthony Johnson: Are you kidding me?). The population may be greater in California, which still produces the premium quarterbacks, but a walk across a football field on a Friday night in the Southeast will have you asking if these are truly high school teams.
Culture: College football is king in the South (not the NFL, as it is everywhere else). Almost all the best athletes play football, and dream of playing in college, even though playing the most physically and mentally taxing sport in the Southeast humidity is worse than anywhere else. Want to know where all the West Coast linemen are? Playing basketball. Go to a big high school hoops tournament this winter. See all those 6-foot-5 guys? They will never sniff a Division I basketball court but they could have become NFL tight ends or offensive tackles. 100s of young men on the West Coast miss out every year on Pac-12 scholarships because they choose -- or are steered to -- basketball.
Self-fulfilling prophecy: Those who have been reading the Pac-12 blog since 2008, know I've taken on the topic of the SEC's dominance multiple times. Three years ago, I was more resistant to it. Not because I was a "Pac-10 homer," but because I didn't completely buy the "SEC rules" argument. That was three SEC national titles ago, including one lost by a Pac-10 team -- Oregon -- that I thought was going to stomp the team it lost to (Auburn). My feeling is all that "SEC rules!" talk, which has been around since Bear Bryant was the toast to of Tuscaloosa, was repeated so often, it became a recognized truth before it actually was true. And that perception helped the conference grow stronger and stronger until it became true. How? It also became a potent recruiting selling point. Consider the words of former top-rated recruit Ronald Powell of Moreno Valley, Calif. Yeah, not easy to hear for Pac-12 defensive coaches.
By the way, I know some of you might be tired of this topic. It seems like we take it on a few times a year. The reason I do that, though, is because it appears in the mailbag at least a handful of times every week. It seems like a topic that continues to be of genuine interest.
---
Brian from Beaverton, Ore., writes
: While you can't argue with the overall effectiveness of James at running back this year, have you noticed that even though they are running the spread offense, the majority of these running plays do not appear to be as read heavy between [QB Darron] Thomas and [RB LaMichael] James as they were last year? With Thomas being such an effective duel threat quarterback they are effectively removing an offensive weapon when he isn't taking the read option as much. This is allowing the defense to load up the tackle box and focus on the running back. Last year the defense had to be more honest because Thomas was more effective at holding onto the option and rushing himself. Do you see this as a fundamental change within the system or am I reading too much into it?
Ted Miller
: Chip Kelly has said repeatedly that Thomas is just doing his proper reads and has not been steered away from running the ball.
Of course, sometimes Chip just says "high" because a reporter said "low." I know that an opposing coach who was talking to me about the 3-4 looks Oregon sometimes uses on defense laughed in my face when I told him that Kelly said they didn't use a 3-4 defense. His response, which employed several colorful terms, was Kelly is full of malarkey and that reporters are stupid.
Thomas rushed for 486 yards in 13 games last year. He's rushed for 100 yards through five games. That does seem like a statistical trend suggesting he's running less. Is that just him reading what the defense gives him? I doubt it.
That said, Thomas rushed 10 times for 52 yards and scored both his rushing TDs against Arizona. So the threat is still there.
And, if I were going to crawl inside
Chip Kelly's head
and look around, I'd say that's exactly what he wants.
Because the Ducks run a spread-option, an opposing defense has to spend time accounting for the QB run. That takes up precious time. And if a defense coordinator takes note that Thomas rushed only five times in the first three games and decides to de-emphasize that possibility, he could get burned -- see Arizona.
Coaches spend a lot of time thinking about tendencies and what their opposition might be thinking. I think Kelly -- quite reasonably -- likes the idea of Thomas running less because it puts him at less risk for injury. But he also likes burning your butt when you start to think Thomas won't run.
---
Mark from La Quinta, Calif., writes
: Do you agree with your colleague Jesse Palmer when he stated that Cal had the two best wide outs in the conference? Or was he hyping the game as a lot of announcers tend to do on games they are broadcasting?
Ted Miller
: There are so many good receiver combos in the Pac-12 it's hard to choose, but Palmer's position is defensible: Entering the weekend,
Keenan Allen
ranked third and
Marvin Jones
sixth in the Pac-12 in receiving yards per game. No other tandem matched that. And that's notable because QB
Zach Maynard
only ranked fifth in passing yards per game (268.2).
Allen will be in the mix with USC's
Robert Woods
, Washington State's
Marquess Wilson
and Arizona's
Juron Criner
for first-team All-Pac-10. He's a big-time player. I suspect Jones will get drafted this spring.
So these guys are both good, experienced, A-list players.
So do I share Palmer's take? I might not have in the preseason, and I might not at season's end, but at this point, yes, they are the best 1-2 punch in the conference.
---
Jacob from Fort Hood, Texas, writes
: I feel as though Foles is getting the shaft because he is on a losing record team, but can you tell me why he isn't even being considered for the Heisman award even though he has more passing yardage than nearly every qb in the country? It doesn't make sense to me. Maybe you can shed some light on how the voting works and who is deserving in reality of the Heisman trophy. Is it more of a beauty pageant than an award for shear talent? Also, if Foles continues down the path that he is heading what round of the draft do you think that he will be picked up in?
Ted Miller
: The Heisman Trophy goes to a player for one of two reasons (and sometimes both). 1. Outrageous numbers; 2. Best player on best team. Often, those two are blended.
To start, Foles wasn't billed as a top candidate entering the season. Further, he is hurt because his team is 1-4.
To overcome those two issues, Foles would have to have outrageous numbers. He's got very good numbers, but not outrageous ones. He presently ranks 22nd in the nation in passing efficiency. And though he's piled up a lot of yards, 10 other QBs match or beat Foles' 14 TD passes.
As for the NFL draft, it's hard to say. I would be more surprised if he lasted past the third round than if he was selected in the first round. If you've ever chatted with him, he's a lot like
Andrew Luck
in terms of makeup. Smart, humble, eager to give credit to his teammates. And clearly very competitive.
---
Evan from Charlottesville, Va., writes
: You've written a couple times on the puzzling exclusion of
LaMichael James
from the current Heisman discussion. What is particularly confusing to me, however, is the fact that you yourself left him off of your ESPN Heisman Watch ballot this week. Assuming you vote Andrew Luck at number one, who filled out the rest of your ballot in spots two through five? And if you rated any other running backs ahead of James, what was your reasoning?
Ted Miller
: We do a top-five for ESPN.com each week. Here's mine from last week.
1. Andrew Luck. 2.
Kellen Moore
; 3.
Trent Richardson
; 4. Robert Griffin; 5.
Marcus Lattimore
(In retrospect, I should have dropped Lattimore after two straight underwhelming games).
My reasoning for leaving James off the ballot was twofold: 1. He didn't play well on a big stage against LSU (which he admitted); 2. His competition since then has been weak. His performance this week against a solid Cal defense will likely push him into my top five. Of course, now he's hurt and likely to miss at least a couple of weeks.
And if he doesn't, that would certainly add to his aura of being Heisman-worthy.
---
Spencer from Baton Rouge, La., writes
: Because I live a couple thousand miles away from the West Coast, Thursday's game against Oregon was the first time I have watched Cal play this season. Having listened to the other games via online radio streams, I knew Maynard struggled with accuracy. But I was shocked to see how poor his throwing mechanics are. How does a QB guru such as Jeff Tedford let such play fly? Granted, Maynard has not yet thrown the interceptions that Riley and Mansion did (which I attribute to poor decision making), but it is extremely surprising that Tedford would feel comfortable with the way Maynard throws the ball.
Ted Miller
: Without asking Tedford, my guess is that he chose not to mess with Maynard's natural throwing motion too much. Maynard is 22-years-old. Making drastic changes wouldn't be easy, especially with Maynard arriving at Cal as a junior, not a true freshman.
Sure, Maynard did have to sit out last year after transferring from Buffalo, meaning he could have refined his technique to a degree. I suspect Tedford has worked with him on his technique. But it might have been pretty late in the game for wholesale changes.
And I'm guessing that Maynard will get lots of work with Tedford based on how he threw at Oregon.
---
Rotfogel from Oakland writes
:
You have Cal only scoring 17
? Oregon's porous defense is going to hold the Pac 12's best WR tandem and offensive to 17? Maybe, highly unlikely but as you've said, Oregon is a tough place to play. I'm kinda happy you made that the score though, Cal's defense is far and away the Pac 12s best, hopefully they show it tonight.
Ted Miller
: I predicted 44-17. Oregon won 43-15.
I know: Gloating is unseemly. So sorry about that.
And is it just me or does it seem like the mailbag fills up more when I'm wrong than when I'm right?
---
Pete from Los Angeles writes
: Not sure if you saw this, but the Times of London's prestigious international rankings of the
top 400 universities
was released this week, and the Pac 12 has 4 schools in the top 25...in the world! No other AQ conference comes close. Once again shows that the Pac 12 is dominant in at least one category!
Ted Miller
: We are so smart.
Will I pick up any second-hand smart from hanging around with you guys?
September, 1, 2011
9/01/11
3:30
PM ET
Well, Chris, we meet again. The SEC and Pac-12 can't seem to quit each other, eh?
You actually were a good sport about not gloating too hard over your correct prediction that Auburn would outlast Oregon and win the SEC's fifth consecutive national championship. My prediction? I can't recall, but I'll admit a vague recollection of wrongness.


But here we go again: No. 3 Oregon versus No. 4 LSU in Cowboys Stadium. As good a season-opening matchup as we've had in decades. Kudos to both programs for having the courage to give college football fans something to look forward to during this dreary, controversy-laden offseason, from which these teams are not exempt by any means. Lots of intrigue in this one -- on and off the field.
But let's start with the football part of football. Tell me about LSU: What are the Tigers' strengths and what are their question marks?
Chris Low
: Honestly, Ted, the SEC has won so many national championships in a row now that it's not as much fun to talk smack. I guess we're sort of used to it here in SEC land. We do rings and NCAA investigations in these parts.
As for the game Saturday night in Arlington, Texas, I can't wait to see the collection of talent and speed on that field. This LSU defense should be the fastest John Chavis has had, and he's always put a premium on speed dating back to his days as Tennessee's defensive coordinator. Not only are the Tigers fast on defense, but they're deep. They have defensive ends, Barkevious Mingo and Sam Montgomery, who run like safeties, and Chavis loves to use multiple defensive backs. Just about everybody in LSU's secondary is a former cornerback. The best of the bunch is Morris Claiborne, who can fly. The Tigers are going to play Tyrann Mathieu at nickel and let him roam, which is what he does best. They'll bring him on the blitz one play and drop him into coverage on the next. He had 8.5 tackles for loss as a freshman and forced five turnovers.
[+] Enlarge
Tim Heitman/US PresswireThe Tigers are expected to lean heavily on Spencer Ware and the running game.
While defense will clearly be LSU's strength, the Tigers still have their share of guys on offense capable of making big plays even with quarterback
Jordan Jefferson
and receiver
Russell Shepard
sitting this one out. Sophomore running back
Spencer Ware
is poised to be one of the SEC's top breakout players this season. A former quarterback in high school, he weighs 225 pounds, has great moves and accelerates with the best of them. Senior guard Josh Dworaczyk will miss this game with a knee injury, and that's a blow. He's one of LSU's top offensive linemen. The one thing you don't know about this team is how equipped it would be to have to play from behind.
Jarrett Lee
is a senior and threw the ball well when he was called upon last season, but it's his show now with Jefferson sidelined. Lee's going to have to be more than just a situational player. I think you'll also see junior college newcomer
Zach Mettenberger
in this game. He has one of the strongest arms in the SEC, but he hasn't played at this level in a game. The Tigers will certainly have to throw it some to win this game. What I don't think they want to happen is to be in a position where they're having to throw it.
Ted Miller
: Everyone is pretty focused on the matchup of the LSU defense and the Oregon offense, which makes sense. Most everyone knows the SEC plays defense at a different level than the rest of the country, though some snarky sorts out West wonder if that's because those defenses play against SEC offenses. We'll get to that. I'm just as curious about the Ducks' defense against the LSU offense, even more so with Jefferson out. The Ducks' defense was underrated last year. While it ranked only 34th in the nation in total defense, it gave up just 4.67 yards per play and ranked 20th in third-down defense. For comparison, LSU yielded 4.86 yards per play and ranked 16th in third-down defense.
But that is last year. Oregon is replacing five starters from its front seven. While the defense has been stout during preseason camp -- the feeling is it's less experienced but bigger and more physically talented than last year -- we really don't know what it will do against Ware and a run-first attack. As for defending the pass, the Ducks felt like they'd have one of the best secondaries in the country -- not unlike LSU -- heading into the season, but that included All-America cornerback Cliff Harris. Harris, you might have heard, is suspended because he was in a 118 mph hurry to get back to Eugene one offseason night.
But back to that Ducks offense versus LSU's defense matchup. The Ducks' up-tempo, spread-option has been stymied in big games of late when opposing defenses had extra time to prepare and loads of NFL talent in their front seven.
What have you heard about the Tigers' preparation and how does their front-seven personnel compare to Auburn's in 2010?
Chris Low
: The best news for the Ducks is that Nick Fairley won't be suiting up for LSU on Saturday. He was the difference out in Glendale, Ariz., back in January, and my contention is that interior line play defensively has been what's set the SEC apart from everybody else the past several years. LSU is extremely talented up front with terrific athletes at the end positions and some promising young talent at tackle. They call true freshman tackle Anthony Johnson "Freak" for a reason. He's big, bad and usually bearing down on whoever has the ball. LSU doesn't have a proven difference-maker up front the caliber of Fairley, but LSU is deeper in the defensive line than Auburn was last season. At linebacker, Ryan Brown is an All-SEC caliber player on the weak side, but the Tigers will sorely miss Kelvin Sheppard in the middle. It looks like converted safety Karnell Hatcher is going to play a bunch in the middle.
Not to take anything away from Auburn's performance last season in the BCS National Championship Game, but LSU is a more talented defense across the board, particularly in the secondary, than the Auburn defense Oregon faced last season.
This also isn't John Chavis' first rodeo. His defenses were the backbone of some of Tennessee's best teams in the late 1990s, and with this being his third season in Baton Rouge, look for the Tigers to play even faster and more instinctively in that system this season. They've been working overtime to make sure they're getting the calls in quick enough, but I'd say you're going to see at least five defensive backs on the field for much of the game.
[+] Enlarge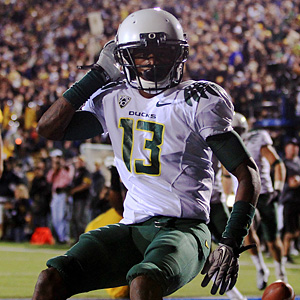 Ezra Shaw/Getty ImagesThe Ducks will be without standout corner/returner Cliff Harris, who's suspended from the team indefinitely.
Ted Miller
: All right, so we've talked about who will be there. The elephant in the room is who won't be. The Ducks have two suspended players in cornerback Cliff Harris and middle linebacker Kiko Alonso. (We're guessing with Alonso; Chip Kelly won't say for sure.) More than a few folks saw the suspension of Shepard making the loss of Harris a push -- two all-conference types who also are special-teams stars. Alonso is the Ducks' most physical linebacker, so his loss is significant. Dewitt Stuckey has seen action, but his backup is a walk-on. The Ducks seem fairly healthy heading into the game, though there are questions about receiver
Josh Huff
, who had been walking around in a boot until recently.
Still, all of this seems less important than the loss of Jordan Jefferson. First, what does losing Jefferson mean to LSU, both as a player and leader? Second, tell us a bit about Lee.
Chris Low
: The Tigers will miss Jefferson's ability to scramble and extend the play. He didn't throw it very well last season, but he made several big plays with his legs. In Lee, you get a pure pocket passer who's not going to move around much and look to run.
Lee's story is a good one. He had a brutal redshirt freshman season in which he threw 16 interceptions, including seven that were returned for touchdowns. But he persevered and hung around, and here he is with a chance to lead LSU to a special season as a senior. Lee came off the bench several times last season to save the Tigers, and I don't think there's any question that there's a renewed sense of confidence in him among his teammates.
Shepard is another playmaker you take out of the equation for LSU and a guy who can turn missed tackles into touchdowns, and the other key piece on offense the Tigers will be missing is senior guard Josh Dworaczyk, who's out with an injured knee. He was one of the anchors of that offensive line, so that's three key players missing on offense.
If the Tigers are going to win this one, they have to keep the Ducks from dialing up a bunch of big plays.
Enough talking, though. Let's play. How do you see this one shaking out, Ted?
Ted Miller
: Chris, after watching Oregon lose games like this to Boise State, Ohio State and Auburn, I've got to admit I see a pattern. Further, I think LSU's front seven is at least as good as Auburn's was
and
the LSU secondary is much better. I think the Ducks' defense will hold down the LSU offense fairly well, but I also think it will feel like a road game for Oregon because of a two-to-one Tigers advantage in the stands. I see a good game, but one in which the Tigers prevail 24-21.
Chris Low
: I'm picking the Tigers, too. Imagine that. I tried to convince you to pick Auburn out in Arizona back in January, but you were blinded by those Oregon uniforms. The Ducks play fast, but so does the LSU defense. I also think the Tigers will be able to run the ball well enough to keep that Oregon offense off the field. Get ready for Spencer Ware to formally introduce himself to the college football world in a 28-24 LSU win that soothes a few wounds on the Bayou.