October, 26, 2013
10/26/13
9:43
PM ET
For a
USC Trojans
team that is fighting injuries and scrapping for every win, there was something that just seemed right about the way things played out in a 19-3 victory over Utah on Saturday.
Last week the Trojans were unable to take advantage of the opportunities presented to them in the loss to Notre Dame, but there were no such troubles against the Utes. In fact, Utah was able to drive for a field goal on its opening possession but that was it.
"It was an outstanding performance by our players," USC interim coach Ed Orgeron said. "They had a good mindset throughout the week to pull together through adversity and the result is a happy locker room right now."
It was the USC defense that set the tone by forcing four Utah turnovers -- three interceptions and a fumble -- and converting all of them into points to go into the locker room at halftime with a 16-3 lead.
First it was
Josh Shaw
, who had been moved back to corner after spending the past three games at safety. Shaw was able to intercept a ball that had been tipped by a Utes receiver, and it set up a 30-yard touchdown pass from
Cody Kessler
to
Nelson Agholor
for a 7-3 USC lead.
[+] Enlarge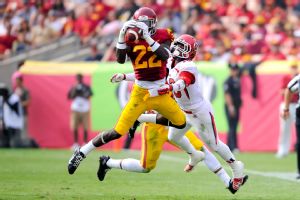 AP Photo/Gus RuelasFreshman safety Leon McQuay III had one of USC's three first-half interceptions.
Next it was
Antwaun Woods
forcing a fumble on a sack of Utah quarterback
Travis Wilson
.
Anthony Sarao
recovered at the Utah 19. The Trojans went three-and-out, but
Andre Heidari
was able to convert a 35-yard field goal for a 10-3 lead. In the first quarter alone, the USC defense had three sacks, five tackles for loss and two takeaways.
Leon McQuay III
, who got his first start for the Trojans at safety, was able to get an interception after Wilson rolled to his right and threw late, with McQuay moving in for the ball at the right moment. Heidari was able to hit a 38-yard field goal to make it 13-3 and then late in the half, with time running out, the Utes inserted
Adam Schulz
at quarterback in place of Wilson, who was having trouble throwing the ball with a hand injury. Schulz didn't fare any better as his first pass was intercepted by Su'a Cravens, who returned it 54 yards to the Utah 10. Heidari added a 28-yard field goal as time expired.
"We had emphasized all week on getting back to our dominant selves," USC linebacker
Hayes Pullard
said. "We wanted to give up nothing on the field. We just had to execute the plan the coaches gave us and transfer that to the field during the game."
About the only things that went wrong for USC were injuries to Cravens and offensive tackle
Kevin Graf
. Cravens injured his groin on the interception return, while Graf left the game earlier with a left ankle/foot injury. The string of injuries for the Trojans is long right now with players such as
Marqise Lee
,
Xavier Grimble
,
Randall Telfer
and
Morgan Breslin
being forced to sit out the game. In fact, once Cravens went down, the Trojans were forced to suit up
Dion Bailey
, who had been on the sidelines in street clothes during the first half.
"We knew that at the nickel position we only had one guy to play," Orgeron said. "He [Bailey] knew that and he told us he wanted to play so he put on his uniform and went out there. It shows that these guys believe in each other and are willing to sacrifice for the good of the team."
[+] Enlarge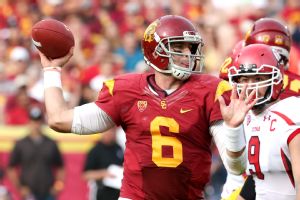 Stephen Dunn/Getty ImagesCody Kessler passed for 230 yards and a touchdown with no interceptions.
J.R. Tavai
, who was playing for Breslin, led USC with 11 tackles and two sacks. The second-leading tackler was Sarao with nine, and he was subbing for the injured Dawson. It has been that kind of year for the Trojans with injuries, but it's easy to get well when the opposing offense puts up only 201 total yards and averages less than 3 yards per play.
For the Trojans offensively, it wasn't exactly a banner day either. USC gained only 30 yards rushing when factoring in sack totals.
Tre Madden
led the way with 60 yards on 12 carries. Kessler had a solid day with 21 completions in 32 attempts for 230 yards and one touchdown with no picks, but he was also sacked five times. The Trojans did not turn the ball over, but third-down conversions (3 of 15) continue to be an issue.
A special mention needs to be made of Heidari, who saw his job put open for competition this week after he missed two critical field goals against Notre Dame. Heidari admitted at practice earlier in the week that he was in "a funk," but he appeared to get out of it by hitting on 4 of 5 field goals in a nice rebound performance.
"Andre is money," Kessler said. "He's a great kicker. Unfortunately he missed some kicks last week, but he's one of the best kickers in the nation in my opinion. I have 100 percent confidence in him. When he's focused and locked in, he is spot on."
The Trojans travel to Oregon State next Friday to face a Beavers team that will not likely struggle on offense the way the Utes did. Orgeron will be looking to get his team as healthy as possible on a short week in order to play at a place that has not been kind to the Trojans in recent memory and against a team that is more than capable of providing a much stiffer test.
April, 16, 2013
4/16/13
12:00
PM ET
Lane Kiffin and Co. have released their official post-spring two-deep depth chart. And not surprisingly, there aren't a lot of surprises.
One of the most watched quarterback competitions in the country lists
Max Wittek
OR
Cody Kessler
OR Max Browne. Leaving us with what we knew a month ago. It's going to be Wittek OR Kessler OR Browne.

Steve Bisheff of WeAreSC
makes his case
-- and a compelling one at that -- for Kessler, who clearly had the strongest spring of all three quarterbacks.
Despite Kessler's clear advantage coming into the (spring) game, Kiffin had Max Wittek starting with the first unit at the Coliseum on Saturday. And even after Kessler outplayed his main competitor, throwing for 242 yards and three touchdowns with no interceptions compared to Wittek's 145 yards, two touchdowns and two interceptions, Kiffin insisted that no quarterback had emerged as a front-runner for the position and that he won't name a starter until the fall.
Sticking with the offense, there was already an assumed pecking order at wide receiver, but it's more solidified now. Darreus Rogers and
Victor Blackwell
are behind Biletnikoff winner
Marqise Lee
.
Nelson Agholor
will start opposite Lee with
De'Von Flournoy
and
George Katrib
backing him up.
Some intrigue at running back with
Silas Redd
at the top, but the starting gig is listed as Redd or Justin Davis or
Tre Madden
. Same for the fullback, which lists
Soma Vainuku
or
Jahleel Pinner
as the starter.
So while the entire offensive backfield is a grab bag of "ors," there is at least some solidarity on the offensive line, where four of the five starters appear to be in place.
Aundrey Walker
and
Max Tuerk
make up the left side with
Marcus Martin
at center and
John Martinez
at right guard. The only spot still in doubt is at right tackle between
Kevin Graf
or
Chad Wheeler
.
The new-look 52 defensive front has
Devon Kennard
and
Morgan Breslin
at the outside linebacker spots (that's going to be a scary combination, by the way) with
Leonard Williams
and
George Uko
(also a darn good tandem) at the ends. Nose tackle is still up for grabs between
Antwaun Woods
or
Cody Temple
.
In the secondary, where there are almost as many holes as there are questions -- little has been determined. Three of the four starting spots have an "or" attached to them. Only
Anthony Brown
looks like the inked-in starter.
Torin Harris
and
Kevon Seymour
are battling for the other corner spot and
Demetrius Wright
or Leon McQuay III are battling for free safety.
Josh Shaw
and touted freshman Su'a Cravens -- who missed a significant portion of spring drills -- will head into fall battling for strong safety.
March, 1, 2013
3/01/13
3:32
PM ET
By
ESPN.com staff
| ESPN.com
DuckNation
From Brandon P. Oliver

: Answering reader questions about Oregon's recruiting efforts in California for the 2014 class.
WeAreSC
From Johnny Curren
:
Antwaun Woods
is looking forward to earning an increased role in new defensive coordinator Clancy Pendergast's 5-2 defense.
September, 6, 2012
9/06/12
1:28
PM ET
By
ESPN.com staff
| ESPN.com

ESPNLA's Shelley Smith recaps Marqise Lee's record-breaking touchdown return, and discusses the defensive game plan for Syracuse with defensive tackles Antwaun Woods and George Uko.
August, 31, 2012
8/31/12
5:32
PM ET
By
Pedro Moura
| ESPN.com
The No. 1-ranked
USC Trojans
begin their 2012 season on Saturday against Hawaii (4:30 p.m. PT) at the L.A. Memorial Coliseum. Here are five things to watch:
1. Who's playing?
Because of Lane Kiffin's new injury-reporting restrictions that began this week, we don't know which of the Trojans' injured players will be playing on Saturday. It certainly creates some mystique around this opener, as there's really no telling who was practicing this week and who wasn't. Among the players who missed all or most of USC's Saturday scrimmage, the last day injuries were allowed to be reported, were receiver
George Farmer
, tight ends
Randall Telfer
and
Christian Thomas
, defensive tackle
Leonard Williams
, defensive ends
Wes Horton
and
Greg Townsend Jr.
, linebacker
Lamar Dawson
, cornerback
Torin Harris
and safety
Demetrius Wright
.
2. Silas Redd and Curtis McNeal
. The expectation is that McNeal will start, because he's been at USC longer and been successful with all of his opportunities. But Redd's first three-plus weeks in a USC uniform have gone about as well as the Trojans could have expected. The early-season competition between the two to decide who the primary back will be might be more interesting than the battle between
Marqise Lee
and
Robert Woods
, because we don't yet have any idea of how Kiffin plans to use Redd in games. Here's guessing both guys will get about 15 touches on Saturday, with another 5-10 for
D.J. Morgan
.
May, 25, 2012
5/25/12
6:30
PM ET
By
ESPN.com staff
| ESPN.com
In advance, I hope everyone has a safe and enjoyable Memorial Day weekend. Please, remember to take a moment to think about
what it's all about
.
And then have a great cook out.
You can follow me on Twitter
.
To the notes.
Scott from Honolulu writes
: My question is with rumors of Florida St. talking with the Big 12 and the new college football playoffs being put into place in the near future, do you foresee another round of conference realignment? And if so, what are possible schools could we see in this new Pac 12, 14, 16 or whatever numerically correct conference?
Ted Miller
: Pac-12 commissioner
Larry Scott
has long held that further contraction in college football is inevitable. As you know, he's the all-knowing
Dr. Strange of college football
. And I agree with Scott. I used to think we'd reduce the FBS field to about 60 teams, and that crew would break away from the NCAA and form its own governing body. Now I think it might end up being an even smaller number.
First, so far there's been a lot of smoke (chatter) with little fire (an actual move) as it pertains to ACC teams with wandering eyes. Further, emotionally, I don't know how I feel about the notion of college football reducing itself to four super-conferences. Part of me winces, but I'm not sure if that's just my age showing. More than a few of you think my affection for the Rose Bowl is dated. When I hear such talk, I always see the baffled reaction of another sportswriter when I say, "But I'd really rather not eat at Applebee's."
On a Machiavellian level, I think the Pac-12 presidents made a mistake when they blew off Oklahoma, Texas, Oklahoma State and Texas Tech last September. While Scott won't say this on the record, my feeling from talking to him these past three or so years is he agrees. The Pac-12 had an opportunity to become the Pac-16, the first superconference, and thereby guarantee itself the most powerful seat at the table when the new look of college football is hashed out this summer.
Said Scott at the time,
while defending the decision to remain at 12
: "An opportunity was turned down that could have generated more money for the schools but potentially could have torn apart the fabric of the culture of the conference."
Culture, you might have noticed, is losing its traction during college football's money grab.
That move, of course, would have torn the Big 12 asunder. By the Pac-12 not doing so, the Big 12 was allowed to regroup and now it is threatening to do that very thing to the ACC. Yeah, all is fair in love, war and conference realignment.
And where does the Pac-12 turn if the SEC and Big 12 were to split up the prime teams of the ACC? Hard to say. Texas has always been the big prize in that it offered a huge market, a stellar sports program and strong academics. But that bull has walked, so to speak, and there are few teams within, oh, 1,500 miles of Pac-12 country that make much sense for expansion. Or that aren't spoken for.
The number that makes the most sense is 16. That's why few believe the SEC will stay at 14. But which four programs could add value to the Pac-12? The pickings are slim, unless Scott tries to raid the Big 12, which at present is surging and unified, or he gets really creative, outmaneuvers the Big Ten, grabs Notre Dame and uses that coup to go national and lures three more teams from outside the West region.
As it stands, I don't see an ideal 16-team scenario for the Pac-12, though I don't have one of those all-knowing Dr. Strange brains like Scott and Chip Kelly do.
Michael from Seattle writes:
Do you buy into the hype of
Desmond Trufant
? I've seen him in a "top 100 players headed into 2012" list and I was fairly shocked. I hope I'm wrong, but I don't see him having a monster senior year. Thoughts?
Ted Miller:
Trufant is an NFL prospect. He's going to be a four-year starter for Washington. He's got good measurables -- 6-0, 185, good speed -- and good bloodlines being the younger brother of NFL cornerback Marcus Trufant. He was honorable mention All-Pac-12 last year, so at least two Pac-12 coaches think he can play.
But, yes, there have been a few times when he's been notably beaten. I'm aware that some Huskies fans are doubters. I also think NFL draft projections before a player's final year are fluid and often uniformed. Guys who appear in the first round of mock drafts in the summer often disappear by the following spring. And other players on nobodies' mock draft radar soar into the early rounds.
My feeling is Trufant has plenty to prove. I also think it's hard to measure him because the Huskies have been so awful on defense. It's difficult to be a good cornerback behind a weak pass rush. Or when you're consistently left on an island because the defensive coordinator is consistently rushing six or seven because of that weak pass rush.
I think the Huskies defense will be much better under new coordinator
Justin Wilcox
. And that will make Trufant look more like an NFL corner.
Kym from Los Angeles writes:
Which redshirt freshman will have the biggest impact this season?
Ted Miller
: If he wins the starting QB job,
Michael Eubank
at Arizona State would be a good guess. Same with QB
Brett Hundley
at UCLA.
California really needs
Maurice Harris
to step up at receiver. Utah has a redshirt freshman No. 1 at right offensive tackle after spring practices:
Daniel Nielson
. USC has several redshirt freshmen on its D-line --
Antwaun Woods
,
Cody Temple
,
Christian Heyward
and Greg Townsend -- who could really help if they stepped up.
This will be a better question -- or at least one that's easier to answer -- when we get a solid idea of depth charts in mid-to-late August.
Tim from Salt Lake City writes
: Why is it that, though I've seen them mentioned as a possible pre-season top 25 more than once, Utah hasn't warranted so much as an honorable mention in any of the offseason lists? As you are fond of asking us, who would you exclude in their favor?
Ted Miller
: Barring any major, presently unforeseen issues, Utah will be in my preseason top-25 vote for the ESPN.com.
Here's Mark Schlabach's
most recent top-25
. I think you could clip the team that the Utes beat in the Sun Bowl and thereby find a spot.
Michael from Stockton, Calif., writes:
Will oregon really be that big of threat to the explosive and very talented USC
?
Ted Miller:
Yes.
Steve from Fort Myers, Fla., writes
: A while back you made a list of places to eat in the Pac 12 cities, this summer I will be traveling to Seattle, Corvallis, and Eugene. I was hoping you could either email me the list, or tell me where to find it, so I can check them out?
Ted Miller
: If you
click here
, it will magically appear.
And if you read some of the comments below, you undoubtedly will find more options.
May, 14, 2012
5/14/12
7:30
AM ET
2011 overall record:
10-2
2011 conference record:
7-2 (1st, South)

Returning starters:
Offense: 9; defense: 8; kicker/punter: 2
Top returners
QB
Matt Barkley
, S
T.J. McDonald
, OL
Khaled Holmes
, WR
Robert Woods
, WR
Marqise Lee
, RB
Curtis McNeal
, DL
Devon Kennard
, DL
Wes Horton
, CB
Nickell Robey
, LB
Dion Bailey
, LB
Hayes Pullard
, K
Andre Heidari
Key losses
OL Matt Kalil, DL Nick Perry, FB Rhett Ellison, DL DaJohn Harris, DL Christian Tupou, LB Chris Galippo, RB Marc Tyler, WR Brandon Carswell, LS
Chris Pousson
2011 statistical leaders (*returners)
Rushing:
Curtis McNeal* (1,005 yards)
Passing:
Matt Barkley* (3,528 yards)
Receiving:
Robert Woods* (1,292 yards)
Tackles:
Dion Bailey*, Hayes Pullard* (81)
Sacks:
Nick Perry (9.5)
Interceptions:
T.J. McDonald* (3)
Spring answers
1. Marqise Lee is ready for prime time:
It's no secret that Lee is a talented player who put together a terrific freshman season, but he took that performance to an even higher level this spring when he was the best player on the field for the Trojans. We're seeing a rare athlete in Lee, one whose acrobatic style is being compared to Lynn Swann.
2. The USC defense is worthy of mention:
There is so much attention paid to Matt Barkley and his offensive weapons -- and deservedly so -- but this spring was a reminder that the Trojans defense is going to be pretty good too. The back seven will be a strength, as the starters return intact plus there is a nice supply of talented depth.
3. The future of the USC quarterback spot is in good hands:
Spring was an extended audition for
Max Wittek
and
Cody Kessler
, as Barkley was limited in his reps. Both players had their moments as they look to settle into the No. 2 role and the inside track to be Barkley's heir apparent. The Trojans also got a verbal commitment from
Max Browne
(No. 2 rated pocket passer in ESPN 150), who will enroll next spring.
Fall questions
1. Interior of the D-line:
One of the keys of spring was replacing two senior starters from the middle of the line.
George Uko
stepped in at defensive tackle and had flashes of real solid play. After Uko, however, things are not so clear. There is no established backup for him and no set starter at nose tackle, as
J.R. Tavai
and
Antwaun Woods
continue to battle for the job.
2. Lack of depth at tailback:
The Trojans have a returning 1,000-yard rusher in Curtis McNeal but not a lot of experience behind him.
D.J. Morgan
had 42 carries in 2011,
Buck Allen
redshirted last season and
Nelson Agholor
has yet to join the team. That's the extent of the playing time for the 2012 USC reserve tailbacks.
3. Protecting the blind side:
There wasn't a ton of worry last year about left tackle with Matt Kalil but replacing him has not been easy.
Kevin Graf
got the first look, but then the coaches moved
Aundrey Walker
into the spot. Lane Kiffin said Walker was not consistent but he showed enough with the potential of the size benefits he brings that he will stay as the starter heading into fall camp.
April, 19, 2012
4/19/12
11:00
AM ET
By
ESPN.com staff
| ESPN.com
All players are equal, but some players are more equal than others. That's the basis of our Most Important Player series.
First off, quarterbacks are excluded to make things more interesting. It goes without saying that Arizona's
Matt Scott
, USC's
Matt Barkley
and Washington's
Keith Price
are their teams' most important players. Their losses would be catastrophic.

And most important doesn't necessarily have to be "best." An All-American's backup can be pretty darn good too.
Our most important guys are players who could swing a win total one way or the other, based on their living up to expectations. Or their absence.
USC
: DT
George Uko
2011 production
: The Trojans No. 3 DT in 2011, Uko started two games and played in all 12. He had 18 tackles, 1.5 sacks and two forced fumbles.
Why Uko is so important:
Look I get it: QB Matt Barkley is the Trojans most important player beyond a shadow of a doubt. The leading Heisman Trophy candidate, he might be the most valuable player in the nation. If Barkley got hurt, his likely replacement would have no game experience. So, yes, Uko is not the Trojans' most important player. But can't we have some latitude to escape obvious land?
So why is Uko is so critical to the Trojans fortunes? First, he has tons of potential to be a breakout player, perhaps even All-Pac-12. The 6-foot-3, 285-pound sophomore saw significant action last year and was productive when he did. But it's not just about Uko. It's about the lack of depth at defensive tackle for the Trojans. No. 1 nose tackle
J.R. Tavai
, just 6-foot-2, 270 pounds, is the next most experienced interior defensive lineman. He had four tackles last year. Running back
Curtis McNeal
-- another candidate for Most Important After Barkley -- had three. The next three guys --
Christian Heyward
,
Antwaun Woods
and converted center
Cody Temple
-- are redshirt freshman. Zero game experience. You might wonder if the Trojans could bring an end inside -- perhaps 275-pound redshirt freshman Greg Townsend -- but all the choices would be undersized. The depth at end isn't exactly great either. Small DTs who don't command double-teams are particularly an issue when you are small at linebacker, as the Trojans are. If the Trojans lost Barkley, their season script would need an immediate rewrite. If the Trojans lost Uko? Let's just say not many teams win conference and national titles with gaping holes in the center of their D-lines.
February, 15, 2012
2/15/12
2:30
PM ET
July, 23, 2010
7/23/10
1:37
PM ET
By
ESPN.com staff
| ESPN.com
The final post in a series looking at potential dream and nightmare scenarios for all Pac-10 teams, starting at the bottom and working up from my vote in the Pac-10 media poll.
Understand: These are not predictions. They are extreme scenarios and pieces of fiction.
Up next:
USC
Best case
It starts with a Tennessee football helmet.
Perhaps it is fitting that Lane Kiffin, who always took the high road after his completely reasonable departure from Tennessee, would use the symbol of a program that hated him to solve a major environmental crisis. Where the oilmen and scientists failed, Kiffin, with an assist from USC quarterback Matt Barkley, successfully plugs the BP oil spill in the Gulf.
"It was pretty cool," Barkley says. "I don't know where the Tennessee football helmet came from, but he just swam right into the middle of the oil flow -- it was really jetting out of there -- and slammed the helmet in the hole. I was a little worried about him for a second, but all of the sudden -- slam! -- and the oil stopped. And then, of course, there was that trip to the White House."
The trip to the White House turns eventful when Kiffin invites President Obama, House Speaker Nancy Pelosi, House Minority Leader John Boehner and Rush Limbaugh out for a beer.
"Pelosi is a riot -- you don't get that on TV," Kiffin says. "She and Limbaugh start singing "99 Red Balloons" together, and the President manages to extract this pesky splinter from Boehner's thumb. Dude just brightened. Great smile. Everybody got along famously and agreed to stop bickering over fatuous things and actually solve problems. I joked that a good start would be NCAA sanctions against the Trojans."
While USC enters the season as a slight Pac-10 favorite, much of the preseason talk centers on Kiffin's skill as a diplomat and humanitarian.
"Look guys," Kiffin tells reporters after the Trojans open with a 42-7 win at Hawaii. "This isn't about me. I've never been a 'me' guy. I'm about team, whether you're talking about the world, the United States or USC. But I'm the USC coach and let's keep the focus on USC and not Lane Kiffin. Darn it! Did I just talk about myself in the third person! That's terrible. Sorry."
USC doesn't allow a touchdown in wins against Virginia and Minnesota. Barkley throws his 11th TD pass of the season at Washington State before sitting out the second half of a blowout victory. USC needs a late scoring run from Allen Bradford to beat Washington and Steve Sarkisian.
"Steve is a friend first and rival second," Kiffin says afterwards. "Men of character can compete and compete hard but still break bread together. I would hope that's a lesson for my team. We're not just about winning at USC, though we do a lot of that. We're about family and character and building leaders."
USC whips Stanford 33-10.
"I don't know anything about
'What's your deal
?'" Kiffin says afterwards. "Revenge? That's not why we play football at USC. We play for the pure joy of sport and competition. We should share that with our opponent. So we should always strive for a respectful relationship with our foe. That's the deeper meaning to me."
The Trojans beat California and a ballyhooed showdown with No. 5 Oregon becomes just another blowout win. USC rises to No. 1 in the AP poll.
There simply is no stopping the Trojans. Their defense ranks No. 1 in the nation. Barkley leads the nation in passing efficiency. They are the nation's least penalized team. Meanwhile, on the student side of things, players switch majors from criminal justice and recreation science to pre-med, English and political science.
"Unusual to hear players talking about theoretical physics?" linebacker Chris Galippo replies to an eavesdropping reporter's question. "Really? We talk about stuff like that all the time here in the locker room. Coach Kiffin encourages it. You should hear [fullback Stanley] Havili. He's obsessed with movies. He's always going on about 'mise en scène'. You should have heard him after movie night at the Boys & Girls Club when we saw 'The 400 Blows.' Dude really has a thing for François Truffaut."
USC rumbles past Arizona State, Arizona, Oregon State and gets a standing ovation from Notre Dame fans after a flawless performance in South Bend.
A column appears on UCLA blog "
Bruins Nation
": "
Is it wrong from Bruins to respect Kiffin
?" Writes "Nestor": "It's like John Wooden and USC fans. Wooden's greatness transcended the bitter rivalry. So it's possible to acknowledge that a great man is the leader of your hated enemy. Of course, I'm not yet ready to compare Kiffin to Wooden after just one season. But the idea obviously has hatched."
USC beats UCLA 30-17. Kiffin and Bruins coach Rick Neuheisel share a warm handshake afterwards.
Once-beaten Florida wins the BCS title game. The AP crowns unbeaten but NCAA-sanctioned USC national champions.
"Are we the true champions?" Kiffin says. "Well, I like our team. I like its character. But Florida is a great team with great character, too. [Gators coach Urban] Meyer has done such a great job down there. I called him yesterday to congratulate him. I feel bad about how things started between us. I feel like we're both ready to move past that. I think doing so would be a great example to our players and our fans."
In the spring, the NCAA apologizes to USC and gives it all of its scholarships back.
Worst case
Four games. Four blowout victories. It doesn't look like USC has taken a step back. Perhaps it's taking a step forward under Lane Kiffin?
And, yes, Trojans players, knowing they are banned by the NCAA from the postseason, start to crow. The general theme is: "We're the best and everybody knows that."
Such talk gets a bit quieter when Washington quarterback Jake Locker takes a Heisman Trophy turn in the Coliseum during a 35-21 Huskies victory. Kiffin runs off the field yelling at the officials instead of meeting his friend, Washington coach Steve Sarkisian, at midfield for the postgame handshake.
Last year, Toby Gerhart dominated USC during Stanford's blowout win. This year, it's quarterback Andrew Luck, who tosses four TD passes in a 41-24 victory.
"Do I think [Jim] Harbaugh ran up the score on us?" a steaming Kiffin says. "Absolutely. His quarterback throws TD passes. Ours throws interceptions. His guys are physical. Ours quit when things get tough. We had a good plan. Our players just didn't execute it. Harbaugh's got a good thing going. But we won't always be down. We'll get our guys in here and then let's see how things go."
After said speech, even those who are just learning English become familiar with all the nuances of the phrase, "throwing under the bus," a cliche that appears in nine out of 10 columns about the game.
"We're playing for ourselves, for our teammates, not for Kiffin," an anonymous player is quoted in the LA Times after the Trojans beat California.
Oregon rolls up 510 yards in a blowout win in a half-empty Coliseum. After the game, defensive coordinator Monte Kiffin announces that he will retire at the end of the season.
The Trojans beat Arizona State 10-9, an effort that's attributed to a show of respect for the elder Kiffin. But the Trojans drop their next three games before visiting arch-rival UCLA.
"Any of you guys think it's funny UCLA plays in the Rose Bowl?" Kiffin asks reporters during his weekly press conference. "What's the word I'm looking for? Ironic? Isn't it ironic that the Bruins play in the Rose Bowl? The Rose Bowl is the Trojans home. We'll be back playing in the real Rose Bowl soon enough."
Replies UCLA coach Rick Neuheisel, "Whatever."
The Bruins prevail 21-3, holding Kiffin's offense to 215 total yards.
"I'm not going to talk about [Kiffin]," Neuheisel says after the game. "This is about us, not them. This is about building classy hotels on Park Place and Boardwalk. We don't care about the other guys. Just as long as they pay rent when they
land on our squares
."
After UCLA trounces Missouri in the Holiday Bowl,
Christian Westerman
,
George Farmer
,
Todd Barr
and
Antwaun Woods
announce they will sign with the Bruins, who finish 9-4 and ranked 14th.
UCLA finishes a consensus No. 1 in the nation in recruiting. With its last full class before scholarship limitations are invoked, USC finishes fifth in the Pac-10.
"Recruiting rankings don't mean anything," Kiffin tells reporters. "We didn't want any of those guys that went to UCLA. Sure, we recruited a lot of them. But when I looked in their eyes, I could tell they weren't Trojans."
The NCAA rejects USC's appeal of sanctions.
Tennessee fans put up
15 billboards
around the USC campus.
July, 14, 2010
7/14/10
9:00
AM ET
By
ESPN.com staff
| ESPN.com
Third in a series looking at potential dream and nightmare scenarios for all Pac-10 teams, starting at the bottom and working up from my vote in the Pac-10 media poll.
Understand: These are not predictions. They are extreme scenarios and pieces of fiction.
Up next:
UCLA
Best case
Rick Neuheisel's critics might have called it "smug," but his reaction after UCLA's much-maligned "pistol" offense rolled up 450 yards in a 42-17 win at Kansas State more accurately should be termed "vindicated." Might even have been a bit of relief there.
"It took us a lot of hard work to get here," he says after the Bruins impressive road win. "But it will take us even more to get where we want to go."
Solid wins over Stanford and Houston mean the Bruins carry a No. 19 ranking to No. 3 Texas on Sept. 25.
"We aren't afraid of them," Bruins linebacker Akeem Ayers says before the game. "It's not like UCLA hasn't won at Texas before." Ayers refers to the 66-3 stomping the Bruins delivered the Longhorns during their last visit to Austin in 1997.
Of course, Texas isn't the same in the Mack Brown Era as it was during John Mackovic's ill-fated tenure. Still, the Bruins don't yield until a
Kevin Prince
pass is intercepted in the endzone in the waning moments. Texas holds on 20-17, despite four Bruins sacks of QB
Garrett Gilbert
.
"Ten [Ayers] and 56 [end Datone Jones] -- those guys can really run," Gilbert says afterwards. "Seemed like they were in my face all day."
After dispatching Washington State, it's made clear, however, that the Bruins haven't arrived. Four turnovers sinks them at California, and Oregon surprises the Bruins by going to the air, with Ducks QB
Nate Costa
throwing for 320 yards and three touchdowns in a 35-24 win.
The Bruins beat Arizona when kicker Kai Forbath drills a 55-yard field goal with 30 seconds left, but lose in double-overtime to Oregon State. The visit to Washington feels like a must-win, and the good news for everyone is it has nothing to do with Neuheisel's controversial tenure as the Huskies coach. Both teams are trying to fight into the top-half of the conference.
Huskies QB
Jake Locker
puts on quite a show. Only, on this evening, he's not as good as Prince, who runs for two scores and throws for three others as the Bruins win a shootout, 45-42.
A win at Arizona State then sets up the annual showdown with city rival USC. The stakes? Well, if the Bruins prevail, they earn a Holiday Bowl berth. And if USC wins? It goes undefeated and likely is voted No. 1 in the AP poll, despite NCAA sanctions that prevent it from playing in the postseason.
"It's clear we are the best team in the nation," Trojans coach Lane Kiffin says before the game. "Just look at the numbers. We've won every game by double-digits playing in the best conference in the country. Heck, even UCLA can almost win at Texas and the Longhorns look like they are going to play for the BCS title."
Kiffin uses finger quotes when he says, "BCS."
The Bruins win 21-3, holding Kiffin's offense to 215 total yards. "I'm not going to talk about [Kiffin]," Neuheisel says after the game. "This is about us, not them. This is about building classy hotels on Park Place and Boardwalk. We don't care about the other guys. Just as long as they pay rent when they
land on our squares
."
After UCLA trounces Missouri in the Holiday Bowl,
Christian Westerman
,
George Farmer
,
Todd Barr
and
Antwaun Woods
announce they will sign with the Bruins, who finish 9-4 and ranked 14th.
The NCAA rejects USC's appeal of sanctions.
Worst case
Who's idea was this freaking "pistol" offense anyway?
That is the general feeling among UCLA fans after a lackluster 13-10 win at Kansas State, with Akeem Ayers 38-yard fumble return giving the Bruins their only touchdown.
Even the defense looks bad in a 30-17 loss to Stanford. The Bruins get their feet back under them -- after reverting back to a more pro-style scheme -- and outlast Houston and QB
Case Keenum
33-30, but the Bruins' multiple issues are laid bare in a 35-10 embarrassment at Texas.
The offensive line can't protect Kevin Prince. It can't open holes. And the defense is good but not dominant.
A win over Washington State only preludes a desperate five-game losing streak -- Cal, Oregon, Arizona, Oregon State and Washington. Neuheisel and offensive coordinator Norm Chow bench Prince in favor of
Richard Brehaut
for the trip to Arizona State.
"The offensive struggles aren't Kevin's fault," Neuheisel says. "But we need something to change. We want to see what Richard can do."
Brehaut does just enough to lead the Bruins to a win over Arizona State, but few fans are happy with the state of the program as it limps toward its annual showdown with USC, which is unbeaten and ranked No. 1 in the AP poll.
It further doesn't help the Bruins mood that the week is dominated by talk of how USC coach Lane Kiffin and QB
Matt Barkley
had, in late July, together plugged the BP oil spill in the Gulf, earning a commendation from the president.
"It wasn't that big of a deal," Kiffin says. "We were on the beach and Matt said he wanted to swim out there and take a look. So we did. I just happened to have an old Tennessee football helmet with me, and Matt said we might be able to plug it with that. Not that I needed the helmet anymore. Hey, it worked. But you have to understand: That's what we do. We're
USC Trojans
."
USC wins 45-3. After two irrelevant teams play for the BCS title, the president and congress jointly decree that -- just like in 2003 -- anyone who says "BCS national champion" is required to use finger quotes.
In the spring, the NCAA apologizes to USC and gives it all of its scholarships back.
June, 2, 2010
6/02/10
11:28
AM ET
By
ESPN.com staff
| ESPN.com
The
ESPNU 150
recruiting list has been released.
Four players on it already have committed to Pac-10 teams, three to USC and one to Washington. They are:
The list includes 18 players from the West Coast: 11 from California, four from Arizona, two from Washington and one from New Mexico.
March, 25, 2010
3/25/10
4:48
PM ET
By
ESPN.com staff
| ESPN.com
Interesting note here
from ESPN.com West Coast recruiting analyst Greg Biggins (it's the third item down): Defensive lineman
Antwaun Woods
(Woodland Hills, Calif./Taft), while committed to USC, is going to take all five visits.
I've never talked to Woods but he's got the right idea: Every recruit should take all five official visits, even if they are -- or believe they are -- certain where they want to go.
Why? Because official visits are fun. Because visits allow a young man to see other parts of the country with all expenses paid. Because -- just maybe -- there will be something else out there that proves intriguing.
Of course, coaches don't like that. They want a kid to commit and then not talk to anyone else, much less take more visits.
Recruits -- and parents -- might want to take note when a coach gets bent about taking a full flight of official visits, particularly early in the recruiting process. It might be revealing about that coach's motives. Is the coach looking out for the young man, or only his recruiting class?
The problem for some kids is leverage. While "five-star" guys will get coddled in all circumstances, sometimes coaches will threaten to pull a scholarship offer if a recruit takes more visits. Or they will use that as justification for yanking an offer later when a more highly rated prospect becomes available.
Again, that's revealing about the coach.
On the other hand, the later it gets in recruiting, the more justifiable a coach's frustration becomes. Yes, it can be an ugly game.
Still, recruits need to understand one basic rule in recruiting: It's all about them. They don't owe anybody anything. Not coaches. Not fans. The recruit needs to make decisions based on what he wants and what his family wants.
And it's easiest to figure that out after taking all five official visits.