July, 1, 2011
7/01/11
11:15
AM ET
First, the eulogy.
Goodbye, Pac-10.
We will miss the perfect symmetry of the Pac-10: Arizona-Arizona State, Oregon-Oregon State, USC-UCLA, Washington-Washington State and California-Stanford.
We will miss a conference that crowned a
true
champion with round-robin, everybody-plays-everybody conference play.
We will miss the continuity: 33 years as the Pac-10, since Arizona and Arizona State were invited to the Pac-8 in 1978.
Hello, Pac-12.
[+] Enlarge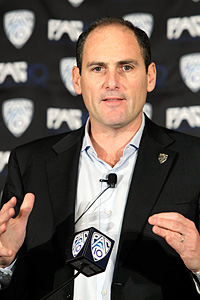 AP Photo/Paul SakumaCommissioner Larry Scott says he hasn't ruled out further expansion of the conference.
Hello,
$250 million
! Yeeeee Haaaaaw!
Sorry about that, but, really, that's why we are here. It wasn't about respect. It was about money. Which is fine. The conference -- college sports -- is a big business, and commissioner Larry Scott is looking a lot like the best CEO out there. He's making everybody richer. He's eyeballing the future with a clear notion of continuing to do just that.
Pac-12: It will take some getting used to, of course.
The most obvious changes heading into 2011: The addition of two new teams, Utah and Colorado; the creation of two divisions, North and South; and the introduction of a conference championship game to be played in the home stadium of the No. 1 seed.
The fan experience, mostly consistent since 1978, will be different. A team's Rose Bowl chances won't be dashed just because it doesn't have the best conference record. Winning the division is what matters. And, of course, an 11-1 team that finished second in its division might not feel exactly thrilled about an 8-4 team from the other division playing for a Rose Bowl berth.
Advice: Deal with it. It's the new reality.
Hey, Arizona: Never been to a Rose Bowl? You now need to beat out only five teams to get an opportunity to play in a winner-take-all championship game. You, too, California (1959) and Oregon State (1965).
There are downsides. The Northwest schools aren't terribly happy that they won't always get an annual trip to recruiting-rich Southern California. How might that affect the balance of power? In fact, the re-introduction of conference "misses" -- keep in mind the nine-game conference schedule only began in 2006 -- means some road trips will become fairly rare.
Further, the nine-game conference schedule will become even more controversial going forward (many coaches hate it). Sure, it's convenient for athletic directors trying to put together schedules and fill stadiums, but it adds six losses to the conference every year, which hurt national rankings as well as cut down bowl opportunities and bowl-eligible teams, and it now no longer has any competitive, symmetrical value in terms of round-robin play.
It will be different. Did we mention the $250 million?
Colorado has a
celebration planned today at Folsom Field
. Coaches and administrators will don new Pac-12 garb.
It's a more momentous occasion in Utah, as the Utes move from a non-AQ conference to an AQ one. Scott will be on hand in Salt Lake City
for the festivities
. The Utes won't get a full share of the Pac-12 largess until 2014, but the even a 50 percent cut in 2012 will represent a huge increase in revenue.
There's more intrigue to come. Scott is hard at work creating a Pac-12 network, which could end up being
more than just a cable TV station
. A partnership with a tech company such as Apple or Google, as first reported by Jon Wilner of the San Jose Mercury News, could be a game-changer, putting the conference at the forefront of the next generation of mobile broadcasting.
Further, expansion, as Scott has said from the beginning, is likely not over. Scott's original grand plan was a Pac-16 with Texas as the centerpiece. While the Longhorns may be closer to going independent than leaving the Big 12 for the Pac-12, there's still clearly some reckless eyeballing going on out there.
Scott's wheeling and dealing has raised eyebrows among college and conference administrators in time zones other than the PT. Yes, there has been grumbling. And, yes, that grumbling is grounded in fear. The SEC and Big Ten are still the top dogs, even after Scott's TV deal eclipsed theirs, to everyone's surprise. But the future pecking order no longer feels certain.
Would you bet against Scott? If so, let's shake on it.
Details of the creation of a Pac-12 network likely won't be revealed until mid-to-late August. While that's a big story, our attention now can move toward the field of Pac-12 play.
The first big question: How will Utah and Colorado fit into the football pecking order? Will it be an easier transition for a downtrodden AQ team (Colorado) or a non-AQ power (Utah)?
And has the balance of power shifted North, where Oregon and Stanford are top-10 teams and Washington appears to be rising from the dead? Recall 2000, when USC was in the dumps and the Ducks, Huskies and Oregon State were top-10 teams. Who steps into the void in the South Division left by USC's NCAA-administered beatdown?
What will a championship game
feel
like on a Friday night, Dec. 2?
In other words, the debate over the merits of expansion and its execution is giving way to the debate over ... football. After all the skepticism and hand-wringing, our attention now turns to X's and O's, personnel evaluations, rankings and trash talking each other.
In other words: Football. Pac-12 football.
Buckle up.
June, 27, 2011
6/27/11
11:21
AM ET
By
ESPN.com staff
| ESPN.com
No reporter consistently covers the business end of the Pac-12 better than Jon Wilner of the San Jose Mercury News, and
this blog post on three potential models for the Pac-12 Network
is interesting and worth a look.
The first two models are predictable: 1. transforming an existing channel into the Pac-12 Network; 2. Creating a new channel from scratch.
Wilner provides the pluses and minuses of both, which is not unexplored territory (but he explains it well).
Model No. 3, to steal his term, is the "whopper:"
This is the whopper: The conference would bypass the traditional, sub-based model and align with one of the tech giants.

Instead of teaming up with Time Warner or Comcast, the league would partner with Google or Apple.

Instead of turning on you TV to watch the Pac-12 Network, you'd turn on your computer (or tablet or mobile phone).
Someone talked to me about this a few months ago, and my immediate reaction was skepticism. What about the traditional audience that likes its TV remote control? As a side note, I thought Twitter was stupid the first time I saw it. (Suffice it to say, I would never make it as a venture capitalist in Silicon Valley).
But, as Wilner notes, such a bold move toward the future would be very Larry Scott-ish. And if you think how quickly the technology is moving forward, well, betting on a cutting-edge model seems like a high-reward gamble with limited short-term risk (the chief one being giving up subscription fees).
Writes Wilner:
The Google/Apple TV model is clearly a play on the future — in three or five years, big screen televisions and laptop computers will be one in the same.

It also fits with the west coast's spirit of innovation that Scott and the league presidents are so intent on embracing.

(By the way: Google co-founders Larry Page and Sergey Brin are Stanford grads, and Stanford president John Hennessy sits on the Google board.)
If you let this one marinate for a moment, it's intriguing, yes?
And, if we are willing to indulge speculation, is there not a hybrid option? Perhaps the Pac-12 could create a cable network and also team with Google or Apple? After all, Scott brought ESPN and Fox together on a TV deal. Why couldn't he create another unconventional partnership?