April, 26, 2013
4/26/13
1:00
PM ET
Five Pac-12 players were selected in the first round of the NFL draft on Thursday.
Here's the chart:
So... what's our take?
Thanks for asking.
Kevin Gemmell
: I must say, very, very interesting first round. And one that I think most Pac-12 fans can be relatively pleased with. The five players drafted Thursday night are the most since the league sent six in 2008. So that's progress.
Two things really stood out as surprising to me. First, it's not that
Dion Jordan
went third overall to the
Miami Dolphins
. It's that he went to a 4-3 defense. Perhaps Jeff Ireland is a huge fan of the Pac-12 blog and was reading our
Take 2 from a few weeks ago
. And if that's the case, you're welcome, Jeff.
[+] Enlarge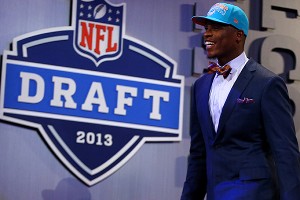 Al Bello/Getty ImagesThe Dolphins traded up from No. 12 to No. 3 in the first round to select Oregon's Dion Jordan.
Jordan is pretty good at stopping the run -- but it's not the strength of his game. As every draftnik in the world noted before and after the selection, he's a beast at speed rushing off the edge, but has some work to do in other aspects of his game. They also made the apt comparison to former Dolphin defensive end Jason Taylor. Fitting since both players have similar frames and skill sets. He had an OK career, so maybe it all works out.
The second thing that surprised me was that
Star Lotulelei
was not the first defensive tackle taken. We figured he could go pretty much anywhere in the top 15 -- most mocks had him where he landed at No 14 to the
Carolina Panthers
. One pick earlier, Missouri's
Sheldon Richardson
went at No. 13 to the
New York Jets
. I admit I don't know a ton about Richardson. I just know that Lotulelei graded out higher, had a comparable 40 time (though it was inconsistent because it was at a pro day, not the NFL scouting combine) and he had eight more reps on the bench. Maybe it's just personal preference, but I was pretty surprised he wasn't the first defensive tackle off the board.
Liked the pick of Oregon's
Kyle Long
by the Bears. They are getting a versatile player who could really fit in at any position across the line after he gets a little seasoning. We've seen him slowly creep up in mock drafts -- starting several months ago in the third-round range -- and that buzz was legitimized with his pick at No. 20.
And I liked that Atlanta had
Desmond Trufant
targeted and they traded up to get him. It was a need position and they jumped at the chance to get an NFL-ready starter. Good pick.
Datone Jones
is a guy Ted and I have been talking about for a couple of years now -- how we just kept waiting for him to breakout. And then UCLA switches to the 3-4 and he blows up. He could be a real solid player for years in Green Bay's 3-4 front.
Overall, I'd call it a fair-to-good first day for the Pac-12.
Ted Miller
: Of course, the big question many will ask is how did the Pac-12 compare to the other conferences.
Here are the first-round numbers. Yes, there will be SEC crowing, with some justification.
SEC – 12

ACC – 6

Pac-12 – 5

Big 12 – 3

Independent – 2

MAC – 1

C-USA – 1

Big East - 1

Big Ten - 1
The SEC's 12 picks ties the record set by the ACC in 2006. Don't forget the SEC now has 14 teams. Or, for that matter, the Big 12 has 10.
My first-round takeaways? Well, the above numbers are meaningful.
The SEC? Well. I'll let you guys try to explain those away. (Good luck with that.) I
tweeted this story the other day
, and I think it well relates how SEC dominance, once a chimerical creation from a region that often doesn't fret the truth getting in the way of a good story, has become a self-fulfilling prophecy.
The bottom, however, is almost as telling -- see the Pac-12's Rose Bowl partner, the Big Ten with just one selection. That certainly validates the perception that conference has slipped, something we've seen on the field in recent years.
As for the five Pac-12 picks, I had a nice conversation with Jordan at the Fiesta Bowl about
how his fortunes had turned
. He seemed genuinely awed by it. And grateful. After the game, I was standing there when his mother worked here way through the crowd to give him a hug. Apparently it was raining inside University of Phoenix Stadium.
One of the things I always think about on draft day is how through-the-looking-glass strange it's got to feel for guys, at least the reflective ones. Sure, most top picks get fronted money by their agents, so they've been living the life for a few months. But when it becomes official, a guy in his early 20s suddenly become certifiably rich.
The third pick last year, Cleveland's Trent Richardson, got four years at $20.4 million. Just imagine yourself at 23 having a conversation about $20 million. And how it's a bit low.
[+] Enlarge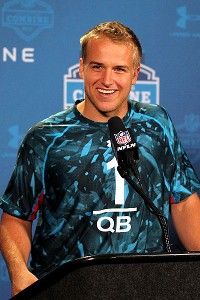 Brian Spurlock/USA TODAY SportsMatt Barkley could be the next Pac-12 alum off the board.
As for the rest, the Panthers got a steal with Star Lotulelei at No. 14. The Panthers just put a checkmark in the box for the middle of their defensive line. And I think Jets fans will remember in a very Jets fans way that the Jets took Missouri DT Sheldon Richardson a pick before the Panthers.
Oregon O-lineman Kyle Long at No. 20 was a mild surprise, but the Bears probably swooned over his obvious upside. You can't beat his bloodlines either.
The Trufant pick
clearly validates the Pac-12 blog
at the expense of Washington fans. See... we told you he was good.
Wait. I may not be recalling that accurately. Two words: Kevin's fault.
And Jones, whom we've been touting pretty much since he arrived at UCLA, obviously found his rhythm over the past year.
As Kevin noted,
there are a lot of good Pac-12 players left on the board
, including a substantial handful who figure to get selected in the next two rounds. Things should continue to be interesting, starting with who steps up and picks USC quarterback
Matt Barkley
.
March, 23, 2012
3/23/12
5:30
PM ET
By
ESPN.com staff
| ESPN.com
Here's hoping everyone's bracket is in fine shape.
If you go here,
you will be able to answer the question of just how fun it would be to
follow me on Twitter
.
To the notes.
Brenden from Portland writes
: I was curious of your thoughts as to the potential draft place of
LaMichael James
. It seems with RBs trending down in recent draft positions, and LM potentially having inflated "system" numbers, might spell a much lower draft position than people are anticipating (especially those overly confident duck fans). But really I am just looking for a glimmer of hope with a long ago bet (a delicious bottle of whiskey) made with a friend on who'd get drafted higher, Quizz or LM.Thanks,An Optimistic/Delusional Beaver Fan.
Ted Miller
: James will be drafter higher than Jaquizz Rodgers, of that I'm almost certain. Rodgers was selected in the fifth round by the Atlanta Falcons last spring. If James falls past the third round, I'll be shocked. Mel Kiper has moved James up to
No. 2 among available running backs

, behind only Alabama's beastly
Trent Richardson
.
James' stock has been rising since he got a solid 40 time at the NFL combine and was even faster during Oregon's pro day. He also has shown that he can be a capable receiver, which used to be a knock on him.
As many of you might recall, I've entertained this James vs. Rodgers debate a number of times, favoring Rodgers as sophomore but then admitting that James had
grown as a player and had become more than just a speed back
after the 2010 season. My feeling now is that James ranks among the top five running backs all-time in the Pac-12.
James and Rodgers are similar in stature -- James is a bit taller and Rodgers is a bit thicker -- but James is clearly faster, and speed is something you can't teach. Both have been compared to Darren Sproles, an undersized but highly productive back. A better comparison, to me, might be James to former California speedster Jahvid Best, only far more durable.
Will James become a feature back? Hard to say. It's critical for him to get into the right situation. I think it's ignorant that some folks dismiss James as a "system" back, or that he can't run between the tackles. That said, my feeling is James will be more effective if he's playing with an offense that uses a lot of zone blocking, as Oregon does. That fits better into his skill set.
Scott from Lafayette, Colo., writes
: When you fill us in on Colorado's Spring practice can you find out if they are going to move senior LB
Jon Major
inside or leave him on the edge. Inside I think he could lead the conference in tackles and be our next All American LB. Outside, teams scheme away from him and he is in coverage so much he losses production in the run game. He started inside his sophomore year and was unblockable before going down with an injury. Paired with a healthy Rippy, they could make up one of the better LB duo's in the conference.
Ted Miller
: Major is listed as the Buffaloes starting strong side linebacker on the pre-spring depth chart.
Brady Daigh
is presently listed No. 1 at MLB, but when
Douglas Rippy
comes back, he's almost certain to be the starting "Mike." Junior
Derrick Webb
is the weakside 'backer.
But defenses aren't inflexible. Recall that the Buffs were officially a 3-4 last year but are now back to a 4-3. I expect to see Major move around as the Buffs use different looks, so plenty of times he will appear to be playing an inside LB position.
And if Rippy and Major stay healthy, they are potentially one of the better tandems in the conference.
Pete from Calgary writes
: Stanford's secondary took a lot of criticism last season for a number of reasons, usually revolving around not being able to tackle in space after a catch. Accepting the premise of the question (that they didn't play that well), do you think this is a result of the defensive scheme they ran (stop the run first, and let the opposition catch a few balls), injuries, not having the right players, something else, or all of the above? Do you see any reason to believe they will be better this coming season?
Ted Miller
: There's a bit of all of the above, but there's also a need for some perspective.
Yes, when Stanford's defense got burned this past season, it did seem like it was the secondary getting burned. Still, playing against Pac-12 offenses, the Cardinal yielded 21.9 ppg and 337.62 ypg, totals that both ranked among the nation's top-30. Further, Stanford's defense got ripped by three teams: Oklahoma State, Oregon and USC. Those are the Nos. 2, 3 and 16 offenses in 2011.
Yes, there were some missed tackles, most notably against Oregon and Oklahoma State. Yes, it still seemed the Cardinal was just short of the sort of across-the-board athleticism you'd like to have in a secondary. There was a little too much 4.6 and not enough 4.4. Further, there were some injury and youth issues.
So what about 2012? Well, the return of CB
Wayne Lyons
should help. You'd also hope the youthful growing pains experienced by safeties
Devon Carrington
and
Jordan Richards
will yield mature, seasoned players a year later. And you'd hope that good recruiting -- such as incoming freshman Alex Carter -- will bolster the unit.
Further, it also might help that Derek Mason, the Cardinal's secondary coach, will be coordinating the defense alone, instead of sharing the job with Jason Tarver, who was hired to coordinate the Oakland Raiders defense. That way the front and backhalf will be hearing from one chief voice.
Tim from California writes
: I know you're a braves fan so can we get a shout out to Chipper Jones for an amazing career he had, since he announced he's retiring at the end of the year. Also, what are
Nickell Robey
's NFL prospects?
Ted Miller
: Wow, Chipper Jones. A tip of the cap to a great ballplayer. I turn 43 in September, and he turns 40 in April, so his career runs pretty parallel to my adult life. I remember the pure joy of running around Buckhead with my buddies during those glory days in the 1990s when winning was still fresh for Braves fans.
As for Robey, a first-team All-Pac-12 choice, he's certainly a very good college player. He will be a third-year starter in 2012 after winning the job as a true freshman in 2010, and I
ranked him 23rd overall in the conference 2011
. He was Pac-12's best cover corner last fall.
But the NFL is going to raise an eyebrow at his size: 5-foot-8, 165 pounds, particularly with the proliferation of big receivers. Robey's coverage skills will get him noticed, but his size likely will prevent him from being an early-round draft pick.
December, 16, 2011
12/16/11
5:15
PM ET
By
ESPN.com staff
| ESPN.com
Happy Friday.
Follow me on Twitter
.
To the notes!
Zach from Mesa, Ariz., writes
: Not sure how I should feel about Todd Graham coaching my Sun Devils. Seems like a used-car salesman and he really hasn't done anything.
Mike from Philly writes
: I'm not going to call you an idiot, even though that might help get this published, but you've missed the mark on Graham. Not sure if he can coach, but he's completely full of it. He's a liar. He's spineless. Why would anybody want him to lead their sons?
Ted Miller
: Got plenty of feedback on my admittedly quasi-
Machiavellian takes
--
and here
-- on Todd Graham bolting Pittsburgh after one year for Arizona State and texting his departure to his players instead of meeting with them face-to-face. I have many thoughts on this, but I'd rather not do another 1,000-plus word column. So I'll try to be brief. Briefer, at least.
Let's start with this: Recall just a week ago when Graham said, "I don't know how else I can say it. I've said it on three different occasions. I'm not going to be the Arizona State's coach."
Oh. Wait. That wasn't Graham talking about Arizona State. That was the best coach in college football. That was, gulp, then Miami Dolphins coach Nick Saban, talking about Alabama, not Arizona State, and who just days after saying that became... wait for it... wait for it...
Alabama's coach!
And what did Saban say when he later sat down with ESPN Chris Mortensen, who asked if Saban's disingenuousness would be an issue for him in recruiting going forward?
"The number one thing for me, Nick Saban, whatever anyone thinks, is to be a good person," Saban said. "Honesty, integrity, loyalty, being fair and honest with people is always been the trademark of what I've done."
So know that when Graham talked about how important "relationships" were for him Wednesday, that same forehead slap of indignation over the unintentional irony has happened before. And will again. It's the nature of their business.
You cannot compare Saban's and Graham's resumes, of course. But Saban has long been a climber at the highest level while Graham has been scratching and clawing -- some might suggest scurrying -- to arrive at an A-list job. That means you often leave unhappy people in your wake.
Do any Alabama fans care about Saban's messy departure from Miami? Are you kidding? No coach in America is more beloved by his fan base. Why? Have you looked at Saban's win-loss ledger and trophy case?
Same goes for Bobby Petrino at Arkansas, who didn't even finish his only season with the Atlanta Falcons before bolting for the Razorbacks,
leaving behind only a note for his players
.
Graham, suffice it to say, is not alone in the Hall of Coaching Transition Infamy. Don't gloat Arizona fans. You might recall your new coach, Rich Rodriguez had some issues at West Virginia, too.
Then let's consider this name: Mike Riley.
Riley left Oregon State in 1998 after just two season -- his hometown team! -- for the San Diego Chargers, where things went badly. But he got lucky. The Beavers were willing to re-hire him in 2003, believing he'd learned the proverbial "the grass is always greener lesson." No coach in the nation has been more loyal to his university since then while not getting super-rich. At $1.3 million a year, Riley is now the second lowest paid coach in the Pac-12.
He could have doubled his pay when Alabama came calling. He could have tripled his pay when USC came calling. But he remained loyal. And he's been praised for it. Which is nice.
Yet now, despite averaging nine wins a year from 2006-09 at a program that didn't post a winning season from 1971-98, two consecutive losing seasons have him sitting on the conference's hottest seat heading into 2012. There's a vocal minority of fans who believe he should be fired now. A larger percentage believe he needs to make a staff overhaul. My belief is he won't survive a third consecutive losing season.
If Riley had been "disloyal" to Oregon State and bolted in 2010 for USC -- he was widely seen as then-athletic director Mike Garrett's first choice -- he would have more job security today than he does now and a far more financially-secure future for his family. This side of the story is rarely considered, but such cautionary tales pass by word of mouth among coaches -- i.e., watch your back and look out for No. 1.
Maybe Graham is a double-talking con artist. Or maybe his circumstances and opportunities just have been different than other coaches, particularly in terms of timing. Maybe he felt like he and his family being unhappy at Pittsburgh was a good enough reason to leave for a place they wanted to go.
What Arizona State fans need to know is this: This is a tempest in a teapot. It's the story of the week. If Arizona State wins eight games next year, there will be grins all around in Tempe. And if the Sun Devils go to the Rose Bowl within five years with Graham, his exit from Pitt will, at most, be a curious sidenote.
---
Brian from Pullman, Wash., writes
: In your post "
Imagining the perfect coach
," you said that "There are only 10 or so destination jobs in college football -- places where there really isn't a move up." I'm curious to know which universities you believe are on this list.
Ted Miller
: My list of 13 destination jobs would include (in alphabetical order): Alabama, Florida, Florida State, Georgia, LSU, Michigan, Nebraska, Notre Dame, Ohio State, Oklahoma, Penn State, Texas and USC.
Of course, everyone's
personal
list would be different. I'd rather be the coach at Stanford or California -- Bay Area! -- than Nebraska or Oklahoma. But the quality of area restaurants is more important to me than most coaches.
And immediate circumstances matter. Even before the Penn State scandal, following Joe Paterno would have been an extraordinary challenge. No one likes to be the man after the man.
Factors? Tradition, stadium size, all-time winning percentage, recruiting base and revenue.
---
Lolita from Riverside, Calif., writes
: My name is Lolita Anderson. I am
Dres Anderson
's mother. I am so elated! Thank you so much for
my son's recognition
. You absolutely made our family's Christmas! By the way what rubric do you use when making these decisions? This is Awesome!!! Go Airforce! Go Utes!!
Ted Miller
: Most of it has to do with on-field performance.
But some of it is based on having a cool mom.
December, 10, 2011
12/10/11
2:37
PM ET
Jim L. Mora, a two-time NFL head coach with almost no college experience, is UCLA's new football coach, according to
ESPNLosAngeles.com
.
And UCLA made the
official announcement a short time later
.
Mora, 50, is currently an analyst for the NFL Network. He was fired from his last coaching job -- a single season with the
Seattle Seahawks
in 2009 -- after going 5-11. His only college coaching experience? He was a graduate assistant in 1984 at Washington, where he played from 1980-83.
Are Bruins fans going to immediately embrace this hire with buzzing enthusiasm? Probably not, particularly after Arizona and Washington State made splashier hires with Rich Rodriguez and Mike Leach.
I like how ESPN LA's Peter Yoon
describes things
here:
True, Mora isn't exactly the splashy, big-name hire many UCLA fans were hoping to land, but there are reasons to believe his hire makes a lot of sense.

First, he has no UCLA ties in his past. Second, he is a defensive-minded coach. Third, he has no noteworthy experience as a college coach.

That bucks the trend of the past three UCLA coaches who are seen as the holy triumvirate of mediocrity. Bob Toledo, Karl Dorrell and Neuheisel were all Bruins assistants at some point before they became head coach; Dorrell and Neuheisel were UCLA players.
Before joining Seattle, Mora served as head coach of the
Atlanta Falcons
from 2004-2006. In his first season with Atlanta, the Falcons went 11-5 and made it to the NFC championship game. His teams went 8-8 and 7-9 the next two seasons and he was fired. But keep in mind, he was dealing with QB
Michael Vick
-- a stellar talent with a terrible work ethic and attitude at that time, something Vick has owned up to after he got out of jail.
[+] Enlarge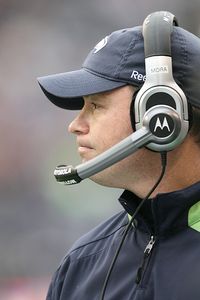 Otto Greule Jr/Getty ImagesJim Mora takes over the head coaching position at UCLA, his first on-field job since coaching the Seattle Seahawks in 2009.
A former Washington Husky reserve who played for Don James, Mora is a defensive guy with a strong resume working with secondaries.
That last part should be encouraging for Bruins fans. His area of specialization is stopping the pass. There, you might have heard, is a lot of throwing in these parts.
Mora also has the potential to be a charismatic recruiter. The parallel UCLA folks are surely thinking of -- whether they want to or not -- is USC's hire of Pete Carroll in 2001. Carroll had little college experience and was generally thought of as a mediocre-to-bad NFL head coach. Just about everyone panned his hire and mocked then-athletic director Mike Garrett's bumbling coaching search (which was a true comedy of errors and sloppiness).
Trojans fans eventually changed their feelings. There's a possibility that Mora will do the same.
"As someone who has been around the game of football my entire life, I have always held the UCLA job in the highest esteem," Mora said in a statement. "Given its location and its tradition, UCLA is truly a sleeping giant and I realize that an opportunity of this magnitude doesn't present itself more than once in a career, so I jumped at the chance to be a Bruin."
It's fair to say Mora was the Bruins' third choice. Boise State's Chris Petersen and Miami coach Al Golden both rejected previous entreaties.
I know UCLA fans don't always appreciate using USC as a measuring stick, but, again, Carroll was the Trojans fourth choice after an 18-day search. He was widely seen as a lightweight.
So this is an outside-of-the-box hire. At the very least, skeptical Bruins fans can grab hold of that.
Further, it's worth noting that a massively negative reaction would serve no useful purpose for the program. In fact, 11 other Pac-12 programs are likely poised to print out such reactions and use them against the Bruins in recruiting.
Meanwhile, the Bruins will play Illinois in the Kraft Fight Hunger Bowl on Dec. 31 with interim coach
Mike Johnson
, who took over after Rick Neuheisel was fired two weeks ago.
Here's the
LA Times on the Mora hiring
.
The
LA Daily News
.
And the
Orange County Register
.
December, 7, 2011
12/07/11
2:22
PM ET
By
ESPN.com staff
| ESPN.com
Arizona State is preparing to announce that SMU coach June Jones will become the team's next coach,
sources told ESPN.com
.
While the Twitter-sphere has already moved into the analysis phase, Doug Haller of the Arizona Republic reported that a
final deal has not yet been signed
: "According to sources, both sides are working to iron out final details. As of 11:30 a.m. (MT), ASU had not scheduled a news conference announcing Jones' hire."
Jones, 58, a run-and-shoot specialist, has rebuilt two losing college programs into bowl teams: Hawaii and SMU. He led Hawaii to the Sugar Bowl in 2007. He also was an NFL coach with the San Diego Chargers and Atlanta Falcons.
This season, SMU went 7-5 overall and 5-3 in Conference USA. The Mustangs will play Pittsburgh in the BBVA Compass bowl on Jan. 7.
December, 5, 2011
12/05/11
11:28
AM ET
While the bowl games were big news over the weekend, UCLA and Arizona State continue to look for new head coaches.
Here's some skinny.

At UCLA, ESPN LA's Peter Yoon reported that interim head coach Mike Johnson would like to be considered for the job. Here's
his update on other candidates
:
UCLA has been turned down by Boise State coach Chris Petersen, according to a source with knowledge of the discussions, and eliminated Houston coach Kevin Sumlin as a candidate after meeting with him on Saturday, according to a source. Al Golden of Miami is considered the next top target, though Golden recently signed a four-year contract extension at Miami.
There's
some chatter out there about former
Atlanta Falcons and Seattle Seahawks coach Jim Mora, Jr. My take: That would be a good hire. While things went badly for Mora in Seattle, let's recall that he was the first choice to replace Tyrone Willingham at Washington. He's a charismatic guy with an NFL sensibility that would translate well at UCLA. Recall that the last time a team in LA hired a charismatic guy with an NFL sensibility who had folks scratching their heads turned out OK.
Here's Jon Gold's take in the
LA Daily News
.
Sources have said that UCLA athletic director Dan Guerrero, who met with Sumlin in Houston on Saturday, is essentially rebooting the search and at this point, there are no clear-cut favorites. Miami head coach Al Golden, whom Guerrero interviewed for the job during the post-Karl Dorrell vacancy, is among the candidates, along with SMU head coach June Jones. Sources indicated on Saturday that there was minimal interest in former Oregon head coach Mike Bellotti.
UCLA has been the sort of job that more than a few folks thought might lure Bellotti back into coaching. But it doesn't seem, at least at this point, that he's high on the Bruins' list.

Meanwhile, at Arizona State, it appears that Sumlin might not be completely out of the picture, but that SMU coach June Jones' name is
front-and-center at present
. Still, there are plenty of other names in the rumor swirl. Writes Doug Haller:
Arizona State officials on Saturday met with SMU coach June Jones for more than three hours in Texas.
A report surfaced Sunday that ASU was in position to announce Jones' hire shortly after the university learned of its bowl destination. That wasn't true. According to a source, the Jones push slowed Sunday night. That doesn't mean it's over, but it could be an indication that ASU is having second thoughts.
Sources confirmed Sunday that Southern Miss coach Larry Fedora is still in the mix. Baylor coach Art Briles has emerged as a candidate.
I continue to hear ASU likes Oregon offensive coordinator Mark Helfrich.
Also, despite reports that ASU has backed off Sumlin, he still could be in play, especially if Texas A&M goes another direction in its quest to replace fired coach Mike Sherman.
In other words, neither coach search has moved -- at least according to reports -- decisively in one direction.
So stay tuned.
May, 1, 2011
5/01/11
12:10
PM ET
The Pac-12 provided 37 players to the NFL draft over the weekend, one fewer than the SEC, which led all conferences.
If the six combined picks from Colorado and Utah are taken away from the conference, the old Pac-10 provided NFL teams 3.1 draft picks per team, also just behind the SEC at 3.17.
Here's where the Pac-12 players went:
First round
No. 8
Jake Locker
, QB, Washington: Tennessee
No. 9
Tyron Smith
., OT, USC: Dallas
No. 17
Nate Solder
, OT, Colorado: New England
No. 24
Cameron Jordan
, DE, California: New Orleans
No. 27
Jimmy Smith
, CB, Colorado: Baltimore
Second round

7.
Akeem Ayers
, LB, UCLA: Tennessee
10.
Brooks Reed
, DE, Arizona: Houston
13.
Rahim Moore
, FS, UCLA: Denver
21.
Stephen Paea
, DT, Oregon State: Chicago
24.
Shane Vereen
, RB, California: New England
Third round

13.
Jurrell Casey
, DT, USC: Tennessee
20.
Mason Foster
, LB, Washington: Tampa Bay
25.
Shareece Wright
, CB, USC: San Diego
29.
Christopher Conte
, S, California: Chicago
33.
Sione Fua
, DT, Stanford: Carolina
Fourth round

5.
Jordan Cameron
, TE, USC: Cleveland
19.
Casey Matthews
, LB, Oregon: Philadelphia
21.
Jalil Brown
, CB, Colorado: Kansas City
27.
Owen Marecic
, FB, Stanford: Cleveland
Fifth round

8.
Brandon Burton
, CB, Utah: Minnesota
9.
Gabe Miller
, DE, Oregon State: Kansas City
14.
Jacquizz Rodgers
, RB, Oregon State: Atlanta
23.
Richard Sherman
, CB, Stanford: Seattle
Sixth round

2.
Ryan Whalen
, WR, Stanford: Cincinnati
14.
Caleb Schlauderaff
, OG, Utah: Green Bay
17.
Ronald Johnson
, WR, USC: San Francisco
19.
David Carter
, DT, UCLA: Arizona
22.
Allen Bradford
, RB, USC: Tampa Bay
24.
Mike Mohamed
, LB, California: Denver
32. Ricky Elmore, DE, Arizona: Green Bay
38. Zach Williams, C, Washington State: Carolina
Seventh round

12.
D'Aundre Reed
, DE, Arizona: Minnesota
24.
Scotty McKnight
, WR, Colorado:
New York Jets
30.
Lawrence Guy
, DT, Arizona State: Green Bay
37.
Stanley Havili
, FB, USC: Philadelphia
38.
David Ausberry
, WR, USC: Oakland
39.
Malcolm Smith
, LB, USC: Seattle
By Pac-12 school:

Arizona (3)
Arizona State (1)
California (4)
Colorado (4)
Oregon (1)
Oregon State (3)
Stanford (4)
UCLA (3)
USC (9)
Utah (2)
Washington (2)
Washington State (1)
The final tally by automatic qualifying conferences
:
SEC... 38
Pac-12... 37
Big Ten... 36
ACC... 35
Big East 22
Big 12...19
Nebraska was a big swing to the Big Ten from the Big 12 with seven picks. With Colorado and Nebraska, the Big 12 provided 30 selections.
This was the tally through three rounds
:
SEC: 20
ACC: 19
Pac-12: 15
Big Ten: 13
Big 12: 9
Big East: 4