June, 21, 2011
6/21/11
3:45
PM ET
By
ESPN.com staff
| ESPN.com
California fans: Are you dying to check out the progress of the Memorial Stadium construction? Now you can... live!
Cal has set up a publicly accessible vista point along the east side of the facility. If that doesn't fully explain things, well,
here are some photos
.
The vista point, which will be open during construction hours, is located near the northeast corner of the facility off Stadium Rim Way and just below Tightwad Hill. Normal construction hours for the project are 7 a.m. until 7 p.m. weekdays (PDT), and 9 a.m. to 8 p.m. on Saturdays and numerous Sundays. Hours may by adjusted without notice by the construction team.
While Memorial Stadium is under construction, the Bears will move to AT&T Park for their home games this fall, in addition to playing a neutral-site game vs. Fresno State in the TicketCity Battle by the Bay at Candlestick Park on Sept. 3.
June, 1, 2011
6/01/11
1:00
PM ET
By
ESPN.com staff
| ESPN.com
The inaugural Kraft Fighting Hunger Bowl brought up the rear of the 2011 bowl season, but in its
second iteration will ring in a New Year
.
The bowl formerly know as the Emerald Bowl will be played on Dec. 31 at AT& T Park, with kickoff set for 3:30 p.m. ET. on ESPN.
The bowl game is contracted to feature the Pac-12's No. 6 team and Army, if it wins six games and becomes bowl eligible. Last season, no Pac-10 team qualified and the game featured Nevada beating Boston College 20-13 on Jan. 9, which made it the final bowl game before the BCS Championship Game.
Here's the Pac-12 bowl lineup for 2011-12 (the conference will add the New Mexico Bowl -- No. 7 selection -- in 2012).
No. 1 : Rose Bowl Game presented by VIZIO, Jan. 2 (Jan. 1, the bowl's traditional date, falls on a Sunday, when no bowl game will be played this year)
OR
Allstate BCS National Championship, Jan. 9
No. 2: Valero Alamo Bowl vs. Big 12 No. 3, Dec. 29.
No. 3: Bridgepoint Education Holiday Bowl vs. Big 12 No. 5, Dec. 28.
No. 4: Hyundai Sun Bowl vs. ACC No. 4, Dec. 31.
No. 5: MAACO
Las Vegas vs. Mountain West No. 1, Dec. 22
No. 6: Kraft Fight Hunger vs. Army (if eligible), Dec. 31.
May, 31, 2011
5/31/11
1:26
PM ET
By
ESPN.com staff
| ESPN.com
We'll be reviewing each Pac-12 team's schedule, starting with the North Division.
Up first
:
California
Breakdown
: six home (four conference games), six road (five conference games)

Nonconference opponents (with 2010 records)
Sept. 3
Fresno State (8-5)
Sept. 10
Colorado (5-7)*
Sept. 17
Presbyterian (2-9)
*The date at Colorado, which was scheduled before the Buffaloes joined the Pac-12, will count as a nonconference game.
North Division games
Sept. 24
at Washington
Oct. 6
at Oregon
Nov. 5
Washington State
Nov. 12
Oregon State
Nov. 19
at Stanford
Crossover South Division games
Oct. 13
USC
Oct. 22
Utah
Oct. 29
at UCLA
Nov. 25
at Arizona State
Conference misses
Colorado
Arizona
Key stretch
: Most teams are better at home than on the road, but California often takes that truism to another level. Of course, while the Memorial Stadium renovation is going on, Cal won't really play at home this season. So it will be interesting to see how well the Bears do from Oct. 13 to Nov. 12 when they play four of five at their home-away-from-home, AT&T Park. Further, the lone road game, at UCLA, is certainly winnable.
Trap game
: Cal crushed Colorado 52-7 last year, so Bears players and fans might be expecting an easy trip to Boulder on Sept. 10. Here's some advice: don't. The Buffaloes didn't show up in Berkeley, but that performance isn't indicative of the talent on this team. And, Golden Bears, you do know a few things about laying eggs and looking overmatched on the road when the talent ledger suggests you are not.
Sure thing
: Presbyterian is not only an FCS team, it is a bad FCS team. The Bears should be able to win 100-0 if they so wish.
Analysis
: Five of nine conference games are on the road. Playing at Washington, Oregon, Stanford and Arizona State means the Bears might have the toughest road schedule in the conference. Further, the opening four conference games are brutal: at Washington, at Oregon, USC and Utah. That said, most would project a 3-0 start, which could help the Bears -- and new starting QB Zach Maynard -- gain confidence. If they could steal one at Washington, and manage a split with USC and Utah, then they'd be one win from bowl eligibility as the schedule softens a bit. Still, the last two games -- at Stanford and Arizona State, back-to-back -- is a rugged, potentially momentum-killing way to end a season.
April, 13, 2011
4/13/11
1:00
PM ET
BERKELEY, Calif. -- California coach Jeff Tedford hears the negative chatter but he's trying not to listen. The operative word there being "trying." He understands why some Golden Bears fans are grumbling, but such talk nonetheless frustrates him.
Tedford rebuilt a lousy program and created a high standard to which Cal fans happily became accustomed. Yet over the past few seasons, he has not consistently met that high standard.
"All of a sudden, you have an eight-win season and it's not good enough," Tedford said. "Then, all of the sudden, you have a [losing season] and it's, 'Wow, what happened here?'"
[+] Enlarge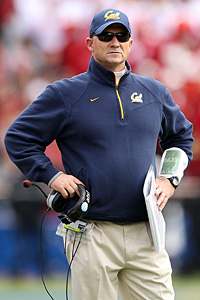 Ezra Shaw/Getty ImagesAn imposing front seven on defense should help coach Jeff Tedford and Cal be competitive against elite teams in 2012.
Things turned sour in Berkeley in 2010; a 5-7 finish that was Tedford's first losing season (fewer than seven wins) in nine years leading the program. Meanwhile, on the south side of the Bay Area equation, archrival Stanford won a BCS bowl game and appears poised to start 2011 ranked in the top 10. That juxtaposition doesn't sit well with the Old Blues.
It no longer matters where Tedford started, taking over a 1-10 program in 2002 that had won seven or more games just four times in the 24 previous seasons. Forget that from 1978 to 2001 Cal won three or fewer games nine times. Sure, back then a couple of seven-win seasons -- heck, even 5-7 -- would have seemed pretty nice.
No longer.
But it's more than that, Tedford's critics will tell you.
What happened to Tedford, the quarterback guru? Tedford transformed Kyle Boller from a five-star recruiting bust into a first-round NFL draft pick. He then discovered Aaron Rodgers out of nowhere and made him into a first-round pick. Nate Longshore appeared poised to join them after he led the Bears to a 5-0 start and No. 2 national ranking in 2007. But really, since Longshore sprained his ankle during a marquee win at Oregon on Sept. 29, 2007 -- Cal fans just fainted recalling the memory of
what happened next
-- the Bears haven't benefited from consistent play at quarterback.
It's not just losing, either. It's the nature of the defeats. In Tedford's first seven seasons, the Bears suffered only two defeats by more than two touchdowns. Over the past two seasons, they've lost eight games by 17 or more points and six by 27 or more.
Further, the staff turnover, particularly at offensive coordinator, has been notable. Not including himself, Tedford has gone through four offensive coordinators before arriving at his present, complicated configuration, with offensive line coach Jim Michalczik returning as coordinator, running backs coach Ron Gould set as running game coordinator, receivers coach Eric Kiesau set as passing game coordinator and Tedford (again) helping with the quarterbacks and (again) calling plays.
A couple of years ago, Tedford listened to the nattering nabobs of negativism and he wanted to smack them. Now, he's trying to be philosophical about criticism. Trying.
"I have it back in focus now, not to worry about the external things," he said. "That one year [2009] we went [8-5] and it felt like we went [5-8], it felt like people were real irritable about that. I was irritable, too. About their reaction to [8-5]. Now, I'm just back to focusing on what it takes to get us back on the upward trend again."
If you're the sort who prefers optimism, there's grounds for that, too. For one, Michalczik and Kiesau were with Tedford during the "glory years." There's history and comfort there. And Michalczik is widely considered an elite line coach, perhaps the best in the Pac-12. The play of the Bears' O-line wasn't as good the past two seasons while Michalczik was with the Oakland Raiders.
Further, Tedford is reengaging on the offensive side, and not only by calling plays, as he did during his early years at Cal. He's also working extensively with the quarterbacks, even to the point of sitting in on all QB meetings.
"Consistency at quarterback has been something that has hurt us at times," Tedford said.
Another big-picture item for Cal fans to be upbeat about: An uptick in recruiting that, perhaps not coincidentally, began when stadium and facilities renovation projects began in earnest after protesters -- old school Berkeley! -- were forced
out of the trees
. The Bears are nomads this spring, traveling from site to site in search of good grass to practice on, and they will play "home" games in AT&T Park this year. But when Memorial Stadium reopens in 2012, the structure will match the grandeur of its Strawberry Canyon home.
As for hot-seat talk (it's probably more accurate to call Tedford's chair lukewarm) the players are aware of said chatter. They don't live in a protective bubble. And they are aware that pointed observations about the blowout defeats also fall on them, whether those embarrassments were about poor preparation, a lack of mental toughness in the face of adversity or (gulp) a propensity to quit when an opponent asserts itself.
"We all love Coach," offensive tackle Mitchell Schwartz said. "His past record of success, that's why we are all here. There's no grumbling [in the locker room]. We're more disappointed in ourselves. We feel like we let the coaching staff down."
And of late, Cal fans feel let down. When the Bears were controversially blocked from playing in their first Rose Bowl since 1959 by Texas and the BCS computers following the 2004 season -- Cal fans just fainted for a second time while reading this story -- the consolation was a confident belief that it was just a matter of time before a Tedford squad ended that lengthy, painful Rose-less run.
The clock is still ticking -- 52 years and counting -- on that one, though.
March, 30, 2011
3/30/11
12:19
PM ET
There's lots of change going on at California this spring, starting with the Bears becoming nomadic.
Cal will practice at six different sites due to renovations at Memorial Stadium and problems with the team's temporary practice facility on Witter Rugby Field. And, of course, home games this fall will be played in AT&T Park, not in Memorial Stadium, the team's home for the past 88 seasons.
Beyond the grass under their feet, the Bears have plenty of issues. Most folks know there's as wide open a competition at quarterback between
Brock Mansion
,
Beau Sweeney
, Zach Maynard,
Allan Bridgford
and
Austin Hinder
. But that's not the only question.
[+] Enlarge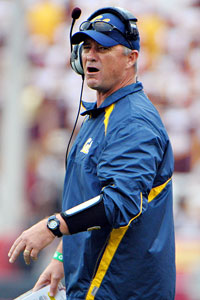 Kirby Lee/US PresswireJeff Tedford is going to have an expanded role in the offense this season.
The offensive line underachieved in 2010 and now must replace two starters. What's the pecking order at tailback (and, by the way, who's healthy enough to compete)? There are four voids on the defensive front seven -- two on the line, two at linebacker -- and two in the secondary. And what about improving the special teams?
Further, coach Jeff Tedford is taking a bigger role with the offense, though that role hasn't been defined, other than him coaching quarterbacks. It seemed he
said he was going to call plays this fall
, but then he apparently backtracked on the
first day of spring practices Tuesday
.
There are a lot of chefs in the offensive kitchen. In addition to Tedford, who is looking to reclaim his title as quarterback guru, there's offensive coordinator/line coach Jim Michalczik, passing game coordinator/receivers coach Eric Kiesau and running game coordinator/running backs coach Ron Gould. While they are all familiar with each other -- Michalczik and Kiesau are returning to Berkeley after stints elsewhere -- those lines of communication will need to be worked out.
Further, in terms of personnel, the Bears have recruited well the past two years. It's likely a number of younger players -- redshirt freshmen, sophomores as well as incoming players this fall -- will immediately compete for playing time.
So Cal's spring practices are as much about transition as they are renewal after a disappointing 5-7 season.
Some notes:
Injuries
: This is fresh from Jonathan Okanes of the
Contra Costa Times
after the first practice:
Several players will practice only in limited fashion this spring because of injuries/surgeries: Among them are left tackle Mitchell Schwartz (back), center Dominic Galas (shoulder), fullback Will Kapp (shoulder) and nose tackles Kendrick Payne (shoulder) and Aaron Tipoti (shoulder). All of these players were there and in their gear today doing individual drills. But they won't be involved in team drills.
Running back pecking order
? Also out is running back
Dasarte Yarnway
(knee), and fellow running backs
Covaughn DeBoskie-Johnson
and
Trajuan Briggs
are coming back from injuries -- though both are
reportedly ready to go
-- so it's difficult to project how the competition will go with
Isi Sofele
, whom Tedford designated as the No. 1 guy before spring practices. Brandon Bigelow, Daniel Lasco and junior college transfer C.J. Anderson join the fray in the fall. It's more than likely that the ultimate depth chart at the position won't be resolved until mid-to-late August.
As for the QBs
: Tedford almost certainly won't name a starter after spring practices, though he would like to narrow the
field of five (or so) to three
. If you were a betting Pac-12 blog reader -- and you probably are -- you should put your money on Brock Mansion, junior Zach Maynard and sophomore Allan Bridgford being the top troika heading into the offseason. The basis of that, it must be noted, is pure hunch -- Tedford's veneer of vague has been admirably tenacious on the matter. It's possible he truly doesn't have much sense of a pecking order in his own head at this point.
Youngsters to watch
: Youngsters and new players who might challenge for starting or key roles include wide receivers
Tevin Carter
and
Kaelin Clay
; linebackers Nick Forbes, Dave Wilkerson, Chris McCain and Cecil Whiteside; defensive end Gabe King; O-linemen Mark Brazinski and Matt Williams; and safety Avery Walls.
March, 3, 2011
3/03/11
4:30
PM ET
By
ESPN.com staff
| ESPN.com
California has --
finally
-- made its 2011 schedule official, and it does, indeed, feature a battle with the Blue Hose and a conference game that isn't a conference game.
The Bears will travel to new Pac-12 foe Colorado for a nonconference game on Sept. 10, which will conclude a home-and-home series with the Buffaloes. The teams played last fall at Memorial Stadium, with Cal winning, 52-7, to improve its series lead to 3-2.
Cal will then host the Presbyterian Blue Hose, an FCS team, on Sept. 17, in the first of five home games scheduled for San Francisco's AT&T Park.
"We are pleased to have filled the remaining open dates in our schedule for the 2011 football season," deputy athletic director Steve Holton said in a statement. "The scheduling process was complicated with the changes brought about by the conference expanding to 12 teams and the limited dates available at AT&T Park due to the San Francisco Giants' schedule, but we're happy we can announce that the schedule is now complete."
Prior to playing the two contests announced Thursday, Cal will open its 2011 season with a nonconference, neutral-site game against Fresno State at Candlestick Park in San Francisco on Saturday, Sept. 3.
Cal's nine contests in the newly realigned Pac-12 include matchups with fellow North Division members Oregon, Oregon State, Stanford, Washington and Washington State, as well as South Division schools Arizona State, UCLA, USC and Utah. The Bears will not play South Division member Arizona in 2011 and its contest against Colorado will be a non-conference event.
Colorado and Utah officially will join the conference on July 1.
June, 2, 2010
6/02/10
2:30
PM ET
By
ESPN.com staff
| ESPN.com
These walls are funny. First you hate 'em, then you get used to 'em. Enough time passes, you get so you depend on them. That's institutionalized.
May, 11, 2010
5/11/10
2:30
PM ET
By
ESPN.com staff
| ESPN.com
Bernard Mickey Wrangle had developed a psychological test of his own. It was short, simple and infallible. To administer the test, merely ask the subject to name his or her favorite Beatle. If you are at all familiar with the distinct separate public images of the four Beatles, then you'll recognize that the one chosen reveals as much about the subject's personality as most of us will ever hope to know.
May, 10, 2010
5/10/10
2:35
PM ET
By
ESPN.com staff
| ESPN.com
Has he lost his mind
Can he see or is he blind
Can he walk at all
Or if he moves will he fall?
May, 10, 2010
5/10/10
11:21
AM ET
By
ESPN.com staff
| ESPN.com
California
will announce today
that it's playing its 2011 home games in AT&T Park while Memorial Stadium is undergoing a $320 million renovation, according to reports.
Cal coach Jeff Tedford, athletic director Sandy Barbour and San Francisco Giants president Larry Baer are scheduled to be at the 10 a.m. PT news conference in AT&T Park.
The renovation is expected to be completed in time for the 2012 season. Cal will play its home games in Memorial Stadium this fall.
Cal picked AT&T Park over Candlestick Park and the Oakland Coliseum.