December, 12, 2014
12/12/14
8:30
AM ET
Marcus Mariota's Oregon career has included decidedly few interceptions and decidedly little drama. The Ducks' quarterback has been machine-like in his efficiency, providing superb stats but not much suspense.
Suspense should be in short supply Saturday night
in New York during the Heisman Trophy ceremony. Mariota and fellow Heisman finalists Melvin Gordon of Wisconsin and Amari Cooper of Alabama will sit nervously next to each other as the winner is announced. But deep down, all three know it will be Mariota, who
picked up two more honors
-- the Maxwell Award and the Davey O'Brien Award -- Thursday at the Home Depot College Football Awards at Disney World.
As a Heisman voter, I'm not allowed to reveal my vote until after the ceremony. But I can make predictions about the voting: it'll be Mariota in a landslide.
The Heisman was a legitimate two-man race entering championship weekend, as Mariota and Gordon both had strong cases. Then Mariota had his typical performance in the Pac-12 championship (313 pass yards, five total touchdowns), while Gordon was bottled up in the Big Ten title game (76 rush yards, no touchdowns).
January, 1, 2013
1/01/13
10:14
AM ET
Three keys for Wisconsin in today's Rose Bowl Game presented by Vizio:
1. Open it up:
Wisconsin is Wisconsin, so of course the Badgers are going to do everything they can to run the ball. But even their offensive line is going to have trouble simply lining up and ramming the ball down Stanford's throat. The Cardinal are one of the most physical, fundamentally sound teams in the country and had the third-best run defense in the FBS. Wisconsin does not want to get into third-and-long situations in this game, because that's when Stanford -- which led the nation in sacks and tackles for loss -- can really wreak havoc. Offensive coordinator Matt Canada drew up a dynamic, diverse game plan for the Big Ten championship game and will need to do so again to keep the Cardinal guessing. Is there anything left in the playbook after that Nebraska game? "There's always more left," Canada said last week. "We can draw up plays for days and days." It's quite likely that quarterback
Curt Phillips
will have to make more plays and probably will have to throw more than the eight pass attempts he had against the Huskers. And
Joel Stave
, now healthy, could factor in as well. Wisconsin's bread and butter remains the running game, with
Montee Ball
,
James White
and X factor
Melvin Gordon
. But the Badgers will likely need more than that to solve the Stanford defense.
2. Stop Stepfan:
Stanford's offense is more than just running back
Stepfan Taylor
. The emergence of
Kevin Hogan
at quarterback late in the season made the Cardinal more multidimensional, and you have to always watch out for their tight ends, especially
Zach Ertz
. But Taylor is still the engine that drives the offense, and Wisconsin would much rather see Hogan throw the ball around than deal with Stanford's powerful running game all day. The good news: The Badgers were very good against the run this year as well, ranking 22nd in the nation in stopping the rush. They are stout in the middle of the defensive line, though star linebackers
Mike Taylor
and
Chris Borland
will have their hands full with those tight ends. Wisconsin also does a good job of making opponents earn every yard down the field; in Big Ten play, opponents had only four total plays of 30 or more yards versus Chris Ash's defense. In Stanford's two losses, Taylor averaged just 3.6 yards per carry, more than a yard below his average. If the Badgers can make him work that hard for yards today, they will have a great chance.
3. Finish:
Wisconsin knows all about coming up a play short in the Rose Bowl. A failed two-point conversion made the difference in a 21-19 loss to TCU two years ago, while last year's 45-38 setback against Oregon ended with
Russell Wilson
begging for another second on the Ducks' 25. But the Badgers don't even have to remember that far back to know close-game heartache. Of course, they lost four games by exactly three points, five by a total of 19 points and three in overtime. They probably would have lost every meaningful close game had Utah State made an easy field goal. It's highly unlikely that Wisconsin will blow out Stanford like it did against Nebraska, so any victory will probably have to include finishing off a close game for the first time since September. It doesn't help that the team's kicking game has been pretty bad; the Badgers were a Big Ten-worst 10-of-18 on field goals this year, and
Kyle French
missed key tries in the overtime losses to Ohio State and Penn State to end the regular season. But here is why Wisconsin fans have hope that a close game might finally go their way in Pasadena: Barry Alvarez will be making the late-game decisions.
January, 1, 2013
1/01/13
10:00
AM ET
Stanford (11-2) vs. Wisconsin (8-5)
Who to watch
: The running backs. Wisconsin's
Montee Ball
-- the Doak Walker award winner -- and Stanford's
Stepfan Taylor
-- a three-time 1,000-yard rusher -- are two of the best in the game. Both are the engines that make their respective machines go. Each team will work furiously to establish a running game. So while you are watching two of the elite running backs in the country, keep an eye on the lines as well -- because how each team's big boys do will go a long way toward determining how the running backs do.
What to watch
: For sure, the fourth quarter. These two teams have combined to play six overtime games, Stanford has had to overcome ties or deficits six times in the fourth quarter, and Wisconsin has lost all five of its games by a combined 19 points (four field goals and a touchdown). If this game is a microcosm of these teams' seasons, then there should be high drama up until the final play.
Why to watch
: Aside from the fact that it's the Granddaddy, this game is oozing with subplots. You have Barry Alvarez making his return to coaching -- although for just one game. You have Stanford playing in its third consecutive BCS bowl game (Wisconsin as well, for that matter) even after the departure of Andrew Luck and a midseason quarterback change from
Josh Nunes
to
Kevin Hogan
. You have a Wisconsin team that some say backed into the Rose Bowl, and you have mirror teams with nearly identical philosophies.
Predictions
: In case you missed it Tuesday morning, you can see the
predictions from Pac-12 bloggers Kevin Gemmell and Ted Miller here
. This is what the
Big Ten bloggers are thinking
.
December, 31, 2012
12/31/12
5:30
PM ET
LOS ANGELES -- The two teams' records differ; fairly significantly as a matter of fact. At first glance, Stanford's 11-2 mark seems far more impressive than Wisconsin's 8-5 ledger. And it is. The Cardinal won the Pac-12 championship and knocked off the Nos. 1 and 2 teams in the country in 2012.
But the same DNA that courses through the Cardinal also runs through the Badgers. As Stanford head coach David Shaw put it, Wisconsin was a "shoestring" away from having a significantly better record.
[+] Enlarge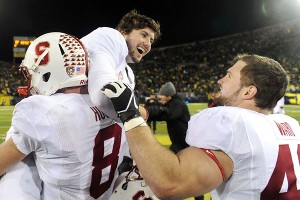 Steve Dykes/Getty ImagesJordan Williamson's field goal in overtime lifted the Cardinal over Oregon.
The Badgers lost five games this season, four of them by field goals and one by a touchdown. That's 19 total points. Six of Stanford's wins this year have been decided by a touchdown or less and their two losses are by a combined 11 points. In other words, neither team is particularly concerned with whether their respective fan bases have weak tickers. The teams have combined for six overtime games between them this year, with Wisconsin going 0-3 in overtime games and Stanford going 2-1.
So what does this tell us? Either it means Wisconsin is a much better team than their record indicates or it means they aren't mature enough to win close games. On the flip side, either Stanford isn't as good as its record indicates or it knows how to win -- cosmetically or otherwise.
"I would say we're a pretty good football team," said Wisconsin coach Barry Alvarez -- who didn't coach the Badgers during the regular season. "We're a better football team. This is a group of young players that probably have persevered and are more resilient than any group I've ever been around. They've gone through an offensive line coaching change. They've lost three overtime games. They've lost two games where they've had a chance in the last possession to win, yet they came out the next week and played well.
"So, if you just look at our [record] -- how many losses we have, it's very misleading. I'm hoping Stanford's looking at that because we're a much better team, much better football team than a five-loss team."
Hate to break it to you coach, but Stanford coach David Shaw said he's not going to be fooled by the five losses. And let's not forget, Stanford has needed fourth-quarter or overtime rallies six times this season.
There is also an emotional factor Shaw can't control. Former Wisconsin head coach Bret Bielema split for Arkansas and all but two assistants Wisconsin assistants have already taken other jobs. However, Bielema is the only one who won't be on the sidelines. All of the other coaches have agreed to stay on and coach their players through their third straight Rose Bowl.
"I don't say this lightly [so don't] take it like I'm trying to butter them up, I do think it's commendable in this day and age that the coordinators have stayed on and they have other jobs," Shaw said. "I think that's huge where coaches leave at the drop of the hat. And kids are left high and dry. And these kids have earned the right to go to the Rose Bowl. And it's great they have their coaches here to coach them. Sincerely, that's phenomenal in this day and age in our coaching profession."
In other words, stick around till the clock reads zeros. Because this one probably won't be over until it's
really
over.
December, 31, 2012
12/31/12
12:00
PM ET
LOS ANGELES -- When he first got into coaching, Jim Harbaugh used to talk about conversations he had with his former Michigan coach, Bo Schembechler, regarding how he wanted to run an offense. How would he use the tight end, Schembechler would ask. Would he use double tights? Would the fullback and tight end work in conjunction? The answers were: A lot, yes and yes. It was vintage Big Ten thinking through and through.
True, the 2012 edition of Stanford that will take the field Tuesday against Wisconsin in the Rose Bowl Game presented by Vizio might have a healthy dusting of a classic Big Ten team; run the football, stop the run. In the offense-happy Pac-12, that breaks the mold a bit. But just because you want to run the ball and stop the run first and foremost doesn't mean you fall into into any stereotypical classification.
"That's just football," Wisconsin coach Barry Alvarez said. "I don't know if that's a traditional Big Ten team or not. To me, that's just how you play football."
Spoken like a veteran Big Ten coach.
[+] Enlarge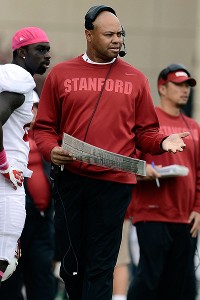 Ron Chenoy/US PresswireStanford coach David Shaw said the Cougars were one of the most physical team the Cardinal faced last year and he expects more of the same when they meet on Saturday.
The Cardinal play a brand of ball that does seem better suited for the Schembechler days than the modern spread, chuck-it-around game. But it works for them -- as evidenced by their third straight appearance in a BCS bowl game and 2012 Pac-12 championship. And that's all that matters.
"Growing up and watching a lot of Big Ten football, it's run the football, defend the run and do everything else after that," Stanford defensive end and Wisconsin native
Ben Gardner
said. "That's basically what we do. It's what we've done for the last few years. It's a little different now without Andrew Luck playing quarterback. But we still feel like we've got the playmakers on offense to have a passing game and add that dimension. The basis of what we do is run the football and stop the run and that's always what we do here.
"That's what makes this a great matchup because that's what Wisconsin does, too. And that's been the style of football in the Big Ten. Coming from the Midwest I love it. It's the kind of game I want to play and it's the kind of game our defense wants to play. We couldn't be more excited about it."
When Harbaugh and current Stanford head coach David Shaw left the University of San Diego for The Farm, they started mapping out what they wanted the team to look like. Not just in 2007, but in 2012, '13 and beyond.
"He asked me about [former coach] Denny Green," Shaw recalled. "I said, well my dad was defensive coordinator. We played great defense. We had great athletes on offense that we moved to defense and we had Tommy Vardell on the offensive side and Ed McCaffrey. So at the time we had the biggest offensive line in college football in the early '90s and that was Jim's mentality. I told him it has worked at Stanford before.
"We talked about how it came with recruiting and it seemed like a perfect fit. When everybody else was running sideways in the conference, we started running north and south with really big guys and physical guys like Toby Gerhart, Jimmy Dray blocking on the right side. There were just so many things that fit perfectly and we've been able to continue to recruit to what we want to do."
But there are limitations to just how "Big Ten" Stanford can really be. Because it doesn't play in the Big Ten. It plays in the Pac-12, where stud wide receivers are plentiful, quarterbacks are slingers and half the teams have a 1,000-yard rusher. So simply stopping the run isn't good enough.
"I think it's a fair comparison [to the Big Ten] when you talk about the style of ball," Stanford defensive coordinator Derek Mason said. "Defensively we're predicated on stopping the run. Most of the Big Ten is predicated on stopping the run. But I think the comparison probably stops there. We still generally have to defend the pass because everybody in our conference, when you talk about SC or UCLA or talk about Arizona, when you talk about Washington State and what [Mike] Leach is doing up there in Washington, there is not a team in the Pac-12 that doesn't have a receiver that can go get them in the distance.
"…It is blue collar, and that's what we want to be," Mason continued. "We try to recruit to who we are. We can't be like the rest of the other teams in the Pac-12. Don't want to be. Coach Shaw made that clear when he took over. We're going to be us and continue to do what we do and I think that served us well. So we're going to stay in our mold, and hopefully that continues to be a great brand of football."
December, 14, 2012
12/14/12
11:00
AM ET
This week we'll be taking a snapshot look at all of the bowl games including Pac-12 teams.
ROSE BOWL GAME PRESENTED BY VIZIO
Wisconsin (8-5, 4-4 Big Ten) vs. No. 6 Stanford (11-2, 8-1)


Where
: Pasadena, Calif. The Rose Bowl
When
: Tue. Jan. 1, 5 p.m. ET/2 p.m. PT
TV
: ESPN
About Stanford
: The Pac-12 champs are riding a seven-game winning streak. It's been a whacky year, for sure, on The Farm (and on the road for that matter, see: Dame, Notre). The Cardinal scored marquee wins over No. 2 USC, No. 11 Oregon State and No. 16 (and 17) UCLA in consecutive weeks. But the crown jewel came when they went to Eugene and knocked off the No. 2 Ducks. The defense has been outstanding against the run and the secondary has done a solid job of avoiding big plays and creating turnovers.
Stepfan Taylor
is one of the most complete running backs in the country and a late-season swaparoo to
Kevin Hogan
at quarterback has helped stabilize the offense.
About Wisconsin
: Don't let the five losses fool you -- the Badgers were competitive in all five defeats. Four of the five came by a field goal (two of them in overtime) and a third overtime game was lost by a touchdown to Ohio State. So while the Cardinal have been very good this year at winning the close ones, the Badgers haven't been as fortunate. However, pasting No. 12 Nebraska 70-31 in the conference championship and advancing to a third straight Rose Bowl makes up for a lot of close losses.
Key players, Stanford
: It starts with Taylor, Stanford's all-time leading rusher, but it doesn't end with him. As Hogan matures into the role of starter, his understanding of the offense has expanded. And he has a great mismatch target in All-American tight end
Zach Ertz
. Defensively, the sum of Stanford's front seven is as good as there is in the nation. But first-team, all-conference safety
Ed Reynolds
has really been a difference-maker this season with six interceptions -- half of which have been returned for touchdowns.
Key players, Wisconsin
: Like Stanford, it starts with the run for Wisconsin. And the Badgers also have one of the best backs in the country in
Montee Ball
-- this year's Doak Walker Award winner. He's one of just three running backs in the country to rush for at least 1,700 yards and he's reached the end zone 21 times on the ground. The linebacking duo of
Mike Taylor
and
Chris Borland
have combined for more than 200 tackles, 25 tackles for a loss and 7.5 sacks.
Did you know
: Wisconsin is making its fifth Rose Bowl appearance in the BCS era, matching USC for most appearances since 1998 ... Coach-turned-athletic director-turned-coach Barry Alvarez has an 8-3 record in bowl games ... Alvarez is just the second person to ever coach in the Rose Bowl after being inducted into the Rose Bowl Hall of Fame (Rick Neuheisel is the other) ... This is the first time in Stanford history the program is going to four straight bowl games ... Wisconsin, Stanford and Oregon are the only teams in the country that have gone to BCS bowls the past three seasons ... Stanford is 5-6-1 all time in Rose Bowls, including a 17-9 loss to Wisconsin in its previous appearance.
December, 11, 2012
12/11/12
2:30
PM ET
Tom Ace. Pleasure to meet you, sir. And may I congratulate you on all your success. You smell
terrific
!
April, 20, 2012
4/20/12
6:00
PM ET
By
ESPN.com staff
| ESPN.com
Welcome to the mailbag.
Follow me on Twitter here
.
We have a note from a not-so-special guest this week to lead off.
Ted Miller from Scottsdale, Ariz., writes
: Hey, Ted! You and Kevin do a great job. Is it true that the Surgeon General found that reading the Pac-12 blog makes you smarter? Doesn't surprise me a bit!
Anyway. My question: What do you think about word that some Pac-12 schools are
dragging their feet
on scheduling games with Big Ten foes, per the Big Ten-Pac-12 alliance?
Ted Miller
: You have reached a new low, Self, with this juvenile artifice. So apologies to all. (I just wanted to address this).
Are some Pac-12 teams not thrilled with the Big Ten-Pac-12 partnership? Maybe.
It was announced in December that the Rose Bowl partners and academically elite conferences would, starting in 2017, play an
annual football series
involving all 12 schools in both leagues. But Wisconsin athletic director Barry Alvarez told Big Ten blogger Brian Bennett on Thursday that the partnership in football had not been finalized because "there are a couple of teams in the Pac-12 that are dragging their feet a little bit."
Both conference offices denied there were major issues. A Pac-12 spokesman emailed this statement: "Our schools are excited about the collaboration with the Big Ten, and we are continuing to work on sports scheduling details."
But the truth is, yes, some schools aren't thrilled, which goes along with scheduling issues that the Pac-12 blog has frequently -- redundantly? -- noted through the years.
Let's say you're Stanford.
You start with a nine-game Pac-12 schedule. The ACC, SEC and Big Ten play an eight-game conference schedule, which allows for four nonconference foes -- read: typically at least three scheduled patsies.
Then you add Stanford's (and California's) insistence on playing USC and UCLA every year. Hey, tradition!
Then you add Oregon's rise in the North Division as a national power.
Then you add an annual series with Notre Dame.
Then you add an annual game with the Big Ten.
That means Stanford could play 11 tough games
every year
against top AQ foes.
Here's Mark Schlabach's
Way Too Early Top-25
. Let's say the Cardinal next fall drew Michigan State as its Big Ten foe. That means Stanford would play: No. 2 USC, No. 4 Oregon, No. 9 Michigan State and No. 23 Notre Dame in 2012. Great fun. You could compute Cal's schedule much the same way.
The Pac-12 blog has some solutions. These solutions will be: 1. Best for the Pac-12; 2. Best for Cal and Stanford; 3. Controversial.
First, the Pac-12 needs to end the nine-game conference schedule. It might make athletic directors' lives easier in terms of scheduling and filling a stadium, but it hurts their teams and the conference as a whole. That's not an opinion. It's a mathematical fact.
Kill it. Please.
Second, Stanford and Cal need to end this silly "We must play USC and UCLA every year!" deal. Hey, I get it. Some fans enjoy the weekender. But -- come closer, because I want to whisper to you an embarrassing truth -- IT"S STUPID TO INSIST ON PLAYING USC EVERY YEAR! (Whoops... did I just yell that?) And, heck, UCLA should eventually get back into the top-25.
Insisting on playing USC every year is no different than if the ADs at Cal and Stanford said, "Hey, let's play Alabama... EVERY YEAR!"
Here is the realpolitik of college football: You can schedule success.
The Pac-12, instead, is scheduling failure. Its scheduling practices create a perception that makes the conference seem worse than it is, just as the SEC's scheduling practices accomplish the opposite.
I will not quote Cal coach Jeff Tedford and Stanford coach David Shaw on this matter. Both these guys are competitors who fear no team.
But neither one of them will hate me after reading this.
Nor will any other Pac-12 coach.
Big Ten-Pac-12 alliance? Great. Love big nonconference games. Second best thing in college football behind rivalry games.
But, first, kill the nine-game conference schedule. Then end the "designated games" between the California teams. Set up a pure rotating schedule between the North and South Divisions that will ensure the best scheduling equity possible.
---
Emtee Dubyew from Keizer, Ore., writes:
I recently read an article on ESPN that
Ohio State is installing
a "Oregon style" no-huddle rapid paced offense. I seem to remember a segment Urban Meyer did when he worked for ESPN, he talked to Chip Kelly about Oregon's offense and practice methods. I mean with the PAC-12/Big10 relationship Oregon and Ohio State could do battle in the future. So would this lead to coaches being less willing to share their secrets and methods with the rest of us?
Ted Miller
: Hmm... that name. You Ducks and Huskies never stop, do you? You mean
this video
, of course. Good stuff with Chip & Urban.
Less willing to do cool videos like this? I doubt it, and let's hope not.
First of all, coaches visit other teams all the time, though reasonably they don't allow visitors from teams they are scheduled to play. And more than a few times, it becomes a joke at a bowl game that one set of coaches met with the other set the previous spring. Still, the exchange of ideas doesn't yield details of a specific game plan. While Kelly and Meyer offer some nice insights during their chat, it's mostly superficial stuff that can be easily digested by a general audience.
Further, Meyer is an offensive innovator much like Kelly, with both on the front lines of spread-option concepts. That Meyer is planning to adopt an up-tempo, no-huddle offense is no surprise.
---
David from San Diego writes
: So the big word post-spring practice is that USC's secondary is for real this year. Now I'm a die heard USC fan, but how can this assessment be made when everyone and their mama knows that USC's offense consisted mainly of 2 young, backup QB's, a thin RB corp, the best WR in the PAC-12 or possibly the nation out of action, not too mention all of our TE's have been hurt and not practicing either. Would you agree that all the hoopla on the secondary is a tad bit premature?
Ted Miller
: All hoopla in April is a tad premature, just as the hoopla over a recruiting class is premature. We in the sportswriting business spend a lot of time giving you premature judgments, just as fans on message boards do the same -- "No worries! We have a JC transfer coming in who will solve all our problems!"
Why are folks high on USC's secondary?
Well, for one, it welcomes back all four starters from a unit that yielded the fewest TD passes (17) in the Pac-12 last season. The Trojans ranked fourth in the Pac-12 in pass efficiency defense. Not only that, just about every guy on the two-deep is back. Oh, and Florida transfer Josh Shaw is eligible to play in 2012.
Cornerback
Nickell Robey
and safety
T.J. McDonald
were both first-team All-Pac-12. McDonald is an almost certain preseason All-American. He could be the first safety picked in the 2013 NFL draft.
And there's a hunch, and it's not unreasonable, that Year 3 under coordinator Monte Kiffin could yield strong improvement, just as it did in 2011 compared to 2010.
So, best I can tell, the hoopla is based on good players coming back from a good secondary that seems likely to be better in 2012.
Or, perhaps, the hoopla comes entirely from a counter-intelligence operation run by a cabal of Freemason USC boosters connected to the Trilateral Commission.
---
Don from Portland writes
: While I agree with you that pot in Oregon is seen as a non issue, it seems that the Ducks willingness to speak candidly about smoking to a reporter bespeaks a complete disregard for the feelings of their coaches, fans, and those players who do not use drugs. Shouldn't Chip Kelley be more concerned about his players apparent lack of loyalty?
Ted
Miller
: Yes, based on the
ESPN Magazine article
, it's clear at least one Duck broke the locker room
Omertŕ.
Yes, that should annoy Kelly and other players. I doubt it will keep anybody up at night, but it's a concern.
But that also answers some of you who feel Oregon was singled out or targeted. Typically how it works for a reporter working a story is he gets a tip or a lead, then he has to get a source talking. That's what happened here. And let's be real. If we were ranking Pac-12 towns for a laissez-faire attitude toward marijuana smoking, it likely would go: 1. Eugene; 2. Berkeley; 3. Boulder; 4. Seattle; 5. LA. As the article noted, "...
The Princeton Review
and
High Times
both have ranked the University of Oregon among the most pot-friendly schools."
You probably have just as many, er, "enthusiasts" here in Arizona among the Wildcats and Sun Devils. But I would suggest that the political-legal attitudes here are a bit different, not to mention rules about random testing.
Also, I do want to point out to Ducks fans, Oregon wasn't really singled out
that much
. For one, there was also a
general story on pot smoking in college football
, the gist of which is "wow... just about everybody is doing it."
Also, from the article:
NEWS FLASH: COLLEGE kids smoke weed. That includes, according to an NCAA study released in January, 22.6 percent of athletes -- up 1.4 percentage points from the previous study in 2005. College football players (26.7 percent) ranked the highest among major sports. And the Oregon football program provides an interesting case study on the impact -- or lack thereof -- of marijuana use among players.
And this: "One senior NFL executive who interviewed players at the combine says about 70 percent confessed to smoking pot, likely on the advice of their agents."
There was no implication in any part of the story that Oregon is unique. It just ended up being the "case study," in large part because someone on the team was willing to be a source.
There also was this about Kelly: "The Oregon regime is also cracking down. Anecdotal evidence suggests that Kelly has taken a hard stance in his three seasons as head coach. "I've heard weed was bigger before I got there," says one Kelly-era Duck, "but Chip cracked down on that. He'll actually attend classes with guys. If you miss a study hall, he'll drug-test you."
I got a lot of mail about this series. Most of you noted that the under-25 demographic has a much different vision about marijuana usage than the 50-and-overs. No doubt about that. Some of you were mad at ESPN, citing our desire to crush a West Coast power that threatens the SEC. Lots of folks communicated a general, "Neh." Some of you appeared to be partaking while typing.
My feeling,
as I previously wrote
, is this: Fret about this for 20 minutes. But that was on Wednesday, so it's time to move on. This article is unlikely to do any real harm to the university or the football program.
---
Ryan from Fairfield, Conn., writes
: I am a former collegiate football player, and now I am inspiring to be a Director/ Producer. One of my best friends and myself created this mini-documentary, it is an emotional conversation with football players. Here is the
Youtube link
, check it out tell me what you think.
Ted Miller
: I think it's pretty cool.
February, 9, 2012
2/09/12
4:30
PM ET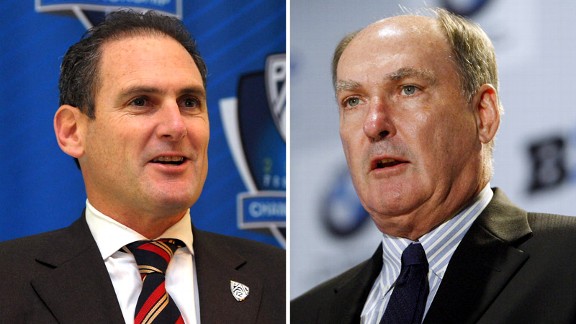 US PresswireThe Rose Bowl needs commissioners Larry Scott (Pac-12, left) and Jim Delany (Big Ten) in its corner.
Every Big Ten administrator who has commented on the league's four-team playoff proposal also has made sure to acknowledge the Rose Bowl in the same breath.
"The Rose Bowl is extremely important to Michigan State just as it is to every school in the Big Ten and Pac-12," Michigan State athletic director Mark Hollis told the
Associated Press
.
"Any talk of a limited playoff needs to keep the tradition of the Rose Bowl and the bowl system in play," Iowa AD Gary Barta wrote to the
Des Moines Register
in an email.
"My concern -- first and foremost -- is maintaining our relationship with the Rose Bowl," Wisconsin AD
Barry Alvarez wrote in his monthly letter to fans
.
Perhaps there's some little-known Big Ten bylaw requiring league officials and administrators to pay homage to the Rose Bowl whenever discussing the future of college football. Commissioner Jim Delany always makes a point to acknowledge the Rose Bowl as the league's most important external relationship.
Kevin Ash, the Rose Bowl's chief administrative officer, enjoys hearing this from one of the game's conference partners. He hopes the pledges continue, as the Rose Bowl needs both the Big Ten and Pac-12 to be in its corner.
One of the big questions with any playoff model is how it would impact the current bowls, including the Rose. Would the Rose Bowl remain a premier sporting event on New Year's Day, or would the game start seeing drops in attendance and ratings like some of the other major bowls?
The Big Ten plan would remove the top four teams from the BCS bowl pool and have semifinal games played on the college campus of the higher seed. The championship game then could be bid out, like the Super Bowl.
The Rose Bowl's fate largely rests with Delany and his Pac-12 counterpart Larry Scott.
"We rely on them heavily to lead on our behalf, because we don't sit at the table with them," Ash told ESPN.com on Thursday. "We're not an active party. We know they have our best interest at heart, and we're a huge part of who they are in the postseason."
Like many, Ash senses the momentum building toward a college football playoff. He understands that the next BCS cycle, beginning in 2014, could bring changes for the Rose Bowl.
"It's going to be interesting to see some of the proposals," he said. "There could be variations that could be OK for the Rose Bowl game. If the commissioners feel we need to move in a different direction, which is best for college football, we've got to be a part of that."
The desire to maintain the traditional Big Ten-Pac-12 Rose Bowl matchup has been viewed as one of the primary impediments to a college football playoff.
Like the Big Ten and, to a lesser extent, the Pac-12, the Rose Bowl has been viewed as an obstruction to a college football playoff. Although the game has loosened its access rules and has had teams from other leagues, most recently TCU in the 2011 game, the desire always has been to have the Big Ten champion face the Pac-12 champion on Jan. 1 in Pasadena, Calif.
Any type of playoff format would decrease the likelihood of having both league champions in the game.
"Whatever system they decide to put forward, we will deal with the access issue as it applies to us, and we will embrace any visitor that comes to our game," Ash said. "But each year, we hope to have a Pac-12 and Big Ten champion playing for the Rose Bowl championship. Simple as that. Does it hurt us to have other teams in here? No. But we're traditionalists. It's a part of who we are."
Some see the Rose Bowl's traditionalist nature as being inflexible. The Big Ten, and, to a lesser extent, the Pac-12, have been viewed this way as well.
Ash said it's not the case.
"Since the BCS, we've learned to evolve, and we still have our tradition," Ash said. "Tradition is a two-sided sword. If you sit on tradition, then you can get left behind, but if you are careful about how you move forward, then you can keep that tradition going. There's possibilities out there, models that can be successful for us. We've got to see what plays out."
And follow Delany's and Scott's lead.
"They're very, very intelligent guys, and their leadership is amazing," Ash said. "We need to evolve in order to stay relevant. I think those are the guys who can take us there.
"They're going to protect us as best they can."
January, 20, 2012
1/20/12
6:09
PM ET
By
ESPN.com staff
| ESPN.com
It is Friday. Can we get some emergency college football tomorrow? How about a USC-Alabama scrimmage? Anyone? Anyone?
No. Drat.
Follow me on Twitter
.
To the notes!
Shawn from Albany, Ore., writes
:
You recently stated
, "USC just became the strong front-runner in the Pac-12."... Why? You can't tell me you really think that just because Thomas is bolting for the NFL, that its going to make the Ducks any less competitive in the PAC-12 next year... Apparently you didn't pay much attention when True Freshman
Bryan Bennett
played this last year... Yes it will be his first year as our starter, but if you recall, Thomas took us to the National Championship game his FIRST year as starter... And if you ask me, Bennett's not only faster than Thomas, but has a better arm... That kid can sling a pigskin! Anyway... I'd be careful about stating anything that has to do with USC being somehow more dominant than us based simply on the fact we'll no longer have Thomas at the helm... It's time for a new era of Oregon Football... The Bennett Era!
Ted Miller
: Well, I had USC as a slight front-runner in the Pac-12 in any event based largely on the fact that Oregon must play at USC on Nov. 3 and not vice versa. The Ducks' loss of Thomas just makes the Trojans front-runner status clearer.
With or without Thomas, Oregon is the clear front-runner in the North Division. I will be shocked if the Ducks don't play in the 2012 Pac-12 championship game. And I'd be more than a little surprised if they have more than two losses when they do so.
And yet the loss of Thomas does change things, whether Oregon fans want to admit it or not. Thomas is a given. You know what you will get from him. And, more important, so does Chip Kelly. When a coach
really knows
his quarterback, particularly a
Dr. Strange
offensive savant like Chip Kelly, it helps him engineer the offense to suit him in every detail. Kelly knows what Thomas likes and dislikes. He knows how he will react to just about every situation. He won't know that about Bryan Bennett.
Heck, we don't even know that Bennett will be the starter, though I feel strongly he will be. It seems
some are intrigued
by redshirt freshman
Marcus Mariota
.
Bennett played well coming off the bench when Thomas got hurt against Arizona State. And he did a good job in his start at Colorado. But, well, the
Buffs' defense
wasn't exactly LSU.
How will Bennett -- or whoever starts -- react to adversity? Or prosperity even? Will he be durable? Will he protect the football? Will he be able to make consistent reads? Will he get overwhelmed by the spotlight? Can he digest the entire offense? Will be be able to counterpunch on his own when defensive coordinators start to get a feel for him?
How will be react to 94,000 fans at the Coliseum on Nov. 3?
These are questions Thomas already answered. Sure, he wasn't the perfect quarterback. But he was 23-3 as a starter, including 1-1 in BCS bowl games. If he started in the Coliseum on Nov. 3, he'd be smirking and eyeballing
Matt Barkley
thinking, "I'm better than him."
It's perfectly reasonable to have high expectations for Bennett. My hunch is he'll play well, perhaps even match or exceed Thomas' numbers. He, particularly, looks like a better runner.
Still, when you remove a starter who was 23-3, you insert unknowns. There's no way around that.
To Chip Kelly this: Bennett is a hypothetical. And we don't do hypotheticals.
---
Ken from Portland writes
: Ted First off, I think Mike Leach is going to be a fantastic coach in Pullman. I think he is just what the Cougs need, and I don't really look forward to playing them in the future. My question though is this: Pullman does not have all that different of weather than the Midwest. Every analyst and their mom, it seems like, always points to the "weather" as the reason a pass heavy offense wouldn't work in the Big10 (and Big 10 fan's #1 excuse for losing to teams from the South, "well hey buddy, come try that offense in Ohio in November!") But everyone loves the Leach hire in Pullman? Would they be saying the same thing if he were hired at say, Indiana?
Ted Miller
: Pullman's weather has never stopped the Cougars from being pass-heavy before, why would it be different for Leach's offense? The Cougars, with a long tradition of elite quarterbacks who fling the ball all over the place, ranked ninth in the nation in passing last season. If you look at this list of top passing offenses, you'll see
plenty of teams that play in the snow and cold
.
There are two reasons the Big Ten hasn't become more pass-heavy through the years. The first does involve geography: It seems like there are more big-time athletes -- offensive playmakers -- in the Southeast, Southwest and West Coast than in the Midwest. Recruiting lists tend to bear that out.
But, just as important: A deeply ingrained Midwest football culture. Michigan and Ohio State, the two flagships of the Big Ten, have long traditions of playing great defense and running the ball. You could say the same for their "new" flagships, Penn State and Nebraska. And that was Barry Alvarez's blueprint for building Wisconsin into a Big Ten power.
By the way, it's also notable that when Wisconsin signed up quarterback
Russell Wilson
, a highly capable passer transferring from N.C. State, it became a very good passing team, which helped it become an even better running team.
That deeply ingrained culture was a big reason Rich Rodriguez failed at Michigan. Many Michigan insiders -- most specifically former coach Lloyd Carr -- couldn't stand Rodriguez's spread offense, and that motivated them to undermine him at every turn.
Think about the Northwest: Rain, not cold, is the most difficult condition for passing the football. But Northwest teams have strong traditions of throwing the football. The culture of West Coast football wins out over the weather.
I'm not sure if anyone can build a consistent winner at Indiana. But if Mike Leach were hired at Michigan State -- or Penn State or Michigan -- and fans and administrators were 100 percent supportive, he'd build a highly successful passing offense. For better or worse, the Big Ten continues to play old-school, run-first offense mostly by choice.
---
Will from Novato, Calif., writes
: I just saw the
video you posted
on Tosh's departure from Cal. You nailed it on the head. You will probably be lambasted on our fan boards, but oh well. You state it correctly when you say that it is a business. It's deeply painful for Cal fans. We haven't gone to the Rose Bowl for what now seems like forever and a day. What's more, these past few seasons have, well, been less than hopeful. Whatever hope we had when Tedford first came on the scene has started to dissipate, and fast. With Chip Kelly and Oregon on the rise; with USC seemingly always having our number, and with Stanfurd suddenly looking rock solid, the hope is diminishing. EXCEPT, we had Tosh. With Tosh, we felt that we were finally going to get the kind of recruiting studs that would help propel us forward. With a front four of Moala, Jalil, Armstead and McCarthy, I don't think opposing OL's would know what to do. So hope emerged...and then was squashed. You've followed the sport longer than I, but yes, all of the rancor that's out there is perhaps explained though this. Anyway, thought compelled to shoot you this comment. Thanks for laying things out with a unbiased view. I'm sure you get enough hate mail from angry fans, perhaps a "good job" email would be nice evey so often.
Bret from Washington D.C., writes
: If Cal's recruiting class falls apart due to Lupoi's departure, how much blame does Jeff Tedford shoulder? Shouldn't the recruits want to play for him, not the D-Line coach? After all he is the head coach and is responsible for the health of his program. I wonder how Cal fans will treat him if we turn in another sporadic 7-5 season and a disgraceful bowl performance on National TV. I was a freshman for the 1-10 Holmoe season, and sat through every blow out. But I have to admit I'm starting to turn on Tedford, who can't seem to take the team to the next level
Ted Miller
: Cal fans, meet Chicken Little.
Chicken Little: The sky is falling.
Cal fan: I know. Tosh just left for Washington. WAAAAAAA!
Chicken Little: Are you going to eat that seed?
Cal fan: Only if it's a Prozac. We're DOOOOOOOOMED.
Chicken Little: I think you might be overreacting.
First off, as of today, Cal is still ranked
No. 1 in the Pac-12 in recruiting
, and the only recruit who decommitted after Lupoi left said his decision had
nothing to do with Lupoi
. We might want to hold off on the mass harakiri until, you know, signing day on Feb. 1.
Further, Tedford has long felt the intense celebration of Lupoi as a recruiter was overblown. That might explain that ridiculously low -- by industry standards -- $164,000 salary. Now that will be tested. If the Bears finish strong and maintain a top-20 class, you'd have to give credit to Tedford and his staff. Of course, next year will probably be a bigger measure of the Lupoi Effect.
As for the big picture with Cal, as we've previously stated, this is a big season for Tedford. Scattered pockets of impatience the past few years have solidified. He's officially on the hot seat. And losing two coaches to Washington, including one who fans celebrate -- rightly or wrongly -- such as Lupoi, doesn't help the mood around the program.
---
Erick from Seattle writes
: I recall hearing a few months ago that the UW game at LSU was going to be a night game in Death Valley. Any truth to this? I can't find anything online about the game time being announced.
Ted Miller
: While it's still a "
TBA
," my guess is it will be a night game. Night games in Tiger Stadium are fun for two reasons: 1. Incredible, intense atmosphere; 2. That incredible, intense atmosphere is brought on by perhaps the nation's best tailgate.
Yes, there's a good deal of lubrication, but the food at an LSU tailgate rates as good as any in the nation.
Here's one for any LSU fans reading this: The last game I covered in
Tiger Stadium was the Cecil "The Diesel" Collins vs. Dameyune Craig showdown
. Great game.
---
Champ from California writes
: Your hatred and prejudice of Stanford is not hidden in your writing. Typical jealous sportswriter... hates people with the courage to have brains.
Ted Miller
: I just included this because, with this note, I have now received hate mail from all 12 Pac-12 teams.
Of course, Champ,
if you are referring to this
, then I might be taking credit for something from my colleague, Kevin Gemmell.
December, 31, 2011
12/31/11
8:35
AM ET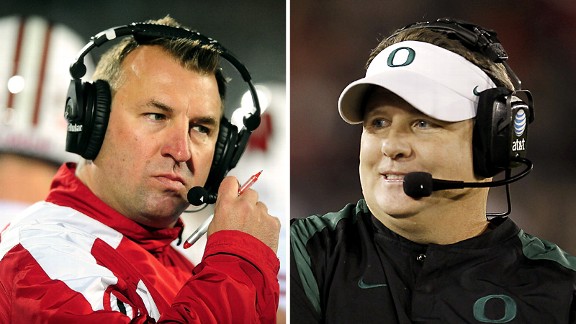 US Presswire/AP PhotoEither Wisconsin's Bret Bielema, left, or Oregon's Chip Kelly will win his first BCS bowl game Monday.
LOS ANGELES -- On Saturday morning in a hotel ballroom, Wisconsin coach Bret Bielema and Oregon coach Chip Kelly will stand together and pose for pictures with the Rose Bowl trophy. It's the kind of staged, sometimes forced, photo op that occurs before every big game.
Stare at this particular picture a bit longer, though. Appreciate the similar traits each man brought to this moment, even though they are in many ways unique. Try to imagine how they'll look in the same pose when they are older. Because this image is likely to be repeated in the future.
Here is Oregon making its second Rose Bowl appearance in three years, and here is Wisconsin back in Pasadena for the second consecutive season. Kelly and Bielema are quickly becoming the faces of the most tradition-laden bowl game, even if they are not exactly cut from a traditional cloth.
One (Kelly) played and coached for more than a decade at the relative outpost of New Hampshire before suddenly emerging as the titan of West Coast football. The other (Bielema) is thoroughly Midwestern -- born in Illinois, played linebacker at Iowa, defensive assistant for the Hawkeyes and Kansas State -- yet knows how to merge new-school fun with old-school, power football.
Kelly is hailed as a genius, the offensive innovator whose forward-thinking, high-speed spread attack plays perfectly to the video-game generation. Bielema's scheme is more brute than scoot but is almost equally as effective. Kelly's Ducks have averaged 43.1 points per game since he became head coach in 2009. In that same time frame, Bielema's Badgers have averaged 39.2.
"What Bret's done with that program, as a coach from the outside you really kind of admire it," Kelly said. "There's a consistency to it. He has a style of offense he plays and a style of defense he plays, and they stick to that. And they're really, really good at it."
Both coaches have achieved a lot at a young age. Kelly is 48, while Bielema turns 42 on Jan. 13.
"I think with his age being a little bit closer to ours, it makes him a lot easier to relate to," Wisconsin linebacker Kevin Claxton said of Bielema. "He knows what we're thinking and going through."
Both men can be described as players' coaches. Kelly handled the very difficult LeGarrette Blount punching controversy in his very first game as head coach with a solid measure of both discipline and compassion for his player. Bielema pumps up rap music at practice and gives his players the freedom to be themselves. Kelly's players buy into his cult of personality. Bielema is more like your favorite uncle.
"He's so outgoing," said quarterback
Russell Wilson
, whom Bielema recruited as a transfer from NC State over the summer. "He tried to get to know me quickly, like he was my best friend, to be honest with you. But at the same time, he makes you work. He wants to see the best out of you and all his players."
Both men are single in a profession in which being seen as a family man is a good career choice. Bielema is engaged and plans to wed next spring, while Kelly dislikes discussing his private life.
Kelly and Bielema are liked but probably not loved by all their peers. They'll ruffle feathers on occasion with the way their teams continue to pile on the points during blowouts. If you're an opposing team's fan, you'd probably describe them as arrogant. You'd also secretly wish they were your team's coach.
The only real knock on either is a perceived failure to win games. Which is mostly ludicrous, considering that Bielema is 60-18 in six seasons and Kelly is 33-6 in three years at their respective schools. One guy is going to win his first BCS game on Monday night, while the other will have to fight off the "can't win the big one" charge a little harder.
Neither is blessed with an abundance of in-state talent from which to build his program. But Kelly has Phil Knight, those wild uniforms and that offense to attract skill players from around the country. Bielema likes to say his program isn't sexy, but there is no greater destination for an offensive lineman or a running back who wants to earn national honors and go to the NFL. The success of Wilson at quarterback has signaled to other skill players that you can do more at Wisconsin than just grind it out.
Bielema and Kelly are arguably the most successful examples ever of the head-coach-in-waiting practice. That idea is falling out of vogue now, but every school would do it if the transition went as well as it looked in Madison and Eugene. Bielema inherited a Badgers team that won 10 games in Barry Alvarez's final year; Kelly took over after Mike Bellotti won 10 games his last season.
There are subtle differences between the two, of course. Kelly has a heavy hand in play calling on offense, while Bielema delegates more to his assistants (which has helped two coordinators land head-coaching jobs in the past two seasons).
"One of the things I made as a decision early on as a head coach, I wasn't going to be involved in play calling on offense or defense," Bielema said. "I just call the good plays. ... I let guys coordinate and run it, but I'll always have constant feedback on things I like, dislike, and the way I see things unfold during practice."
Bielema is as accessible as any coach at a major program. He's unafraid to open his doors to the media, like when he allowed ESPN to follow Wilson around for a special last summer. Kelly is a little more roped-off, particularly to local reporters. But when he talks, he often gives thought-provoking and colorful answers.
Kelly's reputation has taken a hit with the ongoing NCAA investigation involving recruiting service owner Willie Lyles. Bielema has steered clear of any NCAA issues thus far.
Kelly told reporters on Friday that Bielema couldn't be considered an "up-and-coming" star head coach, because six years is a long time to be in the same job these days. That's true. But these two seem like prime candidates to build a lasting legacy where they are. Bielema enjoys a close relationship with Alvarez, now the Wisconsin athletic director, and has shown no inclination toward leaving Madison. Kelly insisted on placing a $4 million buyout in his contract to ward off potential suitors.
So take a look at the trophy photo again. Or don't. You'll probably have a chance to see it staged again soon.
December, 5, 2008
12/05/08
11:20
AM ET
By
ESPN.com staff
| ESPN.com
Posted by ESPN.com's Ted Miller
Talk about a coaching tree suddenly taking root.
First, Tennessee hires Lane Kiffin. Then, Washington, according to reports, taps Steve Sarkisian.
That's two Pete Carroll disciples landing BCS conference jobs within weeks of each other.
There are many famous coaching trees -- Bill Parcells, Bill Walsh and Dean Smith come to mind. In college football, Hayden Fry's tree ( Bill Snyder, Barry Alvarez, Bob Stoops, Kirk Ferentz, Jim Leavitt, Bret Bielema, among others) is often celebrated.
In the Pac-10, there's Dennis Erickson's tree: Joe Tiller, Tommy Tuberville, Sonny Lubick and John L. Smith. And Mike Bellotti's: Jeff Tedford, Dirk Koetter, Chris Petersen and (in-waiting) Chip Kelly.
Carroll's coaching tree from USC has previously misfired. Nick Holt bolted to become the head coach at Idaho before returning to the Trojan fold after just two losing seasons. Ed Orgeron proved an outstanding recruiter but couldn't build a winner in three seasons at Ole Miss.
Norm Chow and DeWayne Walker, now the offensive and defensive coordinators at UCLA, have been perennial bridesmaids -- respected assistants who have yet to land a head-coaching job.
Kiffin, 33, and Sarkisian, 34, both have been handed broken former powers. Their connection to Carroll surely played a huge role in the pair of young coaches -- both will be the youngest coaches in their respective conferences by a wide margin -- getting a chance to enthuse their way through reportedly dynamic interviews.
What both Tennessee and Washington see is this: Jeff Tedford, Bob Stoops, Mark Richt, Chris Petersen, Kyle Whittingham, etc.
Each of them was a touted coordinator who made a successful jump to head coach (should we really count Kiffin's one-plus season leading the Oakland Raiders as true head-coaching experience?).
Most fanbases want a splashy hire -- think Nick Saban at Alabama or Urban Meyer at Florida.
And it's reasonable to worry about an inexperienced youngster taking over a BCS conference team and going nose-to-nose with more accomplished and savvy veteran head coaches.
Ah, but the upside. That's what both programs are crossing their fingers over.
As for Carroll, if his two protégés succeed, it will only add to his already extraordinary college legacy.
Of course, neither situation is a slam dunk. Far from it.
Kiffin has been fed to the wolves -- the SEC boasts an extraordinary collection of coaches. And patience isn't really part of the plan.
Sarkisian takes over a program in complete disarray, a winless season -- pending a loss at California on Saturday -- capping a five-year span of losing the Huskies have never experienced before.
Sark will get far more patience, though his hiring doesn't appear to be inspiring a widespread celebration within a Husky fanbase that was hoping for Jim Mora or Mike Leach or Chris Petersen.
It will take at least a couple of seasons for him -- or anyone -- to lead the Huskies back to a bowl game.
What Husky fans will start dreaming about, though, is Sarkisian, a few years hence, shaking hands with Carroll after a game, and Carroll frowning into the glow of a wide grin from his protégé.