October, 21, 2013
Oct 21
3:00
PM ET
There was no sign in the first quarter at Arizona State that Washington football was about to experience one of its worst weekends of all time.
The Huskies ended Arizona State's first possession -- a three-and-out -- with a sack. They then drove 60 yards for a touchdown. On that drive, quarterback
Keith Price
was 4 of 7 for 46 yards, and running back
Bishop Sankey
rushed for nine yards and a TD.
The Sun Devils drove for a first-and-goal at the Washington 7-yard line but had to settle for a field goal as the Huskies defense tightened. Cornerback
Marcus Peters
grabbed an interception of Arizona State QB
Taylor Kelly
. When the bell rung for the second quarter, the Huskies had momentum and a 7-3 lead.
So there was no flat start, no obvious hangover from consecutive defeats to Stanford and Oregon, losses that had done little damage to the 20th-ranked Huskies' national credibility.
What happened over the next three quarters, however, was a disaster. The Huskies were outscored 50-17, and that even doesn't seem to impart how horrid they looked against a hungry Arizona State team.
Said Sankey afterward, "We got out-competed."
That's about the worst thing that can happen to a football team. That's about caring and grit and fight and shared purpose and everything that speaks to the character of a football team above and beyond talent and scheme.
[+] Enlarge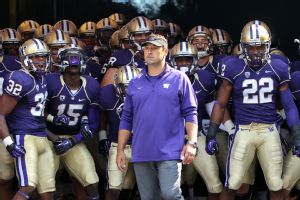 Otto Greule Jr/Getty ImagesSteve Sarkisian is looking for answers after an "embarrassing" performance in a 53-24 loss to Arizona State.
And then, on Sunday, it was announced that Washington coaching icon Don James had lost his fight with pancreatic cancer.
A football defeat pales next to the loss of a great coach and a great man, but the juxtaposition of the events is notable.
James was "The Dawgfather," the man who built a football dynasty in the Northwest. Nick Saban's much-celebrated "process" -- that's Don James, whom Saban
has repeatedly cited as his biggest influence
.
How great was James at his peak? Sports Illustrated once made a list of the three best coaches in college football. Don James was No. 1. And No. 2. And No. 3.
I second what Bob Condotta
wrote here
: I never covered the Huskies under James, but I had several chats and interviews with him. He couldn't have been more accommodating. I always got a kick from telling former players how avuncular James seemed now because they'd inevitably relate stories about his stern, evaluative stare and his intimidating presence above practices standing on his coaching tower. Those stories also brought deja vu as a former sportswriter in Alabama because that was exactly how Bear Bryant's former players recalled him.
Both groups always concluded by calling James/Bryant "a great man." Not a great coach. A great man.
Of course, James cast a huge shadow over the program after his abrupt departure before the 1993 season, a move of protest against the Washington administration's reaction to onerous conference and NCAA sanctions. The program has never escaped his shadow of sustained excellence through five coaches.
Yet just three weeks ago, this version of the Huskies felt like the most "James-ian" collection yet. Sure, there were too many penalties. But the 4-0 start was typified by physicality, efficiency, running the ball and playing tough defense. That was Don James football. The Huskies didn't look like a top-10 team, but they looked like a top-25 team cut in a Jamesian mold that longtime Huskies fans could embrace.
"That," they would say. "Is how we want Washington football to look."
So how did it look over the final three quarters in Tempe?
Said coach Steve Sarkisian, "That was embarrassing." He, in fact, said it twice in case anyone missed it.
The 212 yards of lackluster offense falls on Sarkisian. The 585 yards and 53 points the previously stout defense yielded falls on coordinator Justin Wilcox.
The stunningly uninspired performance falls on everyone.
"I know we appeared a little tired tonight," Sarkisian said. "We didn't appear as fast; we didn't appear as physical. We appeared as a team who got a little bit lethargic. Maybe we're a little emotionally drained, but I don't know. That's an excuse and there are none. We don't have time for excuses. We have to fix it."
The red-letter issue for Sarkisian is the solution to long-standing problems, which started almost immediately after James departed, seems to be eluding him, just as it did the four coaches who preceded him. The Huskies have posted impressive wins, even impressive seasons -- see a 2000 Rose Bowl team under Rick Neuheisel -- but there's been no Jamesian consistency.
Jamesian consistency isn't just about winning season-to-season or game-to-game. It's a moment-by-moment attention to detail, and that includes the Xs and Os, recruiting the right players and the totality of the emotional and mental focus of the locker room.
Jamesian consistency -- apologies to Huskies fans for again pointing this out -- looks a lot like what Oregon has captured with its "win the day" culture.
Seattle Times columnist Jerry Brewer noted that Washington has had at least a
three-game losing streak in every season since 2004
. He then added that the blowout loss at Arizona State had an unfortunately familiar feeling -- another uninspired performance on the road:
It felt like last season's 52-17 loss at Arizona. It felt like the 38-21 loss at Oregon State in 2011. It felt like the 44-14 loss at Arizona in 2010, or the 48-21 loss at Oregon State in 2009.

Every year, there is one of these. It's a trend, not an anomaly. And until the Huskies stop losing their minds like this, they won't return to prominence.
Speculating on an elusive "return to prominence," of course, makes every Husky fan nostalgic for Don James.
[+] Enlarge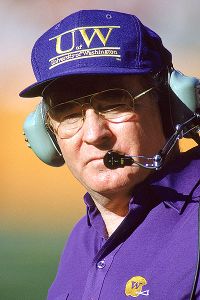 Bernstein Associates/Getty ImagesWashington is still trying to replicate the consistent success it had under Don James.
There is no one trying harder to solve this than Sarkisian, who has always embraced James, both as a person and as a symbol for the program's aspirations. Sarkisian was a stand-up guy after the abysmal performance in Tempe.
"I have to do a better job as a coach of keeping our guys motivated and positive and energetic, because when you're in our conference, every week it's a new challenge," he said. "We had a couple tough losses the last two weeks, and we just didn't bring the same energy, physicality, and ultimately execution this week that we had the previous two weeks, which gave us a chance in those games. That points right to me. I have to do a better job."
It's good that Sarkisian is taking the blame. He also knows a pat on the back for being a stand-up guy lasts just a few seconds before the high-pressure reality of a zero-sum, results-oriented business resumes. He's a big boy making a lot of money, and that money is for wins, not words.
The Washington program -- the college football nation, really -- saluted the passing of a legend on Sunday.
It's up to Sarkisian, his coaches and players to not allow the high hopes for the 2013 season to pass based on what happened Saturday.
June, 4, 2013
Jun 4
11:00
AM ET
ESPN.com's Ivan Maisel looks at which conferences send head coaches to the NFL and
makes a conclusion
: "The shortest road for any FBS head coach to the NFL is through the Pac-12. In fact, no other conference even comes close."
He points out that Chip Kelly (Oregon to the Philadelphia Eagles) was the 15th Pac-12 coach to jump to the NFL since "Tommy Prothro moved crosstown from UCLA in 1971 to coach the Los Angeles Rams."
And during that span the SEC has sent three to the NFL. The Big Ten one.
Figuring out exactly why this is true is more of a challenge, particularly because folks in other regions will get mad hearing the real reason: Brains and sophistication.
[+] Enlarge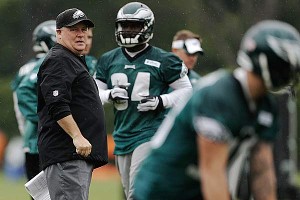 Matt Rourke/AP PhotoChip Kelly's offensive creativity helped him become the latest Pac-12 head coach to land an NFL head coaching gig.
Hey... take it easy. Just saying. And you Pac-12 folks need to behave.
Just look at the list: Dick Vermeil, Bill Walsh, John McKay, Mike Riley, Dennis Erickson and Chip Kelly. Those are some of the most innovative minds in football history, particularly offensive football.
Schematically, the Pac-12 -- historically and I think still at present -- is the nation's most sophisticated league. There's just more ... stuff. Playbooks are thicker. That, by the way, includes both sides of the football. The QBs are asked to do more. And that forces defenses to do more, too.
This, by the way, fits in with those who -- wrongly -- view the Pac-12 as a finesse league: A conference that is physically inferior has to use its wits to succeed.
But sophistication is about more than scheme. It's about psychology and managing people. There's more diversity on the West Coast. That complicates the job, so doing it well is meaningful. John McKay probably would have been successful coaching in Tuscaloosa. Not as sure the same could be said of Bear Bryant in Los Angeles.
Part of that is this: There's not as much "Yes, sir," "No, sir" on the West Coast as there is in other regions, particularly the Southeast and Texas, though that as a historical trend is likely narrowing. Going old school on an 18-to-23-year old from L.A. or Seattle probably won't work as well as it would on a kid from small town Alabama. The way a successful Pac-12 coach talks to and motivates his team is, in general, different. And, historically, it's probably closer to the NFL model, where the players are paid professionals and less willing to respond positively to a ranting coach.
Understand, there are plenty of exceptions to that. Frank Kush at Arizona State and Don James at Washington were as old school intimidating to their players as any of their contemporaries.
There's another level to that sophistication: Big cities. The NFL is a big-city league. So is the Pac-12. Maisel thinks this matters:
It could be that universities that share a market with NFL teams lose more coaches to the league. A school such as Boston College, clamoring for attention in a crowded market, might be more liable to hire a prominent NFL assistant coach such as Tom Coughlin, who left the Eagles for the Jacksonville Jaguars in 1994. That best explains why, even without counting Johnson or Erickson, the 22-year-old Big East has lost five head coaches to the NFL.
But there are other potential reasons:
Out of the box hires create fast-rising stars: Kelly, Jim Harbaugh and Pete Carroll each arrived in the Pac-12 in creative ways. Mike Bellotti made the inspired decision to hire Kelly away from New Hampshire. Harbaugh mostly generated head scratches when Stanford hired him away from San Diego. And Carroll was USC's 174th choice after a bumbling search. Heck, even Bill Walsh was a frustrated NFL assistant when he arrived at Stanford.

Previous NFL experience: Carroll had previous NFL coaching experience. So did Dick Vermeil, Bill Walsh and Dennis Erickson. Harbaugh was a longtime NFL QB. Several other guys on the list at least had a cup of coffee as an NFL assistant before taking over a Pac-8/10/12 team. You could conjecture that many of them viewed returning to the NFL as their ultimate ambition, unlike a college coaching lifer.

Recruiting rules in SEC: The most important skill for a head coach in the SEC is without question: Recruiting. The competition for recruits nationwide is brutal, but it's a blood sport in the Southeast. And that is not really a skill that translates in the NFL.

Money: Some conferences' pay scales are competitive with the NFL. The Pac-12's is not.
July, 9, 2012
7/09/12
9:00
AM ET
Does a coach define your program? Think Alabama and Bear Bryant, Penn State and Joe Paterno and Florida State and Bobby Bowden.
Does he cast a shadow that's hard to escape? Or is your all-time winningest coach mostly incidental?
[+] Enlarge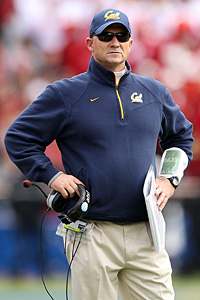 Ezra Shaw/Getty ImagesCoach Jeff Tedford is Cal's winningest coach of all time, but is he the face of the program?
ESPN.com is looking at the winningest coach for each FBS program today, and the results from the Pac-12 are interesting.
Some teams are trying to regain the past glory of a legendary coach (Arizona State and Frank Kush, Colorado and Bill McCartney, UCLA and Terry Donahue and Washington and Don James).
Some teams all-time wins leader paved the way for present glory (Oregon and Mike Bellotti and USC and John McKay).
Some are just names on a list, Hall of Famers or otherwise, men glaring at us from black and white photos (Pop Warner for Stanford, Lon Stiner for Oregon State, Ike Armstrong at Utah and Babe Hollingbery for Washington State).
And for some teams, well, things are complicated.
For one, Jeff Tedford, who has been hot-seated by many reporters and California fans, is the Bears all-time winningest coach. Then there's Oregon State's Mike Riley, who most feel is sitting on the second-warmest seat in the Pac-12. He needs just three victories to eclipse Stiner as the Beavers winningest coach.
A guy who might identify: Arizona's winningest coach Dick Tomey. Tomey went 12–1 in 1998 but was forced out in 2000.
Hey, look at this patch of grass. It's lovely. Not perfect, though. Is that a clover? Hmm. What about the grass ... over there?
The most interesting names, of course, are Kush, McCartney, Donahue and James. Each is the standard for his program. Even fans too young to have witnessed their tenures know who they are. While these coaches' programs have experienced varying degrees of success both before and after them, no one has been able to duplicate their consistency. And those who have tried over the past couple of decades seem as though they shriveled up under the shadow of the legends who preceded them.
While fans fervently cling to the "It happened before, so it can happen again" position, the truth is comparisons are sometimes unfair. College football is much different than it was before the BCS era, which none of these four experienced.
But that doesn't keep fans from hoping for a second-coming.
November, 21, 2011
11/21/11
8:00
PM ET
If Lane Kiffin keeps this up, he's in danger of becoming "coach Lane Kiffin," not "Lane @#%$@ Kiffin" or "%&@# Kiffin" or just "@#$%@," for short.
You say "Lane Kiffin" to a college football fan -- a football fan, really -- and you get many reactions. Most of the bad. Dude has some baggage. He's best known for off-field controversies in large part because he's not done much -- good or even bad -- on the field.
[+] Enlarge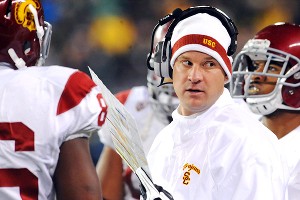 Steve Dykes/Getty ImagesAfter another big road win, it's time to state the obvious -- Lane Kiffin is a very good football coach.
Off the field? Well, take your pick of controversies. Kiffin was involved in a coup at USC that led to legendary offensive coordinator Norm Chow getting pushed aside. Kiffin fell afoul of team owner Al Davis as the Oakland Raiders coach and was fired after 20 games. At Tennessee, he trashed talked most of the league, infuriating commissioner Mike Slive, got in trouble with the NCAA and bolted after just a single season for USC.
This is old news, of course. And Kiffin has mostly behaved and avoided controversy at USC.
But we were left with an important question: Can he coach?
An 8-5 finish in 2010 didn't reveal much. It was adequate but hardly impressive. A 7-3 start was greeted by mostly positive reviews, then he lost consecutive games to Notre Dame and Oregon State.
So that was the question in 2011. Hate Kiffin. Love Kiffin. But, again, can he coach?
The 38-35 win at Oregon on Saturday hinted that, yes, he can. That he might be growing into the job. That he's matured as a leader and motivator. At 9-2 and ranked 10th in the AP Poll as well as the ESPN.com Power Rankings, he's a win over rival UCLA away from what would unquestionably be considered a successful season: a "true" South Division championship, 10 wins, a top-10 ranking, a win over top-five team (Oregon) and wins over rivals Notre Dame and UCLA.
There's always been some substance to the Kiffin dislike, even beyond the off-field issues. For one, more than a few folks saw him as born with a silver coaching spoon in his mouth, a guy had successfully conned his way into big-time jobs before he deserved them or was ready.
When he got hired at USC in 2001, three years after graduating Fresno State, he'd never been a position coach -- anywhere. He got the job because his dad, Monte Kiffin, was Pete Carroll's defensive mentor. Four years after arriving, Chow was pushed aside for him -- just in time for Kiffin to coach the 2005 Trojans, one of the most talented offenses in college football history. After two seasons, at age 31, he was hired by the Raiders.
When that didn't work out he immediately got hired by Tennessee, an SEC power. One year later, he took over USC, among the top-five programs in the nation. All that after going 5-15 (Raiders) and 7-6 (Tennessee).
The point is there wasn't much you could finger to justify why so many seemingly smart people kept hiring Kiffin.
Until Saturday in Eugene, though the performance at Notre Dame in a 31-17 win was pretty darn good, too.
The Trojans had effective plans on both sides of the ball against the Ducks, which got them a 38-14 lead. Sure, Oregon stormed back but Oregon does that. And, sure, if that 37-yard field goal to tie the game on the final play of regulation had been good, most money would have been on the Ducks in overtime.
Details and what might have beens. The W is what matters.
With no hope for a conference or national title or even the postseason, Kiffin has the Trojans playing their best football. They started slowly against a weak schedule but have steadily improved. He's kept the team motivated and focused, even though he's got plenty of underclassmen eyeballing the NFL.
Now, of course, comes the tough part: Losing 30 scholarships over three years will challenge the Trojans as they try to remain competitive at the top of the conference. We'll see how Kiffin and USC weather circumstances that would try Bear Bryant.
Still, Kiffin has started to push back against his critics with evidence of his skill. All the snarking about his past is backgrounded by his present, by what he created last weekend and this season.
But, Lane, make sure you take care of UCLA on Saturday. Don't make me come back next week with a "Never Mind."
October, 7, 2011
10/07/11
5:41
PM ET
Happy Friday.
Lead me on Twitter
!
To the notes!
John from Los Angeles writes
: What, in your opinion, do you think, has made the SEC the preeminent conference in the country? I remember the good old days when Washington, Colorado, UCLA, and USC were in the top 5 and top 10, with some National Championships along the way (Personally, I thought it had a lot to do with recruiting the Los Angeles area). But with the rise of the SEC do you think it has more to do with the changing of the game? More specifically, the move to more spread offenses and the need for speedier athletes, which the SEC currently has? Or do you think it has a lot to do with the defensive lineman in the SEC, who seem to be so much better than West Coast d-lineman? A lot of people say conference strength is cyclical, but is the current change in the game really cyclical or has it just evolved? Maybe it is demographics, as more and more people move to the Sunbelt and the talent pool has gotten bigger? Sorry, a lot to digest here from a concerned West Coast football fan.
Ted Miller
: This could be a 15,000-word essay. Or a 400-page book. But here's a CliffsNotes version.
Money: The SEC's rise parallels the rise of the BCS and the game growing from a pretty big business to a multi-billion dollar business. The SEC always had huge stadiums packed to overflow, but over the past 15 or so years, the conference has been able to monetize its popularity. What does money do? It hires elite coaches like Nick Saban, Urban Meyer and Steve Spurrier and it pays top assistant coaches what head coaches make in other conferences.
Recruiting: Demographics have concentrated more talent in the Southeast than anywhere else. You've got big guys and fast guys and fast big guys. (I mean Anthony Johnson: Are you kidding me?). The population may be greater in California, which still produces the premium quarterbacks, but a walk across a football field on a Friday night in the Southeast will have you asking if these are truly high school teams.
Culture: College football is king in the South (not the NFL, as it is everywhere else). Almost all the best athletes play football, and dream of playing in college, even though playing the most physically and mentally taxing sport in the Southeast humidity is worse than anywhere else. Want to know where all the West Coast linemen are? Playing basketball. Go to a big high school hoops tournament this winter. See all those 6-foot-5 guys? They will never sniff a Division I basketball court but they could have become NFL tight ends or offensive tackles. 100s of young men on the West Coast miss out every year on Pac-12 scholarships because they choose -- or are steered to -- basketball.
Self-fulfilling prophecy: Those who have been reading the Pac-12 blog since 2008, know I've taken on the topic of the SEC's dominance multiple times. Three years ago, I was more resistant to it. Not because I was a "Pac-10 homer," but because I didn't completely buy the "SEC rules" argument. That was three SEC national titles ago, including one lost by a Pac-10 team -- Oregon -- that I thought was going to stomp the team it lost to (Auburn). My feeling is all that "SEC rules!" talk, which has been around since Bear Bryant was the toast to of Tuscaloosa, was repeated so often, it became a recognized truth before it actually was true. And that perception helped the conference grow stronger and stronger until it became true. How? It also became a potent recruiting selling point. Consider the words of former top-rated recruit Ronald Powell of Moreno Valley, Calif. Yeah, not easy to hear for Pac-12 defensive coaches.
By the way, I know some of you might be tired of this topic. It seems like we take it on a few times a year. The reason I do that, though, is because it appears in the mailbag at least a handful of times every week. It seems like a topic that continues to be of genuine interest.
---
Brian from Beaverton, Ore., writes
: While you can't argue with the overall effectiveness of James at running back this year, have you noticed that even though they are running the spread offense, the majority of these running plays do not appear to be as read heavy between [QB Darron] Thomas and [RB LaMichael] James as they were last year? With Thomas being such an effective duel threat quarterback they are effectively removing an offensive weapon when he isn't taking the read option as much. This is allowing the defense to load up the tackle box and focus on the running back. Last year the defense had to be more honest because Thomas was more effective at holding onto the option and rushing himself. Do you see this as a fundamental change within the system or am I reading too much into it?
Ted Miller
: Chip Kelly has said repeatedly that Thomas is just doing his proper reads and has not been steered away from running the ball.
Of course, sometimes Chip just says "high" because a reporter said "low." I know that an opposing coach who was talking to me about the 3-4 looks Oregon sometimes uses on defense laughed in my face when I told him that Kelly said they didn't use a 3-4 defense. His response, which employed several colorful terms, was Kelly is full of malarkey and that reporters are stupid.
Thomas rushed for 486 yards in 13 games last year. He's rushed for 100 yards through five games. That does seem like a statistical trend suggesting he's running less. Is that just him reading what the defense gives him? I doubt it.
That said, Thomas rushed 10 times for 52 yards and scored both his rushing TDs against Arizona. So the threat is still there.
And, if I were going to crawl inside
Chip Kelly's head
and look around, I'd say that's exactly what he wants.
Because the Ducks run a spread-option, an opposing defense has to spend time accounting for the QB run. That takes up precious time. And if a defense coordinator takes note that Thomas rushed only five times in the first three games and decides to de-emphasize that possibility, he could get burned -- see Arizona.
Coaches spend a lot of time thinking about tendencies and what their opposition might be thinking. I think Kelly -- quite reasonably -- likes the idea of Thomas running less because it puts him at less risk for injury. But he also likes burning your butt when you start to think Thomas won't run.
---
Mark from La Quinta, Calif., writes
: Do you agree with your colleague Jesse Palmer when he stated that Cal had the two best wide outs in the conference? Or was he hyping the game as a lot of announcers tend to do on games they are broadcasting?
Ted Miller
: There are so many good receiver combos in the Pac-12 it's hard to choose, but Palmer's position is defensible: Entering the weekend,
Keenan Allen
ranked third and
Marvin Jones
sixth in the Pac-12 in receiving yards per game. No other tandem matched that. And that's notable because QB
Zach Maynard
only ranked fifth in passing yards per game (268.2).
Allen will be in the mix with USC's
Robert Woods
, Washington State's
Marquess Wilson
and Arizona's
Juron Criner
for first-team All-Pac-10. He's a big-time player. I suspect Jones will get drafted this spring.
So these guys are both good, experienced, A-list players.
So do I share Palmer's take? I might not have in the preseason, and I might not at season's end, but at this point, yes, they are the best 1-2 punch in the conference.
---
Jacob from Fort Hood, Texas, writes
: I feel as though Foles is getting the shaft because he is on a losing record team, but can you tell me why he isn't even being considered for the Heisman award even though he has more passing yardage than nearly every qb in the country? It doesn't make sense to me. Maybe you can shed some light on how the voting works and who is deserving in reality of the Heisman trophy. Is it more of a beauty pageant than an award for shear talent? Also, if Foles continues down the path that he is heading what round of the draft do you think that he will be picked up in?
Ted Miller
: The Heisman Trophy goes to a player for one of two reasons (and sometimes both). 1. Outrageous numbers; 2. Best player on best team. Often, those two are blended.
To start, Foles wasn't billed as a top candidate entering the season. Further, he is hurt because his team is 1-4.
To overcome those two issues, Foles would have to have outrageous numbers. He's got very good numbers, but not outrageous ones. He presently ranks 22nd in the nation in passing efficiency. And though he's piled up a lot of yards, 10 other QBs match or beat Foles' 14 TD passes.
As for the NFL draft, it's hard to say. I would be more surprised if he lasted past the third round than if he was selected in the first round. If you've ever chatted with him, he's a lot like
Andrew Luck
in terms of makeup. Smart, humble, eager to give credit to his teammates. And clearly very competitive.
---
Evan from Charlottesville, Va., writes
: You've written a couple times on the puzzling exclusion of
LaMichael James
from the current Heisman discussion. What is particularly confusing to me, however, is the fact that you yourself left him off of your ESPN Heisman Watch ballot this week. Assuming you vote Andrew Luck at number one, who filled out the rest of your ballot in spots two through five? And if you rated any other running backs ahead of James, what was your reasoning?
Ted Miller
: We do a top-five for ESPN.com each week. Here's mine from last week.
1. Andrew Luck. 2.
Kellen Moore
; 3.
Trent Richardson
; 4. Robert Griffin; 5.
Marcus Lattimore
(In retrospect, I should have dropped Lattimore after two straight underwhelming games).
My reasoning for leaving James off the ballot was twofold: 1. He didn't play well on a big stage against LSU (which he admitted); 2. His competition since then has been weak. His performance this week against a solid Cal defense will likely push him into my top five. Of course, now he's hurt and likely to miss at least a couple of weeks.
And if he doesn't, that would certainly add to his aura of being Heisman-worthy.
---
Spencer from Baton Rouge, La., writes
: Because I live a couple thousand miles away from the West Coast, Thursday's game against Oregon was the first time I have watched Cal play this season. Having listened to the other games via online radio streams, I knew Maynard struggled with accuracy. But I was shocked to see how poor his throwing mechanics are. How does a QB guru such as Jeff Tedford let such play fly? Granted, Maynard has not yet thrown the interceptions that Riley and Mansion did (which I attribute to poor decision making), but it is extremely surprising that Tedford would feel comfortable with the way Maynard throws the ball.
Ted Miller
: Without asking Tedford, my guess is that he chose not to mess with Maynard's natural throwing motion too much. Maynard is 22-years-old. Making drastic changes wouldn't be easy, especially with Maynard arriving at Cal as a junior, not a true freshman.
Sure, Maynard did have to sit out last year after transferring from Buffalo, meaning he could have refined his technique to a degree. I suspect Tedford has worked with him on his technique. But it might have been pretty late in the game for wholesale changes.
And I'm guessing that Maynard will get lots of work with Tedford based on how he threw at Oregon.
---
Rotfogel from Oakland writes
:
You have Cal only scoring 17
? Oregon's porous defense is going to hold the Pac 12's best WR tandem and offensive to 17? Maybe, highly unlikely but as you've said, Oregon is a tough place to play. I'm kinda happy you made that the score though, Cal's defense is far and away the Pac 12s best, hopefully they show it tonight.
Ted Miller
: I predicted 44-17. Oregon won 43-15.
I know: Gloating is unseemly. So sorry about that.
And is it just me or does it seem like the mailbag fills up more when I'm wrong than when I'm right?
---
Pete from Los Angeles writes
: Not sure if you saw this, but the Times of London's prestigious international rankings of the
top 400 universities
was released this week, and the Pac 12 has 4 schools in the top 25...in the world! No other AQ conference comes close. Once again shows that the Pac 12 is dominant in at least one category!
Ted Miller
: We are so smart.
Will I pick up any second-hand smart from hanging around with you guys?
April, 1, 2011
4/01/11
10:30
AM ET
SALT LAKE CITY -- Circle the date in red: UCLA at Utah on Nov. 12. The Norm Chow-Rick Neuheisel showdown. Emotions will be high as two coaches seek vindication after their failed marriage in Westwood. These guys, clearly, don't like each other.
At least that would be the fun, grudge-match angle.
"Rick's a good guy," Chow said. "There's no bad feelings." And Neuheisel has repeatedly said the same about Chow.
Now, we're not going to smooth over this. Chow, by any measure one of the best offensive minds in the history of college football, didn't succeed at UCLA. The Bruins offense mostly stunk during his three-year tenure. Not all the blame belongs to Chow. Not all the blame belongs to Neuheisel, an offensive-minded head coach who isn't the hands-off sort. Not all the blame falls on the middling talent. What is clear is that Neuheisel
cleaned house at UCLA this offseason
, and Chow ended up at Utah. And the Chow-Neuheisel separation was a
laborious process
that required
weeks to finalize
.
[+] Enlarge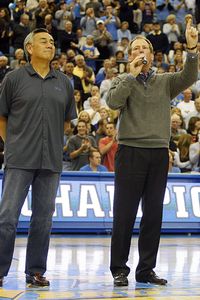 Dustin Snipes/Icon SMINorm Chow has gone from Rick Neuheisel and UCLA to Pac-12 newcomer Utah.
But the endgame is this: Chow ended up at Utah, his alma mater, and with a head coach, Kyle Whittingham, whom he knows well. His marching orders are to remake the Utes offense in his preferred image: pro-style, West Coast (you know: the scheme he developed during his quarter-century coaching at BYU).
Whittingham and Chow both say they connected over Tim Davis, whom Whittingham was considering -- and eventually hired -- as his new offensive line coach. Davis had coached with Chow at USC. So Whittingham made inquiries and that conversation led to a "So, Norm, how are things in Westwood?"
Not so good, said Chow. Whittingham sensed an opportunity.
"Was I looking to make a change?" Whittingham said. "No, not necessarily. But never would I pass up an opportunity to make ourselves better."
Said Chow, "He knew he wanted to change to a more power, downhill running game."
It took more than a month to cross the T's and dot the I's, but here's Chow, weaning the Utes away from their spread offense a year after he was charged -- with some discomfort -- with teaching the Bruins the Nevada pistol.
Chow, seven practices into his new job, seems to like what he sees, even though his starting quarterback,
Jordan Wynn
, can't throw due to shoulder surgery. Wynn, apparently, has shown Chow plenty without throwing a pass.
"Just sitting in meetings with him, it's extremely obvious he's very bright," Chow said. "To me the key element for a quarterback is you've got to be smart. He gets it all."
Chow likes his receivers, believes his offensive line is solid and thinks new additions Harvey Langi and John White will be able to get the job done at running back. He likes the Utes' intangibles, too.
"Kyle has done a terrific job of preparing them to practice," Chow said.
As for Chow's players, they still seem a little in awe of him. Said Wynn: "I honestly didn't expect him to come here. I was like, 'I'll believe it when I actually see him here in Utah gear.' But it happened. It's a great honor to play for him."
Added offensive tackle Tony Bergstrom, "I was waiting for them to say, 'We're bringing back Paul "Bear" Bryant, getting the coaching dream team together.'"
Of course, the adulation won't last if the Utes don't score points. It seemed like Neuheisel enlisted a "dream team" when he had Chow and defensive coordinator DeWayne Walker on his 2008 staff. No dreams came of that, unless you're talking about some nightmarish games.
By the time UCLA heads to Salt Lake City for a Pac-12 South Division clash, it's likely that the newness of Chow will have worn off and the point production will be what matters.
Chow seems amused knowing that reporters will be eager to play up the perceived emotions of the matchup. Recall that he went through the same routine when the Bruins played USC, where he made beautiful music with Pete Carroll until those two went all Lennon and McCartney and fell out.
This is not, as Chow said, his "first rodeo."
"The minute the game starts, those become just guys in a different jersey," Chow said. "You guys can worry about that."
July, 2, 2010
7/02/10
2:30
PM ET
October, 7, 2009
10/07/09
10:55
AM ET

Posted by ESPN.com's Ted Miller
The L.A. Times reported that USC is looking for a marquee BCS conference opponent for a future home-and-away series, and one discussion has been with Texas.
Help me out. When these two teams last played, was the game
sorta entertaining
?
From
the Times
:
Steve Lopes, a senior associate athletic director who handles scheduling, said playing nonconference opponents such as Ohio State and Notre Dame on the road in the same season was "not something you'd really like to do very often."
Lopes confirmed that he has "had conversations" with Texas and other teams from Bowl Championship Series conferences about possible home-and-home series.
USC is trying to fill dates in two-year cycles for 2015-2016, 2017-2018, 2019-2020 and 2020-2021.
The game I'd love to see would be USC-Alabama. Great history between the teams -- Bear Bryant, John McKay, USC running back Sam "Bam'' Cunningham in 1970, the split title in 1978 even though the Trojans whipped the Crimson Tide 24-14 in Birmingham, etc.
And, at present, most would agree that Pete Carroll and Nick Saban, despite being polar opposites as personalities, are two of the top coaches in the game.
Such a game contract certainly would inspire wide grins throughout the Pac-10.