Pac-12:

Beavers-Wildcats-092912
September, 30, 2012
9/30/12
3:35
AM ET
TUCSON, Ariz. -- On the night Oregon State coach Mike Riley became the Beavers' all-time winningest coach, Beavers running back
Storm Woods
made a pertinent observation about the accumulation of victories for the program.
"It took us an entire year last year to get where we are today," he said.
Yep. Last year, Oregon State was in the dumps, going 3-9. This year, it's 3-0 after
outlasting Arizona 38-35
. It surely will move up a click or two from the No. 18 perch in the national rankings it found itself in this week.
All three of those wins were different. All three came against teams that have been ranked this year. Two were on the road. The Beavers, by the way, haven't been 3-0 since 2002.
What made this game different is the defense struggled more than it had before, surrendering 545 yards after pitching a shutout in the first quarter. And the Beavers trailed for the first time this season. After jumping ahead 17-0 in the first half, they yielded the next 21 points.
The Beavers, in fact, yielded the lead twice more during a back-and-forth second half, including after a Woods fumble. Down 35-31 with 5:34 left, they took over on their 25-yard line.
[+] Enlarge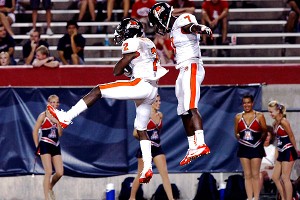 Rick Scuteri/US PresswireA win over Texas would surely give Oregon State receivers Markus Wheaton, left, and Brandin Cooks a reason to get excited.
It was a big moment. The game hung in the balance. It's the sort of time when a quarterback either steps up or doesn't. And
Sean Mannion
did. He went 6-for-6 for 52 yards on the drive, including the game-winning 9-yard TD pass to backup tight end
Connor Hamlett
, a play that Riley admitted he'd been saving for the right moment.
"Sean had a look in his eyes that I have never seen before," Woods said. "Sean is our leader; when he says we are going to score, we are going to score."
Said Riley, "Some really good quarterbacking."
Mannion completed 29 of 45 throws for a career-high 433 yards with three touchdowns. Last year, he threw 18 interceptions, most in the conference. He threw none against the Wildcats and has tossed just one this season.
His top targets,
Markus Wheaton
and
Brandin Cooks
, both eclipsed the 100-yard receiving mark for the second consecutive game. They both also caught passes of more than 50 yards. Wheaton finished with two touchdowns and 166 yards on 10 receptions. Cooks hauled in nine passes for 149 yards.
But the element that most suggests that the Beavers are legitimate contenders in the Pac-12 North is the rejuvenated running game. Woods rushed for 161 yards and a touchdown on 29 carries, and the Beavers finished with 180 yards on the ground. It's been more than two years since Oregon State has been consistent running the ball, and the lack of a running game has put pressure on the quarterback to throw. A lot. That pressure also included getting hit. A lot.
"It's really big," Riley said of the improved ground attack. "We haven't seen that for a little while."
On this night, the Beavers needed all the offense they could generate. Arizona clearly wore down their defense, which yielded 142 rushing yards, 88.5 yards more than their average entering the game. Wildcats quarterback
Matt Scott
completed 31 of 53 passes for 403 yards.
But Scott tossed two interceptions, including one grabbed by cornerback
Rashaad Reynolds
that iced the game.
"It was hard on our defense," Riley said. "Sometimes that's how football is. One side has to pick the other up."
Riley has again picked up Oregon State. With the win, he moved past Lon Stiner with his 74th victory as the Beavers' coach. He entered the season amid grumbling from some Beavers fans that the game had, perhaps, passed him by.
He's been around long enough to know a 3-0 start doesn't guarantee much, other than a shot at 4-0, which they get with a visit from Washington State next weekend.
"That proverbial rug, boy, when the pull it out from under you, your head hits hard," Riley said.
But the Beavers still have both feet firmly planted on this seeming magical carpet. They have the look of a team with staying power. It's been a heck of a transformation that perhaps we should have seen coming from the program's winningest coach.
September, 30, 2012
9/30/12
1:51
AM ET
TUCSON, Ariz. -- It was a barnburner -- again -- at Arizona Stadium. Here's how we saw things in Oregon State's
38-35 victory
:


It was over when
: Oregon State cornerback
Rashaad Reynolds
broke perfectly on a
Matt Scott
pass and grabbed an interception that ended Arizona's comeback hopes in the final minute.
Game ball goes to
: Beavers quarterback
Sean Mannion
, who was 29 of 45 for a career-high 433 yards with three touchdowns and no interceptions.
Stat of the game
: The teams combined for 1,157 yards -- 612 from Oregon State and 545 from Arizona.
Unsung hero of the game
: While
Storm Woods
had a crucial fumble for Oregon State, he also rushed for 161 yards on 29 carries with a touchdown. The long-dormant Beavers running game is back.
Best call
: On third-and-5 from the Wildcats' 9-yard line, Mannion found backup tight end
Connor Hamlett
for the decisive score with 1:09 left. The Beavers caught 29 passes tonight, but that was the only one Hamlett grabbed.
What it means
: Oregon State now has three quality wins, two on the road. The Beavers should move up in the polls, into the top 15. This just further shows their legitimacy as a Pac-12 contender. Of course, rival Oregon did beat the Wildcats 49-0. As for Arizona, there was little to suggest this isn't a bowl team. They merely have lost to the Nos. 2 and 18 teams in the nation.
September, 29, 2012
9/29/12
11:56
PM ET
TUCSON, Ariz. -- Oregon State rolled up 374 yards in the first half with a flurry of big plays, but it only leads Arizona 17-7.
Beavers QB
Sean Mannion
had completions of 57, 51, 38 and 25 yards, but two red zone trips netted only three points. Both teams missed field goals, which isn't a surprise this year in the Pac-12.
The Wildcats gained 218 yards, and scored their first points since they shut out South Carolina State on Sept. 15 when
Ka'Deem Carey
scored from 1-yard out.
Mannion completed 15-of-27 for 278 yards with a TD.
Matt Scott
completed 11-of-23 for 168 yards. The Beavers outrushed the Wildcats 96 yards to 50 and earned 15 first downs compared to 10 for the Wildcats.
Yet things swung the Wildcats way late in the second quarter. They get the ball to start the second half with a chance to add to that momentum.
September, 29, 2012
9/29/12
8:42
PM ET
TUCSON, Ariz. -- Arizona wants to erase the bad taste in its mouth after suffering a 49-zip loss at Oregon last weekend. Oregon State is pretty happy with its recent meals.
The Beavers have only played two games, but they own wins over two ranked teams. They've used a dominant run defense -- No. 2 in the nation -- and a strong passing game to push to No. 18 in the national rankings.


Two questions for this one: 1. running game; 2. pass rush.
Arizona has run the ball well this year -- 207.5 yards per game -- but QB
Matt Scott
was a key part of that in the spread-option. He hurt his hip last week at Oregon and that helped mute the Wildcats running game. It will be interesting to see if coach Rich Rodriguez wants him carry the ball against that physical Beavers front.
Oregon State has not run well this year -- 100 yards per game -- but it's faced two good defenses (Wisconsin and UCLA) and it has run better than last year. The Wildcats have been OK against the run this year -- better than expected -- but the Beavers will be tough to stop if they are balanced.
That's because QB
Sean Mannion
likely will have time in the pocket to throw. The Wildcats have just three sacks, which ranks 110th in the nation. They are talented in the secondary, but Beavers receivers
Markus Wheaton
and
Brandin Cooks
might be the fasted combination in the Pac-12. The Beavers have yielded just four sacks in two games, despite playing against two good D-fronts.
If Mannion has a lot of time to find Wheaton and Cooks, that could lead to several big plays.
The Beavers are looking to move up in the national rankings and the Pac-12 pecking order. If the Wildcats managed to win against a team it has struggled against of late -- the Beavers have won 11 of the past 13 in the series -- they figure to climb back into the national rankings. And the tangled Pac-12 South race.