Pac-12:

Beavers-Wildcats-100910
October, 10, 2010
10/10/10
9:58
AM ET
TUCSON, Ariz. -- There is only one certainty from Arizona's 29-27 loss to Oregon State: The Wildcats won't go undefeated in 2010. That puts them in the same boat with Alabama. That's one way to look at things.
Another way to look at it? There they go again.
Just when it seemed like the ninth-ranked Wildcats were ready to take a major step forward -- beating then-No. 9 Iowa, riding a high national ranking -- they take a step back.
"Tonight was a tough night in a lot of ways," coach Mike Stoops said. "When you look at the entire game, we just weren't there."
The feeling entering the game was the Wildcats were on the cusp of a potentially special season. It still might turn out special. Only not as special as it could have been. The first loss is often the hardest, but it's even harder when it comes at home to a two-loss team, and when it feels like a lot of football was played badly.
"I don't think it's a wake-up call," linebacker Paul Vassallo said. "It's disappointing with two weeks of prep."
Vassallo is a JC transfer, so he hasn't been around the program long. But it's good he's not leaning on the idea of this team needing a "wake-up call." The Arizona program is awake. It's just sometimes confounding -- see Vassallo's noting of how the Wildcats played after getting two weeks to prepare for the Beavers.
It's hard to put much blame on
Nick Foles
and the offense, which gained 541 yards, including 311 in the second half. Foles passed for 440 yards and three touchdowns and led scoring drives of 57, 66, 66 and 80 yards.
Special teams weren't special. Kicker Alex Zendejas missed a 37-yard field goal just before halftime and had a PAT blocked. Struggling punter Keenyn Crier blasted a beautiful 47-yard punt in the fourth quarter -- only he blasted it into the end zone for a touchback instead of pinning the Beavers deep in their own territory. Oregon State then drove for the decisive TD.
And that was telling -- yielding a 10-play, 80-yard, nearly five-minute drive when the screws were tightening . Ultimately, the predominant blame falls on the unit that had been so dominant this year: the defense.
The Wildcats entered the game ranked among the nation's leaders in nearly every major defensive statistical category. The Beavers had been struggling on offense. But the Wildcats gave up 486 yards, including 393 yards passing to the Beavers, who were 10-of-15 on third-down plays.
"We played sloppy tonight," end Ricky Elmore said after the game.
And, considering the Wildcats visit Washington State next weekend, it probably cost them a 7-0 start and all that might have brought -- such as a potential top-five ranking.
Of course, a top-five ranking eight weeks into the season isn't
really
all that great. It doesn't include a trophy or a bowl invitation. It's always about how you finish.
"I don't really know if we just lost our edge or took for granted what we had or what, but it's going to be a very long season," Stoops said.
That's good, because Saturday was a long and mostly unpleasant night for the Wildcats; the first time that's been the case this season.
October, 10, 2010
10/10/10
12:38
AM ET
TUCSON, Ariz. -- It is a fabrication to say there was an audible click -- click! -- and Oregon State's
Ryan Katz
became a good quarterback. But if you watched Katz run away from Arizona pressure and effortlessly send a ball 48 yards for a touchdown with a casual flick of his wrist, it certainly felt like something electric happened.
[+] Enlarge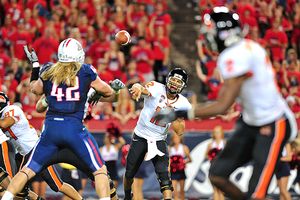 Chris Morrison/US PresswireRyan Katz passed for 393 yards and two touchdowns to lead Oregon State past Arizona.
Of course, that might have just been friction created by the frustrated deflation of the 'Zona Zoo, which watched its
ninth-ranked Wildcats lose 29-27 against the rejuvenated Beavers
.
That Katz you saw struggle against Boise State and TCU? He's apparently gone. And with the arrival of the new-and-improved Katz, it seems that the annual Oregon State turnaround has arrived simultaneously.
Katz hinted at a rising toward his tremendous upside -- he might have the best arm in the Pac-10 -- last weekend with a solid performance in a win over Arizona State. But no one saw 30 of 42 for 393 yards and two touchdowns coming.
"I could pretend and say, 'yes'," Beavers coach Mike Riley said when asked if he saw it coming. "I thought that when the game slows down for him he's going to be pretty good. Could I have predicted this? Against this defense, those defensive ends? It would be hard to predict that."
It wasn't just Katz's numbers. It was also the sophomore's poise and playmaking. The final stats say he rushed for just seven yards -- due mostly to 25 yards lost in three sacks -- but three times he tucked the ball under pressure and scrambled for third-down conversions.
Speaking of third down, that was a bugaboo for Katz and the offense through four games, see a 29.8 percent conversion rate that ranked last in the Pac-10. Not so against Arizona. The Beavers converted 10 of 15 third downs -- on the road against the nation's No. 2 defense.
"I just felt really comfortable out there," said Katz, who showed a veteran's knack for transforming questions about his individual performance into celebrations of the offense as a whole.
That comfort obviously makes everyone immediately think of Friedrich Nietzsche: "What does not kill me, makes me stronger." While the Beavers willingness to schedule road games vs. TCU and Boise State baffled more than a few observers -- and other coaches -- the prevailing wisdom behind the tough schedule now seems sound. Those games made a visit to the No. 9 team in the country seem a bit easier, and now the Beavers are 2-0 in Pac-10 play for the first time since 2003.
"The story is still being written," Riley said. "I don't want to pronounce, yes, this did it. But it certainly didn't hurt. Our guys have been in all sorts of atmospheres. We've played three top-10 teams. We seemed pretty resilient to pressure tonight."
And Arizona didn't. Or the Wildcats were just missing something. As good as the Beavers looked, it was hard to miss the absence of the pizazz the Wildcats featured during the win over Iowa.
"When you look at the entire game, we just weren't all there," said Wildcats coach Mike Stoops, who later noted a "big lack of concentration and focus."
"From a coaching and playing standpoint, our lack of preparation was very disappointing," Stoops said.
Early on, it seemed like Arizona's defense -- particularly ends Brooks Reed and Ricky Elmore -- would overwhelm the Beavers offensive line. Each end had an early sack. But the Beavers made adjustments on the fly, and once Katz got enough time, he picked the Wildcats secondary apart.
Katz's performance overshadowed another big night for Arizona quarterback
Nick Foles
, who completed 35 of 46 passes for 440 yards with three TDs.
The Beavers win did have a heavy downside: It appears that All-American receiver
James Rodgers
suffered a season-ending knee injury. Though Riley wasn't prepared to provide specifics, he noted that Rodgers was on crutches.
"James condition is not good," he said.
Rodgers caught seven passes for 102 yards before going down, but it also appears that Katz has found another go-to target:
Markus Wheaton
hauled in seven passes for 113 yards, including that 48-yard touchdown that was pure Katz improvisation.
"That was beautiful," Riley said. "That came out of the blue. He's got other receivers down below but he just saw that thing open up and made a great play."
While it seems obvious that Katz and the Beavers are a far different team from the one that muddled through the arduous early-going, Riley would only go so far to admit "big strides" have been made.
"I'm not going to make any big announcements about anything -- the arrival -- we're just going to keep working," Riley said.
But as Riley and Katz walked back to the locker room, it certainly seemed like there was a clicking sound.
October, 9, 2010
10/09/10
10:25
PM ET
TUCSON, Ariz. -- Arizona couldn't defend its No. 9 ranking against a resurgent Oregon State team that again appears to be making a turnaround after a slow start.


That slow start is attributable to having played a pair of top-five teams, TCU and Boise State -- two teams that will be pleased with this result.
There is some bad news, however, from the Beavers
29-27 win
over Arizona. All-American receiver
James Rodgers
suffered a knee injury that looked like it might be serious, though there was no official word.
The Beavers win was a coming out party for quarterback
Ryan Katz
, who turned in a career best day, passing for 393 yards and two touchdowns, completing 30-of-42.
Arizona certainly will be asking itself what might have been.
Arizona visits Washington State on Saturday. Oregon State is at Washington.
October, 9, 2010
10/09/10
9:43
PM ET
TUCSON, Ariz. --
Ryan Katz
and
Nick Foles
are putting up huge numbers.
Katz has completed 28-of-39 for 334 yards with two touchdowns. Foles has completed 23-of-28 for 328 yards with two touchdowns.
Wildcats receiver
Juron Criner
has a career high 10 receptions for 159 yards.
Both have an interception. (Katz's was his first of the year and the Beavers first turnover of the season).
With the score tight at 23-20 and the running game's muted, you'd expect one or both to reach the 400-yard mark.
October, 9, 2010
10/09/10
9:22
PM ET
TUCSON, Ariz. -- Oregon State isn't backing down, that's for sure.

Arizona took the third-quarter kickoff and drove 66 yards for a touchdown -- Keola Antolin doing much of the work with a 33-yard TD run. After a missed PAT, the Wildcats were down 17-13.

But that felt like a statement by the nation's No. 9 team.

Only the Beavers immediately answered with a 65-yard TD drive. And they even matched the Wildcats' missed PAT, which left the score at 23-13.

The Wildcats entered the game ranked second in the nation in total defense, surrendering just 230.8 yards per game. They've given up 351 yards already tonight.

The defense better step up or we could be headed for an upset. The Beavers are now 8 of 10 on third down.
October, 9, 2010
10/09/10
8:49
PM ET
TUCSON, Ariz. -- Little is going No. 9 Arizona's way in the first half against Oregon State. Even after an impressive drive to get into field goal range right before the half, a 37-yard field goal attempt was no good.
Stat of the half
: Oregon State converted 7 of 9 third-down plays. Entering the game, the Beavers ranked last in the Pac-10 with a third-down conversion percentage of 29.8.
Best player in the half
: While he did throw his first interception of the year -- a pick in the end zone, no less -- Oregon State quarterback
Ryan Katz
completed 19 of 28 passes for 257 yards with two touchdowns.
News
: Receiver
James Rodgers
is out of the game with an injury to his left knee. No specific word on the nature of the injury. James caught seven passes for 102 yards with a TD in the first half, so his loss will be felt in the second half, though the Beavers were able to win last weekend against Arizona State without him (concussion).
What Arizona needs to do; What Oregon State needs to do
: Arizona need to disrupt Katz's rhythm. After getting good pressure on him early, the Wildcats gave him too much time to throw. Oregon State needs to continue what it's doing, though it likely will need some run threat in the second half. Without James Rodgers, the passing game won't be as dangerous.
Jacquizz Rodgers
will need to step up.
October, 9, 2010
10/09/10
8:26
PM ET
TUCSON, Ariz. -- A great play turned bad for Oregon State. Perhaps really bad.
An ineligible receiver downfield penalty killed what would have been a beautiful 56-yard touchdown pass from
Ryan Katz
to
James Rodgers
.
Instead of a 24-7 lead, the Beavers were left with a second and 7 from their 39.
Worse news, however, was the aftermath: James Rodgers appeared to hurt his left knee and was helped off the field. Trainers are working on Rodgers on the bench.
Too many injuries Saturday for my tastes.
October, 9, 2010
10/09/10
8:01
PM ET
TUCSON, Ariz. -- Oregon State leads No. 9 Arizona 10-7 after one, with Beavers quarterback
Ryan Katz
and Wildcats receiver
Juron Criner
making big plays.
Katz was 10 of 15 for 127 yards with a TD in the quarter. The Beavers rushed for only 1 yard, though that's a little deceiving due to sack losses (minus-16).
Criner caught two passes for 61 yards, one of which was a 45-yard TD.
Key stat: The Beavers were 4 of 6 on third down conversions. They entered the game ranked last in the Pac-10 with a 29.8 conversion rate.
October, 9, 2010
10/09/10
7:20
PM ET
TUCSON, Ariz. -- It's fair to say
Ryan Katz
is maturing.
Katz was 4-for-5 for 73 yards on that 68-yard touchdown drive that put Oregon State up 7-0 on No. 9 Arizona.
He completed a 14-yard pass on third and 10, a 19-yard pass on third and eight and a 33 yard pass for a touchdown to
James Rodgers
.
The Wildcats defense made some impressive plays on that possession -- two stops for no gain and a Brooks Reed sack -- but Katz made up for those with strong, accurate throws.
You can see why reporters have been touting him. He may have the best arm in a conference with a lot of good arms.
October, 9, 2010
10/09/10
7:01
PM ET
TUCSON, Ariz. -- Three of Arizona's four opponents have not scored a touchdown.

Oregon State has not given away a turnover this year.

You'd figure one or both will happen this evening at some point. But which happens with more frequency?
October, 9, 2010
10/09/10
5:47
PM ET
TUCSON, Ariz. -- Coach Mike Stoops volunteered this week his team has "been ranked before." That's true. But the last time the Wildcats entered October ranked was 1998. They were 10th then. They are ninth now.
Arizona has become a good program under Stoops. But this is uncharted territory. Being in the top 10 and unbeaten in October means every positive positive scenario is in bounds.
Yeah, including, gulp, the one that ends in Glendale, Ariz., not Pasadena.
But part of making the next step between being a team that gets ranked and one that remains ranked -- and highly -- over stretches of months and even years is handling prosperity. It's about taking care of business every week.
It means beating a good Oregon State team this evening.
Based on what we've seen thus far, if the Wildcats show up with their A-game, they should beat the Beavers. There's also the little matter of the 'Zona Zoo, which has made Arizona Stadium one of the rowdier venues in the Pac-10.
But the Beavers are hard to read. They weren't good enough to beat top-five teams TCU and Boise State on the road, but they seemed to take a strong step forward on both sides of the ball in a win over Arizona State last weekend at home. The pass rush reappeared (six sacks) and QB
Ryan Katz
was far more efficient than he'd been in the first three games. And they were able to win without All-American receiver
James Rodgers
, who will play tonight.
They were picked third in the Pac-10 in the preseason -- ahead of Arizona. So if this is a highly competitive game, no one should be surprised.
Both teams are mostly healthy, though the Beavers will be without TE
Brady Camp
. The Wildcats are coming off a bye, so they should be fresh. Or will they show some early rust? Weather won't be a factor. It's going to be in the mid-80s, which is pleasant when there's no humidity. And, obviously, the sun will be down in the second half.
What will matter is how well the Beavers disrupt Wildcats QB
Nick Foles
, who's put together a pair of clutch game-winning drives in the last two wins. The Wildcats offensive line is significantly better than the Sun Devils, so that will be a considerable challenge.
And will the Rodgers brothers -- James and running back Jacquizz -- be able to find open spaces against the nation's No. 2 defense?
If Oregon State notches the upset, it will announce itself as a conference contender and would probably return to the top-25. If the Wildcats win, they will further establish themselves as a top-10 team with high aspirations.