Pac-12:

big ten pac-12 partnership
December, 28, 2011
12/28/11
6:20
PM ET
Big Ten commissioner Jim Delany and Pac-12 commissioner Larry Scott just finished a conference call with reporters. Here are some notes and nuggets from that call:
Both commissioners acknowledged that adding a difficult nonconference game against BCS opponents could create an impediment to their teams reaching the BCS title game. That's especially a concern in the Pac-12, which is pledging for now to keep its nine-game league schedule. But both say the benefits outweigh the risks.
[+] Enlarge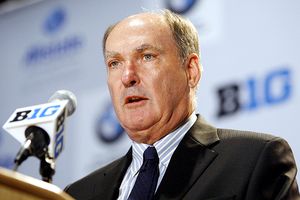 Jerry Lai/US PresswireBig Ten commissioner Jim Delany said his league won't be seeking any scheduling partnerships outside the one with the Pac-12.
"It seems counter-intuitive to make it tougher to make a bowl game, to make it tougher in the current BCS construct to go undefeated and get to the national championship game," Scott said. "In a time where there's an intrinsic pressure to kind of dumb down interconference schedules, here we are kind of reinvesting in regular-season college football and getting higher-caliber, tougher competition.
"But I think in our conference -- and the Big Ten feels the same way -- it's a broader, more holistic view about the benefits of a high-quality regular-season schedule. It's not just about how easy can you make it to qualify for a bowl and make the BCS championship game."
I asked Delany if this would make it harder for Big Ten teams to get to the national title game.
"I think it probably does," he said. "[But] in an overall, holistic way, I think it helps our football programs. I think it will engage fans, help our recruiting, help in the presentation of television. If fans follow it, our partners will be rewarded and we will ultimately be rewarded.
"We all agreed that the 12th game was kind of a 'buy game' too often for our conference and a game that was not as compelling maybe as we would like. This is a step that's for the fan, for the player and for recruitment. Clearly, for coaches used to having four [nonconference] home games, it makes it more challenging. But that's just one aspect."
Much remains to be ironed out on which teams will play whom. But Delany said he'd like "to have competitive equity play a significant part" in determining the matchups. Which raises the possibility, if two strong teams meet in the regular season, that they could have a rematch in the Rose Bowl. Would that water down the Rose Bowl?
"It's obviously a possibility," Scott said. "We do have to set these schedules somewhat in advance, and I don't think you can perfectly calibrate or choreograph matchups. I would underscore, however, that these games would be taking place early in the season. In the unlikely but possible scenario where a rematch would occur, it would be a rematch from right at the beginning of the season, not at the end of the season."
Of course, the Big Ten already does an interconference dance with the ACC in basketball. Would the Pac-12/Big Ten football games get treated like the Big Ten/ACC challenge? Delany said they would be different in that the matchups would likely occur over three-to-four weeks, not in a couple of days like the basketball challenge.
"Whether or not it's branded that way, I think people will measure and count," Delany said. "That's the nature of competition."
Delany said the Rose Bowl is the only thing that's really sacrosanct between the two leagues, and everything else right now is "a blank canvass." The two conferences can come up with all kinds of creative events, mini-tournaments, whatever. Delany called it "not a five-year or 10-year deal, but an indefinite collaboration."
Some of the creative events could take place at NFL stadiums or at the Rose Bowl, in and out of the leagues' footprints. Delany mentioned Yankee Stadium, Atlanta and Texas as possibilities for some neutral-site games. But he said the majority of the football contests would likely be held on campuses.
Both Scott and Delany said this was not the first step toward any kind of real merger between the leagues. And Delany said don't look for similar collaborations between the Big Ten and other conferences.
"We have a common DNA but a tremendous recognition that 90 percent, 80 percent of what we do is in our region," he said. "Those who think regional rivalries and local rivalries don't mean anything any more, I think that's erroneous. It's wonderful if you can have that and this. Our goal is to build something new here on a very strong foundation of history."
December, 28, 2011
12/28/11
2:01
PM ET
Who needs to expand when you can collaborate? That's the
message from the Big Ten and Pac-12 on Wednesday
, one that should be greeted with applause from fans of both conferences.
A collaboration, in this case, means the Rose Bowl conferences will play each other annually, instead of just in the Rose Bowl and a couple of annual nonconference tilts.
The collaboration will get off the ground faster in basketball and Olympic sports, but by 2017 the conferences are expected to have a full, 12-game Pac-12/Big Ten football schedule in place. Yes, every Pac-12 team will play a Big Ten team on an annual basis.
What does this mean for you?
Well, it means Michigan-USC and Oregon-Ohio State: Marquee games that will move the buzz needle nationally. But it also means teams with smaller stadiums -- Utah, Washington State, Oregon State, etc. -- are going to get quality games annually that put them in the spotlight.
From the news release:
In football, the objective is to create an annual 12 inter-conference game schedule between the two conferences by the 2017 season. The plan calls for each school to play an opponent from the other conference every year with some flexibility built into the process to respect existing post-2017 FBS non- conference match-ups. Additionally, more inter-conference games are expected to appear sooner based on schedule openings. Many sports, including men's and women's basketball, could see an increased level of inter-conference competition in the near term, possibly as early as the 2012-13 academic year. Over the coming months there will be a series of detailed scheduling planning meetings among administrators of both conferences to work out exact details.
"As other conferences continue to grow through expansion, we believe there is great merit in deepening the historic relationship between the Big Ten and Pac-12," Big Ten Commissioner James E. Delany said in a statement. "We believe that both conferences can preserve that sense of collegiality and still grow nationally by leveraging our commonalities in a way that benefits student-athletes, fans and alumni. This collaboration can and will touch many institutional undertakings, and will complement our academic and athletic missions."
ESPN.com's Gene Wojciechowski
writes
:
It isn't a merger, but the cleverly constructed "collaborative effort'' (as the official press release describes it) provides the Pac-12 and the Big Ten with some of the benefits of expansion without the mess of exit fees, litigation and the loss of historical rivalries. And from a strategic standpoint, the arrangement could broaden the geographical, television and brand reach of both conferences.
Pac-12 commissioner Larry Scott told Wojciechowsk this collaboration puts the breaks on expansion.
"We've obviously explored the possibility of going beyond 12 [teams],'' Scott said. "I've been a believer, philosophically, of that if it made sense. Now I don't see us expanding anytime in the foreseeable future. A lot of what we can do through collaborating with the Big Ten will help us accomplish some of the same things.''
What sorts of things?
For one, it's about good games that generate buzz, which means more revenue. It also means high-quality content for broadcast partners ESPN and Fox as well as the Big Ten and Pac-12 Networks. For athletic directors, their job of scheduling three nonconference games a year just got easier. It also should benefit recruiting in terms of exposure in big markets.
Yes, the Big Ten knows playing regular games in California could help it, and probably more than the Pac-12 playing in Pennsylvania and Ohio.
Still, the bottom line is this was some forward-thinking that has the potential to benefit everyone while preserving two conferences that value tradition.
And, best of all, it should produce some really great games.