October, 24, 2013
10/24/13
1:00
PM ET
Who the heck is this
Brandin Cooks
guy, the Oregon State Beaver who is on track to become just the second NCAA player to eclipse 2,000 yards receiving in a single season?
He's fearless.
"He's a fearless-type guy is what I noticed," Colorado coach Mike MacIntyre said. "He's not real big but he's physical. He can go up and get a football with two or three people around him, and consistently does that. Every film I watched, he did that a couple of times a game."
Cooks is fast. And tough.
[+] Enlarge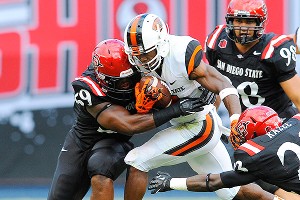 Christopher Hanewinckel/USA TODAY SportsBrandin Cooks had a season-high 14 of his FBS-leading 76 receptions against San Diego State.
"He has exceptional speed," Utah coach Kyle Whittingham said. "He's tough. And [
Sean Mannion
] is the perfect quarterback to complement what Brandin does as a receiver. He's so accurate and is such a great thrower."
Cooks is explosive.
"I watched the explosive pass cut up [Monday] night," Stanford coach David Shaw said. "Wow. The quarterback is doing a great job sliding in the pocket and buying some time and throwing it deep and Cooks is just running by everybody. The key for us [on Saturday] is to try to keep him in front of us as best we can. Let him catch the ball in front of us and try to gang tackle."
Cooks is a high-character guy with a strong work ethic.
"Brandin is pretty much the same guy every day," Oregon State coach Mike Riley said. "He got to this point because of his talent and work ethic. He just comes to work every day. I haven't noticed any change in him from the time he arrived on campus. He's driven and he's also a great character guy."
And Cooks is chill. He entertained a couple of reporters on the phone on Tuesday, repeatedly deferring credit to his teammates, Mannion in particular, while lying on his back on the Beavers practice field, taking in a beautiful day in Corvallis (according to a photo texted afterwards to the Pac-12 blog).
So Cooks is a lot of things that add up to being good -- as in Biletnikoff Award good. But who gets the majority of credit for the nation's most potent passing attack, the receiver who leads the nation in receptions (10.9 per game), receiving yards per game (168.0) and touchdowns (12), or the QB who leads the nation in passing yards per game (427.4) and touchdown passes (29)?
"I'll give it straight to Sean," Cooks said. "He's the commander and chief of the offense. I'm just doing my job and he's putting the ball there."
That's a question ultimately for the college football nation to decide, as both have worked their way into the conversation for All-American honors as well as national awards, perhaps even the Heisman Trophy. That the college football nation should even care about Mannion-to-Cooks is a bit surprising, considering the Beavers lost their season-opener to Eastern Washington, an FCS team, though it's important to note that 49-46 debacle was about a defensive meltdown. Cook and Mannion were their typical brilliant selves that day.
Six consecutive wins later, however, and the Beavers plopped into the No. 25 spot in the BCS standings. They've been operating mostly under the radar throughout their winning streak, but now the schedule's degree of difficulty is ramping up substantially, starting with a visit from No. 6 Stanford on Saturday.
It's a big opportunity for the program to move up in the Pac-12 and national pecking order, and for Mannion-to-Cooks to showcase its stuff to the college football nation.
"You can only keep us under the radar for so long if we keep doing what we're doing," Cooks said. "That's the beautiful thing about this game. College football can change in a minute."
Change is good, and Cooks has undergone some since he arrived at Oregon State as a speedy, sure-handed but undersized pass-catcher from Stockton, Calif. As a true freshman, he caught 31 passes for 391 yards, but with just 162 pounds on his 5-foot-10 frame, he wasn't much of a physical presence.
He was up to 179 pounds last year while catching 67 passes for 1,151 yards as Robin to Markus Wheaton's Batman. This fall, he's now a yoked 186 pounds. He hasn't lost any speed, and he's complemented that with an ability to win most mano-a-mano battles with handsy cornerbacks trying to disrupt his routes and rhythm.
Cornerbacks still try to get into Cooks' head. That is the cornerback way. They like to tell Cooks that he's not going to do that stuff he has done to everyone else to them.
"I get it sometimes. They get hyped up," Cooks said. "But it kind of slows down as the game gets going, when our team is gashing them. That's our trash talking for them."
It helps Cooks that the Beavers have a pretty good supporting cast of pass-catchers around him, which makes defenses pay for doubling him up, using bracket coverages or rolling their zone his way. No. 2 receiver Richard Mullaney has caught 32 passes for 538 yards with a stout 16.8 yards per reception, and 25 of his catches have produced either a first down or touchdown. Five other Beavers have at least 16 receptions.
But Cooks is clearly the lead dog. The junior already is fourth on the school's career receiving list with 2,718 yards. He needs just 276 yards to move past Wheaton into third place. His next TD reception will give him 21 for his career, breaking the school record shared by James Newson (2000-03) and Mike Hass (2002-05).
Cooks knows he hasn't yet played a defense close to the quality of Stanford's. The Cardinal last week shut down the Bruins high-flying passing attack.
"Their whole defense is a great defense," Cooks said. "You see minimal mistakes."
Who the heck is Brandin Cooks? He gets an opportunity to introduce himself to a national audience against the Cardinal.
July, 18, 2012
7/18/12
2:45
PM ET
By
ESPN.com staff
| ESPN.com
It took just 24 hours for the folks at the Biletnikoff Award to realize they had omitted one of the top receivers in the nation from their watch list: USC's
Marqise Lee
.
Lee was added to the award's watch list Wednesday. Guessing it wasn't just us that pointed out
Lee's odd omission
.
You can view the entire list -- with Lee and fellow Trojan
Robert Woods
--
here
.
April, 13, 2012
4/13/12
12:00
PM ET
Our question this week: Who has the best position group in the conference?
Lots of teams have a strength at a certain area -- running back, receiver, linebacker, etc. -- but whose team strength is the strongest?
Our thoughts.
Kevin Gemmell
: Anytime you have a four-man position group and half of them could be All-Americans, that's phenomenal. And that's what Stanford is looking at this year and that's why I'm picking its linebackers as the best individual position group in the conference.
[+] Enlarge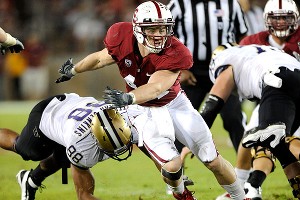 Bob Stanton/Icon SMIChase Thomas, who had 8.5 sacks last season, helps make Stanford's linebackers one of the Pac-12s top position groups.
It starts on the outside with
Chase Thomas
(52 tackles, 8.5 sacks, 17.5 tackles for a loss) -- a first-team All-Pac-12 performer and All-American. On the other side,
Trent Murphy
(40 tackles, 6.5 sacks, 10 tackles for a loss) is underappreciated because of all the attention Thomas gets. But Murphy is a beast at 6-foot-6, 255 pounds.
Then you move to the inside linebackers where
Shayne Skov
is one of the best in the nation. There is a to-be-determined punishment pending for his DUI arrest and he's still recovering from a season-ending knee injury from last year. But once he's paid his penance and is 100 percent healthy, he'll be on par with the best middle linebackers in the country.
Who lines up next to Skov is a question. And also a good problem for the Cardinal to have.
Jarek Lancaster
(team-leading 70 tackles) and
A.J. Tarpley
(57 tackles) were both outstanding in Skov's absence last year. Lancaster in particular came on very strong at the end of the season.
Highly touted sophomore
James Vaughters
is also slotted for inside linebacker. The coaching staff treated Vaughters with kid gloves last season -- using him mostly as an extra pass-rusher on third downs, where he tallied 11 tackles, four for a loss, and a sack. But he's expected to be unleashed in 2012.
Another aspect that makes this group so scary is the overall depth. Because of guys like Lancaster, Tarpley, Vaughters,
Alex Debniak
,
Kevin Anderson
and incoming freshman Noor Davis, the Cardinal are in a position to absorb a significant injury like they did with Skov last season. Of course, no one wants to see that happen for any team. But injuries are part of the game. And if something happens to one of Stanford's starters, there is significant talent that can rotate in.
One thing to keep in mind is the loss of co-defensive coordinator and inside linebackers coach Jason Tarver. He was a brilliant operator of the 3-4 defense -- which is why he's now a defensive coordinator in the NFL. He did an amazing job coaching up Lancaster and Tarpley, which helped Stanford boast the No. 1 rush defense in the conference last year. Allowing just 84.4 yards per game on the ground, Stanford was the only Pac-12 team to hold opponents below 100 yards per game on average.
Factor in the talent returning on the defensive line and that makes the linebacking corps that much better. Stanford not only has the deepest and most talented group in the conference, but you can make an argument that as a unit it is one of the best groups in the country.
Ted Miller
: I know you guys are going to get on Kevin for picking Stanford, but I agree with him: Stanford's linebacking corps is the best complete unit in the Pac-12 in terms of both skill and depth. But, of course, a "ditto" doesn't make for much of a "Take 2" now, does it?
I like California's running backs, Oregon's LBs, Arizona State's RBs and Utah's defensive line, but I'm going to go with USC's receivers.
The Trojans aren't terribly deep at receiver. In fact, they are decidedly top-heavy. But what a top.
[+] Enlarge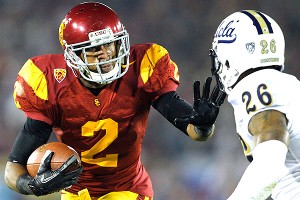 Ric Tapia/Icon SMIUSC's Robert Woods, arguably the nation's top wide receiver, averaged over 107 receiving yards per game last season.
First, you have junior
Robert Woods
, a 2011 first-team All-American. He ranked eighth in the nation with 107.7 yards receiving per game in 2011. He's the leading candidate heading into 2012 to win the Biletnikoff Award given annually to the nation's best receiver.
Second, you have
Marqise Lee
, second-team All-Pac-12, who actually outplayed a banged-up Woods over the home stretch of the 2011 season. He ranked 15th in the nation with 95.3 yards receiving per game. He also is a Biletnikoff candidate, and it wouldn't be too shocking if both of these guys earned All-America honors this upcoming season.
They combined for 26 touchdown receptions. The next highest total in the Pac-12 for a receiving combo was 19 (Oregon's
De'Anthony Thomas
and
Lavasier Tuinei
).
Put it this way: If you made a list of the top-five receivers in the nation this fall, most folks would include Woods and Lee.
Now, it's not unreasonable to question the Trojans' depth at the position. Both
Brice Butler
and
Kyle Prater
opted to transfer. Both are capable and would have made this unit scary good. While there's plenty of talent behind Woods and Lee, it's unproven.
That said: It's entirely possible speedy sophomore
George Farmer
has his own star turn this fall. Folks thought that might happen last year for everybody's prep All-American, but injuries and an odd position change to running back slowed that down. No question Farmer has All-American talent. If he stays healthy, the Trojans could end up with a troika that is almost impossible to defend, one that is superior to many NFL teams. For real.
Other guys who have the ability to help: Junior
De'Von Flournoy
and redshirt freshman
Victor Blackwell
. In the fall, true freshmen
Nelson Agholor
and
Darreus Rogers
could potentially get into the mix.
So there will be solid options for the Nos. 3, 4 and 5 receivers.
Still, this is about the top. It's not hyperbole to project that Woods and Lee, with QB
Matt Barkley
returning, are in position to write themselves onto a very short list of the best receiver combinations in college football history this fall.
November, 21, 2011
11/21/11
11:16
AM ET
By
ESPN.com staff
| ESPN.com
USC wide receiver
Robert Woods
has been named one of three finalists for the 2011 Biletnikoff Award, given annually to the nation's best receiver.
The finalists are:
The next vote for the winner of the Biletnikoff Award will open Dec. 1 and close on Dec. 4.
The presentation of the Biletnikoff Award will be featured on The Home Depot College Football Awards live on Thursday, Dec. 8, at 9 p.m. ET on ESPN. The show, hosted by ESPN's Chris Fowler, Lee Corso, Kirk Herbstreit and Desmond Howard, will feature the live presentation of nine player awards, along with the recipients of Disney's Spirit Award, The Home Depot Coach of the Year Award, the NCFAA (National College Football Awards Association) Contributions to College Football Award and student-athletes selected to the Walter Camp All-America Team.
Fans can visit the show's dedicated
website
to find the latest college football awards news, including show details, previous winners, fan voting, a photo gallery and video highlights.
November, 14, 2011
11/14/11
3:00
PM ET
By
ESPN.com staff
| ESPN.com
California's
Keenan Allen
and USC's
Robert Woods
are among the 10 semifinalists for the 2011 Biletnikoff Award.
Notably missing: Washington State's
Marquess Wilson
, who ranks fifth in the nation with 119.7 yards receiving per game while playing with three different quarterbacks.
Here's the list.
Keenan Allen, California
Justin Blackmon
, Oklahoma State
Ryan Broyles
, Oklahoma
Patrick Edwards
, Houston
Michael Floyd
, Notre Dame
A.J. Jenkins
, Illinois
Sammy Watkins
, Clemson
Jordan White
, Western Michigan
Robert Woods, USC
Kendall Wright
, Baylor