October, 27, 2010
10/27/10
7:47
PM ET
Oregon State quarterback
Ryan Katz
doesn't think there's anything strange about California's wild swings in quality of play. Just look around the entire conference.
"They've been been up and down," Katz said. "A lot of teams have been up and down."
That's true. Take Katz's Beavers. They were good enough to win at No. 15 Arizona -- the Wildcats only loss -- but couldn't take care of business at Washington. The Huskies? They win at USC, but lose at home to Arizona State. The Sun Devils? They beat the Huskies but get drilled by Cal.
Cal? It blows out UCLA and Arizona State, but gets blasted by Nevada and USC.
[+] Enlarge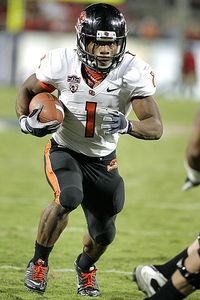 AP Photo/John MillerJacquizz Rodgers and Oregon State sill have an outside shot at the Pac-10 title.
Go figure.
The Bears are 4-0 at home and 0-3 on the road. They've lost nine of 11 to Oregon State and haven't beaten the Beavers since 2006. Last year, they got blown out 31-14 at home.
But this game feels like a pick 'em. Despite coming off a bye week, the Beavers are banged up. Receiver
James Rodgers
is done for the season with a knee injury, tight end
Brady Camp
(back) is out for Saturday and perhaps longer. Receiver
Markus Wheaton
(knee), center Alex Linnenkohl (ankle) and offensive guard Grant Johnson (neck) are expected to play but aren't 100 percent.
Cal has no significant injuries. Even its psyche has to feel better after it followed an embarrassing blowout loss to USC with a dominant effort against the Sun Devils.
Can't win on the road? Quarterback
Kevin Riley
dismissed that as just a "just a weird thing." And safety Sean Cattouse promised the Bears will find a solution.
"It's an issue that everyone knows amongst the team," he said. "So we're definitely going to get it fixed this week."
In last year's game, Beavers quarterback Sean Canfield picked the Bears apart, throwing for 342 yards, and H-back
Joe Halahuni
had a coming-out party with six catches for 128 yards. It's likely this go-around, however, that the Beavers are going to need more from their running games. Cal is too good at rushing the passer -- see 19 sacks -- to expect Katz to throw 39 times, as Canfield did in Berkeley.
That means the Beavers need to get
Jacquizz Rodgers
going. Rodgers has been grumpy -- in his mellow, mostly good natured way -- about the running game this year. While he's averaging a solid 103.5 yards rushing per game and has scored 10 TDs, the rushing offense as a whole ranks ninth in the Pac-10 with just 120.7 yards per game. Blocking has been an issue.
It's clear that Rodgers has Cal coach Jeff Tedford's attention. Consider this laudatory scouting report.
"When you talk about jump cuts -- jump cuts are when you're in the hole and you can jump sideways and then go forward very quickly-- he's a master at that," Tedford said. "So if you're in front of him and he jumps sideways on you, you've got to get on him right away or he will spurt through a hole and be gone. You just can't arm-tackle the guy. He is built low to the ground and very strong, and then when he gets in the open field he has great speed. You can never go to sleep on him. You can never relax and think he's down because he'll come spurting out of there and take it the distance."
If Oregon State (3-3) manages to win, it will improve to 3-1 in Pac-10 play. The win over Arizona and remaining games with Stanford and Oregon mean that the Beavers, if they won out, could still win the Pac-10.
That might be a reach for a team that lost to Washington. But the Beavers have been here before and started a late-season run that few saw coming.
As for Cal (4-3, 2-2), a win at Oregon State -- a second consecutive win, a road victory -- might indicate the Bears are finding some consistency. They play host to both Oregon and Stanford on back-to-back weekends (Nov. 13 and 20) down the stretch.
So who knows? The unpredictable teams in the Pac-10 could create chaos in the conference. A good candidate to do that probably will be the winner in Corvallis on Saturday.
August, 16, 2010
8/16/10
4:39
PM ET
By
ESPN.com staff
| ESPN.com
Four Pac-10 players -- sort of -- are on the watch list for the John Mackey Award, which is given annually to the nation's best tight end.
Here's the list (you can see the
entire watch list here
):
Joe Halahuni
, Oregon State
Konrad Reuland
, Stanford
Kavario Middleton, Washington
Anthony Miller
, California
For one, Middleton got kicked off the Huskies. Second, Halahuni plays H-back --
Brady Camp
is listed as the Beavers starting tight end. Finally, Reuland has yet to beat out
Coby Fleener
to be Stanford's starting tight end.
Anyway, it was good of the award to seek a Pac-10 presence for a down position in the conference this year.
The award recipient is selected by vote of the John Mackey Award Selection Committee, and the winner will be announced on Dec. 9.
July, 28, 2010
7/28/10
9:00
AM ET
By
ESPN.com staff
| ESPN.com
Welcome to the review of the weakest position in the Pac-10. And that was going to be the case even before Washington gave
Kavario Middleton
the boot
.
Middleton, by the way, was named preseason first-team All-Pac-10 by Phil Steele, even though he only caught 26 passes last year and was being challenged for the starting job by
Chris Izbicki
.
Only four teams welcome back their starting tight end, and only one -- California's
Anthony Miller
-- even earned honorable mention all-conference honors.
Why is the position down? Attrition after an "up" season. Consider the departed: Arizona's Rob Gronkowski, Oregon's Ed Dickson, Stanford's Jim Dray, UCLA's Logan Paulsen and Ryan Moya and USC's Anthony McCoy. Those guys are now stocking NFL rosters.
So where do things stand? Well, you might say we graded the position on a curve, though there is plenty of potential here.
Great shape
California: Miller was the Bears' third-leading receiver last year. Six-foot-7 sophomore backup Spencer Ladner saw action in seven games.
Good shape
We'll see
USC: Attrition and injuries make this a questionable position for the Trojans. If Blake Ayles and Rhett Ellison stay healthy, things should be OK. The incoming freshman class is strong, starting with Xavier Grimble, who ranked No. 1 at the position, according to ESPN Recruiting.
Washington: With Middleton, the Huskies would have been in great shape. Izbicki had a good spring, but he only caught three passes for 7 yards in 2009 and the depth is questionable.
Arizona State: Jovon Williams is gone and Dan Knapp is a tackle, but the Sun Devils could move up here just because the position figures to be more involved in the offense in 2010. Trevor Kohl and Christopher Coyle top the depth chart.
July, 21, 2009
7/21/09
2:30
PM ET
By
ESPN.com staff
| ESPN.com
Posted by ESPN.com's Ted Miller
If sack and sugar be a fault, God help the wicked! If to be old and merry be a sin, then many an old host that I know is damned: if to be fat be to be hated, then Pharaoh's lean kine are to be loved. No, my good lord; banish Peto, banish Bardolph, banish Poins; but for sweet Jack Falstaff, kind Jack Falstaff, true Jack Falstaff, valiant Jack Falstaff, and therefore more valiant, being, as he is, old Jack Falstaff, banish not him thy Harry's company, banish not him thy Harry's company: banish plump Jack, and banish all the world!
March, 3, 2009
3/03/09
10:00
AM ET
By
ESPN.com staff
| ESPN.com
Posted by ESPN.com's Ted Miller
It's not completely accurate to call it feast or famine at the tight end this spring in the Pac-10.
Washington, California, Stanford, etc. will insist they've got a wealth of talent at the position, despite the lack of returning production.
But in trying to evaluate a position, it seems best to stick with what is proved over what is potential. So there doesn't seem to be much middle ground here.
Great shape
| | |
| --- | --- |
| | |
| | AP Photo/Elaine Thompson |
| | Rob Gronkowski hauled in 47 receptions for 672 yards and 10 touchdowns in 2008. |
Good shape
Oregon State: The good news is all five names on the 2008 depth chart at tight end and H-back are back. The less excited news is those guys combined for 29 receptions. Can the combination of Howard Croom and Brady Camp become more than just solid?
We'll see