April, 26, 2012
4/26/12
11:00
AM ET
The Pac-12 wide receiver hierarchy probably looks a little something like this:
Robert Woods
,
Marqise Lee
(feel free to flip-flop those two at your leisure),
Keenan Allen
,
Marquess Wilson
. Some pretty elite guys.
That's usually followed with an: "Oh yeah, doesn't Oregon State have a guy that's pretty good, too?"
"Haha, yeah, that sounds about right," says
Markus Wheaton
with a chuckle.
To the folks in Corvallis, he's a bona fide superstar. But in a conference that will probably own the Biletnikoff Award this year, separating yourself as a superstar in a pack of superstars isn't always easy.
"I try not to worry about that stuff," Wheaton said. "I'm more focused on what we've got here."
It's got to bruise the ego even a little bit, though. Right?
"Not really. It just makes you want to work harder," Wheaton said.
[+] Enlarge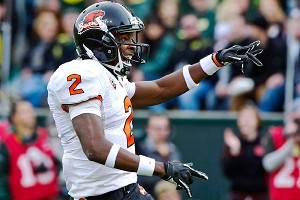 Jim Z. Rider/US Presswire"It just makes you want to work harder," Markus Wheaton said of competing with other Pac-12 stars.
Wheaton was definitely a victim of the Beavers' lack of success last season. He only found the end zone once, but caught 73 balls for 986 yards and was the ultimate security blanket for green quarterback
Sean Mannion
.
"If we won nine games last year like we did a couple of years ago, more people would know about him," said OSU head coach Mike Riley. "That's a big factor. I think our team will be better next year and that will help. He just needs to keep growing and doing what he does. Then our team needs to improve around him."
Mannion showed tremendous potential in his first season as a starter -- throwing for 16 touchdowns, more than 3,300 yards and completing 64.5 percent of his balls. He also looked like a first-year starter, tossing 18 interceptions.
With a more efficient Mannion and a stronger running game to support the passing attack, Wheaton figures to make the jump from "that Oregon State guy" to being known as one of the elite receivers in the conference.
"For me, it's all about working on the small things," Wheaton said. "I've worked on my blocking, because I want that to be a big part of my game. But for us, it's going to be the details. Too many times last year the little things got away from us. This year's team is going to be very detail-oriented."
Riley recalls when Wheaton first came to OSU. He was pure speed, without much nuance for the position. Now he's evolved to a point where Riley considers him in that top class of Pac-12 receivers.
"He can run with anybody, catch with anybody and has great ability to run with the ball after the catch," said Riley -- who also integrates Wheaton into the running game. Last year he carried 25 times for 7.6 yards per carry. "He's just a fast, gifted athlete. Early on for him, it was just run. Now he's learned how to run a route and he's got good chemistry with the quarterback."
Wheaton is not a particularly vocal guy. That's something he's working on. He knows the very youthful Beavers roster is thirsty for leadership. He's raising his voice more, but wants his teammates to learn by his example.
"I'm consistently pushing him," OSU wide receivers coach Brent Brennan said recently. "And the best thing about him is he wants to be coached. He wants to be better. He wants to learn. He wants to improve his game. I'm constantly in his ear, on his butt about what's right, what's not right, what can be faster, what his tendencies are ... he continues to learn and improve."
March, 25, 2011
3/25/11
7:41
PM ET
Who owns Robert Redford?
We may have an angle to fire-up the Utah-Colorado rivalry (albeit a contrived, forced one)!
The response to the Pac-12's blog request for
food and drink recommendations in Salt Lake City and Boulder
from Utah and Colorado fans has been huge. And when I say "huge," I mean it took me three days to shuffle through all of the notes.
And from reading the notes, it became clear that Colorado fans particularly like "
The Sink
" -- a Boulder institution -- and many noted that Redford used to work there.
And, of course, Utah fans also know that Redford founded the
Sundance Resort
in Utah.
So where does Redford's heart belong? Colorado, where he went to school, or Utah, where he built a resort community and lives?
Ready, set ... insult each other! (You may need to consult Oregon and Washington fans about generating endless supplies of bile, though you, of course, have experience with Nebraska and BYU fans).
Anyway, just a thought.
Follow me on Twitter
. (Talking to you,
Sundance
!)
To the notes.
Pedro from Eugene writes
: Ted, Today the
headline of your links
was, "Another Duck knows Lyles." Who cares? Because of who this guy is, hundreds if not thousands of current and past college football players know him. This Oregon thing has been blown so far out of proportion they are writing articles about a guy with a different mentor knowing him; a guy who didn't even play a down of football for Oregon. Wow.
Ted Miller
: Pedro, the simple answer is the
NCAA is investigating
Willie Lyles and other "street agents," and if the NCAA cares, you should care.
Lyles doesn't know thousands of college football players. I doubt he even "knows" a hundred. What I do know is that he knows a lot of players who were highly rated high school prospects, some of whom ended up at Oregon, including
Dontae Williams
, the player the article is about. Whether Williams played a down or not is irrelevant. He signed with Oregon and was on the team in 2010.
You say "wow," as if you're dumbfounded. You're either trying to spin things or you aren't paying attention. This a serious NCAA matter, whether or not the Ducks are found, in the end, to have violated NCAA rules.
The fundamental lesson in all this, however, is simple. Dear top high school prospects. You do not need to suddenly adopt a "mentor" your junior or senior years of high school. If a guy shows up and offers his mentorship
AFTER
you already are a nationally known prospect, know that what he offers is worthless to you but probably is valuable to him.
---
Dustin from Soldotna, Alaska writes
: Ted,I was just reviewing your "
Who's back from the top-25
?" list. I can agree with all of them, but at the bottom you have the players on the left-out list. I have failed to see anywhere James Rogers being mentioned. I understand there is still a question mark by his name pending his full recovery, but shouldn't he still be considered at the very least with an * by his name? If he is able to play this year, knowing his love and intensity for playing the game he will shine like he has year in and year out. He would have no doubt been on your top-25 at the end of the season and the Beavs would have played in a bowl game without question if he had not been injured in Arizona. Alas that is all just would have, could have, should have stuff, but none-the-less I still think there should be consideration regarding the upcoming season when you compile your list this summer and James Rogers being included.I would love to hear your thoughts.
Ted Miller
: Because he was out most of the year,
James Rodgers
was not considered for the top-25, but it would have been wise of me to at least mention his expected return (hopefully) in 2011. Rodgers WILL be in the preseason top-25 if he is cleared to play.
After all, he was ranked
No. 6 heading into the 2010 season
.
---
Greg from Hillsboro, Ore., writes
: Wazzu. 2011 in the Pac-12. No one is paying any attention. I think they will surprise people this next season. I think they will win at least 5 games, maybe as many as 7. Wins: Idaho State, UNLV, @SDSU, @Colorado (they are terrible too), Oregon State. Losses: Stanford, @Oregon, @California, Arizona State. Unknowns/Swings: @UCLA, Utah, @Washington.They might even shock me and win all those swing games and win 8 games.Their DL has more depth, as does the LB group. DB's are a BIG question. Their OL is going to be better, and their WR group is pretty decent/good. And Tuel is a good QB. Lots of returning starters and players with an upgraded talent level. They gave OSU, UCLA, Stanford, Cal and UW all they could handle last year.... WSU will be better than many predict or think.As Gomer Pyle (in)famously said, "Surprise, surprise, surprise!"Doubt not Oregon fans Ted, you know better.
Ted Miller
: If Washington State avoids the injury bug, I see it as a threat to win six games and be competitive with just about any team they play. I think the key is line play on both sides of the ball. If the Cougs can run and stop the run -- at least moderately -- much will be different in 2011. I think they are better than "decent" at receiver, and the secondary will be much improved in 2011, particularly if it gets help from a pass rush.
Not sure I'd write in road wins at San Diego State, Colorado and Oregon State. The Aztecs are no pushover, and I'm getting a feeling many of you old school Pac-10 fans are underestimating Colorado. And the Beavers are going to be plenty motivated at home to get revenge versus the Cougars.
Still, your point is solid. Washington State was competitive in 2010. The Cougs will take another step forward in 2011. They are no longer an easy out.
---
Eric from Albany, Ore., writes
: Hey Ted, I love the
coaching changes
Riley has made this off-season. I have felt that the beavers have looked a little "old skool" on both sides of the ball for a while now. Last year was certainly a disappointment, but not entirely unexpected. What do you think about the changes at Oregon State? Do you think we can expect an immediate impact or are we more likely to only see an impact in recruiting, which could take a few seasons?
Ted Miller
: Considering Oregon State had built a reputation over the past decade-plus of producing plenty of top-flight linebackers, it's hard to say that Greg Newhouse, the longest tenured coach in the program at 14 seasons, was dispatched because of his coaching. Though the Beavers LB play wasn't terribly good in 2010. The move did clearly show that coach Mike Riley was unhappy with the way things were going and he was willing to make a bold move. Riley is known for his loyalty to his staff, so it's doubtful that he made a change just to shake things up.
I don't know much about Brent Brennan (receivers) and Chris Brasfield (running backs). Both will be coaching critical positions for the Beavers in 2011. It would be easier for both to break in if they saw a Rodgers brother lining up with their unit this spring. From what I gather -- and a number of Beavers observers have written it -- recruiting was a big reason for making changes.
One of the more notable changes was defensive coordinator Mark Banker taking over the linebackers and Keith Heyward, who coached cornerbacks in 2010, taking over the entire secondary. That seems like a nice vote of confidence in Heyward. Coaching secondary is the quickest route to a coordinator role.
As for immediate impact, hard to say. Having good players helps. Brennan probably will look like a really good coach if he gets to pair a healthy Rodgers with
Markus Wheaton
. As for an impact in recruiting, we'll see next February.
---
Ryan from Tacoma writes
: Just curious, wondering if you can quickly indulge me (and fully aware that if you do indulge me you possibly open yourself up to eventually making statements like "Player X is not in my top 350 because of Y"), but why did you leave Victor Aiyewa out of your top 45?Being a Dawg fan I know how inconsistent he was, but it seems that the conference's leader in tackles for loss should be one of its top 45 players.
Ted Miller
: Aiyewa was a tough player to judge. He led the Pac-10 with 21 tackles for a loss, but he didn't earn All-Conference honors. I asked a couple of people about him during the season, and it seemed he was a bit of a "feast or famine" guy. He either made a big play or got blocked.
That was sort of what happened with Arizona DE Ricky Elmore. He led the Pac-10 in sacks with 11 but also was inconsistent at times, though he did end up second-team All-Pac-10.
---
Casey from Parts Unknown writes
: I understand your perception of Havili being the
number #1 fullback in the conference
, but let me say you are wrong here. This perception has been driven by all the media. Every time you turn on a USC game the announcers massage the USC ego and talk about what a great player he is. But talk to people who critically watch what happens on the field, NFL scouts, etc and see who they would rather have blocking for Chris Johnson, Adrian Petersen, or Maurice Jones-Drew. Havili is no doubt a good player, but he is not a fullback in the traditional sense. He is a tailback who happens to line up in the fullback position on the field. While he is a good receiver and runner, the main job of a fullback is to block and Havili pales in comparison to Owen in this regard. Ask any linebacker in the Pac-10 who they would rather go up against in the middle of the hole and there would be no stuttering on their part. Let's see, Owen was selected to the Senior Bowl to play fullback, where was Havili? As you stated Owen was 10th in the Heisman voting, where was Havili? Owen won the Paul Hornung Award, where was Havili? As you stated some of this is due to Owen playing linebacker, but it is clear that he will be playing fullback at the next level. When it comes to playing fullback in the traditional sense, I am sorry, there is no comparison.
Ted Miller
: I did notice the other day that
ESPN.com's NFL draft folks
actually have Marecic rated ahead of Havili, which did surprise me.
It will be interesting to see who gets picked first. Marecic is a better blocker than Havili, though I've heard that Havili is a better pass blocker. Also, Marecic is not a natural receiver and Havili is. That's a big skill for a fullback.
There aren't many traditional, lead-blocker fullbacks in the NFL anymore. My feeling is that Havili will be drafted before Marecic because of his versatility. But I could be wrong.
And, again, I love Marecic as a player and student-athlete.
---
Scott from Gilbert, Ariz., writes
: Cliff Harris on the top 25. No doubt that the guy has skills but it may be his real talent is getting coaches, sports writers, teammates and fans to all shake their heads and say "Man, if that guy just , he would be a top 5 pick!". It takes real talent to get that many people to speak the same phrase in unison.
Ted Miller
: The best analysis on Cliff Harris yet.
March, 21, 2011
3/21/11
2:09
PM ET
Oregon State has hired two new assistant coaches, but the bigger news is Greg Newhouse is out as linebackers coach.

Newhouse, who's been at Oregon State for 14 seasons, "was offered another position within the program, but elected to pursue other opportunities," according to a news release from the school.
Defensive coordinator Mark Banker will coach linebackers next fall. He supervised the safeties last season. Cornerbacks coach Keith Heyward will now be in charge of the entire secondary.
Meanwhile, Chris Brasfield was hired as running backs coach and Brent Brennan has been hired to coach receivers.
Brasfield, a defensive graduate assistant for Oregon last season, takes over for Reggie Davis, who left for the San Francisco 49ers. Brennan coached receivers at San Jose State last season. Beavers assistant head coach Jay Locey coached receivers last fall but will be in charge of the tight ends this season. Graduate assistant Robin Ross, who was hired for a full-time post at UNLV, coached tight ends in 2010.
Brennen had been at San Jose State since 2005. Before that, he spent four seasons as the wide receivers coach at Cal Poly San Luis Obispo. A former UCLA receiver -- he played on the 1994 Rose Bowl team -- he previously was a GA at both Washington (1999) and Arizona (2000).
As for Brasfield, prior to arriving at Oregon in March of 2010, he spent three years as the running backs coach at Samford University in Birmingham, Ala. He was a receiver and return specialist at TCU in 1994 and '95 after transferring from UTEP, where he played from 1991-93.
Here's the Beavers updated coaching roster under Riley: Jay Locey, assistant head coach/tight ends; Mark Banker, defensive coordinator/linebackers; Bruce Read, coordinator of special teams; Danny Langsdorf, offensive coordinator/quarterbacks; Chris Brasfield, running backs; Brent Brennan, wide receivers; Mike Cavanaugh, offensive line; Keith Heyward, secondary; Joe Seumalo, defensive line; Alan Darlin, graduate assistant/asst. linebackers; Mitch Meeuwsen, graduate assistant/asst. secondary.