December, 3, 2013
12/03/13
7:15
PM ET
Arizona State had a great run under Frank Kush in the 1970s. The Sun Devils went 10-2 under Darryl Rodgers in 1982. They won the Rose Bowl over Michigan after the 1986 season under John Cooper. Bruce Snyder's only loss in the 1996 season was a nail-biting Rose Bowl against Ohio State. Dirk Koetter was 9-3 in 2004. Dennis Erickson opened his ASU tenure with a 10-3 mark in 2007.
But each Arizona State surge was followed by mediocrity and losing seasons. Since Kush was controversially forced out in 1979, the only thing that has been consistent about Sun Devils football has been inconsistency.
[+] Enlarge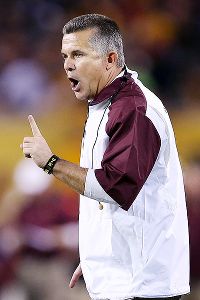 Christian Petersen/Getty ImagesTodd Graham says players should take charge of leadership on a team.
That has baffled many folks, particularly sportswriters, who have repeatedly called Arizona State a "sleeping giant." In fact, the Pac-12 blog has done this a couple of times over the past five years --
here
and
here
. It's been
a national story
a number of times. It's
been debated
. It's been
a topic this season
.
That's why the Sun Devils' rise under Todd Graham should be approached cautiously. While there's plenty of evidence suggesting a cultural transformation, unfettered optimism has been a dangerous state of mind for Sun Devil fans.
How about just the facts? Graham took over a team that went 6-7 in 2011 and went 8-5 his first season. In his second, he has the Sun Devils at 10-2, ranked 11th and facing No. 7 Stanford on Saturday for the Pac-12 championship and Rose Bowl berth .
Arizona State had been a notoriously undisciplined program. In 2011, the Sun Devils ranked last in the nation in penalty yards per game. Last year, they ranked eighth in the nation, and this year they rank third.
The discipline has extended off the field. The Sun Devils have been mostly avoiding the police blotter and doing well in the classroom, see nine players earning Pac-12 All-Academic honors, the program's most since 2006.
"We've always lacked consistency," said running back
D.J. Foster
, a Scottsdale native. "Even before I came here, just watching stuff. I feel like this program finally has constancy with Coach Graham. His work ethic is rubbing off on the players."
Graham said that even before he took the Arizona State job he had talked to other coaches about the football program's potential, most notably Cooper, who bolted Tempe for Ohio State after going 7-4-1 in 1987. Cooper is the last Sun Devils coach whose tenure didn't end with a pink slip. Graham, who has notoriously called multiple places his "dream job," wasn't worried about the dreaded "sleeping giant" label, which typically became a subject for off-the-record derision among former Sun Devils coaches.
"I think it just points to the potential," Graham said. "This is a great place."
There was an outside perception that the team Graham took over didn't lack athletic ability but that it might be thin on character. Fair or unfair, the Sun Devils have long been dogged by a reputation as a self-centered team that lacked mental toughness. But what Graham says he found was a locker room eager to embrace change.
"I think they were somewhat tired of some of the discipline things," Graham said. "I believe young people will meet whatever standard you set."
Want buy-in? Two-time Pac-12 Defensive Player of the Year
Will Sutton
on Monday was finishing up a 15-page paper on leadership. Guess who it was about: Graham.
"It's about leadership and change in the community, and what better person to do than Coach Graham?" Sutton explained.
For Graham, however, the message that he advanced this season compared to last is players taking charge of leadership instead of the coaches. That's part of a team and a program maturing.
"Our players are leading the team," he said.
The improvement this fall has been impressive. The Sun Devils are 10-2 against one of the nation's toughest schedules and they are riding a Pac-12-best seven-game winning streak. While Stanford is the defending conference champion, it's the Sun Devils who are favored.
"This has been the best situation I've ever been in in coaching," Graham said. "We've really gelled really quickly. We had a great plan and we really fit the place. I think the players were really hungry for what we've brought."
If the Sun Devils keep winning, it certainly
will bolster efforts to renovate Sun Devil Stadium
, a project that is critical to the program remaining competitive. And retaining Graham.
While the previously nomadic Graham seems to -- finally -- be content, leading Arizona State to a Rose Bowl will refocus the nation on his program building skills, not his controversial departures from previous schools. Keeping him and his coaching staff happy will be an important test for the athletic department, which already is replacing athletic director Steve Patterson, who left for Texas this fall.
Further, everyone knows nothing big has been accomplished yet. This is about establishing a consistent winner, not just breaking through every five or 10 years for a magical run. It's no good if the sleeping giant just got up to grab a glass of warm milk before again retiring.
"I feel the sleeping giant is awoken but we've still got a lot more work to do and a lot more big games to win to be established as a dominant program," Foster said.
May, 23, 2012
5/23/12
10:30
AM ET
Our theme today, as part of our "Love to hate" week at ESPN.com, is "Left in the lurch." This is about coaches who bailed out on a Pac-12 program at an unexpected or awkward time. We're not including Urban Meyer leaving Utah for Florida or Jim Harbaugh leaving Stanford for the San Francisco 49ers because their departures were not unexpected and came only after unprecedented success.
Of course, these situations vary greatly in terms of circumstances and reaction. There aren't many college football jobs out there considered better than one in the Pac-12, so most of the coaches who bailed out on their programs left for the NFL.
But here is a sampling from the Pac-12. Feel free to provide your own thoughts below.
[+] Enlarge

AP Photo/Don RyanPete Carroll stunned USC fans when he left after the 2009 season to coach the Seattle Seahawks.

California got dogged twice. First, after going 10-2 in 1991, Bruce Snyder bailed on the Golden Bears for Arizona State. It's rare for a coach to jump from one conference program to another, and it certainly hurts more. Then, in 1996, Steve Mariucci lasted just one year in Berkeley before jumping aboard with the San Francisco 49ers.

Dennis Erickson twice left Pac-12 teams for sunnier pastures (at least in theory). After two years at Washington State, Erickson bolted for Miami after the 1988 season. Then, after a strong run at Oregon State from 1999-2002, Erickson left Corvallis for the San Francisco 49ers. He has repeatedly said that was the worst move of his career.

Dick Vermeil lasted two seasons at UCLA. After going 9-2-1 in 1975 and upsetting No. 1 Ohio State in the Rose Bowl, he left for the Philadelphia Eagles.

Rick Neuheisel shocked many when he left Colorado for Washington before the 1999 season for a million-dollar contract, which was at the time considered exorbitant. He left behind NCAA sanctions for the Buffaloes and immediately got into trouble with the Huskies. It didn't make folks in Boulder feel any better when the Huskies and Neuheisel swept a home-and-home series over the next two years.
But two departures really stand out.
Don James is on the short list of greatest college football coaches of all time. In 18 seasons at Washington, from 1975 to 1992, he won a national title and four Rose Bowls. He went 153-57-2 (.726) and set a then-record of 98 conference victories. From 1990-92, the Huskies won 22 consecutive games.
He is the Dawgfather.
And that's why many Huskies fans will tell you the lowest moment in program history is when he resigned in protest of NCAA and Pac-12 sanctions on Aug. 22, 1993. (James really, really didn't like Washington president William Gerberding and athletic director Barbara Hedges, either).
His resignation just before the season forced Washington to promote defensive coordinator Jim Lambright, a good man and a good defensive coordinator but not an ideal fit as head coach. Other than a Rose Bowl victory after the 2000 season under Rick Neuheisel, things have never been the same in Husky Stadium. Not yet, at least.
A more recent shocker: Pete Carroll bolting USC after the 2009 season for the Seattle Seahawks.
Carroll's hiring in 2001 was widely panned, but all he did thereafter was build a college football dynasty, winning national championships in 2003 and 2004 and falling just short of a third consecutive title in 2005 in a thrilling loss to Texas. He went 97-19 (.836) in nine seasons (11-2 versus rivals Notre Dame and UCLA), won six BCS bowl games and finished ranked in the AP top-four seven times. He won 34 consecutive games from 2003-05 and coached three Heisman Trophy winners and 25 first-team All-Americans.
So, yeah, he accomplished a lot. And many thought he would coach USC for life, though many others also suspected the lure of the NFL would prove too much.
It was the timing of his sudden, stunning departure that frustrated many Trojans fans. While Carroll has repeatedly denied oncoming NCAA sanctions had anything to do with his decision to leave, that's a hard line to buy. He skipped town after a 9-4 season that featured blowout losses to Stanford and Oregon and left behind a team with a two-year bowl ban and deficit of 30 scholarships over three seasons.
Still, not unlike how James is viewed by Huskies fans, Carroll is mostly spared the wrath of Trojans fans because of what he accomplished.
There's no question, however, that both programs were left in the lurch.
December, 20, 2010
12/20/10
6:29
PM ET
A "consensus" All-American is a player who earns first-team honors on three of the five All-American teams recognized by the NCAA.
So Oregon coach Chip Kelly, by the same standards, is now a "consensus" Coach of the Year, after winning the honor from the
Walter Camp Football Foundation
.
Kelly is the first Oregon coach and just the third from the Pac-10 to earn the award (Arizona State's Frank Kush in 1975 and Bruce Snyder in 1996), which is voted on by FBS coaches and sports information directors.
Kelly previously won Coach of the Year honors from the Football Writers Association of America and The Sporting News.
Under Kelly's direction, the second-ranked and Pac-10 champion Ducks (12-0) earned their first BCS Bowl Championship Game appearance and will meet No. 1 Auburn (13-0) on Jan. 10 in Glendale, Ariz. It is Oregon's first 12-win season in its history.
Kelly, along with members of the 2010 Walter Camp All-America team, will be honored at the organization's national awards banquet on Jan. 15 at the Yale University Commons in New Haven.
January, 20, 2010
1/20/10
11:47
AM ET
By
ESPN.com staff
| ESPN.com
Lots of extraordinary games to choose from, as well as many ways to ascribe greatness: the size of the stage, the competitiveness of the game and the overall strangeness.

And we made the executive decision not to make this a list of USC upset losses -- other than the biggest one of those.

10. Oregon 56, Arizona State 55 (2 OT), 2000: Many of you are drawing a blank, but the ones who saw this one are jumping out of their chairs and going, "Oh man. That one was nuts." Both teams scored 21 points in the fourth quarter. The teams combined for 1,228 yards, 663 of those for the Sun Devils. Ducks quarterback Joey Harrington threw six -- SIX! -- touchdown passes, including three in the fourth quarter, the last of which tied the score with 27 seconds left after the Sun Devils gave away a critical fumble. Arizona State freshman QB Jeff Krohn threw five TD passes, by the way. ASU lost the game when coach Bruce Snyder decided to fake the extra point and go for the two-point conversion in the second overtime. It failed, leaving fans in Tempe stunned.

9. Washington State 30, USC 27 (OT), 2002: Any of you Cougars fans able to muster the memory of kicker Drew Dunning's slide on his knees at Martin Stadium? Dunning sent the game into overtime with a 35-yard field goal and then made the game-winner from the same distance in a victory that was critical to the Cougars' run to the Rose Bowl. The game featured a brilliant quarterback duel between Carson Palmer and Jason Gesser -- Gesser passed for 315 yards, Palmer for 381 -- and a dominant performance from Cougars defensive tackle Rien Long, who went on to win the Outland Trophy. Between this game and the 2006 Rose Bowl, USC lost just once.

8. Oregon 44, Arizona 41 (2 OT), 2009: If Arizona had won this game, we now know the Wildcats would have played in their first Rose Bowl. The Wildcats led 24-14 early in the fourth quarter, but then the game went crazy. With red-clad Arizona fans encircling the field, Ducks quarterback Jeremiah Masoli tied the game in regulation with six seconds left with a touchdown pass to Ed Dickson. Masoli then won it in the second overtime with a 1-yard run. Masoli ran for three TDs and passed for three more.

7. Stanford 24, USC 23, 2007: Greatest upset in Pac-10 history? Maybe. Stanford was a 41-point underdog playing its backup quarterback at No. 2 USC, which had won 35 in a row at home. But Trojans quarterback John David Booty, who foolishly played -- and was allowed to play -- with an injured throwing hand, threw four interceptions, while Stanford's Tavita Pritchard led a clutch, game-winning drive, throwing a 10-yard touchdown pass to Mark Bradford on fourth-and-goal with 49 seconds remaining.

6. Oregon 37, Oregon State 33, 2009: It was the Civil War for the Roses, with the Ducks earning a berth in the Rose Bowl after slipping a game crew of Beavers. While the return of Ducks running back LeGarrette Blount was significant -- he scored a critical touchdown -- the game belonged to redshirt freshman running back LaMichael James, who scored three touchdowns and rushed for 166 yards, and quarterback Jeremiah Masoli, who ran over Beavers safety Lance Mitchell to convert a fourth-and-3 play from the Beavers' 33 with 3:41 left as Oregon ran out the final six minutes with its final drive.

5. California 31, Oregon 24, 2007: Sixth-ranked California, featuring a stellar performance from receiver DeSean Jackson, outlasted No. 11 Oregon in a game between two teams that each would at one point rise to No. 2 during the season, though both ultimately crumbled. The game turned on a strange play as the Ducks were on the cusp of tying the score. With 22 seconds to go, Dennis Dixon found Cameron Colvin near the goal line, but Colvin fumbled trying to reach the ball into the end zone when he was hit by Marcus Ezeff. The loose ball went through the end zone and was ruled a touchback and possession for Cal.

4. Washington 33, Oregon State 30, 2000: It was the greatest game no one saw because of the late, West Coast kickoff at Husky Stadium. And at the time its magnitude wasn't clear. The critical play of the back-and-forth affair happened when Washington defensive tackle Larry Tripplett caught Ken Simonton for a three-yard loss on second-and-1 from the Huskies 26-yard line with 42 seconds left. The Beavers panicked and mistakenly spiked the ball -- they had a time out left -- and then Ryan Cesca missed a 46-yard field goal to tie. It was the Beavers only loss of the season; they crushed Notre Dame in the Fiesta Bowl. They would have played Oklahoma for the national title if they had prevailed. And the win helped the Huskies win the Rose Bowl tiebreaker.

3. USC 23, California 17, 2004: No. 7 California had a first-and-goal on top-ranked USC's 9-yard line with under two minutes left. At that point, Cal quarterback Aaron Rodgers had completed 29 of 31 for 267 yards and a touchdown. But the Bears couldn't punch it in, with USC registering a sack and forcing three incompletions. It was the closest call of the season for the best team of the USC dynasty.

2. USC 34, Notre Dame 31, 2005: The infamous "Bush Push" game. No. 9 Notre Dame was about to knock off top-ranked rival USC and make Irish coach Charlie Weis a national sensation, but Matt Leinart led a drive for the ages in the waning moments as the Trojans prevailed, scoring the winning points when Leinart got a little extra help from Bush on his second effort on a quarterback sneak.

1. Texas 41, USC 38, 2006 Rose Bowl: Perhaps the great game in college football history, particularly considering that the stakes were a national title for two unbeaten teams and the field was packed with talent and future high draft choices. Vince Young almost single-handedly willed his team to the victory -- he ran for 200 yards and passed for 267 more -- and denied the Trojans a third consecutive national title. USC walked away with a laundry list of "what ifs," but the ultimate result was a 34-game winning streak coming to an end.
May, 13, 2009
5/13/09
2:30
PM ET
By
ESPN.com staff
| ESPN.com
Posted by ESPN.com's Ted Miller
Have you seen Junior's grades?
April, 22, 2009
4/22/09
4:18
PM ET
By
ESPN.com staff
| ESPN.com
Posted by ESPN.com's Ted Miller
Arizona Congressman Harry Mitchell paid tribute Tuesday to former Arizona State and California coach Bruce Snyder, who died of cancer April 13.
Here are his remarks entered into the Congressional Record:
Madam Speaker, I rise today to recognize the exemplary and inspirational life of Coach Bruce Snyder. Diagnosed with cancer just last year, Coach Snyder passed away early in the morning on Monday, April 13, 2009. He was 69 years old.

Coach Snyder will always be remembered for his many successes as the head football coach at Arizona State University from 1992-2000, and before that at the University of California. Under his leadership, the Sun Devils won 58 games and made four bowl appearances. More than 40 of Coach Snyder's players were drafted into the NFL, and he produced over 100 All-Pac-10 honorees.

ASU alumni the world over remember the magical 1996 season. Bruce Snyder coached the Sun Devils to one of their best seasons in history, going 11-1, upsetting many highly ranked championship teams, and coming heartbreakingly close to a NCAA national championship. He was named Coach of the Year, an honor that could not have been more appropriate.

Coach Snyder's time at ASU is incredibly impressive, and has certainly left a lasting impression on me. But the ultimate record of his work lies in the positive and lasting impact he has made upon the hearts and minds of the people he touched. Players, family and friends recall Coach Snyder as a man of tremendous personal integrity, culture and caring for those around him.

He imparted life lessons on his players that went far beyond the field. As one former player so aptly put it upon learning of Coach Snyder's passing, "He was a good coach, but a better man."

Madam Speaker, please join me and Bruce's wife and children in mourning the loss and honoring the legacy of Bruce Snyder.
April, 16, 2009
4/16/09
6:30
PM ET
By
ESPN.com staff
| ESPN.com
Posted by ESPN.com's Ted Miller
These links will get you to Friday.
April, 14, 2009
4/14/09
2:30
PM ET
By
ESPN.com staff
| ESPN.com
Posted by ESPN.com's Ted Miller
Let these links brush your rock & roll hair.
April, 13, 2009
4/13/09
5:52
PM ET
By
ESPN.com staff
| ESPN.com
Posted by ESPN.com's Ted Miller
Bruce Snyder wasn't Arizona State's greatest coach. That would be Frank Kush. But Snyder ranks a solid No. 2, and he also was something few coaches are: well-rounded.
Snyder loved to read. He could talk incisively about things other than football. And, get this: He was a nice guy.
| | |
| --- | --- |
| | |
| | AP Photo/Roy Dabner |
| | Bruce Snyder went 126-106-5 in 20 years as a head coach. |
Not long ago, he was also doing something few football coaches do: Enjoy retirement.
Then, in June, his doctor gave him stunning news: He had Stage IV melanoma. The story is gracefully told in this column by George Schroeder.
The situation was dire. Realistically, it was a death sentence. But, of course, Snyder fought like crazy. And he shared his journey with the world on his blog.
But that final journey ended Monday. Snyder was 69. He leaves behind a wife, three daughters, a son-in-law, two grandchildren, four sisters, two brothers and his beloved dog, Ella.
And an impressive legacy.
His being well-rounded and good-natured, of course, isn't why Pac-10 fans will remember Snyder today. He was a heck of a football coach, winning Pac-10 Coach of the Year honors at two different schools and nearly leading Arizona State to a national championship in 1996.
He compiled a 58-47-0 record in nine seasons at Arizona State, the win total ranking second behind Kush.
What Arizona State fans will remember most fondly was a scintillating 1996 season, when Jake Plummer, Pat Tillman and the Sun Devils were in the national title hunt until the waning moments of the Rose Bowl, when Ohio State and quarterback Joe Germaine broke their hearts in a 20-17 defeat.
Still, that 11-0 regular season, which included a 19-0 domination of two-time defending national champion and top-ranked Nebraska, and a final No. 4 ranking earned Snyder numerous national coach of the year awards.
And probably more than a few moments of "what if" when the lights went off.
Snyder, recently enshrined into the ASU Athletic Hall of Distinction, went 126-106-5 in 20 years as a head coach. He also earned Pac-10 Coach of the Year honors at California in 1990 after the Bears finished 7-4-1 and defeated Wyoming, 17-15, in the Copper Bowl -- Cal's first bowl berth in 11 years and first bowl win since 1938.
In 1991, his final season at Cal, he led the Bears to a 10-2 record, No. 8 national ranking and a win over ACC champion Clemson in the Citrus Bowl.
So, within a six-year span, he led two different Pac-10 teams to final top-10 rankings.
If someone else has done that, well, I couldn't find him.
He coached more than 40 players at ASU who were selected in the NFL draft, including seven first-round draft choices: Shante Carver, Craig Newsome, Erik Flowers, Adam Archuleta, Todd Heap, Levi Jones and Terrell Suggs.
That's an impressive resume by any measure.
It's a coaching legacy that will endure. And here's a guess that those who knew Snyder well also will treasure his legacy as a person.
August, 28, 2008
8/28/08
10:49
AM ET
By
ESPN.com staff
| ESPN.com
Posted by ESPN.com's Ted Miller
And so it begins. Pause for a moment and imagine yourself 14 weeks hence. Are you smiling? Love the optimism!
August, 27, 2008
8/27/08
12:05
PM ET
By
ESPN.com staff
| ESPN.com
Posted by ESPN.com's Ted Miller
Pat Tillman, American war hero and former Arizona State All-American, will be one of eight former Sun Devils inducted into the school's Hall of Fame this year.
Tillman's life was an extraordinary one, and the woman who raised him, Mary Tillman, has intrepidly led a campaign to force the government to tell the truth about her son's friendly fire death in Afghanistan. She then wrote a book about him and her experience, "Boots on the Ground by Dusk."
So it figures that she would have wisdom to share with ASU's incoming student-athletes, which she did during an orientation seminar last week.
As for the Hall of Fame class, Tillman will be joined by his former coach, Bruce Snyder. The other inductees are Eric Allen (football), Jacinta Bartholomew (track and field), Brandie Burton (golf), Lisa Dacquisto (softball), Markus Mollica (wrestling) and Jeremy Veal (basketball).
The inductees will be honored at the Hall of Fame football game on Oct. 25 vs. Oregon at Sun Devil Stadium/Frank Kush Field.
July, 16, 2008
7/16/08
10:19
AM ET
By
ESPN.com staff
| ESPN.com
Posted by ESPN.com's Ted Miller
I love the smell of links in the morning...