Pac-12:

Bruins-Ducks-111202
December, 3, 2011
12/03/11
2:20
AM ET
EUGENE, Ore. -- It would be unfair and perhaps even inaccurate to describe Oregon's celebration after winning the first Pac-12 championship game as subdued or distracted or somehow lacking that unfettered euphoric frenzy that erupts after landmark success. The Ducks partied after
whipping overmatched UCLA 49-31
. The grins were ear-to-ear. The emotions were authentically proud and in the moment.
Winning three consecutive conference championships is a special achievement for any program, but especially a program whose older fans can remember times when such results seemed unattainable.
But you know the "but" is coming. The but is this: After the Ducks finish celebrating, they need to get down to business. And that business is winning their final game, the one that would unmistakably announce the program's arrival as an elite program.
The Ducks have reached the Rose Bowl before. They have played for a national title. But they have walked away from that final game both times with the confetti falling on their triumphant opponents.
It won't surprise anyone that Ducks coach Chip Kelly didn't even sniff the bait when asked if he felt like the program needed to win a BCS bowl game after losing the past two seasons.
"Not based on the two previous losses," Kelly said. "I think our guys are going to go out there and compete, but not based upon anything that happened in the past. I've said this a lot, we're a forward-thinking operation."
Sure, fair enough. But not every Ducks fan or even Ducks player is so completely enmeshed in "The Tao of Chip." They know the simple fact that Oregon in just three seasons under Kelly has accomplished everything a program can in the Pac-12, other than winning a Rose Bowl or winning a national title.
"We really need to finish this season right," said tight end
David Paulson
, who caught one of three touchdown passes from quarterback
Darron Thomas
.
[+] Enlarge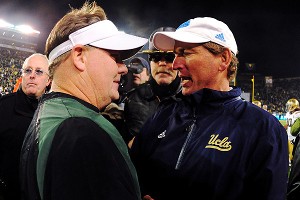 Kyle Terada/US PresswireChip Kelly is on to the Rose Bowl with his Ducks, while Rick Neuheisel, right, is out of a job.
"The last two seasons, we had great years but we didn't finish on a good note. I think for this program to keep growing, we need to finish the season. This year, we need to finish in the Rose Bowl."
The dispatch of UCLA takes second billing. It played out as expected. The Bruins fought hard but were overwhelmed by the Ducks' speed and relentlessness, even with do-everything back
De'Anthony Thomas
knocked out in the first quarter with an apparent concussion.
Oregon led 21-7 after a quarter, 35-17 at halftime and 49-24 entering the final frame. The result was never in doubt. Game MVP
LaMichael James
produced three touchdowns and 219 of the Ducks' 352 yards rushing. The Ducks outgained the Bruins 571 yards to 337.
The loss even took second billing for the Bruins. For them, it was more about Rick Neuheisel coaching his final game. He was fired this week and finishes his ill-fated career at his alma mater with a 21-28 record.
"There was a lot of heart and there was a lot of work," Neuheisel said. "We made it a game, at least for a time. I was thrilled we got that kind of effort, given the events of last week."
There was an abundance of graciousness when Neuheisel and his players met with reporters. They paid tribute to Oregon, Neuheisel paid tribute to his players and they, in turn, thanked him.
Said linebacker Patrick Larimore, "Being able to play under him has been truly a blessing for me and I know it has been for the rest of the team."
The Bruins had to play a clean game to have any chance and they did not. They lost three fumbles and threw an interception. They also were 1-for-3 on fourth down, while Oregon was 4-of-7. The Ducks, in fact, scored a pair of long touchdowns -- a 30-yard James run in the first quarter and a 25-yard pass to
Daryle Hawkins
-- on fourth-and-short plays.
Oregon, meanwhile, piled up a bunch of notable numbers. James, a redshirt junior, became the first back in conference history to produce three consecutive seasons with more than 1,500 yards rushing. That's a major achievement when you consider the history of Heisman Trophy winners and Pro Football Hall of Fame running backs the conference has produced. James' 52 career rushing touchdowns is tied with former USC running back LenDale White for second in conference history, and he passed Marcus Allen for third place on the conference's all-time career rushing list with 4,923 yards.
Thomas set a school record with his 63rd career touchdown pass.
As for getting to the Rose Bowl -- again -- it remains special, without question. It's certainly a source of jealousy among 11 other Pac-12 teams. Even Kelly admitted, "It means a lot."
"The Rose Bowl in this conference is the pinnacle," Kelly said. "If you don't have a chance to play -- obviously because of our two losses -- in the national championship game, there's no other game you'd rather play in than the Rose Bowl."
But the playing is not the thing to catch the consequence of becoming a college football king. And Kelly and Oregon, of all coaches and teams, should know that. After all, it's written all over the stadium and even has a special "WTD" shield.
Win the day.
Oregon needs to win the day on Jan. 2.
December, 3, 2011
12/03/11
1:41
AM ET
By
ESPN.com staff
| ESPN.com
December, 3, 2011
12/03/11
1:37
AM ET
By
ESPN.com staff
| ESPN.com
Oregon tight end
David Paulson
talks about winning the Pac-12 championship and another BCS bowl berth.
December, 2, 2011
12/02/11
11:49
PM ET
EUGENE, Ore. -- The Pac-12 championship game played out a lot like people thought it would.


Oregon
romped over UCLA 49-31
, piling up 352 rushing yards against the overwhelmed Bruins defense.
UCLA didn't mail it in. The Bruins just couldn't keep in in Rick Neuheisel's last game as head coach.
We'll have a lot more later.
December, 2, 2011
12/02/11
11:06
PM ET
EUGENE, Ore. -- The first Pac-12 championship game appears over after three quarters. Oregon is headed to the Rose Bowl. UCLA is probably headed to the Kraft Fight Hunger Bowl with a 6-7 record, courtesy of a waiver from the NCAA.
The big news may be a bunch of Oregon -- and Pac-12 -- records.
LaMichael James
is the first conference running back back with three consecutive 1,500 yard seasons. Quarterback
Darron Thomas
has set on Oregon career record with 63 touchdown passes.
Oregon set school records for rushing yards in a season as well as passing touchdowns, which is sort of an impressive thing, if you think about it.
One thing you can say for UCLA: It showed up and fought. The differential here merely demonstrates the distance between the two programs.
Which, yes, is vast.
December, 2, 2011
12/02/11
10:10
PM ET
EUGENE, Ore. -- UCLA is fighting but it doesn't have as many weapons as Oregon. The Bruins trail 35-17 at the break. The Ducks appear headed for their third consecutive conference title and the Rose Bowl.


Oregon, by the way, gets the third quarter kick.
Stat of the half
: The most obvious number would be 318-151, which is the yardage totals for Oregon and UCLA, respectively. But the Ducks were expected to dominate. What stands out is five -- as in five turnovers. The Bruins have lost three fumbles and the Ducks have a fumble and an interception. Not terribly clean football.
Best player in the half
: Ducks running back
LaMichael James
is running fast and with authority. He has 115 yards on 13 carries -- 8.8 yards per tote -- with two TDs. Along the way, he became the first player in conference history with three consecutive 1,500-yard rushing seasons. That's pretty amazing folks: First... ever. Think of all the great backs before him. And, oh by the way, he's a junior.
Best call
: Why do you go for it on fourth down? Because it helps you score. At least for Oregon. The Ducks were 3-for-4 on fourth down in the first half, and scored long touchdowns -- 30 and 25 yards -- on fourth-and-short plays. UCLA was 0-1 on fourth down.
December, 2, 2011
12/02/11
9:13
PM ET
EUGENE, Ore. -- It's been sloppy -- four turnovers -- but the Pac-12 championship game is playing out as expected after a quarter.
Oregon leads 21-7. UCLA's points came on a pick-6 from linebacker Patrick Larimore.
Both teams have two turnovers, but Oregon has a dominant offense and UCLA doesn't. The Ducks outgained the Bruins 177 yards to 50.
Ducks running back
LaMichael James
had 71 yards rushing in the quarter, including a 30-yard touchdown.
If both teams play sloppy, Oregon wins big. If both teams play clean, Oregon wins. The Bruins only hope is to clean themselves up and hope Oregon continues to turn the ball over twice per quarter.
December, 2, 2011
12/02/11
7:43
PM ET
By
ESPN.com staff
| ESPN.com
EUGENE, Ore. -- Pac-12 commissioner Larry Scott met with reporters before the Pac-12 championship game, and we'll provide a transcript of his Q&A below. But here's something interesting he said.
The quality of our teams has resulted in Pac-12 football being a strong ratings driver again. We just got the ratings results of ESPN and ABC's top-six rating broadcasts this year. Pac-12 teams were in four out of those six games. Pac-12 teams are in the right time slot and on the right platform are driving massive national TV ratings. USC at Oregon, Oregon at Stanford, Stanford at USC and Oregon-LSU were four of the top six ratings winners this year. Next year with our new TV agreements kicking in, it's going to be taken to a higher level with every football game broadcast on national TV. No more window of Pac-12 broadcasts starting next year. Every broadcast is going to be full national. This will only help keep propelling the perception of the conference nationally which has been an important objective for me and a lot of our efforts have been focused on that.

Those big ratings probable make ESPN, ABC and Fox pretty happy heading into that first year of the new $3 billion, 12-year deal.
Here's the rest of his chat with reporters:
On USC being ineligible to play in the Pac-12 football championship game:
Certainly had it not been for the postseason ban for USC, we would have had two top-10 teams in this game, so of course it's disappointing when such a strong team is not allowed to participate. It's not something we control. Obviously we and USC are abiding by other decisions by the NCAA. Therefore, UCLA is in a very good spot here. Of course people will be disappointed that the team that finishes first in its division can't participate, but that's the nature of it. It will still be a great showcase. We're expecting a full house, electric atmosphere. There's an awful lot on the line. UCLA has the potential to pull off one of the greatest upsets in conference history.
On the neutral site model:
We spent a lot of time thinking about the different options and we had a lot of great proposals for neutral site options. In our footprint, we have a lot of great NFL venues that were very eager to have this event and we have even more coming online. After giving it a lot of careful thought, we thought this model of a home-hosted championship game was the best for us for a variety of reasons. We're a conference that's very widespread, from Washington down to Arizona and east. What was most important from my perspective was to have a full house and an atmosphere of energy, to have a collegiate atmosphere. As we're establishing this new tradition of a conference championship game. We also felt that it would be a just reward and add more meaning to the regular season in that teams, up until this last weekend, were playing not just for winning their division, but they were playing for the right to host. It's a way to reward the fans, campuses and communities.
On the possibility of moving the game to Saturday night:
That's another topic that we spent a lot of time talking about with our broadcast partners. We felt this provided us with the maximum potential of a national audience. A lot of our thinking has been around national and East Coast access and availability to Pac-12 football. We wanted to be in a window that would give us national exposure. This is really an idea co-created by us and our TV partners. Why not be the first championship game to go? Why not go on a night when it's exclusive to you and maximize your national audience? It kicks off championship game weekend.
On the difficulty of having a game on a Friday night at 5 p.m.:
We realize it's more difficult for the campus to host this game on a Friday night, but at the same time, we feel this is a unique and special event. In our experiences talking with the NFL, if it's a special event, we can plan around it. It's something that can be celebratory and people can make their plans around it. It's something that actually adds to being a little more unique and differentiated.
On keeping the game on a Friday night:
As you probably know, FOX and ESPN will be alternating broadcasting this event. In our contract, it's going to be for Friday. We realize we're doing a lot of things for the first time and are putting a lot of thought and consideration into these decision. We'll always take stock and see how we can improve. I'm not going to sit here and say we aren't going to make changes to our model. On the eve of the kickoff of this game, I feel very good about the decision for the home-hosted model, as well as the Friday night. I feel we've gotten good feedback on this.
On reflecting about this week:
Certainly everything that we can control has played out. We're very pleased with the organization and the way we've worked with the University of Oregon. The stadium is going to be full tonight. The broadcast is sold out. Everything we envisioned, from a planning and strategy standpoint, has worked out. Of course, I acknowledge the disappointment over the fact that we have a 6-6 team that fired its coach this week. I don't spend a lot of time trying to script what happens on the field or what happens as a result of the NCAA Committee on Infractions. I think it emphasizes even more why a home-hosted model is even more important in situations that you can't always envision.
On the influx of money into the Pac-12 and how it will benefit athletic departments:
There's going to be a sea of change next year in terms of the perception of the conference and the exposure of football and men's basketball and across all sports with the launch of our TV networks, and every game available nationally. As a result, the bar is being raised and every one of our schools is taking a step back and planning a mid- to long-term future in a way they haven't been able to previously. I think a lot of our schools have been saying, "Okay this is what we've got to work with. Let's do the best we can." I think the conversations that have been happening over the last six to nine months have been different. They've been, "Okay, we have new 12-year agreements that are going to bring in a lot of more exposure and revenue. For the first time in a long time, we can have some breathing room." I am very confident that the leadership of our schools -- presidents, chancellors and athletic directors -- will go about in a very fiscally responsible way. How do we manage our athletic departments so they are self-sustaining? Most of our programs rely on resources from the university that could be spent in other ways. I'm looking forward to our schools getting to the point where they don't have to rely on general university funds to run athletics.
On his plan for increasing the Pac-12's international footprint:
That's an important priority for our universities, being the leading institutions on the West Coast. Our schools look at themselves as the gateway to the Pacific Rim. I've got my first trip in this role to China planned for the middle of this month. I'll be going over there for a week. We've got a host of meetings scheduled with government officials, event promoters, television broadcast partners and internet companies that might distribute Pac-12 content. We think we're uniquely positioned as a Conference given the international makeup of our student body, the international brand recognition of our schools and our geographic location to make a big impact. That's a long-term objective.
On bringing football to Asia:
Because the sport is not played over there, playing football in Asia could be an interesting promotional activity, but I don't think on a regular basis it would make much sense, in my opinion.
On the status of Pac-12 agreements with cable networks for next year:
We know we've got deals in place that will get us into over 40 million homes across the country based on the deals with Time Warner, Comcast, FOX and Bright House. Fans and interested viewers anywhere in the country are going to be able to access whether we sign any additional distribution deals or not. With that being said, I think we are going to sign significant distribution details. Thankfully, we've turned a priority of attention to having those 40 million households already in place. We've turned our short-term attention to building our management team, our facilities and our production plans to get ready next August which is no small endeavor. It's pretty impressive what we're trying to do in launch seven television networks by next August. It's an audacious challenge, but one we feel is very doable.
December, 2, 2011
12/02/11
7:27
PM ET
EUGENE, Ore. -- Larry Scott has had a pretty magical ride as as Pac-12 commissioner. And he's an optimist who can turn back a pointed question from a reporter with a rhetorical flourish.
Still, the Pac-12 championship matchup isn't ideal, and there's really not a way to put lipstick on that pig.
"There's disappointment that we've got a 6-6 team that fired its coach," Scott said.


Yes, UCLA just fired coach Rick Neuheisel this week after his team lost 50-0 to rival USC in the regular-season finale. The Trojans, ineligible due to NCAA sanctions, should be here playing Oregon, and that would give Scott a top-10 matchup. Still, as Scott noted, it's a luck stroke that this game is in Autzen Stadium instead of a neutral site. It's not likely many would have flown in from all points across the West Coast if the game were in, say, Phoenix. An empty stadium is the last thing the conference wanted for its first championship matchup.
No one believes UCLA has a chance. It's a 32-point underdog. But what we've learned many times is there are no sure things in college football. USC lost to 41-point underdog Stanford in 2007. Michigan lost to FCS Appalachian State. This year, No. 2 Oklahoma State lost at Iowa State.
Stuff happens.
"Despite all the difficulty and all the adversity on the field or off with injuries or the like, we're a game from playing in the Rose Bowl, which is the amazing thing about all of this," Neuheisel said. "We're going to take our swings."
That, first of all, means playing mistake-free football and hoping Oregon doesn't produce the same. That means taking some chances -- blitzes, trick plays, deep throws, etc. The problem with the latter, as Ducks coach Chip Kelly pointed out, is it's been a short week of preparation. It's not like UCLA had a bunch of extra time to re-write its playbook.
The stakes are the Rose Bowl. For Oregon, that's business as usual. It's trying to win its third consecutive conference championship. The Ducks challenge is winning their BCS bowl game, which they failed to do the previous two years under Kelly.
For UCLA, nothing is usual. If it shocks the world with a win, it will go to the Rose Bowl as a 7-6 team, and athletic director Dan Guerrero will find himself in the dubious position of looking like a jerk if he doesn't allow Neuheisel to coach the Bruins in that game.
So, you know, last minute change of plans. And imagine if the Bruins then win the Rose Bowl? Here, Coach Neuheisel, is a trophy your program hasn't won since the 1985 season... you're still fired.
Of course, the Bruins would have to pull a couple of massive rabbits out of their helmets for that surreal scenario to happen.