September, 8, 2011
9/08/11
10:15
AM ET
Ten issues to consider heading into the second week of games.
1.
Foles versus Weeden
: It's possible we'll have 750-800 yards passing in Arizona's visit to Oklahoma State. It's a showdown of two marquee quarterbacks in the Wildcats'
Nick Foles
and the Cowboys'
Brandon Weeden
, though the showdown of marquee receivers --
Juron Criner
and
Justin Blackmon
-- doesn't look like it will happen because Criner has missed practices with an undisclosed illness. The Cowboys bombed Arizona in the 2010 Alamo Bowl 36-10, which was the last of five consecutive season-ending losses for the Wildcats. The Wildcats want redemption, but for them to have any chance, Foles must outplay Weeden.
[+] Enlarge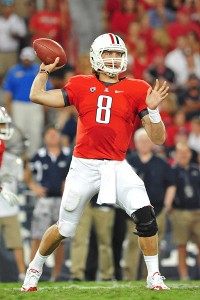 Chris Morrison/US PresswireArizona quarterback Nick Foles completed 34 of 42 passes for 412 yards and five touchdowns in Week 1.
2.
Play smart, Arizona State
: Missouri is one team that can claim as many injuries to key players as Arizona State -- the Tigers are down six starters. It's possible that the Tigers will play things fairly close to the vest with new QB
James Franklin
, who's a better runner than passer, perhaps waiting for the Sun Devils to make mistakes. And that strategy has worked in the past for teams facing the Sun Devils. ASU has long been penalty- and turnover-prone. The Sun Devils have the talent to win this game outright ... as long as they don't blow it. If ASU wins the turnover battle and is at least close to even in penalties, it should be a happy Friday night in Tempe.
3.
Play loose, attack, Oregon State
: The Beavers odds are pretty darn bad at Wisconsin. Even without significant injuries, or a loss to Sacramento State in the opener, few would be predicting an upset. Most likely, the best-case scenario for Oregon State is a respectable performance that includes no new injuries. Still, the Beavers need to reclaim their pride and confidence. They need to enjoy the big stage and regain some swagger. To do that, they will need to play loose and take some chances. Throw deep. Run some trick plays. Blitz. Try to have some fun, because that's exactly what didn't seem to happen last weekend.
4.
Can Colorado block Cal
? You might have noticed that I picked
Colorado to upset California
. If you want to know why that pick may end up making me look bad, it's the matchup of the Buffaloes' offensive line against the Bears' strong front seven. Hawaii pushed the Buffs around, recording seven sacks and holding them to 17 yards rushing. Cal has a more talented front seven than Hawaii, so that's a huge issue worth watching during the early going: Are the Buffs able to protect
Tyler Hansen
and create some gaps for
Rodney Stewart
? Playing at home will help, but the Colorado O-line is where an upset will start. Or end.
5.
Oregon's fire
: The last time the Ducks suffered a disappointing season-opening loss in a marquee nonconference game was in 2009 at Boise State. You might recall the Ducks didn't play particularly well the next two weeks against Purdue and Utah, though they managed to win both games. While the players will talk about trying to get the bad taste of the LSU game out of their mouths, it's easy to imagine the Ducks coming out flat against Nevada. This is not the same Nevada team that went 13-1 in 2010, but the Wolf Pack are good enough to steal one if Oregon takes too long to wake up.
6.
Man-up, Washington
: The Huskies played soft on both sides of the ball in a weak effort against Eastern Washington. That performance won't beat Hawaii, which pushed Colorado around on both lines and is coming to Seattle expecting to win. If Washington thinks it can coast into its visit to Nebraska the following weekend, it's going to get embarrassed. Two key issues: 1. QB
Bryant Moniz
is the Warriors' offense as both a runner and passer. He must be contained. And hit. 2. The running game must get going with
Chris Polk
. The Hawaii front seven had its way with the Buffs. Are the Huskies next?
7.
Lucky numbers
: While everyone knows Stanford QB
Andrew Luck
is the best player in college football, he's going to have to put up some numbers to win the Heisman Trophy. 171 yards passing -- his total in the opener -- won't get it done. Duke should offer an opportunity for Luck to pad his stats a bit. While the Cardinal's chief interest is getting their running game going -- it sagged a bit against San Jose State -- Luck throwing aggressively downfield is also a good thing.
8.
Lobbestael as starter
: It's one thing to come off the bench and play well. There's no thinking time. It's all about instincts. But with the injury to QB
Jeff Tuel
,
Marshall Lobbestael
now knows he's Washington State's starter for at least six weeks. He's had time to process that -- and perhaps overthink and get nervous about that. The Cougars have the players to beat UNLV at home without Tuel. But Lobbestael needs to be a good game manager. He's not going to be asked to throw for 350 yards. He needs to avoid mistakes, go through his progressions and take what the defense gives him.
9.
Utah's secondary vs. USC's Matt Barkley and Robert Woods
: Utah completely rebuilt its secondary this offseason, replacing all four 2010 starters. While reviews were solid during preseason practices, we have no idea how good the unit is. We will have some idea after it faces Barkley and Woods, two future high NFL draft choices. If there is one matchup where it looks like the Trojans can exploit the Utes, it's in the passing game. Utah's first job is to contain Barkley and make things uncomfortable for him in the pocket, which might not be too difficult with an uncertain Trojans O-line.
10.
Reproduce the second half at Houston
: UCLA played terribly at Houston for a half, which left it down 31-14. But the Bruins were pretty good on both sides of the ball in the second half. First, that shows that they fought back, which is a good sign. But it also shows the Bruins can get it done on both sides of the ball. If the Bruins play like they did in the second half for all four quarters against San Jose State, they will romp the Spartans and build some confidence for Texas' visit the following weekend.
September, 6, 2011
9/06/11
9:00
AM ET
If you don't like where you are in the power rankings, play better.
See last week's
power rankings here
.
1.
Stanford
: It's nice to play San Jose State in the opener. Still, the Cardinal did nothing to suggest they're not an elite team. Perhaps a little bit of concern about the middling running game versus Spartans.
2.
Oregon
: No shame in losing to LSU, but the Ducks sloppiness was concerning. On the other hand, sloppiness being such a critical element in the loss means there's an easy way to get better: Don't be sloppy.
3.
USC
: Beating an AQ conference foe means there's no reason to drop USC. But there sure as heck isn't any reason to move the Trojans up after a terrible offensive second half against Minnesota.
4.
Arizona State
: Sun Devils can move up if they beat No. 21 Missouri at home on Friday. And they will move down if they don't.
5.
California
: Bears were 10th in our
post-spring power rankings
, so our esteem for them is trending up. Most of that is solid play at quarterback from
Zach Maynard
against a respectable foe in Fresno State.
6.
Arizona
: Not unlike their good friends in Tempe, the Wildcats can move up -- BIG! -- if they manage to win at Oklahoma State on Thursday.
7.
Washington
: Huskies fall two spots after FCS foe Eastern Washington lit up their secondary. An, oh, no! here comes Hawaii quarterback
Bryant Moniz
.
8.
Utah
: Utah sags after its offense sputtered against Montana State. But the Utes can get a quick boost in the conference pecking order by winning the first-ever Pac-12 game at USC.
9.
UCLA
: Bruins showed some second-half fight at Houston, playing better on both sides of the ball after the break. But the Cougars used to be the sort of program the Bruins picked their teeth with. The screws tighten on Rick Neuheisel, as the margin for error in a must-win season narrows.
10.
Washington State
: The Cougars are out of the basement for the first time in the history of the power rankings, as far as I can recall. Too bad about quarterback
Jeff Tuel
's clavicle. Can the Cougs maintain enough for the next five to eight weeks he's going to be out? Can they get to 2-0 against UNLV?
11.
Colorado
: It's possible Hawaii is pretty good -- we'll find out during its visit to Washington -- but at this point, the Buffaloes showed more than a few weaknesses while losing their 19th consecutive game away from Boulder. The O-line is a particular worry.
12.
Oregon State
: Lots of Beavers fans protested being 11th last week. They probably feel less aggrieved now after losing to Sacramento State, an FCS team. What sort of fight will Oregon State put up at Wisconsin? Or does that one get ugly? The Badgers are a team not afraid to run up the score if they can.
September, 5, 2011
9/05/11
7:16
PM ET
By
ESPN.com staff
| ESPN.com
Each Pac-12 team plays again this week, and no game is against an FCS foe.
Here's a quick look (all times ET).
Thursday, Sept. 8
Arizona at Oklahoma State
, 8 p.m. (ESPN): Arizona is hoping for revenge after getting embarrassed in the 2010 Alamo Bowl, but the No. 9 Cowboys are loaded, particularly on offense with quarterback
Brandon Weeden
and wide receiver
Justin Blackmon
, last seen showboating horribly on a long touchdown reception. First of three games against top-10 teams.
Up next
: Stanford.
Friday, Sept. 9
Missouri at Arizona State
, 10:30 p.m. (ESPN): The Sun Devils can announce their national arrival if they can best No. 21 Missouri. The Tigers have a lot of guys back, and QB
James Franklin
, a new starter, is a touted dual-threat. He's been telling everyone he's going to run over Vontaze Burfict. Kidding! Completely made that up.
Up next
: at Illinois.
Saturday, Sept. 10
Oregon State at Wisconsin
, noon (ESPN or ESPN2): The Beavers should be plenty motivated after losing at home to Sacramento State, an FCS team. The Badgers looked dominant while stomping UNLV and have extra time time to prepare. Wisconsin, ranked 11th, looked good before quarterback
Russell Wilson
arrived. Now they look like national title contenders.
Up next
: off.
Stanford at Duke
, 3:30 p.m. (ESPNU): The SAT Bowl! The two best private schools playing FBS football, but the Cardinal play the game a little bit better with quarterback
Andrew Luck
. Now if this were hoops ...
Up next
: at Arizona.

Nevada at Oregon
, 3:30 p.m. (FX): Ducks try to bounce back at home after losing to LSU. The Wolf Pack lost many key starters from a 13-1 team from 2010, and we don't know what they will look like after an opening week bye. But Nevada isn't a team to take lightly.

California at Colorado
, 3:30 p.m. (FCS/CSNCA): It's a nonconference conference game -- it was pre-scheduled and doesn't count in the Pac-12 standings. The Buffs will want revenge for last season's embarrassing 52-7 defeat in Berkeley, but Cal looked good and Colorado not so much in the opening weekend.
Up next for Cal
: Presbyterian.
Up next for Colorado
: Colorado State.

Hawaii at Washington
, 3:30 p.m. (Root NW): Hawaii whipped Colorado in the opener, but the Warriors are a much better team at home. Still, the Huskies looked bad while winning a nail-biter against Eastern Washington, particularly the pass defense. Enter Hawaii quarterback
Bryant Moniz
, one of the nation's most prolific passers.

UNLV at Washington State
, 5 p.m.: This is a huge game for the Cougars bowl hopes. With quarterback
Jeff Tuel
, the Cougars would seem like a decisive favorite at home. Without him, this feels more like a pick 'em. Back quarterback
Marshall Lobbestael
needs to come up big for coach Paul Wulff.
Up next
: at San Diego State.

Utah at USC
, 7:30 p.m. (Versus): The first-ever Pac-12 game (at least that counts in the standings)! Utah wants to prove it belongs. USC, which is not eligible to win the South Division because of NCAA sanctions, wants to show the Utes it plans to rule the South as soon as it is unyoked by the NCAA. Neither team was thrilled by its Week 1 performance.
Up next for Utah
: at BYU.
Up next for USC
: Syracuse.

San Jose State at UCLA
, 10 p.m. (FSN West): UCLA should bounce back after losing at Houston, but it needs a quality performance not one that is "just enough." Odds are
Richard Brehaut
gets the start. At this point, it's the defense that needs to make more of a statement after the offense did well at Houston.
Up next
: Texas.
September, 5, 2011
9/05/11
12:30
PM ET
Taking stock of the first week of games in Pac-12 history (and perhaps the
last first weekend of games
in Pac-12 history).
[+] Enlarge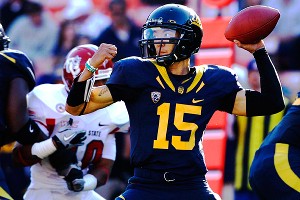 AP Photo/Jeff ChiuCalifornia quarterback Zach Maynard recovered nicely after an early interception.
Team of the week
: California was far from perfect in its 36-21 win over Fresno State -- the offensive line struggled at times -- but the Bears, singled out by some as a potential game one upset victim, made a solid statement against the Bulldogs that they might be a factor in the Pac-12 North Division. The biggest piece of news was the solid play of quarterback
Zach Maynard
. That he bounced back so well from an early interception might even be more meaningful. His two predecessors were known for letting mistakes linger and affect their performances.
Best game
: It shouldn't have been a thriller, but Washington needed a late interception to outlast Eastern Washington 30-27. And it's worrisome that the Huskies were outgained by the Eagles 504 yards to 250. Hey, guys, how about a little pass defense?
Biggest play
: Sure you've seen the highlight of UCLA receiver
Nelson Rosario
's 54-yard reception against Houston, ESPN's Play of the Day on Saturday, though it came in a losing effort. Rosario, turned around with his back to the endzone in tight coverage, grabbed the ball with his right hand, then trapped it on the back of the Cougars defender to make the catch. An instant classic. Now, Nelson, how about becoming consistent on routine plays?
Offensive standout
: USC wide receiver
Robert Woods
caught a school-record 17 passes for 177 yards and three touchdowns in the Trojans'
19-17 win
over Minnesota. A tip of the cap to Oregon State's true freshman running back
Malcolm Agnew
, who rushed for 223 and three TDs on 33 carries in the Beavers upset loss to Sacramento State.
Defensive standout
: While Arizona State linebacker Vontaze Burfict (three sacks) and Utah linebacker Brian Blechen (two interceptions) put up nice numbers versus FCS foes, Cal linebacker Mychal Kendricks piled up a game-high nine tackle with 2.5 coming for a loss -- the 0.5 was a sack -- against a solid Fresno State team. He also broke up a pass as the Bears held the Bulldogs to 218 yards and 11 first downs. It's possible the Bears will have the best defense in the conference.
Special teams standout
: Washington kicker Erik Folk was 3 for 3 on field goals of 40-plus yards in the tight win over Eastern Washington, connecting on kicks of 53, 47 and 40 yards.
Smiley face
: To the Bay Area. Both Cal and Stanford took care of business with solid performances. Sure, San Jose State isn't much, but Stanford was cruelly efficient in dispatching the Spartans. Cal surely raised more than a few eyebrows in the conference.
Frowny face
: The state of Oregon. Both Oregon and Oregon State went down, though to very different foes in very different ways.
Thought of the week
: Two things we thought we'd see on Saturday that we didn't: An improved UCLA defense and a strong performance from Colorado at Hawaii. The Buffs defense was pretty solid, though the Hawaii offense was rebuilding other than quarterback
Bryant Moniz
. But the offensive line is a big concern, giving up seven sacks and struggling to open holes for the running game. A struggling offensive line doesn't bode well for Cal's visit. As for the UCLA defense, it played much better in the second half at Houston. We'll see if the first half was an anomaly--
Case Keenum
is a pretty good QB, after all -- or the start of a pattern of inconsistency.
Questions for the week
: Welcome to "measuring stick" week. There are big nonconference games across the board that likely will establish how the Pac-12 is viewed nationally, particularly after a lackluster opening frame. Will the conference notch a couple of quality wins? Or will it get cut down and see its national perception plummet? Further, Utah's visit to USC is the first Pac-12 game in,well, history. Will the Utes immediately prove they belong?
September, 1, 2011
9/01/11
10:15
AM ET
Ten issues to consider heading into the third week of games.
1.
Oregon's biggest issue might not be LSU's D-front
: In Phil Steele's unit rankings, he rated LSU's D-line 10th in the nation and its LBs 15th. There's no individual player as disruptive as Auburn's Nick Fairley, but LSU's Tigers are better across the entire front-7 than those Tigers. The Ducks could again struggle to run the ball. But the big problem is the LSU secondary, which Steele rates the nation's No. 4 unit. Auburn's secondary was weak all through 2010, and Ducks QB
Darron Thomas
picked it apart for 363 yards. But even though LSU lost first-round draft pick CB Patrick Peterson, their defensive backfield is deep and talented. Thomas won't find throwing into it as easy in any event, but particularly without his top-two receivers from a year ago.
[+] Enlarge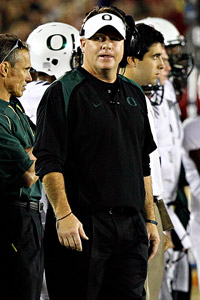 Ric Tapia/Icon SMIOregon coach Chip Kelly will need to scheme around a tough LSU run defense and an even tougher pass defense.
2.
Will UCLA catch a Case of Keenum
? UCLA was dominating Houston last year when it knocked QB
Case Keenum
out of the game in the second quarter, but Keenum remains a guy who is good enough to win a game on his own. Still, the Bruins should be able to win the battle on both lines of scrimmage, and that should make things easier for QBs
Kevin Prince
and
Richard Brehaut
, who both will play. Prince will be on the field to start the game. But will he be on the field to finish?
3.
A Gray day for the USC defense
: USC shouldn't have too many problems with Minnesota, but the biggest question is will the Trojans again show flashes of playing good defense. Golden Gophers QB
MarQueis Gray
is a bit of a mystery. He's being billed as a dual threat -- the sort who has given USC trouble in the past -- but he seems more like a 6-foot-4, 240-pound athlete who can run some option and scramble. His passing is decidedly questionable. The Trojans figure to crowd the line and dare Gray to throw. That means a secondary in man-coverage. Recall that the secondary got beaten a bunch in 2010.
4.
Maynard debut
: You look at California's depth chart and you think, "If these guys are any good at QB, they might be pretty tough." That's the pressure on
Zach Maynard
in his debut against a solid Fresno State team. If Maynard puts up good numbers, the Bears no longer will be so easy to write off in the Pac-12 North.
5.
Buffs
,
hit Moniz
: Hawaii QB
Bryant Moniz
put up huge numbers in 2010: 5,040 yards passing with 39 touchdowns. The Buffs secondary is suspect. Not a great combination. But a good way to protect a suspect secondary is with a good pass rush. While Moniz is a good athlete who can run, the best way for Colorado to end its 18-game road losing streak is to pound on Moniz and not give him time to throw. The good news on that: The Warriors have just three starters back on offense, one of whom is an offensive lineman.
6.
The Price of confidence
: Washington QB
Keith Price
makes his debut as Jake Locker's replacement against Eastern Washington, which is hardly a patsy. Sure, the Eagles are an FCS team. But they also are the defending FCS national champions and they are the preseason No. 1 team in FCS football. Warning! Warning! The key thing here is for the Huskies to show up focused and take care of business. For Price, he wants to play within himself, get comfortable and build his confidence because the competition will ramp up quickly.
7.
Cougars grinning
: Washington State is going to beat Idaho State. Not a big deal. What's a big deal is being 1-0 for the first time since 2005. What is a big deal is a team getting some early momentum, which it hasn't had in in coach Paul Wulff's first three seasons. The Cougs need to go out and pound on Idaho State. They need to walk away feeling good about themselves.
8.
Luck and Shaw
: Stanford is going to pound San Jose State. But the key thing for Cardinal interests is getting Luck some numbers and then sitting him, and letting Shaw get comfortable with his new job fronting the program.
9.
Utah, Arizona State and Oregon State -- just win
: The Utes, Sun Devils and Beavers each face weak, FCS foes. Each is going to win. And each faces a far more formidable foe the next week. The key is taking care of business, staying healthy and getting refocused. Starters eating orange slices in the third quarter is good, too.
10.
Defense wins championships
: OK, so what if LSU's defense thwarts Oregon's offense? The Tigers offense, particularly with
Jarrett Lee
at QB, is hardly scary. One of the often forgotten elements of the 2010 national title game against Auburn is the Ducks did about as good a job as anyone of slowing down QB Cam Newton. Lee is no Cam Newton. There is no law saying Oregon can't win a game 17-13. The LSU defense might stop the Ducks offense, but what if the Ducks defense is even more in control against perhaps the worst offense they will face all season?
August, 31, 2011
8/31/11
3:41
PM ET
Hawaii: The surf, the sand, the sunsets. Surfing and rain forest hikes. Don't forget the luaus (a whole pig! Yum.).
Relaxation.
None of this is part of new Colorado coach Jon Embree's plan for the Buffaloes trip to Hawaii on Saturday.
"It has to be a business trip for us," he said.
Trips, business or otherwise, haven't been good to the Buffs of late. They are riding an 18-game road losing streak. Their last win outside of the state of Colorado came on Oct. 27, 2007 at Texas Tech.
You might guess this factoid annoys Embree. It does, but he doesn't duck it. While some coaches -- particularly new ones -- would ignore this unhappy trend ("The past is the past. We're looking forward."), Embree embraces it.
Embraces it in the sense that the former Colorado tight end has grabbed it in a bear hug, thrown it into the dirt and asked his players to stomp on it.
"It doesn't matter if we were playing on the moon," he said. "We have to learn how to play when we're not in Folsom Field."
Embree points out the obvious math: If you want to win more than six or seven games a year -- the Buffs play seven road games on their 13-game, bye-less slate -- you've got to be able to bring your A-game on the road.
It should help that Colorado has a veteran team, with 18 starters back, including quarterback
Tyler Hansen
and 1,300-yard rusher
Rodney Stewart
. Further, Hawaii appears to be rebuilding. It has just nine starters back, including three on offense.
Of course, one of those three on offense is QB
Bryant Moniz
, the best player many have never heard of. He threw for an eye-popping 5,040 yards and 39 touchdowns last season. He's also a pretty good runner, see four rushing TDs.
And a pass-happy team playing at home isn't a good recipe for Colorado, which lost both starting cornerbacks to the NFL draft from a secondary that struggled in 2010 in any event.
Beyond this, Embree has been impressed with film of the Warriors defense.
"That may be the strength of their team, their defense," he said.
It should help the Buffs cause that two Warriors starters have been suspended for the game -- linebacker Aaron Brown and wide receiver
Darius Bright
-- for their involvement in a nightclub brawl.
Embree admits he has no special secret for winning on the road. He's tried to, as he says, "paint a picture," of the itinerary so the players not only know what they will be doing but also why they are being asked to do it. He's tried to address the mental side of playing on the road, including the sense that a pattern of failure on the road may become a self-fulfilling prophecy as players tense up when the screws tighten.
"I feel the best way for us to address the issue is to talk about it," he said.
Of course, ending the streak means the topic merits no further discussion. Here's a guess no coach or player would object to that.
It also would mean the Embree Era gets off to a good start. And it might start to hint that the Buffs will be competitive in their first year of Pac-12 play.
August, 17, 2011
8/17/11
9:00
AM ET
By
ESPN.com staff
| ESPN.com
Second in a series looking at potential dream and nightmare scenarios for all Pac-12 teams.
Understand: These are not predictions. They are extreme scenarios and pieces of fiction. You can read
last year's versions here
.

We're going in reverse order of my
post-spring power rankings
(which might not be identical to my preseason power rankings).
Up next
: Colorado
Best case
Hawaii quarterback
Bryant Moniz
shook his head.
"If Colorado is the worst team in the Pac-12 South, I'd hate to play in the Pac-12 South," said the touted Warriors QB after the Buffaloes sacked him five times and intercepted him twice in a 42-20 victory that ended a 17-game road losing streak.
Says new Buffs coach Jon Embree, "We don't have too much time to feel good about this. We have to go back home and watch film of last year's game with California. That should make us sick."
That 52-7 defeat to the Bears is a major reason many old school Pac-10 fans don't think too much of the Buffs. But after Colorado prevails 24-21 in a highly physical contest, it becomes clear the Buffs have been underestimated.
"Colorado has been underestimated," the Pac-12 Blog insightfully observes.
After whipping Colorado State, the 3-0 Buffs head to Ohio State brimming with confidence, though pundits believe the Buckeyes -- even down a few players -- have too much talent to lose, particularly inside the Horseshoe.
Down 21-17, with two minutes left, QB
Tyler Hansen
drives the Buffs to the Buckeyes 17-yard line. On third-and-10, he connects in the corner of the endzone with
Paul Richardson
.
But the officials rule Richardson didn't have possession when his landed. The play is reviewed but not overturned. Ohio State survives.
"What did I think of that call?" Embree asks. The term "pregnant pause" is used in 17 of 23 game stories the following day.
After whipping Washington State to improve to 4-1, the schedule gets tougher.
Andrew Luck
picks apart the Buffs secondary in a 41-20 loss at Stanford. An overtime win at Washington is followed by consecutive defeats to Oregon and Arizona State.
The Buffs could use a bye, but the schedule says 13 consecutive weeks, none off. Most of the whining, nonetheless, comes from the beat writers, who start to wish hotel room keys still had numbers on them.
The Buffs bounce back and upset USC, which guarantees them bowl eligibility, but lose to Arizona when QB
Nick Foles
lines up with five receivers and throws for 425 yards and four TDs against a game but overmatched secondary.
Colorado outlasts UCLA in the Rose Bowl when linebacker Jon Major blows up Bruins receiver
Taylor Embree
, who for a moment appeared to catch a game-winning TD pass.
"He's my son and I love him and I wish that it wasn't him on that play," Embree says, "But I really wanted to win this football game."
The 7-5 Buffaloes head to Utah, which is 7-4, with the apparent stakes being a berth in the Sun Bowl. The game is billed as a rivalry game between the Pac-12's two new members.
"Do you guys see this!" an enraged Embree says to his team during a meeting Monday before the game. He holds a bike above his head that it appears someone has vandalized with cheap, red spray paint.
"This is my 15-year-old daughter's bike. Look what they did to it! It used to be black and gold, our beloved colors. And now it is Utah red! Those, those, Utes... they made her cry!"
The meeting room erupts. "They made coach's daughter cry!" rages 6-foot-8 guard Ryan Miller. "We must crush them, see them driven before us, and hear the lamentation of their women!"
It will become known as the "Red Bike Incident." Utes fans will alternately revel in it or deny involvement. Years hence, college football historians will lean back and sagely say, "Yep, that was when those Buffs and Utes really started to hate each other. Might be the most vicious rivalry in all of college football."
Colorado prevails 28-27 in a game that features 195 yards in penalties. The Buffs then stomp Clemson in the Sun Bowl and finish 9-5.
Embree's recruiting class ranks 15th in the nation. The Big 12 falls apart. Nebraska finishes last in the Legends Division of the Big Ten.
The snow comes early and often and is most righteous.
Worst case
A team that can't win on the road and has a highly dubious secondary is not a good thing when you're facing a QB like Hawaii's prolific Bryant Moniz, who throws for four TDs against the Buffaloes.
And so Jon Embree's debut as Colorado's coach becomes an 18th consecutive road defeat, 44-35. Embree isn't happy.
"I'm not happy," Embree says.
The Buffaloes try to rally around the embarrassment of their 52-7 defeat at California last year, but they don't have anyone in the secondary who can cover receiver
Keenan Allen
, who catches three TD passes in a 38-20 Bears victory.
The Buffs beat state rival Colorado State, but the schedule becomes unforgiving thereafter. It doesn't help that injuries start to pile up.
They get rolled at Ohio State, picked apart by Washington State QB
Jeff Tuel
and blistered by Stanford QB Andrew Luck. An upset win at Washington ends the road losing streak -- the Huskies are struggling to throw the ball with new QB
Keith Price
-- and briefly stops the bleeding. At least until Oregon hangs 55 on the Buffs in a game that foregrounds Colorado's lack of team speed.
That becomes the first of four consecutive defeats. Though they win a sloppy game at UCLA, they go down hard at Utah, which captures the South Division crown.
A 3-10 finish is blamed on former coach Dan Hawkins, as are poor early snow accumulation and flu symptoms lots of fans seem to be having. Further, fans no longer burst into song each time Jon Embree's name is mentioned.
"I'm not happy," Embree says. "We need to get faster. We need to get tougher."
Nebraska loses the national championship game to Oklahoma, one of two BCS bowl teams from the nation's best football conference, the Big 12.
"Well, at least we signed the top five prospects from the state of Colorado," Cornhuskers coach Bo Pelini says after the game.
June, 6, 2011
6/06/11
9:00
AM ET
By
ESPN.com staff
| ESPN.com
We'll be reviewing each Pac-12 team's schedule, starting with the North Division.

Up next
:
Washington
Breakdown
: seven home (five conference games), five road (four conference games)
Nonconference opponents (with 2010 records)
Sept. 3
Eastern Washington (13-2)
Sept. 10
Hawaii (10-4)
Sept. 17
at Nebraska (10-4)
North Division games
Sept. 24
California
Oct. 22
at Stanford
Nov. 5
Oregon
Nov. 19
at Oregon State
Nov. 26
Washington State
Crossover games
Oct. 1
at Utah
Oct. 15
Colorado
Oct. 29
Arizona
Nov. 12
at USC
Conference misses
Arizona State
UCLA
Key stretch
: On Nov. 5, the Huskies play host to Oregon, a hated rival they last beat in 2003. Odds are the Ducks will again prevail, but projecting that game isn't about the Huskies key stretch. Whether they notch the upset or get trenched again, the final three games thereafter -- not unlike 2010 -- figure to decide whether the Huskies season is a success or failure. Washington must shake off a good or bad result against the Ducks and refocus on consecutive road games against USC and then Oregon State before taking on state rival Washington State in the Apple Cup. The finale could determine bowl prospects for both teams -- or the lack thereof -- as well as Cougars coach Paul Wulff's fate.
Trap game
: Hawaii isn't the same team off the island, but quarterback
Bryant Moniz
is the best player you may not have heard of -- just ask USC, which Moniz lit up in 2010. If the Huskies look ahead to a visit to Nebraska, they could suffer a face-plant.
Sure thing
: There are no sure things on this schedule. Sure, Eastern Washington is an FCS team, but the Eagles were the 2010 FCS national champions.
Analysis
: Seven games in Husky Stadium is a good thing, particularly with a first-year starting quarterback in
Keith Price
. The visit to Nebraska, a tough place to play in any event, will be a particularly big challenge for Price because the Cornhuskers and their fans will be highly motivated after the Huskies embarrassed them in the Holiday Bowl. And the other two nonconference games are dangerous as well. Not a great bet for a 3-0 opening to the season. Missing Arizona State is probably a good thing, while missing UCLA is probably not. Rivals Oregon and Washington State both come to Seattle (the Apple Cup will be played in Qwest Field). Oct. 7 feels like a good time for an off week. Coach Steve Sarkisian will have five games to evaluate what Price is doing well -- and not so well -- and adjust accordingly before the meat of the conference schedule. This is a tough slate, but one that should yield another bowl berth for the Huskies.
September, 3, 2010
9/03/10
3:10
AM ET
USC's
49-36 win
at Hawaii probably wasn't terribly comforting for USC fans. The offense looked great. The defense? Spineless.
Lane Kiffin and his offense get an "A." Monte Kiffin and Ed Orgeron and their defense get an "F."
How the game was won
: The Warriors couldn't stop the Trojans offense.


Turning point
: It never really seemed like USC was in real danger, but the Trojans' effortless four-play, 79-yard drive to go up 42-23 late in the third quarter made it clear that no matter how many points the Warriors scored, the Trojans would end up with more.
Turning point II
: When Hawaii QB
Bryant Moniz
was knocked out of the game near the USC goal line in the third quarter, the Warriors' chances seemed as if they were severely damaged. But the Warriors kept rolling up yards and points even with their backups.
Second-guessing
: Let's make something clear: USC linebacker Michael Morgan's hit that knocked out Moniz in the third was clean. It wasn't a head shot, and that was clear from replays. It shouldn't have been a penalty. Morgan delivered a blow with his chest and INSIDE of his arms. Just want to make sure everyone understands what happened.
Stat of the game
: The Warriors outgained USC 588 to 525.
In case that wasn't clear:
588
!
Notable number
: USC made a bunch of stupid penalties, mostly on defense. The final tally -- 11 for 100 -- included three offsides penalties, as well as a fourth that was declined, in large part because the Warriors converted on a third-and-26 from their 7-yard line.
Player of the game
: Trojans quarterback
Matt Barkley
was brilliant. He threw five touchdown passes, completing 18 of 23 throws for 257 yards.
Player of the game II
: USC receiver
Ronald Johnson
caught three of Barkley's TD passes. He also returned a punt 89 yards for a touchdown.
Player who deserves note
: Moniz is a heck of a player. Sort of reminded me of a guy we used to see in the Pac-10 last year who's moved to Mississippi. He had the Trojans D completely out of sync, both running and throwing.
What it means
: Some -- who, me? -- thought USC would come out and stomp the Warriors. You know: Send a message. The foundation of that predicted stomping -- and it feels absurd now -- was expected to be the Trojans defense, particularly the defensive line. But the defensive line was terrible. They, however, looked good compared to the secondary, which couldn't cover or tackle worth a lick. There are some positives to take away for USC, but they are entirely on offense. Other Pac-10 offensive coordinators who stayed up late to watch this one -- it ended around 3 a.m. EST -- are probably grinning.