July, 22, 2014
Jul 22
1:48
PM ET
At Big 12 media days on Monday,
Baylor Bears
coach Art Briles discussed the popularity of Baylor QB
Bryce Petty
, going so far as to say that even someone who works at a Dairy Queen in Salem, Oregon,
would know who Petty was
.
.@cityofsalem Bryce Petty's message to the good folks of Salem, Oregon. http://t.co/PIRilP6ULN #SicEm

— Baylor Football (@BUFootball) July 21, 2014
It was a nice line. Too bad it wasn't true.
A Portland radio station checked with the six Dairy Queen locations in the Salem area. No one knew who Petty was.
So the Pac-12 blog was wondering whether the reverse would be true. Petty might not be known in Oregon, but would
Oregon Ducks
quarterback
Marcus Mariota
be known in Briles' area? Would Mariota's notoriety stretch to the deep ends of this great country? Would even people in Waco, Texas, know Mariota?
[+] Enlarge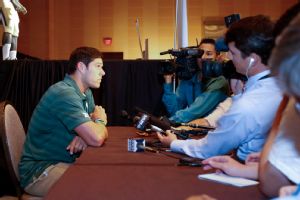 Kevin Jairaj/USA TODAY SportsBaylor QB Bryce Petty may be popular among the Big 12 media, but his popularity at Dairy Queens could use some work.
Long story short: No. Of the three Dairy Queens in Waco (pulled up on a Google search), two lucky workers -- including one who works at a Dairy Queen near campus -- picked up the phone today and were asked a very simple question: Do you know who Marcus Mariota is?
No and no.
But here's the kicker. The followup was: Do you know who Bryce Petty is?
Same answer. No and no.
The good part for Briles is that this probably means his star quarterback isn't frequenting the ice cream shops around town. And, depending on your own personal feelings on dairy desserts and their effects on one's on-field play, this will either make you like Petty slightly more or slightly less.
The bad part for Briles is that he was wrong. Very wrong. Not only does someone who works at a Dairy Queen a couple thousand miles from Baylor not know who Petty is, neither do people who work within a couple miles.
December, 29, 2013
12/29/13
9:00
AM ET
LOS ANGELES -- Stanford quarterback
Kevin Hogan
is not
Andrew Luck
. Only one man is. Hogan's not terribly flashy. He's far from perfect. His 2013 season included a few more down moments than perhaps Cardinal fans and a few college football pundits expected.
Yet he has led Stanford to a second consecutive Pac-12 championship and a chance to win two Rose Bowls in a row. He's the only quarterback in college football who has beaten Oregon twice. He probably deserves a break.
That break came on Friday from an unlikely source.
"I think [Stanford's] passing game is a little underrated,"
Darqueze Dennard
said.
[+] Enlarge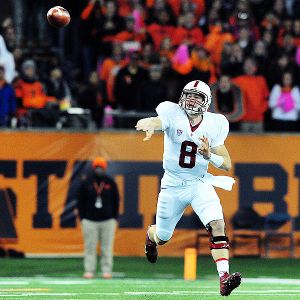 Steve Dykes/Getty ImagesThough his stats don't always show it, Stanford signal-caller Kevin Hogan is one of the most dynamic players in college football.
Dennard is not only a cornerback for Michigan State, which Stanford will face on Wednesday in the Rose Bowl Game Presented by VIZIO, he is a consensus All-American and the Jim Thorpe Award winner as the nation's best defensive back. He knows passing offenses, and he's not so sure after watching game film that Hogan and company aren't more effective than many think.
For one, just consider Hogan's efficiency. He ranks 12th among the nation's quarterbacks in ESPN.com's Total QBR advanced metric. By the conventional efficiency measure used by the NCAA, he ranks third in the Pac-12 and 17th in the nation.
Not too shabby.
Yet the negative chirping is out there. He struggled during Stanford's shocking loss at Utah and its surprisingly tight win at Oregon State. He threw two interceptions in the Cardinal's loss at USC.
"He's had his ups and downs -- no one is perfect," All-American offensive guard
David Yankey
said. "But I think he's done a great job mentally because even when everyone's been down on him, it's never guys in our facility. We're all behind him."
One of the reasonable jabs at Hogan is he doesn't play nearly as well on the road, the 2012 win at Oregon notwithstanding. If that was a legitimate question, however, he seemed to answer it at Arizona State during the Pac-12 championship game, when he turned in one of his most efficient performances of the season. He completed 12 of 18 passes for 277 yards and a touchdown, averaging a stout 15.4 yards per completion, while using his athleticism to buy time against a furious Sun Devils pass rush.
Further, he came back strong after throwing four of his nine interceptions this season in the previous three games.
"He makes a mistake and he comes back fighting full speed," coach David Shaw said after the Pac-12 title game. "That's what I love about him. We can coach him up hard and beat him up and know he's going to fight back the next week. When given the opportunity, and games are on the line in big moments against ranked teams, he shows what he's capable of."
Hogan could probably put up bigger numbers if given the opportunity. He has the size (6-foot-4, 228 pounds), arm and athleticism to match just about any quarterback out there. But Stanford's offense, as everyone knows, is run first and run second. Even Luck only ranked fifth in the conference in passing yards per game his final year on The Farm.
If the criticism has gotten to Hogan, he doesn't seem to show it. As for the middling numbers -- just 191 yards passing per game -- he claims he's not paying them any mind.
"I don't care about the stats," he said. "I know I'm not going to throw for 300 or 400 a game. If we get into the right plays, get first downs, move the chains and pick up wins, that will make me happy. That was what I was happy with. Getting 11 wins and a chance for a 12th."
Hogan said he's most proud of the improvement of the Cardinal's downfield passing game, and that can be quantified. He has dramatically improved his completion percentage on passes of 25 yards or longer -- from 30 percent in 2012 to 48.8 percent in 2013. His 11 touchdowns on passes of this distance -- with just one interception -- leads the Pac-12 and ranks third among AQ conference quarterbacks behind Baylor's
Bryce Petty
(13) and Clemson's
Tajh Boyd
(12).
So when it comes to explosive plays in the passing game, Hogan ranks with Petty and Boyd, two players who have yet to be called "game managers."
It's likely that Hogan will need to be at his most efficient for the Cardinal offense to be successful against the rugged Michigan State defense, which ranks among the nation's statistical leaders in nearly every category, including total defense and rushing defense (No. 1 in both). If Stanford can't get its power running game with
Tyler Gaffney
going, the ball will be in Hogan's hands. And then he'll get to deal with Dennard and company, who rank second in the nation in pass efficiency defense.
It's important to remember that Hogan is only a sophomore who took over the starting job midway through the 2012 season. Perhaps he created outsized expectations by going undefeated as the starter. While he didn't put up big numbers this fall, the clear consensus among the Cardinal coaches and players is he improved, a consensus with which Hogan concurs.
"I felt much more comfortable in the pocket and at the line of scrimmage, getting into the right plays," he said. "I was much more comfortable overall. I knew what I was doing much more than last year. I was very happy with my development."
With every receiver and tight end scheduled to return next fall, and the offense's top two rushers graduating, it's possible that Stanford will ask more of Hogan in 2014. He's probably going to throw more than 21 passes per game, as he did this season.
Even then, he won't be perfect. He won't suddenly become Luck. But he might just turn out to be pretty darn good, perhaps even good enough to get the Cardinal to the top of the Pac-12.
Like he has already done twice before.
November, 7, 2013
11/07/13
11:30
AM ET
By
Sharon Katz
| ESPN.com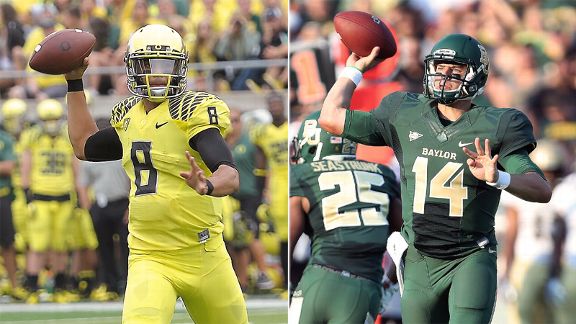 Icon SMIMarcus Mariota and Bryce Petty have racked up points and stats all season.
Oregon
and
Baylor
will each try to remain undefeated on Thursday night. Below are 15 need-to-know stats in preparation for their games.
1--
Baylor is averaging an FBS-high 63.9 points and 718.4 yards per game. The Bears are on pace to break the FBS records for points (56.0) and yards (624.9) per game that were set by Army in 1944 and Houston in 1989, respectively
2--
Oregon has scored at least 42 points in each of its first eight games this season. The Ducks are the fourth team in the last 100 years to start a season with at least 42 points in eight straight games.
3--
Baylor has scored 22 touchdowns in drives lasting one minute or less, eight more than any other FBS team this season. In the last 10 seasons, there have only been six teams that have scored more than 22 touchdowns in one minute or less in an entire season.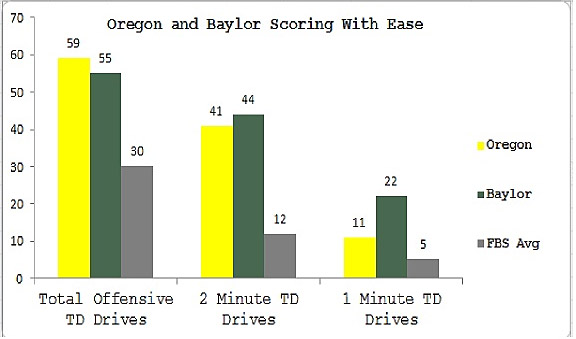 4--
Oregon has an FBS-high 59 offensive touchdowns, including 41 in two minutes or less. The Ducks' 41 touchdown drives in two minutes or less is four fewer than all of last season when they led the FBS with 45 such touchdowns.
5--
Baylor is averaging more points in the first half (42.1) than 115 FBS teams average for a game. In the first half, the Bears average a FBS-low 15.9 seconds per play and their average touchdown drive lasts 1 minute, 19 seconds.
6--
Oregon quarterback
Marcus Mariota
has thrown an FBS-high 225 pass attempts without an interception this season. Dating back to last season, Mariota has thrown a Pac-12-record 293 passes without an interception.
7--
Baylor quarterback
Bryce Petty
is averaging 13.9 yards per pass attempt, on pace to be the highest rate for a qualified quarterback in the last 10 seasons. The deep ball has been key for Petty. He has 19 completions and 10 touchdowns (both the most of anyone in an automatic-qualifier conference) on passes thrown 25 yards or longer.
8--
Oregon averages an AQ-high 7.5 yards per rush on zone-read plays, including 5.2 yards before first contact. On such plays, Mariota is averaging 13.7 yards per rush and has six touchdowns.
9--
Petty leads the FBS with a 95.3 opponent-adjusted QBR. The leader in opponent-adjusted QBR in three of the last six seasons went on to win the Heisman, including
Johnny Manziel
last year.
10--
Oregon is the only team in the FBS that ranks in the top five in ESPN's
new offensive and defensive efficiency
. The Ducks have ranked in the top five in offensive efficiency each of the last three seasons.
11--
Baylor is on pace to have the highest offensive efficiency in the last 10 years. Offensive efficiency measures an offense's contributions to its team's opponent-adjusted scoring margin per game.
Through seven games, Baylor's offense is adding about seven more expected points towards its net scoring margin, more than any other offense has for an entire season since 2004 (as far back as our data goes).
12--
Oregon quarterback Mariota has posted a Total QBR of 90 or higher in six of his eight games, tied with Petty for the most such games in the FBS.
13--
Baylor running back
Lache Seastrunk
is averaging 9.1 yards per rush, second in the FBS behind Mariota. Seastrunk has made it at least five yards past the line of scrimmage before first contact on 39 percent of his rushes, the highest percentage among AQ running backs with at least 75 carries.
14--
Oregon has forced 23 turnovers and scored 100 points off of its opponents' turnovers this season. Since the start of last season, Oregon leads the FBS with 63 takeaways and ranks second with 288 points off turnovers.
15--
Baylor has had an average in-game win probability of 86 percent across all of its plays this season, best in the FBS. Oregon ranks third with an 83 percent average in-game win probability.
October, 8, 2013
10/08/13
5:30
PM ET
By
Jungkyu Lee
and
Rob Nelson, ESPN Stats & Info
| ESPN.com
Stephen Lam/Getty ImagesTy Montgomery returning the opening kickoff 99 yards for a score vs Washington Saturday.
Week 6 featured several exciting games.
Georgia
needed overtime and a fumble in the end zone to beat
Tennessee
,
Ohio State
came back from a 10-point second-half deficit to defeat
Northwestern
, and
Jameis Winston
continued his brilliance in his first game against a ranked opponent.
With the help of ESPN's new college football metrics (see explanations
here
), ESPN Stats & Information looks back on Week 6 and ahead to this weekend's matchup between
Oregon
and
Washington
.
We first look at how
Stanford's
special teams were the difference in its three-point win against Washington.
The Cardinal posted a +15.3 special teams EPA (expected points added is the contribution of each unit to team's net points in a game) Saturday, the highest for any team in a game this season.
They returned the opening kickoff for a touchdown and made their only field goal attempt. Additionally,
Ben Rhyne
punted six times for a career-high net average of 42 yards.
As a result, the Huskies' average drive start was their own-23 yardline, almost 15 yards farther than the Cardinal's average drive start. It was Washington's worst starting field position differential of the season.
With a -2 and a -10.2 offensive and defensive EPA, respectively, Stanford would have lost to Washington by about 12 points if the Cardinal had an "average" special teams unit.
Best Individual Performances
Bryce Petty
(97.1 Total QBR) has now posted a Total QBR of at least 90 in each of
Baylor's
first four games. Petty threw for 342 yards in the first half against
West Virginia
, as Baylor scored an FBS-high 56 points before halftime for the second time this season.
AJ McCarron
(97.0 Total QBR) matched his career high with four touchdowns against
Georgia State
, all coming in the first half. McCarron only had one incompletion on 16 passes and led the
Crimson Tide
to touchdowns on all five of the drives that he quarterbacked.
Derek Carr
(97.0 Total QBR) threw for 390 yards in the first half against
Idaho
, the most passing yards in a half by an FBS quarterback during the last two seasons. Carr threw five touchdowns, extending his FBS-leading streak of 25 games with a touchdown pass.
Connor Shaw
(96.2 Total QBR) posted a Total QBR of at least 90 for the first time this season, despite playing with a shoulder injury that knocked him out of the UCF game the previous week. Shaw completed 17-of-20 (85 percent) passes against
Kentucky
, his third-highest completion percentage in 25 career starts.
For a full list of Total QBR leaders for the season and Week 6,
click here
.
Best Team Performances
Offense: Baylor. In a 73-42 rout of West Virginia, the Bears added 40.6 expected points on offense, which means if Baylor had an average offense, it would have actually lost by almost 10 points.
The Bears' output was the most offensive expected points added in a single game against any FBS opponent this season. Baylor now holds the top two offensive EPA performance against an FBS opponent this season.
Defense:
Texas Tech
. The Red Raiders defense added 31.3 expected points on defense in a 38-point victory over
Kansas
. Texas Tech forced four fumbles (three lost), sacked the Jayhawks four times and held them to 3-for-16 on third downs.
Looking ahead to Week 7
Oregon is traveling north to face Washington. In addition to hosting the Ducks, the Huskies will also host College GameDay.
Oregon, primarily known for its offense, has added the most expected points on defense among FBS schools (99.7). Opposing quarterbacks have a Total QBR of 23.3 against the Ducks this season, sixth lowest in the FBS.
Washington quarterback
Keith Price
has a Total QBR of 73.5 this season, up from 40.9 in 2012. Price will look to continue his improvement against an Oregon team that held him to a career-worst 10.1 Total QBR last season.
In the next week, ESPN Stats & Information will be releasing two new team ratings: the Championship Drive Rating and the Football Power Index (FPI). You will find an explanation of these ratings
here
.
The Championship Drive Rating will attempt to answer the question, "which teams deserve to be in the playoff based on what they have accomplished this season?" by focusing more on their résumé than who would win head-to-head.
The Football Power Index looks to answer the question, "if two teams were to meet at a neutral site, who has the advantage?" This metric is based on all facets of the team and adjusting it for the strength of its opponents.