June, 26, 2014
6/26/14
9:00
AM ET
It's time to start our preseason position reviews. Please, hold your applause until we are finished.
Here's how we do this. We provide three evaluative categories: "Great shape," "Good shape" and "We'll see."
Hint: You'd prefer your team to be in "Great shape."
"We'll see" doesn't mean you're going to stink at said position. It means just what it says -- we'll see because there's no way at present to know.
You can review
last year's rankings here
.
We continue the series with running backs.
GREAT SHAPE

Oregon:
The combination of
Byron Marshall
and
Thomas Tyner
should be as dangerous as ever. De'Anthony Thomas never really grew into the role as an every-down back, but Marshall carried 168 times for 1,038 yards and 14 touchdowns. Tyner slowly picked up more carries and finished with 115 for 711 yards and nine touchdowns. Folks are also excited to see what incoming freshman Royce Freeman brings to the table. This is a scary corps, even before you realize that
Marcus Mariota
also carried 96 times for 715 yards and nine touchdowns last year.

USC:
The emergence of Buck Allen was a pleasant surprise after he spent much time in Lane Kiffin purgatory. He boasted 5.8 yards per carry to go with 785 yards and 14 touchdowns. He'll be pushed by
Tre Madden
,
Justin Davis
and
D.J. Morgan
, who is back after missing all of 2013 with a knee injury. This is a group that could do damage in Steve Sarkisian's up-tempo offense. Think about what Bishop Sankey did last year.

Arizona State:
Marion Grice was a touchdown machine. But
D.J. Foster
is no slouch after rushing for 501 yards and catching 63 passes for 653 yards in a dual-threat role. The local product is explosive and has big-play speed.
Deantre Lewis
and
Kyle Middlebrooks
, back from injury, provide depth since Mike Norvell won't want to pass up the opportunity to use Foster in the slot at times. The depth has ASU teetering on the Great Shape/Good Shape fence, but Foster's experience and explosiveness give ASU a perfect replacement for Grice. So we're confident saying ASU is in great shape with him at the helm.
GOOD SHAPE

UCLA:
No, we're not going to list
Myles Jack
as a running back. Get over it. Offensive coordinator Noel Mazzone told the Pac-12 blog he's been looking for
Jordon James
to make strides as a "one-cut" runner. He believes he has. And
Paul Perkins
and
Steven Manfro
will press for carries with the intriguing
Craig Lee
waiting in the wings. Keep in mind it was quarterback
Brett Hundley
who led the Bruins in carries (160), yards (748) and touchdowns (11). Maybe ... just
maybe
... we'll see Jack also pick up a few carries. The Bruins are dedicated to the run (only Oregon has more carries over the last three seasons) and they have the depth to deliver.

Stanford:
No Tyler Gaffney. Four of five starters on the line are gone. Surely this is the year Stanford's running game takes a step backward, right? Probably not. The line will feature five members of the heralded 2012 recruiting class and a committee approach with
Remound Wright
,
Ricky Seale
,
Barry Sanders
and
Kelsey Young
seems likely. Only Oregon and UCLA have attempted more rushes over the last three seasons, so the Cardinal are going to continue to be dedicated to the ground game. There is a lot of untapped potential with this group and they have a coach who loves to run the football. There are a lot of unknowns, but Stanford's recent history of success running the football warrants the benefit of the doubt to put them in the "Good Shape" column.

Utah:
For now, it looks like
Bubba Poole
will be the primary back. But Kyle Whittingham and Co. are excited about the emergence of JC transfer Davontae Booker and the complementary role
Troy McCormick
might play. They aren't married to the idea of a single back. In fact, Whittingham told the Pac-12 blog he'd like to have situational flexibility. This trio provides that at Utah for the first time in a while. Spreading things out is a priority for new offensive coordinator Dave Christensen. But don't be surprised to see a balanced attack if these three see success.

Colorado
: The Buffs are surprisingly deep in the running backs department, with seasoned players like
Christian Powell
,
Michael Adkins II
,
Tony Jones
and
Donta Abron
returning. Powell (562 yards, three touchdowns) provided the power while Adkins emerged as a fine complement with 5.2 yards per carry (103 carries, 535 yards and six touchdowns). Look for the coaching staff to keep using those two in unison as a thunder-and-lightning tandem.

Oregon State:
The running game, or lack thereof, has been a sore spot for Mike Riley the last couple of seasons. However, with last year's combination of
Sean Mannion
and Brandin Cooks the personnel dictated 603 passing attempts. With Cooks gone, the staff will look to
Terron Ward
and
Storm Woods
(who combined for 240 carries, 998 yards and 11 touchdowns) to build off of last year's showing of 94.4 yards per game -- which was 11th in the conference. This tandem has the potential to be very good. It just has to go out and show it.

Washington State:
That the Cougars return their top two rushers from last season,
Marcus Mason
and
Teondray Caldwell
, bodes well -- even in an offense in which the running back serves more to keep the opposition in check than to run the football. However, it might be
Theron West
and redshirt freshman
Jamal Morrow
who get the majority of the carries. The coaching staff was high on Morrow in the spring and if the Cougs can do just enough to keep the safeties guessing, it might open things up more for the Air Raid's primary objective.
WE'LL SEE

Arizona:
The Wildcats have to replace Ka'Deem Carey. No easy task. And it was made worse
by the recent news
that
Pierre Cormier
's won't be returning. That leaves carries to be divided among Nick Wilson,
Zach Green
and
Terris Jones-Grigsby
. Jonathan Haden is still waiting to get cleared and
Jared Baker
missed the spring with an injury from last year's ASU game. Look for special packages with DaVonte' Neal as well. The Wildcats are silly with wide receivers, which could help open things up in the running game.

California:
The Bears averaged just 122.2 rushing yards per game last year -- ninth in the league. Despite the reputation for being a pass-happy team, the coaches would actually prefer more balance, so they'll need better production out of oft-injured
Daniel Lasco
and
Khalfani Muhammad
. The departed Brendan Bigelow had the most carries (105) last year, but Muhammad and Lasco combined for 141 totes for 762 yards and six touchdowns. Muhammad is the burner at 175 pounds while Lasco has the bigger frame at 200 and change. Incoming freshman
Tre Watson
is also an intriguing prospect.

Washington:
Like Arizona, the Huskies must replace a phenomenal back in Sankey. But there are options.
Dwayne Washington
was the No. 2 behind Sankey last year, rushing for 332 yards and four touchdowns on 47 carries. Behind him are
Jesse Callier
, who was the original starter in 2012 before his injury gave rise to Sankey, and
Deontae Cooper
. Both have a history of knee injuries. Jomon Dotson and
Lavon Coleman
could see time. We'll see isn't necessarily a bad thing. It just means, we'll see.
OTHER POSITION REVIEWS
Quarterback
May, 21, 2014
5/21/14
5:30
PM ET
This week, the Pac-12 blog will finish looking around the conference at several players who really stood out during spring ball. It's only 15 practices, but it's enough time to catch the eyes of coaches and gain momentum going into the season.
We continue the series with the
Utah Utes
.

Breakout player
: RB
Devontae Booker
2013 statistics
: Booker signed with Utah in 2013, but did not play while he worked to qualify academically at American River College. In 2012, he rushed for 1,472 yards and 15 touchdowns with nine catches for 58 yards and two touchdowns.
The case for Booker
: The Utes had a few guys who impressed on both sides of the ball –- including wide receiver
Dominique Hatfield
, defensive back
Justin Thomas
and defensive lineman
Jason Fanaika
.
But the coaching staff couldn't stop raving about what Booker brings to the table. At 5-foot-11, 200 pounds, he has the size to motor through people, but not so much size that he can't run around folks, either.
For now,
Bubba Poole
is the starting running back. But Booker is right on his heels. In the Utah spring game, Booker rushed for 103 yards and two touchdowns on 19 carries. It's obvious the coaching staff wanted a good look at him in game situations. And he responded.
With Poole,
Troy McCormick
and Booker, the Utes have a quality troika that could do some damage as the team adjusts to its third offensive coordinator in as many years. The Pac-12 blog specifically asked Kyle Whittingham about the running back situation and he said he's not married to the idea of a single back. But rather a diversified by-committee backfield that he could use based on the down, distance and situation.
Booker's emergence this spring gives Utah yet another option. Right now his greatest shortfall is conditioning. But Whittingham said once he gets into the kind of shape they'd like to see, he believes Booker has the potential to be a standout Pac-12 back.
Booker has two years of eligibility remaining.
Other spring breakout players:
Arizona
: WR
Cayleb Jones
Arizona State
: LB
D.J. Calhoun
Cal
: RB
Daniel Lasco
Colorado
: WR
Bryce Bobo
Oregon
: WR
Devon Allen
Oregon State
: WR
Victor Bolden
Stanford
: DL
Aziz Shittu
UCLA
: CB
Fabian Moreau

USC
: WR
Nelson Agholor
May, 2, 2014
5/02/14
6:30
AM ET
Three things we learned in the spring
O-line depth: While no coach is ever satisfied with depth on the offensive line, the Utes staff is feeling pretty good about the current setup. The left side has solid experience with Jeremiah Poutasi and Junior Salt and junior Siaosi Aiono, a former tackle, brings some experience in the middle. There are multiple options on the right side.
Ground control: Right now it looks like Bubba Poole survived a push from Devontae Booker and is still the "starting" running back. But Booker impressed the coaching staff, and there's depth behind him with Troy McCormick. Some good options for Utah to build on last year's 160.3 rushing yards per game.
Improved secondary: The Utes had the second to worst turnover ratio in the league last year, which included a league-low three interceptions. But the staff feels good with Brian Blechen back at strong safety and some competition at the corner spots with Davion Orphey and Eric Rowe on one side and Justin Thomas at nickel.
Three questions for the fall
LB depth: The Utes had a run of injuries to starters and key reserves, which signals an alarm that depth could be an issue heading into the fall and beyond. For now, it looks like Uaea Masina, Jason Whittingham and Jared Norris hold down the top three spots.
WR questions: Dres Anderson, the leading receiver last year with 53 catches for 1,002 yards and seven touchdowns, is back at one spot. But there's some competition continuing for the other two spots between Delshawn McClellon and Kaelin Clay at one position and Kenneth Scott and Dominique Hatfield at the other.
Many happy returns: While it looks like Geoff Norwood is slated to handle the punt returns, he might have to split some time with Poole. Norwood is also in the mix with Hatfield for kickoff return duties, but that probably won't get worked out until practice resumes in the fall.
One way-too-early prediction
:
Travis Wilson
will play and the Utes will make it to the postseason. Craziness, right? The big nonconference game this year is at Michigan, a program with a big name but not very big results the last couple of years. Kyle Whittingham had the upper hand on Brady Hoke when he was in the Mountain West. The Utes broke through with a win over Stanford and almost knocked off UCLA and ASU. It's not out of the question to imagine them winning six games and getting back to the postseason -- especially with a healthy Wilson at QB.
March, 24, 2014
3/24/14
5:30
PM ET
You remember the three-headed monster, right? It's about returning production that will scare -- terrify! --opponents. Or not.
On offense, it's elite combinations at quarterback, running back and receiver.
On defense, it's elite combinations of a leading tackler, a leader in sacks and leader in interceptions.
[+] Enlarge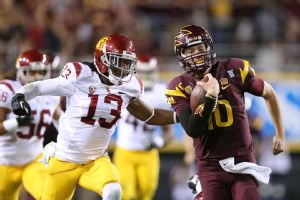 Christian Petersen/Getty ImagesTaylor Kelly could have Arizona State's offense off and running this fall.
This year, we're breaking things down by division.
First up: South Division offense three-headed monsters.
There are two "pure" offensive three-headed monsters in the South: USC and Utah. Both welcome back their leading passer, rusher and receiver, though some fans might be surprised to know that
Marqise Lee
didn't lead the Trojans in receiving last season.
The biggest mystery team? Arizona, which is replacing its leading passer and rusher and has several wild cards who might challenge to be the first pass-catching option. Typically we'd project a starter, but the Wildcats seem to be completely wide open at QB and RB. So they get a "?" at both positions.
Otherwise, the projections of new starters aren't terribly unpredictable.

1. Arizona State
QB
Taylor Kelly
, RB
D.J. Foster
, WR
Jaelen Strong
The skinny
: If you were ranking three-headed monsters nationally, this might be a top-10 troika. You have a three-year starter at quarterback who passed for 3,635 yards and 28 TDs last year, a receiver who caught 75 passes for 1,122 yards and versatile running back who's dangerous as a runner or receiver.

2. UCLA
QB
Brett Hundley
, RB
Jordan James
, WR
Devin Fuller
The skinny
: Hundley starts the season as a top Heisman Trophy candidate. James started off great last year -- 116 yards rushing per game with a 6.3 yards per carry average in the first four games -- before getting hurt. While WR
Shaq Evans
is off to the NFL, Fuller leads a strong crew of returning receivers.

3. USC
QB
Cody Kessler
, RB
Javorius Allen
, WR
Nelson Agholor
The skinny
: This is a strong threesome, though some see Kessler being threatened by redshirt freshman
Max Browne
this spring. Allen surged in the second half of the 2013 season, when he rushed for most of his 785 yards (5.8 yards per carry), but the Trojans have a lot of depth at the position. Agholor is a frontrunner for first-team All-Pac-12 honors after catching 56 passes for 918 yards last year.

4. Utah
QB
Travis Wilson
, RB
Bubba Poole
, WR
Dres Anderson
The skinny
: If Wilson is cleared medically and is 100 percent full-go, he's got a chance to be a good QB, building on what he did while healthy in 2013. Poole is the Utes' leading returning rusher, though he could face a challenge from a handful of other backs, including redshirt freshman
Troy McCormick
and juco transfer
Devontae Booker
. Anderson will be joined by
Kenneth Scott
, who suffered a season-ending ankle injury in the 2013 opener.

5. Colorado
QB
Sefo Liufau
, RB
Michael Adkins
, WR
Nelson Spruce
The skinny
: Liufau was solid as a true freshman starter last year. He should be much better this fall. Adkins combined with
Christian Powell
to essentially split 1,000 yards rushing in 2013, with Powell offering the power option. Spruce was a solid No. 2 behind
Paul Richardson
last year, but it remains to be seen how he will perform as option No. 1.

6. Arizona
QB ?, RB ?, WR
Austin Hill
The skinny
: We honestly have no idea who will start at QB and RB next year, and the Pac-12 Blog believes that's probably not far from what Rich Rodriguez is thinking today. If we were going to go with complete conjecture at QB, we'd bet on a showdown between Texas transfer
Connor Brewer
and redshirt freshman
Anu Solomon
. Same thing at running back, where it seems likely a true or redshirt freshman replaces
Ka'Deem Carey
. Even Hill is a projection here based on his outstanding 2012 numbers, as he sat out last season with a knee injury. Sophomore
Nate Phillips
is the Wildcats' leading returning receiver.
February, 25, 2014
2/25/14
7:15
PM ET
Our look at position groups in the Pac-12 continues.
Arizona:
With
Ka'Deem Carey
off to the NFL, figuring out Arizona's running back situation requires a bit of guesswork. Backups
Daniel Jenkins
and
Kylan Butler
are out of eligibility and rising junior
Jared Baker
tore his ACL in the regular-season finale. That leaves no running backs who had a carry last season. Those competing for carries will be redshirt freshmen
Pierre Cormier
and
Zach Green
, and true freshmen
Jonathan Haden
, an early enrollee, and
Nick Wilson
.
[+] Enlarge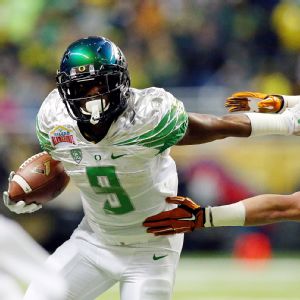 Ronald Martinez/Getty ImagesByron Marshall will be the Pac-12's leading returning rusher in 2014.
Arizona State
: The torch was passed from
Marion Grice
to
D.J. Foster
toward the end of last season, and Foster will have a full offseason to prepare to be the No. 1 guy. He showed impressive flashes in spot playing time in the past two seasons, and ran for 318 yards (6.2 yards per carry) in three starts after Grice was lost to injury.
California:
Much was made about
Brendan Bigelow
's talent during his career in Berkeley, but it never materialized the way many expected it would. He was beaten out by true freshman
Khalfani Muhammad
a year ago, then opted out of his final year of eligibility for a shot at the NFL -- and subsequently was not invited to the combine. Getting a feel for how coach Sonny Dykes would like to use his running backs is tough considering the lopsided nature of most of the games last year, but Muhammad showed all the signs that he would develop into a good Pac-12 running back.
Colorado:
Christian Powell
and
Michael Adkins II
will both be back after combining for 1,097 yards rushing in 2013. With receiver
Paul Richardson
off to the NFL, there's the need for added production on offense, and while coach Mike MacIntyre showed at San Jose State he'd prefer that to come through the air, it could add up to more opportunities for Powell and Adkins.
Oregon
: Does it even matter who the Ducks hand the ball to? Sometimes it doesn't seem like it, but, regardless, Oregon remains loaded with speed and talent at running back.
Byron Marshall
(1,038 yards rushing) and
Thomas Tyner
(711 yards) will both see plenty of carries when quarterback
Marcus Mariota
(715 yards) isn't running on his own. The team does lose
De'Anthony Thomas
, who opted to leave early for the NFL, but Thomas turned into a relative afterthought last season anyway.
Oregon State:
It shouldn't be hard to improve the Beavers' running game after they ranked 115th in the country in rushing yards per game last season. Their top two backs --
Terron Ward
and
Storm Woods
-- return and figure to see more use under new offensive coordinator John Garrett. There was a glimpse of what could be against Boise State in the Sheraton Hawai'i Bowl as the Beavers unleashed a more balanced approach. Woods ran for 107 yards on 16 carries and Ward added 54 yards on nine carries in a comfortable 38-23 victory.
Stanford:
The Cardinal's running back situation is
outlined here in more detail
, but it should be noted that the competition between
Remound Wright
,
Barry J. Sanders
and
Ricky Seale
-- competing to replace
Tyler Gaffney
-- will also include
Kelsey Young
. Young was recruited to Stanford to play running back, but was switched to receiver and is now back at running back. Sanders has the name recognition, but all signs point to Wright getting the first crack at being the primary back. However it plays out, it would be a complete shock if one back was used as much as Gaffney was in 2013 and Stepfan Taylor the two seasons before that.
UCLA
: If things play out the way UCLA coach Jim Mora hopes they will, linebacker
Myles Jack
will be just that … a linebacker. After winning Pac-12 Offensive and Defensive Freshman of the Year, the Bruins would ideally keep him on defense. For that to happen, someone needs to step up. That conversation still includes
Jordon James
and
Paul Perkins
, while
Craig Lee
, a four-star recruit who redshirted last year, also factors into the equation.
[+] Enlarge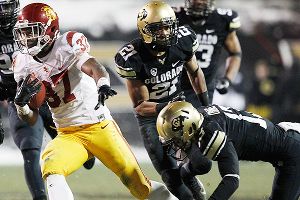 AP Photo/David ZalubowskiBuck Allen will likely head up USC's running back committee next season.
USC
: After watching Bishop Sankey turn into one of the nation's premier backs under the tutelage of new coach Steve Sarkisian, USC's deep stable of running backs has to be intrigued. The Trojans will return four of their top five leading rushers from a year ago --
Javorius "Buck" Allen
,
Tre Madden
,
Justin Davis
,
Ty Isaac
-- when they were predominantly a run-first team. Allen, who was named the team MVP in 2013, figures to get the first crack at being the starter, but that could be just in name only as a
running-back-by-committee scenario seems likely
.
Utah
: Another season, another new offensive coordinator for the Utes. This time it's
Dave Christensen's job
to invoke life in the Utah offense, which will return leading rusher
Bubba Poole
(607 yards) and
Lucky Radley
(284 yards). The Utes averaged just 4.1 yards a carry as a team last year, which is partially to blame for the change from Dennis Erickson to Christensen after just one year.
Washington:
The NFL combine taught us that
Bishop Sankey
might have been the most physically gifted running back in the country last year. It's not as simple as plugging in another guy to replace him, but the Huskies are still in good shape. Senior
Jesse Callier
(48 carries, 213 yards in 2013), who was slated to be the starter before an ACL tear in the season opener in 2012, is intriguing and will compete with fellow senior
Deontae Cooper
(43 carries, 270 yards) and sophomore
Dwayne Washington
(27 carries, 332 yards).
Washington State:
Considering quarterback
Connor Halliday
had three single-game passing totals that were more than leading rusher
Marcus Mason
ran for in entire season (429), any discussion about the Cougars' running game is tough to take seriously. Yes, there will still be running backs on the roster. No, they probably won't combine to run for 1,000 yards as a team.
Previous positions
Quarterback
October, 18, 2013
10/18/13
2:30
PM ET
October, 14, 2013
10/14/13
6:00
PM ET
Oregon quarterback
Marcus Mariota
has been named the Pac-12 offensive player of the week, along with defensive player of the week
Rashaad Reynolds
of Oregon State and special teams player of the week
Andy Phillips
of Utah.
Here's some more on the trio, per the Pac-12's release:
Mariota, a sophomore from Honolulu, Hawai'i, completed 24 of 31 passes for 366 yards and three touchdowns and ran for an additional 88 yards and another score in Oregon's 45-24 victory at No. 16 Washington on Saturday. He countered four Husky scoring drives by leading the Ducks to scores on three occasions and his rushing touchdown in the fourth quarter secured the win to keep No. 2 Oregon unbeaten at 6-0. He has accounted for 25 touchdowns and zero turnovers on the year, helping Oregon to a No. 2 national ranking in total offense (630.50 ypg). Mariota is fifth in the country in passing efficiency (182.40 QB rating) and sixth in total offense (358.30 ypg). He is the second Pac-12 multi-week winner of 2013 and the first to earn the honor in consecutive weeks.

Reynolds, a senior from Pacoima, Calif., intercepted two passes, forced two fumbles and recorded six tackles as the Beavers' scored 35 unanswered points in the second half on their way to a 52-24 win over Washington State in Pullman. He led an Oregon State secondary that had four interceptions in the game and leads the Pac-12 with 12 total, which is tied for fourth in the nation. Reynolds has three interceptions on the year, tied for 19th in the country (0.3 pg).

Phillips, a freshman from Draper, Utah, made two field goals that proved to be the difference in the Ute's 27-21 upset over No. 5 Stanford on Saturday. He hit from 22 and a career-long 48 yards to improve to 11-11 in his first season of football at any level. His 48-yarder extended the Ute's 4th-quarter lead to 27-14 with a little over 14 minutes remaining in the game. Phillips added three PATs on three attempts to move to 27-of-27 on the year.

Also nominated for offensive player of the week honors were quarterbacks Sean Mannion of Oregon State and Brett Hundley of UCLA; running backs Marion Grice of Arizona State and Bubba Poole of Utah; and wide receiver Nelson Agholor of USC. Also nominated for defensive player of the week honors were linebackers Derrick Malone of Oregon and Trevor Reilly of Utah; defensive ends Davon Coleman of Arizona State and J.R. Tavai of USC; and safety Randall Goforth of UCLA. Also nominated for special teams player of the week honors were kickers Zane Gonzalez of Arizona State, Ka'imi Fairbairn of UCLA and Kris Albarado of USC and wide receiver/kick returner Ty Montgomery of Stanford.