August, 18, 2011
8/18/11
9:00
AM ET
By
ESPN.com staff
| ESPN.com
Third in a series looking at potential dream and nightmare scenarios for all Pac-12 teams.
Understand: These are not predictions. They are extreme scenarios and pieces of fiction. You can read
last year's versions here
.
We're going in reverse order of my
post-spring power rankings
(which might not be identical to my preseason power rankings).

Up next
: California
Best case
California fans were giddy well before
Zach Maynard
completed his 24th consecutive pass against Fresno State in Candlestick Park, but just about everyone wearing blue knew whose revered name had just been knocked from atop the school record book during a 38-17 victory.
"That's true," said Cal coach Jeff Tedford. "But Maynard runs a lot better than Aaron Rodgers did, so I don't want to compare them."
Colorado was eager to take vengeance for an embarrassing 52-7 loss in Berkeley the year before, but it couldn't stop Maynard and his half-brother
Keenan Allen
, who caught 11 passes for 131 yards and two touchdowns in a 27-19 victory in Boulder.
After beating the Fighting Blue Hose of Presbyterian 103-4 -- third string centers with bad shotgun snaps! -- the Bears head to Seattle to take on Washington, which has won two consecutive games in the series, the first an embarrassing blowout, the second on a last-second TD that handed Cal a losing record for the first time in nine years under Tedford.
Maynard throws three TD passes,
Isi Sofele
and
Covaughn DeBoskie-Johnson
both eclipse 100 yards rushing and the Bears defense sacks Huskies QB
Keith Price
four times in a 31-13 drubbing.
"I am struggling with this," types GooooooooooBEARS -- a longtime anti-Tedford gadfly -- in the comments section of the Pac-12 Blog. "For so long, I have been hating on Tedford. But... well. I just need to be alone for a little bit to get back in touch with myself."
A 15,000-word essay appears on the
California Golden Blogs
-- complete with 15 different charts and graphs -- that claims to mathematically prove that Maynard is the reincarnation of Samuel Adrian "Slingin' Sammy" Baugh.
"It actually pencils out nicely," says Tsit-Yuen Lam, Berkeley Mathematics Professor of the Graduate School Emeritus. "I still think Tedford should go for it on fourth down more often, but that's a topic for another day."
The Bears go nose-to-nose with No. 1 Oregon before falling 24-20, becoming the first team to hold the Ducks below 50 points.
A 55-yard field goal with four seconds left from Giorgia Tavecchio bests USC, 27-24. After a 30-20 win over Utah, the 6-1 Bears move up to 10th in both major polls.
The Old Blues starting thinking Rose Bowl. But those dreams get torn apart during a mistake-laden upset loss at UCLA. Fans consider a bandwagon jump.
"Hey, gang, I recommend keeping a level head," types GooooooooooBEARS. "We love our team. We love our coach. We must have faith and support them. Unite, Blues! We've only begun to fight!"
The Bears pound Washington State and Oregon State, which sets up the Biggest of Big Games against No. 1 Stanford, which is fresh off a victory over previously-No. 1 Oregon.
Tedford walks into a team meeting on Monday. He wordless flips on cut-ups of the 2010 Big Game, which featured Cal picking a pre-game fight then showing no fight while the Cardinal bludgeoned the Bears 48-14, Stanford's most lopsided win in the rivalry in 80 years. He shows QB
Andrew Luck
running over safety Sean Cattouse. He shows a post-game interview of then-Stanford coach Jim Harbaugh: "Our guys really kept their cool and I think that was a big difference today. They kept their poise. I don't like that kind of football where you try and talk and intimidate. ... Just play football. Shut up and play football."
Tedford then turns to his team: "Shut up and play football."
Cal upsets the Cardinal 35-27, with Cattouse sealing the deal with an 87-yard interception return of a Luck pass.
The Bears nip Arizona State to finish the regular season 10-2. They then whip Texas 45-3 in the Alamo Bowl. Cal fans spend most of the game, which was decided by halftime, serenading Longhorns coach Mack Brown, who in 2004 talked his team into the Rose Bowl over a more deserving Cal squad.
Cal earns a final No. 9 ranking.
Wisconsin blows out Stanford in the Rose Bowl, and immediately thereafter offensive linemen Jonathan Martin and David DeCastro as well as linebackers Shayne Skov and Chase Thomas opt to join Luck in the NFL draft a year early. Coach David Shaw steps down to pursue a career on Wall Street, and athletic director Bob Bowlsby brings back Walt Harris, "to take care of unfinished business."
Worst case
Zach Maynard was brilliant for three quarters. Then, early in the fourth against Fresno State, he falls awkwardly out of bounds.
Cal wins 28-20, but Maynard suffers what is notoriously called a "high ankle sprain."
Brock Mansion
gets the start at Colorado, and the Buffaloes get their revenge for their 2010 beatdown in Berkeley, beating the Bears 24-21.
After pounding Presbyterian, Cal falls 28-20 at Washington.
"I think we'll get Zach back after the bye week at Oregon," says a hopeful Jeff Tedford.
Maynard does return at Autzen Stadium, but he's sacked six times and is noticeably limping in the fourth quarter. He also throws two interceptions.
With Mansion back under center for Cal, USC rolls over the Bears inside half-empty AT&T Park. At 2-4, things start to get tense in Berkeley.
"Is it just me, or are things tense in Berkeley?" a one sentence post on the California Golden Blogs queries.
Tedford opts to start
Allan Bridgford
against Utah, and Bridgford is solid in a 28-24 victory. He then leads the Bears to a win at UCLA, which evens their record at 4-4, but he gets hurt in the second quarter against Washington State. Maynard comes off the bench but isn't sharp. The Cougars prevail on a late
Jeff Tuel
TD pass.
The first "Cal needs to fire Tedford" column appears in the San Jose Mercury News. The column says, "Tedford led the Bears back from oblivion, but then he hit a plateau. Instead of rising above that plateau, the program has redirected to another unhappy valley. Credit Tedford for what he accomplished but he must be held accountable for what he hasn't. Not only has he failed to maintain a winning program, he now has led it back to losing."
Tedford refuses to engage the topic, but his players rally around him and beat Oregon State 20-17, kicker Giorgio Tavecchio giving Tedford the game ball after he kicked a late winning field goal.
But that rally doesn't last through the Big Game. David Shaw, coach of unbeaten, top-ranked Stanford, perhaps showing a bit more mercy than his predecessor, yanks his starters early in the fourth quarter of a 38-10 victory.
The Bears, with Maynard at quarterback and still needing just one win to earn bowl eligibility, play with surprising verve at Arizona State. But they fall 24-20
"It's not Coach Tedford's fault," receiver Keenan Allen says after a second-consecutive 5-7 finish. "Players win or lose games. And if we'd had Zach healthy the entire season, we'd have won a lot more games and we wouldn't be having this conversation."
But too many Cal fans have turned against Tedford. Athletic director Sandy Barbour announces that "with great regret" she is terminating him.
Tedford sits out a year before being hired by the Oakland Raiders, whom he leads to a victory in Super Bowl XLVIII.
Stanford wins the national championship, whipping Alabama 41-10.
"What the heck -- I'm coming back!" announces quarterback Andrew Luck, which inspires every Cardinal to do the same and not leave early for the NFL draft.
Barbour hires Eugene F. Teevens III -- most know him as "Buddy" -- to replace Tedford. "I thought he was so close to doing some good things at Stanford," Barbour explains.
January, 7, 2011
1/07/11
5:38
PM ET
Jim Harbaugh led Stanford to its best season in the modern era. Now he's off to a new challenge.
Harbaugh has agreed to a five-year, $25 million contract to become the
San Francisco 49ers
' head coach,
according to reports
.
It appears Stanford fought to retain Harbaugh. According to ESPN NFL analyst Chris Mortensen, Harbaugh met with top Stanford officials Thursday, and the school increased its contract offer from December.
The late gambit wasn't enough. He will replace fired coach Mike Singletary.
[+] Enlarge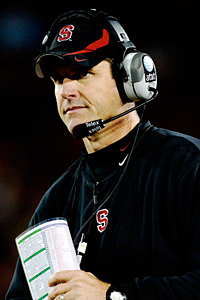 Jason O. Watson/US PRESSWIREJim Harbaugh was 29-21 in four seasons at Stanford, including a 12-1 record this past season.
But who will replace Harbaugh? The initial reaction from many Stanford fans: Nobody. Harbaugh was special. His shoes are just too big.
When Bob Bowlsby hired Harbaugh after the Cardinal went 1-11 in 2006, most folks went "What?" Oh, people knew who Harbaugh was -- a longtime NFL quarterback -- and it was interesting to learn how successful he was at San Diego, but few thought much of the choice. And when Harbaugh barked, "I vow I will attack this endeavor with enthusiasm unknown to mankind," he sort of seemed, well, slightly manic.
And Stanford is not a manic sort of place.
Harbaugh was
manic
. And he also turned out to be a hell of a coach and a hell of a motivator. Sure, he struck gold when he signed quarterback
Andrew Luck
, but Harbaugh deserves all the credit for hiring an outstanding staff, recruiting well and rebuilding a program into a surprising national power.
His first season, his outmanned Cardinal beat No. 2 USC 24-23, despite being a 41-point underdog. That -- the 4-8 finish wasn't particularly inspiring-- was only a first hint of what was to come.
He went 5-7 his second year, 8-5 his third and 12-1 this season. Along the way, he sold his players on a blue collar work ethic, announced, "We bow to no program at Stanford," and made good on that by running up the score on USC in 2009 and taunting Trojans coach Pete "What's your deal?" Carroll afterwards.
What's Harbaugh's deal? It doesn't feel hyperbolic to say his marriage with Stanford -- albeit brief -- was lightning in a bottle. Coaching magic.
It's also understandable why he left. His stock will never be higher. Harbaugh is as competitive a guy as you'll ever meet. He wants to test himself all the time and on the highest level. If you coach football, that's the NFL.
And know what? If he washes out -- if the 49ers locker room knows only enthusiasm known to jaded rich guys -- then no matter. Harbaugh's track record in college is so good he'd again be a hot coaching prospect should he want to return in the future.
As for Stanford going forward, there is one hire that would immediately quash the despondency among fans who just days ago were flying high: Boise State's Chris Petersen. There are more than a few folks who believe this is the sort of job that could lure Petersen away from the Broncos. And the cerebral Petersen would be a good fit.
The top internal candidate would be offensive coordinator David Shaw. Shaw would bring continuity for quarterback Andrew Luck -- no, Luck won't reconsider his decision to return because of Harbaugh's move -- and likely would try to maintain the Harbaughian culture. He's a Stanford graduate and has significant NFL coaching experience. His father, Willie, was an assistant coach at Stanford from 1974-76 and again from 1989-91.
While hiring Shaw might not have much pizazz with fans and media, it would resonate positively in the locker room. It also would continue a Stanford tradition of giving black coaches an opportunity. At present, there are no black head coaches in the Pac-10(Colorado joins next year in the Pac-12 with Jon Embree). And, yes, that is still something worth raising an eyebrow over.
Also off the current staff: Greg Roman. The associate head coach was responsible for much of the Cardinal's offensive creativity. [Edit note: We inadvertently left Roman out of our first draft, which was an oversight].
There is a third option: Bowlsby again going off the grid. Let's face it: He's had plenty of time to contemplate who will replace Harbaugh. The general feeling all season was Harbaugh was going to bolt, either to Michigan or the NFL. So Bowlsby surely isn't flat-footed on the news today. Here's a guess he's already sent out some feelers.
Pause for a moment, though, Stanford fans. What a week, eh? Your Cardinal posts a dominant performance in a victory over Virginia Tech in the Discover Orange Bowl -- yeah! -- Luck announces his return -- yeah! -- scuttlebutt starts to surface that Harbaugh is seriously considering returning to the Farm -- yeah! -- and then (boom) it's announced that Harbaugh is headed across the peninsula to the 49ers.
Boo!
But don't get too morose. There is no reason to believe that Stanford is headed back to 1-11, to Buddy Teevens and Walt Harris. A winning culture has been established, much more so than when Tyrone Willingham left for Notre Dame in 2001, knowing full well his recruiting had been sub-par. The right coach has a good shot to maintain that culture.
Stanford is never going to be a team that regularly goes 12-1. It wasn't headed that way even with Harbaugh. But the Cardinal can and should remain competitive at a high level on a regular basis.
It just needs to attack this endeavor with enthusiasm unknown to mankind.
PAC-12 SCOREBOARD
Friday, 12/26
Saturday, 12/20
Monday, 12/22
Tuesday, 12/23
Wednesday, 12/24
Saturday, 12/27
Monday, 12/29
Tuesday, 12/30
Wednesday, 12/31
Thursday, 1/1
Friday, 1/2
Saturday, 1/3
Sunday, 1/4
Monday, 1/12
Tweets from https://twitter.com/ESPNCFB/lists/pac12