August, 26, 2011
8/26/11
10:00
AM ET
Oregon State quarterback
Ryan Katz
laughs. Yeah, he remembers receiving a head-butt from Arizona State linebacker Vontaze Burfict after a play last season.
"That started before the game, though. He was on the sidelines talking and everything," Katz recalls.
[+] Enlarge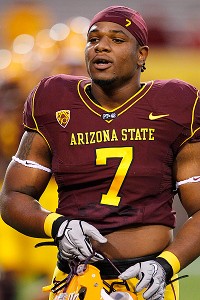 Rick Scuteri/US PresswireArizona State is counting on a drama-free season from star linebacker Vontaze Burfict.
He then pauses. Katz is a sharp guy who favors giving reporters vanilla answers. But it's not hard to hear the wheels turning. He's being goaded to spice things up and he's considering whether than might be fun or not.
He takes a pass. Said Katz, "It's just competitive juices flowing. I don't take it personally. Things happen. I know he's an emotional player. He was just trying to get in our head."
Just about everyone who has played or coached against Burfict has a story. Many are about his breath-taking skills that rate the 6-foot-3, 252-pound true junior perhaps the nation's best linebacker, one with an NFL All-Pro future. But others are about him being unhinged, his intensity so overwhelming his self-control that he often hurts his team with his antics.
The head-butt to Katz, in fact, convinced Dennis Erickson, a coach not typically thought of as a strict disciplinarian, to take away Burfict's starting job last fall (albeit briefly).
A few weeks later, in a tight game with Stanford, Burfict was called for a critical face-mask penalty. It was a bad call, but Burfict couldn't resist the urge to point that out to officials, which earned him an unsportsmanlike conduct penalty on top of the face mask, which gave Stanford the ball on the Sun Devils' 7-yard line. Shortly thereafter, Stanford pushed in the game-winning score, foiling a potential major upset that also would have earned the Sun Devils bowl eligibility.
In a highly competitive game with Oregon, Burfict spent a lot of time focusing on the Ducks' sideline, including mocking coach Chip Kelly's well-publicized method of signalling plays with random graphics on a large poster board.
Want more? Go to YouTube. If you search Vontaze Burfict, you'll find a long list of great plays and dubious behavior caught on film -- both noticed and unnoticed by officials.
"A lot of people ask about Vontaze -- from Oregon, from other places," said former Ducks and current Sun Devils wide receiver
Aaron Pflugrad
. "They are like 'What's up with this guy?' He's a shy, quiet guy off the field, but he's just a monster on it. That's the only way to explain it. I've never played with anyone like him before."
While Burfict loves to talk, intimidate and get inside opponents' heads, he's not so chatty or revealing about his own state of mind off it. After a spring and offseason when he worked with the school's sports information office and granted more interviews than he did his first two years, he has turned down interview requests -- including one from the Pac-12 blog -- this summer.
While part of that is because Burfict is reclusive and insecure with public speaking, another part involves things he doesn't want to talk about, including a locker room fight with 200-pound receiver
Kevin Ozier
, which the school attempted to downplay. Since that incident, reports of
other off-field skirmishes
, including a practice altercation with receivers coach Steve Broussard -- which Erickson told reporters was "totally ridiculous" -- have surfaced.
All this has clouded a storyline that Erickson and ASU officials had been working on since the spring: Burfict as team leader, a role even more required of him after cornerback Omar Bolden and linebacker Brandon Magee went down with season-ending injuries.
Said Erickson at Sun Devils media day, which Burfict chose not to attend: "He's matured a whole heck of a lot. I'm really proud of how he's matured." That was just days after the locker room fight.
Fellow linebacker Shelly Lyons, like Magee a former Burfict teammate at Centennial High School (Corona, Calif.), was asked what Burfict needs to work on this season.
"I would say when he gets frustrated," Lyons said. "He really has all the attributes as a player -- size, speed, he can hit. So I'd just say that when he gets frustrated to take it easy. The referees have a target on him. He's got to hold it back this year."
Last season, Burfict led the Sun Devils -- and was ninth in the Pac-10 -- with 90 tackles, including 8.5 for a loss. He also forced two fumbles. While there are some holes in his game -- his frenetic style sometimes gets him out of position -- physically, he's a finished product, one whose ability screams he's a certain top-15 NFL draft pick.
But the lack of self-control, on and off the field, will be an issue with NFL general managers.
If Burfict can fully focus his ability and intensity on what happens between the whistles, he could win the Butkus Award as the nation's best linebacker. And the Sun Devils' defense, despite injuries, could become one of the top units on the West Coast.
If that happens, Burfict and the Sun Devils will have a happy ending: Perhaps a Pac-12 South Division title and a high draft pick.
"Hopefully this year it's controlled insanity and he doesn't go after a player or anything," Pflugrad said.
If it isn't, well, it's still likely to be great theater.
August, 23, 2011
8/23/11
9:00
AM ET
By
ESPN.com staff
| ESPN.com
Our countdown of the Pac-12's top 25 players continues.
You can see the final
post-2010 top 25 here
. It doesn't, however, include players from Colorado or Utah.

5. Vontaze Burfict, LB, Arizona State
2010 numbers
: Burfict led the Sun Devils -- and was ninth in the Pac-10 -- with 90 tackles, including 8.5 for a loss. He also forced two fumbles.
2010 ranking
:
No. 13
Making the case for Burfict
: Burfict might be the best linebacker in college football. The true junior might be the first linebacker taken in this spring's NFL draft. And the "might" qualification has nothing to do with talent questions. When Burfict is just playing football, he's a dominant, physical presence who plays sideline-to-sideline with uncanny speed and instincts on a solid 6-foot-3, 252-pound frame. But Burfict still hasn't mastered his own emotions. For the most part over the previous two seasons, that's been about stupid penalties -- unsportsmanlike conduct and personal foul penalties. The talk during the spring and offseason was of newfound maturity and leadership. But a locker room fight with 200-pound receiver
Kevin Ozier
the first week of preseason camp clouded that a bit. Is Burfict ready to grow up and into a great player, one who could win the Butkus Award? Burfict, though only second-team All-Pac-10 in 2010, earned All-American attention last fall and is a consensus preseason All-American. ESPN NFL draft guru Mel Kiper ranks Burfict the No. 1 junior linebacker in the country, writing, "There are some scary hitters on this list, starting with Burfict, who was most productive against ASU's toughest competition last season. The guy was a force, quite literally, the moment he stepped on campus." But can Burfict become an entirely positive force, one who always helps the Sun Devils win? Or will he continue to do things that help them lose?
6. Matt Barkley, QB, USC
7. Nick Foles, QB, Arizona
8. Juron Criner, WR, Arizona
9. Cliff Harris, CB, Oregon
10. Jonathan Martin, OT, Stanford
11. Shayne Skov, LB, Stanford
12. T.J. McDonald, S, USC
13. Alameda Ta'amu, DT, Washington
14. Matt Kalil, OT, USC
15. Delano Howell, S, Stanford
16. Mychal Kendricks, LB, California
17. Rodney Stewart, RB, Colorado
18. Jermaine Kearse, WR, Washington
19.
Chase Thomas
, LB, Stanford
20. Jeff Tuel, QB, Washington State
21. Robert Woods, WR, USC
22. Johnathan Franklin, RB, UCLA
23. David Paulson, TE, Oregon
24.
David DeCastro
, OG, Stanford
25. Marquess Wilson, WR, Washington State
January, 4, 2011
1/04/11
10:27
AM ET
In a decision that comes as no surprise, UCLA linebacker Akeem Ayers has decided to forgo his senior season and
enter the NFL draft
.
"I will miss playing with my UCLA teammates next year but I feel that the decision to go to the NFL is what is best for my family," Ayers said in a statement. "I will always be a Bruin."
Said Bruins coach Rick Neuheisel: "Akeem has been a big-play performer throughout his career at UCLA and we support his decision to move to the next level. Who will ever forget his interceptions against Oregon and Temple that he turned into touchdowns or his many sacks? We will miss Akeem, but we look forward to watching him make those same types of plays on Sundays in the NFL."
Ayers, a 6-foot-4, 255-pound junior, was a second-team Walter Camp All-American, a Butkus Award finalist and an All Pac-10 selection after finishing with 68 tackles, four sacks, 10 tackles for loss and two interceptions.
Ayers is a likely first-round pick. ESPN.com's Scouts Inc. ranks him
15th overall for the 2011 draft
. Mel Kiper ranks him 16th and writes, "His exceptional athleticism makes him so versatile. Ideal every-down 3-4 OLB who can rush and cover. Ayers should test well at the combine."
The Bruins continue to
wait on official word
from All-America safety Rahim Moore, who is likely to follow Ayers to the NFL as an early-round selection.
October, 22, 2010
10/22/10
9:15
AM ET
By
ESPN.com staff
| ESPN.com
Three Pac-10 linebackers are among the 15 semifinalists for the Butkus Award, which is presented annually to the nation's best linebacker: UCLA's Akeem Ayers, Washington's Mason Foster and Oregon's Casey Matthews.

(Note: This list has been changed. It originally left off Matthews due to Pac-10 blogger stupidity -- treating a two-page document as just one page!)

My bad.

Here's the complete list of semifinalists:

Akeem Ayers, UCLA
Bruce Carter, North Carolina
Mason Foster, Washington
Mario Harvey, Marshall
Dont'a Hightower, Alabama
Justin Houston, Georgia
Nate Irving, North Carolina State
Greg Jones, Michigan State
Luke Kuechly, Boston College
Travis Lewis, Oklahoma
Casey Matthews, Oregon
Von Miller, Texas A&M
Keenan Robinson, Texas
Sean Spence, Miami (Fla.)
Manti Te'o, Notre Dame
November, 28, 2008
11/28/08
4:01
PM ET
By
ESPN.com staff
| ESPN.com
Posted by ESPN.com's Ted Miller
USC's Rey Maualuga and Brian Cushing are among 12 finalists for the Butkus Award, giving annually to the nation's best linebacker.
The winner will announced the week of December 8.
The finalists are:
Rolando McClain, Alabama
Mark Herzlich, Boston College
Brandon Spikes, Florida
Rennie Curran, Georgia
Perry Riley, LSU
Darry Beckwith, LSU
Sean Witherspoon, Missouri
James Laurinaitis, Ohio State
Rey Maualuga, USC
Brian Cushing, USC
Clint Sintim, Virginia
Aaron Curry, Wake Forest