September, 11, 2014
Sep 11
4:00
PM ET
Caleb Benenoch
has a secret he's hesitant to share with his UCLA teammates: When UCLA marched into his home state in 2010 and stunned Texas,
34-12
, he couldn't handle it.
"I don't know if the guys know this," Benenoch said, "but I actually cried."
Back then, he was a sophomore at Seven Lakes High in Katy, Texas. Today, Benenoch is UCLA's sophomore starting right tackle. He can't wait to face the Texas program he'd sworn he'd always love, no matter where he went to college.
Benenoch is expecting as many as 30 family members and friends at AT&T Stadium in Dallas on Saturday night when the No. 12 Bruins meet a Texas team that, considering its current offensive line woes, could have definitely used him. And Benenoch hopes, somewhere in Nigeria, his father is watching.
The lineman's road to Los Angeles and to this game wasn't exactly conventional. Benenoch is the son of Nigerian ministers and emigrated with his family to the United States when he was 8. He started playing football at 9 by accident – his mother thought she'd signed him up for fútbol.
[+] Enlarge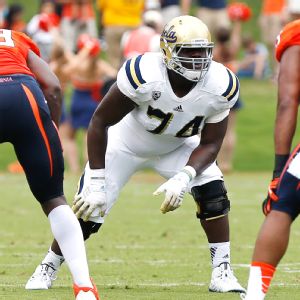 Geoff Burke/USA TODAY SportsUCLA sophomore Caleb Benenoch will take on the team he loved as a child on Saturday in Arlington, Texas.
While Esther Benenoch raised four children in Katy, her husband remained in Nigeria. David Benenoch is the founder and bishop of The Communion Church, a Pentecostal service started in 1989 and headquartered in Lagos.
"It takes a very strong family. It's not easy to do," Benenoch said of the distance separating his kin. "I know for them it's not easy to do, and I appreciate them a lot."
His father's work takes him all over Africa and Europe, with regular stops back in Katy. Growing up, Caleb went to Nigeria during a few summer breaks for one-month visits.
In 2010, before his sophomore year, he came back from Nigeria measuring 6-foot-5 and tipping the scales at 300 pounds, to the bewilderment of his coaches and buddies.
"Everybody was saying, 'Did you eat the kids back there?'" Benenoch said.
Once he hit that growth spurt, football became easier. He put on 20 more pounds and they all starting calling him "Bear." When his brother, Josh Benenoch, walked on to play defensive back at Baylor in 2011, Caleb couldn't wait for his turn. He'd told friends that, one day, Mack Brown would walk into their high school and recruit him.
His father kept up with calls and video chats, but didn't know much about football. When Caleb did get to show off his game tapes, he usually had some explaining to do. Dad didn't understand why the big boys play up front.
"He'd always ask me, 'Why aren't you the one carrying the ball? Why aren't you the one passing the ball? Why aren't you scoring?'" Benenoch said. "After the games, you see all the dads line up, win or loss. I didn't have that. That drove me to work harder."
This was new territory for the Benenoch family, especially when Caleb's recruitment began. Michigan State offered a scholarship after his junior season, so he committed early without ever visiting. Then Brown made a push.
At a Texas camp in June, Brown extended an offer and his staff successfully persuaded Benenoch to reopen his recruitment. In the months that followed, he seemed a lock to end up a Longhorn.
"People don't say no to UT very often," Benenoch said that summer. "I love UT. I've loved them since I was little. I'll love them regardless of whether I go there or not."
Oklahoma, Baylor and Texas A&M all made strong pushes that fall, but a November official visit to UCLA swayed him in a way he never anticipated. Another factor that quietly weighed heavily: Rival coaches convinced him Brown wasn't going to be in Austin much longer. Benenoch didn't enjoy watching the coaching shakeup from afar this winter.
"I wasn't happy it turned out the way it did. He's a great guy, a great coach and I didn't want him to leave," Benenoch said of Brown. "It was very crazy for me, because I grew up watching him and he was the guy I wanted to play for."
UCLA coaches weren't lying, either, when they promised immediate playing time. Benenoch started nine games as a freshman last season – one play briefly went viral for
this punch against USC
– and has settled into the right tackle job.
This Texas game has been circled on his calendar ever since his December 2012 commitment.
"This is one of the reasons I picked UCLA," he said. "Going back and beating those guys would be a lot of fun."
So much has changed for Benenoch in the past few years, but one thing hasn't: His father still hasn't attended one of his games.
Benenoch sends his father photos and videos. The faraway minister has caught a few UCLA games on TV. Maybe he'll get a chance to watch this one, a prime-time game on a big stage, his son taking the field against their once-beloved Longhorns.
"Hopefully he'll come to one before I graduate," Benenoch said. "I know he's really happy for me. And I think he understands how big a deal playing tackle is now."
November, 2, 2013
11/02/13
7:00
AM ET
Here's a look at Saturday's games. All times are ET.
[+] Enlarge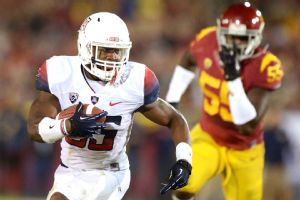 Kirby Lee/USA TODAY SportsKa'Deem Carey looks to add more superlatives to a great career Saturday as Arizona travels to Cal.
Arizona (5-2, 2-2) at California (1-7, 0-5) 3:30 p.m. Pac-12 Network
: The series is tied 14-14-2, and they have split their last four meetings. This is the Bears and Wildcats first meeting since a 10-9 Arizona win in 2010. Wildcats junior RB
Ka'Deem Carey
is 80 yards shy of reaching 1,000 rushing yards for the season. When he reaches that mark, he'll become the third running back in school history to post multiple seasons with 1,000 yards rushing. He'll join Art Luppino (1954-55) and Trung Canidate (1998-99). Carey has an FBS-leading active streak of 10 consecutive games with 100 or more rushing yards, which ties Canidate's school record set during the 1999 season. Carey has 39 career rushing TDs, second on the school's all-time list and tied for 14th all time in the Pac-12. Cal freshman QB
Jared Goff
, who it appears will retain his starting job, has thrown for 300 or more yards in five games, while also attempting 50 or more passes in five games as well. He has connected 112 times with sophomore WRs
Chris Harper
(58 receptions) and
Bryce Treggs
(54 receptions) for 1,387 yards. Both should finish the season among the school's top 10 list for single-season receptions. Ninth and 10th on Cal's single-season list are notable alums Keenan Allen (61 receptions in 2012) and DeSean Jackson (59 in 2006).
Colorado (3-4, 0-4) at No. 20 UCLA (5-2, 2-2) 7:30 Fox Sports 1
: UCLA leads the series 6-2, including victories the past two seasons in Pac-12 play. The Buffaloes' two wins came in 2002 and 2003. The Bruins blocked an Oregon punt that set up an early score in their game with the Ducks. It was the 11th blocked kick in 21 games under coach Jim Mora. The Bruins have played 32 freshmen (17 true/15 redshirt) this season. They played 26 (12 true/14 redshirt) last season. UCLA started three true freshman on the offensive line at Oregon:
Alex Redmond
at right guard,
Caleb Benenoch
at right tackle and
Scott Quessenberry
at left guard. Colorado's junior WR
Paul Richardson
now has 50 catches for 914 yards (18.3 yards per reception) with seven TDs. He's inching closer to all the school season marks: 78 receptions (D.J. Hackett, 2003), 1,149 yards (Charles E. Johnson, 1992) and 11 TDs (Derek McCoy, 2003). His 75-yard TD reception was the sixth play of 50 yards or longer this season, tying the modern-day record for most plays 50 yards or longer in a year (and it was the 12th of his career). It was his fifth 100-yard game of the season, giving him eight for his career (records are six and 12, respectively); the latter is fourth all time at CU. His seven TD catches this year have covered 405 yards (57.9 per), and his 18 career have spanned 776 yards (43.1).